The best Crispy Asian Brussels Sprouts that are sweet, spicy, savory and oh so addicting! Brandon recreated our favorite brussels sprouts, from one of our favorite restaurants, so we don't have to spend $70 to enjoy them. They're amazing!!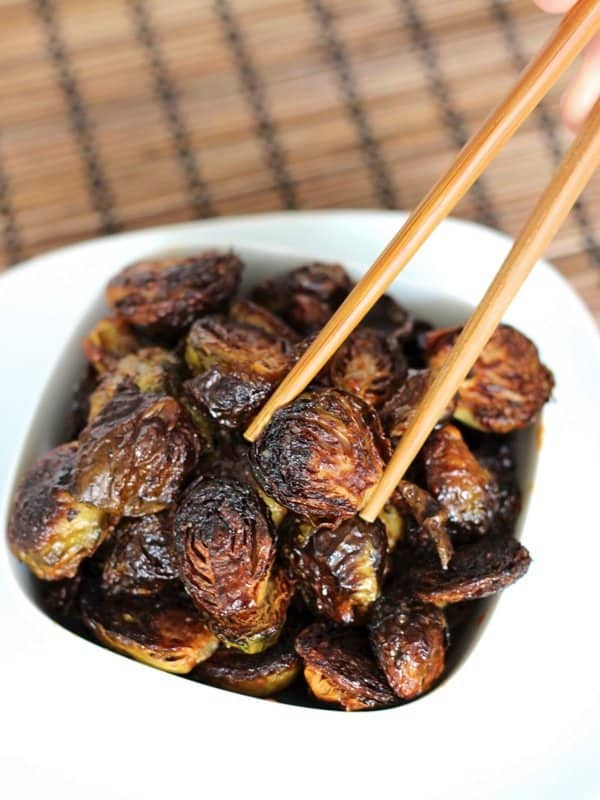 And now for another installment of, "Wow, that dish just blew my mind so now I'm going to spend all weekend figuring out how to recreate it so I don't have to pay $70 for Brussels sprouts." $70 Brussels sprouts you ask? The Brussels were only $10 but we had to pay a sitter to "watch" our sleeping boys $60 so we could leave the house to enjoy this tasty side dish. Now you're starting to get me. Not only do I like to spend my weekends in the kitchen, I also like saving money on non-food related items in order to spend even more money on anything and everything food. "Why yes Maegan, of course we need a meat grinder, pasta maker and sous vide." 🙂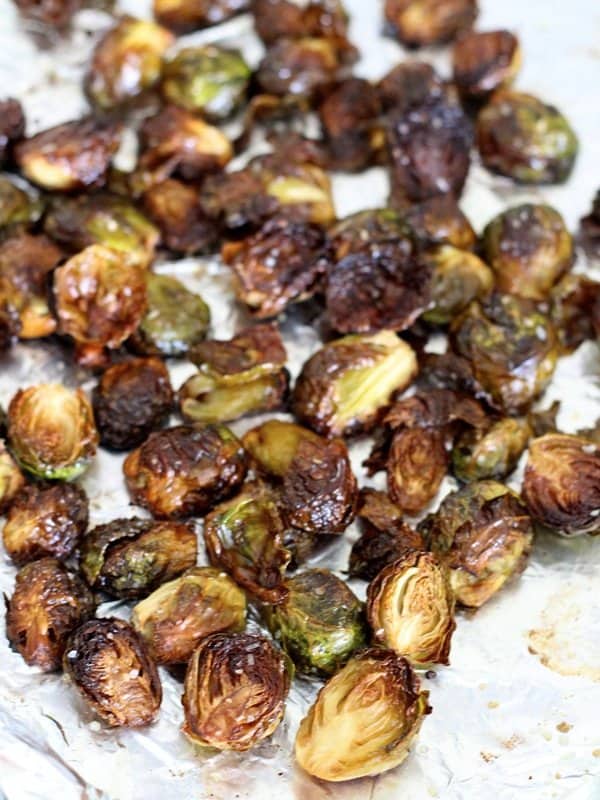 So, these $70 Brussels sprouts. They're inspired by another one of my all-time favorite restaurants, Uchi. Uchi started in Austin, Texas and is now in Houston and coming soon to Dallas. Everything at Uchi is unbelievable and you'll likely see some other recipes from there soon.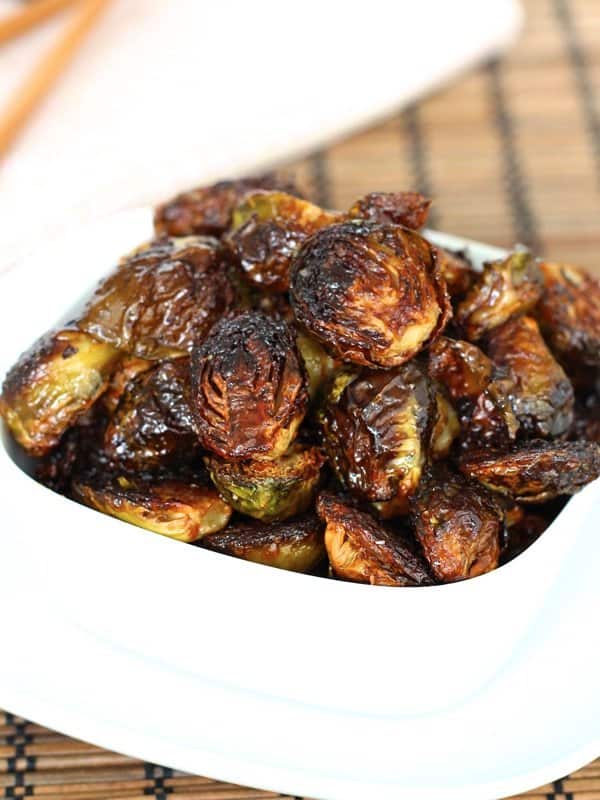 Uchi's brussels sprouts are like crispy green euphoria. They have a ton of flavor and are sweet, spicy and savory all in one. I think Uchi fries them, which is awesome, but I go for a high-heat bake that gets you an almost identical texture.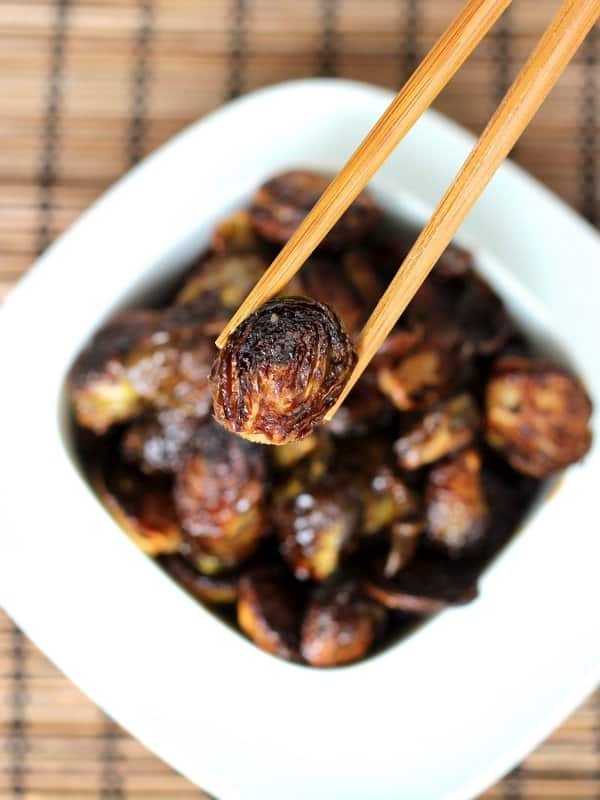 Frying things is like giving your kids an ice cream cone: they love it so much and watching them eat it is a blast, but when it's all over, you're left looking at the aftermath of the F5 dairy tornado that engulfed your child and everything within a 5 foot radius and now you have to use an entire Costco pack of wipes to clean up the evidence so Mama doesn't realize you took the boys for ice cream at 10am…after a trip to the donut shop. 😉
CHECK OUT THIS VIDEO TO SEE HOW THEY'RE MADE:
Enjoy! And don't let the Mama's steal all the cooking cred! 😉
-Brandon
Print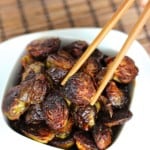 Crispy Asian Brussels Sprouts
Author:

Prep Time:

15 mins

Cook Time:

45 mins

Total Time:

1 hour

Yield:

3

Category:

vegetable

Cuisine:

Asian
---
Description
The best crispy brussels sprouts that are sweet, spicy, savory and oh so addicting!
---
1

pound fresh brussels sprouts

3 tablespoons

vegetable oil (or other high-heat oil such as grapeseed)

3 tablespoons

soy sauce (you can also use fish sauce here if you want something with a bit more flavor)

2 tablespoons

maple syrup

2 tablespoons

fresh squeezed lemon juice (about

half a

large lemon)

1

garlic clove, minced

1 tablespoon

Sriracha sauce
Pinch of black pepper
Kosher salt
---
Instructions
Preheat oven to 400°F and set a rack on the very top.
Prepare the brussels by cutting off the base of each sprout, slicing them in half from top to bottom and remove the excess or loose exterior leaves.
Soak the cut brussels for a minute in water to clean them.
Drain and spread Brussels out on a paper towel to dry while the oven is preheating.
Cover a large rimmed baking sheet with foil (makes cleaning it easier later on) and spread the brussels out on the pan.
Generously drizzle the brussels with the oil and sprinkle with kosher salt. Stir with your hands to ensure brussels are all well-oiled and salted.
Place in the oven on the top rack for about 45-60 minutes. After 20 and 40 minutes, stir the brussels to ensure all sides get crispy and charred.
During the last 5-10 minutes of cooking, reduce remaining ingredients (soy sauce, maple syrup, garlic, sriracha, lemon juice and black pepper) in a sauté pan over medium-high heat until sauce is thickened, about 5 minutes.
Remove brussels from the oven once all brussels are crispy and slightly charred.
Place them in a bowl and toss with some of the reduced sauce. Do this a little at a time as you don't want the brussels to be soaked in sauce so they retain their crispy texture. You may have a little leftover sauce. Eat & enjoy!
---
Products Used to make this recipe:
(may include affiliate links)