With a creamy coconut filling baked into a picture perfect crust and topped with whipped cream and toasted coconut, my Coconut Cream Pie is dessert heaven.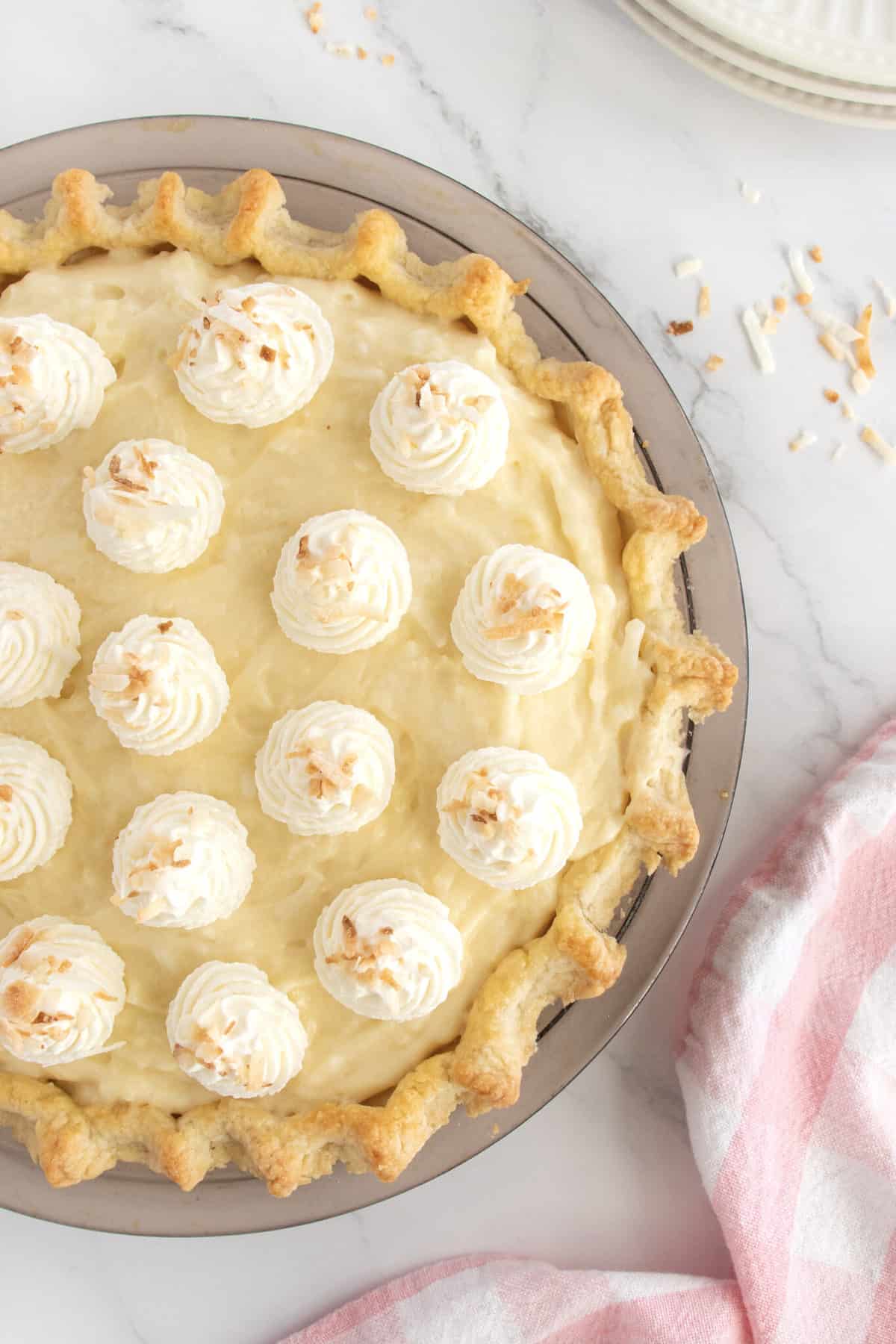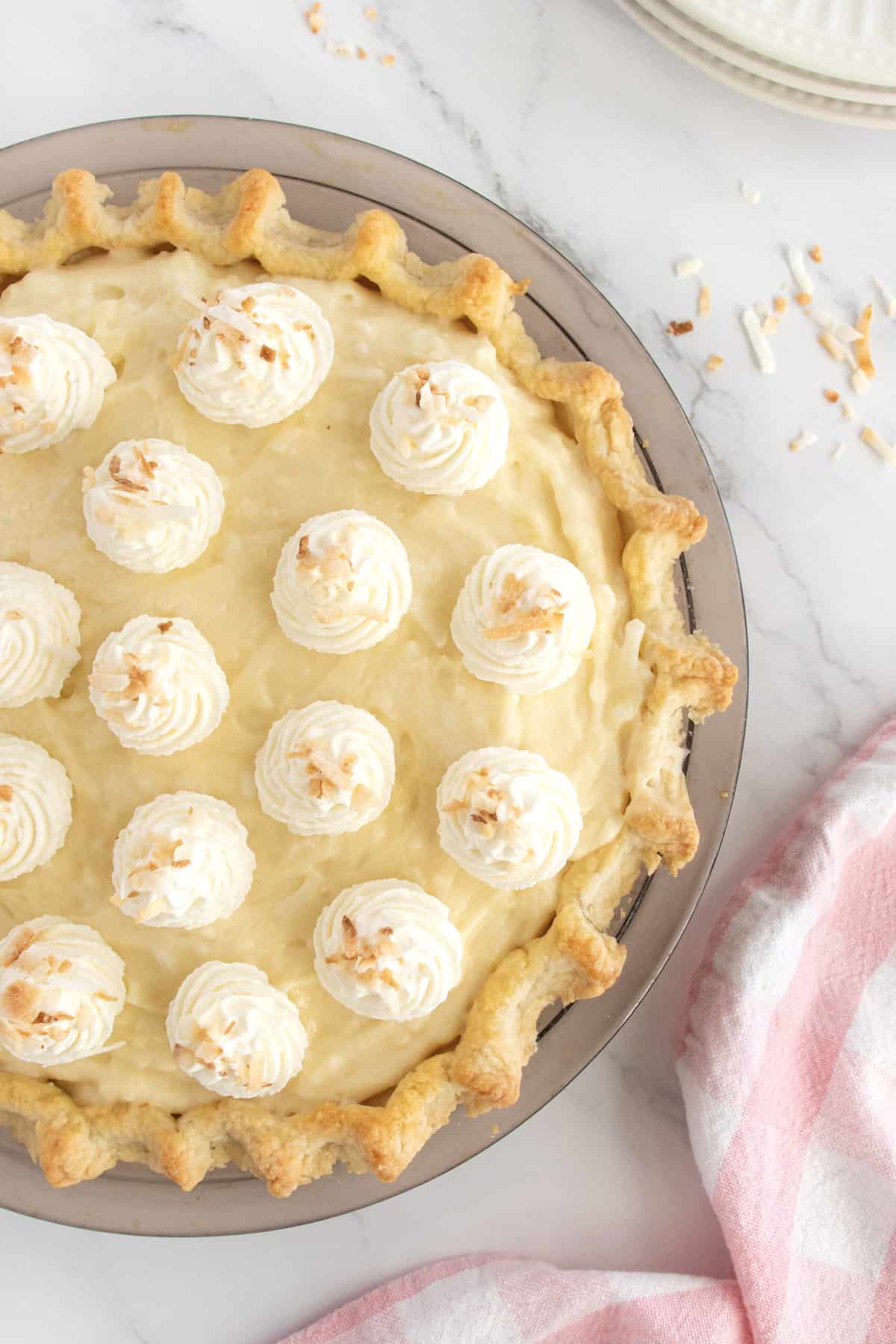 Nuts About Coconut
What is brown, hairy, and wears sunglasses? A coconut on vacation! I know, I know. But my kids are big into telling food jokes right now and this one made me laugh. Especially since we're making a totally dreamy Coconut Cream Pie this week! This Coconut Cream Pie recipe is one of my favorites for the texture alone. Creamy filling packed with coconut flakes. A flaky crust. Whipped cream topped with toasted coconut. From your first bite to your last, it's the most rich, flavorful, coconut pie experience. DELICIOUS. I can't wait to share it with you!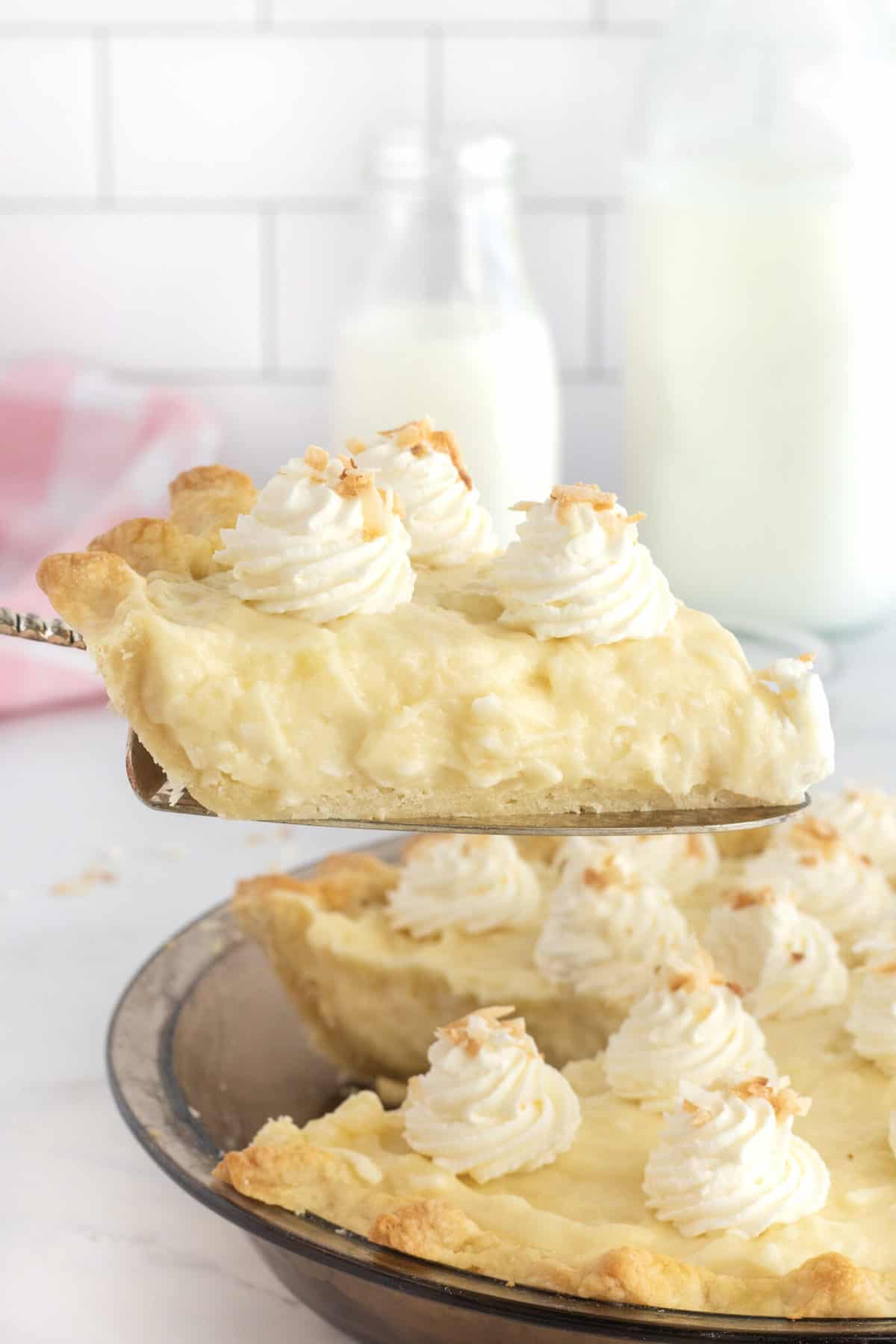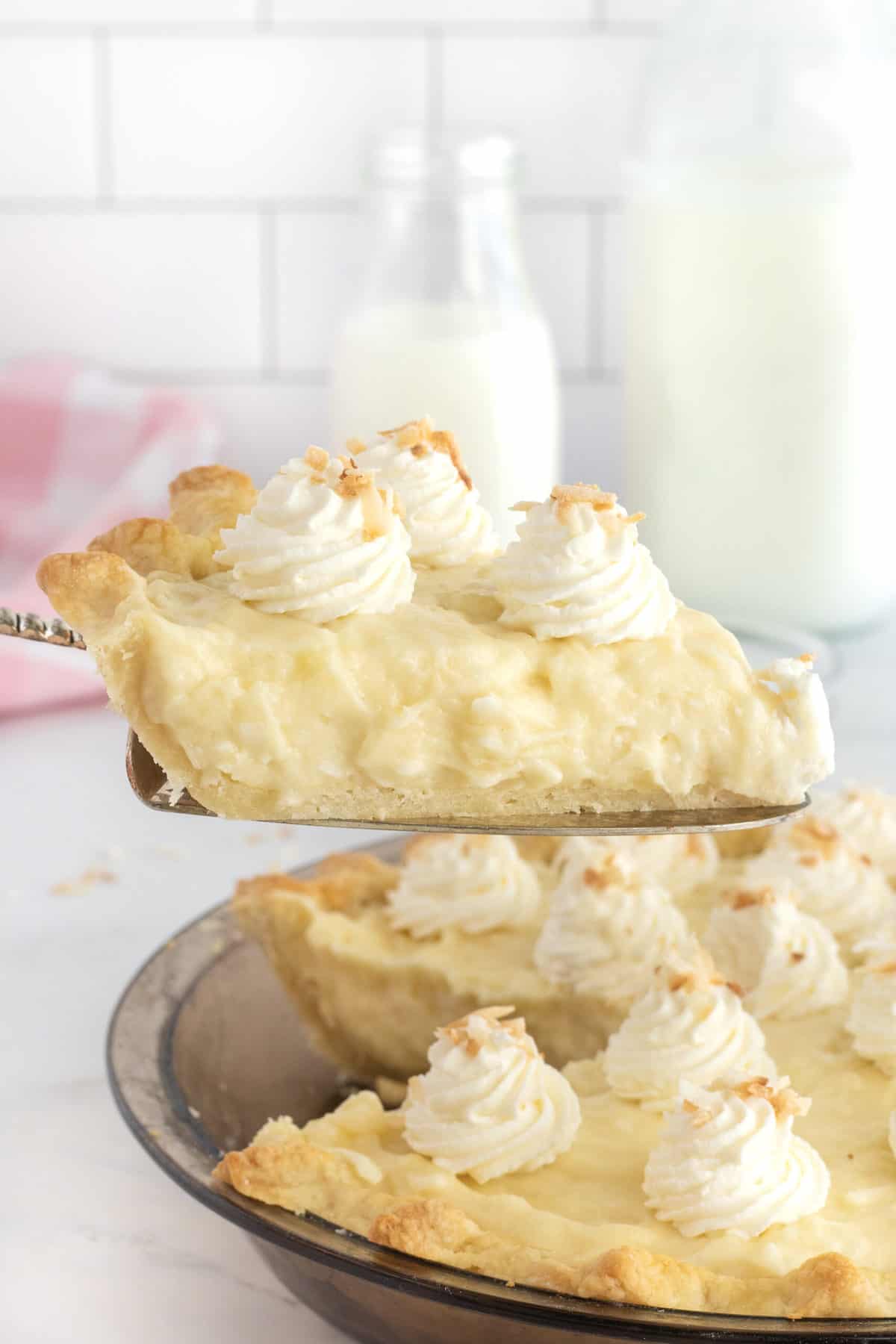 Coconut cream pie isn't one of those throw-it-together desserts. It takes time. You bake the crust and then make the filling and then you chill the thing for hours. Or overnight! And maybe that's why it's so satisfying to me. I'm not saying I don't hate waiting for that gorgeous pie to get in my belly, but it's a labor of love that tastes so, so good. It's well worth the wait.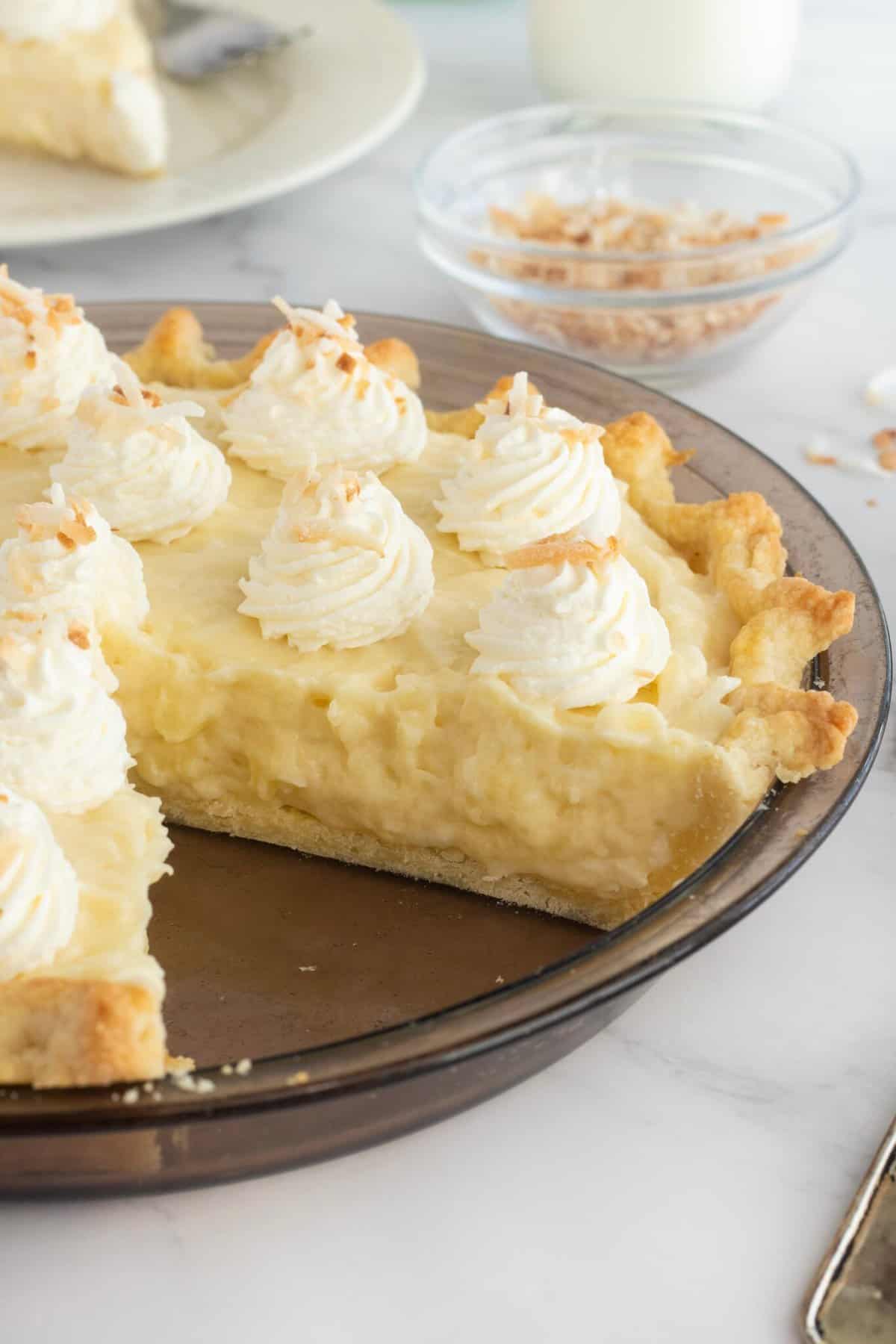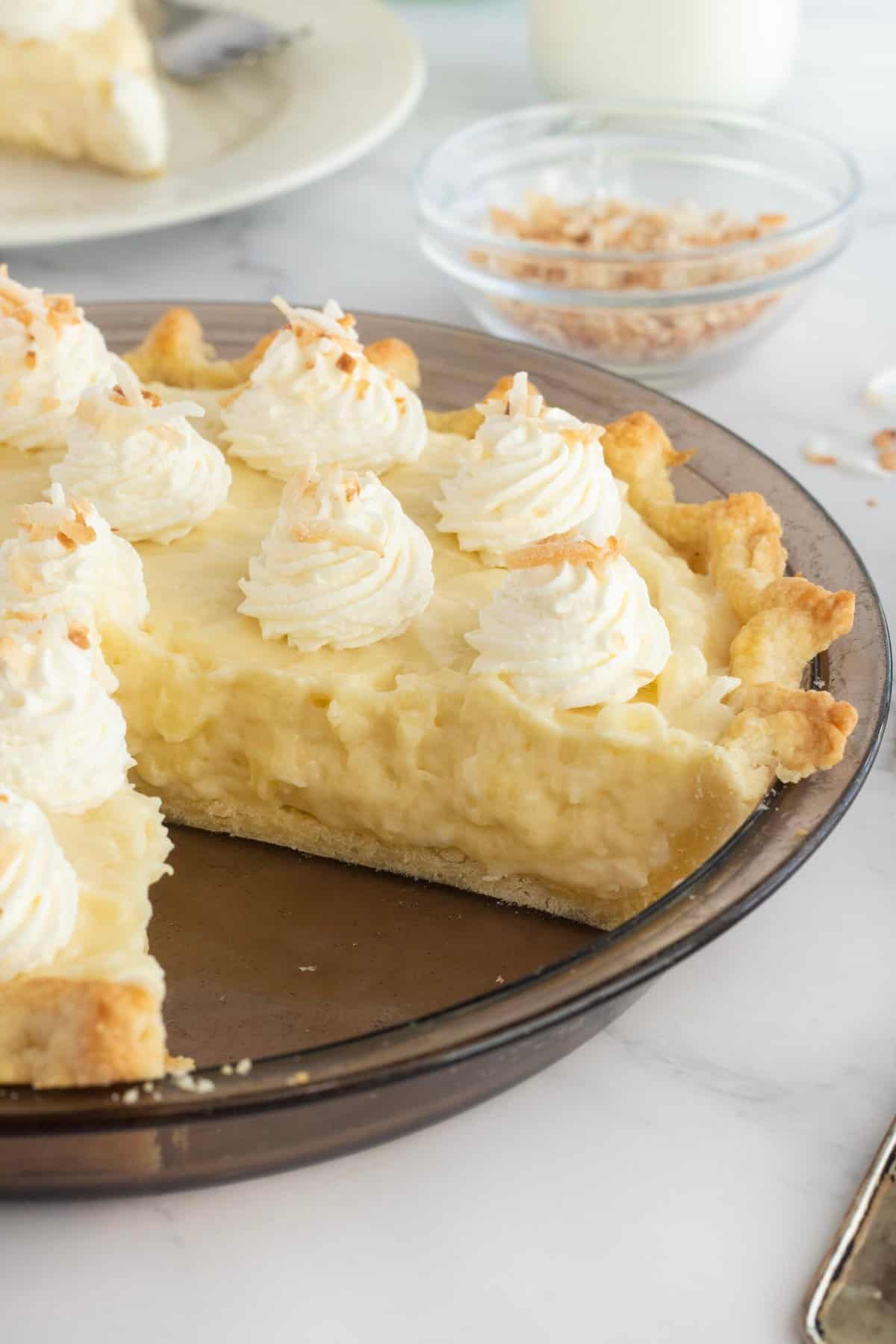 How to Make Coconut Cream Pie
Preheat oven to 375°F. Pre-bake the pie crust. See my Complete Guide to Pie Crust for instructions on how to make the dough and pre-bake the pie crust. Let cool completely before filling.
Add 3/4 cup milk, flour, cornstarch, 1 beaten egg, and 2 beaten egg yolks to a medium mixing bowl and whisk until smooth.
In a medium saucepan, bring remaining 1 cup milk, 1/2 cup sugar and salt to a boil, whisking occasionally. Boil for 2 minutes, then reduce heat to low.
Add 1/4 cup of the hot milk mixture to the flour and egg mixture in the mixing bowl and whisk until blended.
Slowly pour the flour and egg mixture into the saucepan, whisking continuously so the eggs don't start to scramble. Continue whisking until the mixture is thick like custard.
Remove the custard from the heat and whisk in the butter, vanilla, and coconut extract. Beat until smooth. Transfer the mixture to a bowl and cover the top of the custard with plastic wrap. Place in the refrigerator for 30 minutes to let cool.
In the bowl of an electric mixer fitted with the whisk attachment, beat 2 egg whites until frothy and then add remaining 1/4 cup sugar and beat until stiff.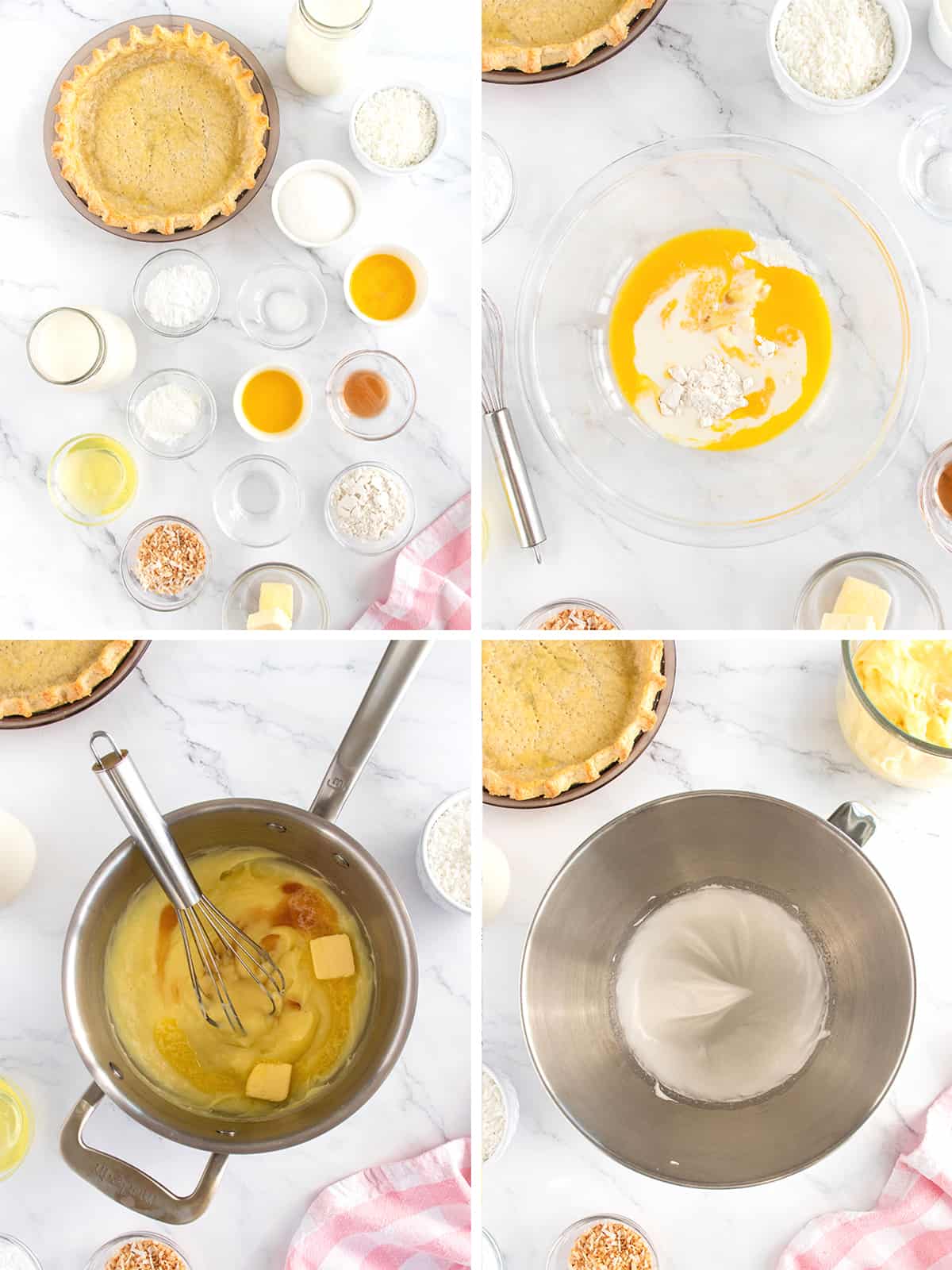 Gently fold egg white mixture into the cooled custard. Then fold 3/4 cup sweetened coconut flakes into the mixture and then pour it into the baked and cooled pie shell. Cover with plastic wrap and let chill in the refrigerator for 2 hours or overnight.
In the bowl of an electric mixer fitted with the whisk attachment, beat the heavy whipping cream, powdered sugar, vanilla extract and coconut extract (optional) on medium-high speed until medium-soft peaks form, about 3-4 minutes.
Spread or pipe the whipped cream over the custard in the pie shell. Garnish with toasted coconut flakes.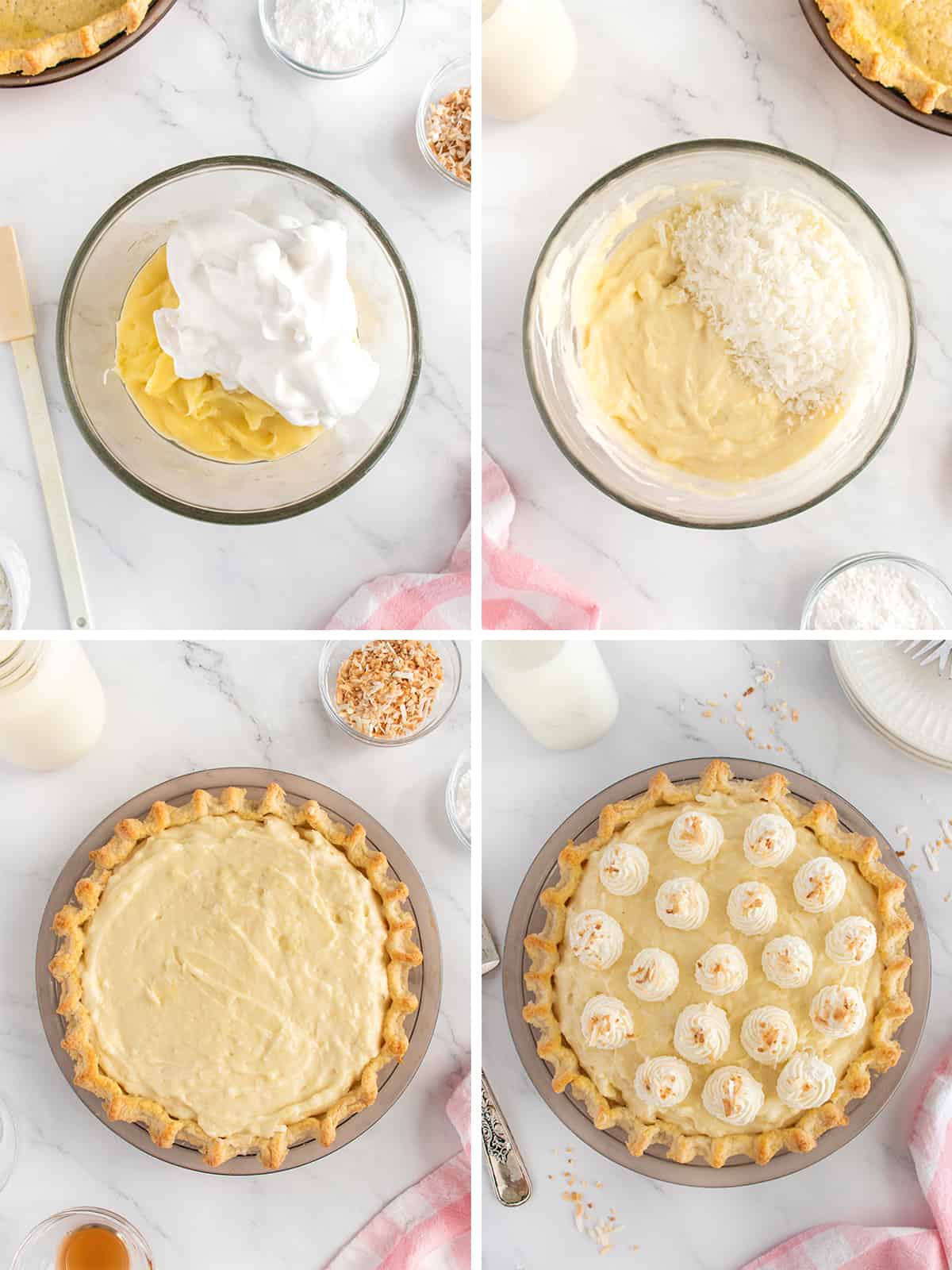 Serve immediately or loosely cover and refrigerate until ready to serve that same day. Pie can be stored, tightly covered, in the refrigerator for up to 5 days.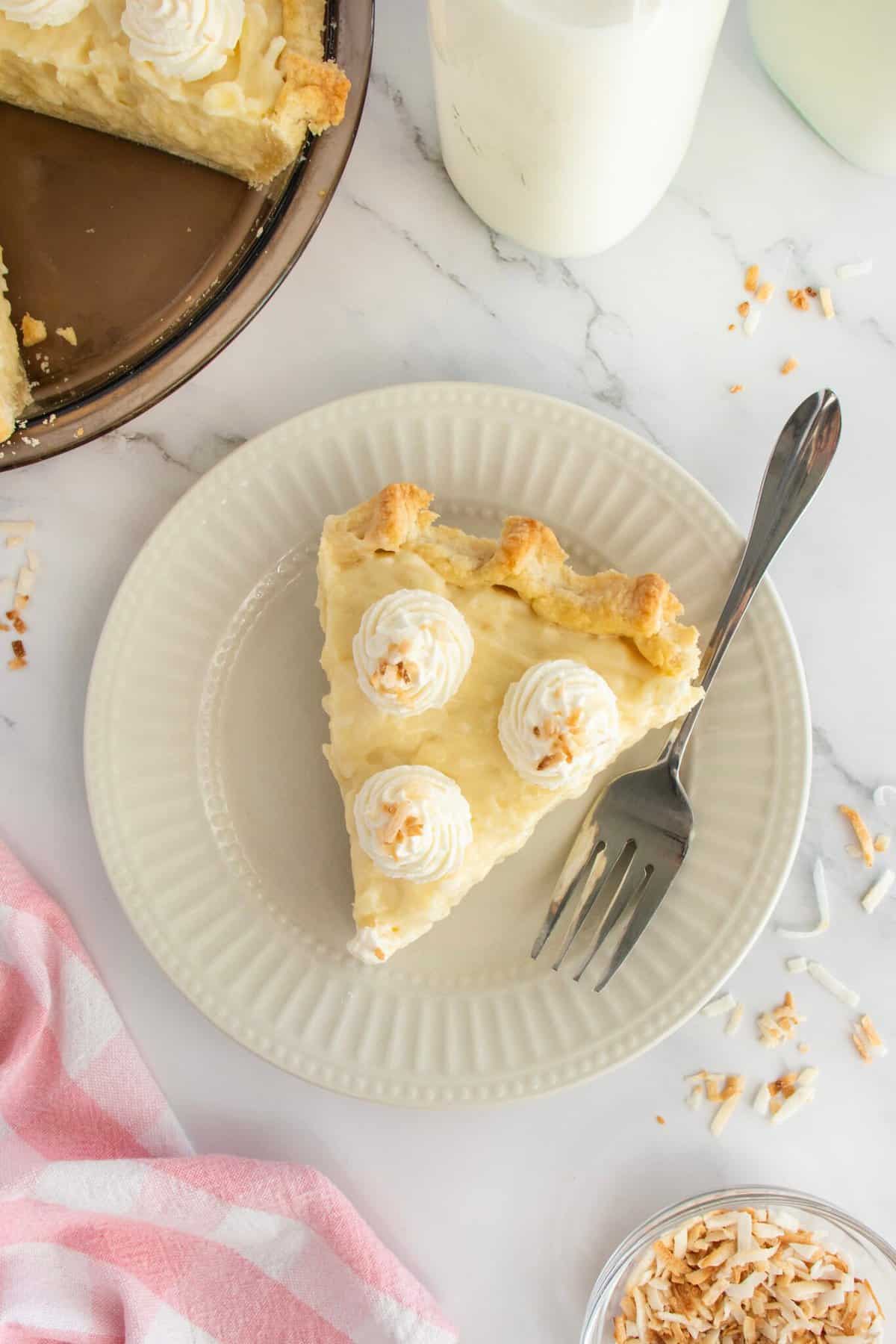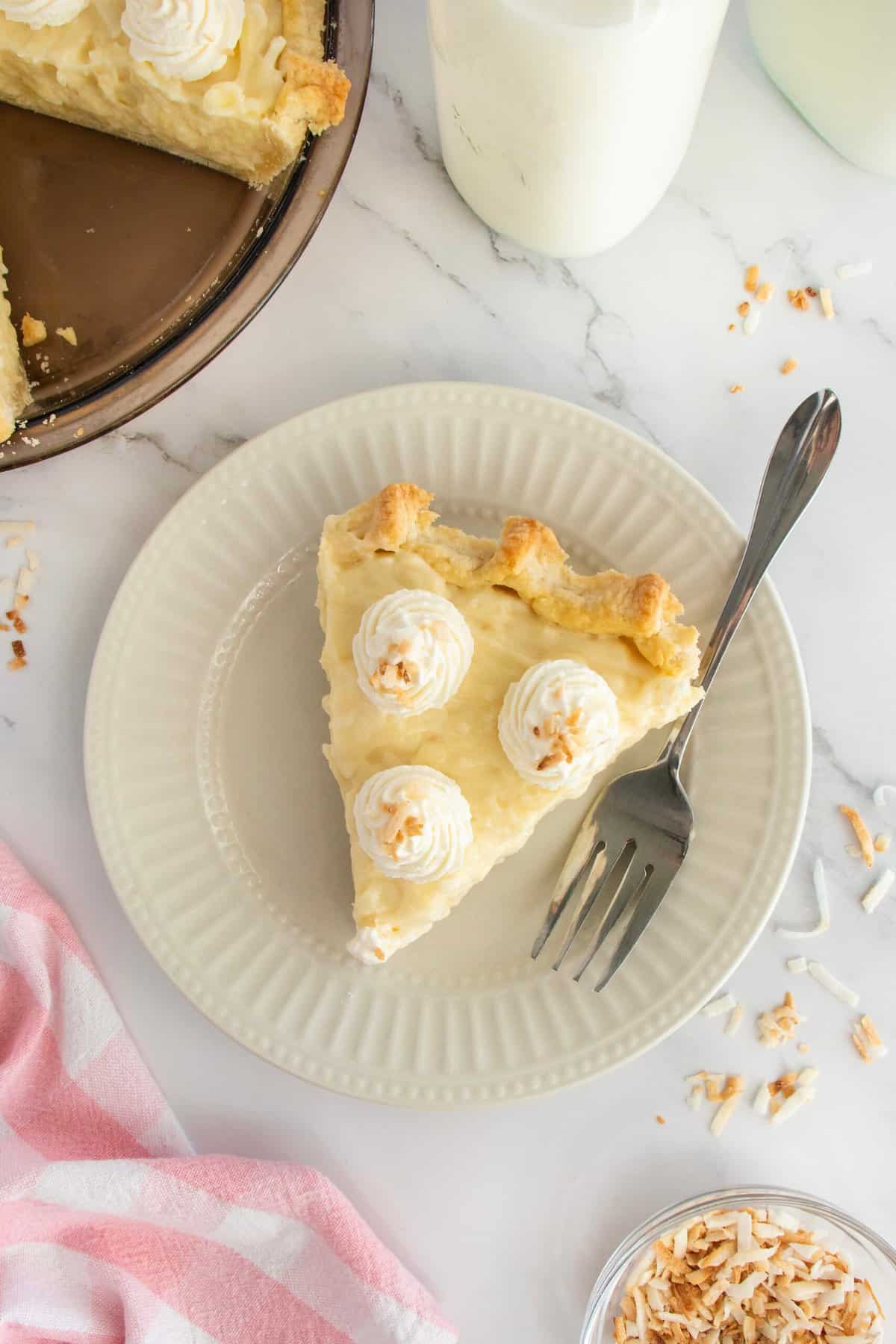 The Complete Guide Pie Crust
Take the mystery out of making pies once and for all with The Complete Guide to Pie Crust! I'll take you step-by-step from making the dough to baking picture-perfect pies.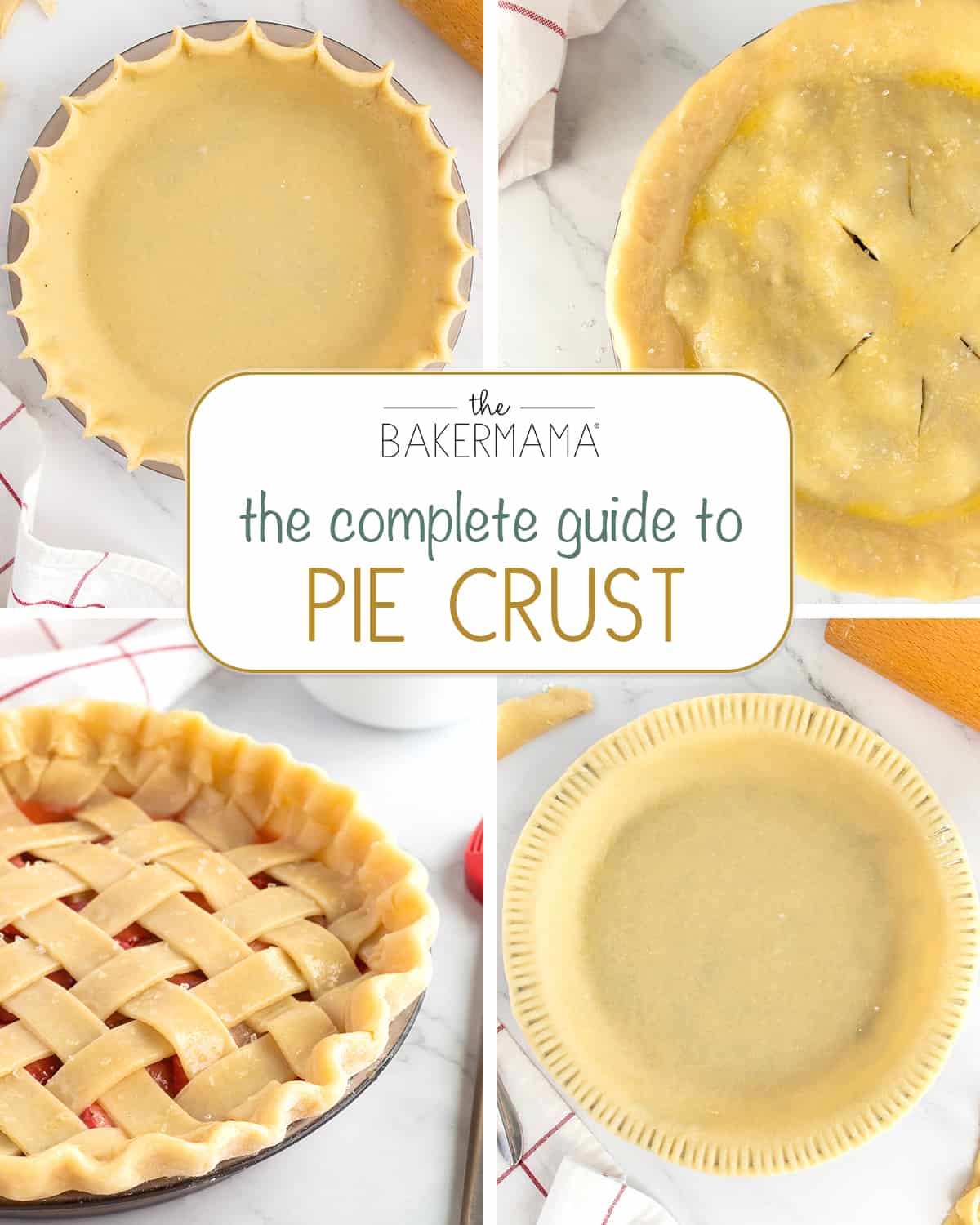 More Pies You'll Love
A stunning double-crusted Fresh Cherry Pie makes a show-stopping summer dessert! Nothing celebrates the sweetness of summer like a beautiful and delicious Fresh Strawberry Pie. From the flaky crust to the tender strawberry filling, it's the mouth-watering flavor that summer memories are made of! Cool, creamy and decadent, this Chocolate Cream Pie has a perfectly flaky crust and a silky, rich chocolate filling. It's so delicious, you might as well call it a chocolate dream pie.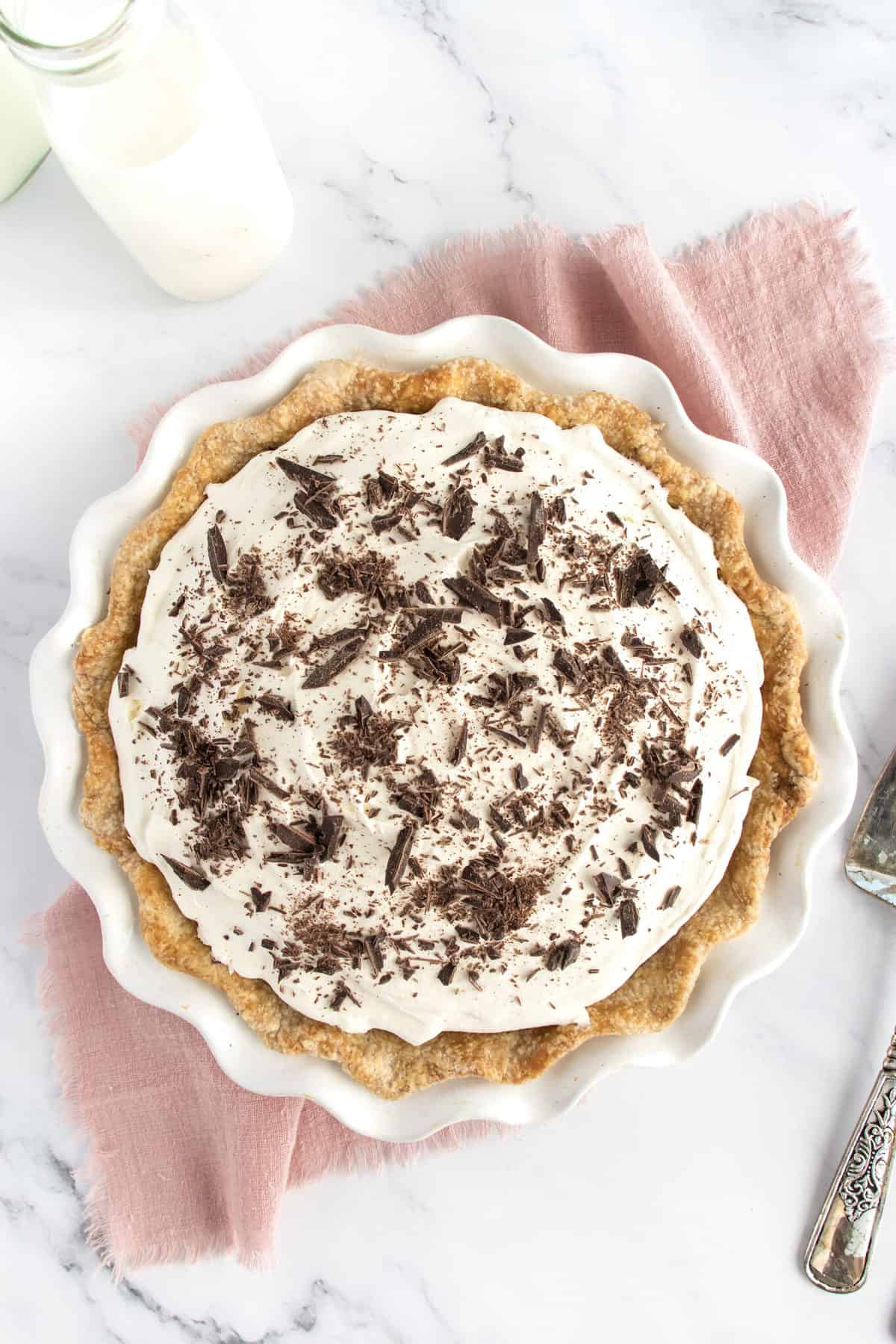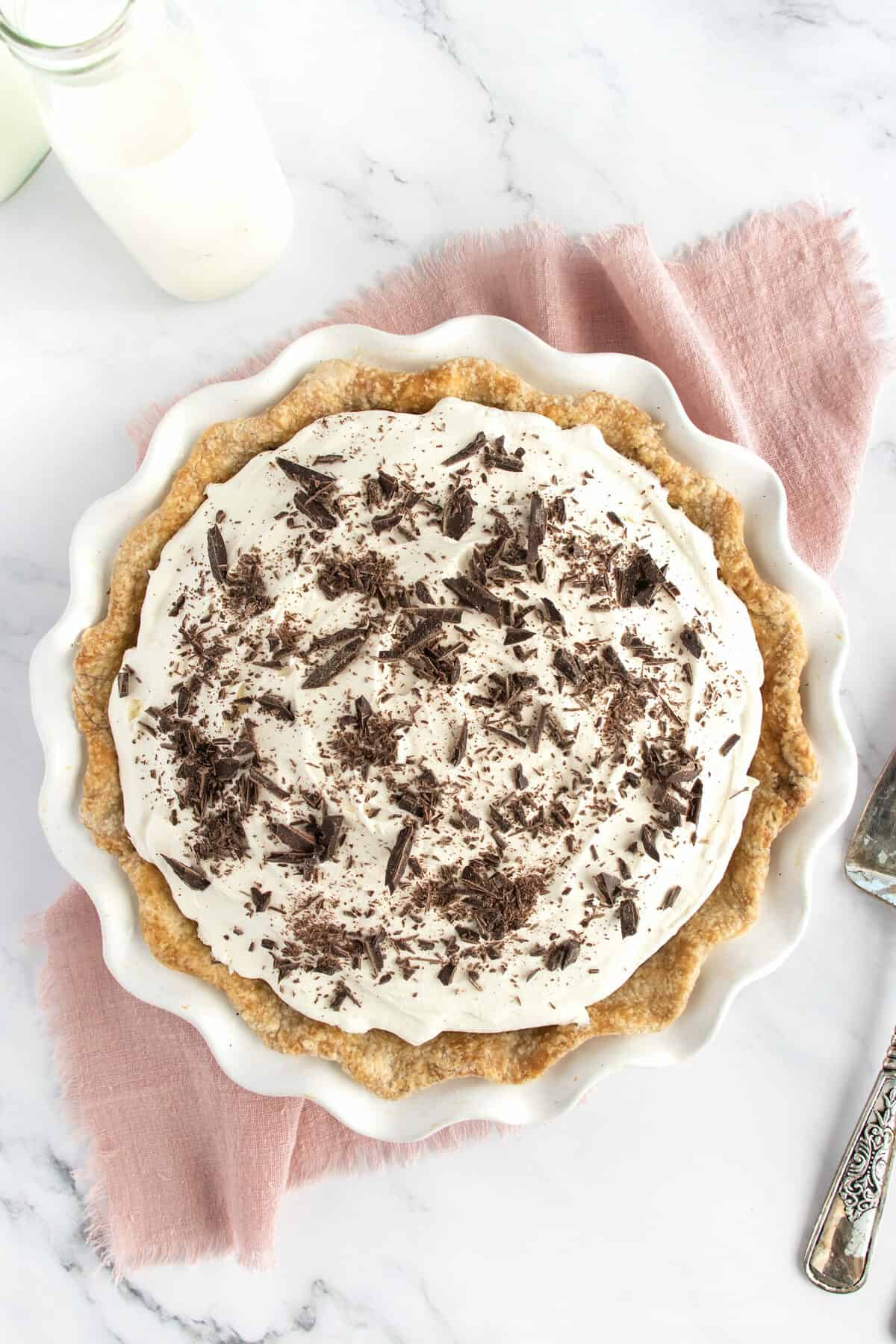 If you make this Coconut Cream Pie, be sure to snap a picture and share it with me or tag me on Instagram @thebakermama so I can see.
I love seeing how inspired and creative y'all get with the recipes I share. Enjoy!
xoxo,


Print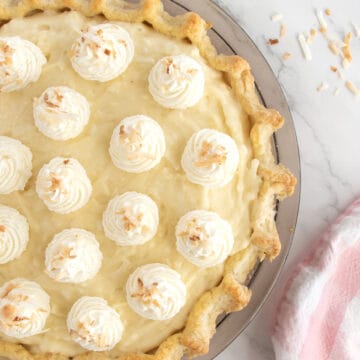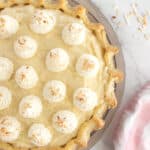 Coconut Cream Pie
Author:

Prep Time:

20 minuts

Chilling Time:

2+ hours

Cook Time:

30 minutes

Total Time:

2 hours 50 minutes

Yield:

1 (9-inch) pie
---
---
---
---