Alternating layers of red and white peppermint flavored cake with a dreamy peppermint marshmallow buttercream frosting. A great cake for the holidays!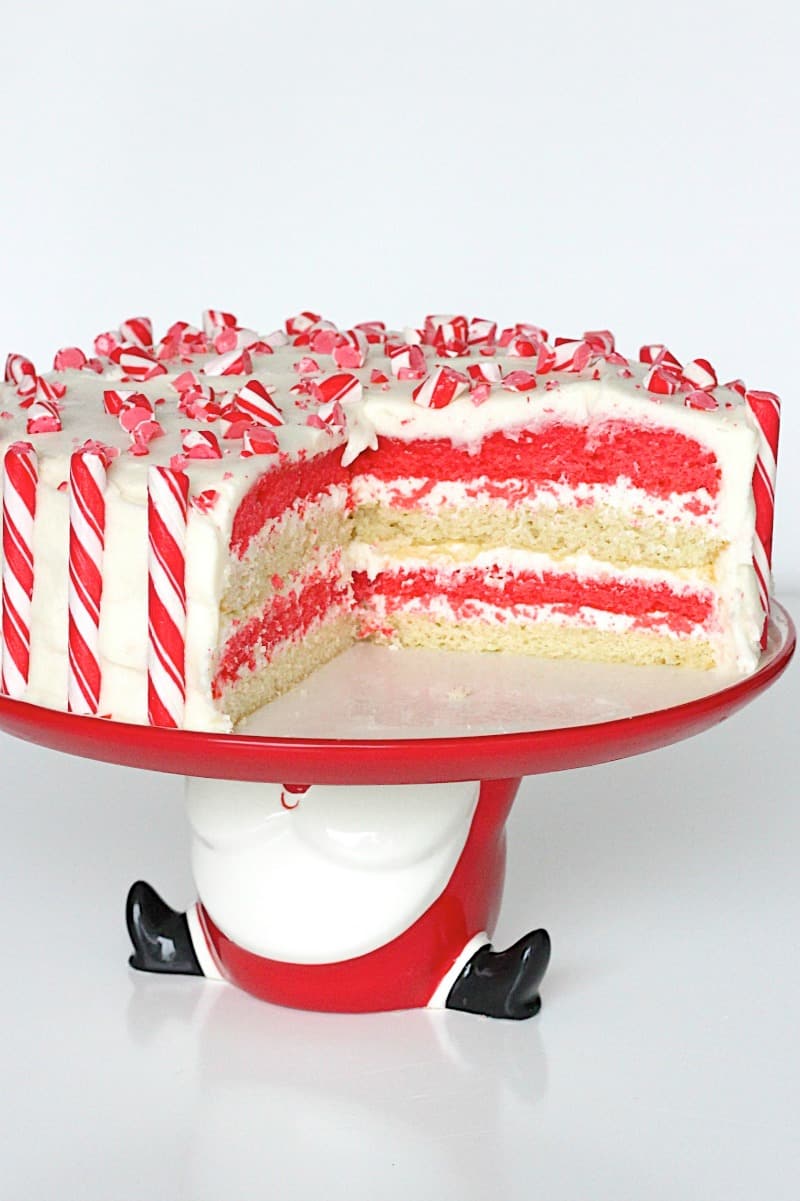 Christmas is just a week away! I hope you're feeling excited rather than stressed. Every year, I procrastinate on just about everything from our Christmas cards to the stocking stuffers, but somehow it all gets done. With each year, I get better and better at soaking in the season and focusing on what's really important. It's made the Holidays so much more meaningful and memorable.
One thing I certainly didn't linger on was coming up with a fabulous dessert for our Christmas Eve dinner! Insert show-stopping cake pictures… 😉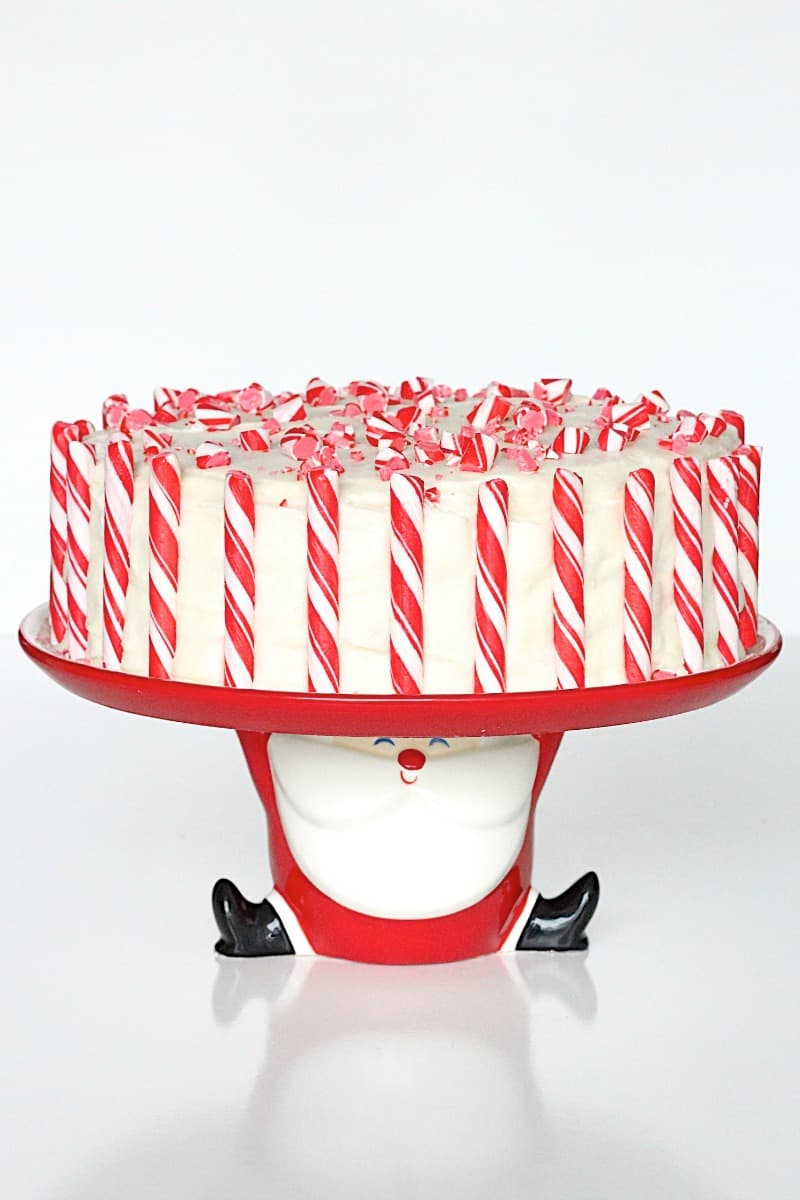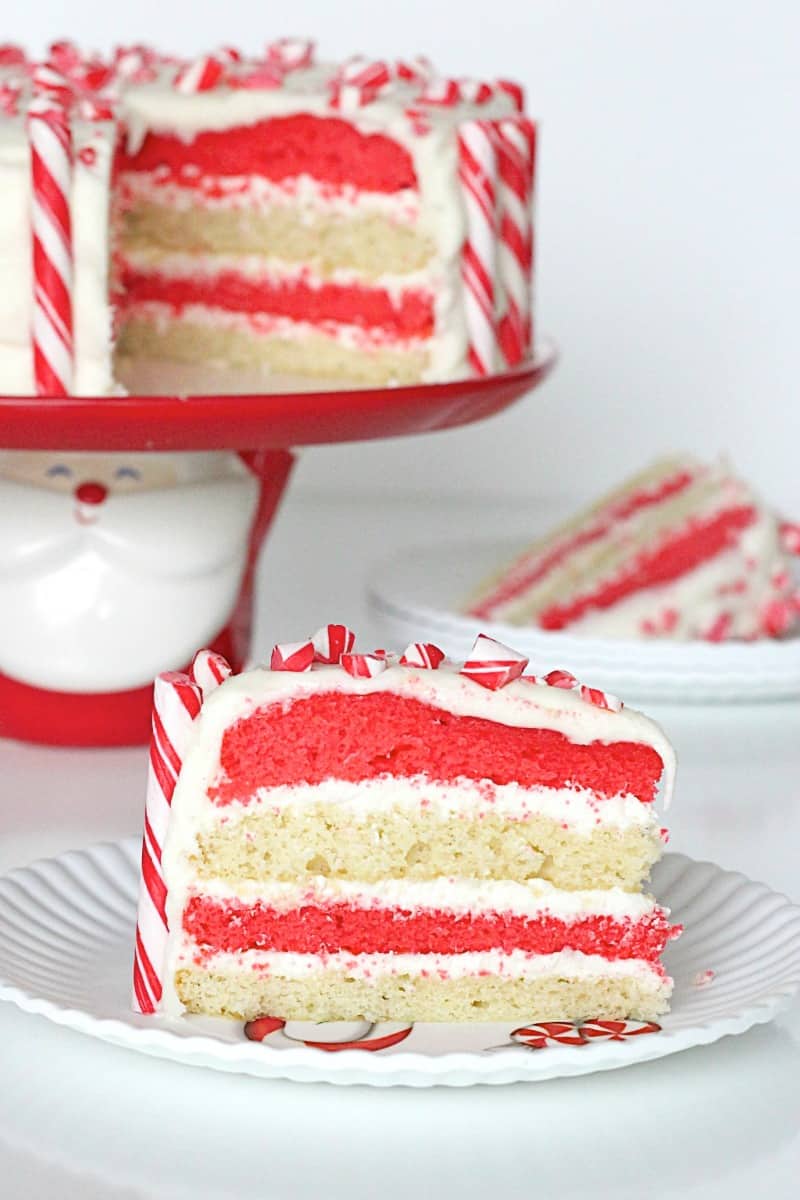 I absolutely adore the way this candy cane cake turned out! It's beautiful both inside and out, and it's so incredibly delicious! If you love peppermint, you'll adore this cake too!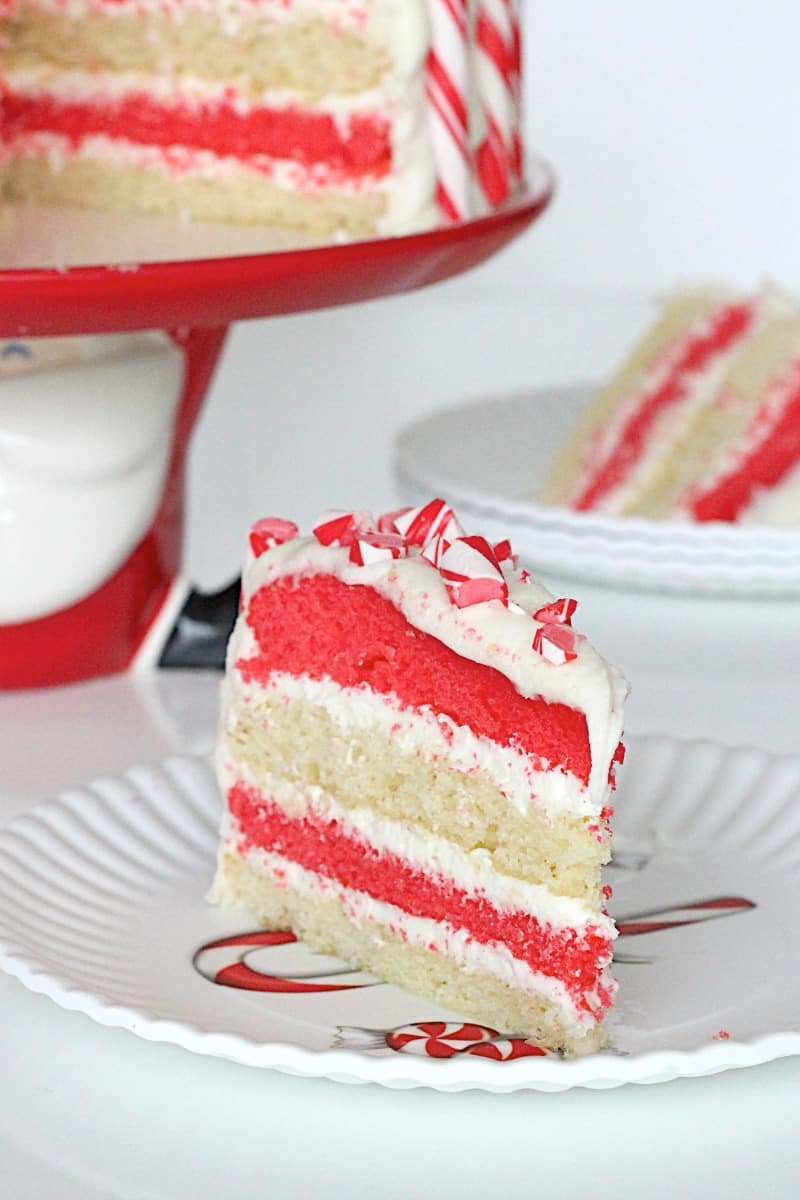 The cake batter is flavored with peppermint extract and then divided so that half remains white and the other half can be tinted red to create a cute candy cane look when layered.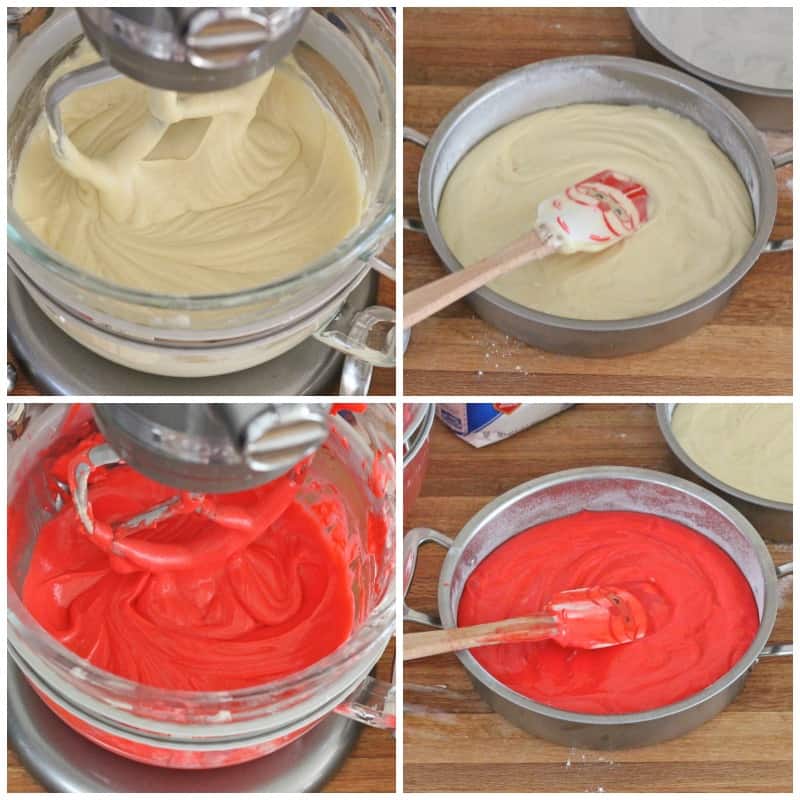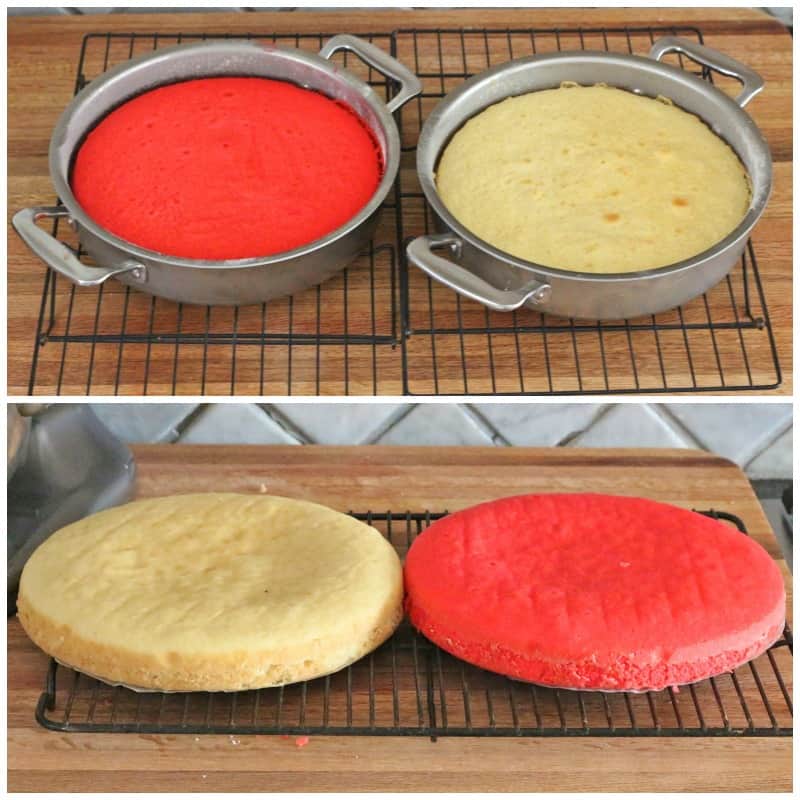 The dreamy marshmallow buttercream frosting is also flavored with peppermint and brings the cake together so perfectly.

A simple yet stunning cake that would make for a pretty special Holiday dessert!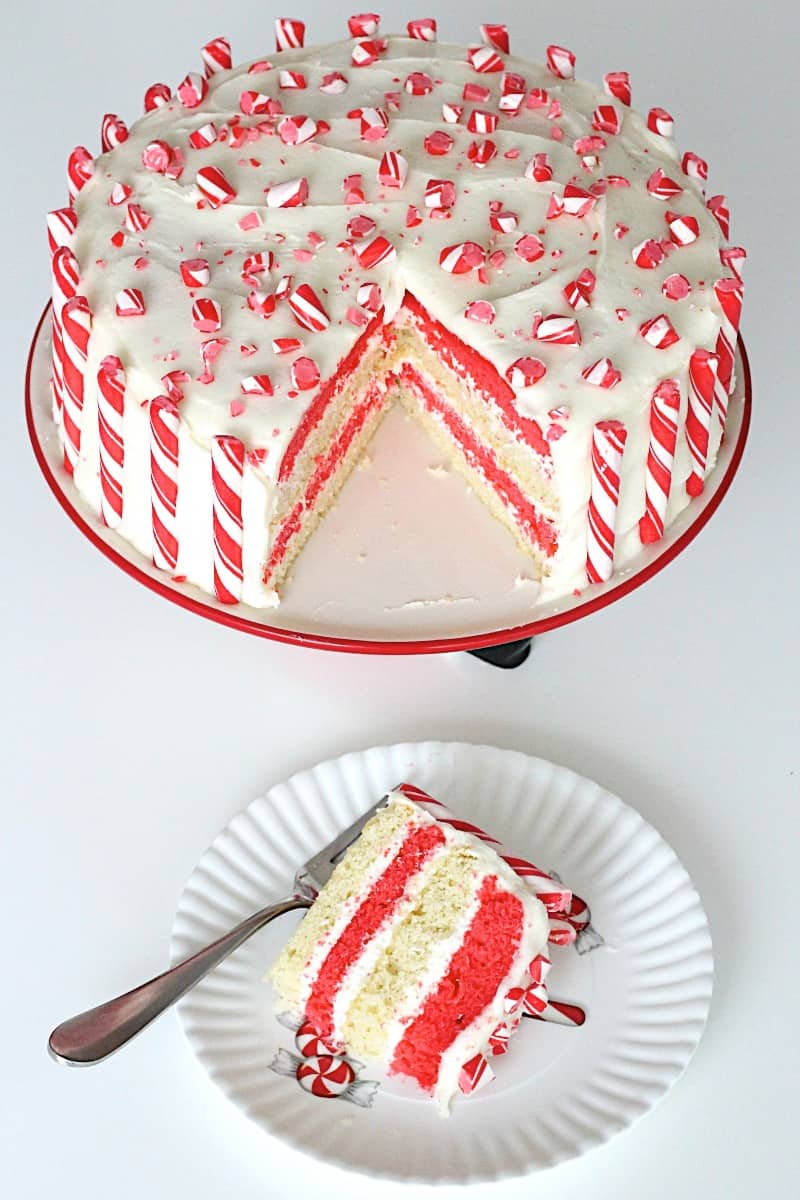 Enjoy & Happy Holidays!


Candy Cane Cake
Alternating layers of red and white peppermint flavored cake with a dreamy peppermint marshmallow buttercream frosting. A great cake for the holidays!
Author:
Maegan - The Bakermama
Ingredients
Cake:
½ cup (1 stick) unsalted butter, softened
1-1/2 cups granulated sugar
3 large eggs
1 teaspoon peppermint extract
2 cups Gold Medal™ all-purpose flour
1 tablespoon baking powder
½ teaspoon kosher salt
1 cup whole milk
1 tablespoon plus 1 teaspoon red food coloring
Frosting:
1 cup (2 sticks) unsalted butter, softened
2 (8 ounce) containers marshmallow crème
1 teaspoon peppermint extract
4 cups powdered sugar
peppermint sticks, for garnishing
Instructions
Preheat oven to 350°F. Line the bottom of two 8-inch round cake pans with a piece of parchment paper cut to fit. Lightly grease and flour both cake pans and set aside.
In the bowl of an electric mixer, beat the butter and sugar until smooth. Add the eggs, one at a time, and beat until well combined. Beat in the peppermint extract.
In a separate bowl, whisk together the flour, baking powder and salt. With the mixer on low speed, alternate adding the flour mixture and the milk, ending with the flour mixture, until well combined and batter is smooth.
Spread 1-3/4 cups of batter evenly into one of the prepared cake pans. Add the red food coloring to the remaining batter in the mixer and beat on low speed until batter is bright red, adding more red food coloring, if needed. Spread red batter evenly into the other prepared cake pan.
Bake cakes for about 20 minutes or until a toothpick inserted in the center comes out clean. Let cakes cool in pans 10 minutes before running a knife around the edge and turning the cakes out onto a wire rack to cool completely.
Once cakes are cooled, cut them in half horizontally with a long sharp knife or cake leveler.
To make the frosting, beat the butter and marshmallow crème in the bowl of an electric mixer until smooth. Add the peppermint extract. Beat in the powdered sugar, 1 cup at a time, until well combined. Turn the mixer to medium-high speed and beat frosting until fluffy. Add additional powdered sugar if frosting is too thin to spread.
Place one half of the white cake on the bottom of a cake stand or cake plate. Spread the top with a thin layer of frosting. Top the frosting with one half of the red cake and spread with a thin layer of frosting. Continue same process with the remaining halves of white cake and red cake. Cover the top and sides of all the layers with the remaining frosting.
To decorate, press peppermint sticks into the sides of the cake and top with crushed peppermint. Slice and serve!