Amazing homemade Blueberry Donuts in just 30 minutes! They're sweet & crisp on the outside, a cross between a cake donut & an old-fashioned donut on the inside, and packed with blueberry bliss.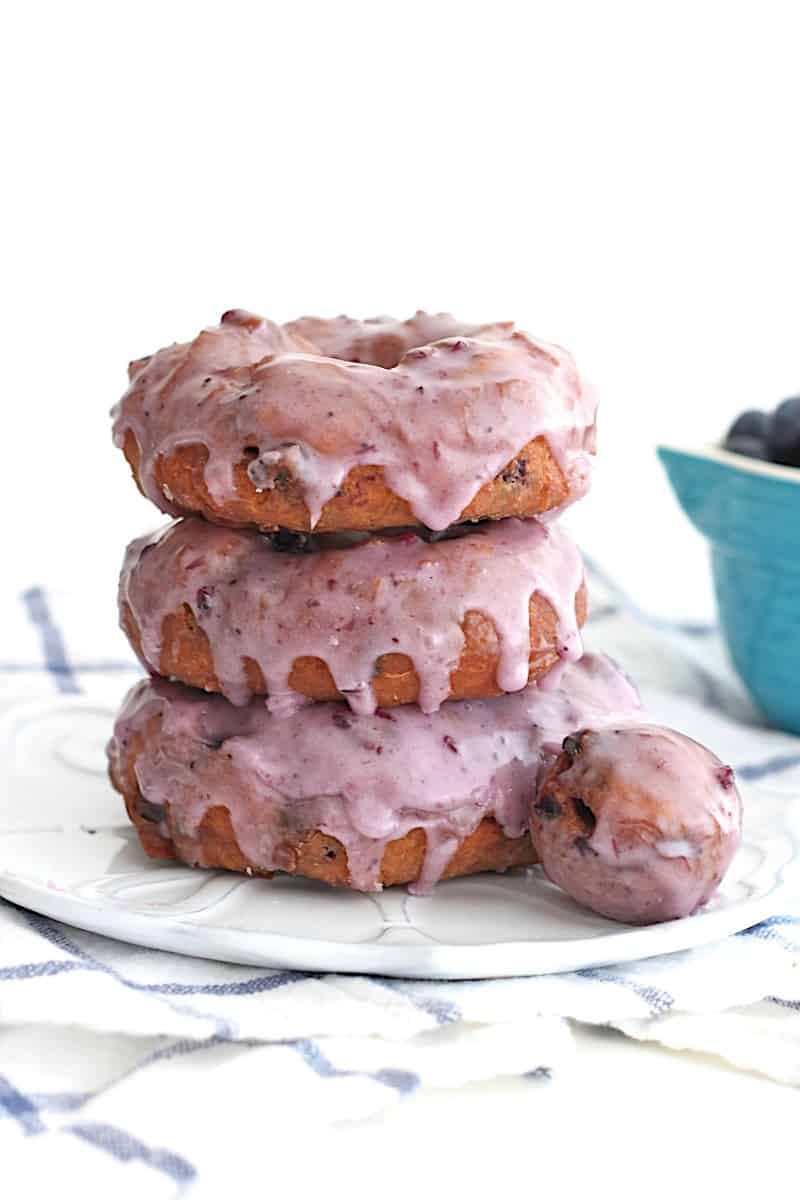 Happy National Donut Day!! Let's me be honest, every day is Donut Day for me, but I'll gladly honor my love for donuts even more today along with the rest of the nation or heck the world! It should be World Donut Day?! Everybody should get a day to celebrate these rings of fried dough deliciousness! And why is everyone still working today?? I thought we got off on holidays? Except you awesome donut makers out there, the nation needs you today!
Or you could have the day off as well and we could all just make our own donuts. It's easier than you think, my fellow donut-lovers!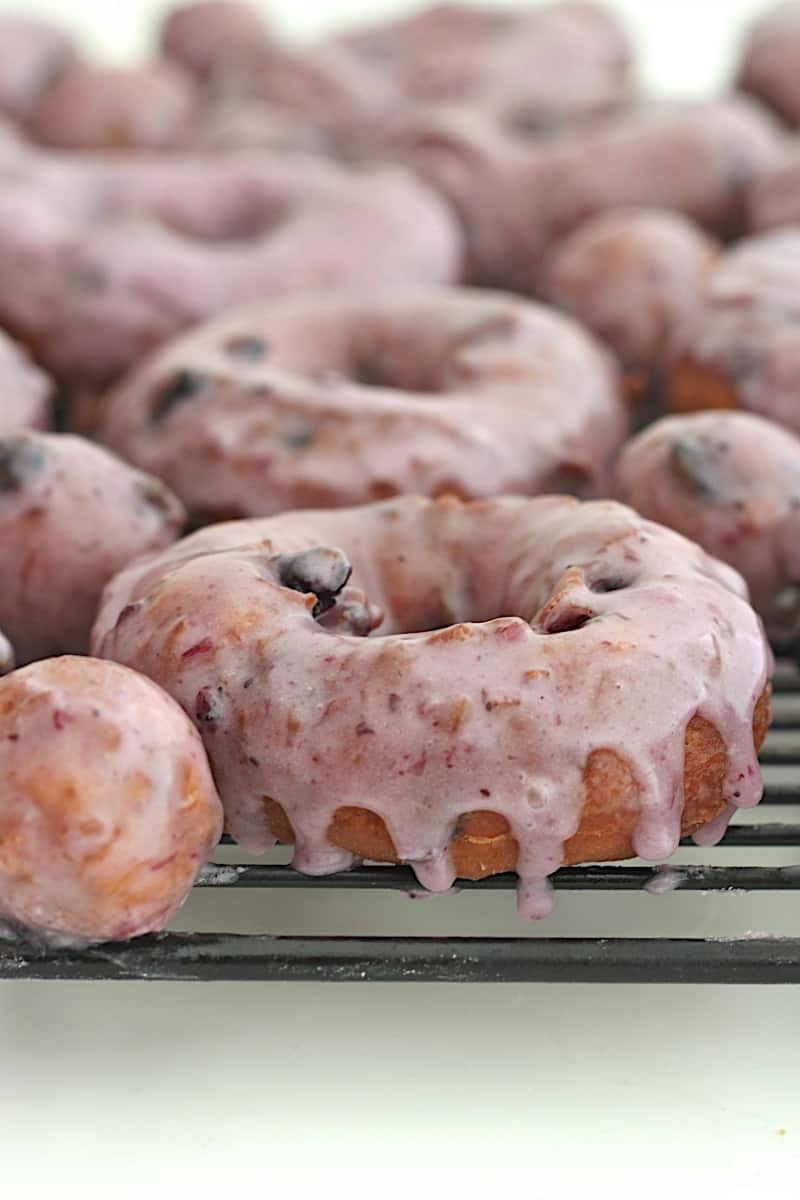 Earlier today I went the baked route & showed you how you can make donuts in less than 30 minutes with just 2 ingredients for the donut and one ingredient for the glaze. I kid you not! Check 'em out and bake 'em ASAP: 2-Ingredient Baked Cake Donuts with a 1-Ingredient Glaze
Now I'm going to show you how to make fried blueberry donuts in about 30 minutes as well. After you've made and enjoyed these donuts, you'll think twice about loading up and going to the donut shop on a weekend morning when you could make them yourself in about the same time it would take you to go get them. Mmmm…homemade donuts!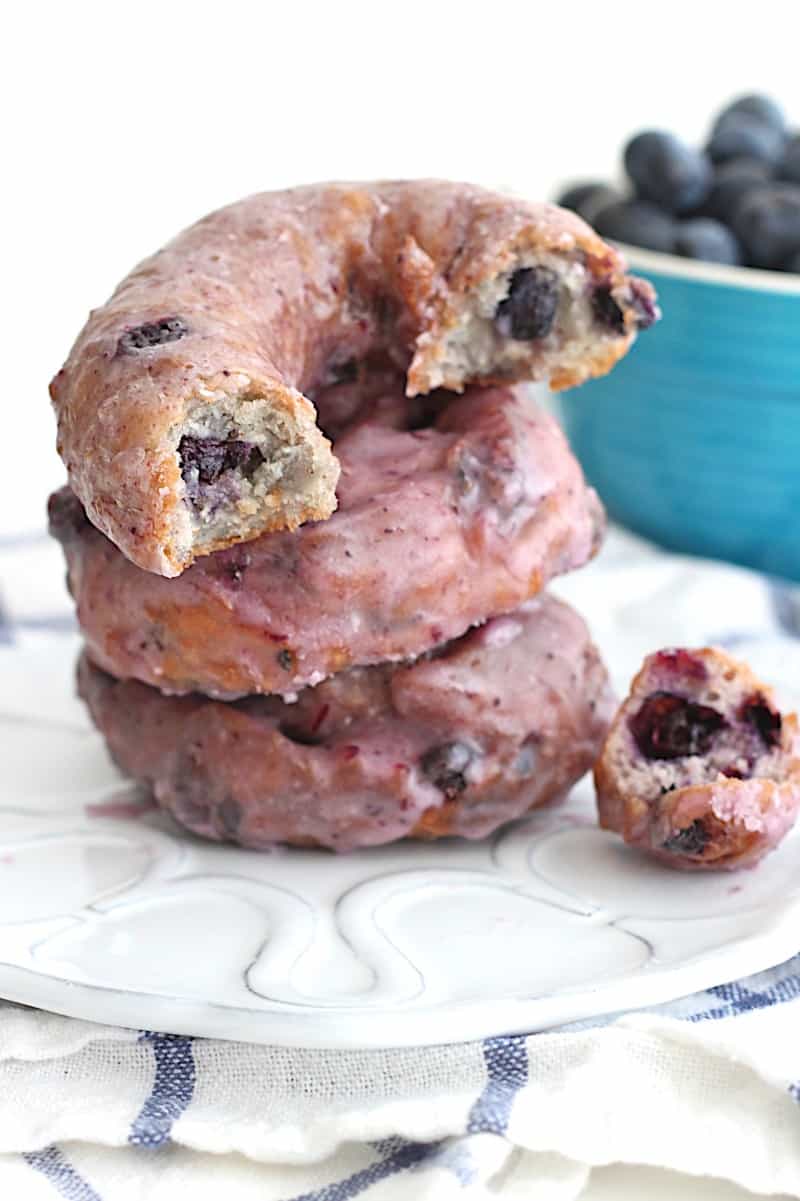 These blueberry donuts are a dream! They're sweet & crisp on the outside, a cross between a cake donut & an old-fashioned donut on the inside, and packed with blueberry bliss in every bite.
The key to frying great donuts at home is all about the temperature of the oil. I found after several attempts that a donut's happy place is when the oil is about 360°F. If the oil is not hot enough, the outside of the donut will look done, but the inside could still be raw. If the oil is too hot, the outside will burn and the inside will be all greasy. So be sure to have a good kitchen thermometer on hand when making these donuts.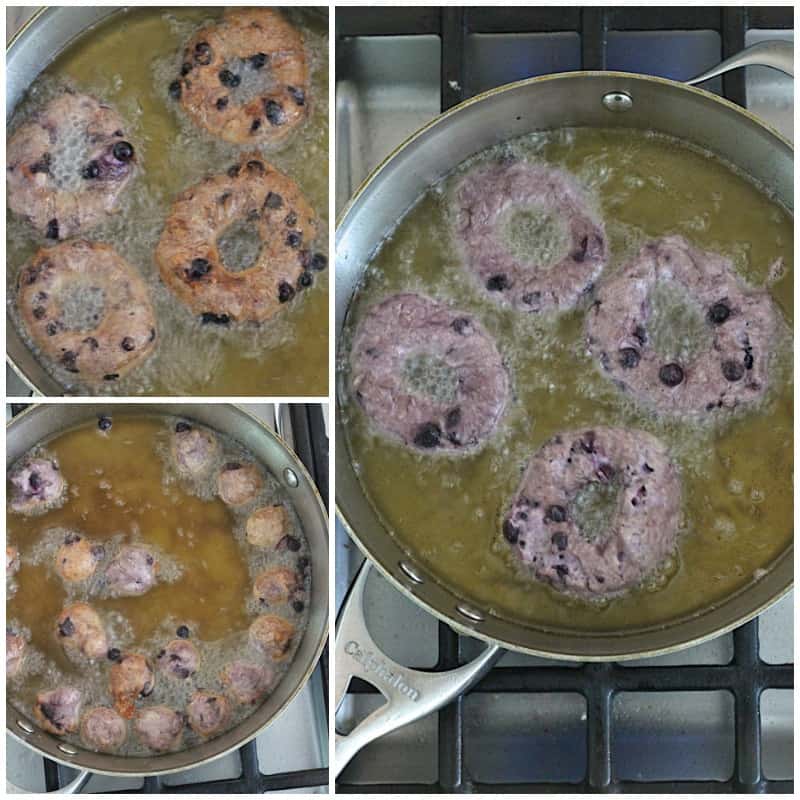 You'll also need a donut cutter or a large and a small cookie cutter to cut them out.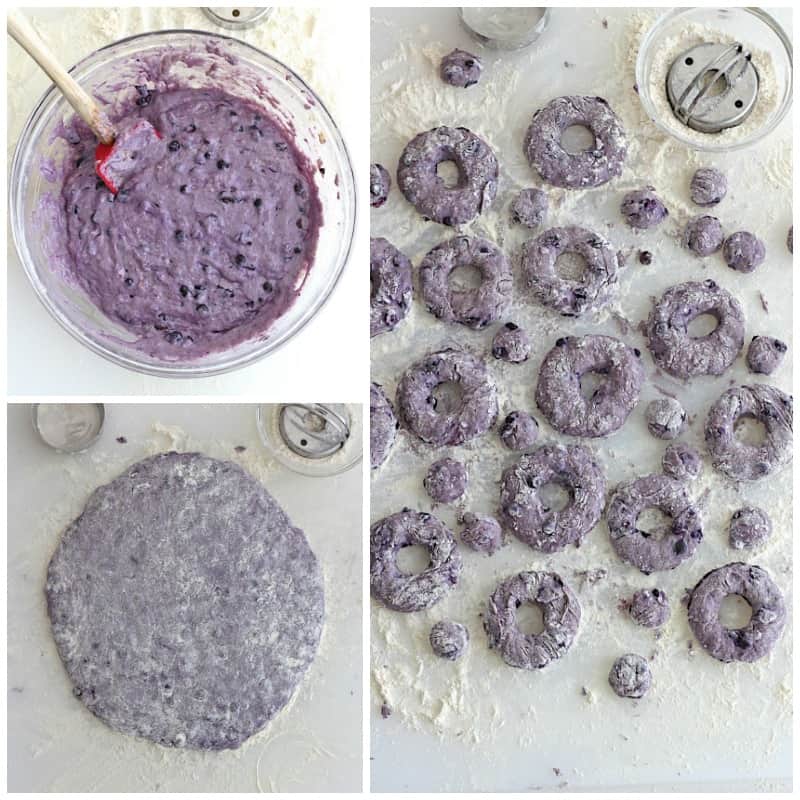 Not only are these donuts bursting with blueberries inside, they're coated in a blueberry jam glaze. It doesn't get much more delicious than this, y'all!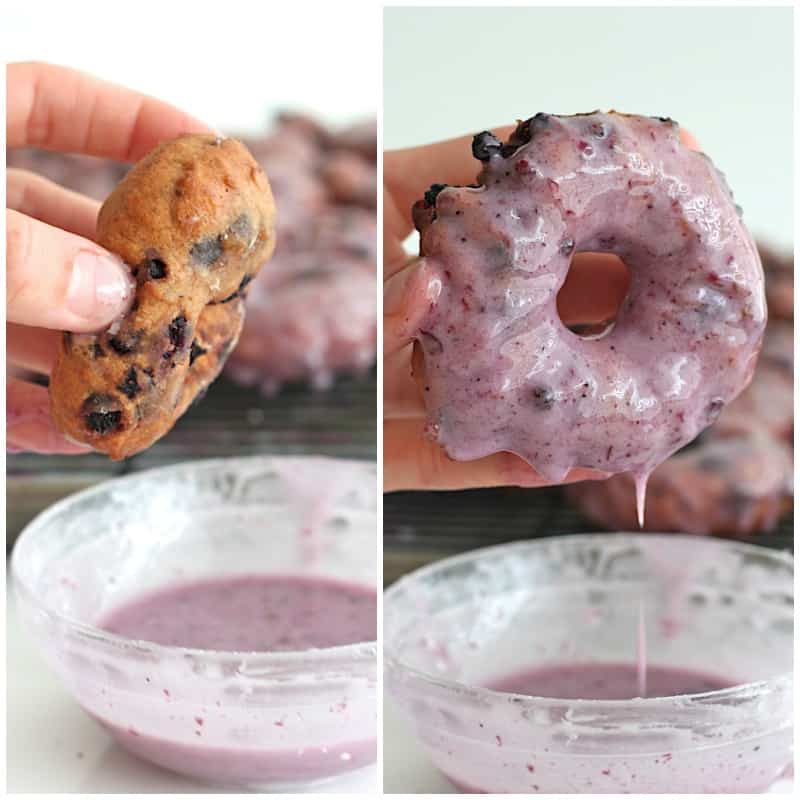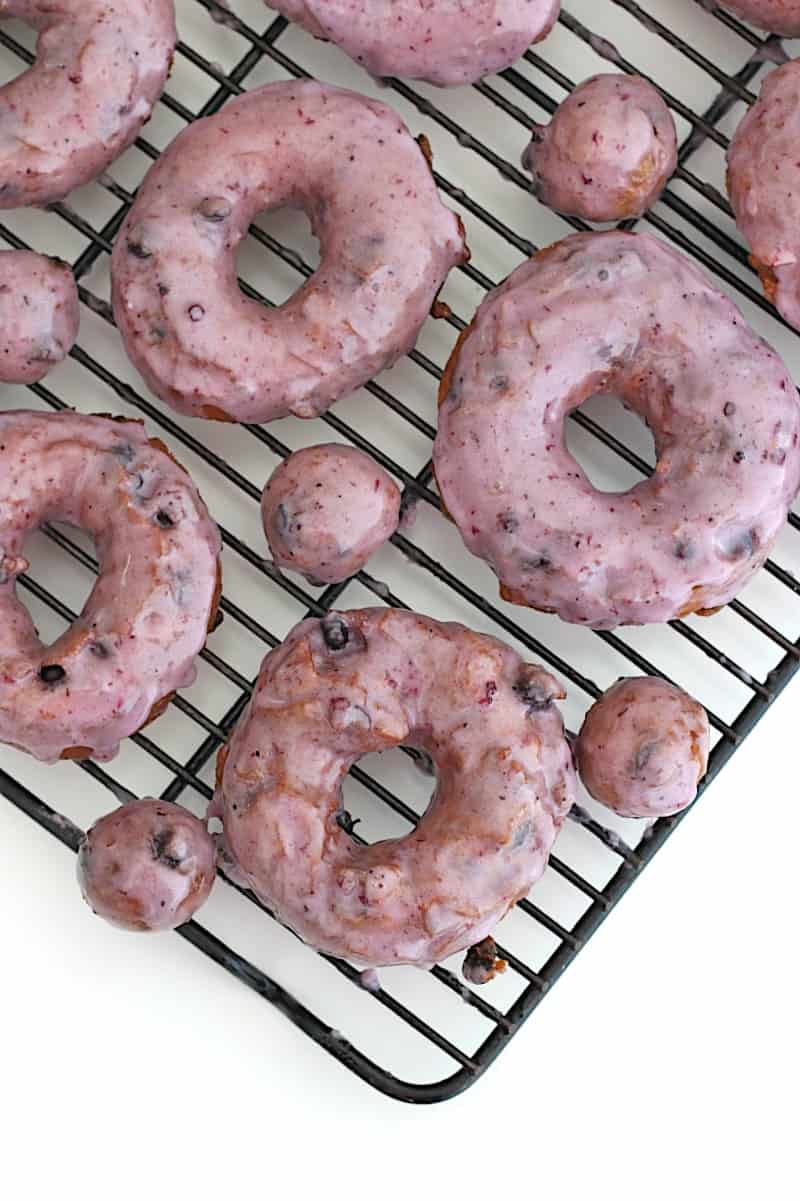 These donuts are so easy to make and the whole family will be flocking to the kitchen for a fresh fried donut as soon as they hear the first batch sizzling.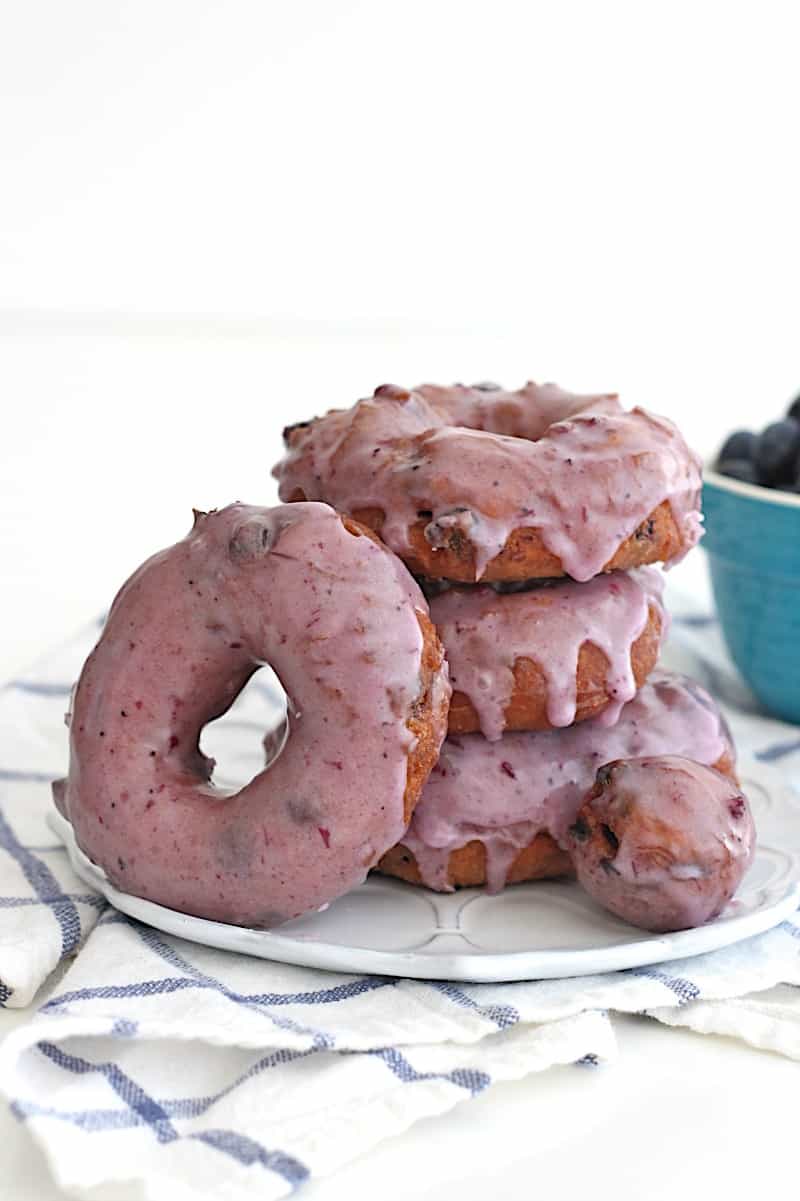 I hope you got to enjoy a donut or two today and that you're excited to make these delicious blueberry donuts very soon! Enjoy!
xoxo,


Print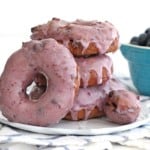 Blueberry Donuts
Author:

Prep Time:

15 mins

Cook Time:

10 mins

Total Time:

25 mins

Yield:

15

donuts & 15 donut holes

1

x

Category:

Breakfast
---
Description
Amazing homemade blueberry donuts in just 30 minutes! They're sweet & crisp on the outside, a cross between a cake donut & an old-fashioned donut on the inside, and packed with blueberry bliss.
---
Donuts:
3 cups

all-purpose flour

1/2 cup

granulated sugar

2 teaspoons

baking powder

1 teaspoon

cinnamon

1/4 teaspoon

kosher salt

1

–

1/4

cups frozen blueberries (the smaller the better)

3/4 cup

milk

1

large egg

1 teaspoon

vanilla

1 tablespoon

butter, melted
canola oil, for frying
Glaze:
2 cups

powdered sugar

1/4 cup

milk

2 tablespoons

blueberry jam
---
Instructions
Fill a deep fryer or large pot with canola oil to at least 2 inches deep. Using a candy thermometer, heat oil to 360°F.
While oil is heating, mix together the dough. In a large bowl, whisk together the flour, sugar, baking powder, cinnamon and salt. Stir in the blueberries until they're well coated in the flour mixture.
In a separate bowl, whisk together the milk, egg, vanilla and melted butter. Stir the wet ingredients into the flour mixture until a sticky blue dough forms.
Press dough into a circle about 1/2-inch thick on a heavily floured surface. Use a donut cutter or two round (one big, one small) cookie cutters to cut out donut shapes, dipping the cutters into flour as necessary to prevent sticking to the dough. Gather and reroll remaining dough until all the dough is used. You should have 15 donuts and donut holes.
For the glaze, simply whisk together the powdered sugar, milk and blueberry jam until smooth and thin enough to dip the donuts in. Add additional milk if the glaze is too thick or powdered sugar if it seems to thin.
Once the oil has reached 360°F, carefully add donuts to the hot oil, taking care not to overcrowd them. Let donuts fry for 15-30 seconds on each side, flipping twice, for a total frying time of 2 minutes or until donuts are golden brown. They cook fast so watch them carefully as you don't want to burn them.
Transfer the fried donuts to a wire rack that's set over a rimmed cookie sheet or paper towels to let excess grease drip off before dipping in glaze. Repeat frying process with remaining donuts.
While donuts are still hot, dip one side into and out of the glaze a few times and return to the wire rack with the non-glazed side down. Let glaze set or enjoy while they're still warm.
---