All you need are chocolate chips and marshmallows melted to perfection to make this Skillet S'mores Dip. It's perfect for dipping graham crackers, pretzels and your favorite cookies.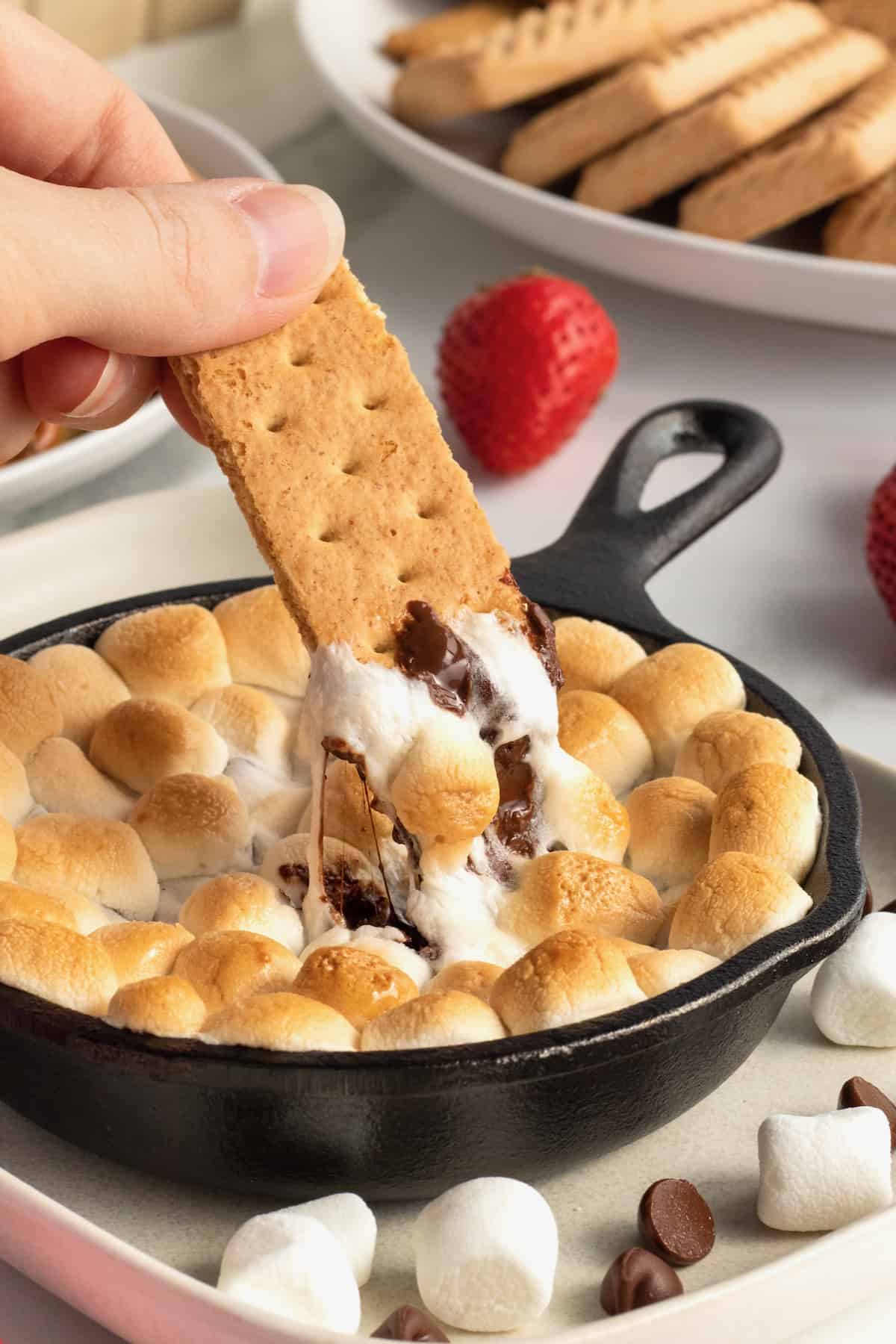 Improving on Perfection
It's hard to beat chocolate and marshmallow melting together in between two crunchy graham crackers. But this Skillet S'mores Dip recipe might just have improved upon perfection. You don't have to keep going back to the fire to enjoy this s'mores dip. Just grab your favorite dippers (everything goes!) and get in there.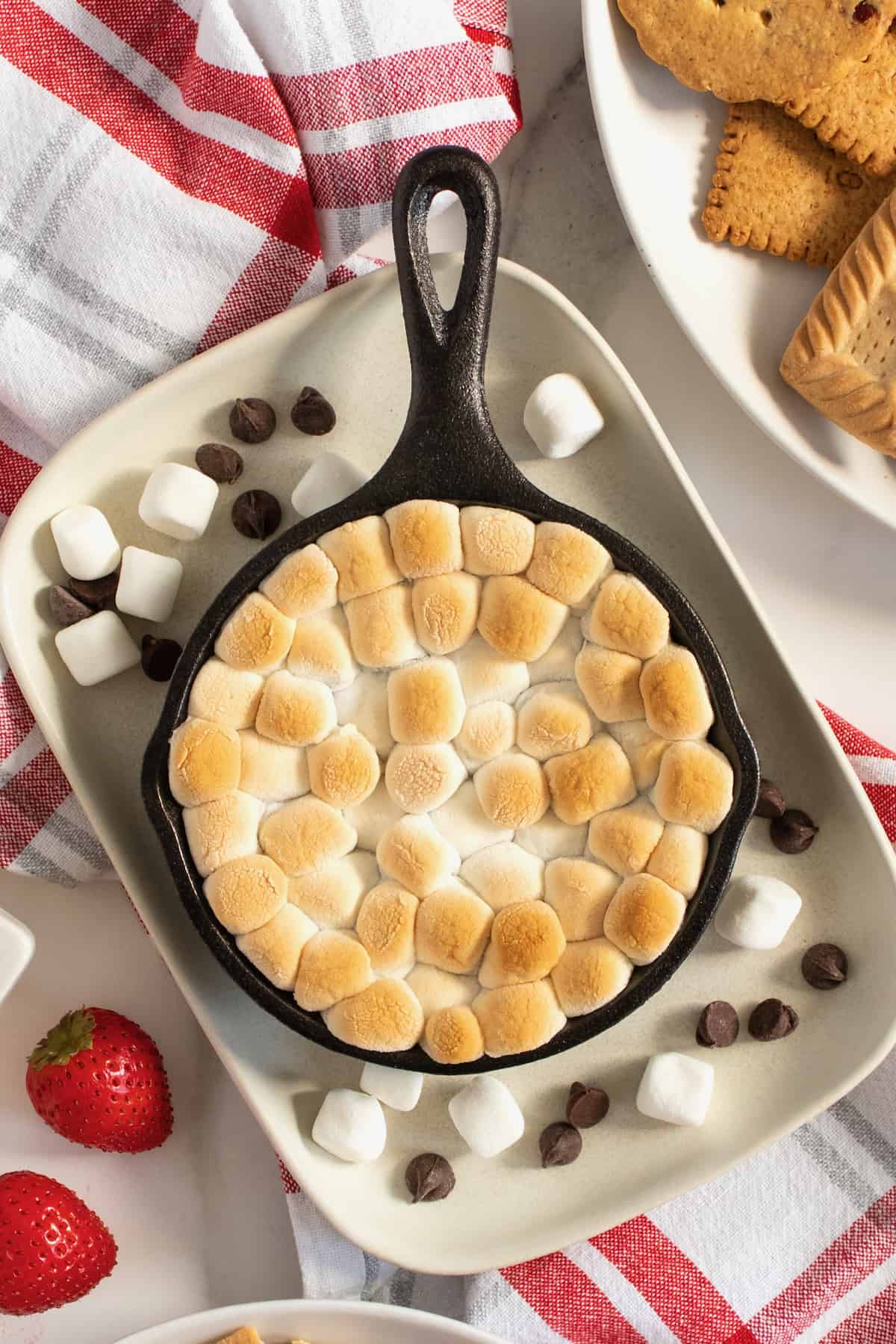 What do you need to make Skillet S'mores Dip?
We love this flavor combo so much, I once looked up who invented s'mores. And what do you know! It was the Girl Scouts who first paired a toasted marshmallow with a chocolate bar and graham crackers. Smart cookies! And now you can get that s'mores flavor without a fire. All you'll need is: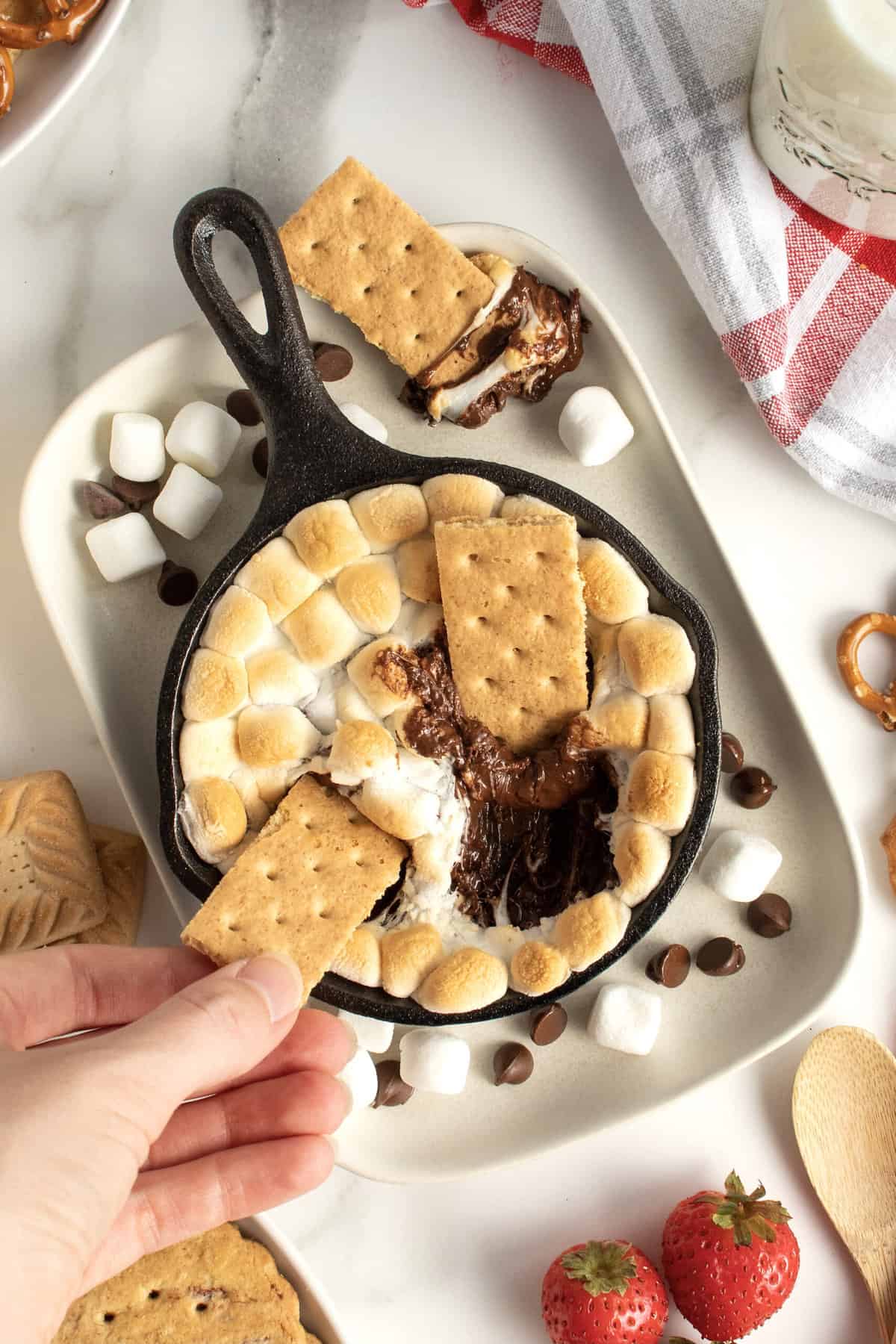 How to Make Skillet S'mores Dip
First, preheat the oven to 375°F.
Then place the chocolate chips in a mini (5.4-inch) cast iron skillet or oven-safe skillet and place the marshmallows on top.
Bake for about 10 minutes or until the marshmallows are golden brown and toasted and the chocolate is melty.
Serve with dippers like graham cracker sticks, pretzels, vanilla wafers and cookies. Enjoy!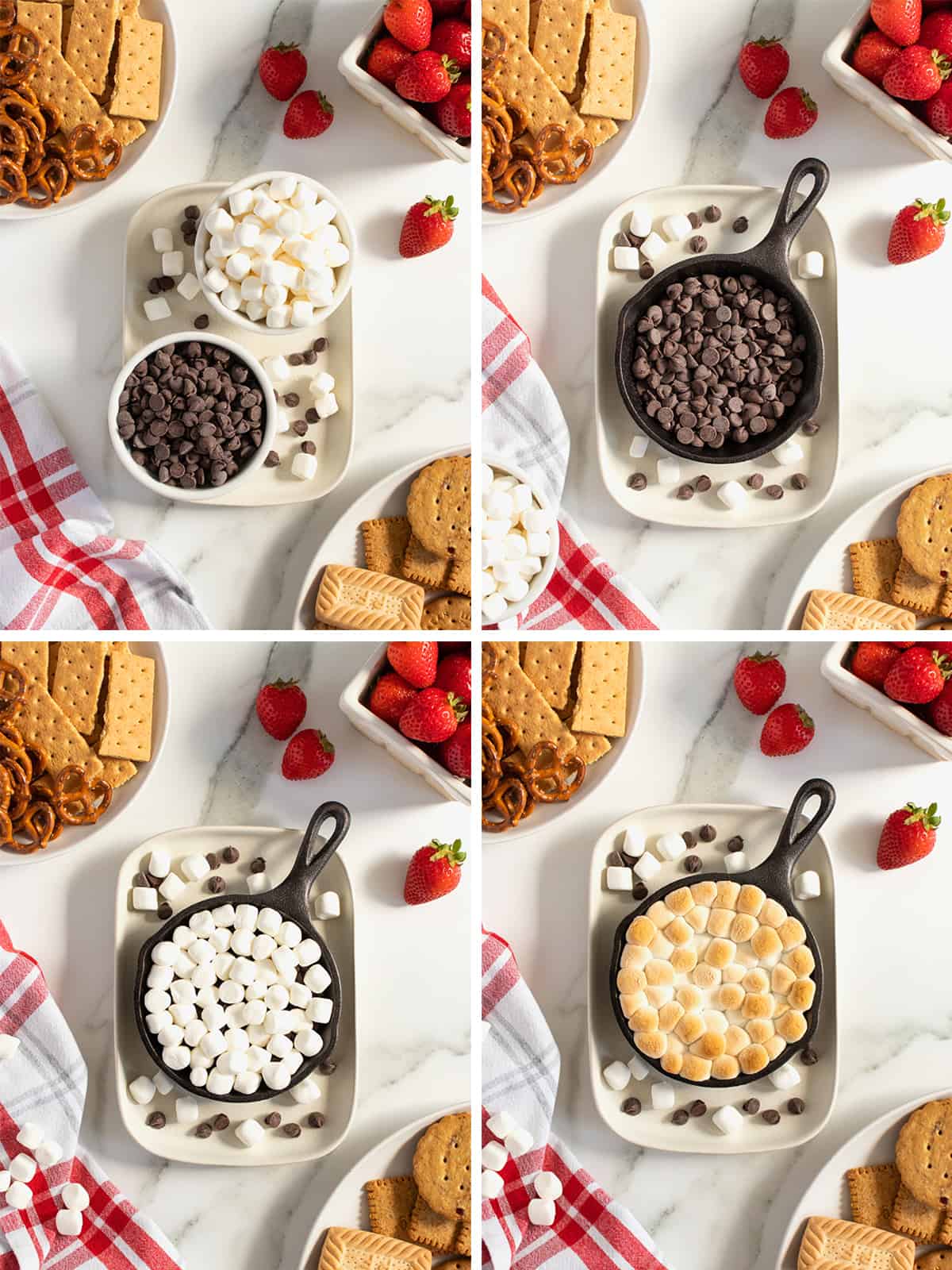 5 Ways to Roast Marshmallows for S'mores
No campfire? No problem! There are so many easy ways to to make s'mores without a full flaming fire. You can make s'mores using your fireplace, gas stovetop, oven or grill to get those marshmallows roasted to perfection. A microwave works in a pinch, too!
Fireplace: A fireplace is as close to a campfire as it gets! Light the fireplace and roast the marshmallow on a long skewer over the fire, but not in it! You want it to be close enough to roast the outside of the marshmallow and slowly melt the inside. Roast to desired toastiness! Be careful not to let the marshmallow drip into your fireplace.
Gas stovetop: Simply skewer your marshmallows and use the flame just as you would with a real fire. And always, always supervise children when making s'mores with fire!
Oven: Just top a graham cracker (or whatever you're using as your base) with one or two marshmallows, and place it in the oven underneath the broiler for a minute or so. If you're using this method, make sure to watch the marshmallows closely underneath the heat, because they will roast quickly.
Grill: If we already have the grill going for our meal, we love making s'mores on the grill for dessert! Turn the grill to high heat and roast the marshmallows on a long skewer over the hot flame until of desired toastiness.
Microwave: You won't get a roasted marshmallow when you make a s'more in the microwave, but it will be melty! Place a graham cracker, piece of chocolate and a marshmallow on a microwave-safe plate. Microwave on high for 10-15 seconds, watching it carefully as the marshmallow will puff up. Remove from the microwave and top with another graham cracker. These are best enjoyed right away!
My Favorite S'Mores Recipes
What's S'more Delicious than the combination of crunchy graham crackers, melting chocolate candy bars, and gooey marshmallow?
I can't think of anything! It's so fun to get creative and mix it up with variety of chocolate candies, peanut butter, flavored marshmallows and even cookies instead of graham crackers. Or turn it into ice cream! Check out all the ways to enjoy this classic flavor combination!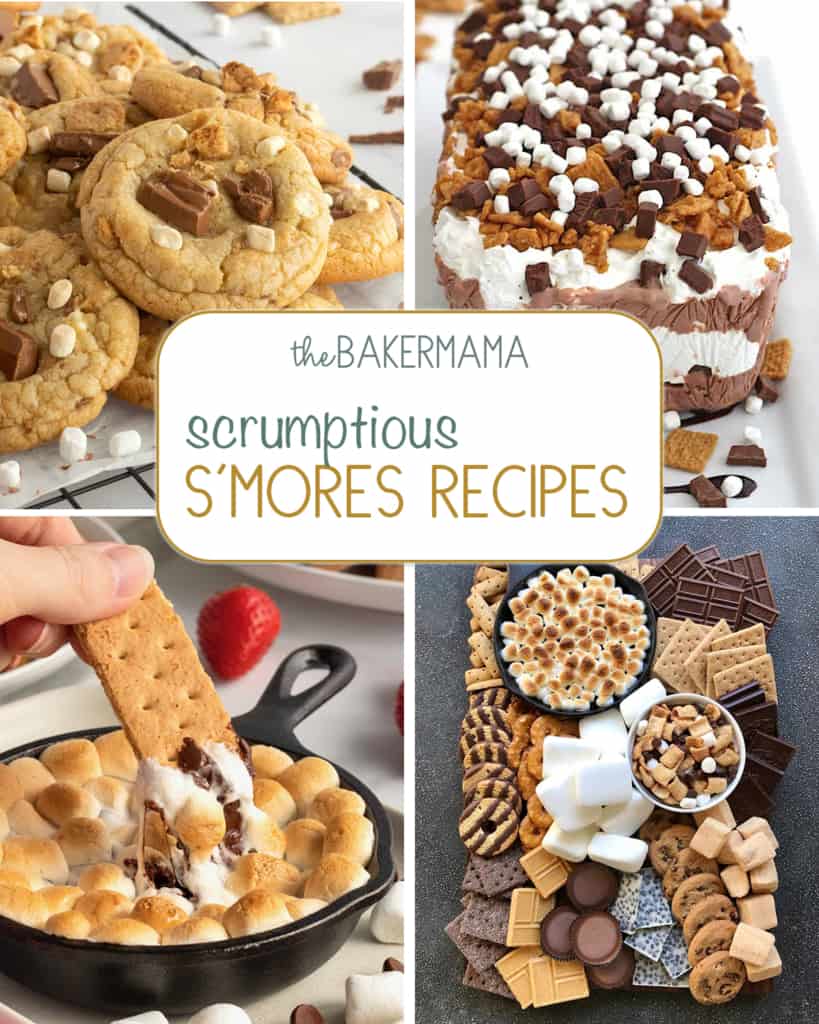 If you make this S'mores Skillet Dip, be sure to snap a picture and share it with me or tag me on Instagram @thebakermama so I can see.
I love seeing how inspired and creative y'all get with the recipes I share. Enjoy!
xoxo,

Print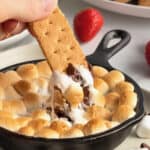 Two-Ingredient Skillet S'mores Dip
Author:

Prep Time:

2

Cook Time:

10

Total Time:

12 minutes

Yield:

6

1

x
---
Description
All you need are chocolate chips and marshmallows melted to perfection to make this Skillet S'mores Dip. It's perfect for dipping graham crackers, pretzels and your favorite cookies.
---
---
---