Welcome to the heart of our home, the kitchen. The place where we congregate on a daily basis to prepare delicious food and bond with each other. Here's a glimpse into a Sunday morning at our house where we traditionally prepare and enjoy breakfast together. There's certainly never a dull moment, but it's always delicious!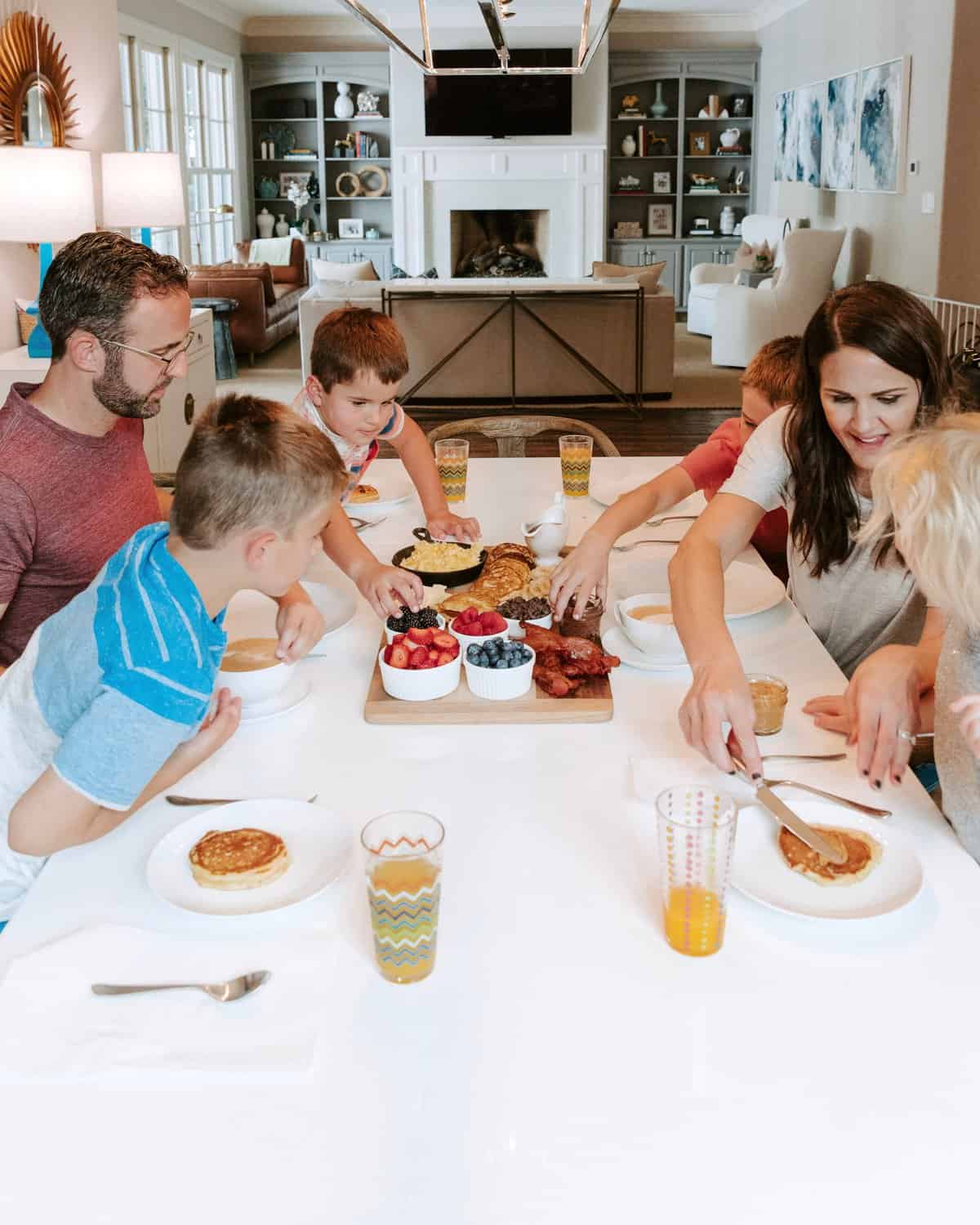 I'm thrilled to be partnering with my friends at Sub-Zero, Wolf, and Cove to show you how we live deliciously. We're foodies raising foodies, so the time we spend together preparing and enjoying the food we're so blessed to have is very important to us. We want our kids to know where our food comes from, how it's prepared and most importantly how to appreciate it.
Sub Zero, Wolf, and Cove shares this same philosophy, which is why I enjoy partnering with them to hopefully inspire others to take time to really savor every bite of life. To live in the moment and cherish the memories made with your loved ones in the kitchen and around the table.
Our kitchen is never off limits. We truly believe the more the merrier when it comes to hanging out and helping in the kitchen. The pride our kids feel when they crack an egg without any shells getting into the mixing bowl or when they flip a perfect pancake is amazing to experience with them. Seeing the joy on their faces is so worth the mess that is bound to be made when little ones are helping in the kitchen.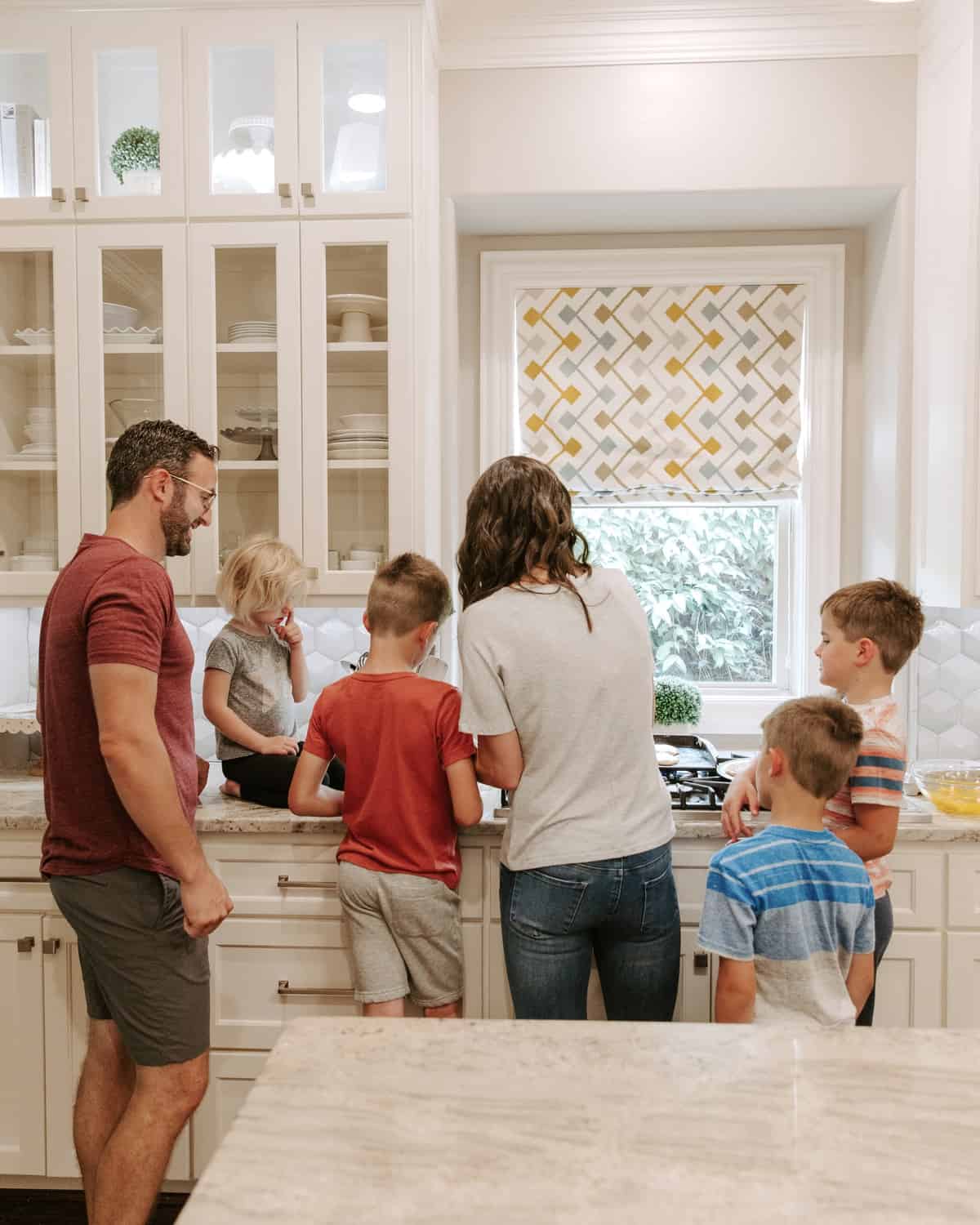 Almost every Sunday morning we come together to cook a big breakfast that we all sit down and enjoy as a family. It's something we all look forward to and that brings us together in such a special way.
We usually create a big board with breakfast favorites like pancakes, bacon, eggs, fruit and some yummy pancake toppings to make it extra special. Having the kids help slice strawberries, crack eggs, flip pancakes and set the table makes it an activity that we all really enjoy.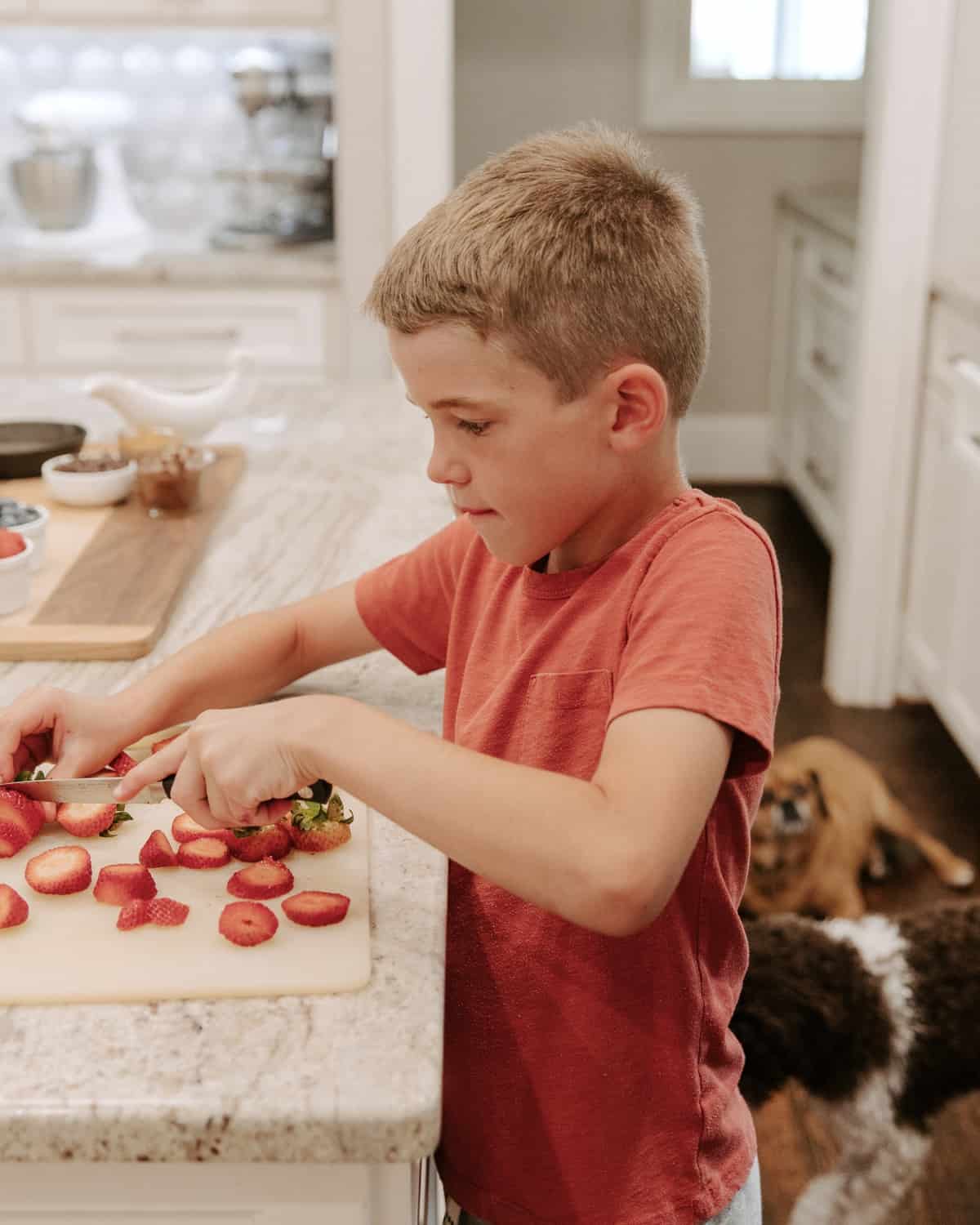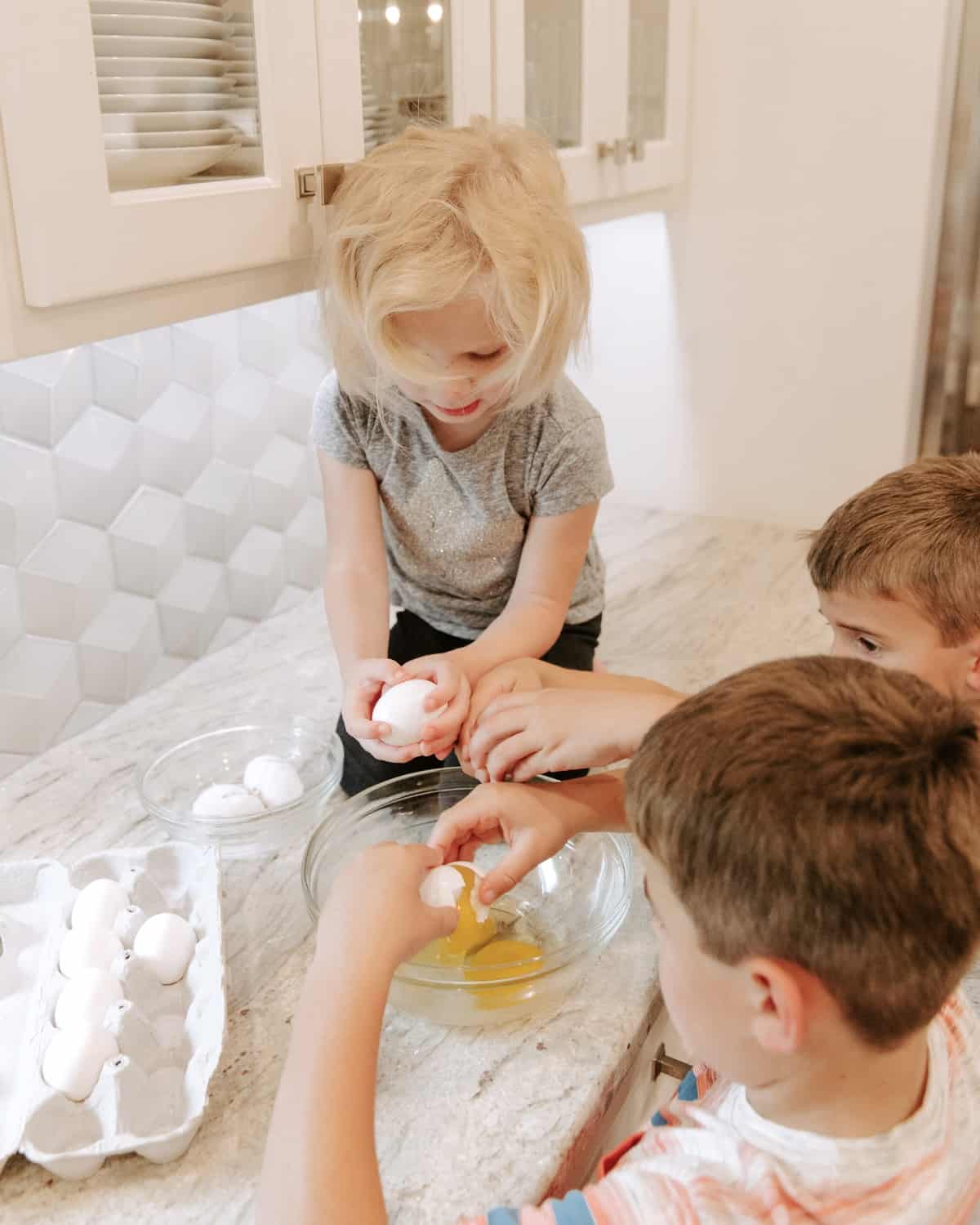 We take our time and talk about life, what we enjoyed most over the weekend and what we're looking forward to in the week ahead. Sure, it's bustling with the six of us (plus two pups!) all helping, and can get a little chaotic with pancakes occasionally being flipped across the kitchen, but it's our happy place. It's so fun and the memories we create together are ones that we will cherish forever.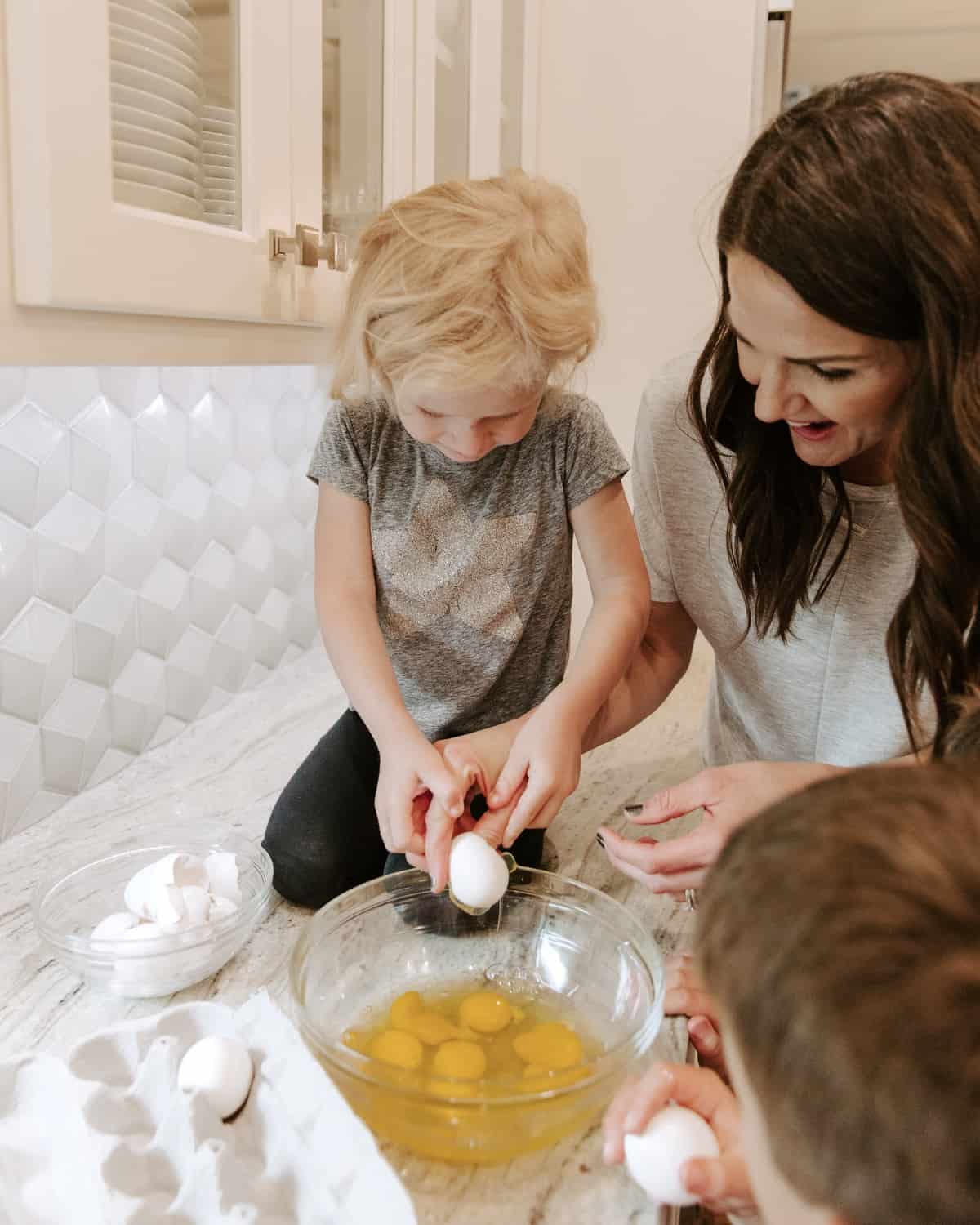 Here are some of my favorite tips for cooking breakfast as a family that make the experience extra special:
Keep it simple with classic recipes that are quick and easy to make and that everyone loves. This will build excitement and eagerness to help.
Decide ahead of time which tasks the kids could best help with and give them each a job or let them rotate through stations. For example, while one is cutting strawberries, have the others crack a few eggs and mix the pancake batter, then let everyone switch around. Of course, assign tasks based on age and ability.
If things start to get a little chaotic in the kitchen, have the kids help set the table by letting them place all of the plates and silverware out for each person. And if you really need to distract them, have them draw and color placemats or name cards for each person. This keeps them busy yet involved.
Create a family playlist with everyone's favorite songs and play it while you're cooking. Each person gets excited when their favorite song(s) come on and we find that we all are just generally more happy hearing our favorite music.
Let the kids each pick out something they really want to go with the breakfast. Whether it be chocolate chips, whipped cream or sprinkles, giving them the freedom to choose something helps them feel even more involved in the experience.
Relax, take your time and have fun with your family! It's more about the experience and the memories than getting it done quickly or perfectly.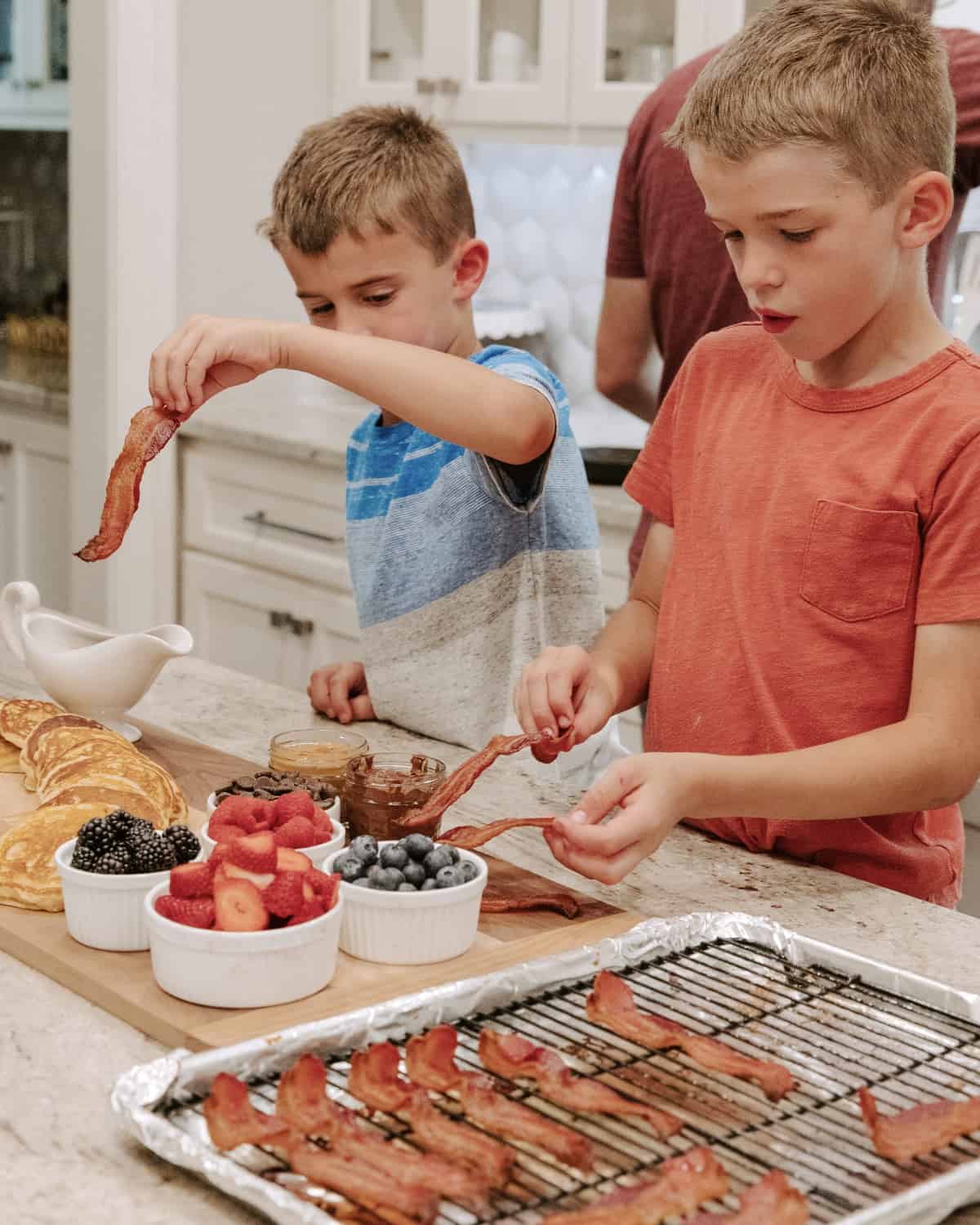 Once the board is built and we're all gathered around it at the table, we put everything else aside and really focus on the food we've just prepared and the time we get to spend with each other. As everyone fills their own plates, it's so beautiful to see the confidence our kids have in selecting what they'll eat. We've taught them that they need to strive for balance when it comes to food and that it's completely okay to enjoy some Nutella or chocolate chips on their pancakes as long as they also have fruit and protein too.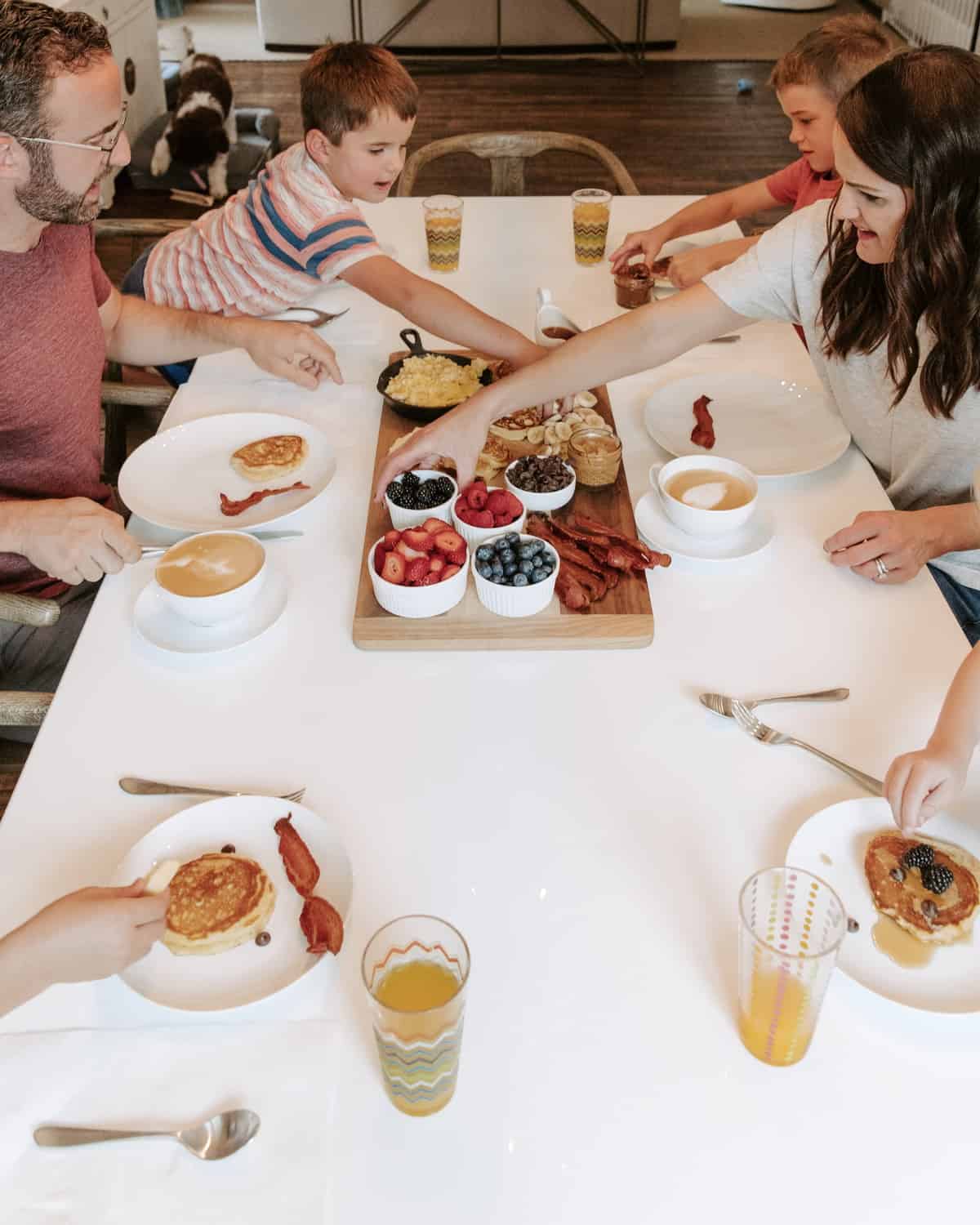 We've found that our kids eat better and are more willing to try new foods when they help make it, see it all before them on the table, and are able to prepare their own plates. They feel proud and more committed to enjoying each bite.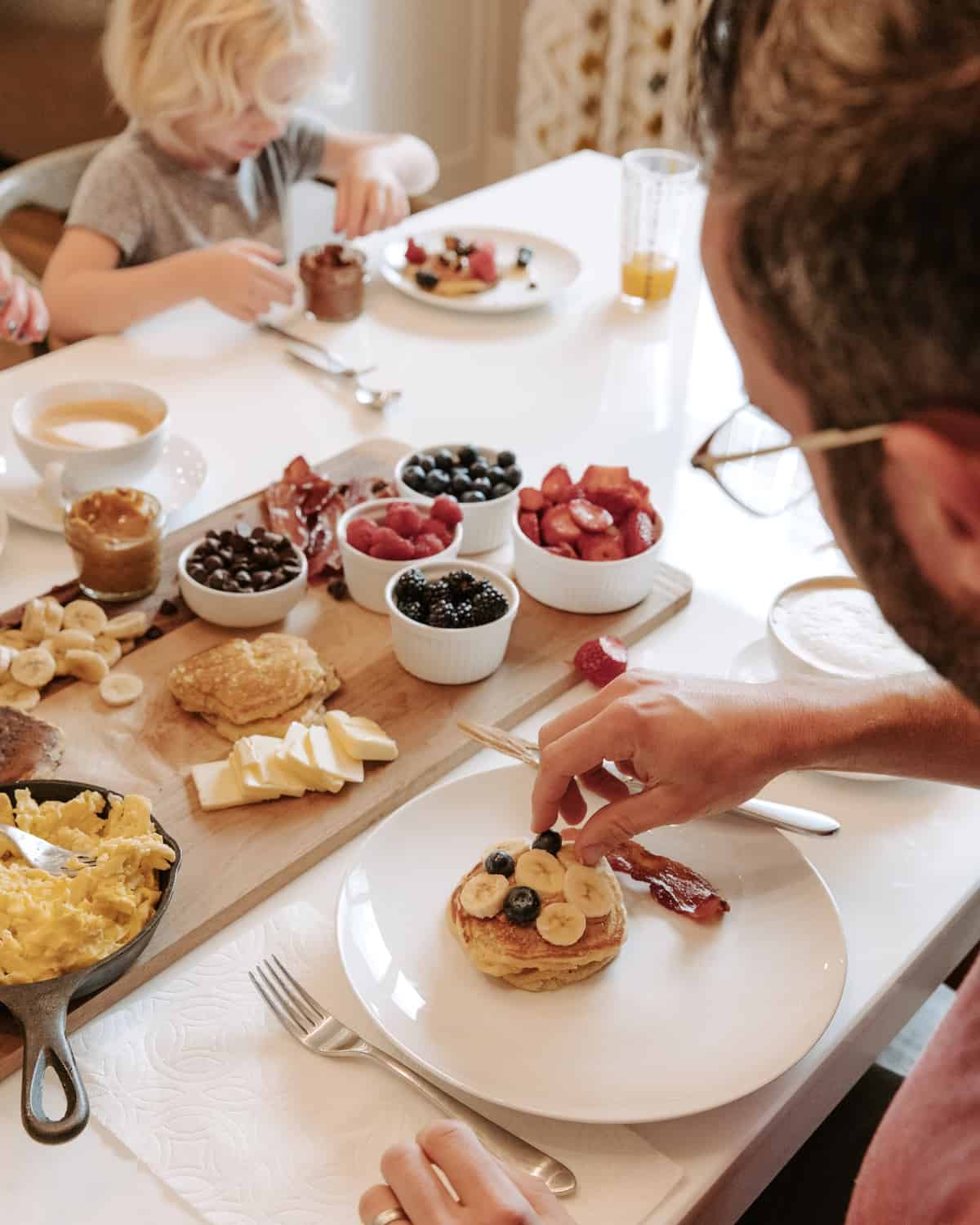 I would love to hear how you live a delicious life? What traditions do you and your family have? What is a moment in the kitchen or around the table that you know you'll remember forever? Please do share in the comments. I know we all would love to be inspired by each other.
xoxo,


This is a sponsored conversation written by me on behalf of Sub-Zero, Wolf, and Cove. The opinions and text are all mine. Thank you for supporting the brands that make The BakerMama possible.