Create a Spooky Snack Board for Halloween that is sure to get all the ghosts and goblins excited!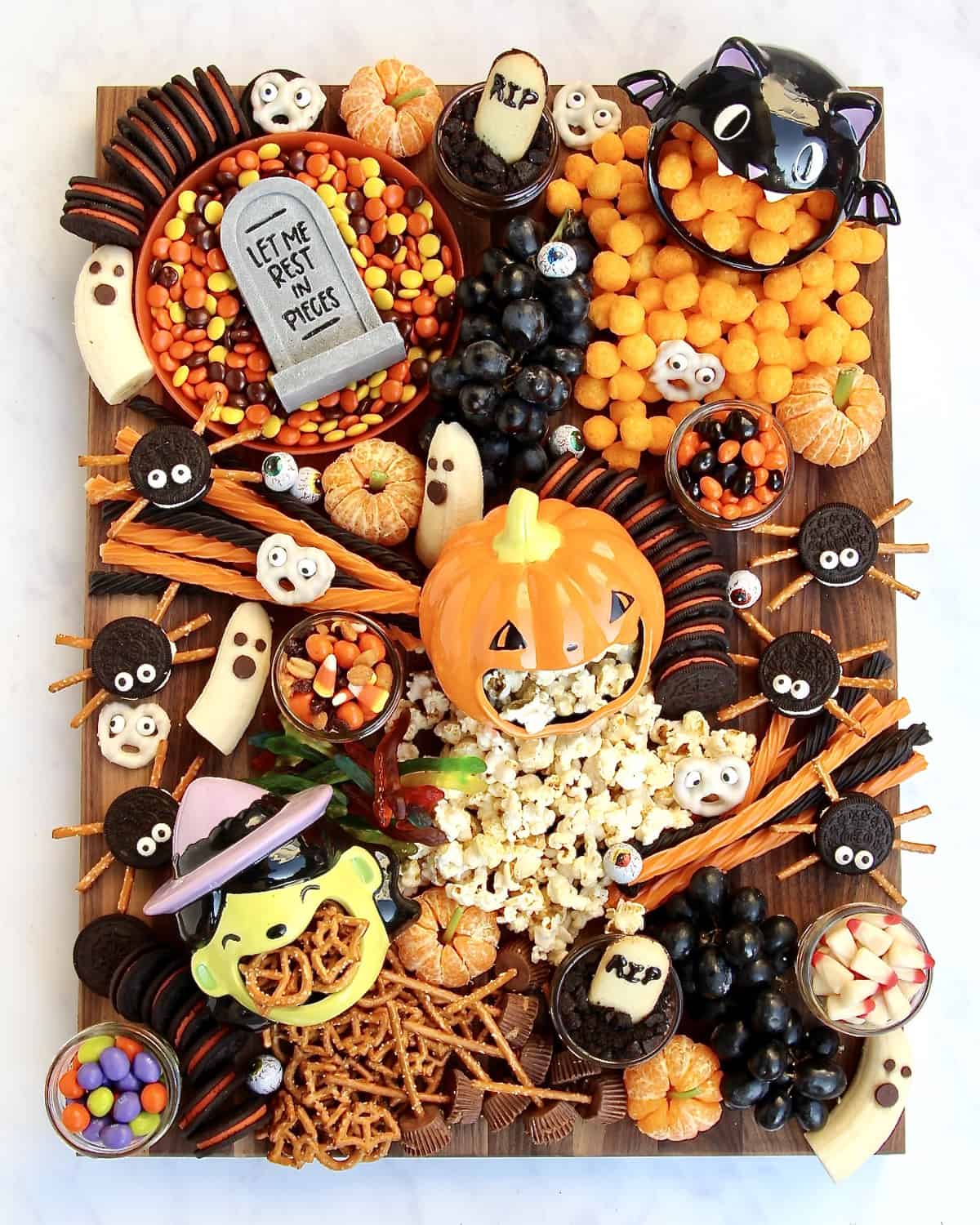 Sweet, Salty & Scary!
This Spooky Halloween Snack Board has something for everyone and is sure to be a Halloween hit! With a super cute selection of sweet and salty spooky snacks, this board will have your guests screaming with excitement over all of the fun and yum!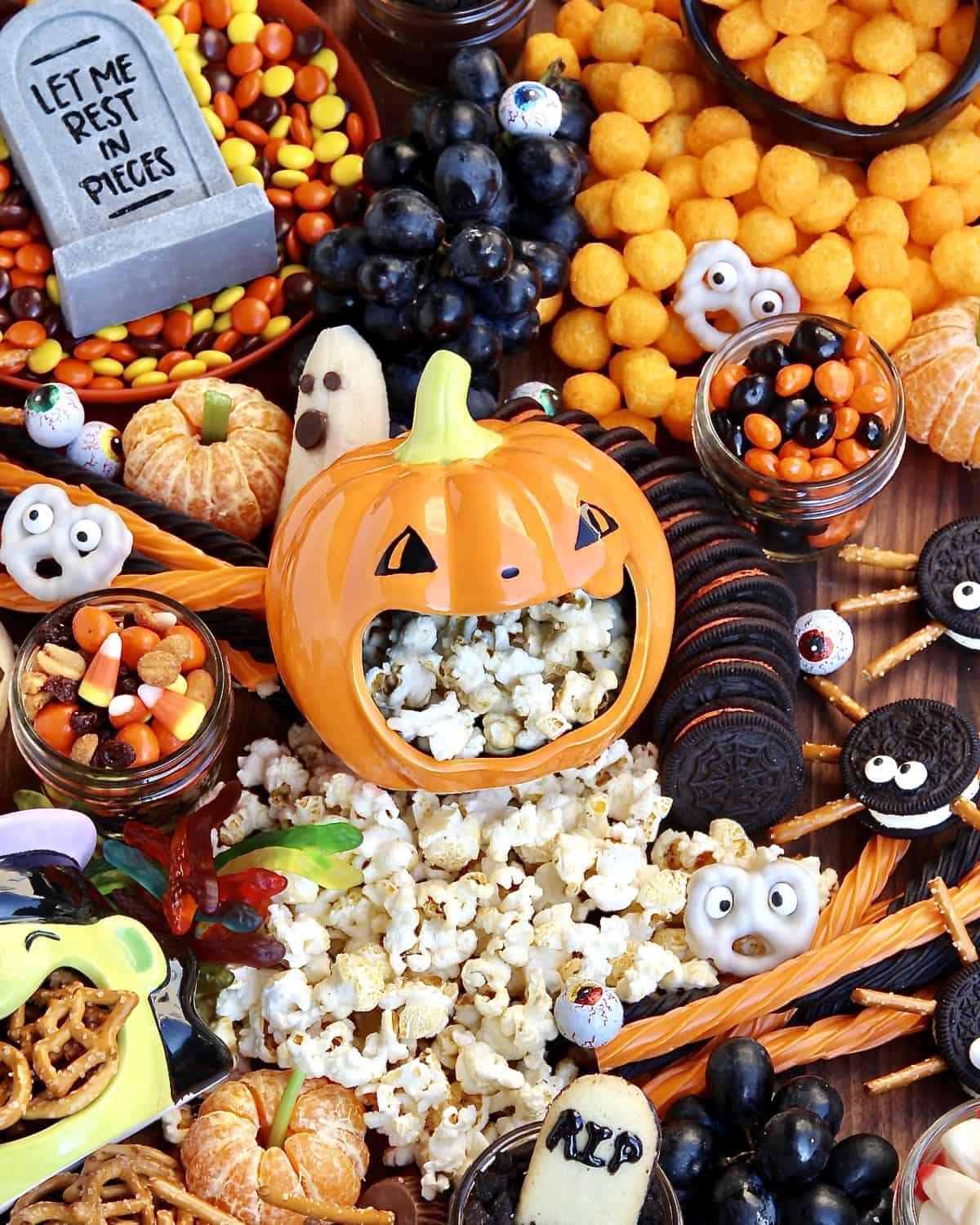 I built this board with some of my crew's favorites but you can certainly pick and choose what you decide to put on your Spooky Snack Board based on your crowd and what you think everyone would enjoy most.
I have to say the headstone resting in the Reese's Pieces might be my favorite feature of this board. Such a simple way to add festiveness to a Halloween-themed board. I found it at Target last year but haven't been able to find it again this year. I'm on the hunt and will let y'all know if I find one! Or if you do, leave where you found one in the comments.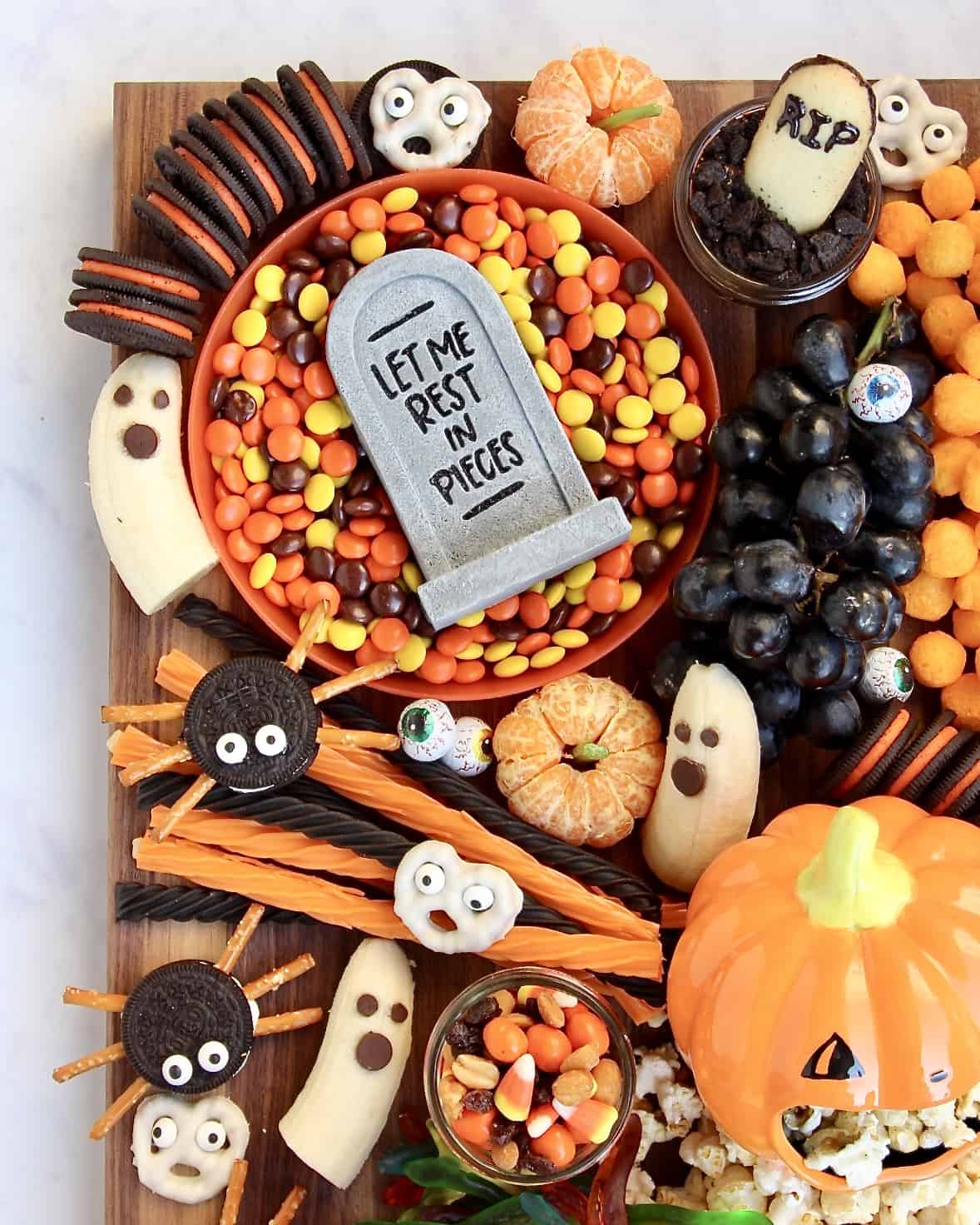 What Do I Need to Build a Spooky Halloween Snack Board?
Celery
Bananas
Vampire Teeth Candy Corn
Black Grapes
Now, fill the open mouth Halloween container at the top of the board with the round cheddar cheese ball puffs, the container in the middle of the board with popcorn, and the container at the bottom with the Halloween Bat & Pumpkin Shaped Pretzels.
I was able to find a bat, a pumpkin and a witch in the selection of open mouth Halloween containers in the bargain section at the front of Target last year but haven't seen them this year. These from Amazon are also a great option. Be sure to overflow each container with the goodies you put in them.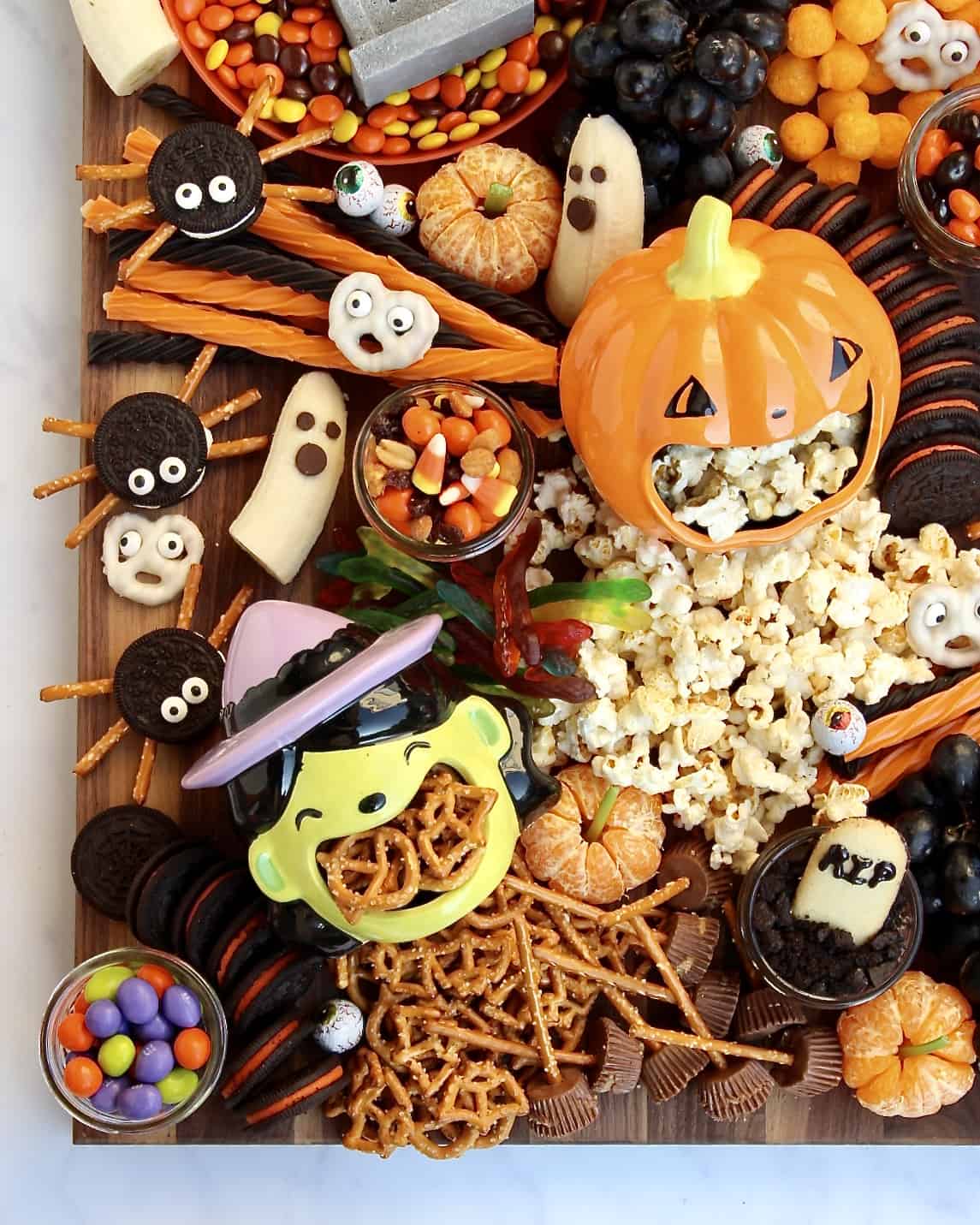 Now it's time to fill in the board with the remaining goodies:
Spider Oreos
Mandarin Orange Pumpkins
Yogurt Covered Pretzel Ghosts
Banana Ghosts
Candy Witch Broomsticks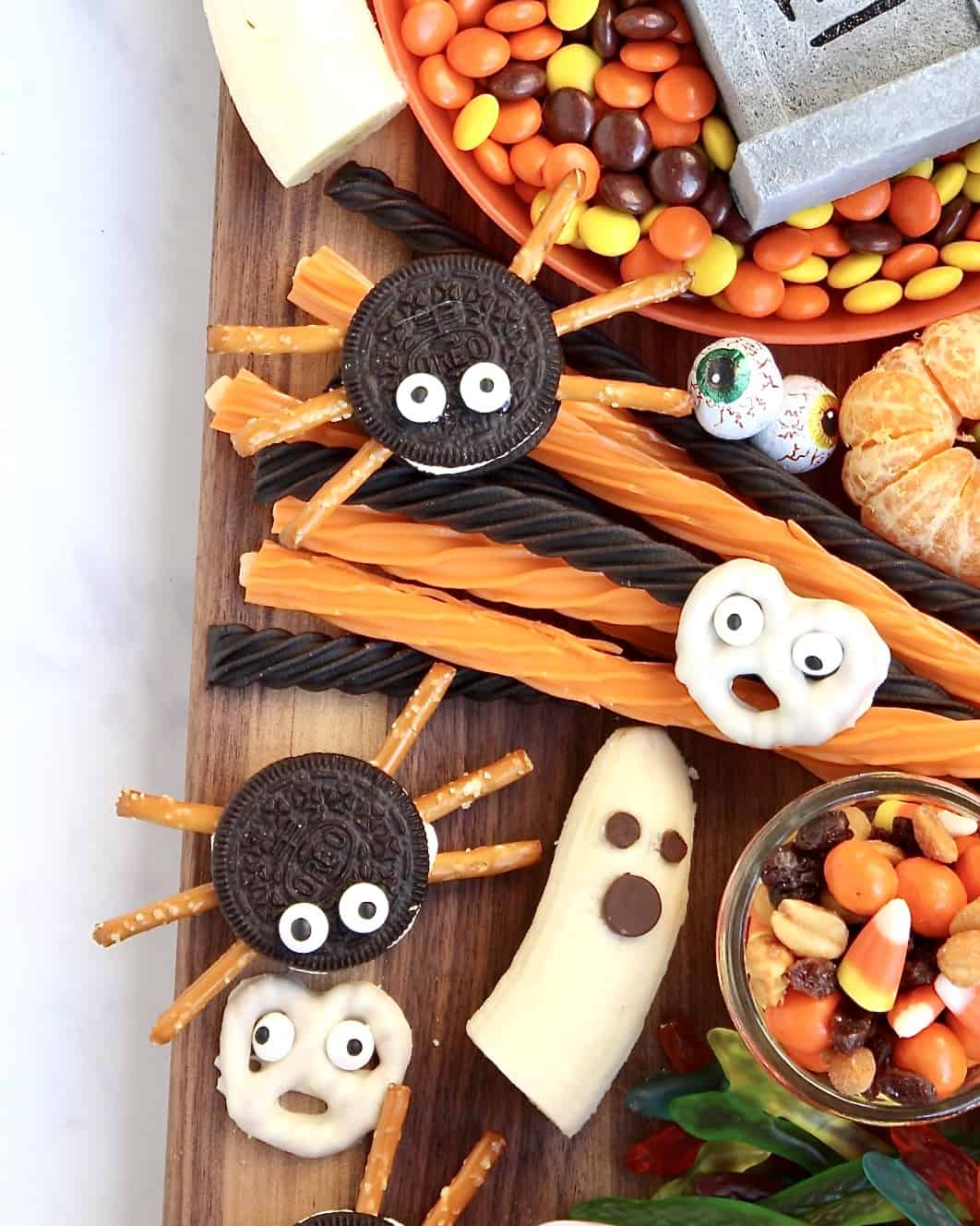 And there you have it! We all had such a blast creating and enjoying this one. The kids can hardly wait to make it again for a big Halloween party that we have in a few weeks!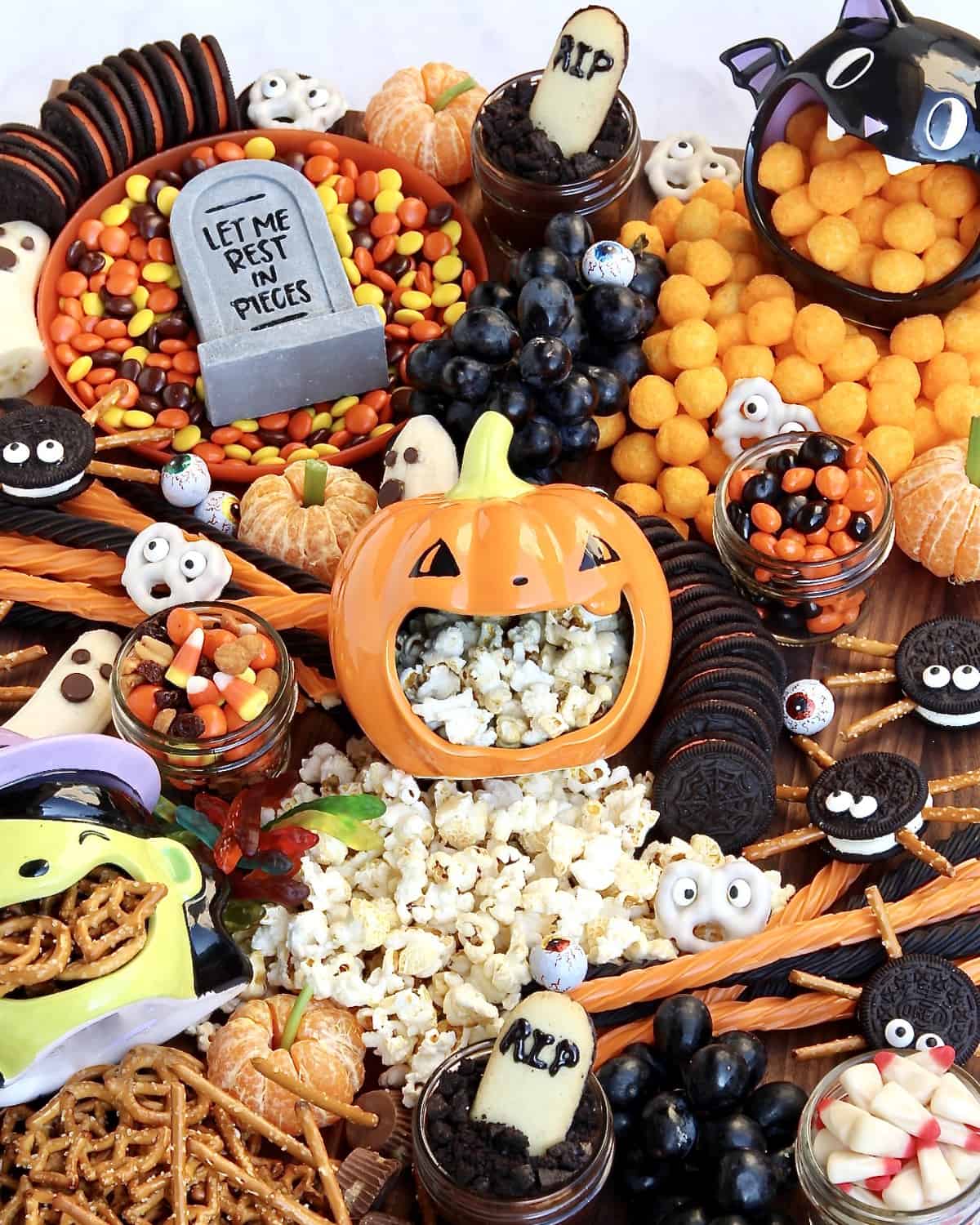 I hope you're inspired to build this one for your Halloween celebration. Be sure to tag me @thebakermama so I can see. I love LOVE seeing your board creations!
Here's to a spooky good Halloween! Enjoy!
xoxo,

Print