Create at Spooky Snack Board for Halloween that is sure to get all the ghosts and goblins excited!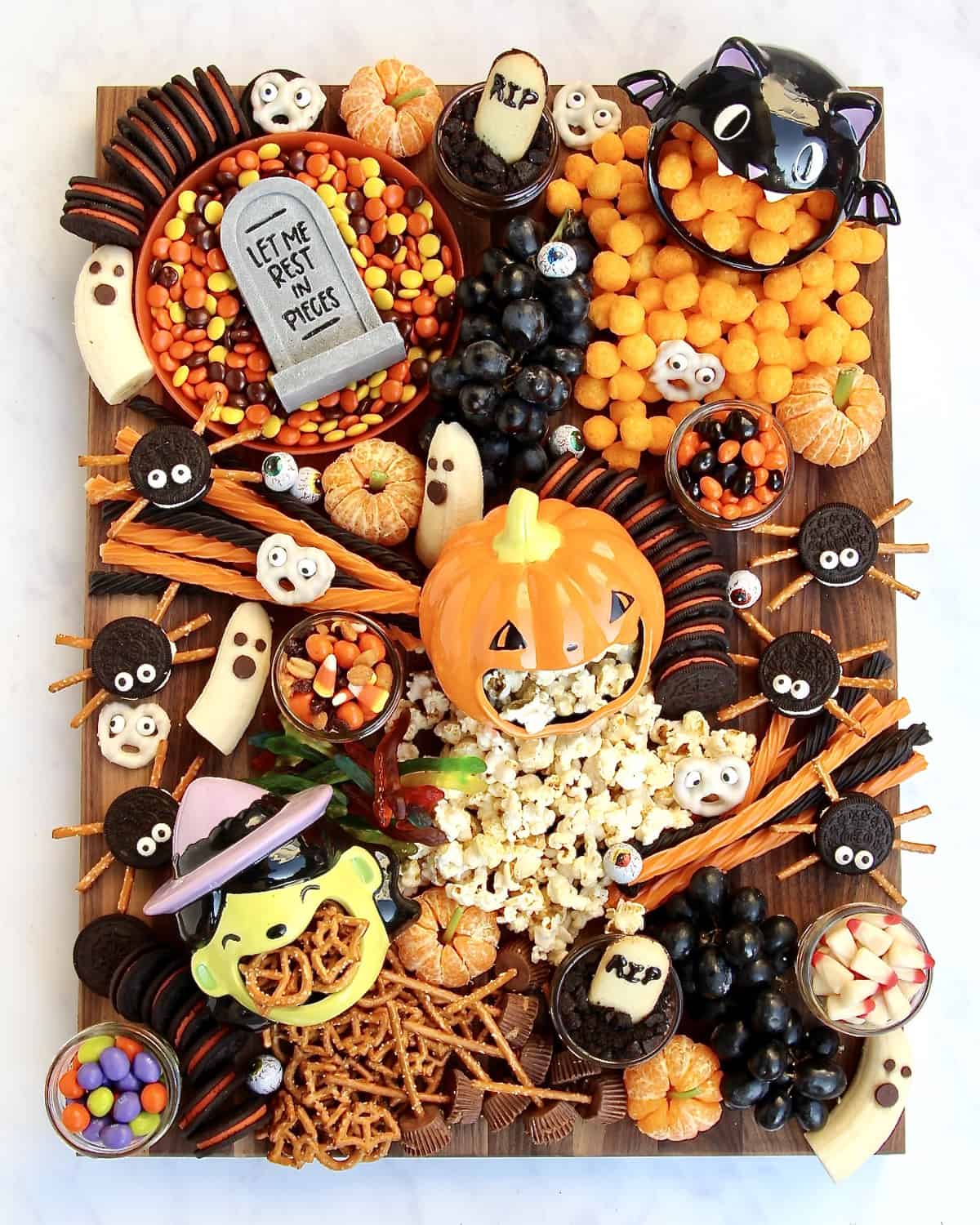 This sweet and salty snack board has something for everyone and is sure to be a Halloween hit! With a super cute selection of spooky snacks from the Let Me Rest In Pieces tombstone in a dish of Reese's Pieces to the mandarin orange pumpkins to the adorable ghosts made of banana halves and chocolate chips, this board will have your guests screaming with excitement over all of the fun and yum!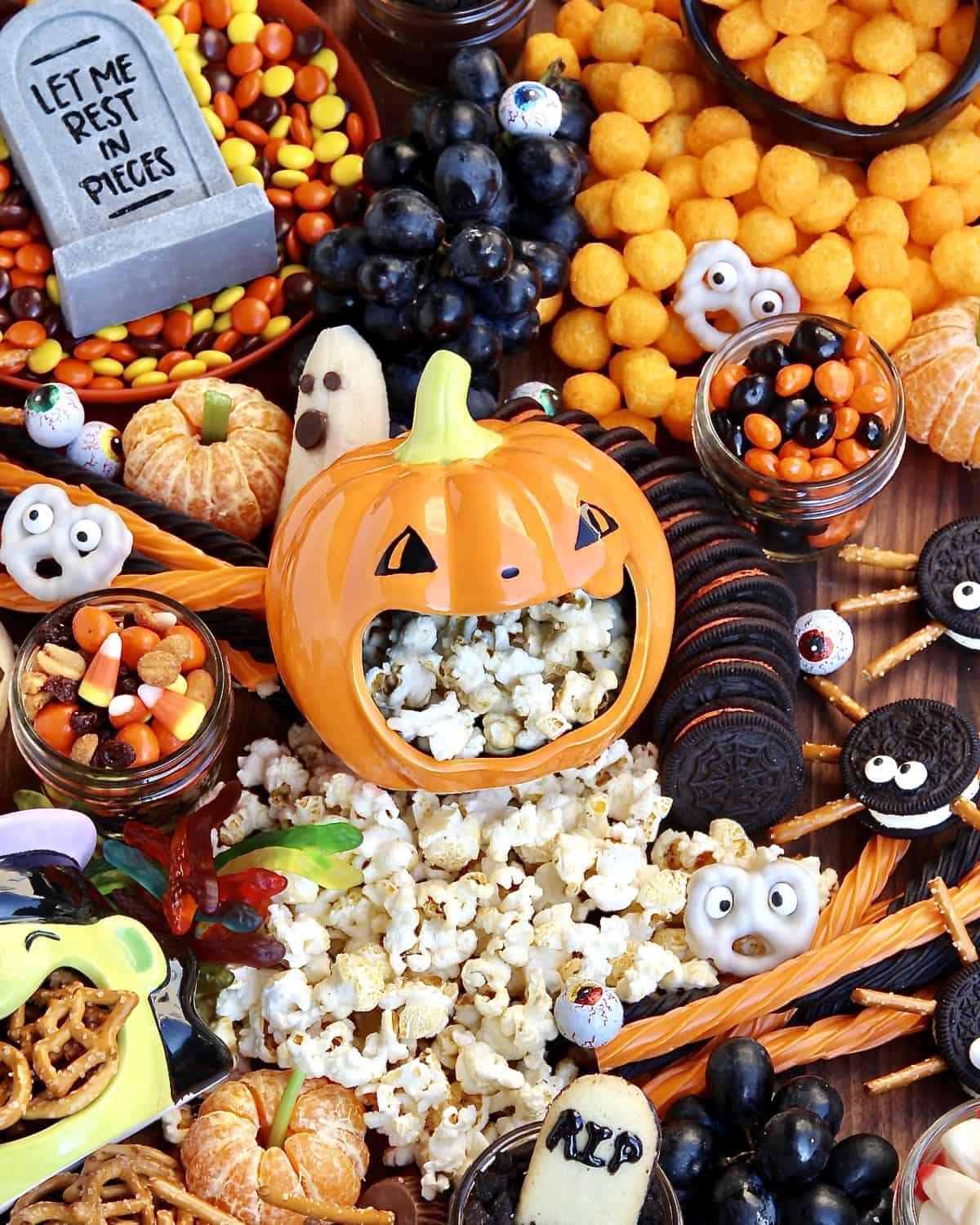 What I love most about this board is that everything is from Target, including the open mouth Halloween containers and the Let Me Rest in Pieces tombstone. A one-stop shop board is my favorite kind of board. Most of the seasonal items are located in the Halloween section or the bargain section at the front of the store. You can certainly pick and choose what you decide to put on your Spooky Snack Board based on your crowd and what you think everyone would enjoy most.
I have to say the headstone resting in the Reese's Pieces might be my favorite feature of this board. Such a simple way to add festiveness to a Halloween-themed board…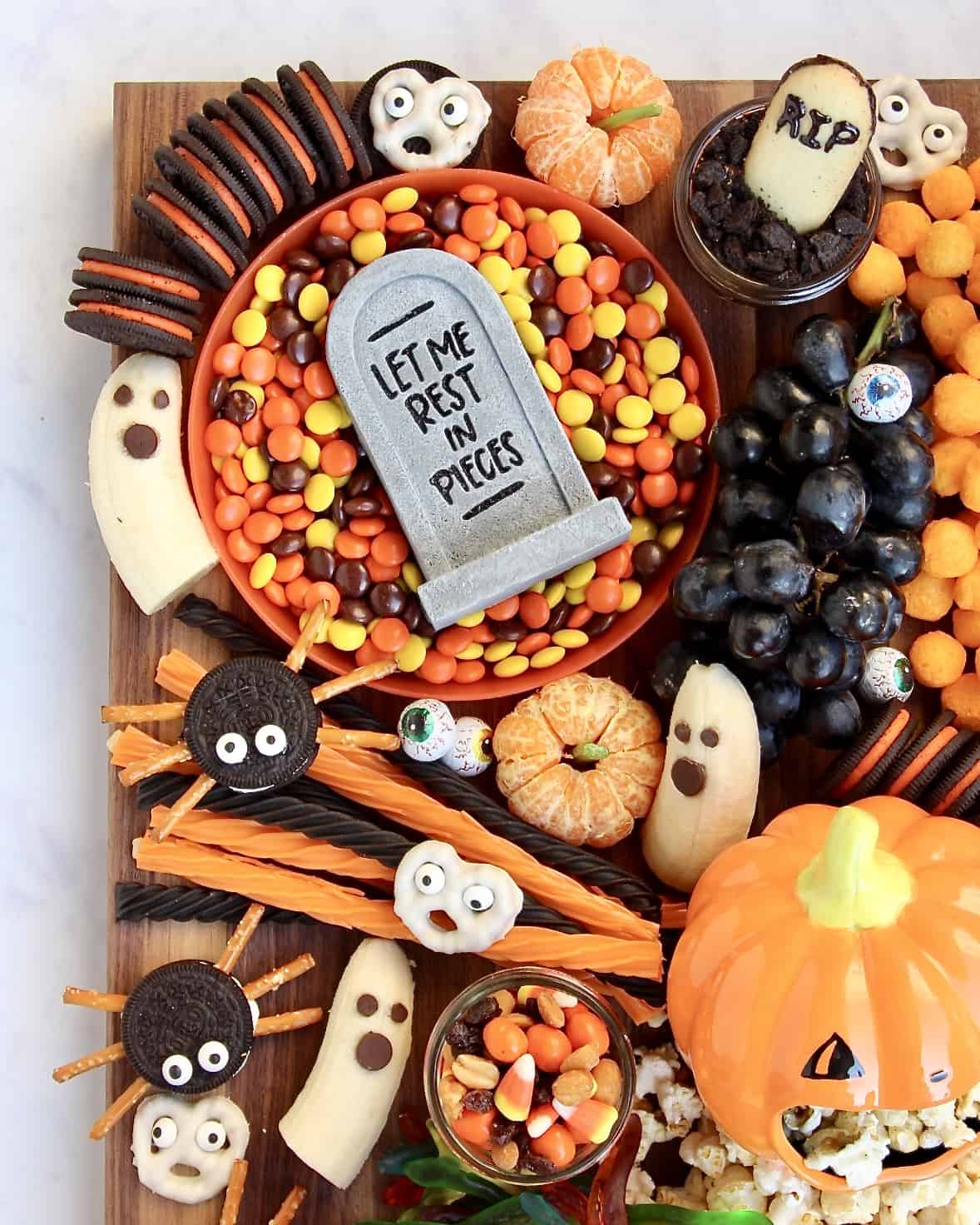 There are so many simple ways to turn everyday snack foods into spooky cute Halloween treats! The yogurt covered pretzel ghosts, mandarin orange pumpkins, banana ghosts, dirt pudding graveyard dip, Oreo spiders, and witch brooms can all easily be prepared in advance and even with the help of your little gremlins. These are all such fun activities to make and eat…
Yogurt Covered Pretzel Ghosts – attach two Wilton candy eye balls to the top two openings of each yogurt covered pretzel.
Mandarin Orange Mini Pumpkins – peel the mandarin oranges and leave them intact. Then place a piece of celery leaf in the center of each one to make them look like little pumpkins.
Banana Ghosts – peel a banana and cut it in half. Press the top of two mini chocolate chips into the top of each banana half for the eyes and then press top of a regular-size chocolate chip below the eyes for the mouth.
Graveyard Dirt Pudding Jars – fill a mini mason jar with prepared chocolate pudding then crush Oreos on top to look like dirt. Write RIP on a Milano cookie with black cookie icing and stick the cookie upright in the pudding to look like a tombstone.
Oreo Spiders – break stick pretzels in half and stick three halves in each side of a double-stuffed Oreo. Attach two candy eye balls to the top of the Oreo with cookie icing.
Candy Witch Broomsticks – place a stick pretzel into the bottom of a mini Reese's peanut butter cup.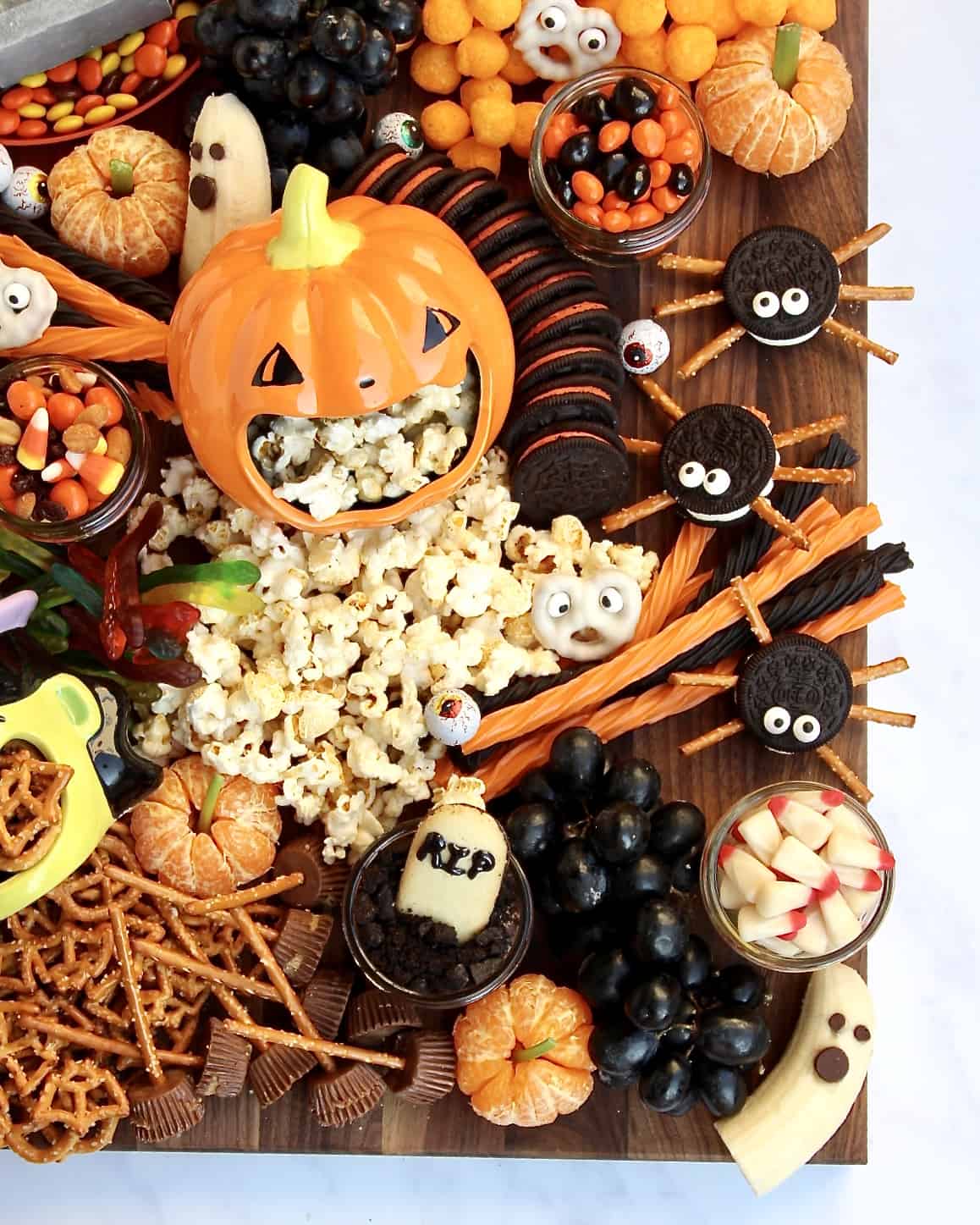 I used a 24″ x 18″ wood board for this one, but you could certainly use whatever shape or size board that you have on hand to fit all the snacks you want to put on it.
Start by placing an orange rimmed plate, three open mouth Halloween containers and six mini mason jars on the board. Two of the mini mason jars will already be filled with the graveyard dirt pudding. Fill the rimmed plate with Reese's Pieces and lay the Let Me Rest In Pieces tombstone on them. Then rest Halloween Oreos against the  plate and around a few of the open mouth Halloween containers. Fill the remaining four mini mason jars with Archer Farms Candy Corn Crunch Trail Mix, Vampire Teeth Candy Corn, Ghoul's Mix M&M's, and orange & black vanilla coated raisins.
Next, place one bunch of black grapes in between the plate of Reese's Pieces and the open mouth container at the top of the board and another bunch of black grapes in the bottom right hand corner of the board.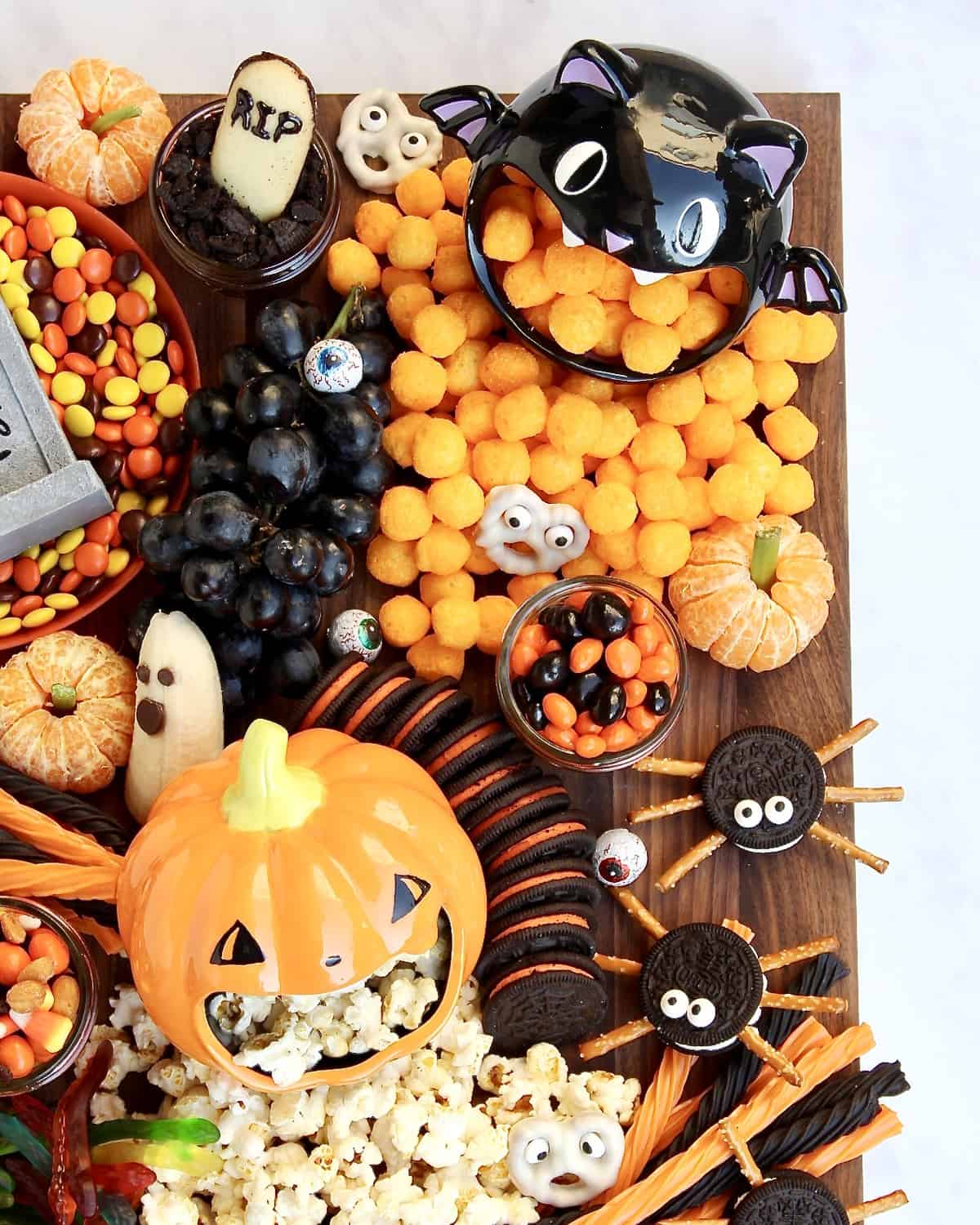 Now, fill the open mouth Halloween container at the top of the board with the round cheddar cheese ball puffs, the container in the middle of the board with popcorn, and the container at the bottom with the Halloween Bat & Pumpkin Shaped Pretzels. I was able to find a bat, a pumpkin and a witch in the selection of open mouth Halloween containers, which were in the bargain section at the front of Target. Be sure to overflow each container with the goodies you put in them.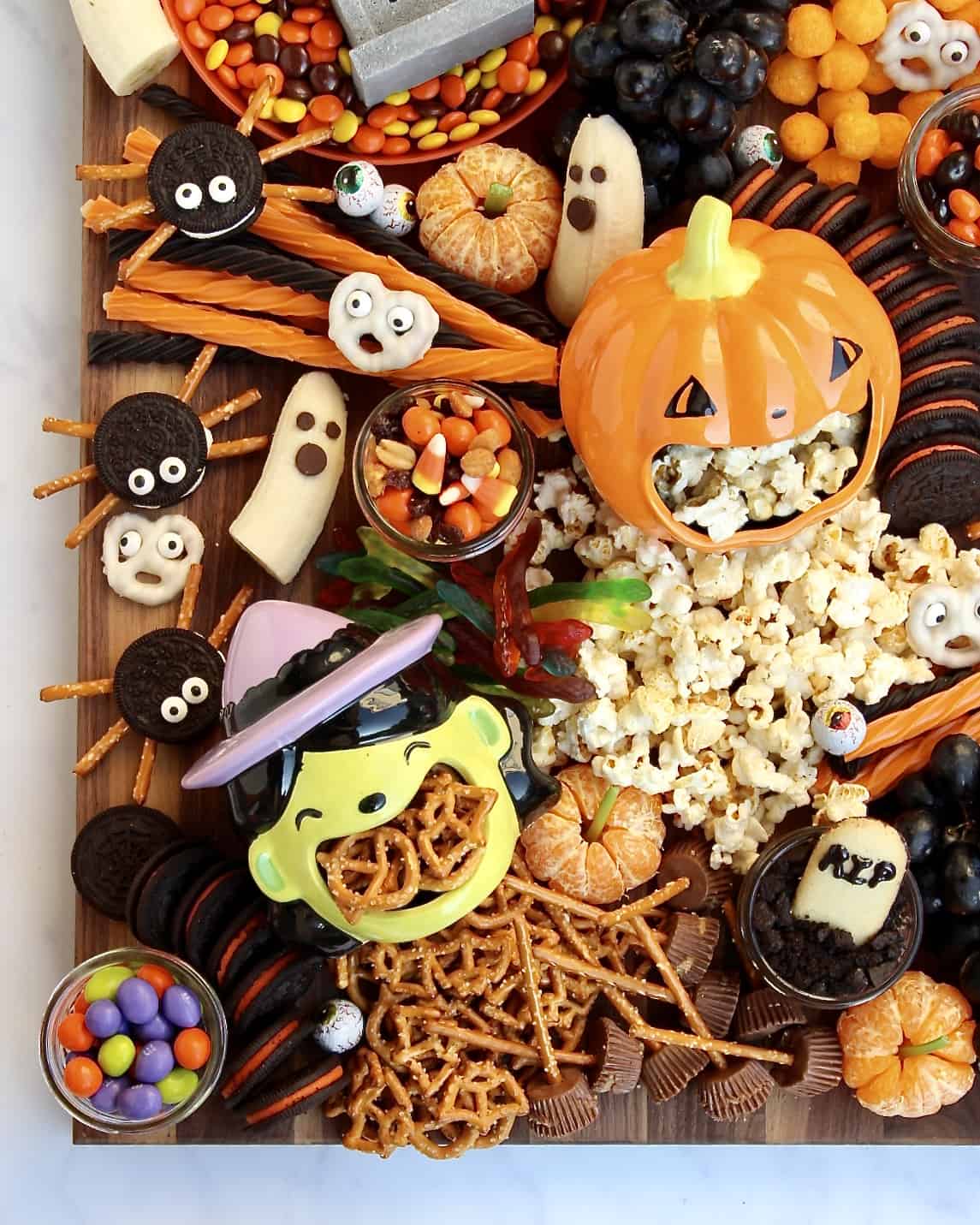 Now it's time to fill in the board with the remaining goodies:
Spider Oreos
Mandarin Orange Pumpkins
Yogurt Covered Pretzel Ghosts
Banana Ghosts
Candy Witch Broomsticks
Orange Cream Pop Twizzlers
Black Licorice Twizzlers
Googly eyes wrapped chocolate candies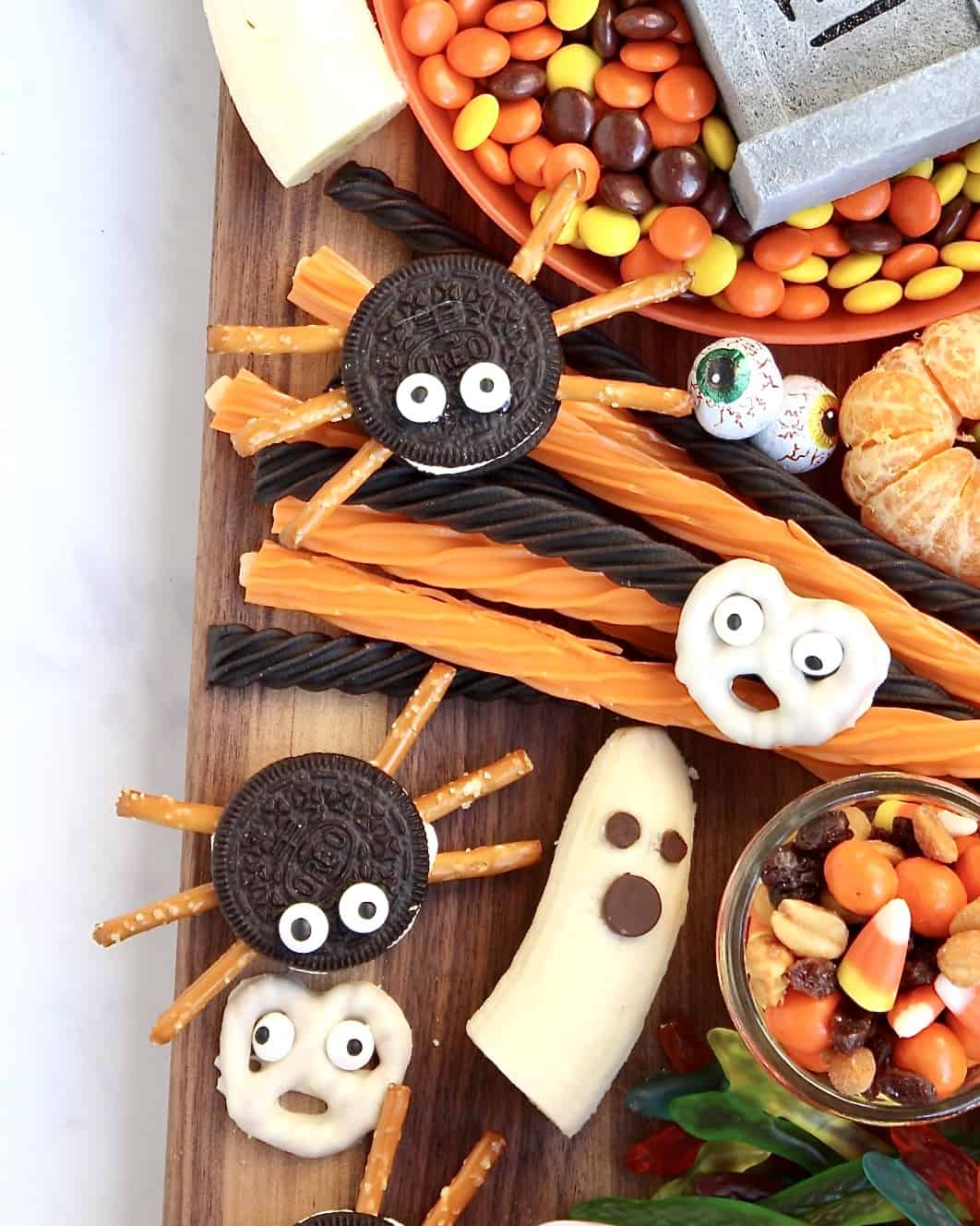 And there you have it! We all had such a blast creating and enjoying this one. The kids can hardly wait to make it again for a big Halloween party that we have in a few weeks!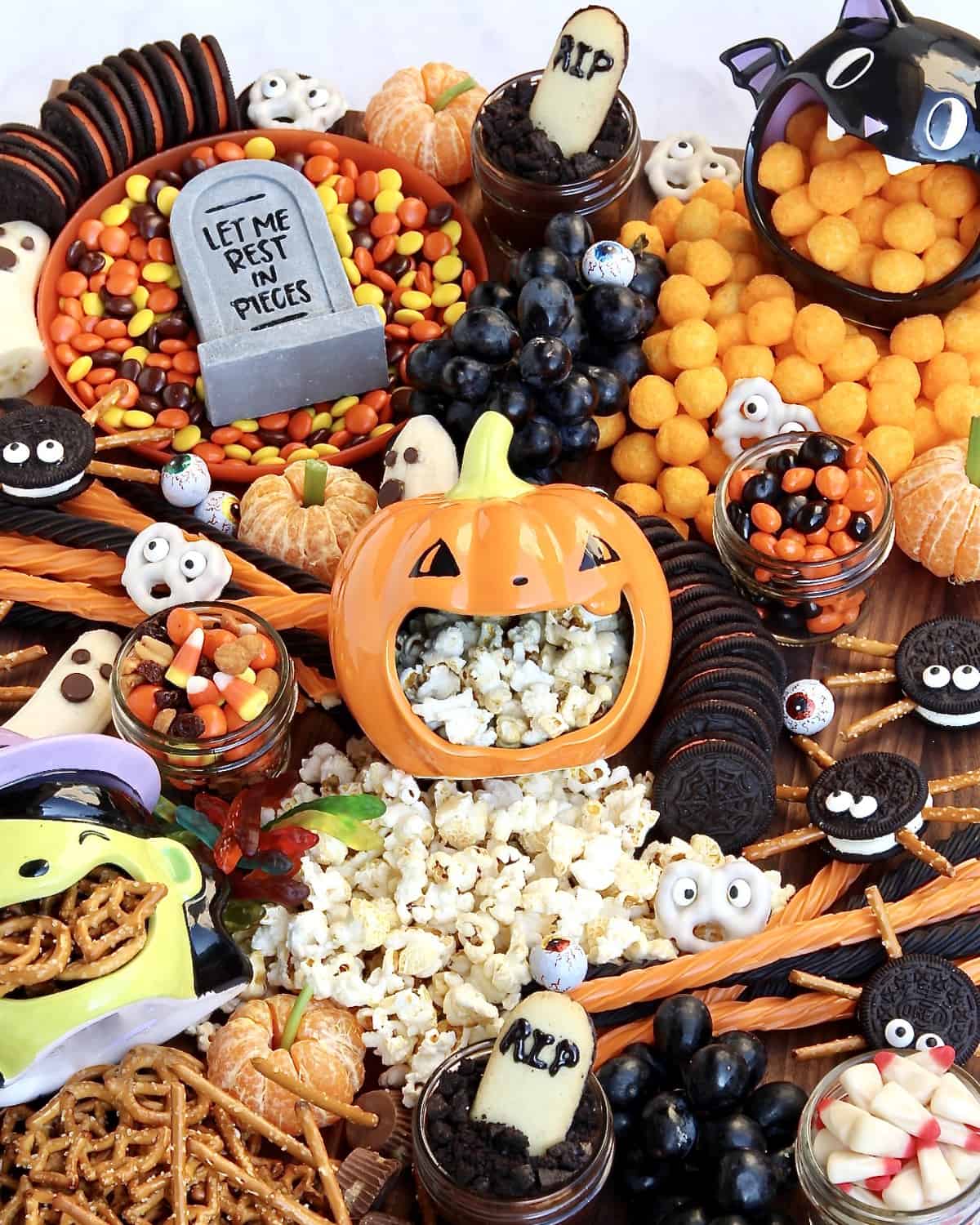 I hope you're inspired to build this one for your Halloween celebration. Be sure to tag me @thebakermama so I can see. I love LOVE seeing your board creations!
Here's to a spooky good Halloween!
xoxo,