Rocky road ice cream sandwiched between two halves of a light and airy chocolate puff that's then drizzled with homemade marshmallow topping for a surprisingly simple and incredibly delicious dessert!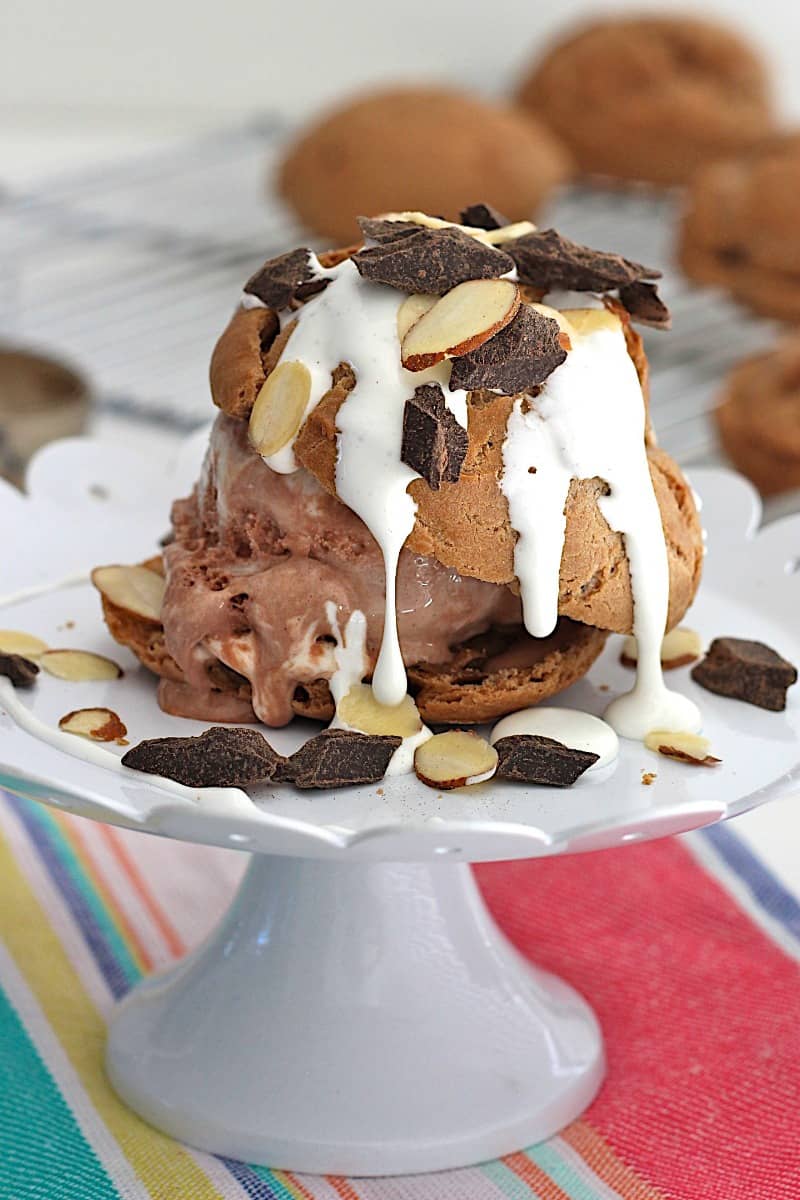 I've always been crazy about cream puffs! I grew up on a classic version that my mom would make for special occasions. I absolutely love the texture of the puff with a sweet creamy filling in the middle. When my friend, Barbara Schieving, from the amazing blog Barbara Bakes, told me she was publishing a cream puff cookbook, I could hardly wait for it to be released. An entire cookbook dedicated to delicious cream puffs…dreamy indeed!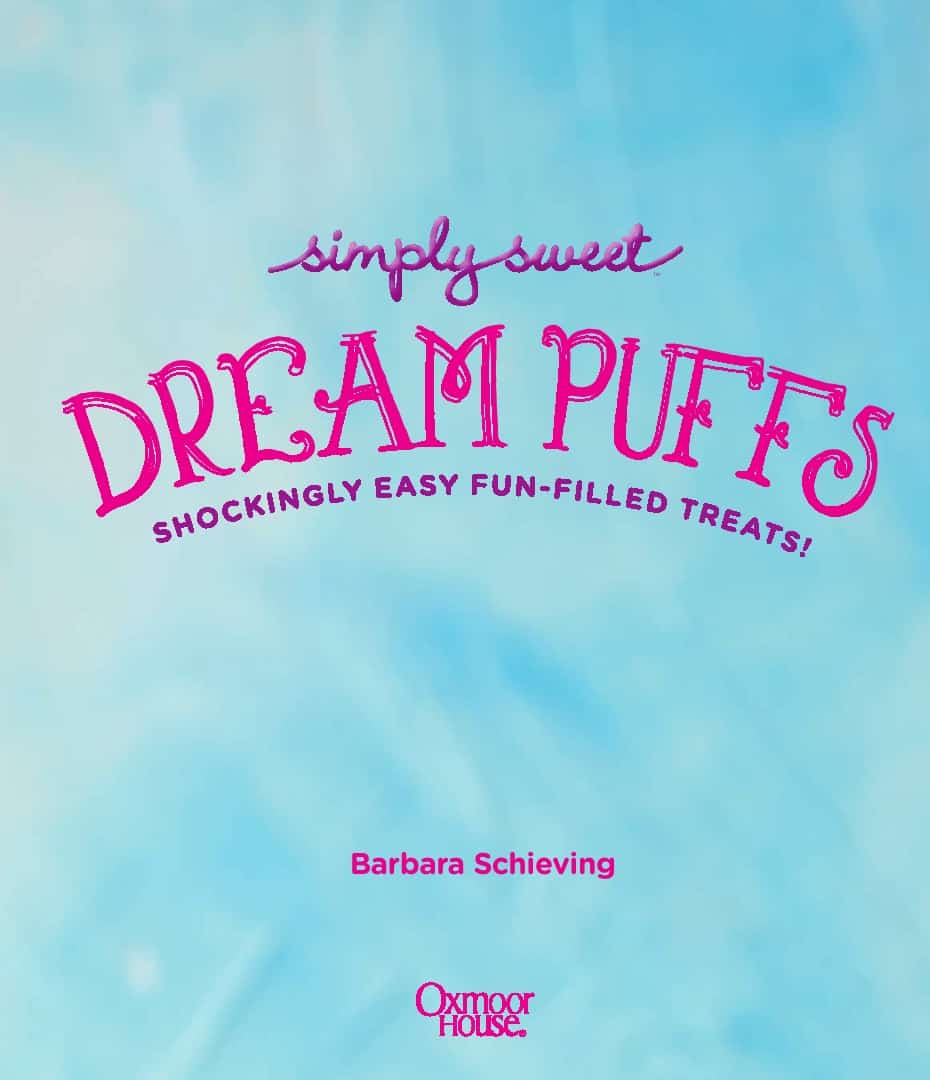 I met Barbara at a food bloggers conference in Miami a few years ago and of course, we immediately hit it off! We both LOVE to bake. Barbara is a baking pro. Her recipes are tried and true and her blog is one I go to often for amazing sweet treats and family-friendly meals. Barbara also has 4 kids (3 boys & a girl). Oh & she has twin boys too! She gives me hope for survival. 😉 It's crazy how much Barbara and I have in common. I wish we lived closer so we could hang out, bake together and she could give me any and all tips for surviving with 4 kiddos. 😉 She's amazing and I admire her so much!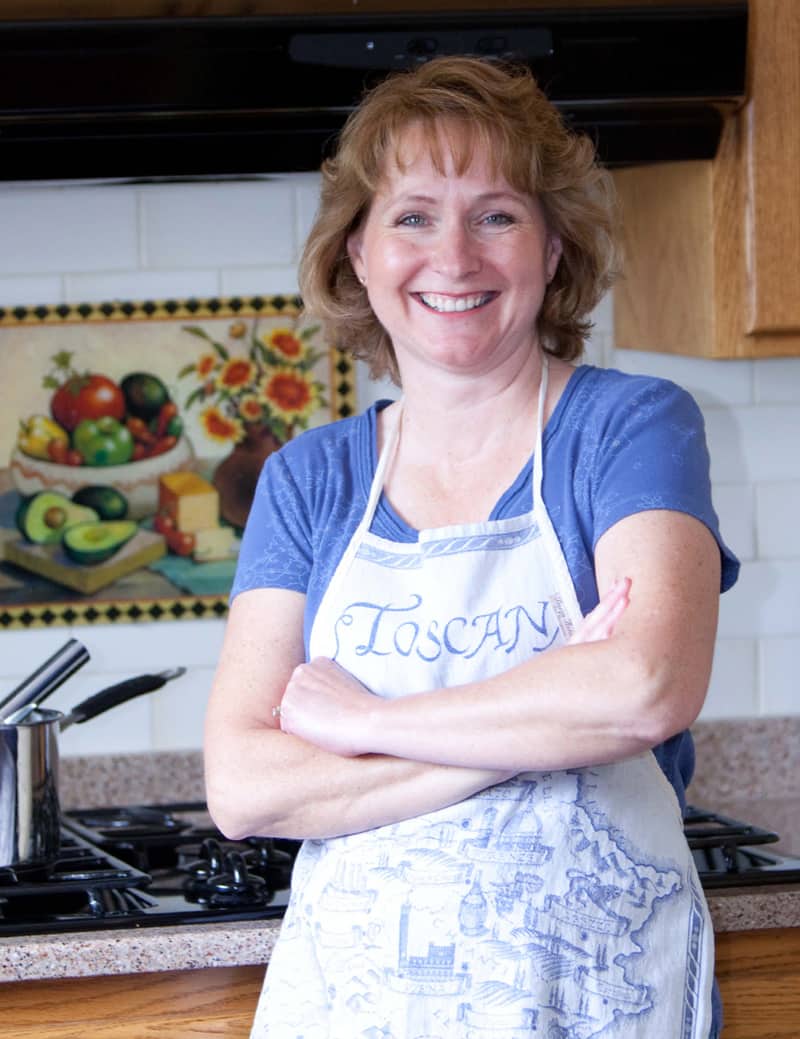 In her cookbook, Barbara does a brilliant job of showing us how easy cream puffs are to make along with lots of yummy flavors and fun ways to serve them. She takes the intimidation out of cream puffs to where you'll want to make them for every occasion, even as a mid-week treat.
She keeps things sweet & simple as she walks us through the basics of baking beautiful and delicious cream puffs, eclairs, and profiteroles. She also has a short video showing how easy they are to make and a great post on her blog with the pâte à choux recipe and step-by-step images. And she even provides us with templates to put under parchment paper on a baking sheet to insure the puffs are the correct size for the pastry we're baking. With her e-book and these great resources to support it, we have everything we need to confidently make cream puffs for any occasion.
After I browsed Barbara's beautiful e-book, I couldn't get her Rocky Road Profiteroles out of my mind. I had to make them! A light and airy chocolate puff filled with my favorite ice cream, drizzled with a homemade marshmallow topping all sprinkled with almonds and chocolate. Oh my yum!!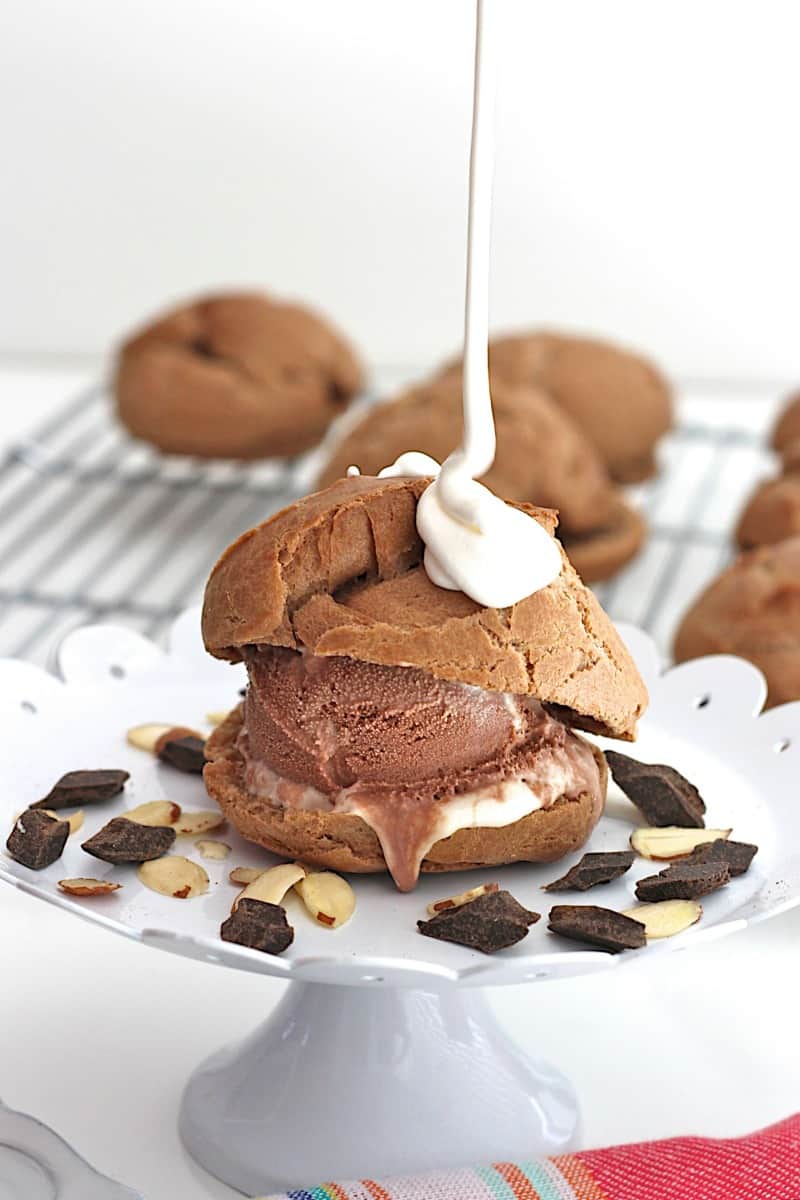 The chocolate pâte à choux are just as easy to make as the classic. A handful of simple ingredients (with chocolate extract being optional) and a few easy steps and the smooth chocolaty dough is ready to go…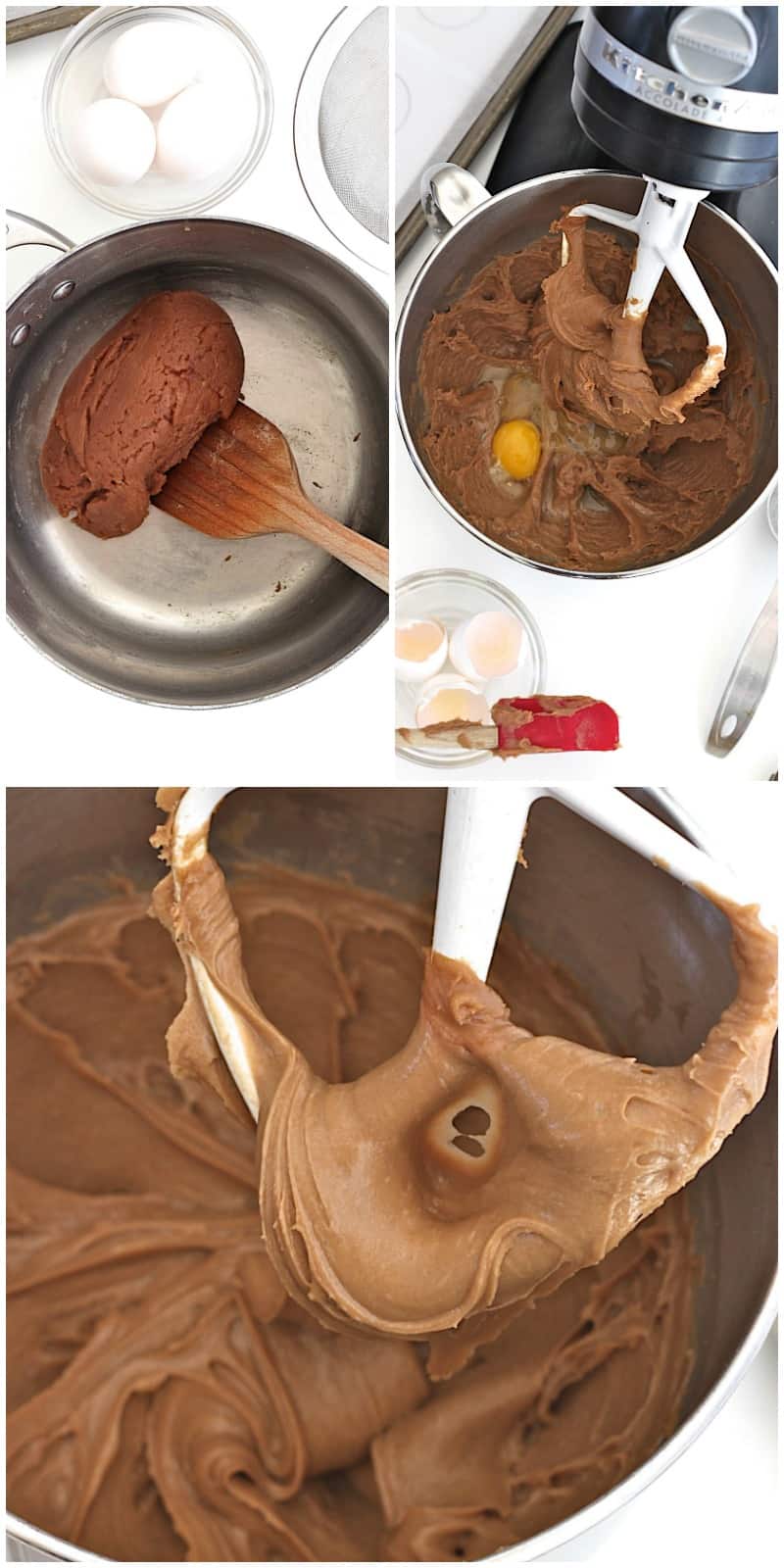 I scooped the dough with an ice cream scoop instead of piping it because honestly I get lazy when it comes to filling a piping bag, but Barbara said this is okay, so I went with it and I think they turned out great.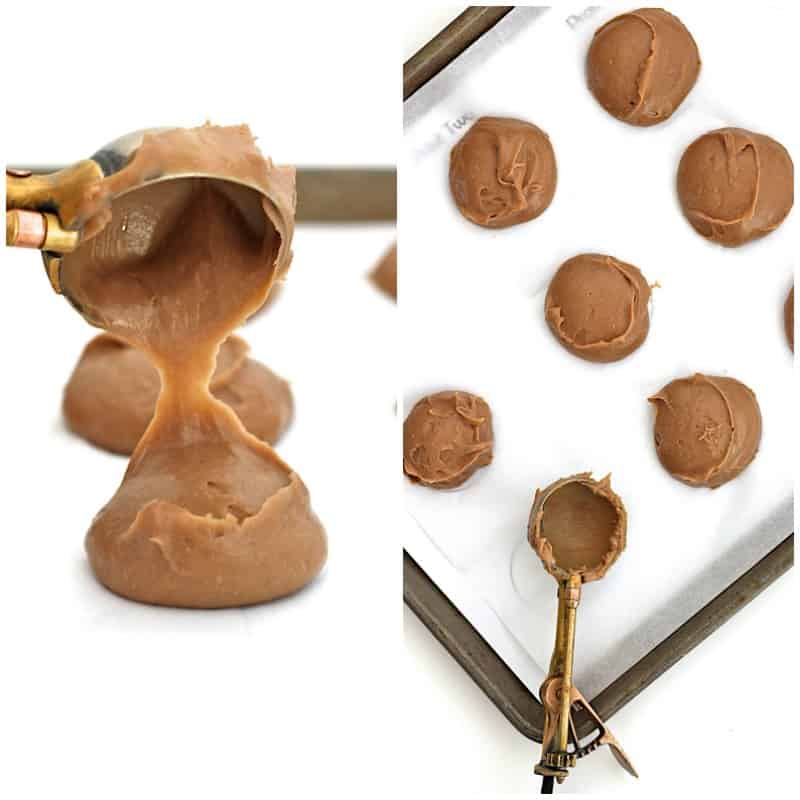 Into the oven they go and when they come out they'll be all puffed up and crisp on the outside while hallow with a slight chew on the inside. Just waiting to be filled…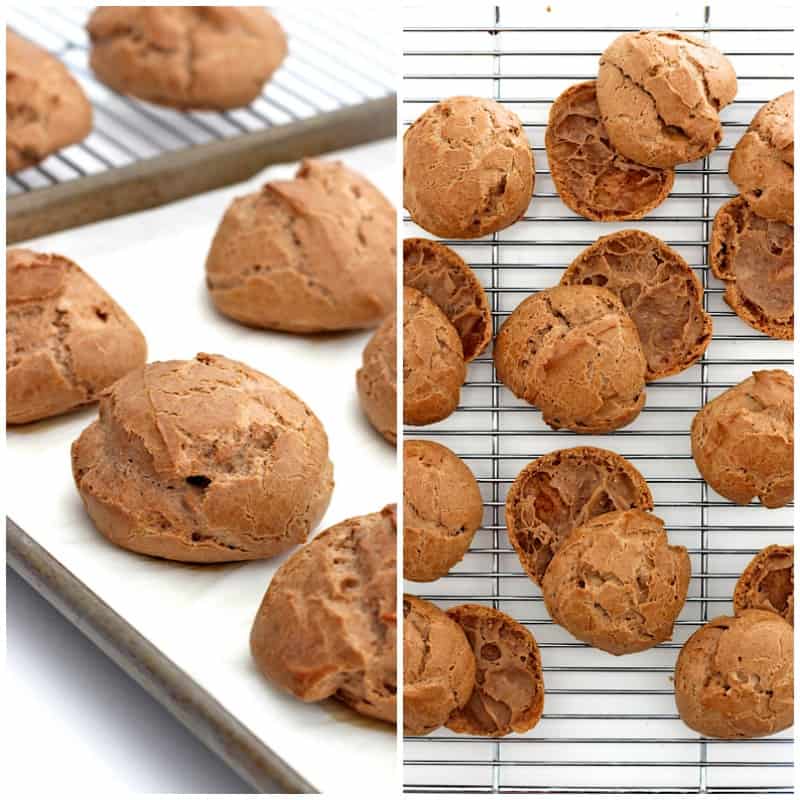 So the only difference between a cream puff and a profiterole is that a cream puff is filled with whipped cream or pastry cream and a profiterole is filled with ice cream. Same dough, just different fillings. I never knew that, but thanks to Barbara, now I do and I'm all about profiteroles!
Once the shells have cooled completely, you'll slice them in half horizontally and fill them with a big scoop of your favorite rocky road ice cream.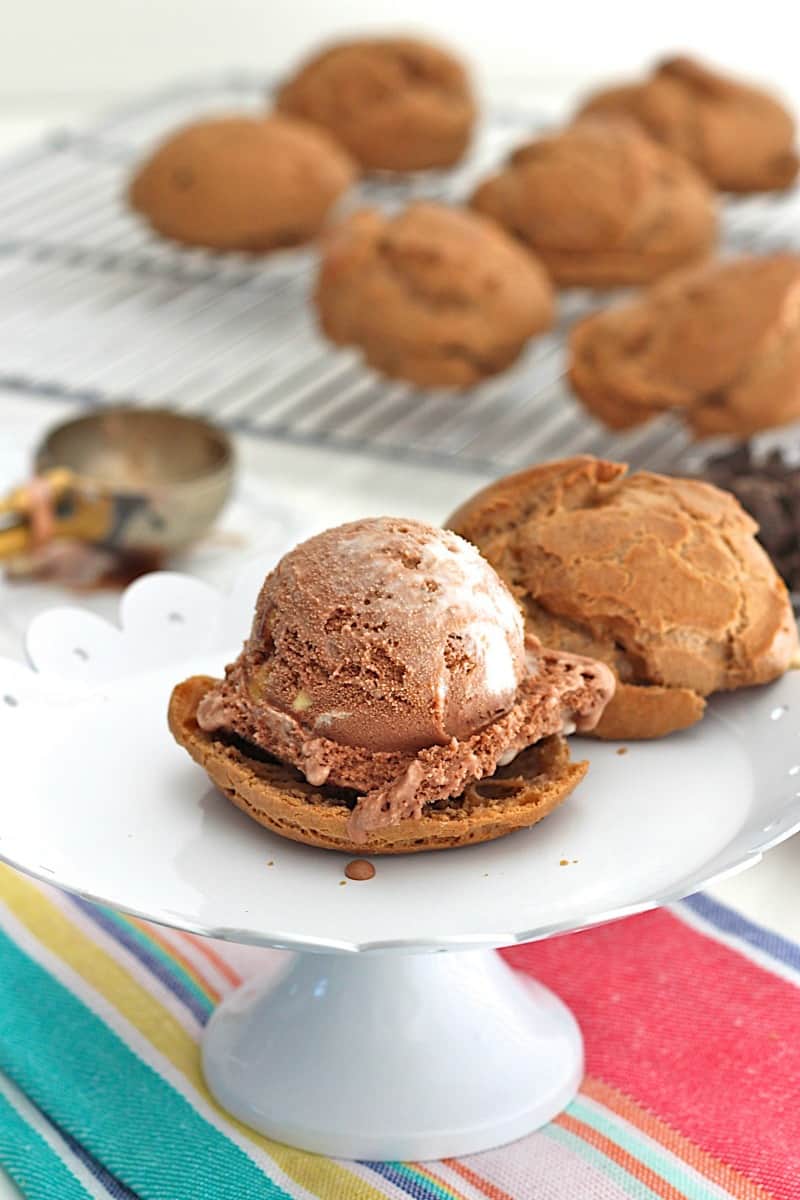 Once you've sandwiched the ice cream within the puff halves, you'll drizzle it with a super simple homemade marshmallow ice cream topping and sprinkle it all with almonds and chocolate just before serving.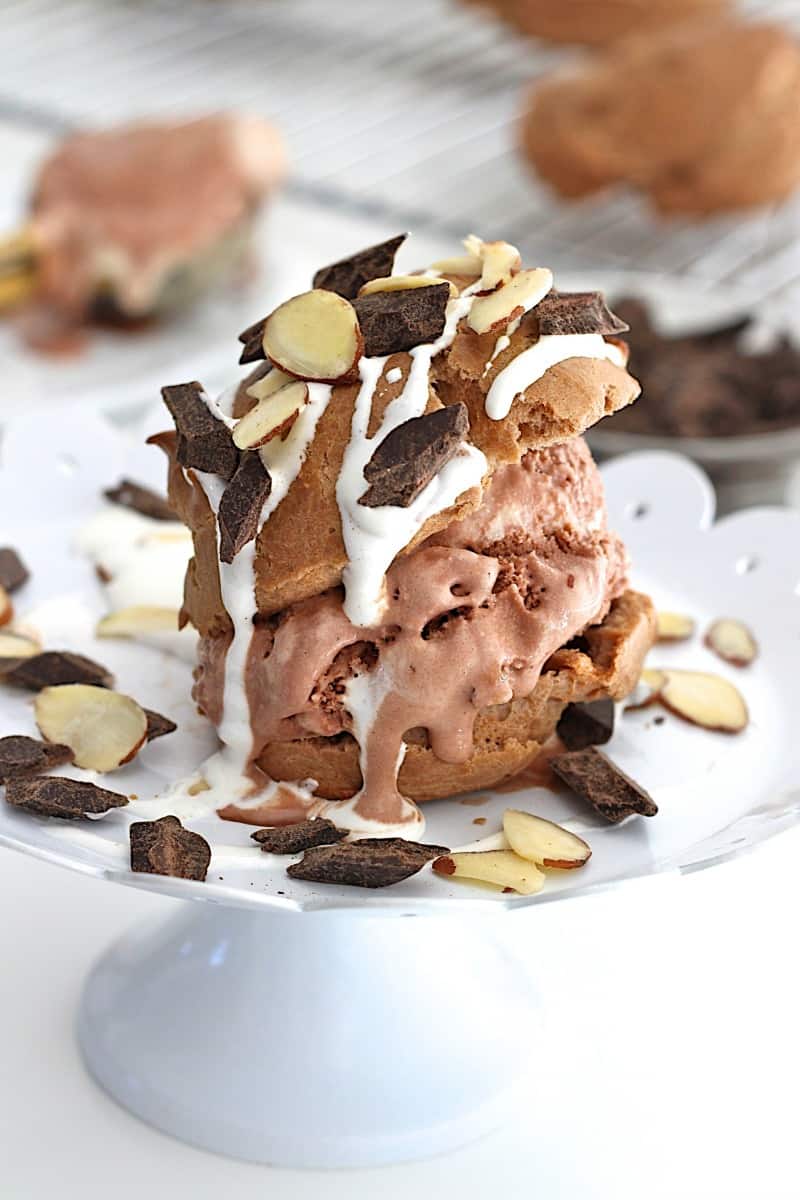 Hello, Rocky Road Profiterole!
Whether you dig in with a spoon, knife and fork it, or just pick it up with your hands, it'll be love at fist bite. Sweet and seriously delicious!
So skip the fancy expensive cream puffs at the bakery and let Barbara teach you how shockingly easy and fun they are to make at home with her Simply Sweet Dream Puffs cookbook. You can easily download the e-book from Amazon, Barnes and Noble and iTunes. It would be such a great gift to yourself or a fellow baker in your life!
Thank you, sweet Barbara, for sharing your talents and love for cream puffs with us. I'm so excited that more people will get to experience and fall in love with cream puffs thanks to this amazing cookbook. Enjoy!
xoxo,


Print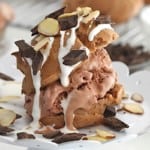 Rocky Road Profiteroles from Simply Sweet Dream Puffs
Author:

Prep Time:

15 mins

Cook Time:

45 mins

Total Time:

1 hour

Yield:

1

4

1

x

Category:

Dessert
---
Description
Rocky road ice cream sandwiched between two halves of a light and airy chocolate puff that's then drizzled with homemade marshmallow topping for a surprisingly simple and incredibly delicious dessert!
---
Chocolate Pâte à Choux:

3/4 cup

all-purpose flour

1 tablespoon

unsweetened cocoa

6 tablespoons

unsalted butter, cut into

6

pieces

1 tablespoon

sugar

1/4 teaspoon

table salt

3/4 cup

water

1 teaspoon

chocolate extract, optional

3

large eggs, at room temperature

3

–

1/4

cups rocky road ice cream
Marshmallow Ice Cream Topping:

1

(7 ounce) jar marshmallow creme

1 tablespoon

butter

1 tablespoon

heavy cream or milk
mini chocolate morsels (or your favorite finely chopped chocolate)
sliced almonds
---
Instructions
Preheat oven to 425°F. Lightly grease or line baking sheets with parchment paper. Place the profiterole template from Barbara's blog under the parchment paper, if desired.
Sift together flour and cocoa, set aside.
Bring butter, sugar, salt, and 3/4 cup water to a boil in a 3-quart saucepan over medium-high heat, stirring occasionally. Immediately remove from heat, and quickly stir in flour mixture all at once. Return to heat, and stir with a wooden spoon for 1 to 2 minutes, or until dough is smooth and forms a ball. Transfer dough to the bowl of an electric mixer, and let cool 5 minutes.
Add chocolate extract, if desired. Add eggs, one at a time, beating until mixture is smooth and glossy. Spoon dough into a pastry bag fitted with a tip or use an ice cream scoop to scoop the dough. Pipe dough onto prepared baking sheets into 2-inch rounds (2-inches high). Smooth out peaks and round tops with a moistened finger.
Bake at 425°F for 5 minutes, reduce oven temperature to 350°F, and bake 30 minutes. Turn oven off, let shells stand in closed oven 10 minutes. Remove from baking sheets to wire racks, and cool completely.
Cut profiteroles in half horizontally. Scoop 1/4 cup ice cream onto bottom halves; top with remaining halves. Cover and freeze until ready to serve. Drizzle with marshmallow ice cream topping, and sprinkle with chocolate and almonds just before serving.
To prepare marshmallow ice cream topping: combine marshmallow creme, butter and heavy cream or milk in a microwave-safe bowl. Microwave on HIGH for 30 seconds or until mixture is smooth and creamy.
---