Peanut Butter Chocolate Chip Rice Krispie Treats take the classic marshmallow treat to the next level.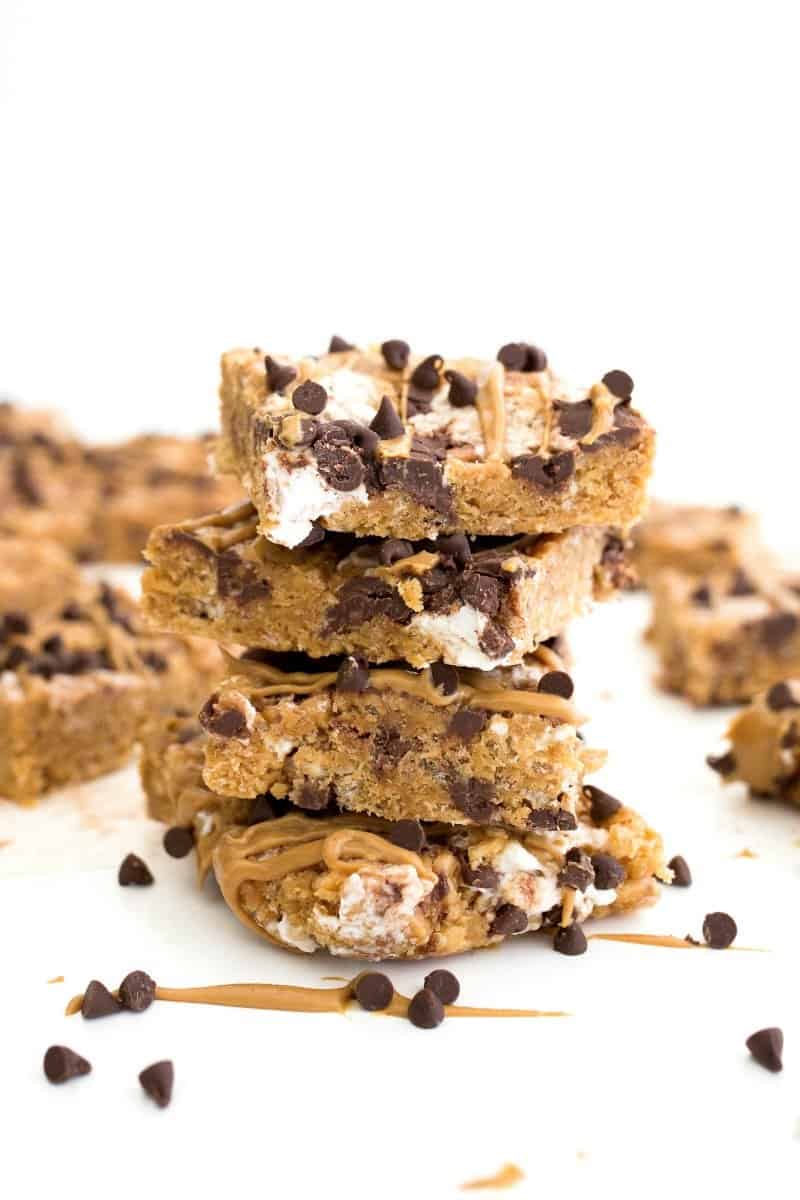 Who doesn't love Rice Krispie treats? They're undeniably delicious and anyone can make them. In fact, my mom used to be a home economics teacher and one of the first recipes you'd learn to make in her class was Rice Krispie treats. A room full of middle schoolers teamed up all melting butter with marshmallows, stirring in Rice Krispies cereal and pressing the mixture into a pan. You'd think it would be A+ success for all, but I imagine there was a lot of marshmallow burning, mis-measuring of ingredients and messy messy work kitchens.
Well, I don't have to imagine, I was there. Yes, my mom was my home economics teacher. Lol! She was cool, but certainly didn't give me any special attention. Quite the opposite, actually. Her expectations of me in her class were much higher than those she had for my classmates. No way I was going to get in trouble by my mom in front of all of my friends, so I was on my best behavior. It was fun and pretty special to look back on now. I digress…back to the these tasty treats…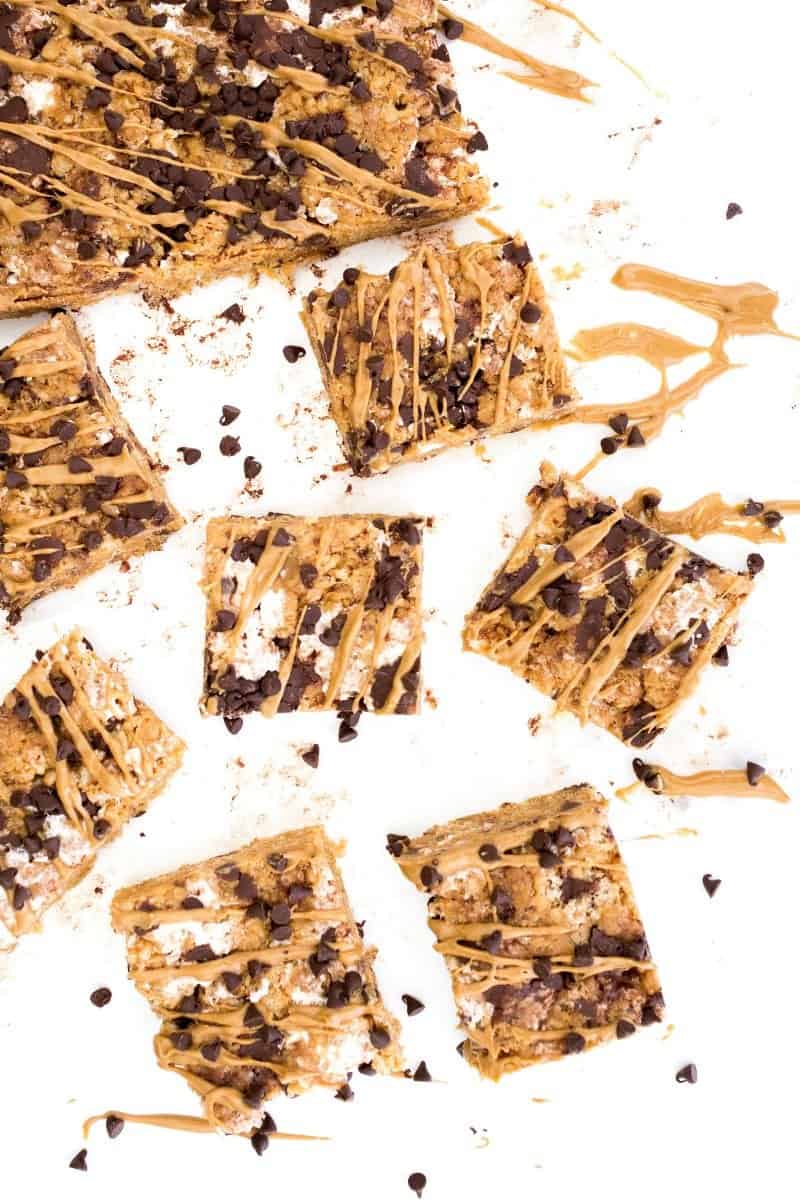 We stuck to the classic Rice Krispie Treat recipe in middle school home economics class, but the baker/cooker inside me was itching to give them a tasty twist. If my grades wouldn't have been on the line, I would have so steered from the original recipe and stirred in some peanut butter, chocolate chips and more marshmallows. And then just for the yum of it, I would have drizzled them with more peanut butter and chocolate chips.
Well, look-y here, my middle school Rice Krispie treat dream has finally come true (22+ years later!)…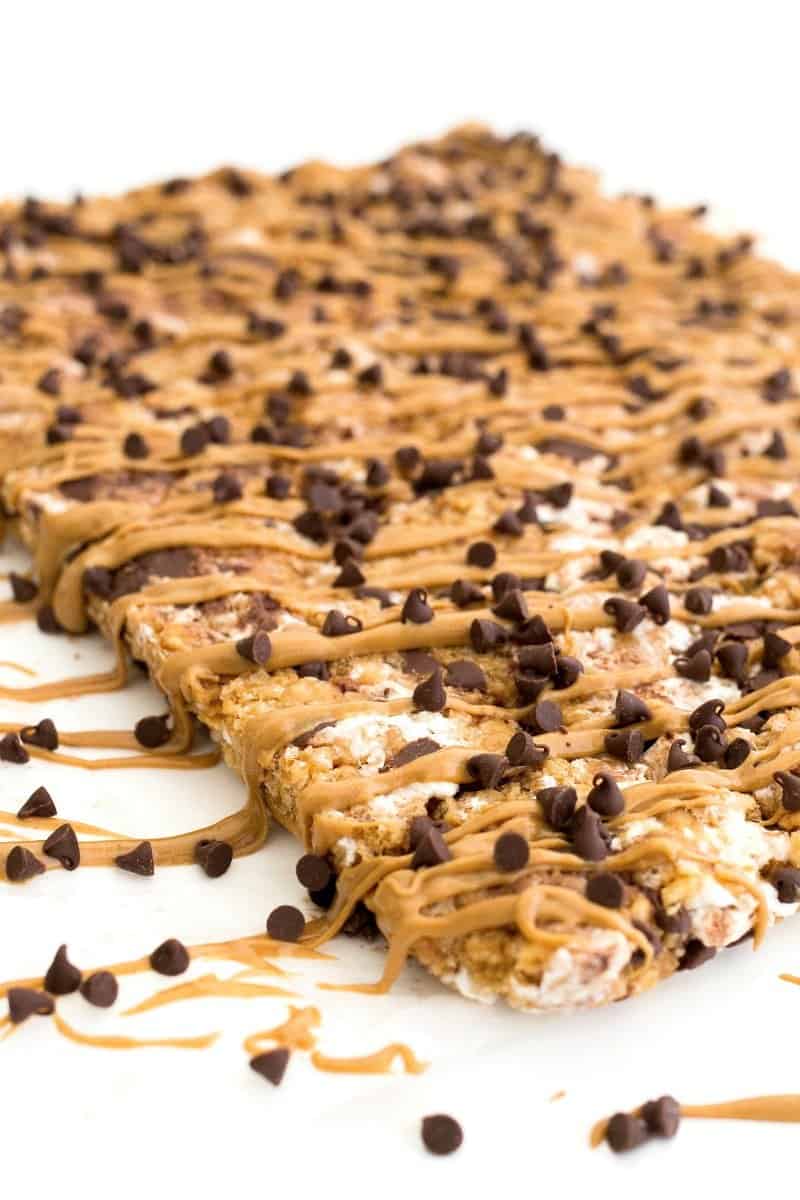 These Rice Krispie treats are the real deal delicious. Gooey, chewy and loaded with peanut butter and chocolate amazingness.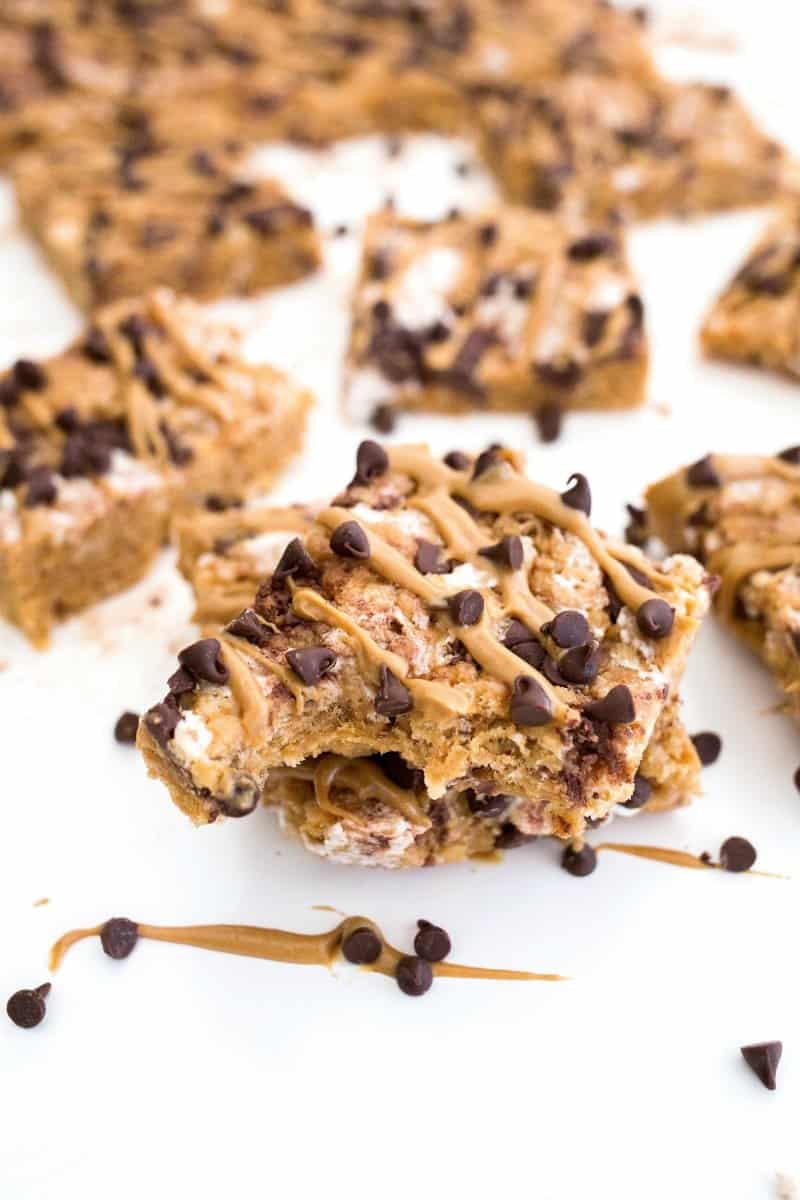 They take Rice Krispie treats to the next level of yumminess and once you go there, you'll never want to go back to the classic. Enjoy!
xoxo,


Print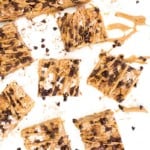 Peanut Butter Chocolate Chip Rice Krispie Treats
Author:

Prep Time:

15 mins

Total Time:

15 mins

Yield:

1

8

1

x

Category:

Dessert
---
Description
Peanut Butter Chocolate Chip Rice Krispie Treats take the classic marshmallow treat to the next level.
---
5 cups

Rice Krispies cereal

2 tablespoons

butter

1 cup

+

1/4 cup

creamy peanut butter, divided

1

(16 ounce) bag +

1 cup

miniature marshmallows, divided

1 cup

+

1/4 cup

mini chocolate chips, divided
---
Instructions
Line a 13×9-inch pan with parchment paper and spray with non-stick cooking spray. Set aside.
Place cereal in a large mixing bowl.
In a medium saucepan over low heat, melt 2 tablespoons butter and 1 cup peanut butter. Add the 16 ounce bag of miniature marshmallows and stir continuously until completely melted. Remove from heat and immediately pour over cereal in the large mixing bowl. Stir well. Fold in 1 cup miniature marshmallows until disbursed and swirled throughout.
Let cereal mixture cool in bowl for 10 minutes. Gently sprinkle and stir mini chocolate chips into mixture in batches until evenly distributed throughout. Using more parchment paper, press mixture evenly and firmly into prepared pan.
Drizzle the top of the mixture with 1/4 cup peanut butter (that's been slightly melted until of drizzling consistency), then sprinkle with 1/4 cup mini chocolate chips. Once completely cool, cut into squares.
---
Recipe by Maegan Brown/Photography by Madison Mentesana