Creamy peanut butter candy bark that's swirled with jelly then sprinkled with peanuts and Berry Bunch Crunch cereal. It's bursting with flavor and fun!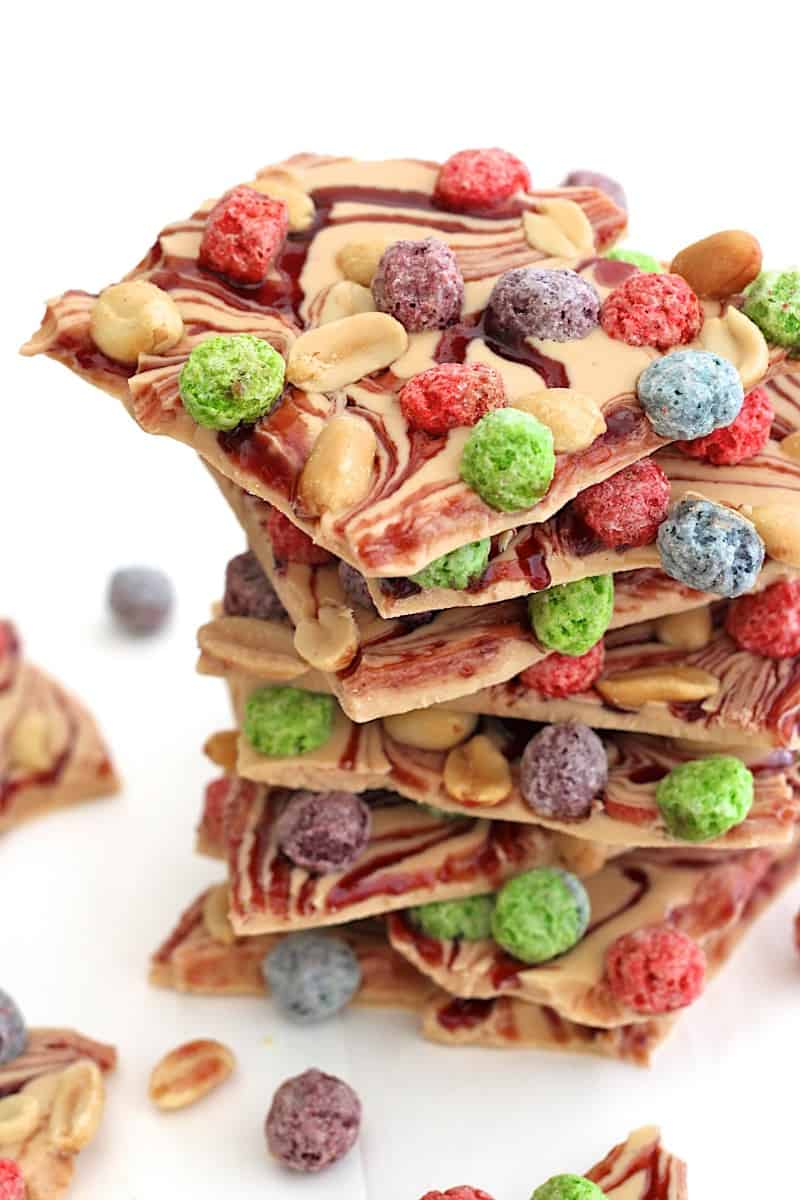 I'm so excited to be partnering with Malt-O-Meal® to create a series of recipes using their tasty cereals. You can't miss Malt-O-Meal brand cereals at the store. They come in bright resealable bags and there's a huge selection to choose from. At my store, I feel like a kid walking down the candy aisle. My eyes get big as I scan the bags of cereal deciding which flavor to try next. And when the boys are with me, it's cereal aisle mayhem. Everyone has their favorite so, of course, we end up with a whole shelf dedicated to cereal in our pantry.
I'm going beyond the bowl of milk with these recipes, y'all, so get ready for some fun and lots of yum! I love how cereals have gone from being only eaten out of a bowl with cold milk to an ingredient that adds lots of taste and texture to make something delicious.
I was so excited when Malt-O-Meal asked me to create a recipe with Berry Bunch Crunch first. This cereal is bright and colorful and bursting with yummy berry flavor. I knew I could create something that was not only scrumptious, but pretty and fun to serve too. Say hello to Peanut Butter Berry Bunch Crunch Bark…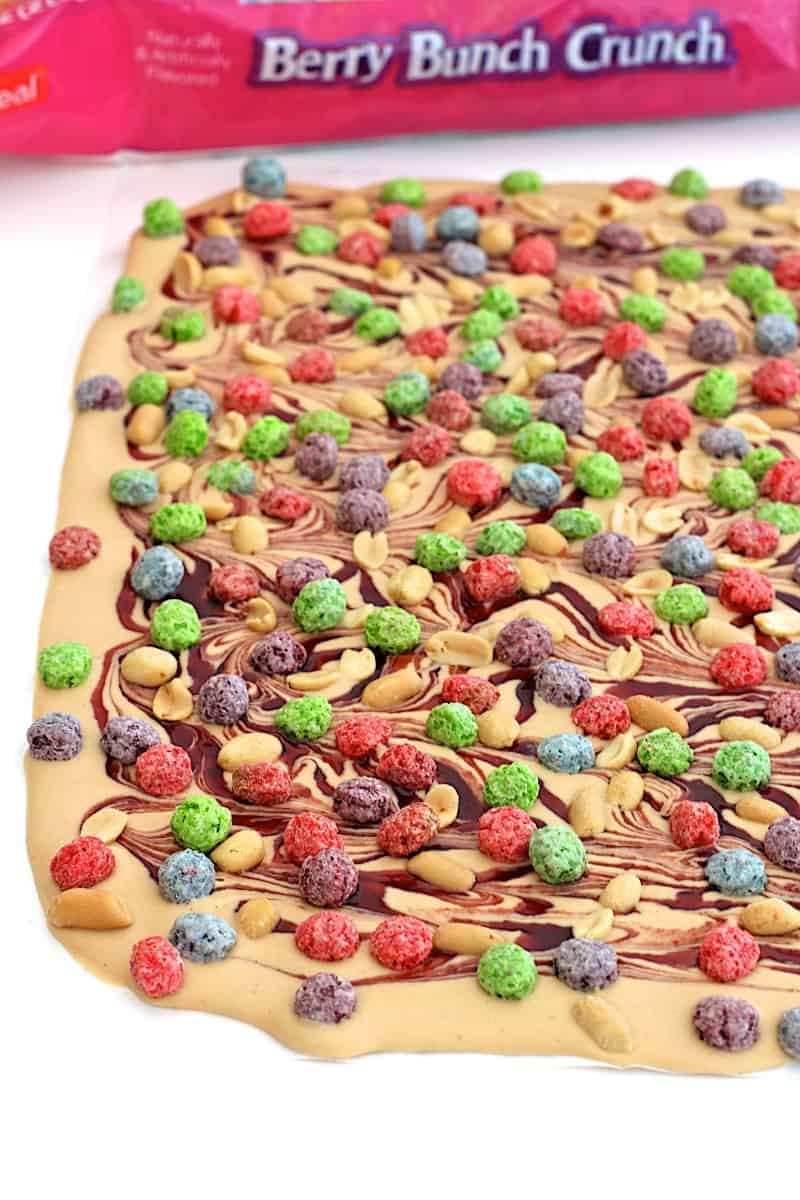 If peanut butter and jelly were to host a party, this candy bark would be on the top of the invite list! It screams party both to the eyes and to the mouth. Creamy peanut butter candy is swirled with your favorite berry-flavored jelly then sprinkled with salty roasted peanuts and sweet Berry Bunch Crunch cereal. Berry Bunch Crunch adds this awesome crunch with a burst of berry flavor in every bite. It compliments the creamy peanut butter base and the salty peanuts so perfectly. It's so delicious you won't be able to stop at just one piece.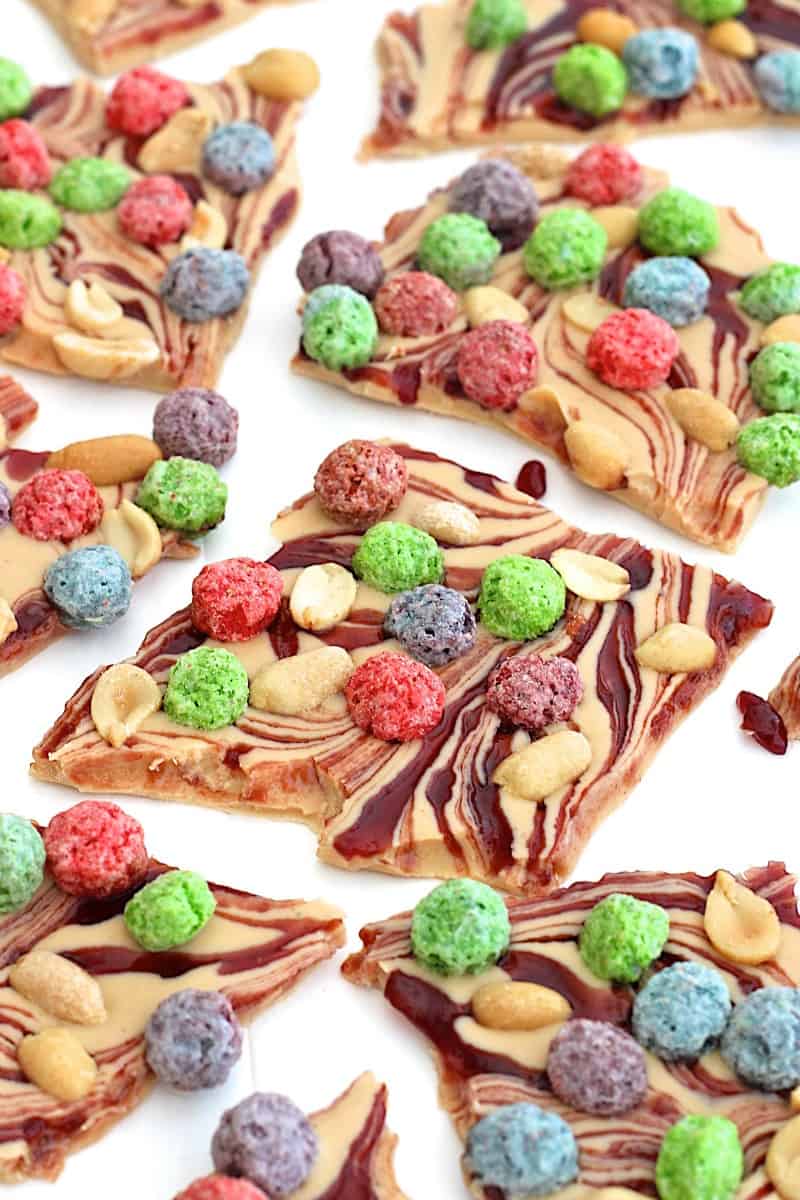 The boys love helping me make this bark! It's so easy that even a 3 year old could make it from start to finish with very little help. I let the boys pretty much do each step by themselves from spreading out the peanut butter candy base to sprinkling on the colorful cereal (while sneaking a few handfuls of cereal to snack on while we make it!). I love how surprised their faces look when I tell them they can break the bark up once it's cooled. A little boy's dream! 😉 Such a fun and obviously yummy activity!
Just 5 ingredients and about 10 minutes is all it takes to make the bark and then about an hour to let it cool completely.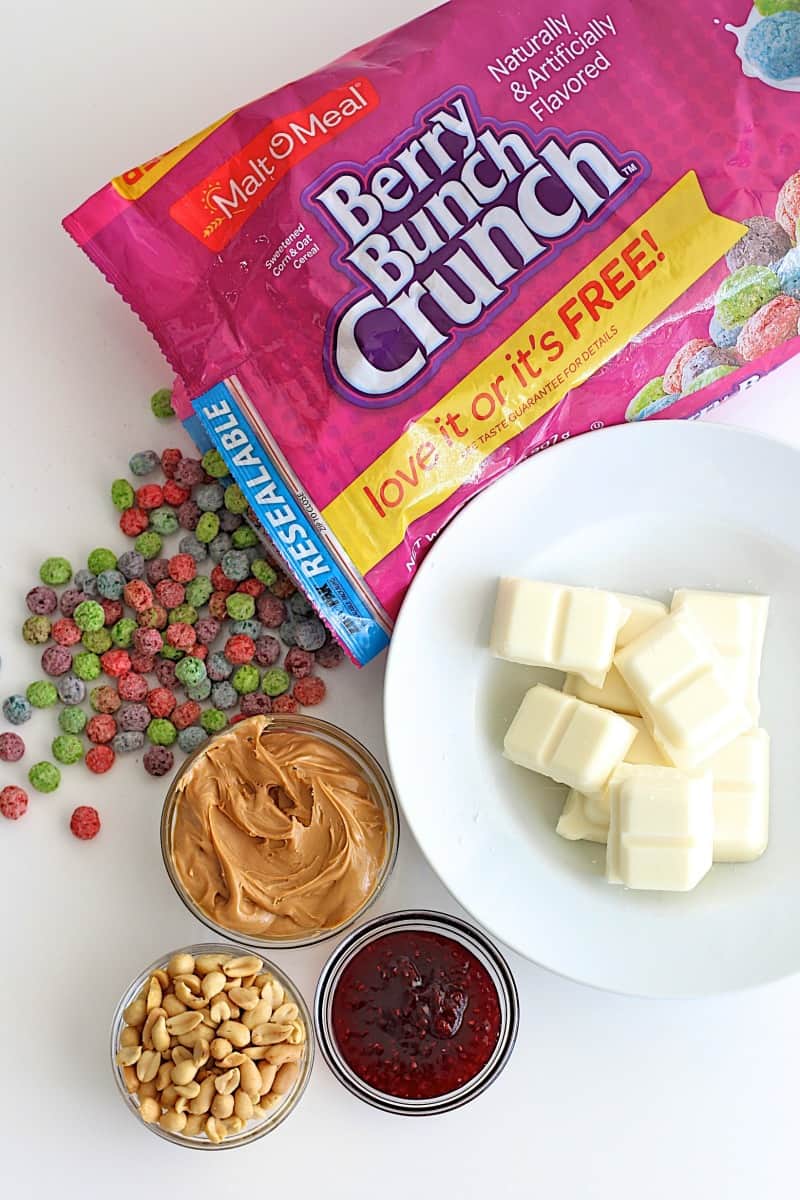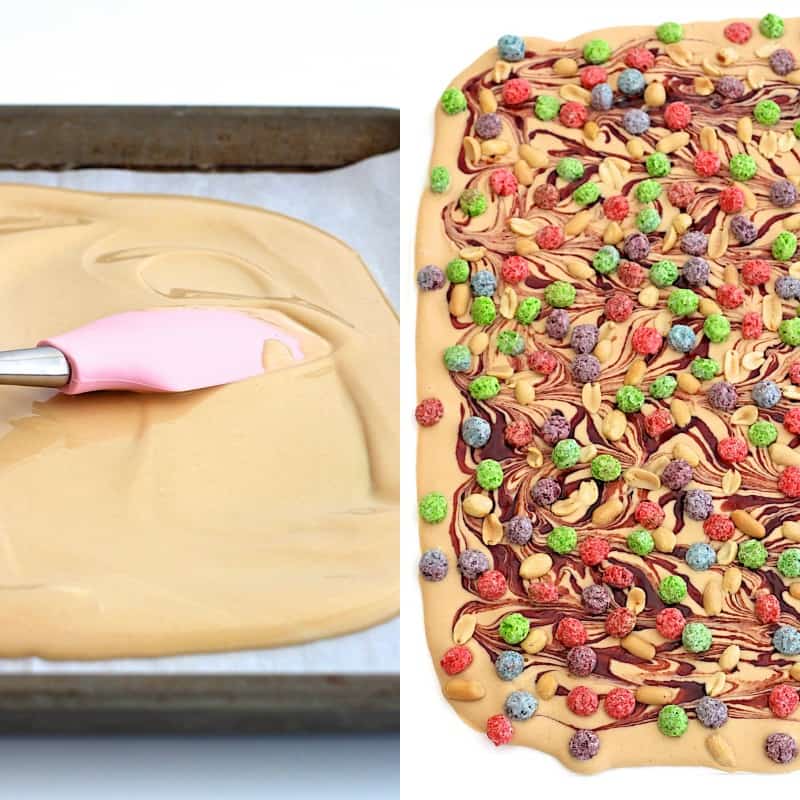 So what are you waiting for?! No occasion needed to make this yummy bark. It will bring a smile to your face no matter what your age.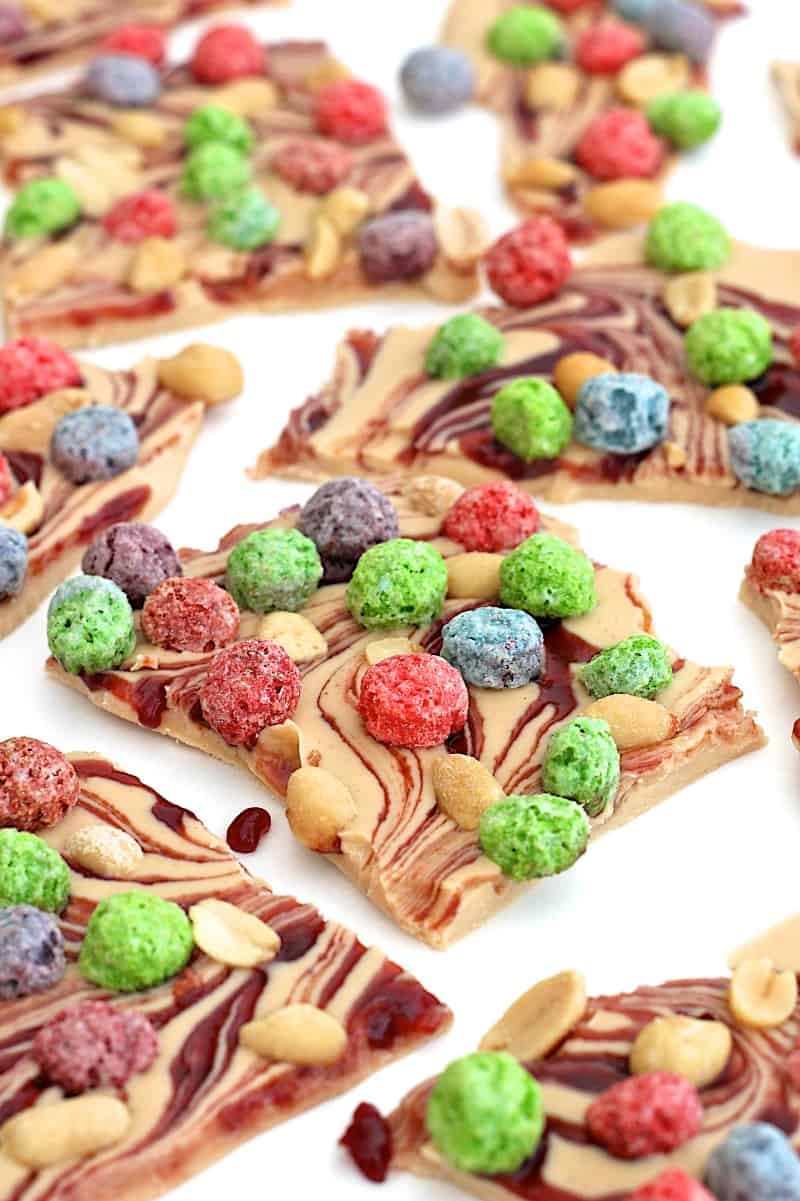 Enjoy!
xoxo,
Maegan
This recipe was created as part of my partnership with Malt-O-Meal® brand cereals however thoughts and opinions are certainly my own!

Peanut Butter Berry Bunch Crunch Bark
Creamy peanut butter candy bark that's swirled with jelly then sprinkled with peanuts and Berry Bunch Crunch cereal. It's bursting with flavor and fun!
Author:
Maegan - The BakerMama
Ingredients
1 (16 ounce) package CandiQuik vanilla candy coating or vanilla almond bark
½ cup creamy peanut butter
¼ cup berry-flavored jelly (such as raspberry, strawberry or blueberry)
½ cup roasted and lightly salted peanuts
2 cups Malt-O-Meal® Berry Bunch Crunch cereal
Instructions
Coat a 9x12-inch rimmed baking sheet with cooking spray and line with a piece of parchment paper.
Melt jelly for 15-20 seconds in the microwave until thin enough to drizzle. Set aside.
Melt candy coating according to package directions. Once candy coating is melted, stir in peanut butter until smooth. Immediately spread with a spatula into a thin rectangle on prepared baking sheet.
Drizzle jelly over peanut butter bark and quickly swirl the jelly through the peanut butter layer with a table knife or skewer. Sprinkle bark evenly with peanuts and then Berry Bunch Crunch cereal.
Refrigerate until firm, about 1 hour. Break or cut into pieces.
Notes
Store in an airtight container at room temperature for up to 5 days. During warmer months, store bark in the refrigerator.