Oven-Fried Mini Chicken Biscuits are soft buttery biscuits filled with crispy baked chicken for a bite-sized breakfast, lunch or dinner that's downright delish!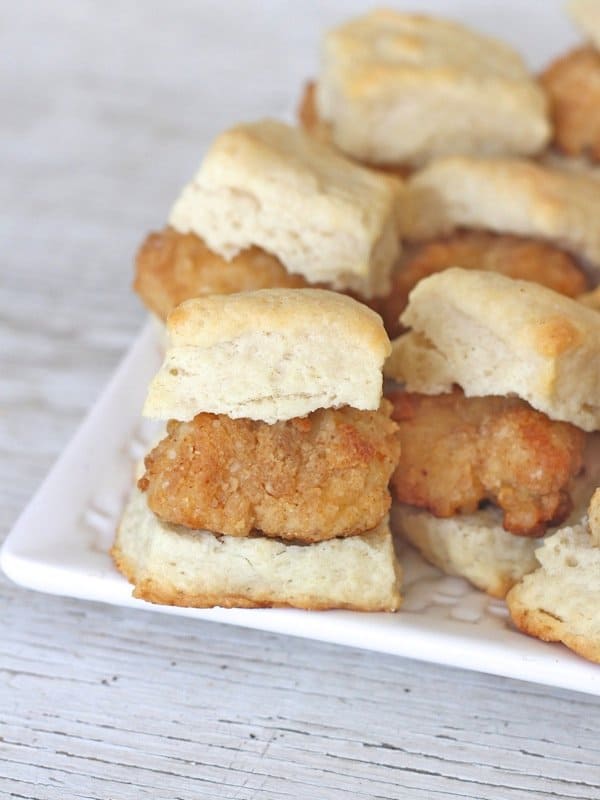 Oh boy, do we love biscuits! And when you fill 'em with crispy flavorful chicken and a drizzle of thick sweet honey, our world is completely rocked…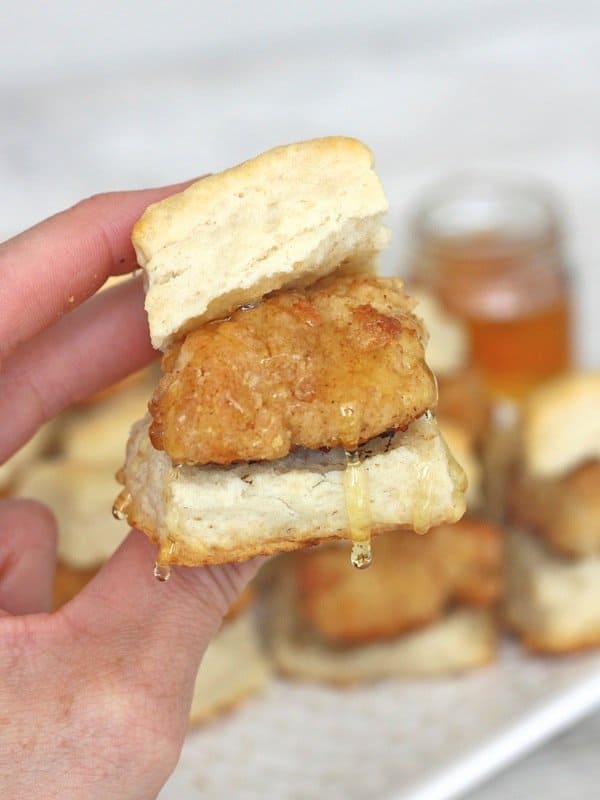 This is breakfast at its best, y'all! The biscuits are soft and buttery and the chicken is crispy and juicy. A drizzle of honey is optional, but makes it all that more marvelous. So yummy to the tummy! We were fans from the first bite!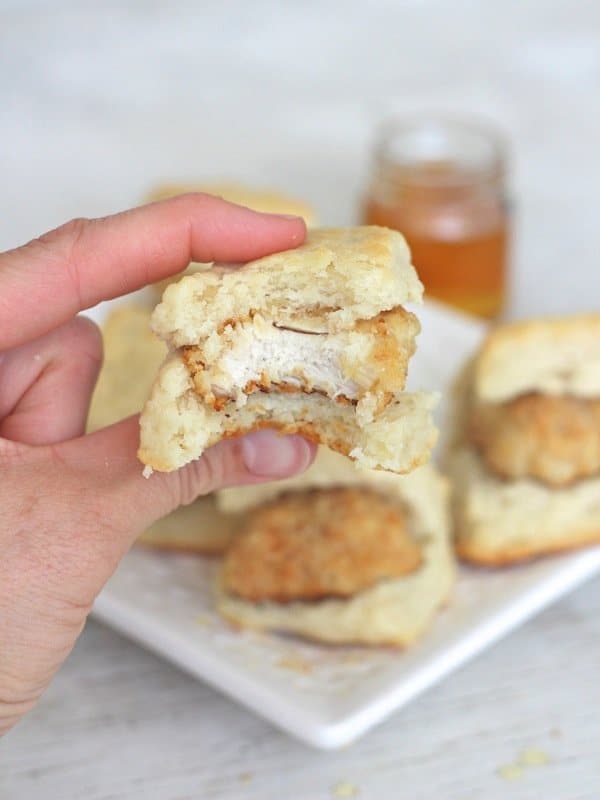 We've always loved going to one of our favorite fast-food chains to get the fried version of these mini chicken biscuits, but now that I've created an easy and awesome baked version here at home, our trips through the drive-thru have become non-existent.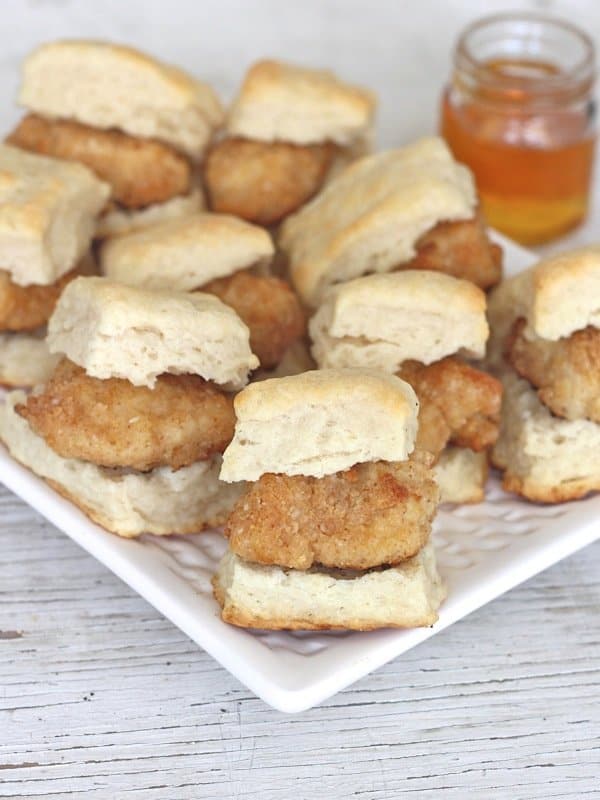 That homemade taste and texture really comes through in every delicious bite! From the chicken…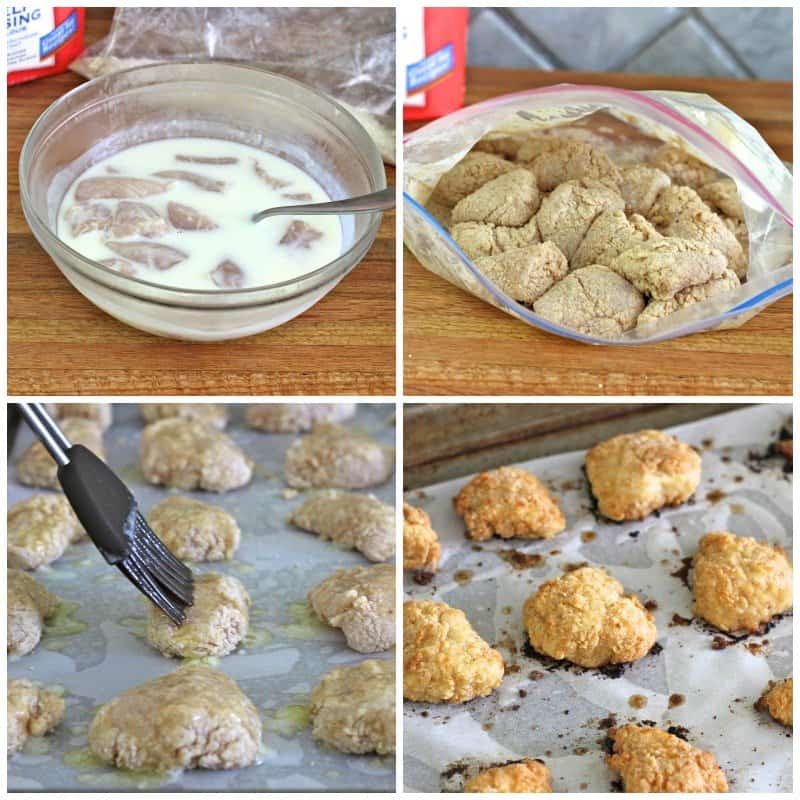 To the biscuits…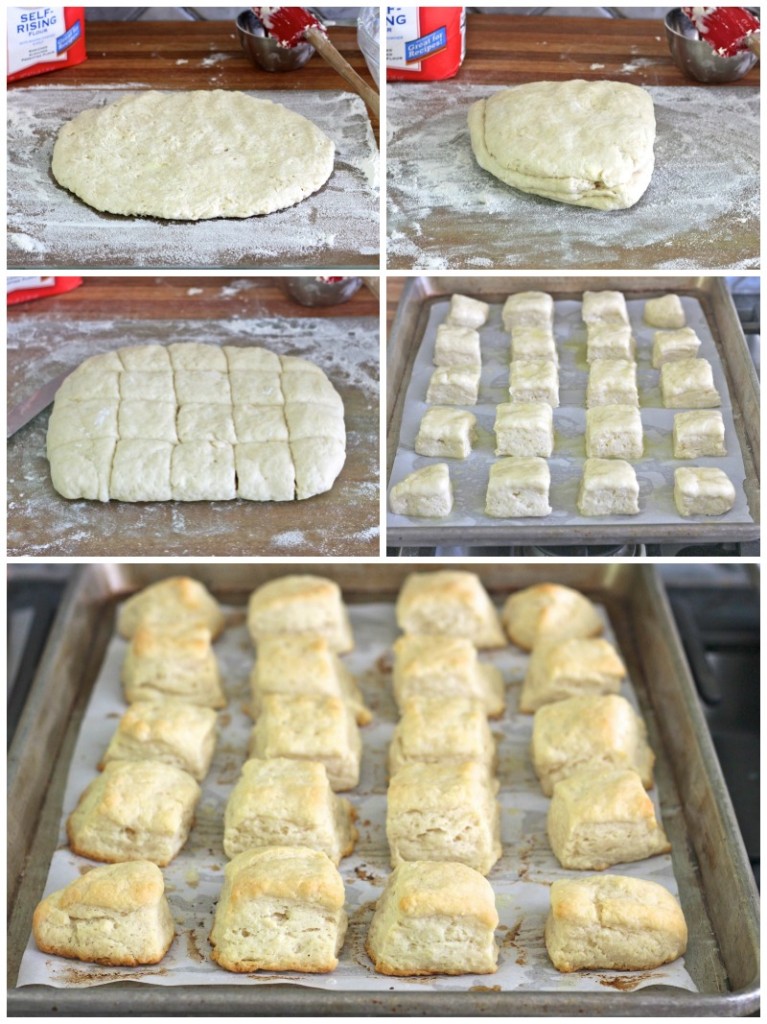 These mini chicken biscuits are two bites of bliss!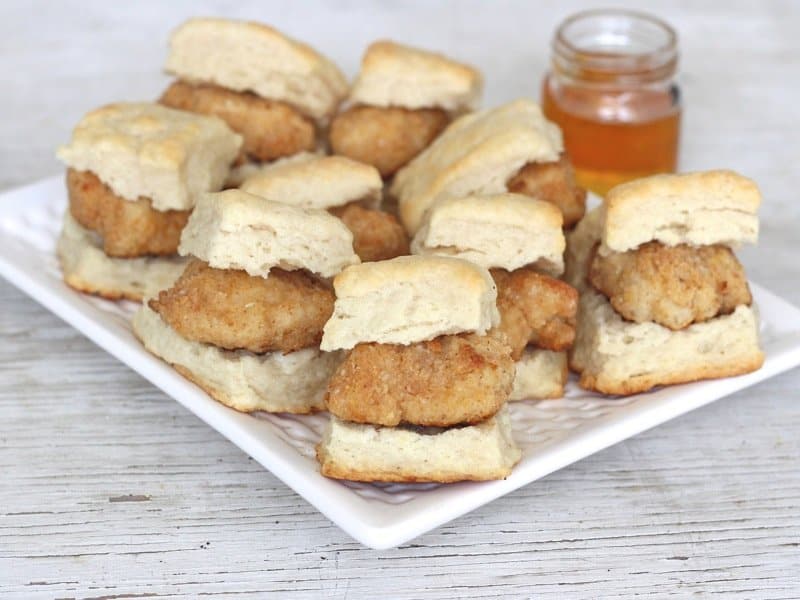 Enjoy y'all!
xoxo,


Oven-Fried Mini Chicken Biscuits
Soft buttery biscuits are filled with crispy baked chicken for a bite-sized breakfast, lunch or dinner that's downright delish!
Author:
Maegan - The BakerMama
Ingredients
Chicken:
1 pound boneless, skinless chicken tenders (about 7)
1-1/2 cups buttermilk
¼ cup self-rising flour
½ cup plain bread crumbs
1 teaspoon salt
1 teaspoon sugar
4 tablespoons butter, melted
Biscuits:
2 cups self-rising flour
1 tablespoon sugar
½ cup (1 stick) unsalted butter, cold & cut into pieces
1 cup buttermilk
4 tablespoons butter, melted
Instructions
To prepare the chicken, cut each tenderloin of chicken into 3 nugget-sized pieces. Place in a bowl and cover with the 1-1/2 cups buttermilk. Place in the refrigerator for 30 minutes.
Preheat oven to 450°F.
Place ¼ cup flour, bread crumbs, 1 teaspoon salt and 1 teaspoon sugar in a large resealable baggies. Remove each piece of chicken from the buttermilk with a fork letting excess buttermilk drip back into the bowl and place the chicken in the resealable baggie. Seal and shake the chicken until each piece is completely coated. Place about an inch apart on a parchment-lined baking sheet. Drizzle a little of the melted butter over each nugget. Bake until coating starts to crisp and brown, about 25 minutes.
Meanwhile, prepare the biscuits. In a large bowl, whisk together the flour and sugar. Cut in the butter with a pastry blender or two knives in opposite directions. Add the buttermilk and stir with a wooden spoon or your hands until well combined. Flatten the dough out into about an 8x10-inch rectangle on a floured surface. Fold in half and then in half again and flatten back out into the rectangle. Repeat the folding process again and flatten back into the rectangle before cutting into 20 squares.
Place biscuits a few inches apart on a parchment-lined baking sheet. Brush with half the melted butter. Bake for 15-20 minutes or until biscuits have risen and are starting to turn a light brown on top. Remove and brush with remaining melted butter.
To serve, cut a biscuit in half, place a chicken nugget in the middle and drizzle with some honey (if desired) before sandwiching back together to enjoy!