An old-fashioned donut topped with sweet strawberries and fresh whipped cream. A classic dessert made easier and extra enjoyable in these Old-Fashioned Donut Strawberry Shortcakes!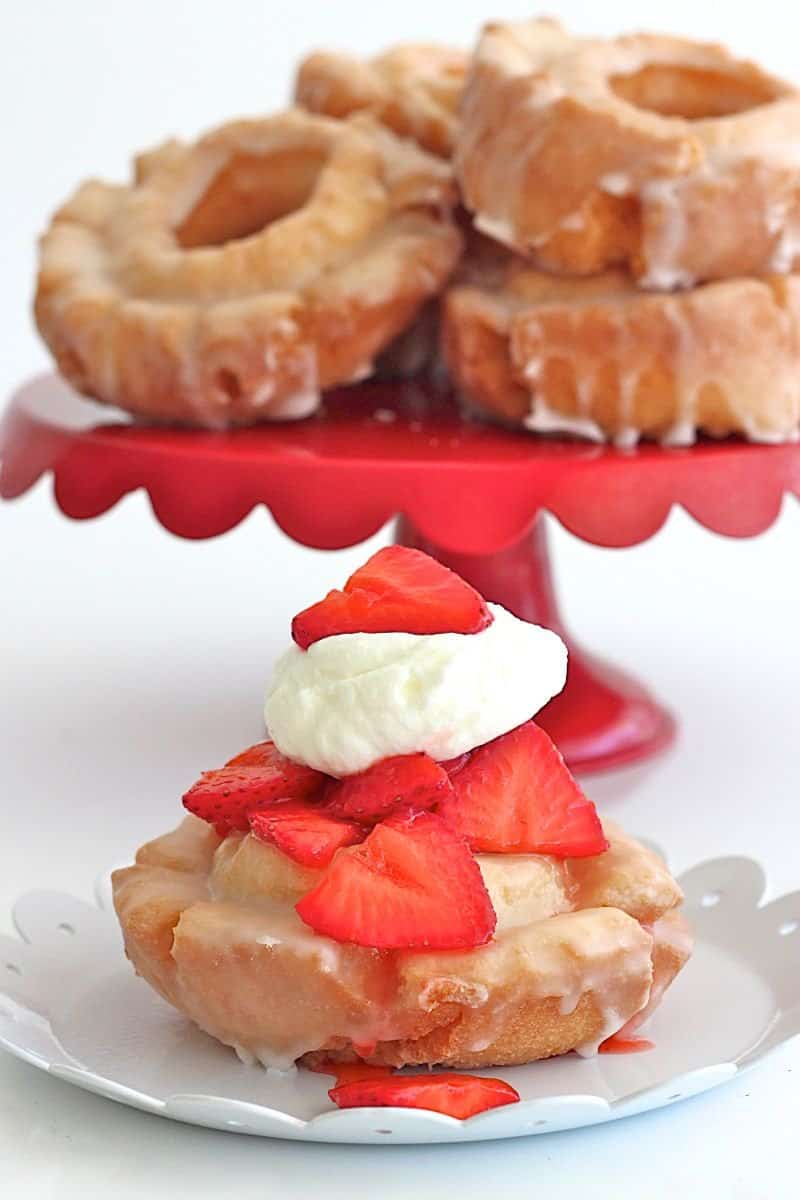 I can't believe I've never thought of this before, especially given my love/obsession/addiction to donuts! Here's how it just hit me one day that our favorite donuts could be transformed into an awesome and easy dessert…
We were sitting at the donut shop one Saturday morning when I got a text from a friend seeing if we wanted to come over and grill out that evening. I said we'd love to and asked what we could bring. I should have known she would say dessert, because that's what I always bring. 🙂 So dessert it was. We had a busy day ahead and would only be home for a bit before heading to their house. I wanted to bring something special, but there was no way I was going to have time to bake or make something at home.
It's the summer so strawberry shortcakes immediately came to mind and I just assumed I would pick up some shortcakes or a pound cake, strawberries and whipped topping at the store. As I took the last bite of my old-fashioned donut (hands down my favorite kind of donut), it just hit me and I might have even jumped for joy at the thought of using an old-fashioned donut to make strawberry shortcake! Eeeeek! I was so excited!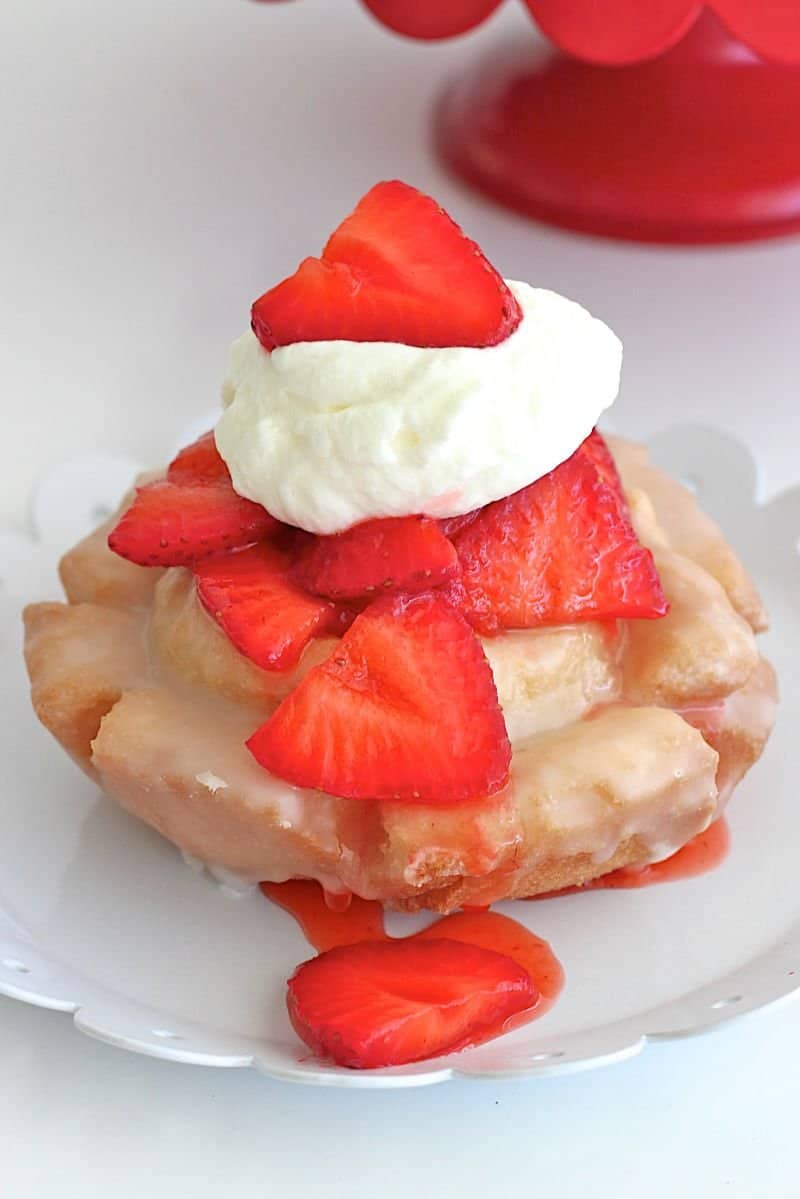 I skipped back up to the counter and ordered half dozen old-fashioned donuts to go…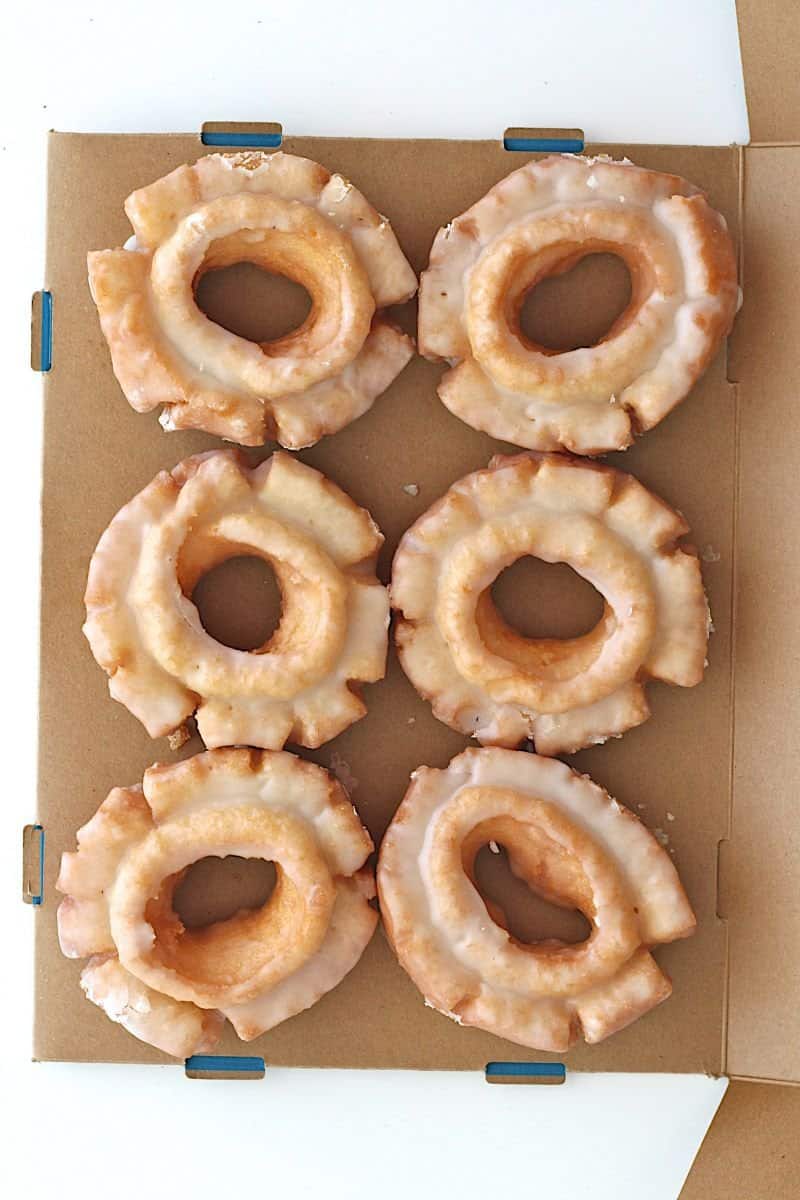 Old-fashioned donuts have the absolute perfect texture for a strawberry shortcake. Cake-like with big crevasses for the strawberries to settle in and dense enough for the strawberry juices to soak into without the donut falling apart. I might venture to say this is the best strawberry shortcake I've ever eaten…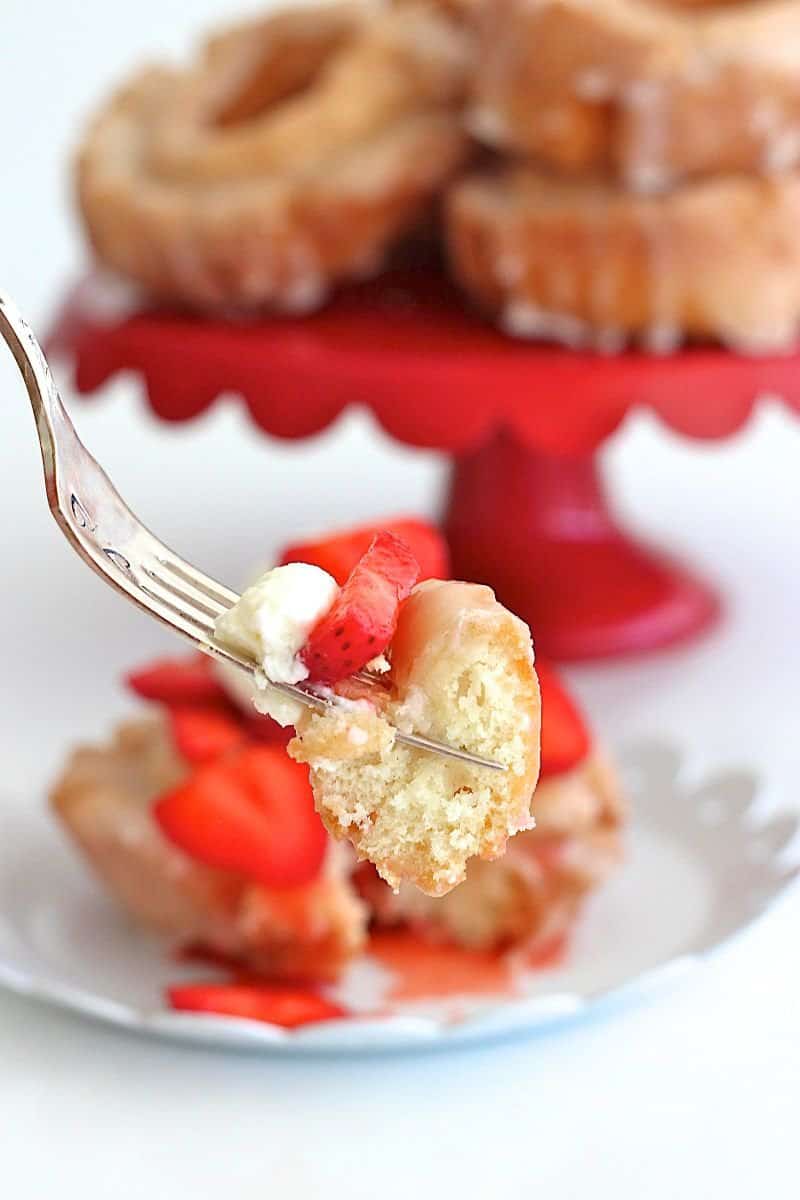 Giving the strawberries some time to mate with the sugar and create a thick sweet juice is key and if you have time to whip your own cream, you're in for something extra special.
When we showed up at our friends' house with a box of donuts, they just laughed. They know how much we love donuts and were not surprised we would think to bring them for dessert. Well, when they saw me whip out the strawberries and fresh whipped cream to go with them, they were speechless. 🙂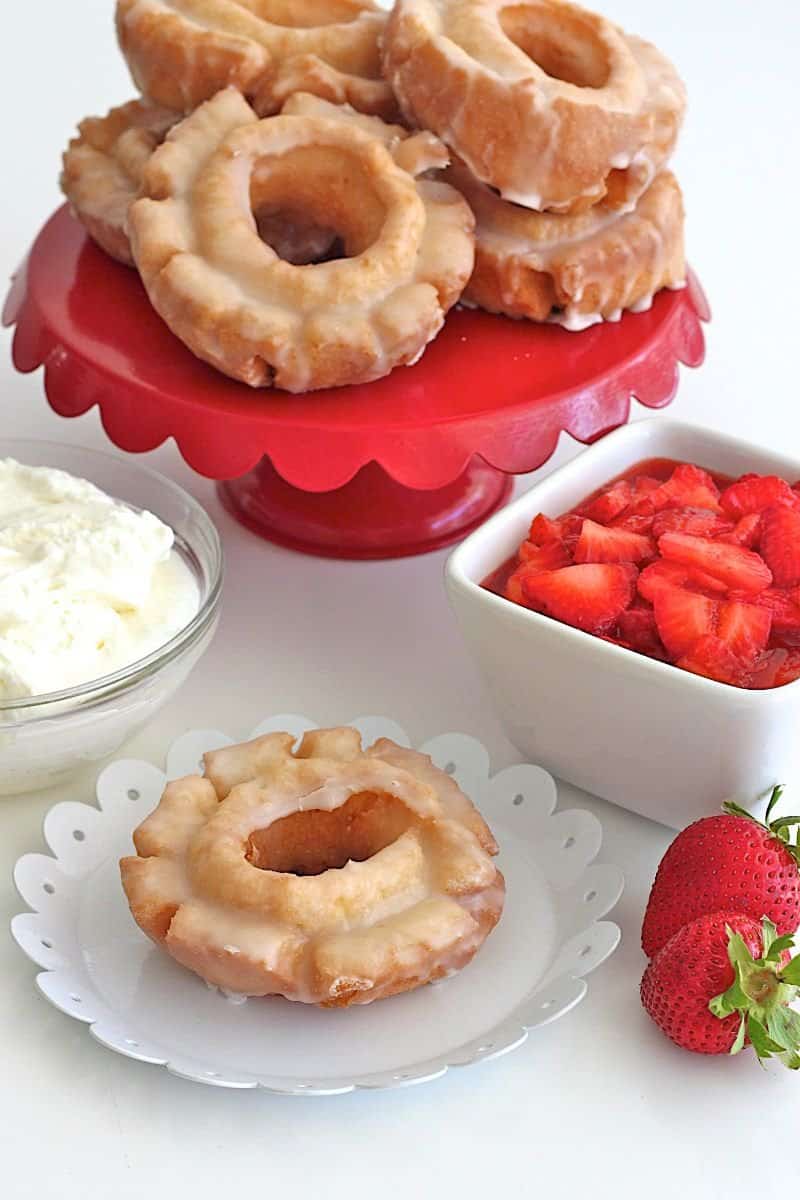 We were all so excited to get to dessert that night. I had never had a donut strawberry shortcake so my fingers were secretly crossed hoping everyone would love them. And that they did! Not one bite left on anyone's plates, huge smiles and rave reviews. Mission accomplished.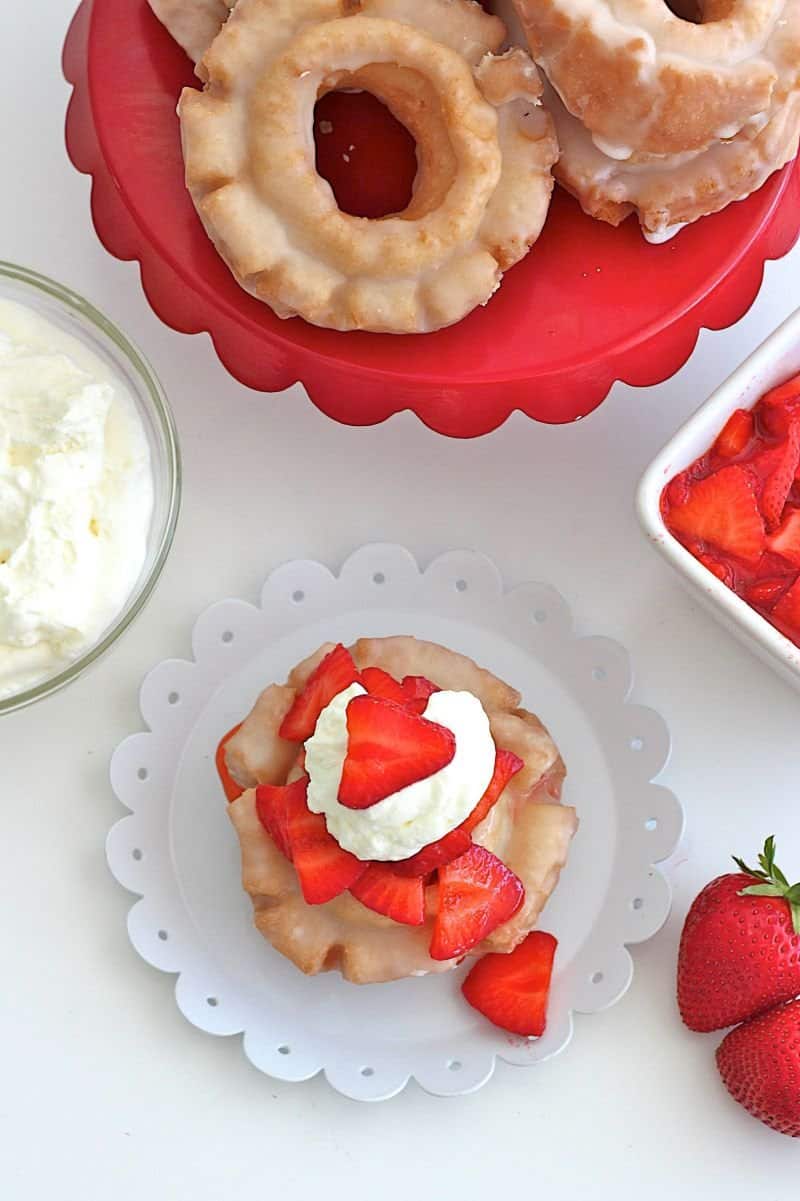 So find yourself a donut shop that makes a great old-fashioned donut (or if you have a little extra time and want to make your own, you could make my Easy Old-Fashioned Donuts). Otherwise, take the easiest route and pick up how ever many donuts you need as I assure you no one will be disappointed.
This old-fashioned donut strawberry shortcake will knock your socks off, so don't even bother wearing any. 😉 Enjoy! Enjoy!
xoxo,


Print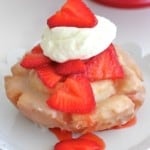 Old-Fashioned Donut Strawberry Shortcake
Author:

Prep Time:

5 mins

Total Time:

5 mins

Yield:

6

1

x

Category:

Dessert
---
Description
An old-fashioned donut topped with sweet strawberries and fresh whipped cream. A classic dessert made easier and extra enjoyable!
---
6

old-fashioned donuts

1

pound fresh strawberries

1 tablespoon

granulated sugar
Whipped Cream:
1 cup

heavy whipping cream

2 tablespoons

granulated sugar
---
Instructions
Pick up some old-fashioned donuts from your favorite donut shop or make them yourself!
Mash about 6 of the strawberries into a thick paste with the back of a fork. Thinly slice the remaining strawberries. Gently stir together the mashed strawberries, sliced strawberries and 1 tablespoon sugar in a medium bowl. Cover with plastic wrap and let set at room temperature or in the refrigerator until ready to serve or at least 20 minutes.
To make the fresh whipped cream, place a glass or metal bowl along with the whisk or beaters in the freezer for 10-15 minutes. Once bowl and whisk are cold, remove from freezer and place sugar and heavy whipping cream in the bowl. Beat just until the cream reaches soft peaks. Place in the refrigerator until ready to use. When ready to use, whisk again for about 15 seconds. Best if used within 24 hours.
Place a donut on the serving plate, top with some strawberries and their juices and then some whipped cream. Dig in and enjoy!
---