This Nutella baklava is the best! Crisp buttery layers of phyllo filled with Nutella, chopped hazelnuts and honey that's easy to make and bakes into one amazing dessert!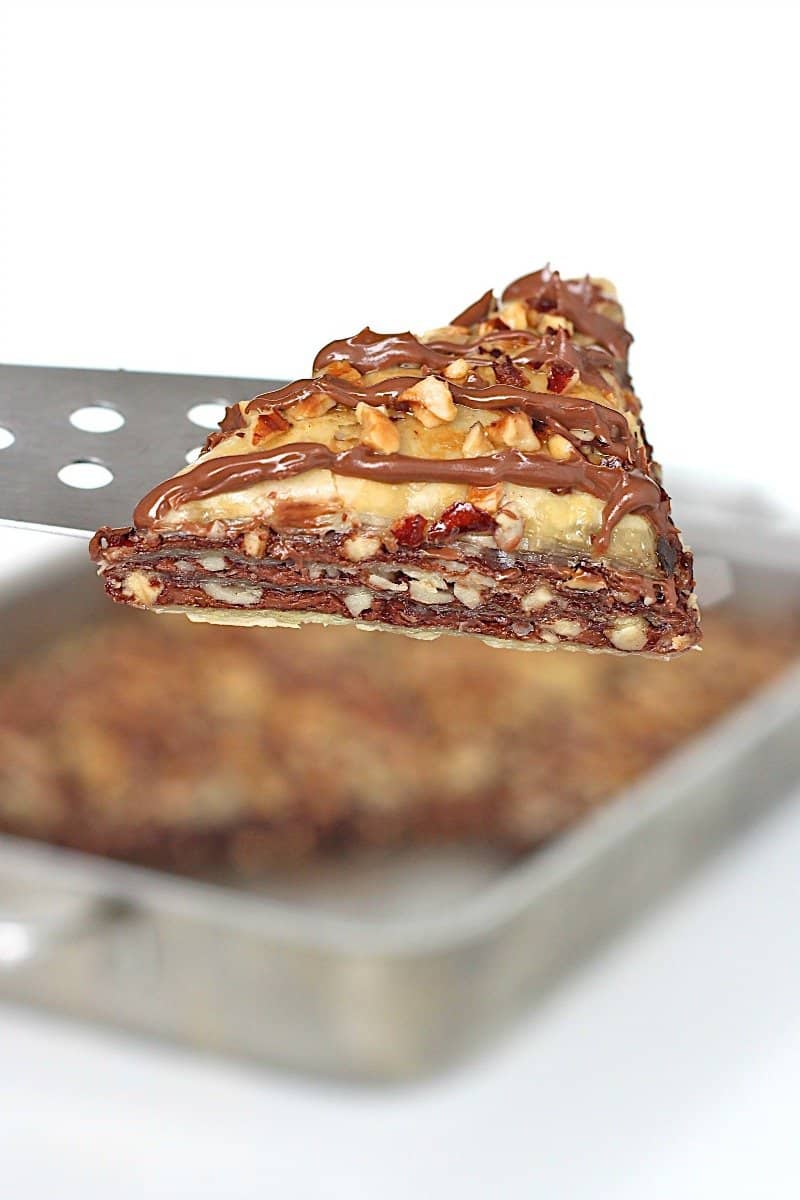 Who knew baklava could get any better?! Don't get me wrong, I love a good traditional baklava, but when I put Nutella between those crispy buttery layers of phyllo, it was love at first bite!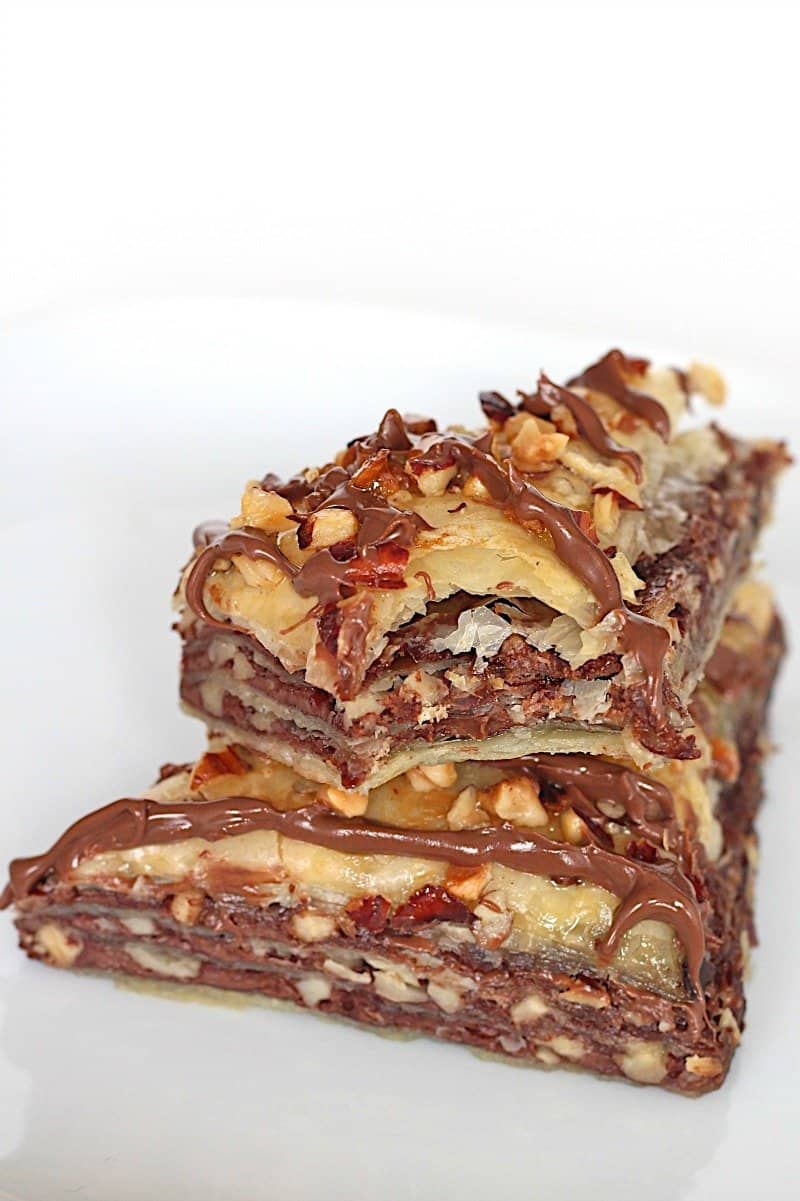 I could barely hold back my excitement as I was preparing this easy dessert to finish off our Mediterranean feast the other night. I had a feeling it would be amazing, but seriously, this baklava blew us away! So many textures and sweet buttery flavors going on. And with only 5 ingredients, what's not to love about it?!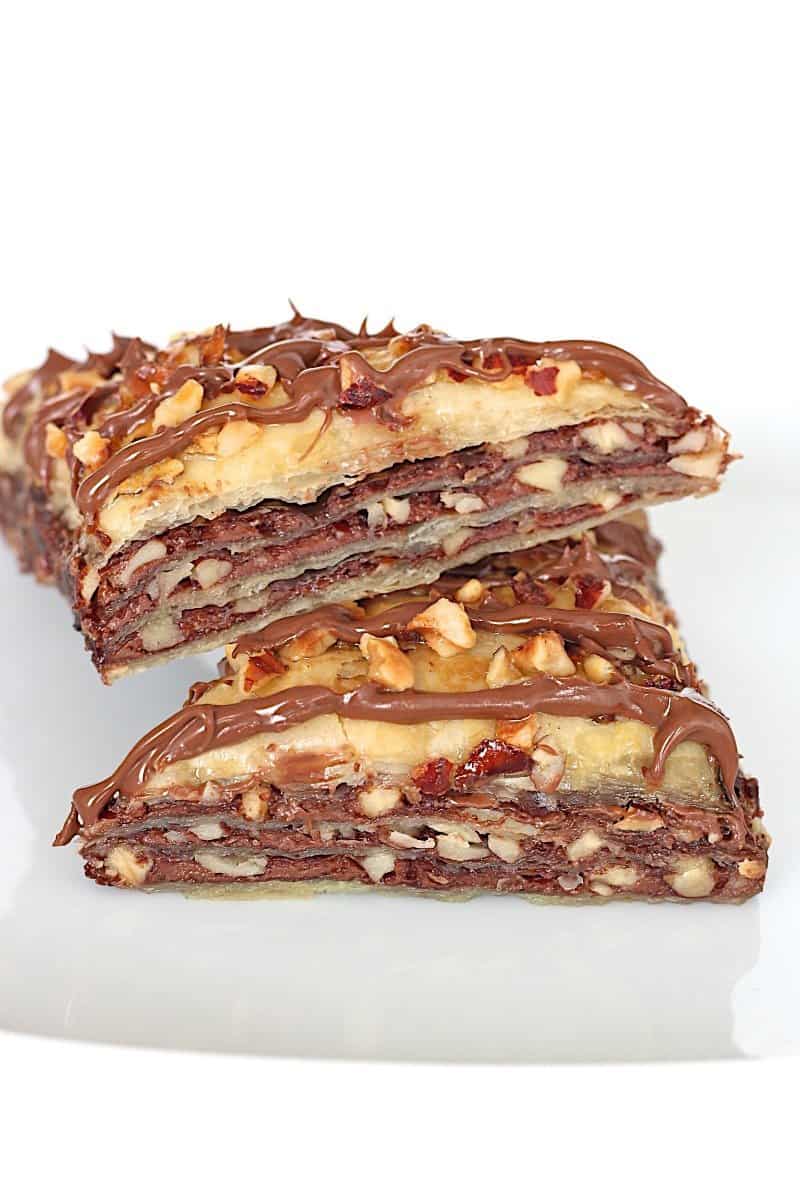 I used to have this fear of phyllo until I made my brownie baklava recipe last year (another great one!). Now, I'm all about phyllo. Honestly, you really can't mess it up. Even if the layers aren't perfect, it still bakes up in these awesome layers of crispness as long as you brush them good with butter.
A couple generous spreads of Nutella, a sprinkling of chopped hazelnuts and a drizzle of sweet honey between layers of that buttered phyllo dough bakes into one impressively easy and awesome dessert!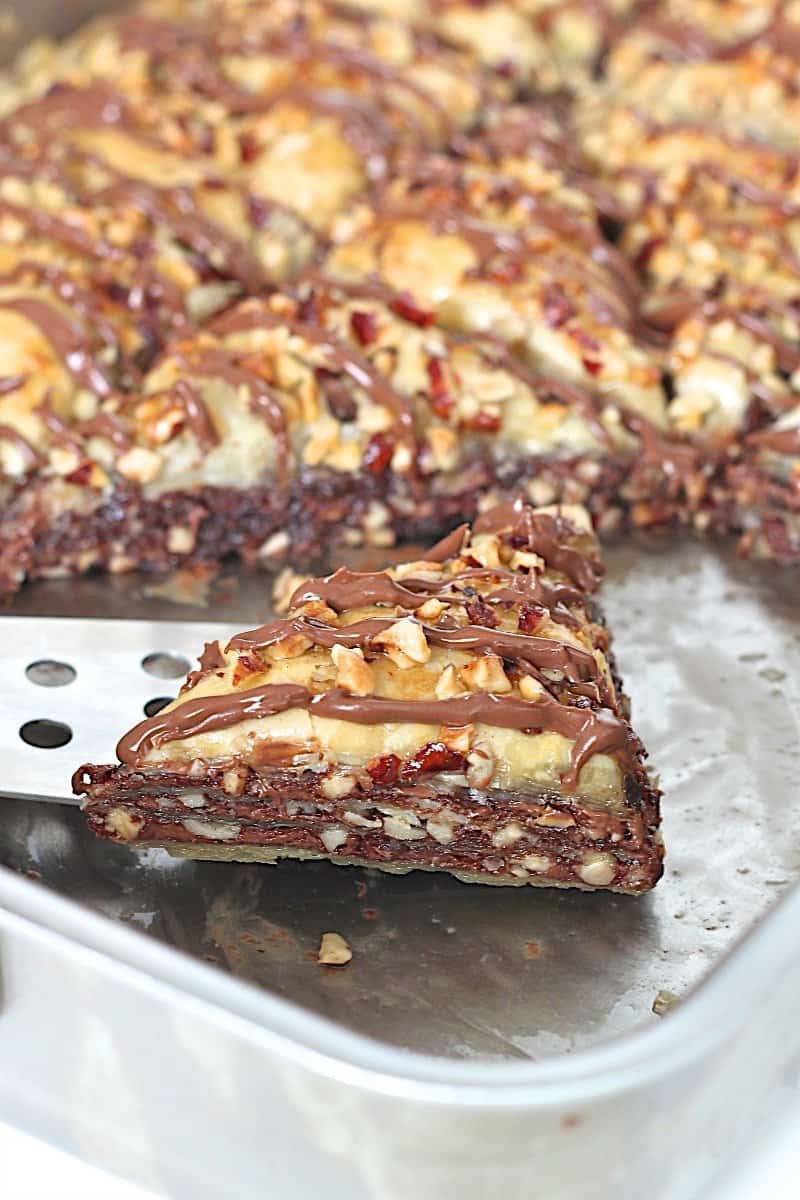 I can guarantee you your loved ones will go crazy over this baklava! It's tastes just as amazing as it looks!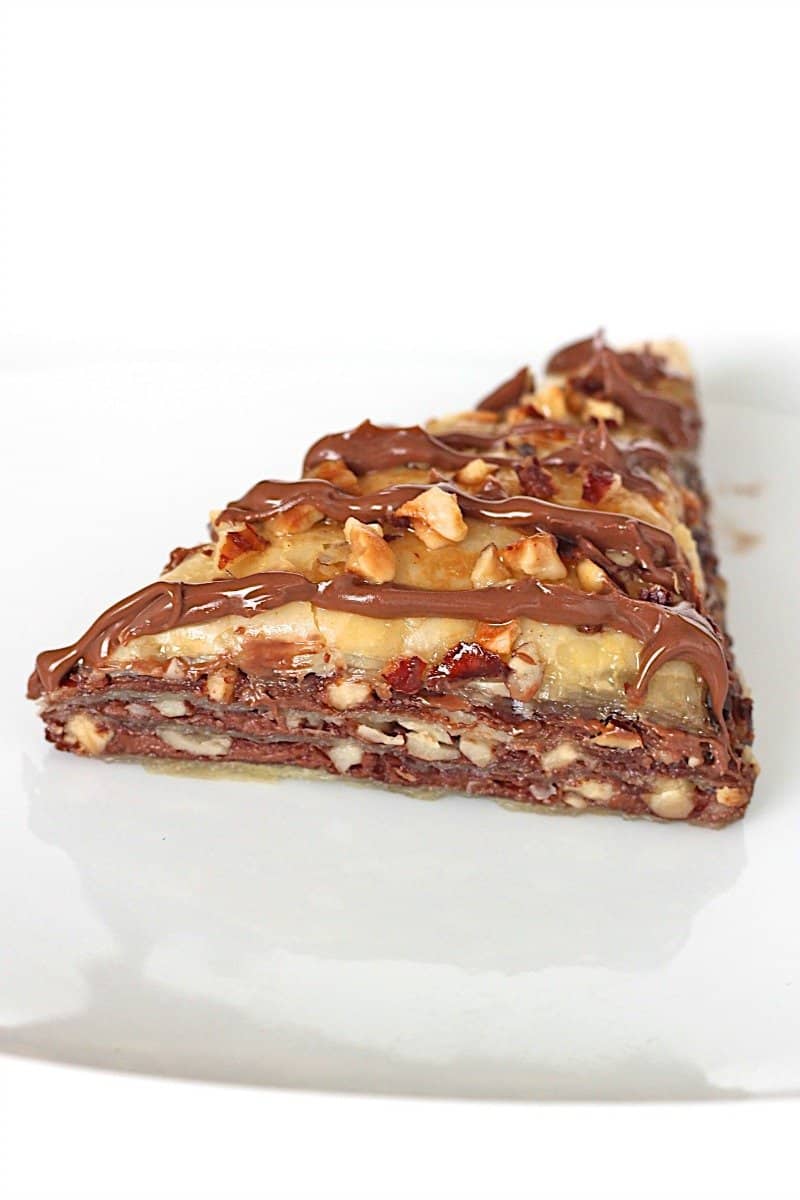 Enjoy!
xoxo,
Maegan
[printfriendly]
Nutella Baklava
Ingredients:
1 (16 ounce) package thawed phyllo dough
1 cup (2 sticks) unsalted butter
1-1/2 cups Nutella hazelnut spread
1 cup chopped hazelnuts
1 cup honey
Directions:
1. Preheat oven to 350°F.
2. Roll the phyllo dough out onto a large work surface. Place a 9×13-inch baking dish in the center of the phyllo and trace around the edges with a sharp knife or scissors cutting all the way through the phyllo to the work surface. Discard sides of phyllo and lift the pan. Phyllo dough should now be the size of the baking pan. Cover the phyllo with a damp cloth while you are assembling the baklava.
3. Melt the butter in a microwave safe bowl. Melt the Nutella in another microwave safe bowl. Butter the 9×13-inch baking dish generously with some of the melted butter.
4. Place a sheet of phyllo in the bottom of the buttered baking dish and brush generously with some of the melted butter. Repeat with 5 more sheets of phyllo dough, brushing the top of each sheet with melted butter.
5. Drizzle 1/2 cup of the melted Nutella over the first buttered 6 layers of phyllo dough. Spread evenly with a spatula. Sprinkle with 1/3 cup chopped hazelnuts. Drizzle with 1/4 cup honey.
6. Layer 6 more sheets of phyllo dough over the Nutella layer, brushing each sheet generously with the melted butter. Spread 1/2 cup of the melted Nutelaa over the next 6 layers of phyllo dough, sprinkle with 1/3 cup chopped hazelnuts and drizzle with 1/4 cup honey.
7. Top the second Nutella layer with the remaining phyllo dough, brushing each sheet with melted butter. Using a sharp knife, cut the baklava into 12 large even squares. Cut each square diagonally to create two triangle shapes out of each square for a total of 24 baklava triangles.
8. Brush the remaining melted butter over the top of the cut baklava. Sprinkle with the remaining chopped hazelnuts. Bake for about 30 minutes or until baklava is golden and crisp on top. Remove from the oven and immediately drizzle with the remaining 1/2 cup honey. Let baklava set for at least 2 hours.
9. Melt remaining Nutella again so that you can drizzle it over the baklava once it's cooled. I placed the melted Nutella in a small resealable baggie and cut a small corner off so that I could easily drizzle it over the baklava.
10. Once the baklava is cooled. Drizzle with the remaining Nutella, then cut and serve.
Servings: 24
Prep Time: 20 minutes
Baking Time: 30 minutes
Total Time (start to finish): 50 minutes
[printfriendly]