Usher out the old and ring in the new with a festive and delicious New Year's Eve Dessert Board. With pre-made treats and simple accessories, these easy-to-build boards are perfect for celebrating in style!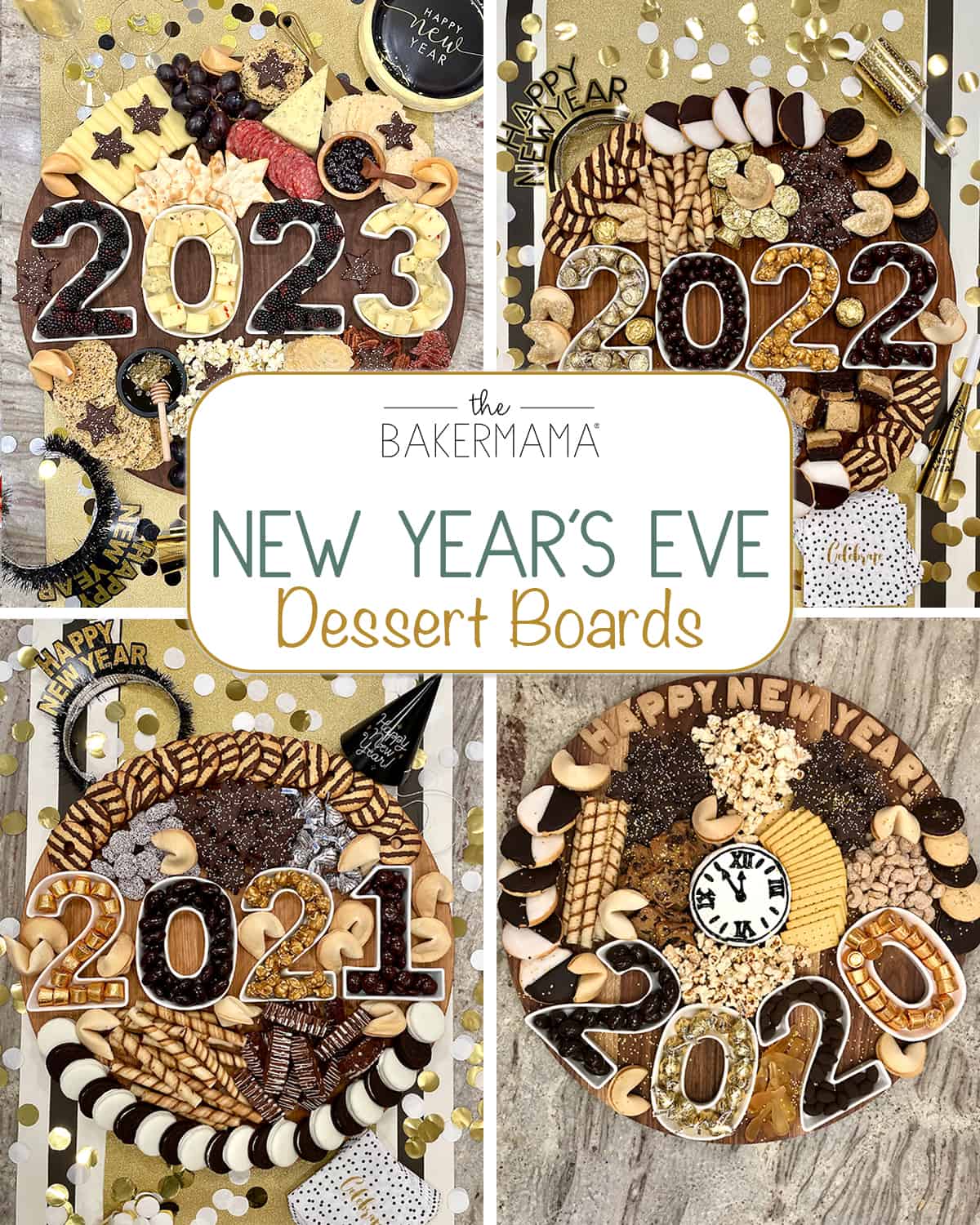 New Year's Eve by The Numbers
Give your guests something sweet to nibble as you wait for the big countdown with a New Year's Eve Dessert Board. The very best thing about adding a dessert board to your celebration is how easy and super flexible it is to build and serve. I'll show you a few options, but basically I hit the grocery store and buy all the treats that are black, white or gold. Candies, cookies, little cakes, nuts–anything goes! Then I arrange all my purchases around these fantastic ceramic number bowls by Just Artifacts on Amazon. Such an easy dessert to serve and it turns out great every time and tastes as great as it looks!
Just a head's up, these number dishes sell out quick! So order yours well in advance. A few years ago, I went ahead and ordered the 2020 numbers and one of each of all the rest, so I'm set for the rest of the decade! I use the numbers for graduation boards, birthdays, anniversaries, etc. There are so many fun and creative ways to use these number dishes, so they're well worth the investment! Get them here:
Can't Find Number Dishes?
If you can't get your hands on the number dishes, another option would be to use large number cookie cutters! For 2023, you could also use these zero, 2, 3 cookie cutters.
A New Year's Eve Tradition
We've been making these festive New Year's Eve Dessert Boards, with the number dishes on them, for several years now! It's become a sweet tradition at our New Year's Eve party for our family and friends. We start collecting our black, white and gold treats in the week leading up to big night and then we have so much fun building it together and even more fun snacking on it throughout the evening as we wait for the clock to turn midnight. Keep scrolling for a glimpse at each of our NYE Dessert Boards over the years as well as lots of treat inspiration to put on your board when you recreate it.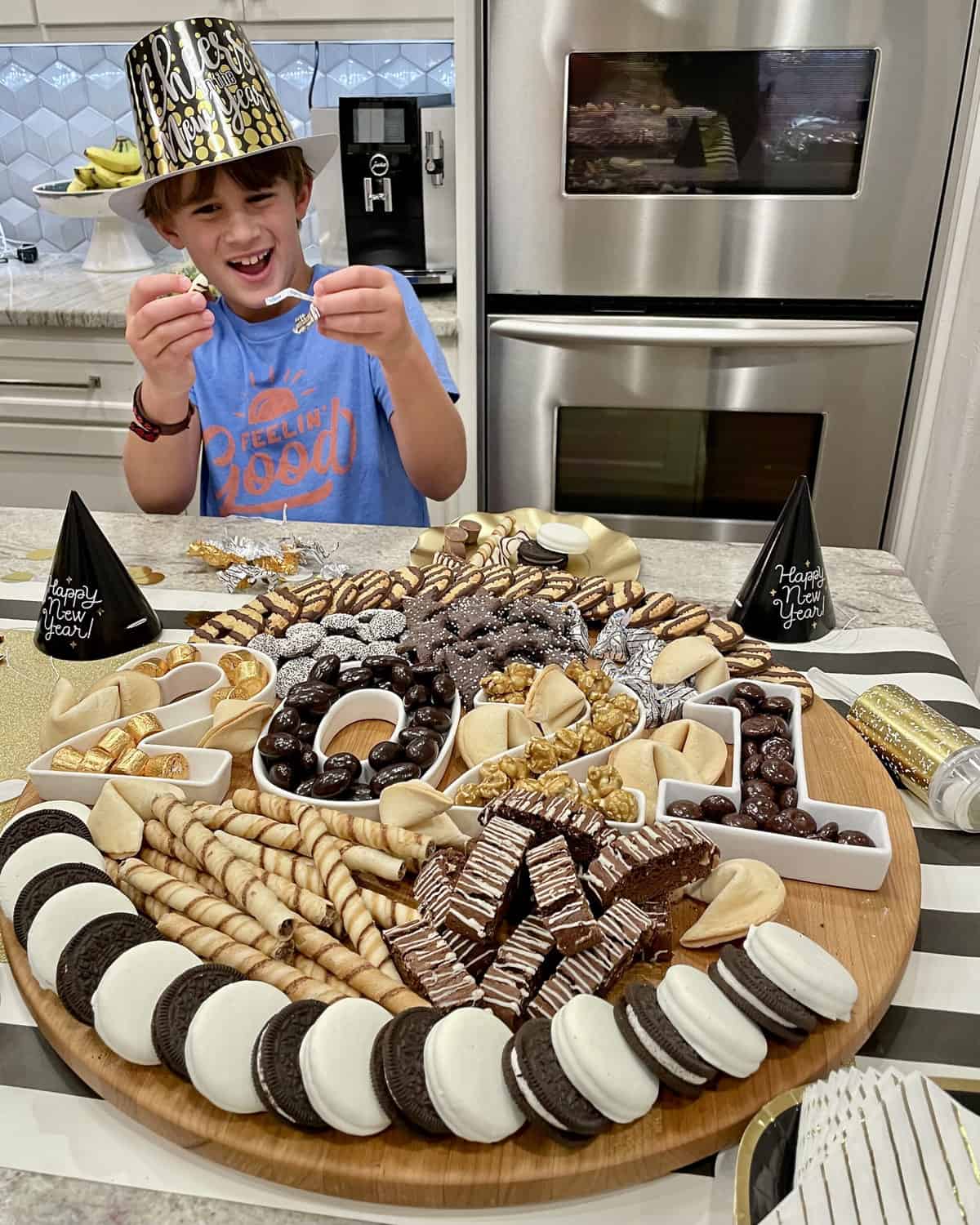 2023: Oh So Sweet!
Here's to a sweet 2023 with this family-friendly and oh so fun New Year's Eve Dessert Board topped with everyone's favorite snacks: popcorn, candies and fortune cookies, oh yeah! Click here to watch me build the board and see below for what all we put on our board this year. I built this on our 18″x12″ walnut wood board from Boards by The BakerMama. If you can't find the number candy dishes, you could use these large number cookie cutters.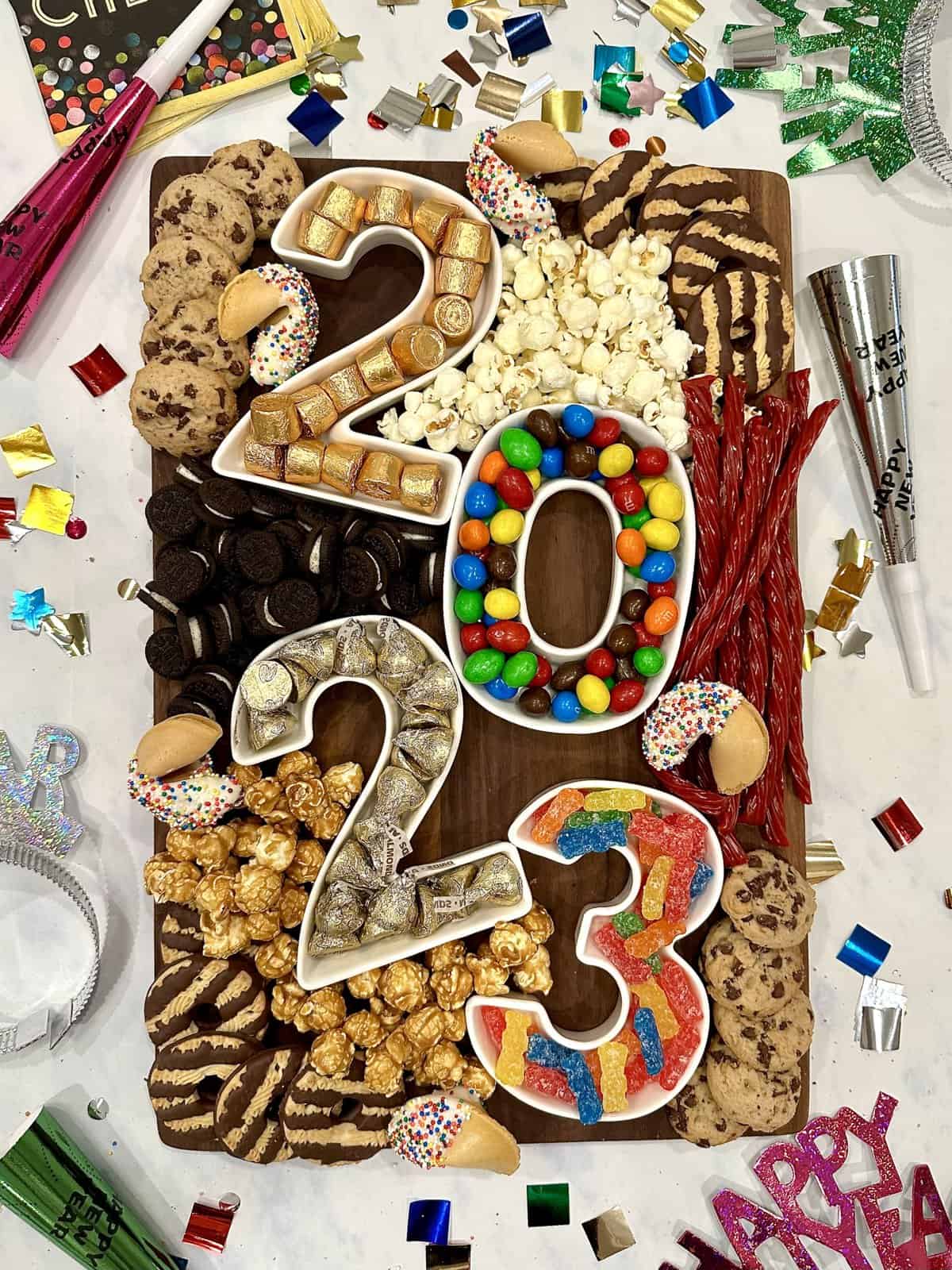 2023 Dessert Board Ingredients:
Rolos
M&M's
Hershey's Kisses
Sour Patch Kids
Fudge Stripe Cookies
Popcorn
Caramel Corn
Chocolate Chip Cookies
Twizzlers
Mini Oreos
Fortune Cookies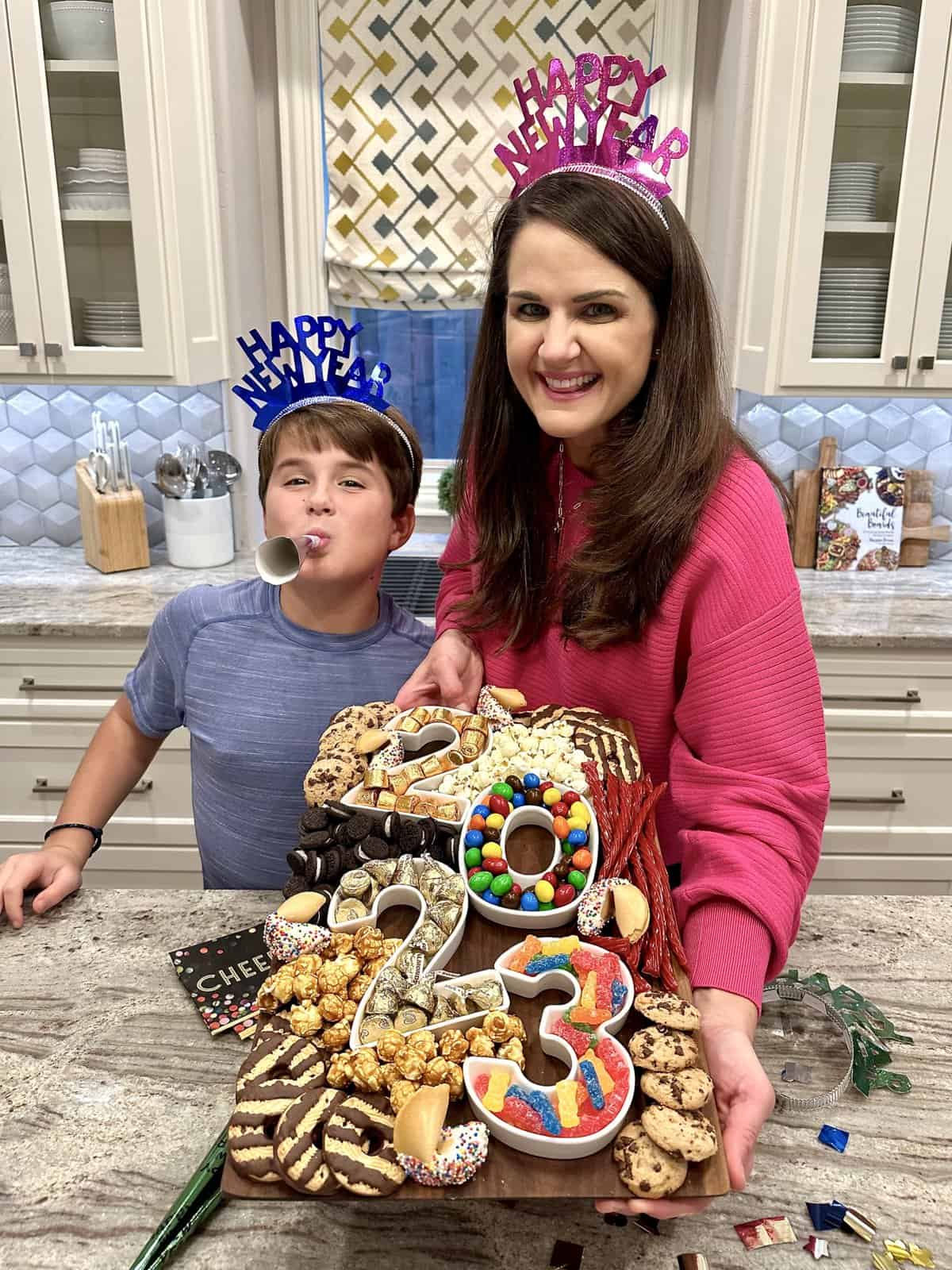 2023: Say Cheese!
What's better than ringing in the New Year with friends and family? Doing it with a delicious cheese and charcuterie board that's sure to impress the crowd! This New Year's Eve Cheese Board is full of fruits, nuts, crackers, my favorite cheeses and of course, cookies! Fortune cookies are always a huge hit in my family! I even got these cute chocolate covered stars from the grocery store! Serve with champagne for a fun and festive New Year's Eve experience!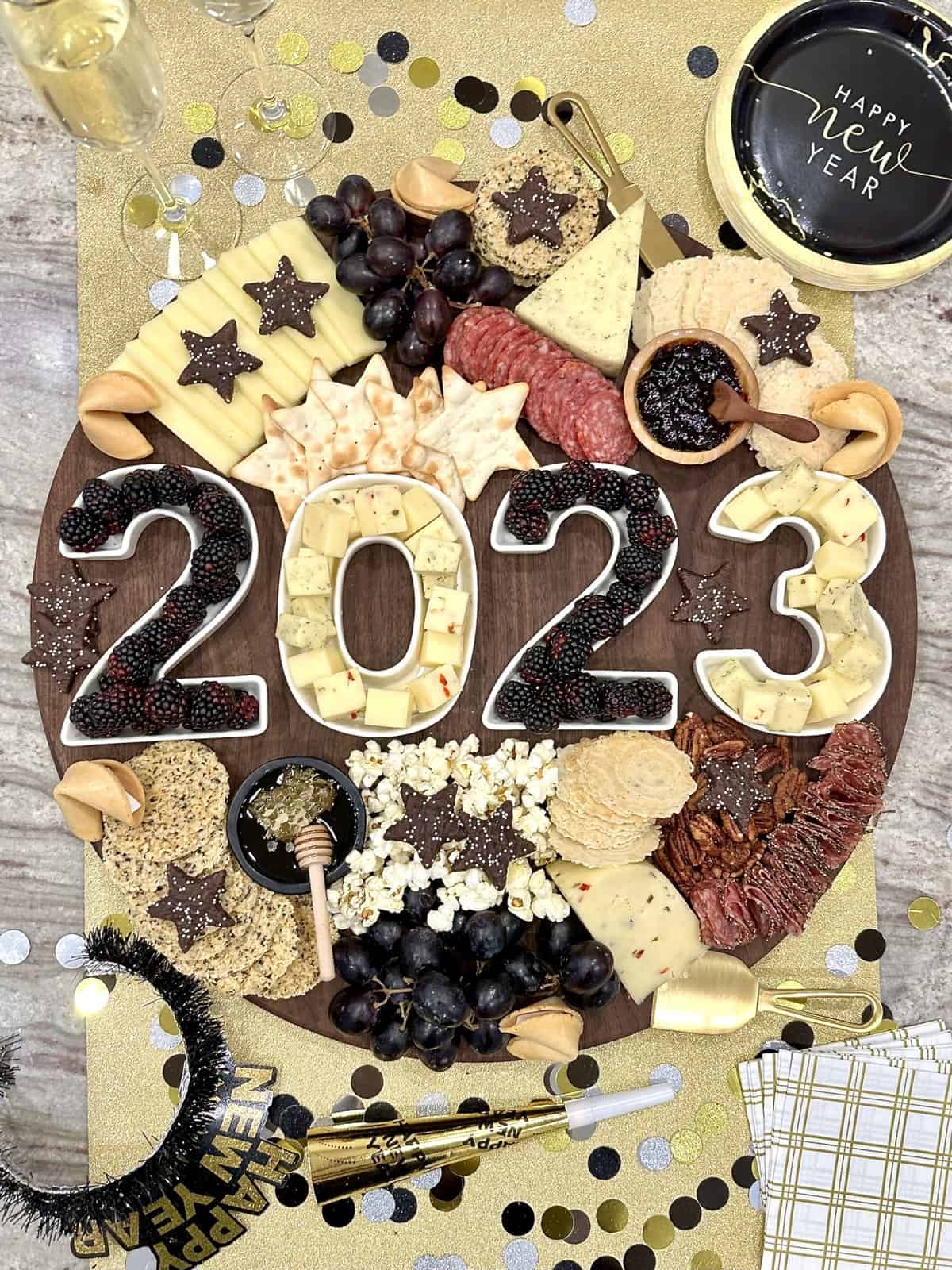 2022 Board: Bring the Bling
Carmel popcorn, gold-wrapped chocolates, and gold-dipped fortune cookies add some shine to this year's dessert board. To build this board, place your numbers across the center of a 20″ round wood board and arrange the treats around them, keeping an arc shape.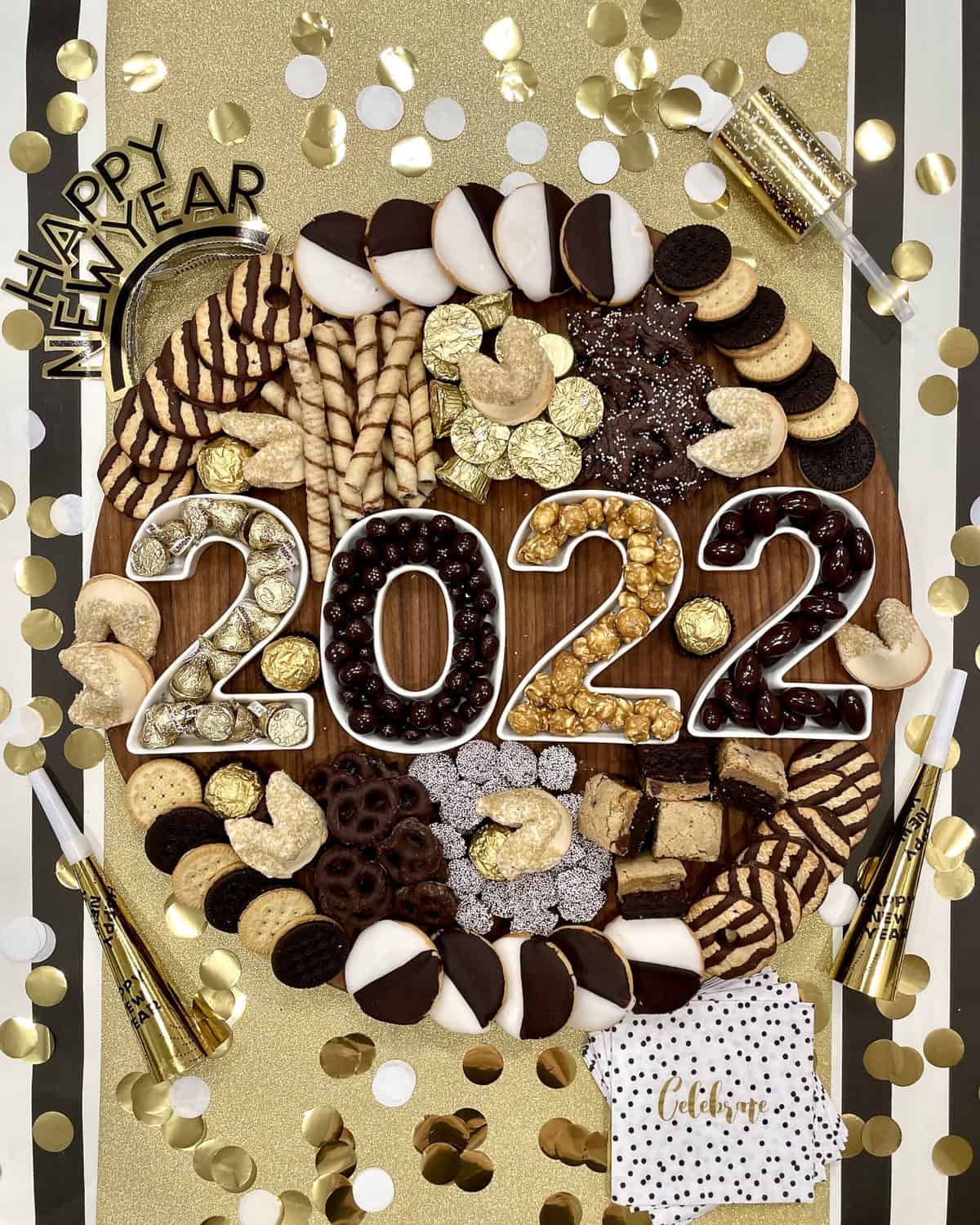 Ingredients
Dark Chocolate Star Cookies
Duplex Creme Sandwich Cookies
Fudge Stripes Cookies
Brookie (Brownie + Cookie) Bars
Hershey's Kisses with Almonds
Dark Chocolate Almond Butter Cups
Dark Chocolate-Covered Espresso Beans
Dark Chocolate Non-Pareils
Dark Chocolate-Covered Almonds
Gold Dipped Fortune Cookies (find a how-to in my Spectacular Spreads cookbook)
Chocolate Hazelnut Creme-Filled Rolled Wafers
Caramel Corn
Dark Fudge and White Icing Moon Cookies
Ferrero Rocher Hazelnut Chocolates
Dark Chocolate-Covered Mini-Pretzels
2021 Board: Earn Your Stripes
Stripes are on theme in this deliciously decadent dessert board featuring biscotti, rolled wafers, and fudge-striped cookies. To build it, first place your numbers across the center of a 20″ round wood board and then arrange your treats around them, keeping an arc shape.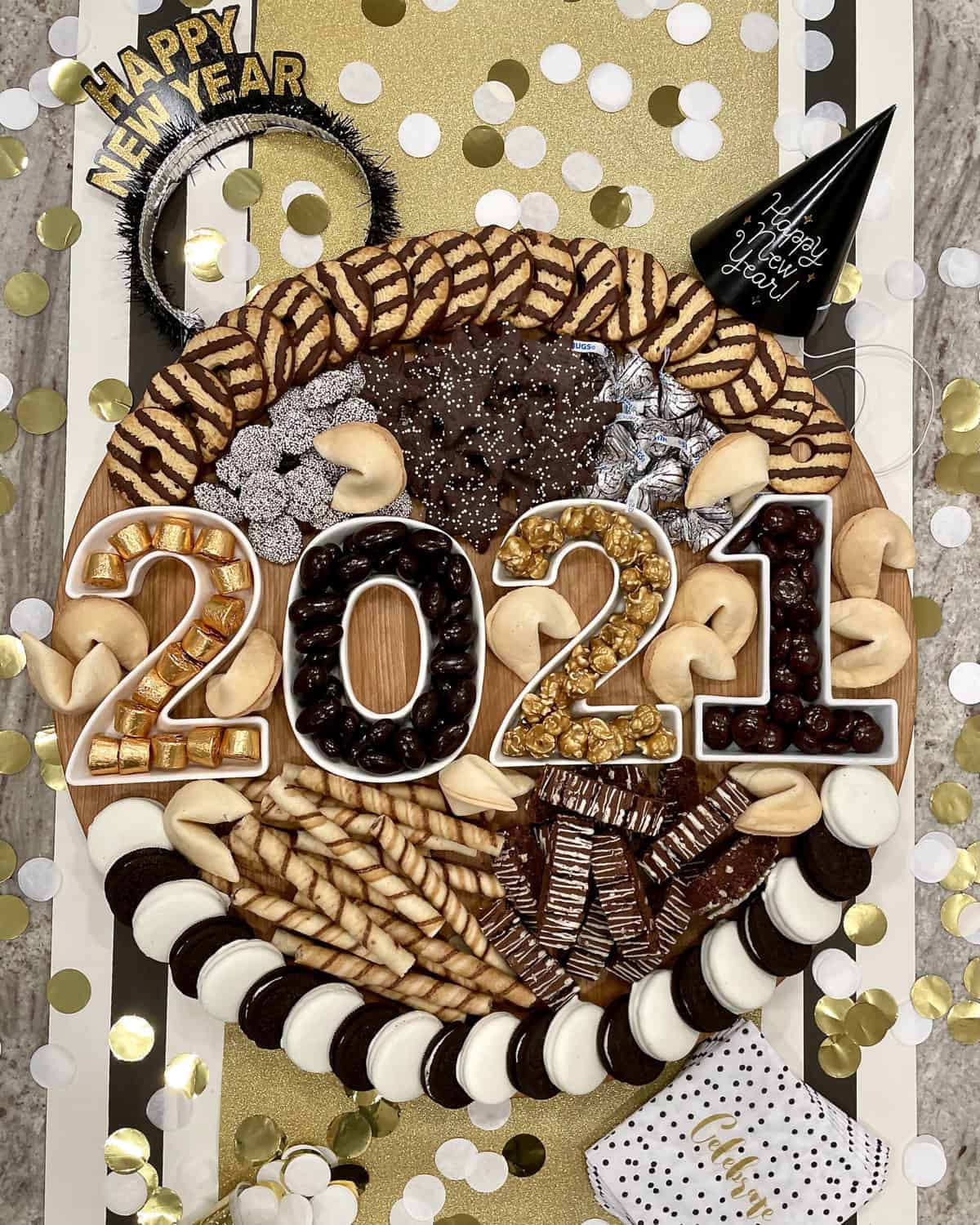 Ingredients
Fudge Stripes Cookies
Dark Chocolate Star Cookies
Dark Chocolate Non-Pareils
Hershey's Hugs
Fortune Cookies
Rolos
Dark Chocolate-Covered Almonds
Caramel Corn
Dark Chocolate Covered Cherries
Chocolate Hazelnut Creme-Filled Rolled Wafers
Mini Chocolate Hazelnut Biscotti
Oreos
White Chocolate Dipped Oreos
2020 Board: Just in Time
The brie wheel with fig and olive crisps make this option a nice mix of sweet with a hint of savory. Start with the numbers at the bottom of a 20″ round wood board with the brie 'clock' in the center. Spell out "Happy New Year" with schoolbook cookies across the top of the board. Then arrange your snacks in an arc around the rest of the board.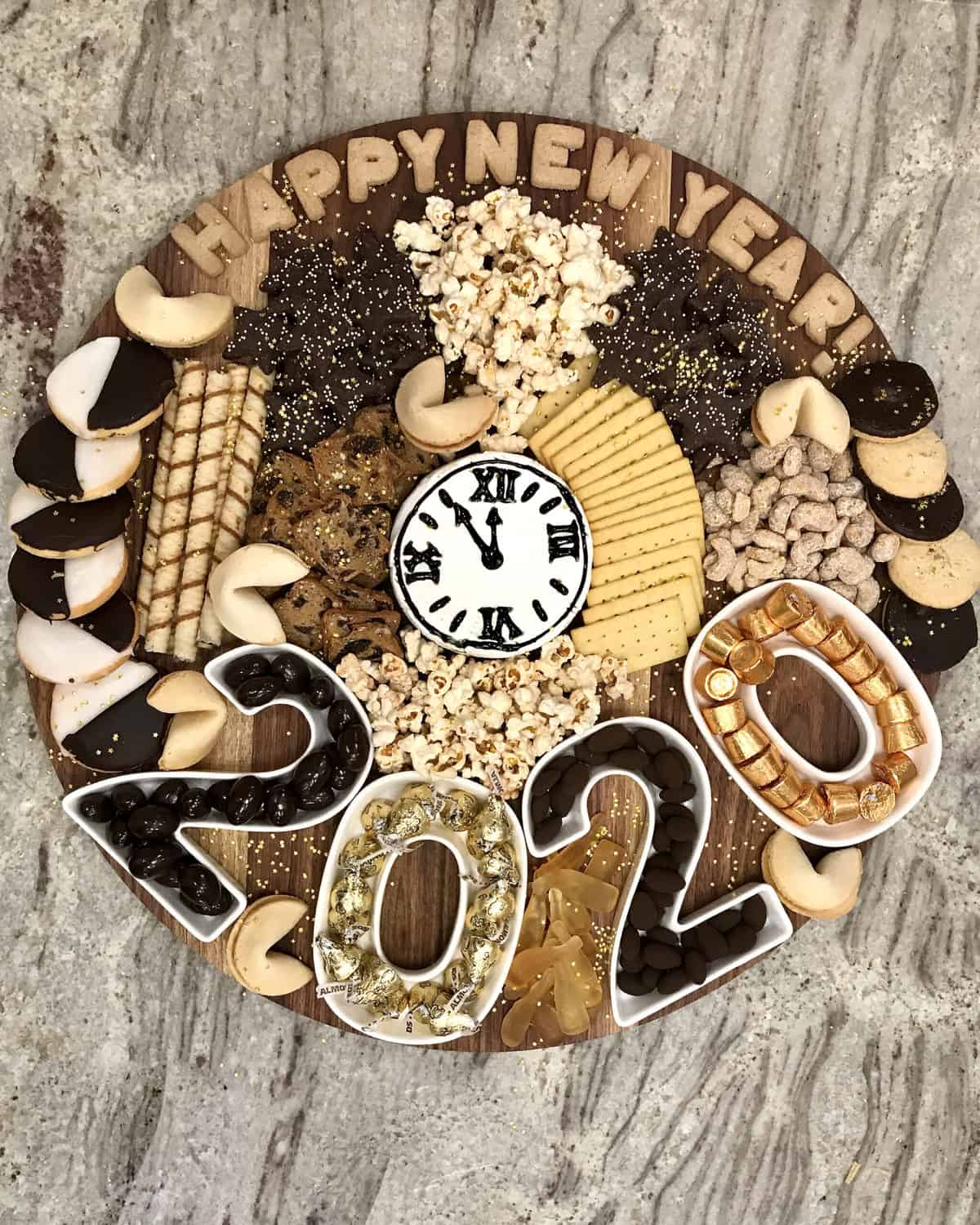 Ingredients
Cinnamon Schoolbook Cookies

Kettle Corn Popcorn

Dark Chocolate Star Cookies

Fortune Cookies

Dark Fudge and White Icing Moon Cookies

Chocolate Hazelnut Creme-Filled Rolled Wafers

Fig and Olive Crisps

Club Crackers

Round semi-soft spreadable cheese such as a Creamy Brie Wheel (decorated with black cookie icing)

Sesame Cashews

Duplex (Chocolate + Vanilla) Cookie Sandwiches

Dark Chocolate-Covered Almonds

Hershey's Kisses with Almonds

Champagne Bottle Gummies

Cocoa-Dusted Almonds

Rolos
More New Year's Inspiration
If you need more inspiration, there's more where that came from! Why should Christmas have all the fun? Count down the end to the year and start the new one off deliciously with some great New Year's Food Boards and More inspiration! From sweet and savory snacking boards, appetizers and cocktails for the big night, to warm and wholesome breakfast boards for the first morning of the year, we have what it takes to ring in the new year right!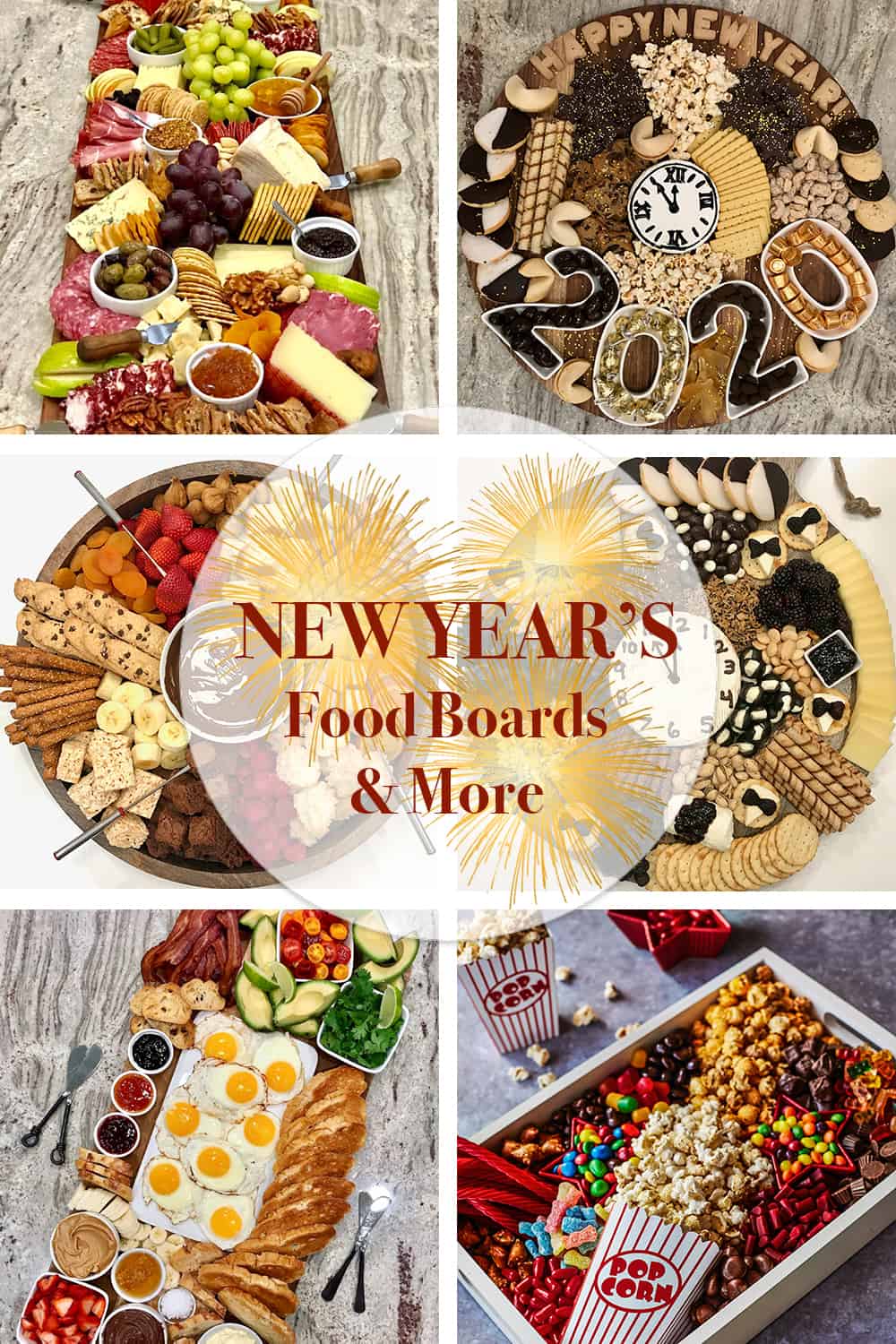 If you make one of these New Year's Eve Dessert Boards, be sure to snap a picture and share it with me or tag me on Instagram @thebakermama so I can see.
I love seeing how inspired and creative y'all get with the recipes I share. Cheers and enjoy!
xoxo,