A traditional Thai dessert of sticky rice that's been soaked in a lightly sweetened coconut cream with fresh mango on the side. Mango Sticky Rice is a simple dessert that's perfect for summer!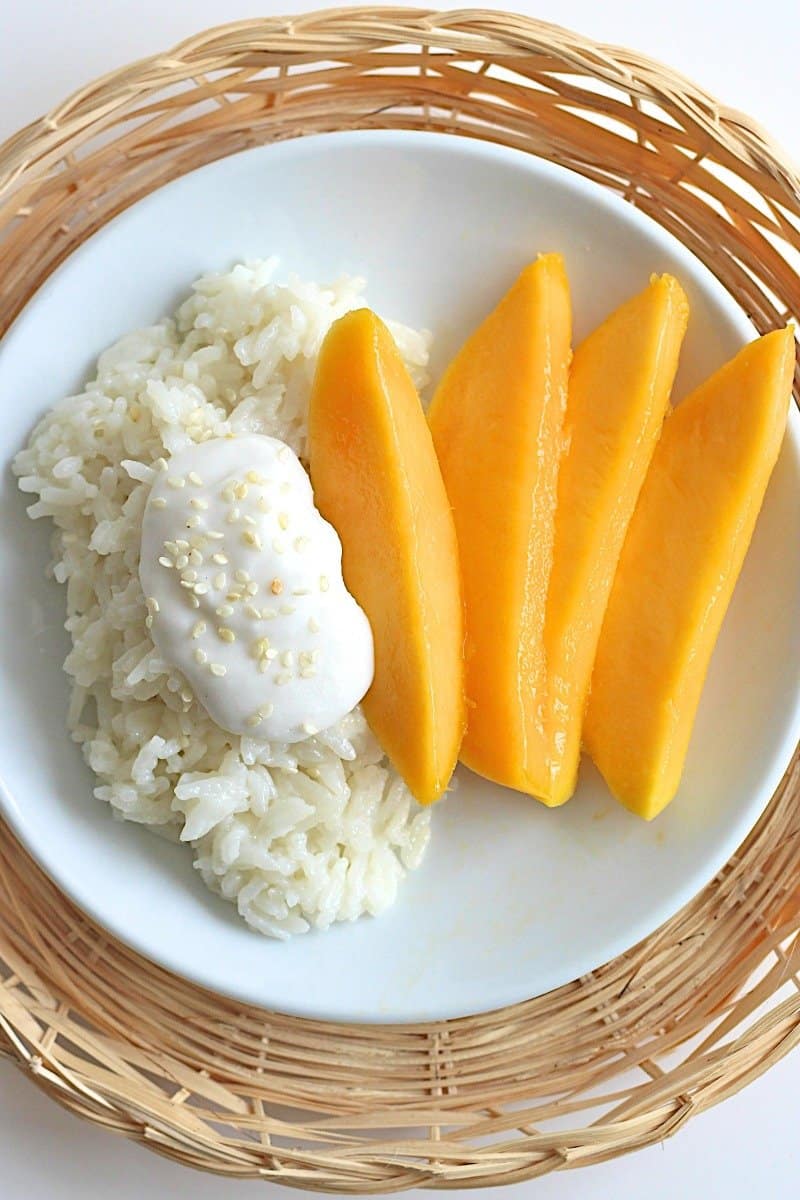 We just got back from the most amazing vacation in southeast Asia where we spent the majority of our time in Thailand. We had heard and read about mango sticky rice prior to our trip, but had never tried it before so we were so excited to try it for the first time in the place where it is best known and probably best prepared.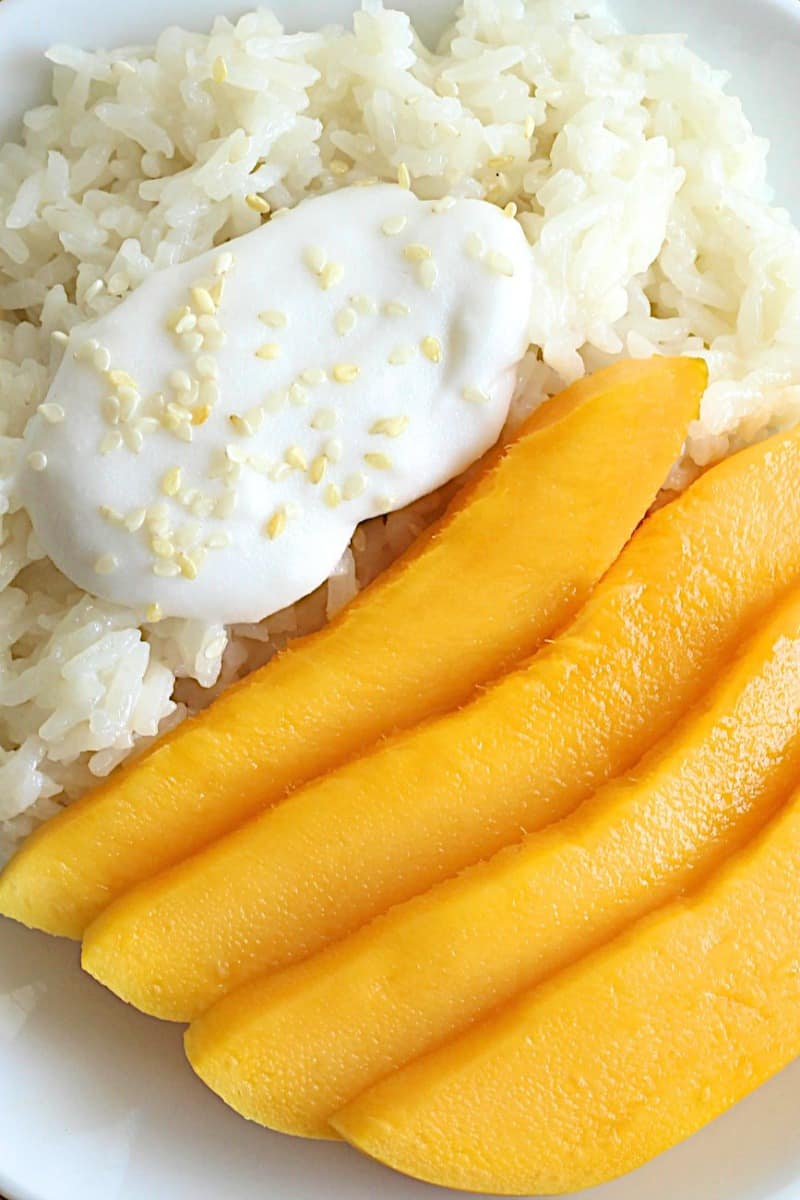 We actually made it ourselves when we tried if for the first time in a Thai cooking class in Bangkok and it was love at first bite! Chef LeeZ showed us the simple steps to making the sticky rice and cream topping to go with fresh sliced mango as the last dish of her awesome cooking class. I cleaned my plate, but was too full for seconds when she offered us some more. Brandon, on the other hand, accepted seconds without hesitation. I was so jealous he still had room for another serving, but knew we had a full week ahead of us in Thailand to enjoy it as much as we'd like. And that we did! If mango sticky rice was on the menu or at a street stand, we ordered it. We just couldn't get enough. We probably ate it 10+ times over a week. Where oh where had this delicious dessert been our whole lives?!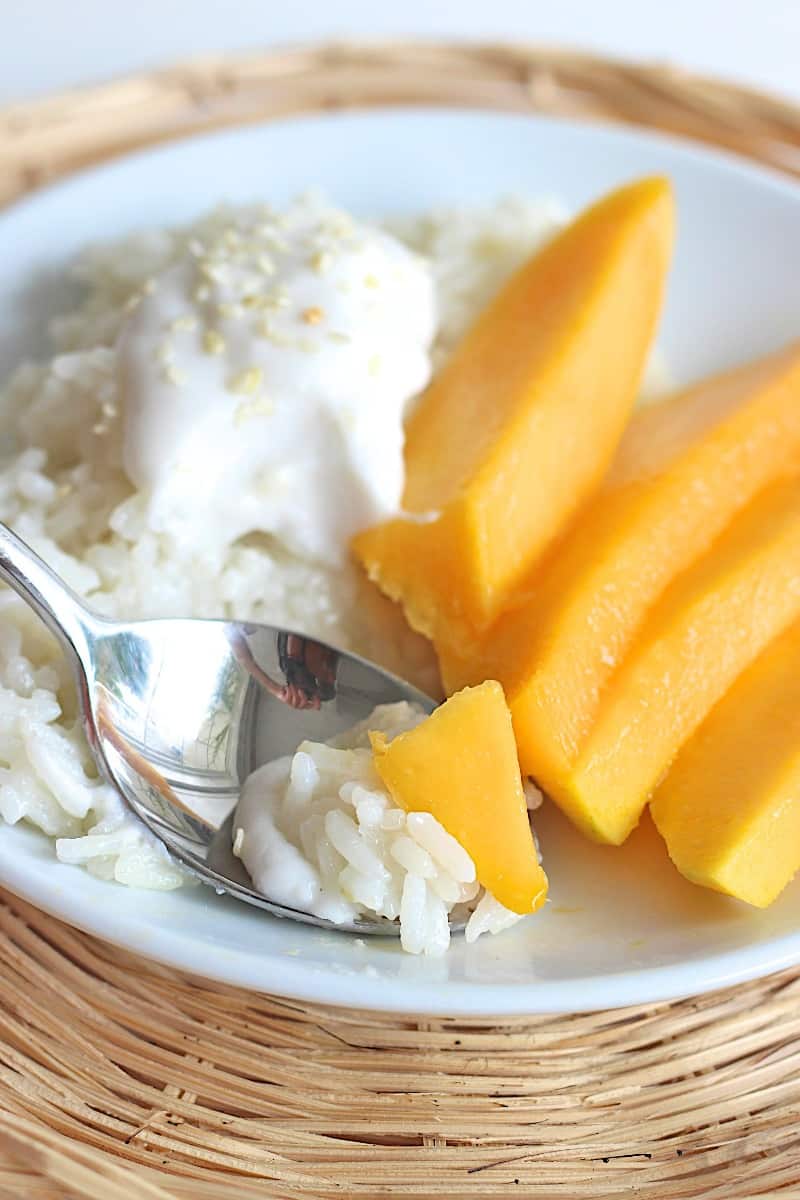 Just a week after we got home from our trip, we were longing for another traditional Thai feast so we headed to our local Asian market to get everything we needed. Mango sticky rice was of course on the menu for dessert. We were so excited to make it at home so we could enjoy it again and so the boys could try it too. We even bought a rice cooker! Another: "where has this been all our lives?" moment. I can't believe we've survived this long without a rice cooker. It's so quick and easy to make perfectly cooked rice in. I think we used it 5 times in the first 5 days we owned it. Love it!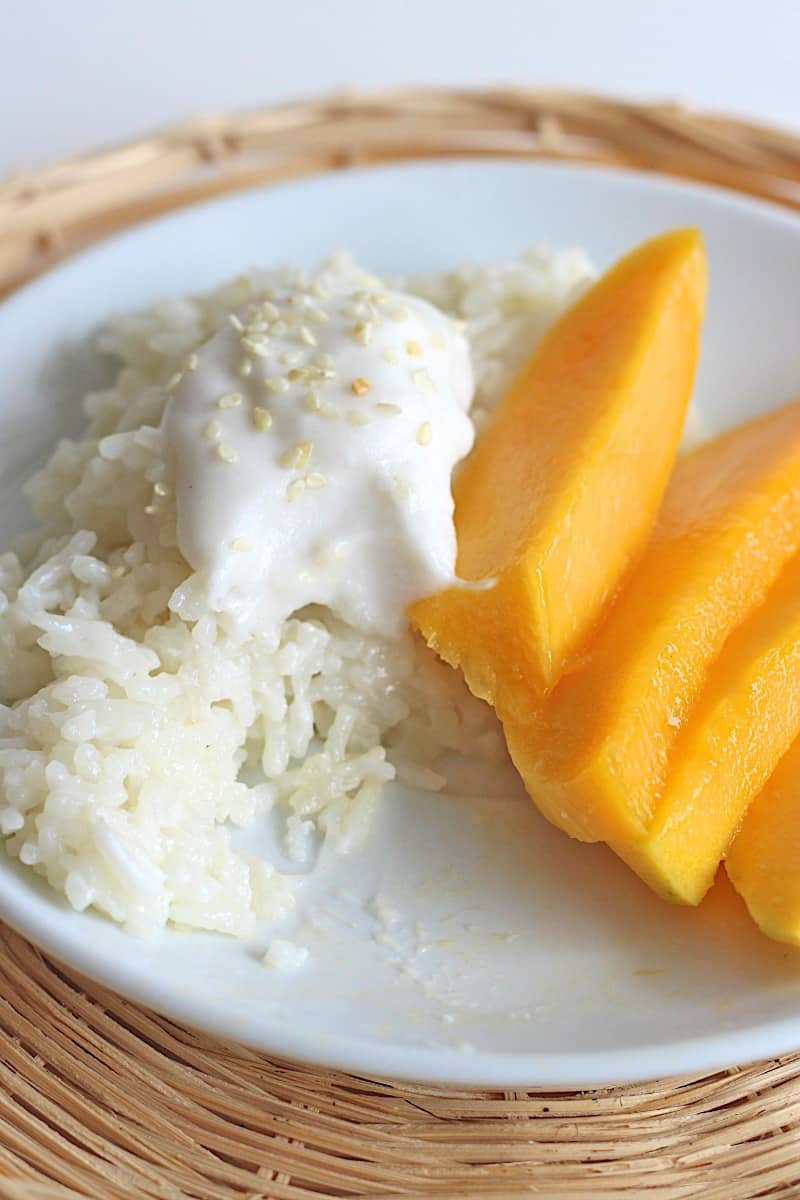 I could eat this mango sticky rice every single day. Breakfast, snack, dessert…gimme! gimme!
The sticky rice is lightly sweetened and full of coconut flavor. It pairs perfectly with the juicy fresh sliced mango. It's one of those desserts you can eat after a big meal and not feel miserable. Light and delicious!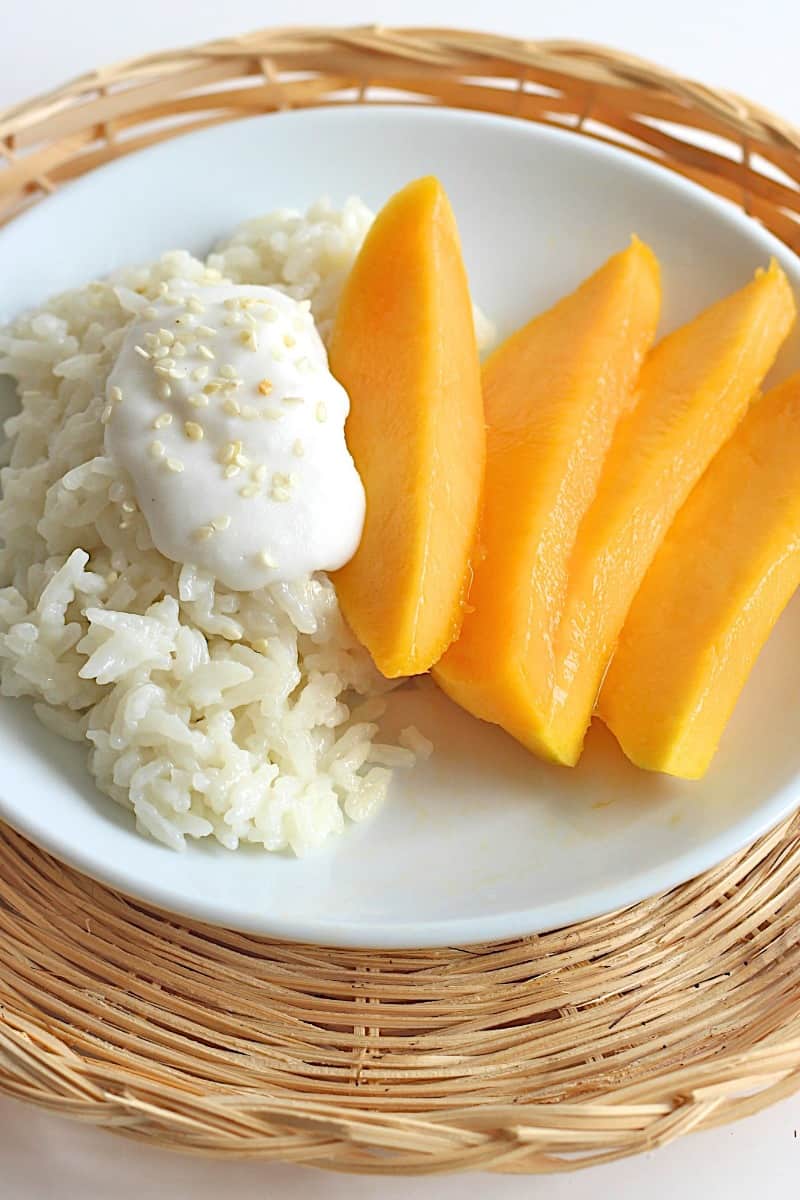 So take advantage of fresh mango while it's in season and make this super simple mango sticky rice. A fresh taste of Thailand right in your own home. Enjoy!
xoxo,


Recipe adapted from Chef LeeZ Thai Cooking School in Bangkok.
Print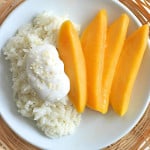 Mango Sticky Rice
Author:

Prep Time:

15 mins

Cook Time:

30 mins

Total Time:

45 mins

Yield:

4

1

x

Category:

Dessert
---
Description
A traditional Thai dessert of sticky rice that's been soaked in a lightly sweetened coconut cream with fresh mango on the side. A simple dessert that's perfect for summer!
---
2 cups

cooked long-grain white rice (

3/4 cup

uncooked)

1 cup

coconut cream (canned or fresh made)

3 tablespoons

palm sugar or light brown sugar

1/4 teaspoon

sea salt

2

fresh mangoes (peeled and sliced)
sesame seeds, for garnishing
Cream Sauce:

½ cup

coconut cream (canned or fresh made)

2 tablespoons

rice flour
---
Instructions
Cook rice in a rice cooker or on the stove-top according to package directions.
Heat 1 cup coconut cream over medium heat in a heavy saucepan until it just starts to bubble, stirring constantly. Add sugar and sea salt and stir until sugar is dissolved.
Remove sweet coconut cream mixture from heat and add 2 cups cooked rice. Gently stir together and cover saucepan with a lid for 15 minutes.
Meanwhile, make the cream sauce. Add 1/2 cup coconut cream and 2 tablespoons rice flour to a small saucepan over low heat. Heat just until mixture starts to thicken, 2-3 minutes. Remove from heat.
To serve, place sticky rice on one side of a serving plate and cover with a spoonful of cream sauce. Sprinkle the cream sauce with a pinch of sesame seeds, if desired. Place the sliced fresh mango on the other side of the serving plate and serve.
---