There's ham and cheese baked into these sweet & savory muffins. Such a great way to use leftover ham!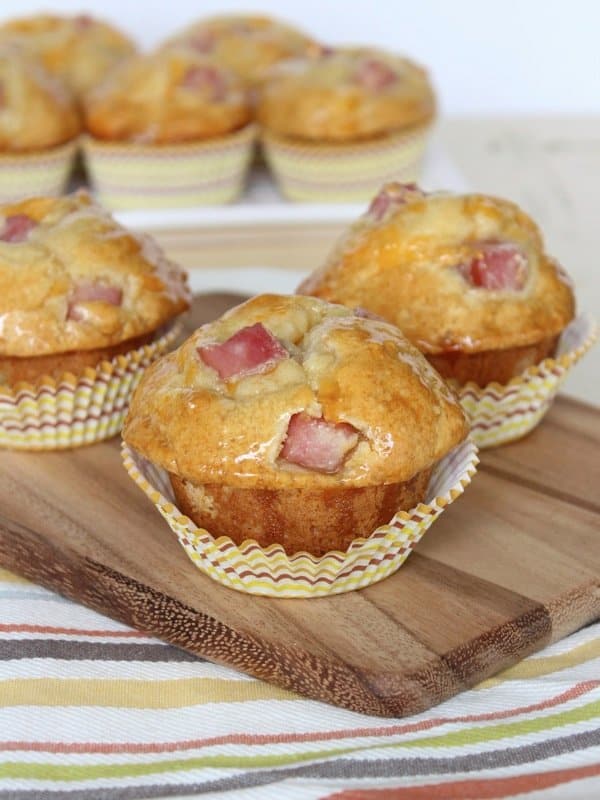 Easter is just a hippity hop away and like turkey is to Thanksgiving, ham is to Easter. We always bake a big ham so that we have plenty left to make sandwiches and other tasty leftovers after our Easter lunch is served and enjoyed.
There are so many great ways to use leftover ham, but these muffins just might be my new favorite! Everything about them just makes me giddy! Moist lightly-sweetened muffins that are loaded with ham and cheddar cheese and covered in a sweet honey glaze makes for a magnificent morning, noon or evening treat.
Enjoy!

This recipe was created as part of my partnership with Gold Medal Flour however thoughts and opinions are certainly my own!

Honey-Glazed Ham & Cheddar Muffins
There's ham and cheese baked into these sweet & savory muffins. They would be a huge hit at your next brunch!
Author:
Maegan - The BakerMama
Ingredients
2 cups Gold Medal® all-purpose flour
¼ cup granulated sugar
2 teaspoons baking powder
1 teaspoon baking soda
½ teaspoon salt
¼ cup butter, melted
1 cup milk
⅓ cup honey
1 egg
1-1/2 cups chopped cooked ham
1 cup shredded cheddar cheese
Glaze:
1 tablespoon butter, melted
¼ cup honey
Instructions
Preheat oven to 350°F. Lightly grease a 12-cup muffin pan with non-stick cooking spray or line with muffin liners. Set aside.
In a large bowl, whisk together the flour, sugar, baking powder, baking soda and salt.
In a separate bowl, whisk together the melted butter, milk, honey and egg. Stir the wet ingredients into the dry ingredients until just combined. Fold in the chopped ham and shredded cheese.
Divide batter evenly among prepared muffins cups, filling each one almost full. Bake for 20 minutes or until golden brown and a toothpick inserted in the center comes out clean. Let muffins cool in pan 5 minutes before removing to a wire rack that's been placed on a baking sheet to catch any glaze drippings.
In a small bowl, whisk together the melted butter and honey for the glaze. Brush the top of each muffin evenly with the glaze. Serve warm or at room temperature.
Notes: Store in an airtight container in the refrigerator for up to 5 days.