Everyone goes crazy over these fun & festive Frosted Fudge Brownie Pops! The perfect party treat!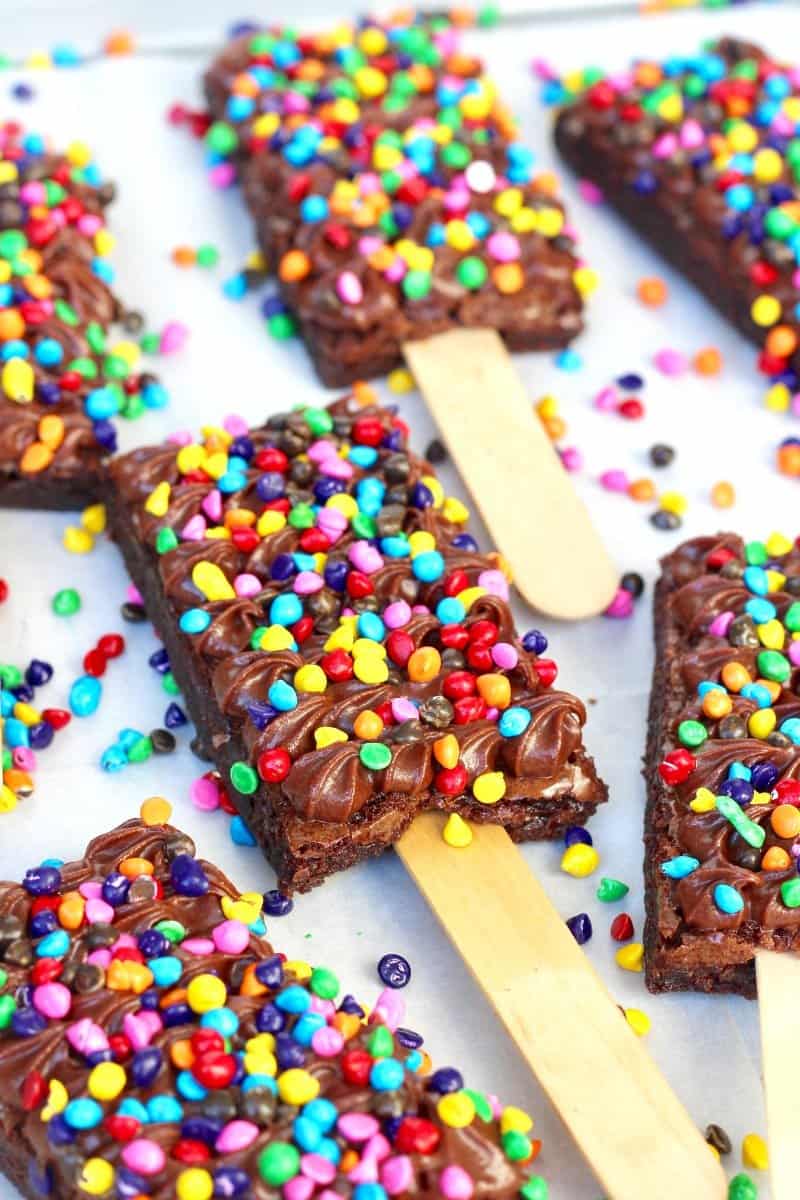 We're in the kitchen again making fun and yummy memories as a family! And since we're in full back to school mode, it was an afternoon well spent refreshing our math and problem-solving skills while baking and creating these outrageously delicious frosted fudge brownie pops with sprinkles, of course!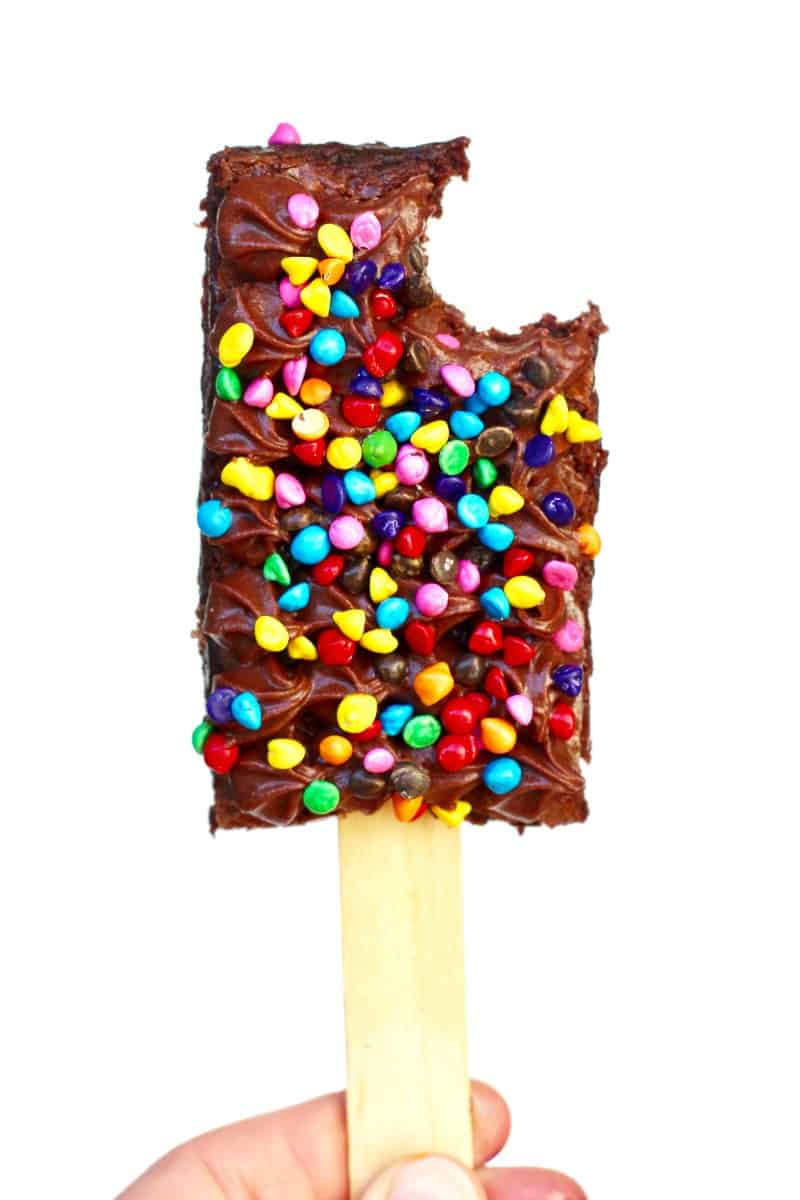 Baking with the kids these days is so much fun! It's truly amazing to see how independent my boys are becoming in the kitchen.
Now that Baker can read and is really into math and problem solving, he was pumped to take on the challenge of baking the brownies all by himself.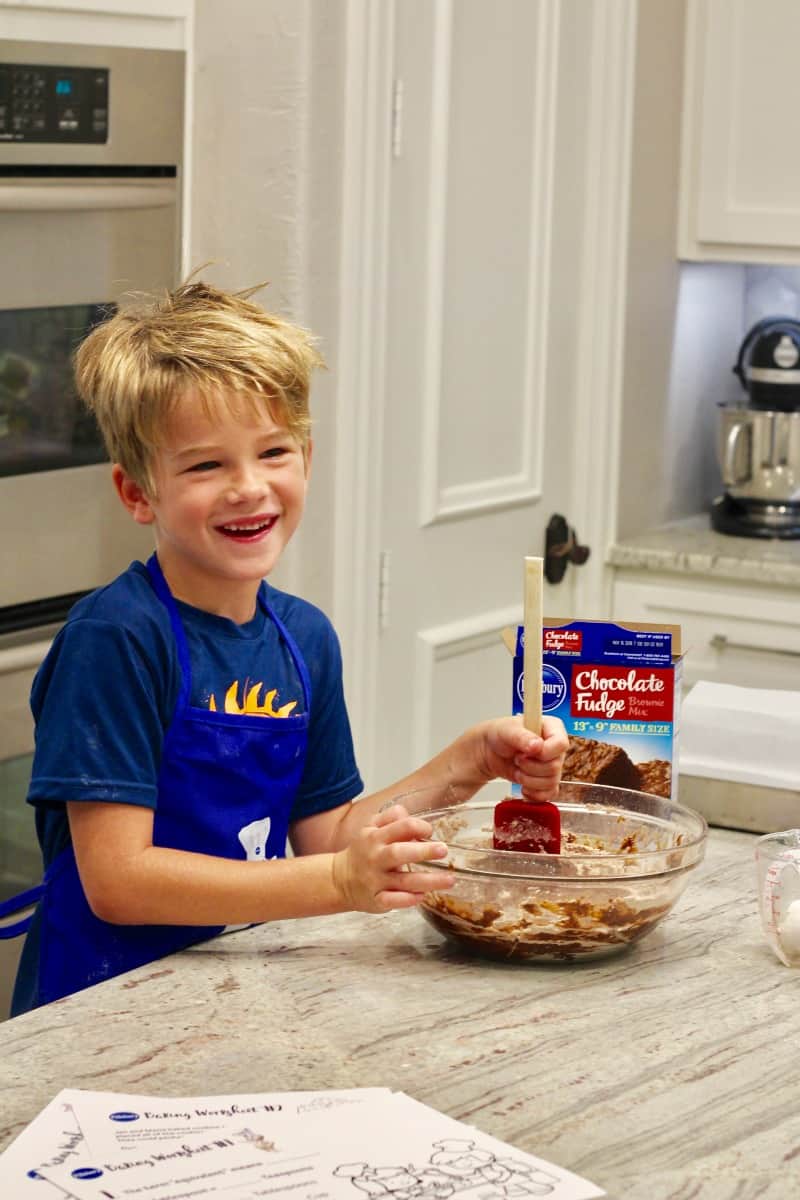 From opening the brownie mix box to setting the timer on the oven once the brownies went in, he did it all and was so proud of himself.
If you think your kiddo is too young to bake, think again! Let them start watching you bake when they're babies and before you know it they'll be doing it all on their own like Baker does and your heart will probably explode with pride like mine does as I watch him.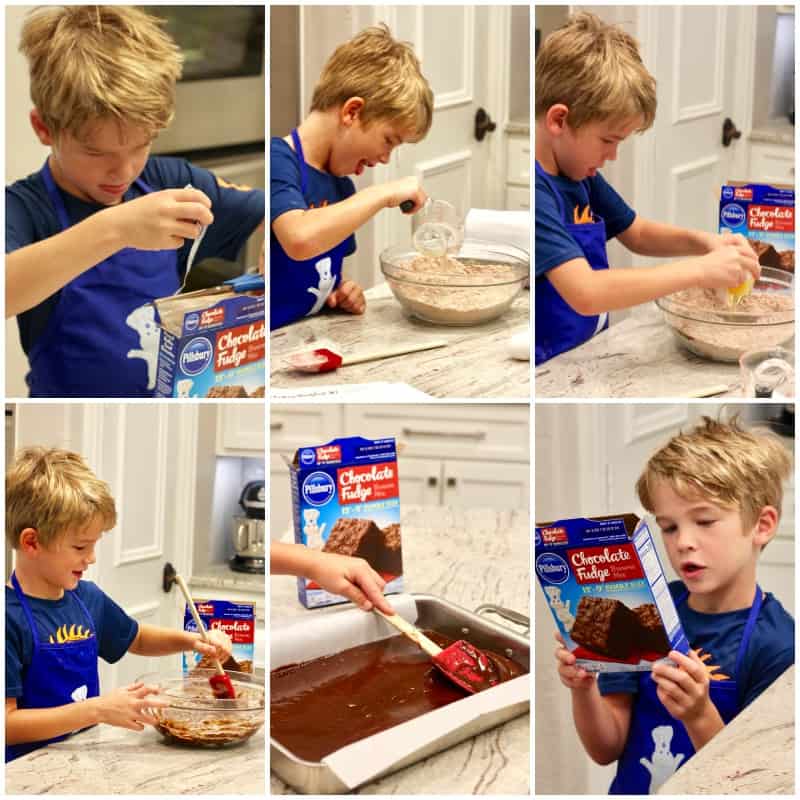 Once the brownies are baked and completely cooled, I cut them into bars in preparation for making the brownie pops. The brownie bars go into the freezer for about 30 minutes before you insert a wooden stick through the end of each one and return them to the freezer for another 30 minutes to allow the stick to settle in before frosting.
Then it's decorating time!
The boys were all so excited to frost and decorate the brownie pops. And thanks to the new Pillsbury pre-filled pastry bags, they could do it all by themselves. So neat to see them in action and loving every minute of it.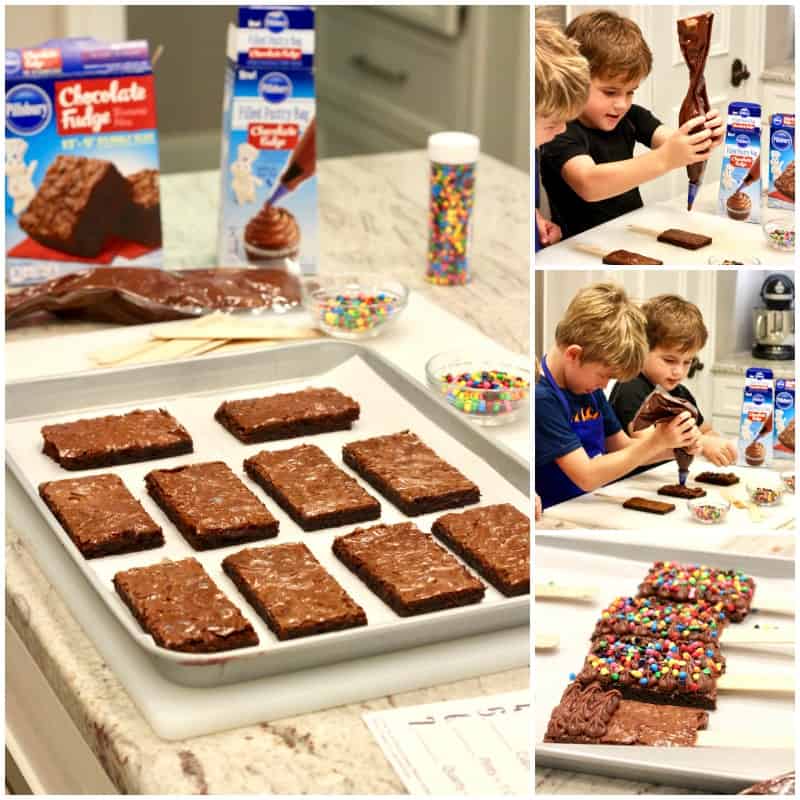 After the brownie pops are frosted, we finish them off with some rainbow chip crunch sprinkles to make them even more tasty and festive!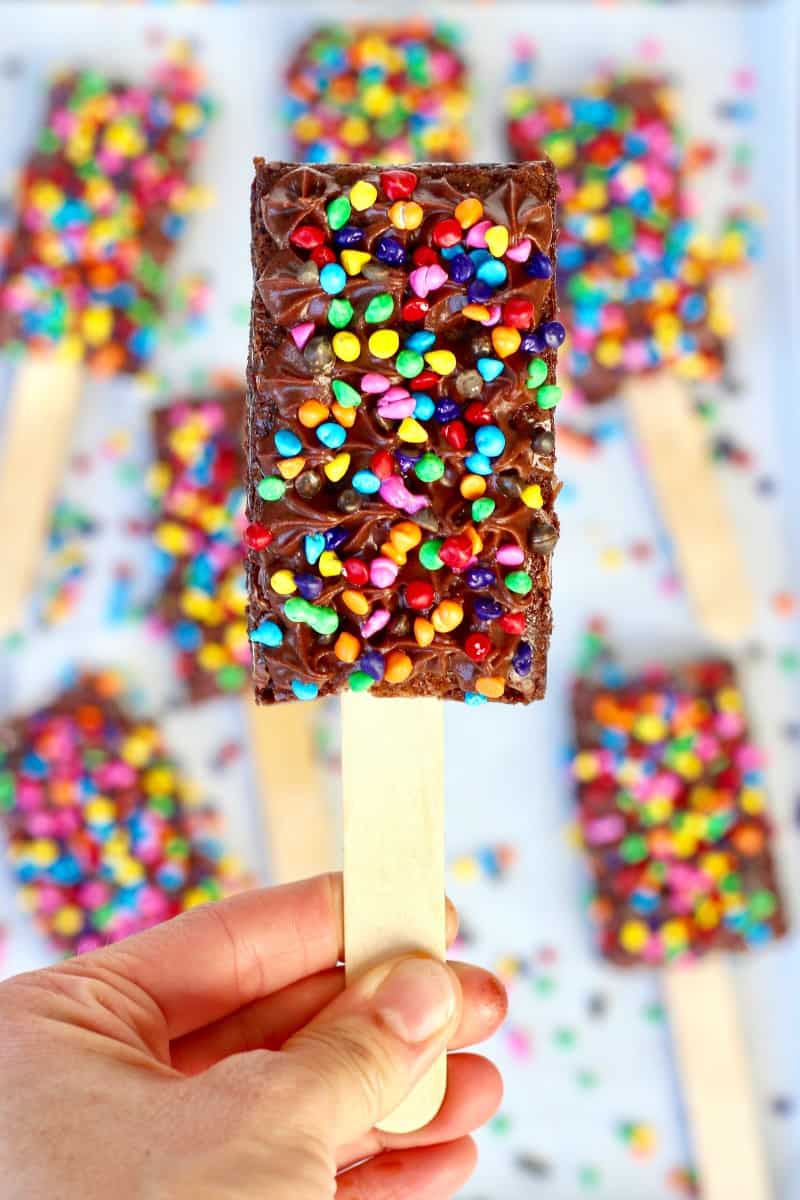 About a year ago, Brandon started a tradition of asking the boys math questions in order to earn their dessert and they love it! I think they get more excited about answering the math questions correctly than eating the dessert sometimes. Haha! It's become a fun little tradition that encourages their love for math.
So when it came time to enjoy our brownie pops, Dada stepped in to challenge them with math questions to earn each bite. It's amazing and pretty entertaining how serious they take each question…determined to get it right so they can take another bite. Lol!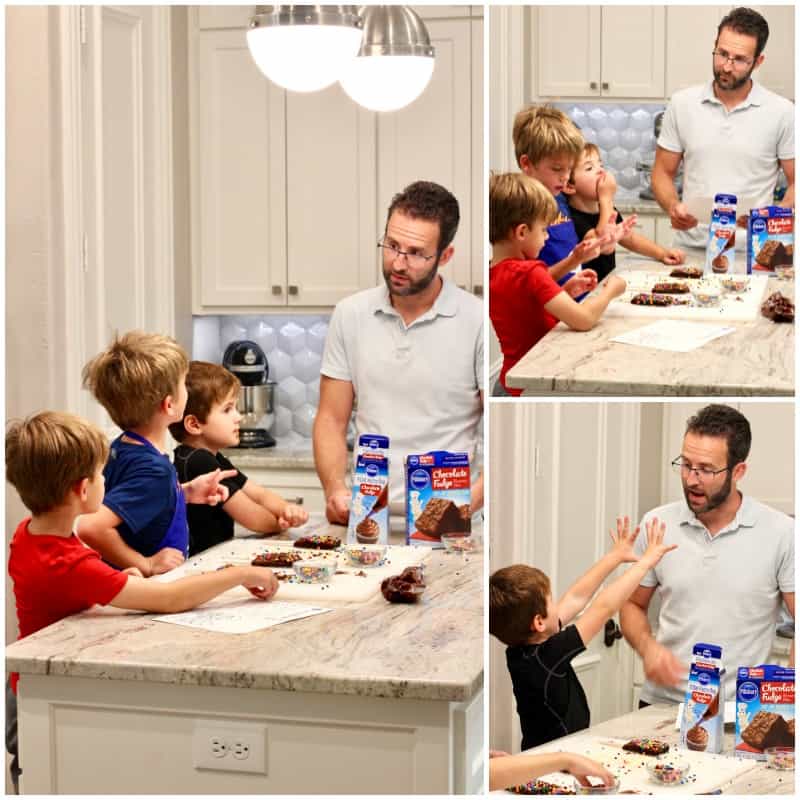 These frosted fudge brownie pops are so fun for any occasion! Whether it be a special back to school celebration, a birthday party, a festive holiday treat or just a weekend baking project with the family, they're a treat that everyone will get excited about!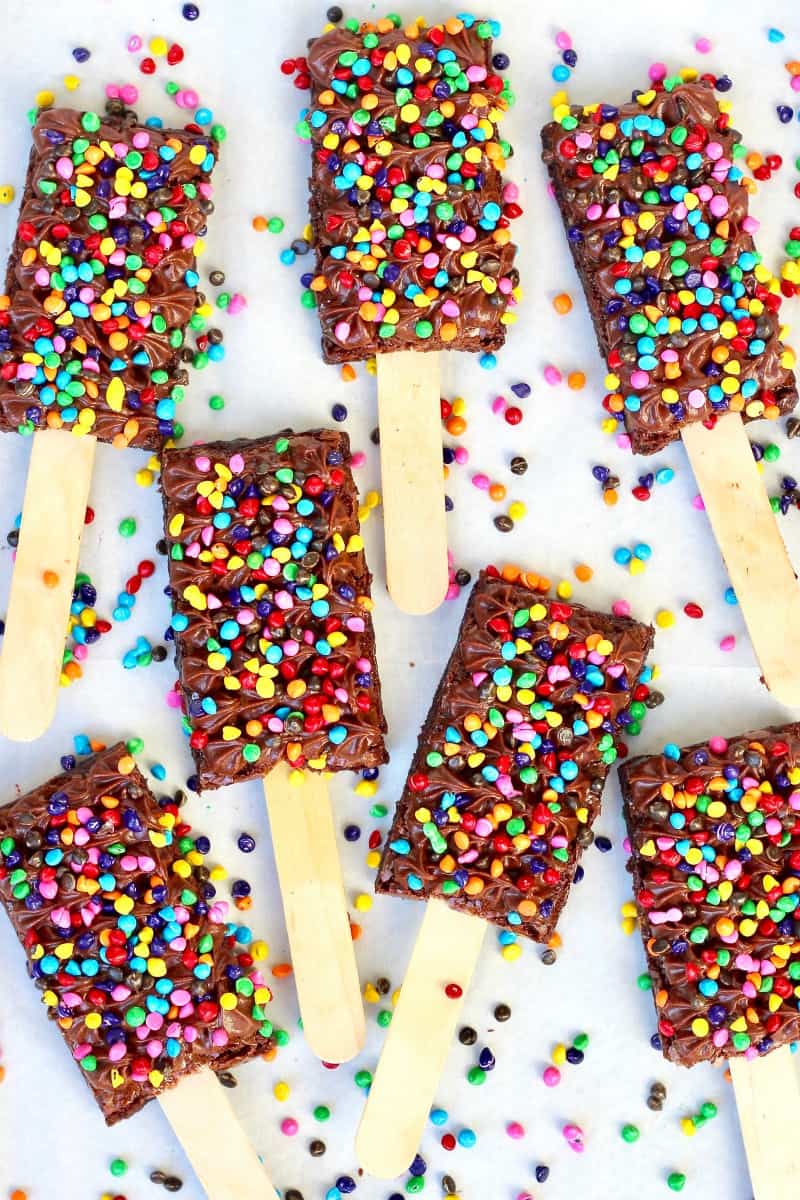 I hope you and your crew join in on the baking fun! When you do, be sure to snap a picture and share it with me on Instagram @thebakermama so I can see.
I just love seeing you make and enjoy the recipes I share.
Enjoy!
xoxo,


Print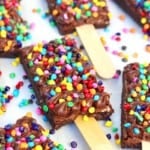 Frosted Fudge Brownie Pops
Author:

Prep Time:

30 mins

Cook Time:

25 mins

Total Time:

55 mins

Yield:

10

pops

1

x

Category:

Dessert
---
Description
Everyone goes crazy over these fun & festive Frosted Fudge Brownie Pops! The perfect party treat!
---
1

(18.4 ounce) box chocolate fudge brownie mix
water, oil & eggs called for on brownie mix box

1

(16 ounce) box Pillsbury filled pastry bag, chocolate fudge frosting flavored

1

(5.25 ounce) container rainbow chip crunch sprinkles

10

flat wooden craft sticks with round ends
---
Instructions
Preheat oven to 350°F. Line a 13×9-inch baking pan with a piece of parchment paper so that the paper extends over the sides of the pan for easy lifting of the brownies once they're cooled.
In a large mixing bowl, prepare brownie mix as directed on the box using water, oil and eggs. Spread batter evenly into prepared baking pan. Bake for about 25 minutes or until a toothpick inserted in the center comes out clean. Let brownies cool completely in the pan, about 1 hour.
Once brownies are cooled, lift them from the pan. Trim about 1/4-inch around all of the edges and then cut into 10 bars that are about 2 inches x 4 inches in size (cutting 5 rows by 2 rows). Place the bars slightly apart on a parchment lined baking sheet and freeze for 30 minutes.
Remove from freezer and gently insert a craft stick into one end of each of the bars. Return to freezer for 30 minutes to let the stick settle into the brownie before frosting.
Pipe chocolate fudge frosting onto each of the pops and sprinkle with rainbow chip sprinkles. Serve and enjoy!
---