Rich fudge brownies topped with a dreamy chocolate chip cookie dough frosting for an outrageous brownie eating experience!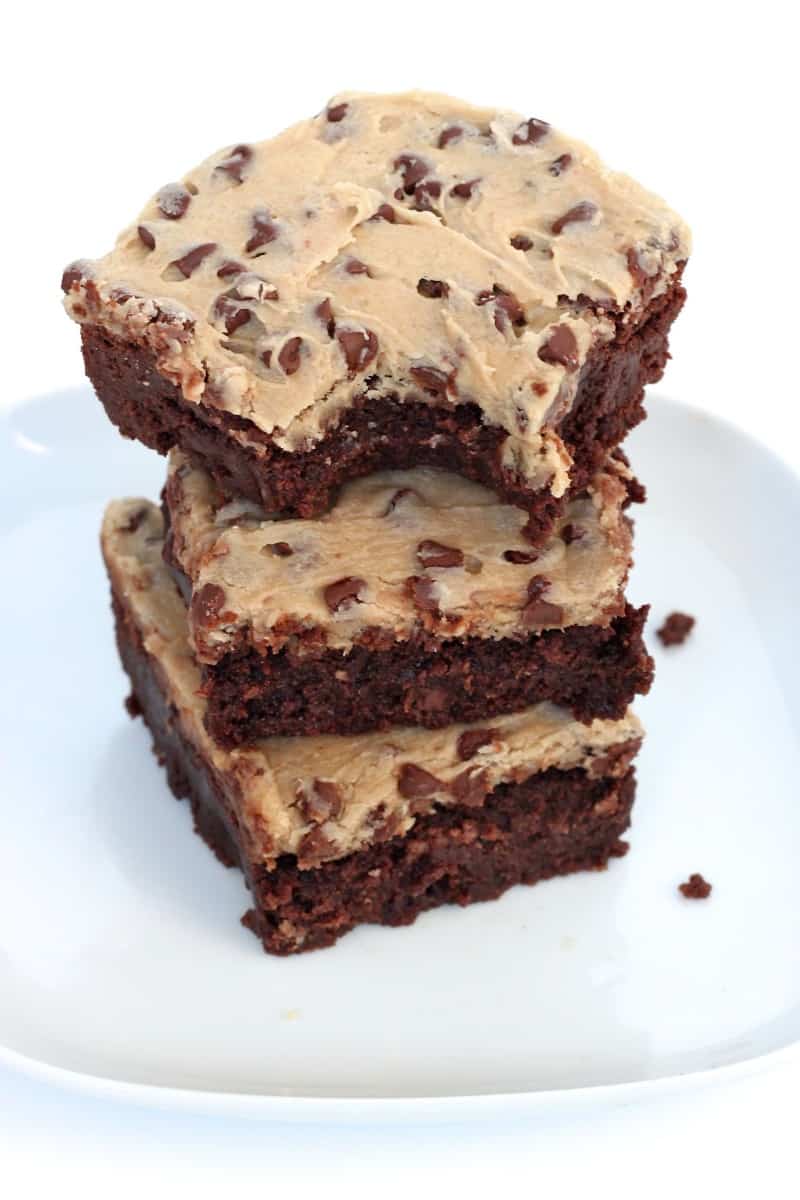 Honestly, every time I bake my one bowl fudge brownies, I think…it doesn't get any better than this! So easy to bake and pure brownie bliss to eat. They just melt in your mouth with all their gooey fudgy goodness. We love love love these brownies!
Well, the other night I proved my thoughts wrong when I topped a batch of these warm brownies with a creamy dreamy cookie dough frosting. I combined my love for brownies and cookies and all I could think was why have I never thought to do this before?! To die for!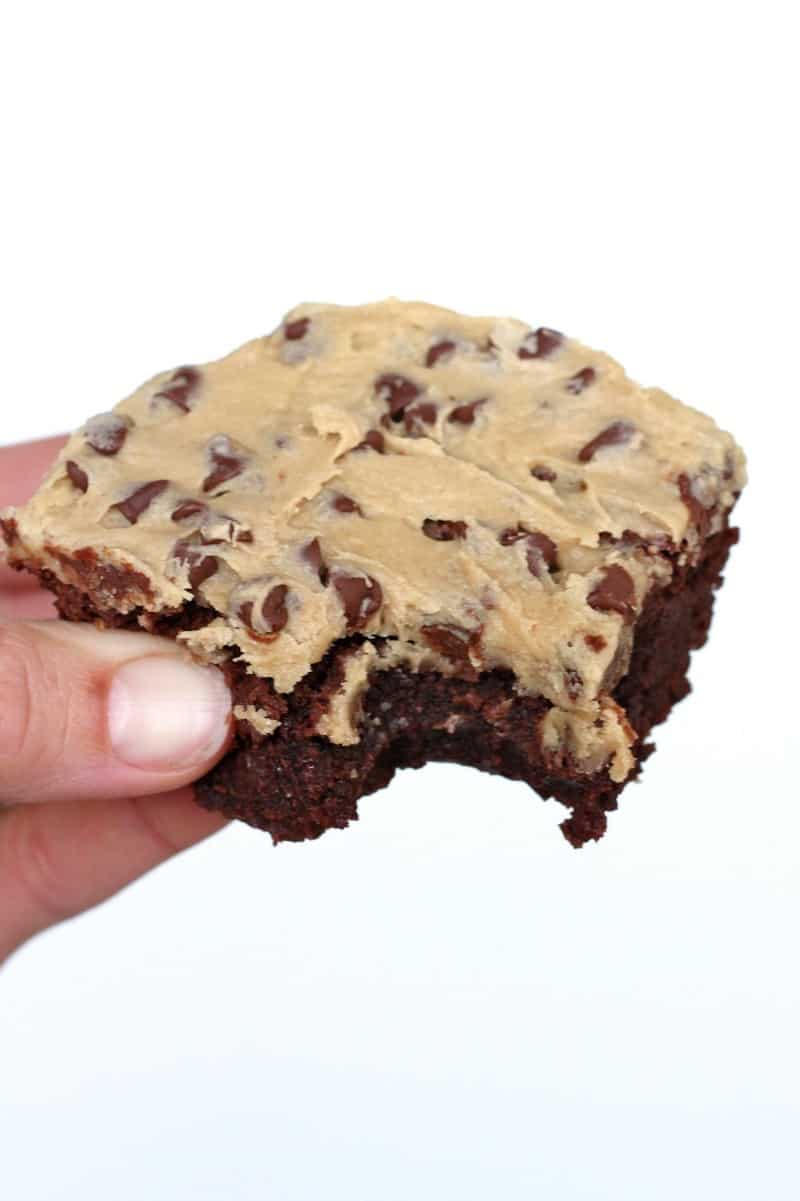 These ended up being the most perfect treat for girl's night. I was trying to decide between cookies or brownies and went with brownies, but as they were baking, it dawned on me that I could combine the two into one decadent dessert for the girls and I to indulge in while we chatted the evening away. Talk about a sweet way to end the day!
When I was searching for a great cookie dough frosting recipe, the same recipe from Sally of Sally's Baking Addiction came up numerous times and got rave reviews. I tried it, and as you can imagine, it was love at first lick. Mmmm-azing! Oh, and it's egg-less so you don't have to worry about eating raw eggs. For those of you that worry about that! 😉 I did tweak it a bit to make it more spreadable, but otherwise, I will be forever thankful to sweet Sally for creating this addiction! 😉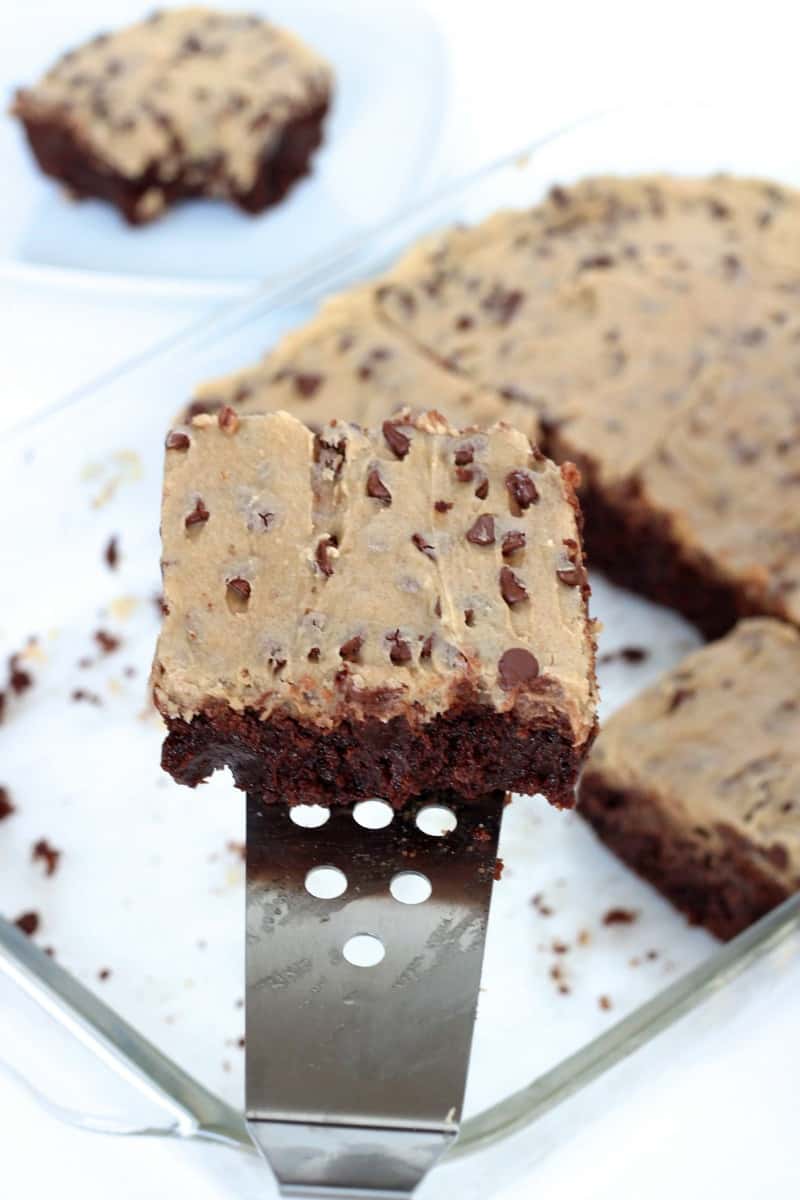 These certainly didn't last long and I've had so many requests for the recipe that I decided to make them again so I could post the full recipe on here. They're one of those desserts I'd add to a list of ones you must try before you die! They're out of this world amazing and they're so easy to make. I used my one bowl fudge brownie recipe because they're the best and the frosting can be whipped together in no time with ingredients you probably already have on hand.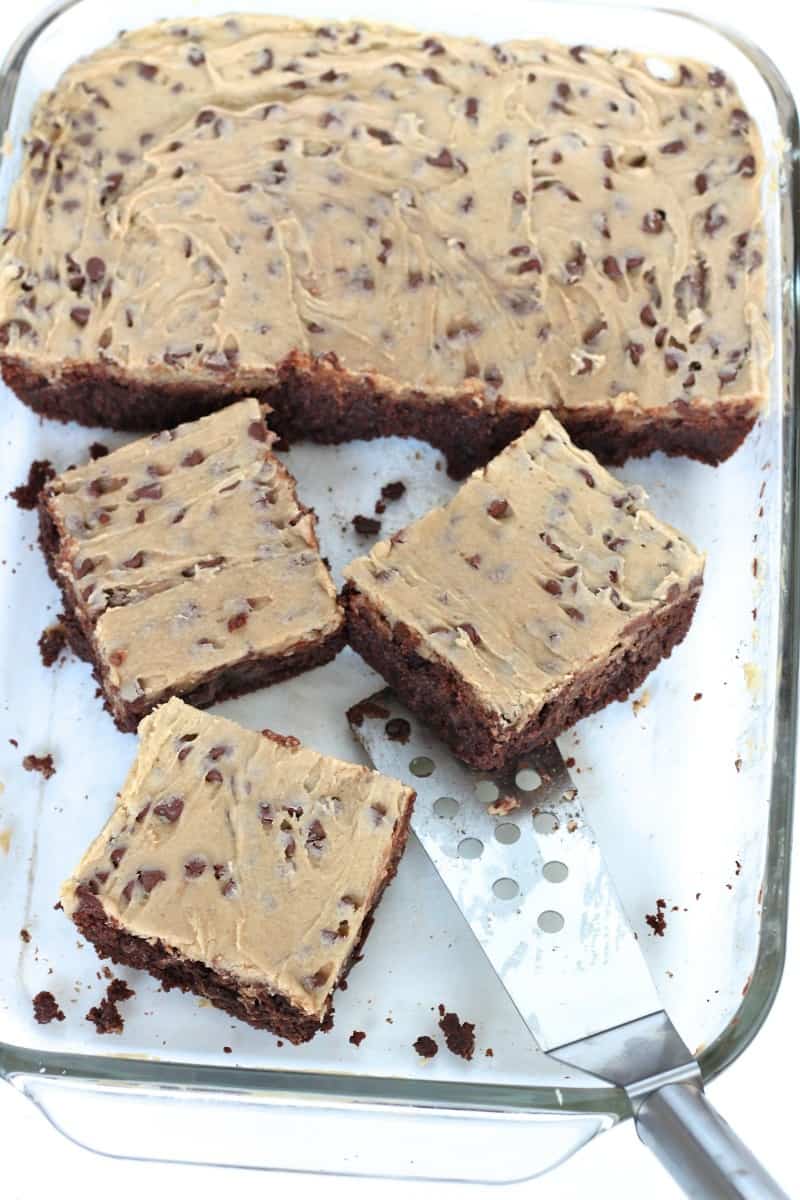 You might want to sit down the first time you eat one. They're a treat that will knock you off your feet! Enjoy!
~Maegan

Cookie Dough Frosted Fudge Brownies
Rich fudge brownies topped with a dreamy chocolate chip cookie dough frosting for an outrageous brownie eating experience!
Author:
Maegan - The BakerMama
Ingredients
Brownies:
1 cup (2 sticks) unsalted butter
2 cups semi-sweet chocolate chips
2 cups granulated sugar
4 large eggs
2 teaspoons vanilla
1-1/2 cups all-purpose flour
½ teaspoon salt
1 teaspoon baking powder
½ cup unsweetened cocoa powder
Cookie Dough Frosting:
½ cup (1 stick) unsalted butter, softened
¾ cup light brown sugar
1 teaspoon vanilla
1-1/4 cups all-purpose flour
½ teaspoon salt
⅓-1/2 cup whole milk
1 cup mini chocolate chips
Instructions
Preheat oven to 350°F. Lightly grease a 9×13-inch baking dish with non-stick cooking spray and set aside.
Place the butter and chocolate chips in a large microwave safe bowl. Heat in the microwave for about 2 minutes, stirring every 30 seconds, until the chocolate chips are melted and smooth. Remove from microwave. Stir in the sugar then add the eggs one at a time and stir until smooth. Stir in the vanilla. Add the flour, salt, baking powder and cocoa powder and stir until well incorporated.
Spread the batter evenly into the prepared baking dish. Bake for about 25-30 minutes or until a toothpick inserted in the center comes out clean. Let cool completely.
To make the frosting, beat the butter and sugar together until smooth. Beat in the vanilla. Add the flour and salt and beat until well combined and a thick dough forms. Start by adding ⅓ cup milk and then add additional milk until frosting is of spreading consistency. Stir in mini chocolate chips.
Spread frosting onto cooled brownies. Cut into squares and enjoy!
Notes
Store in the refrigerator.
Cookie dough frosting recipe adapted from Sally's Baking Addiction