Crispy strawberry waffles with a dollop of chocolate whipped cream and a drizzle of chocolate syrup for a sweet & special way to start the day!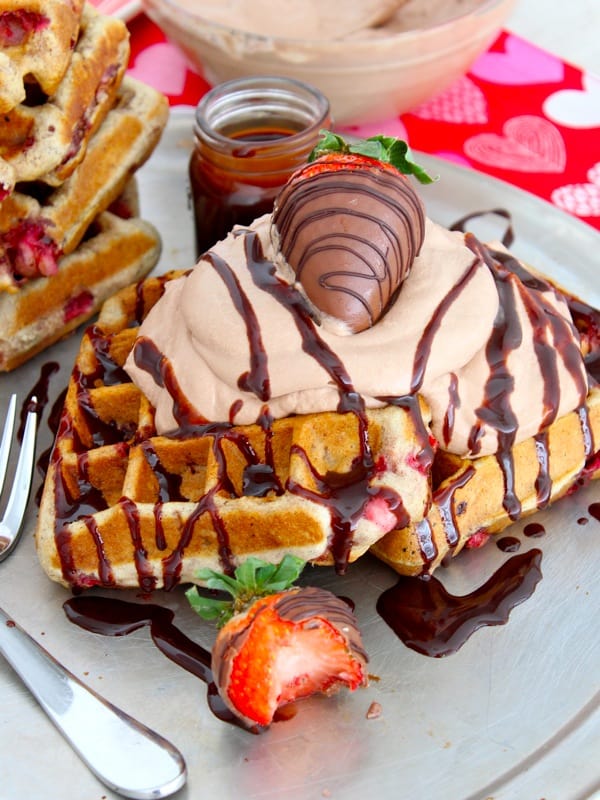 February is here!!! Love is in the air and chocolate is everywhere!
I love chocolate covered strawberries and the thought of waiting until dessert on Valentine's Day to eat them is just unbearable, so I came up with a breakfast spin off my favorite February treat to make for my loves on Valentine's Day morning! These sweet & special Chocolate Covered Strawberry Waffles are the perfect way to start a love-filled day!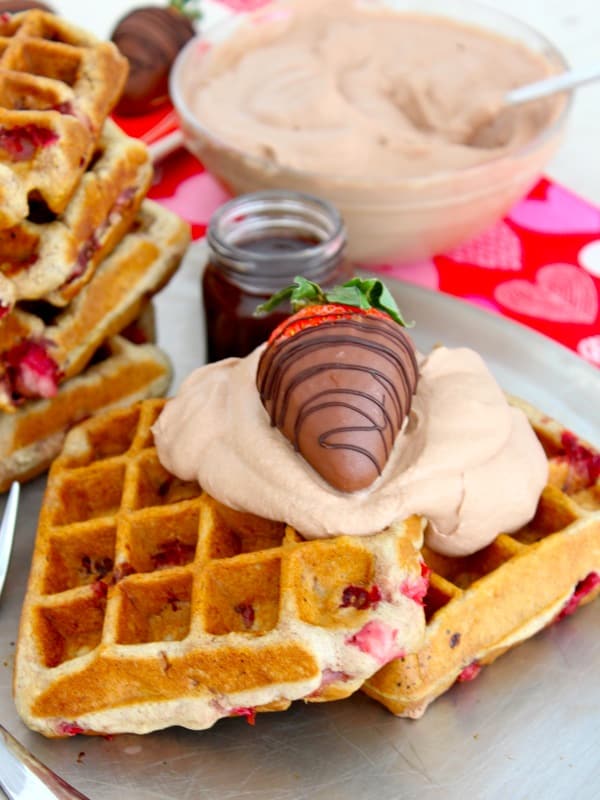 Crispy strawberry waffles covered in chocolate whipped cream and drizzled with chocolate syrup will make just about anyone weak in the knees. Such a fabulous way to show your sweethearts how much you love them!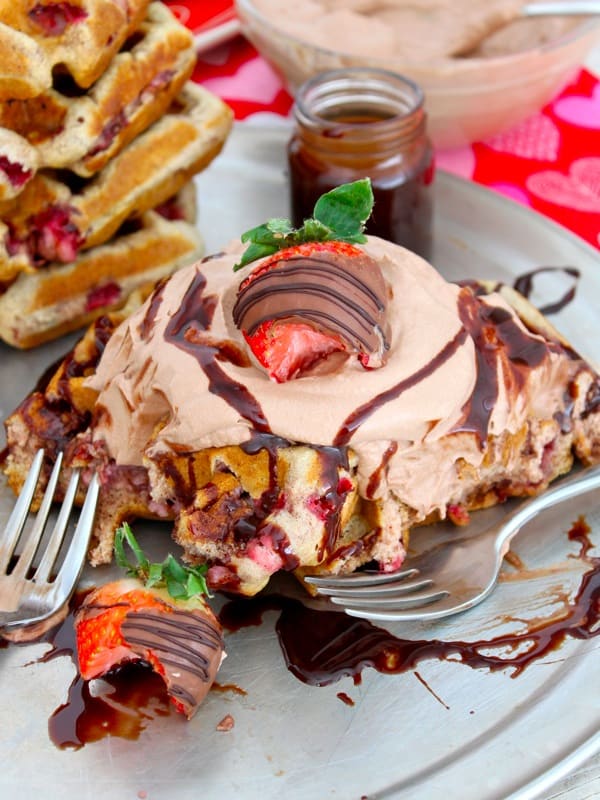 Whether it's breakfast in bed for two or the whole family around the kitchen table, these waffles are sure to be loved by whomever you make them for! In fact, I have a feeling they'll become a breakfast favorite that'll be requested of you again and again!
Thankfully, they're super easy to make so let me show you how!
Start by making the waffle batter…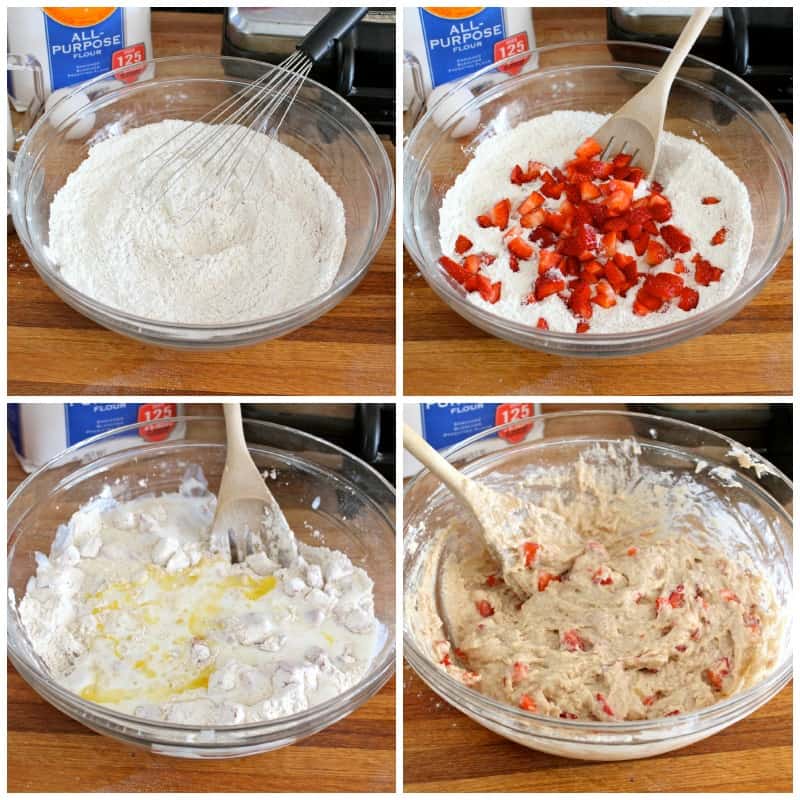 Ladle the batter into a preheated waffle iron and cook them until of desired crispness…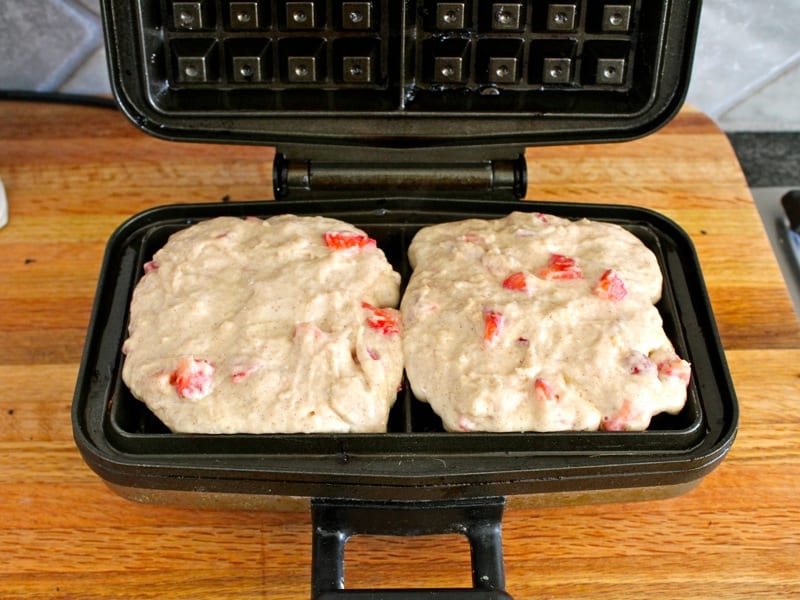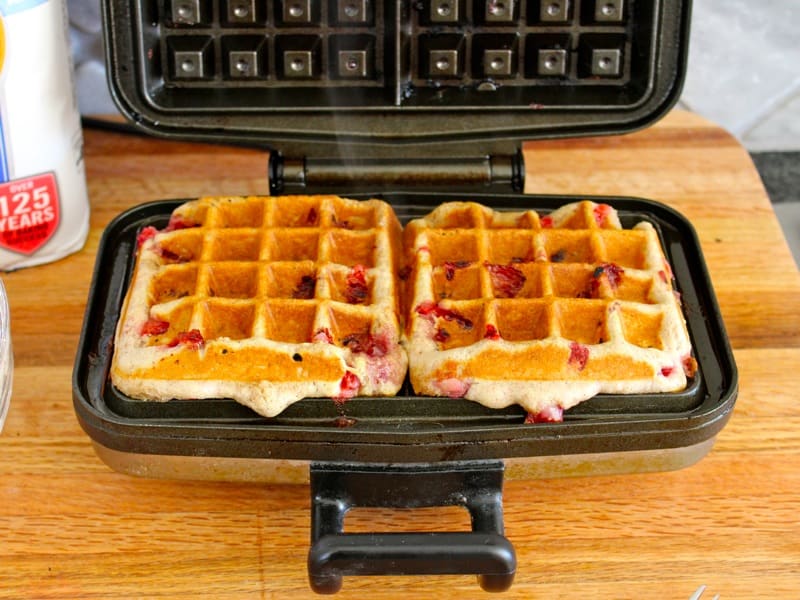 While the waffles are cooking, prepared the chocolate whipped cream by simply beating the heavy whipping cream until stiff peaks form and then adding the chocolate syrup until well combined. Pretty sweet stuff to make these waffles extra special…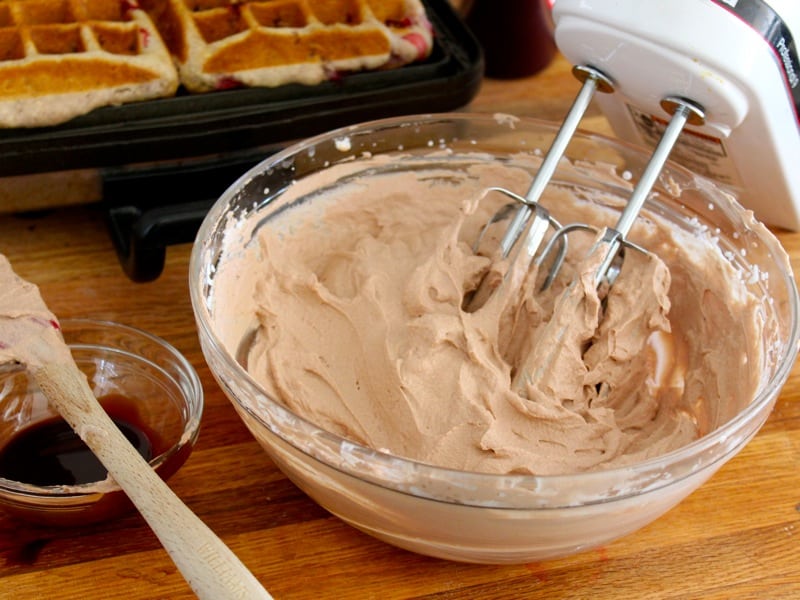 That's all there is to it! Now you're ready to serve them to somebody special…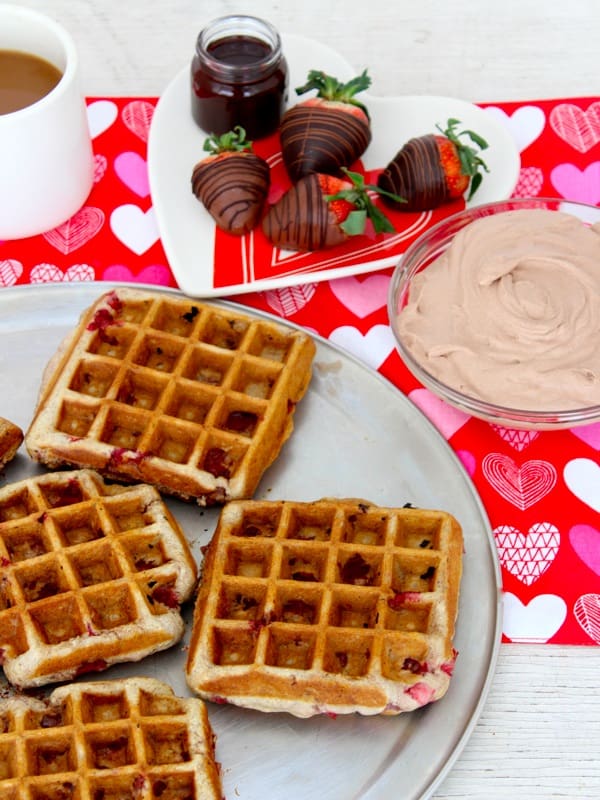 Just scoop some chocolate whipped cream onto the crispy strawberry waffles and drizzle with a little chocolate syrup, if your heart so desires…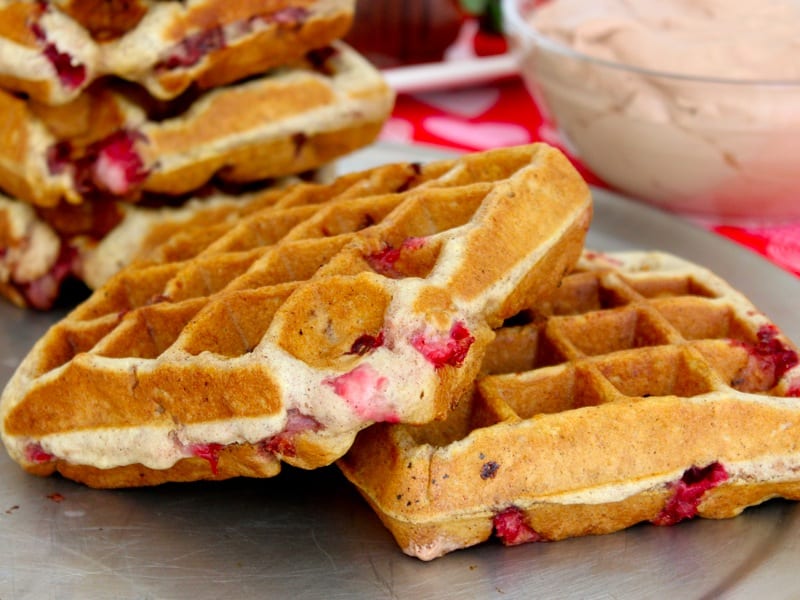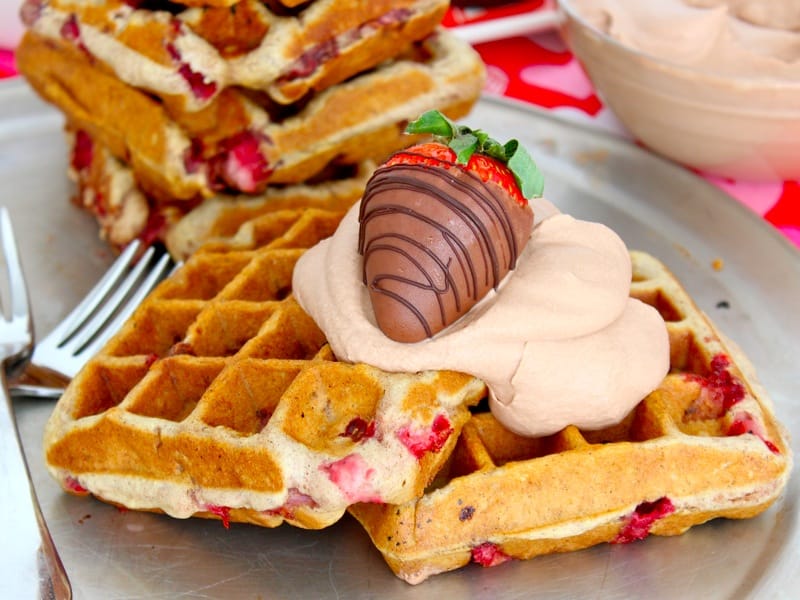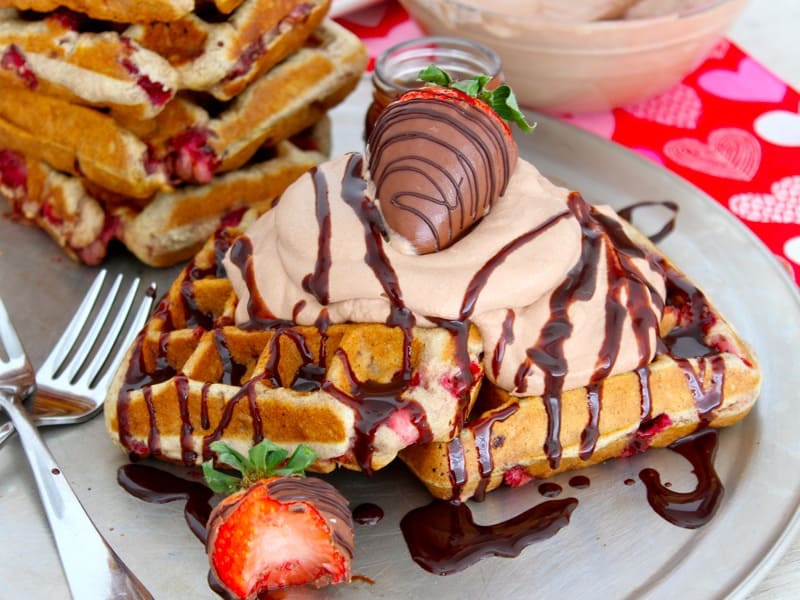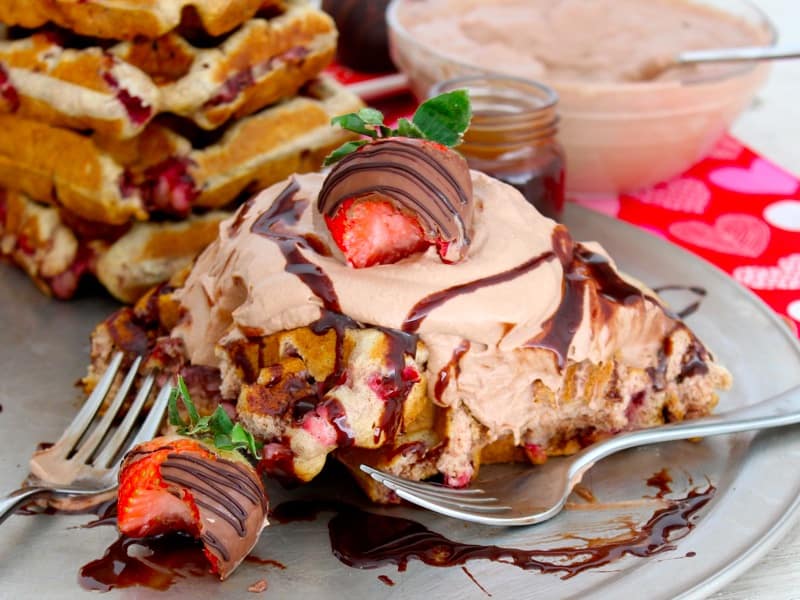 Enjoy!
~Maegan
This recipe was created as part of my partnership with Gold Medal Flour however thoughts and opinions are certainly my own!

Chocolate Covered Strawberry Waffles
Crispy strawberry waffles with a dollop of chocolate whipped cream and a drizzle of chocolate syrup for a sweet & special way to start the day!
Author:
Maegan - The BakerMama
Ingredients
Waffles:
1-1/2 cups Gold Medal® all-purpose flour
½ cup granulated sugar
1-1/2 teaspoons baking soda
1 teaspoon cinnamon
¼ teaspoon salt
1-1/2 cups chopped fresh strawberries
3 tablespoons butter, melted
1 egg, slightly beaten
1 teaspoon vanilla
1 cup buttermilk
Chocolate Whipped Cream:
1 cup heavy whipping cream
¼ cup chocolate syrup
additional strawberries, for garnishing
additional chocolate syrup for drizzling, if desired
Instructions
Preheat a waffle iron according to manufacturer's directions.
In a large bowl, whisk together the flour, sugar, baking soda, cinnamon, and salt. Fold in the chopped strawberries until completely coated in the flour mixture.
Make a well in the center of the dry ingredients and add the melted butter, egg, vanilla and buttermilk. Stir with a wooden spoon until just combined. Let batter set for about 5 minutes.
Ladle batter into preheated waffle iron and bake until cooked all the way through and of desired crispness. Keep cooked waffles in a warm oven while cooking the remaining batter.
While the waffles are cooking, prepare the chocolate whipped cream by beating the heaving whipping cream in a cold glass bowl with a hand mixer until stiff peaks start to form. Beat in the chocolate syrup until well combined. Store whipped cream in the refrigerator until ready to serve.
Serve waffles with chocolate whipped cream and additional chocolate syrup, if desired.