This moist and flavorful carrot sheet cake screams special with every scrumptious bite!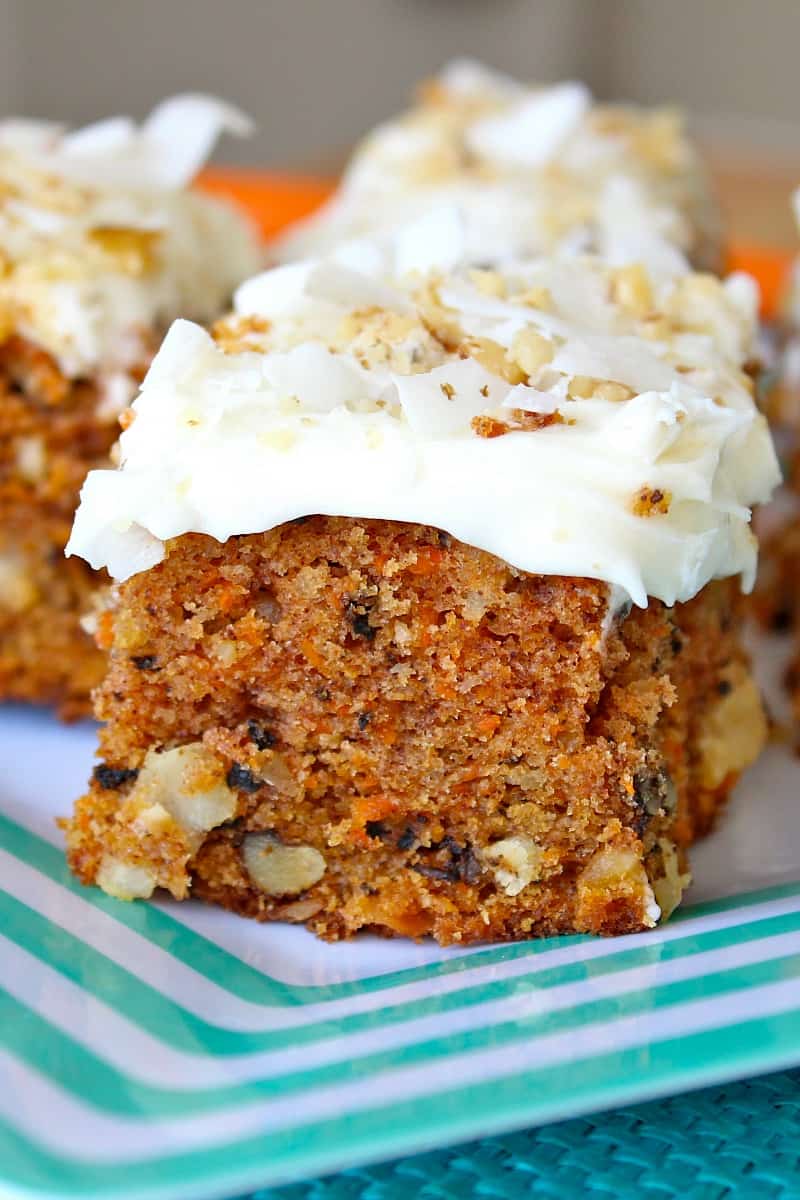 Why is that I only think to make carrot cake around Easter and Thanksgiving? I crave it all year round, but something in my head tells me that it's only served around those two holidays. So so silly! I can find fresh carrots any time of year and a big slice of moist and flavorful carrot cake is the perfect ending to just about any meal or celebration! Therefore, I've now added carrot cake to my year-round baking list.
I've always made layered carrot cakes, which are amazing and make quite the statement, but require a little more effort to make and serve. My sweet friend, Angela, invited me over for dinner recently and served the most delicious carrot cake that was baked as a sheet cake. I couldn't believe I had never baked a carrot sheet cake. It's so much quicker to make and so much easier to serve!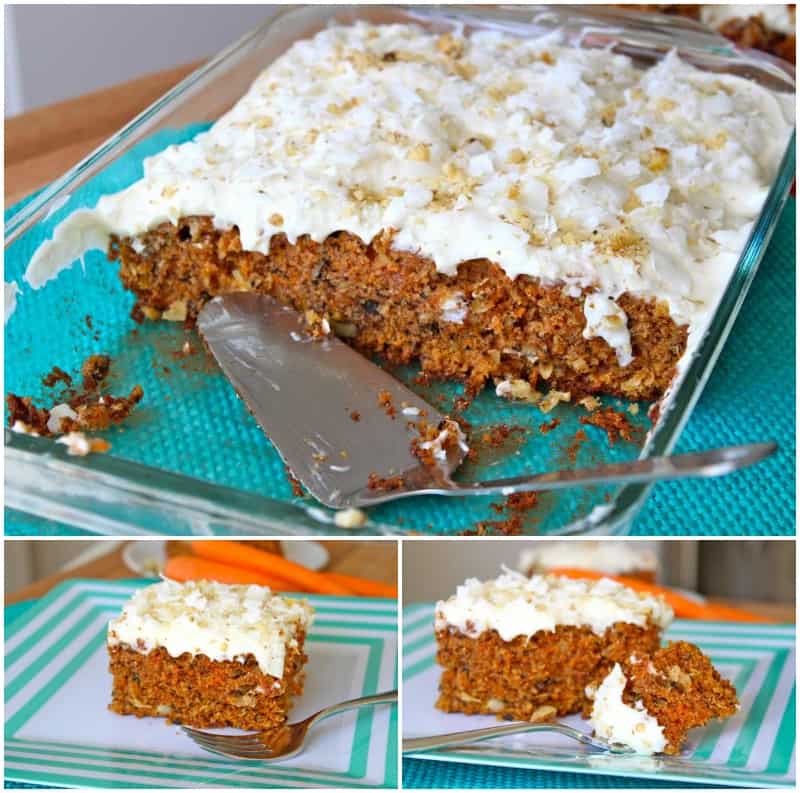 I kept telling Angela how much I love the idea of a carrot sheet cake and specifically how much I loved hers. She takes a classic carrot cake and makes it special with a little almond flour for added flavor and texture along with big flakes of shaved coconut for the perfect amount of added sweetness and crunch. I knew y'all would love this recipe so I invited her over to bake it with me.
Meet my friend, Angela. Her carrot cake is something special and we're excited to share it with you!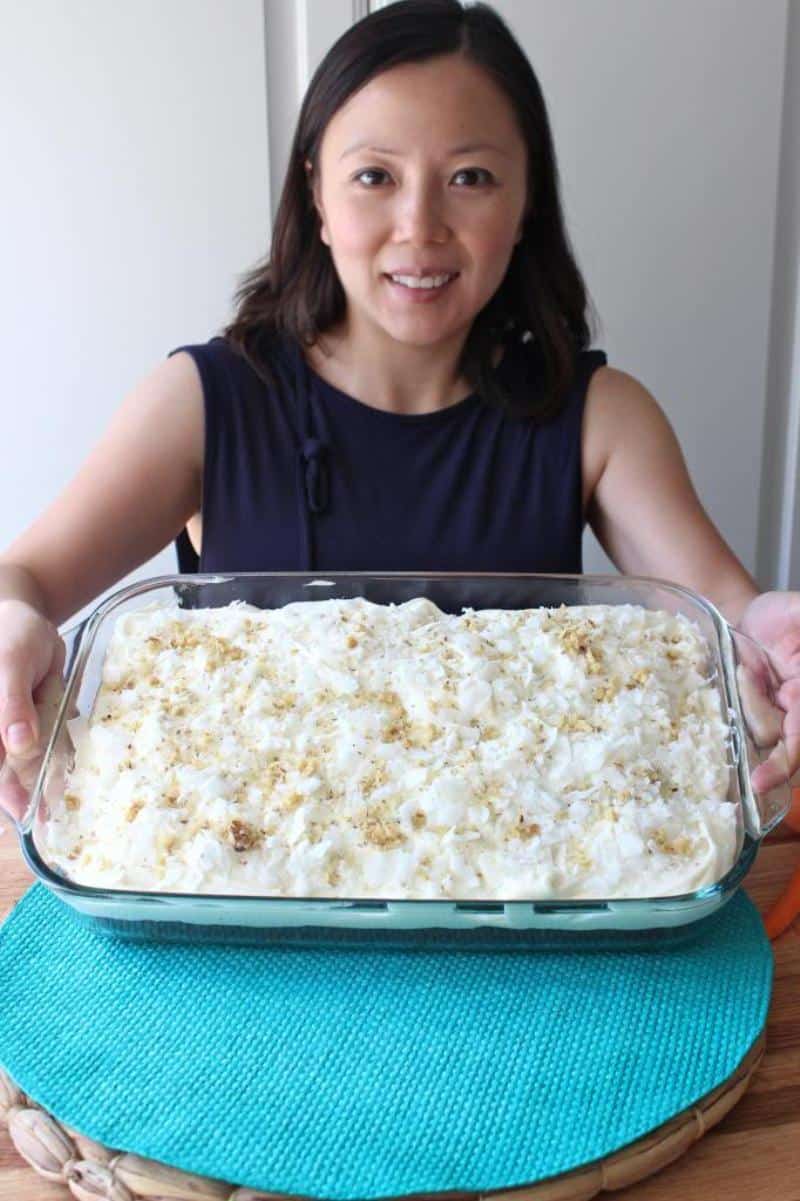 We had so much fun baking and enjoying this cake together. Okay, okay, she did the baking and I mostly just enjoyed. 😉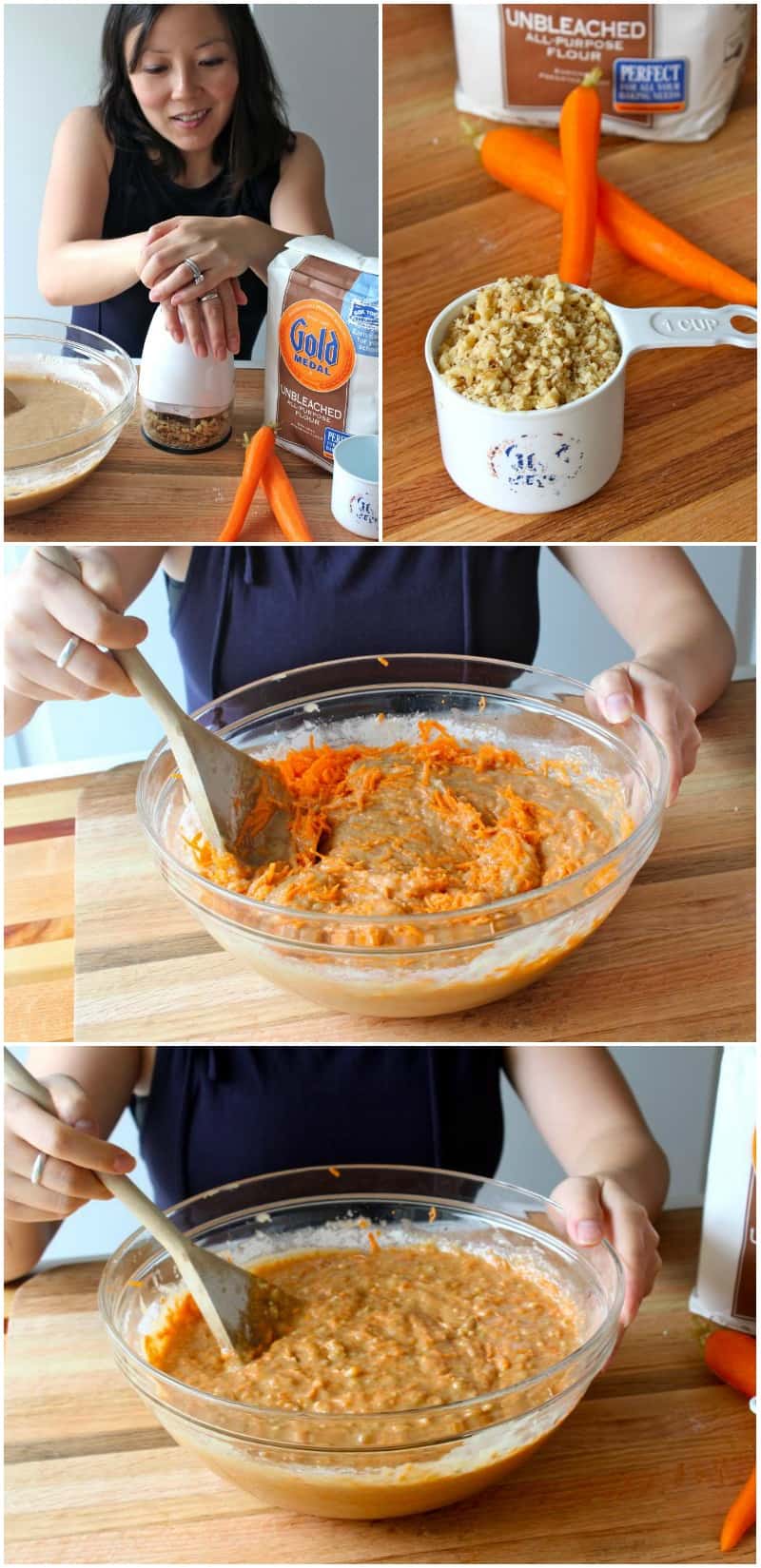 Like I said, the almond flour adds such great flavor and texture while the applesauce and carrots make it super moist. The walnuts and large coconut flakes add in even more flavor and a little crunch. Each ingredient comes together so perfectly.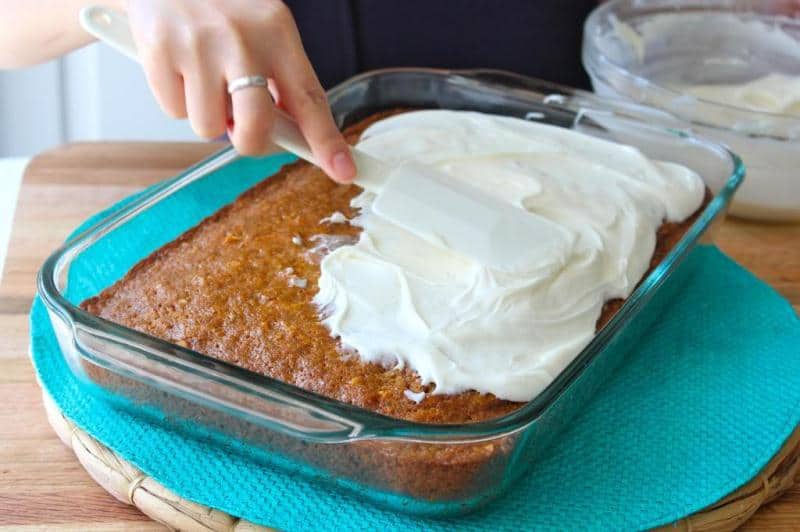 The cake is topped with a classic cream cheese frosting and then garnished with more walnuts and coconut. Yummy yum yum!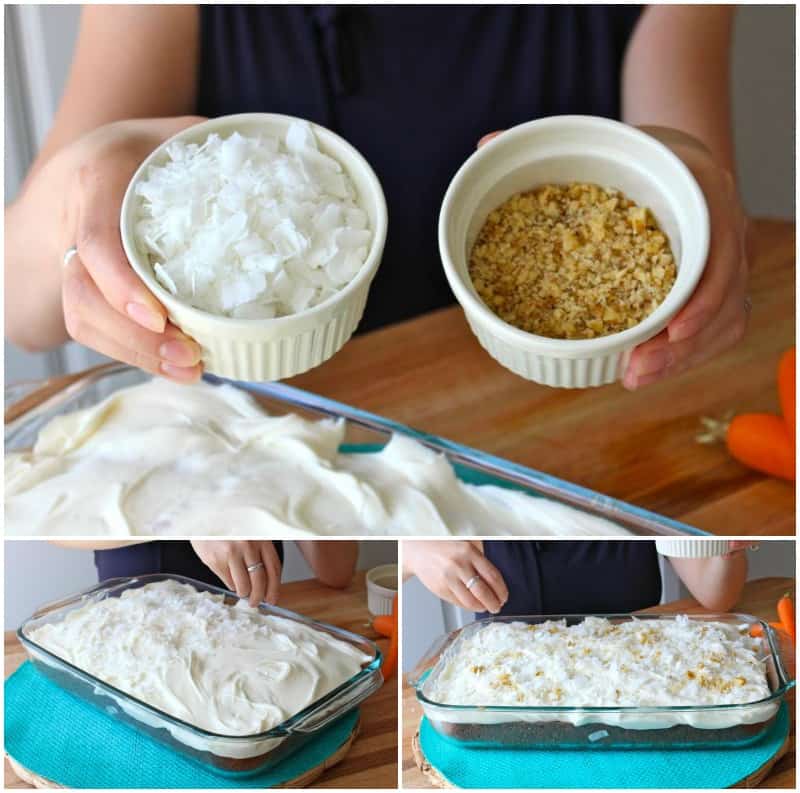 Such a great cake that you're going to want to bake over and over again. No special occasion necessary to make this amazing carrot cake! Just bake, slice, share and enjoy anytime you wish.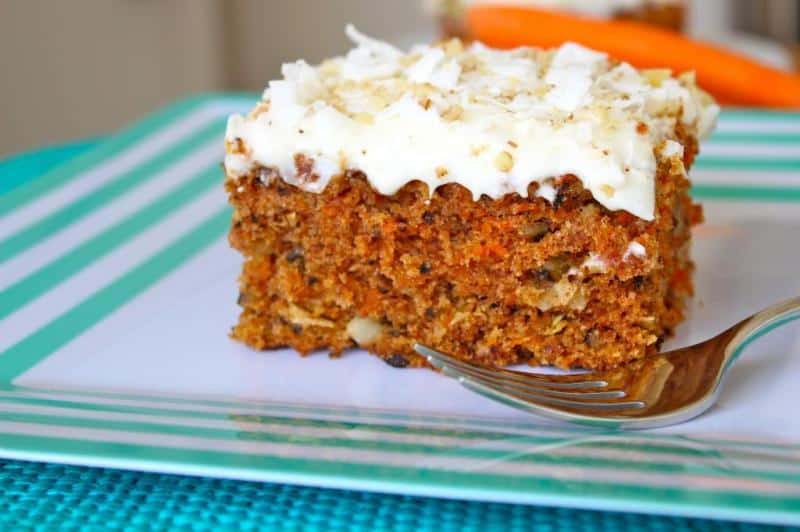 xoxo,
Maegan & Angela
A huge thanks to my friend Angela for sharing this delicious recipe and for coming over to bake it with me.

Carrot Sheet Cake
This moist and flavorful carrot sheet cake screams special with every scrumptious bite!
Author:
Maegan - The BakerMama
Ingredients
1-1/2 cups granulated sugar
1 cup vegetable oil
⅓ cup unsweetened applesauce
3 large eggs
1-1/2 cups Gold Medal® all-purpose flour
½ cup almond flour
2 teaspoons ground cinnamon
1 teaspoon baking soda
½ teaspoon salt
1 teaspoon vanilla
3 cups freshly shredded carrots (6 medium)
1 cup chopped walnuts
1 cup large coconut flakes
Cream Cheese Frosting:
1 (8 ounce) package cream cheese, softened
¼ cup butter, softened
2-3 teaspoons milk
1 teaspoon vanilla
2 cups powdered sugar
⅓ cup large coconut flakes
⅓ cup chopped walnuts
Instructions
Preheat oven to 350°F. Lightly grease a 13x9-inch baking dish. Set aside.
In a large bowl, whisk together the sugar, oil and applesauce. Add the eggs, one at a time, and whisk until well combined.
Add the flours, cinnamon, baking soda and salt. Stir in the vanilla.
Stir in the walnuts, carrots and coconut. Pour batter into the prepared dish.
Bake for 45 minutes or until cake is set and a toothpick inserted in the center comes out clean. Let cake cool completely.
Meanwhile, prepare the frosting. In a large bowl, beat together the cream cheese and butter until smooth. Add the milk and vanilla and beat until well combined. Slowly beat in the powdered sugar until thick and creamy.
Spread frosting evenly over cooled cake. Sprinkle with coconut flakes and chopped walnuts.
Notes
Recipe adapted from bettycrocker.com