Make Easter morning extra special with these adorable and delicious bunny pancakes!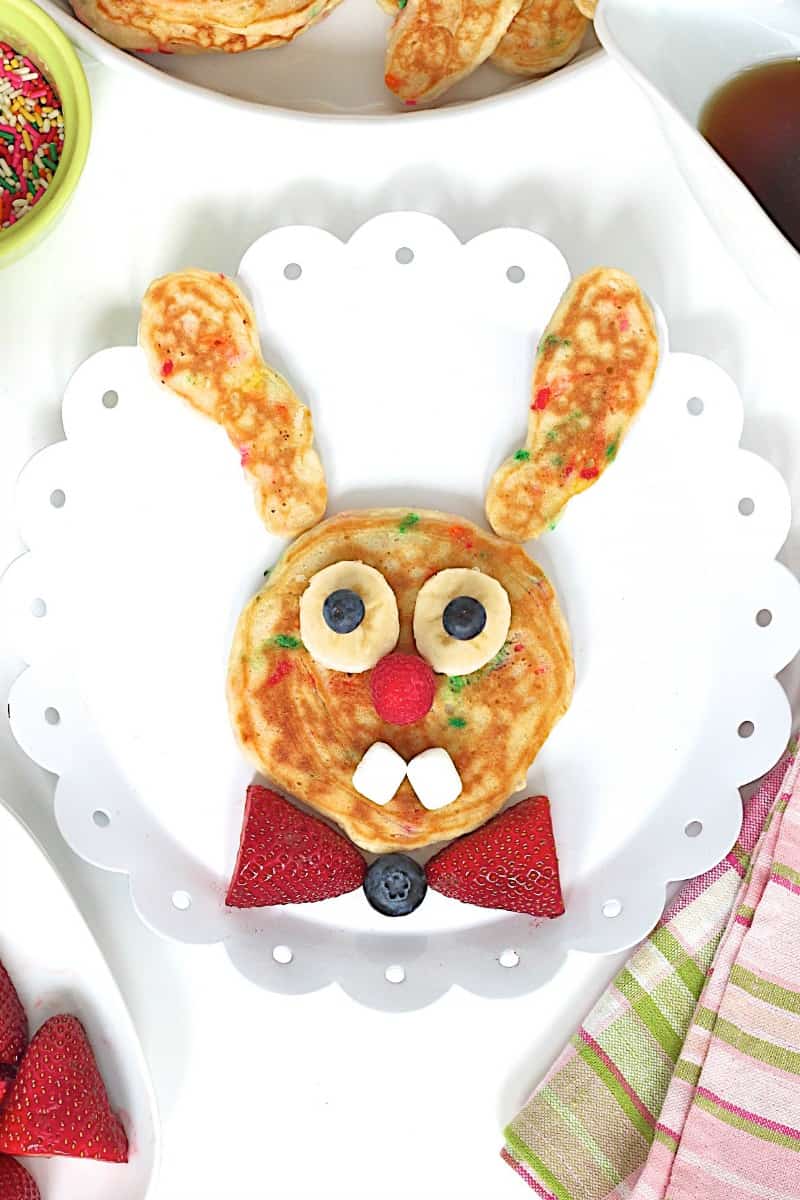 Do you want to build a bunny?!
Well, hippity hoppity Easter's on its way and I've got the cutest of the cute bunny pancakes that would be so fun to build with the family on Easter morning!
Fluffy buttermilk pancakes with sprinkles throughout are cooked into traditional round shaped pancakes as well as long jagged bunny ear shapes that then come together to create the most adorable bunny head shaped pancakes. Fresh fruit and a few mini marshmallows are used to decorate the bunny heads and bring them to tasty life.

The boys and I had so much fun building these yummy bunnies and can't wait to build and eat them again on Easter morning!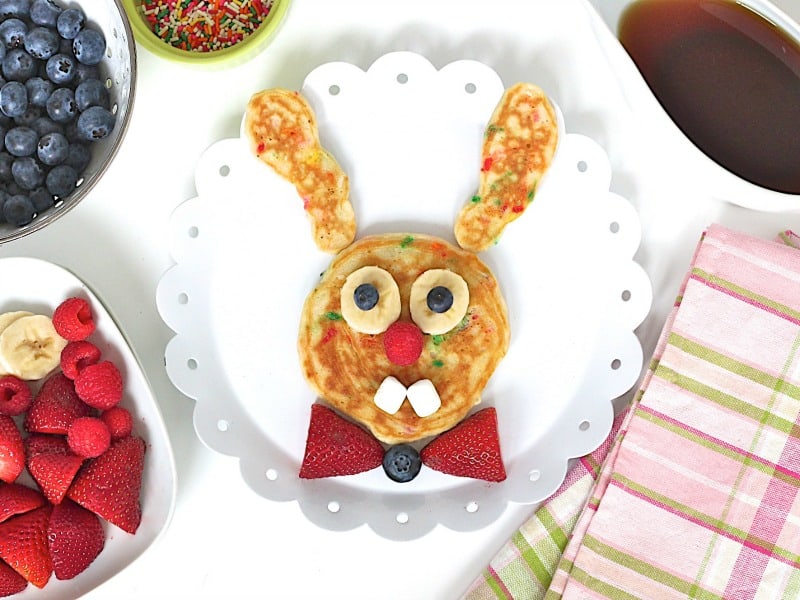 Super cute and such a sweet way to start Easter day or a fun activity for an Easter or bunny-themed party!
Happy Easter! Enjoy!
~Maegan
This recipe was created as part of my partnership with Gold Medal Flour however thoughts and opinions are certainly my own!

Bunny Pancakes
Make Easter morning extra special with these adorable and delicious bunny pancakes!
Author:
Maegan - The BakerMama
Ingredients
2 tablespoons butter, melted & slightly cooled
1 cup buttermilk
1 teaspoon vanilla
1 large egg, lightly beaten
1 cup Gold Medal™ all-purpose flour
1 tablespoon granulated sugar
1 teaspoon baking powder
½ teaspoon baking soda
¼ teaspoon kosher salt
½ cup sprinkles
Toppings:
1 or 2 bananas, sliced into 16 thin slices
24 blueberries
8 raspberries
8 large strawberries, cut in half
16 mini marshmallows
maple syrup
Instructions
In a large bowl, whisk together the melted butter, buttermilk, vanilla and egg.
In a medium bowl, whisk together the flour, sugar, baking powder, baking soda and salt. Add the dry ingredients to the wet ingredients in the large bowl and stir with a spoon until just combined. Fold in the sprinkles.
Let batter rest for at least 5 minutes while you heat the griddle to medium-low heat.
Once the griddle is hot, spray it with non-stick cooking spray. Using a 2-tablespoon sized cookie scoop or ice cream scoop, scoop two round pancakes onto the griddle. Then use the side of a flat spatula to place a small amount of batter onto the griddle into the shape of long jagged bunny ears. You'll want two bunny ears for each round pancake.
Flip pancakes once the uncooked side starts to bubble a bit, about 2 minutes for the round pancakes and 1 minute for the bunny ears. Let cook another 2 minutes for the round pancakes and another 1 minute for the bunny ears or until pancakes are lightly browned on both sides. Keep cooked pancakes on pan in a warm oven while you cook the remaining batter. Spray the griddle with non-stick cooking spray between each batch of pancakes.
When ready to serve, place a round pancake on a plate and two of the bunny ear-shaped pancakes on the top to make a bunny head shape. Place two banana slices as eyes with a blueberry in the middle of each banana slice. Place a raspberry as the nose and two mini marshmallows as the teeth. Shape the strawberry halves and a blueberry into a bowtie at the bottom of the head. Serve with maple syrup.