Delicious Brown Butter Blueberry White Chocolate Oat Bars made with plump blueberries, white chocolate, hearty oats, brown butter and an irresistible streusel.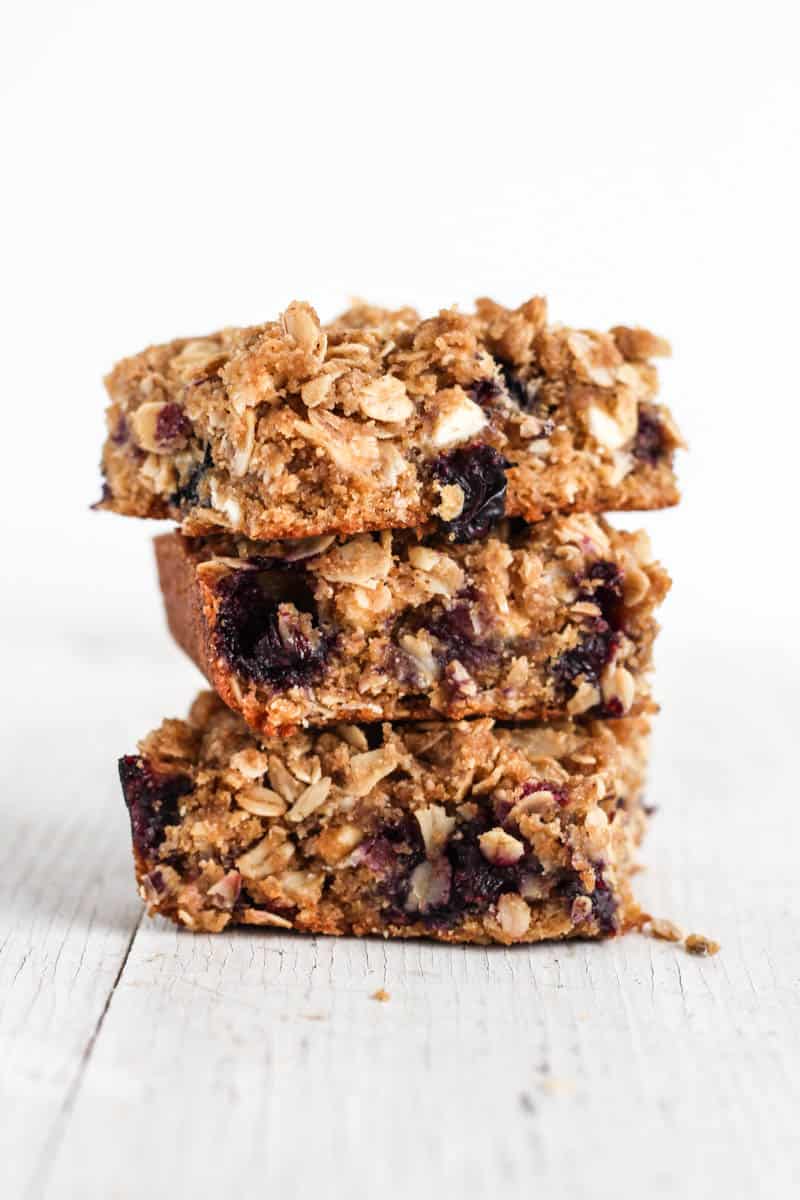 Check out these bars, y'all! Don't they look amazing?! Well, they're every bit of amazing and I can't wait for you to bake them!
My great friend, Monique (who blogs all kinds of yumminess over at Ambitious Kitchen), came to visit last week and we dreamed up these bars during one of our morning walks and pretty much ran home to bake them! We were so excited about the combination of brown butter, blueberries, white chocolate and oats. Oh my! I drool just thinking about them.
We were excited to bake the bars to eat, of course, but we were also excited to bake them so Monique could give me some of her photography tips and tricks and boy did she! It was time for me to take my photography to the next level and having Monique, someone whose photography I love and admire, come to my house and advise me on my set-up, lighting, efficiency, camera, editing, etc., was just priceless! Such a difference. I know that practice makes perfect so I'm looking forward to continuing to improve and improve…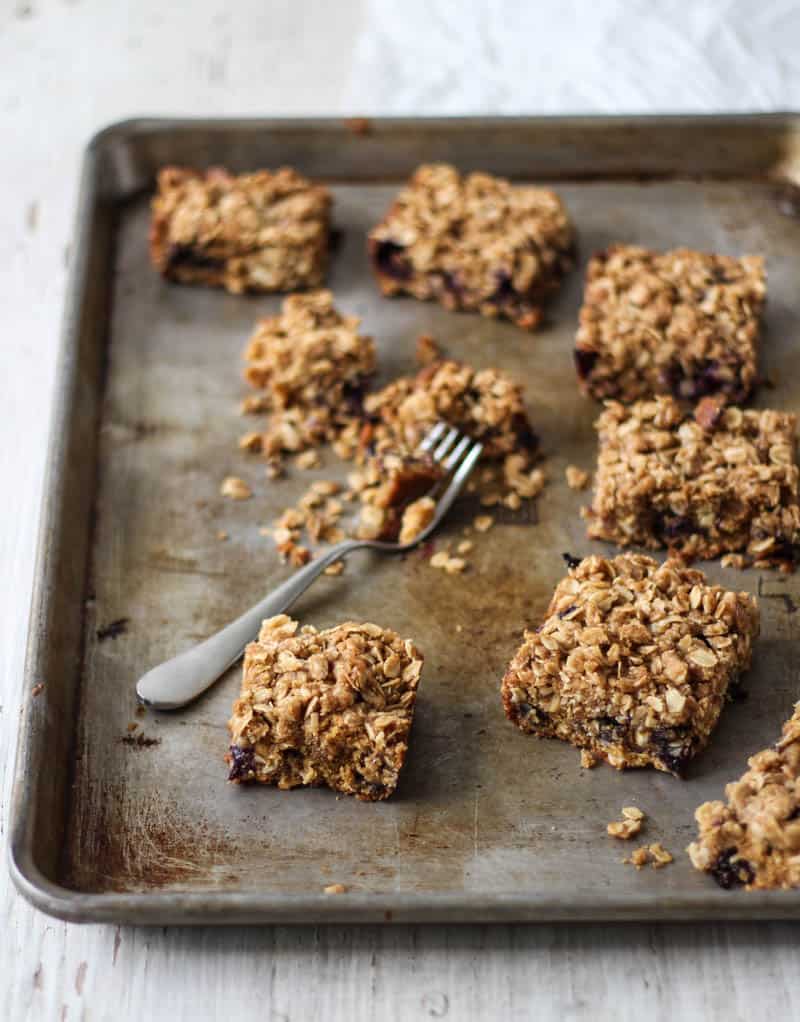 The biggest thing she encouraged and inspired me to do is take less pictures! Y'all, I'm embarrassed to admit, but I used to take hundreds of pictures for each recipe. Absolutely ridiculous! Not only did it take a while to take all of those pics, but uploading them, sorting through them and editing them, took hours! Talk about a waste of time! Monique taught me to take my time in setting up for a great shot, have confidence in the shots I'm taking and take no more than a few shots for each of a just few different styles. No more than 4 pics per post is the rule, unless necessary of course. I've gone from taking hundreds of pictures to taking less than 50 for each recipe, including step shots, with a goal of reducing that number as well. Woo-hoo! Thanks Monique! 🙂
Monique also consulted me on all areas of my blog which was so needed and so inspiring! I knew I was clueless, but when it came to the back-end/technical side of my blog, whew, I needed her help! Also, I'd been in a bit of a blogging slump lately and getting Monique's advice and encouragement was just what I needed to reignite my drive and passion for this here little blog that I love so much. She's the real deal and tells it like it is and I so appreciate that. I'm super excited to take her advice and use it to improve and grow as a blogger!
I'm so thankful I met Monique a few years ago and that we became such great friends. It's awesome that we're able to stay connected and see each other so often at conferences or visits to each others home towns! She's come to Dallas, now it's my turn to visit her in Chicago! I love Chicago so we've gotta make that happen asap! 😉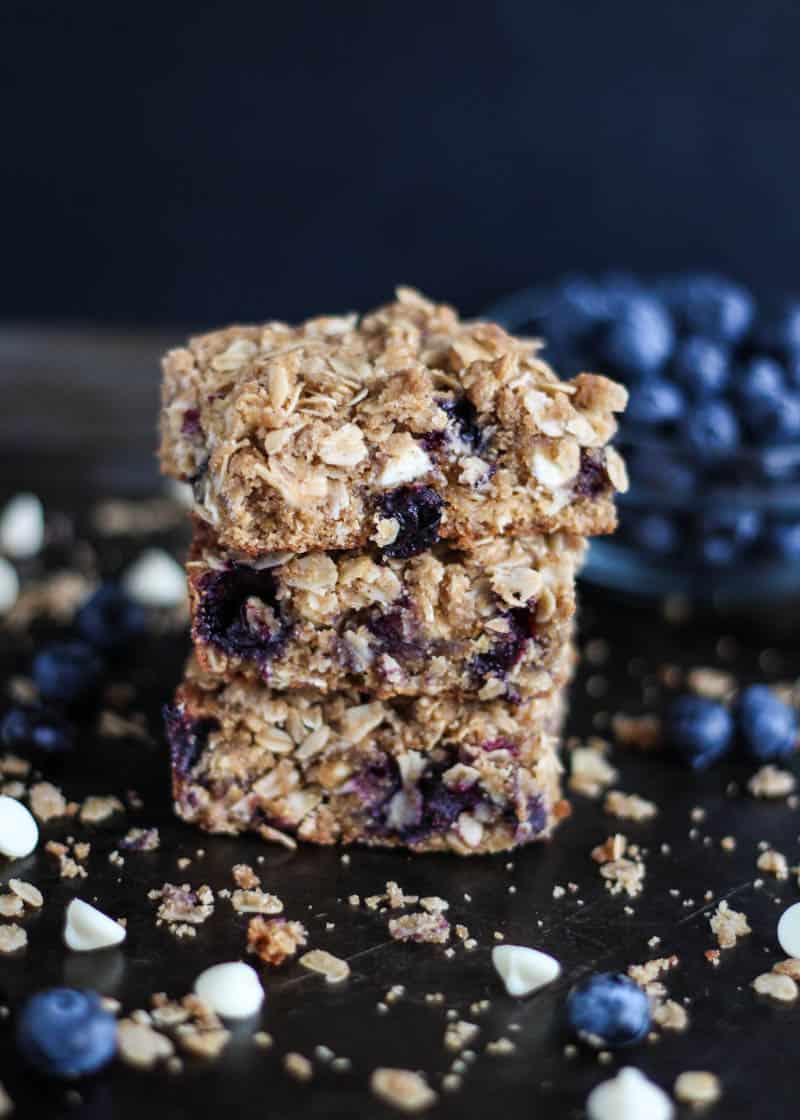 Okay, back to these blissful bars! Brown butter blueberry white chocolate oat bars…it's a mouthful, that's for sure! A mouth full of amazingness that you're gonna love! Enjoy!
xoxo,
Maegan
Print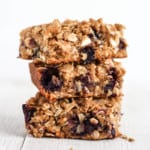 Brown Butter Blueberry White Chocolate Oat Bars
Author:

Prep Time:

25 mins

Cook Time:

25 mins

Total Time:

50 mins

Yield:

9

1

x

Category:

Dessert
---
Description
Delicious Brown Butter Blueberry White Chocolate Oat Bars made with plump blueberries, white chocolate, hearty oats, brown butter and an irresistible streusel.
---
Bars:

8 tablespoons

unsalted butter

3/4 cup

all-purpose flour

1/2 cup

old-fashioned oats

1 teaspoon

baking powder

1/2 teaspoon

kosher salt

1/2 cup

brown sugar

1

large egg, lightly beaten

1/2 teaspoon

vanilla

1/3 cup

white chocolate chips

1 cup

fresh blueberries
Streusel:

4 tablespoons

unsalted butter

1/4 cup

brown sugar

1/4 cup

all-purpose flour

3/4 cup

oats
---
Instructions
Preheat oven to 350°F. Grease an 8-inch square baking dish with non-stick cooking spray and set aside.
Place 8 tablespoons butter in a light-colored pan over medium heat and whisk constantly as it melts. The butter will start to bubble and foam and then subside as the water evaporates and the milk solids start to turn a light brown color. Just as it starts to turn light brown and you smell that nutty aroma, remove it from the heat and poor into a heat proof bowl to let cool for about 10 minutes. (Once the butter starts to brown, it will race into burnt, so watch it carefully and remove from the heat as soon as it starts to brown.)
In a large bowl, whisk together the flour, oats, baking powder, salt and brown sugar. Stir in the brown butter, lightly beaten egg and vanilla. Stir in the white chocolate chips.
Spread half of the dough into the prepared baking dish. Gently press the blueberries into the dough in the baking dish, evenly distributing them across the dough. Gently press the remaining dough onto the top of the blueberries.
Using the same light-colored pan that you browned the butter in for the bars, brown 4 tablespoons of butter for the struesel. Let it cool about 5 minutes before stirring in the brown sugar, flour and oats until a crumbly mixture is created. Sprinkle streusel evenly over the dough in the baking dish.
Bake the bars until the struesel starts to turn golden brown and crisp on top and a toothpick inserted in the center of the bars comes out clean, about 20-25 minutes. Remove and let cool at least 10 minutes before cutting into squares.
---