This Best of the Best Banana Cake with Brown Butter Frosting is unbelievably moist and flavorful! Seriously, it's the most incredible!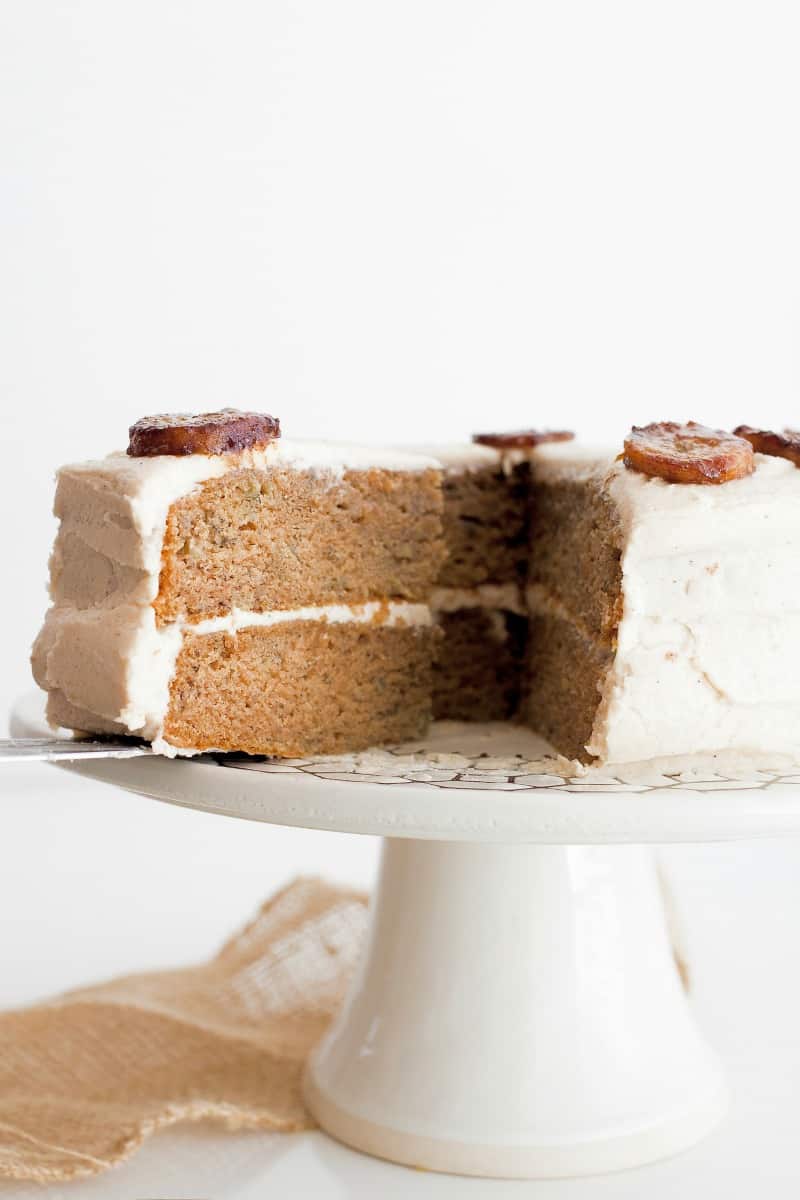 To say that this cake is the BEST banana cake EVER is no overstatement. It's everything a great banana cake should be and more. The cake itself is perfectly soft and moist and bursting with real banana flavor. And the frosting, oh the frosting, is made with browned butter. YES, brown butter! The nutty sweetness of the frosting combined with the bursting banana, spice & all things nice flavors of the cake makes for a dessert experience like none other.
One bite in and you'll fall head over heels in love…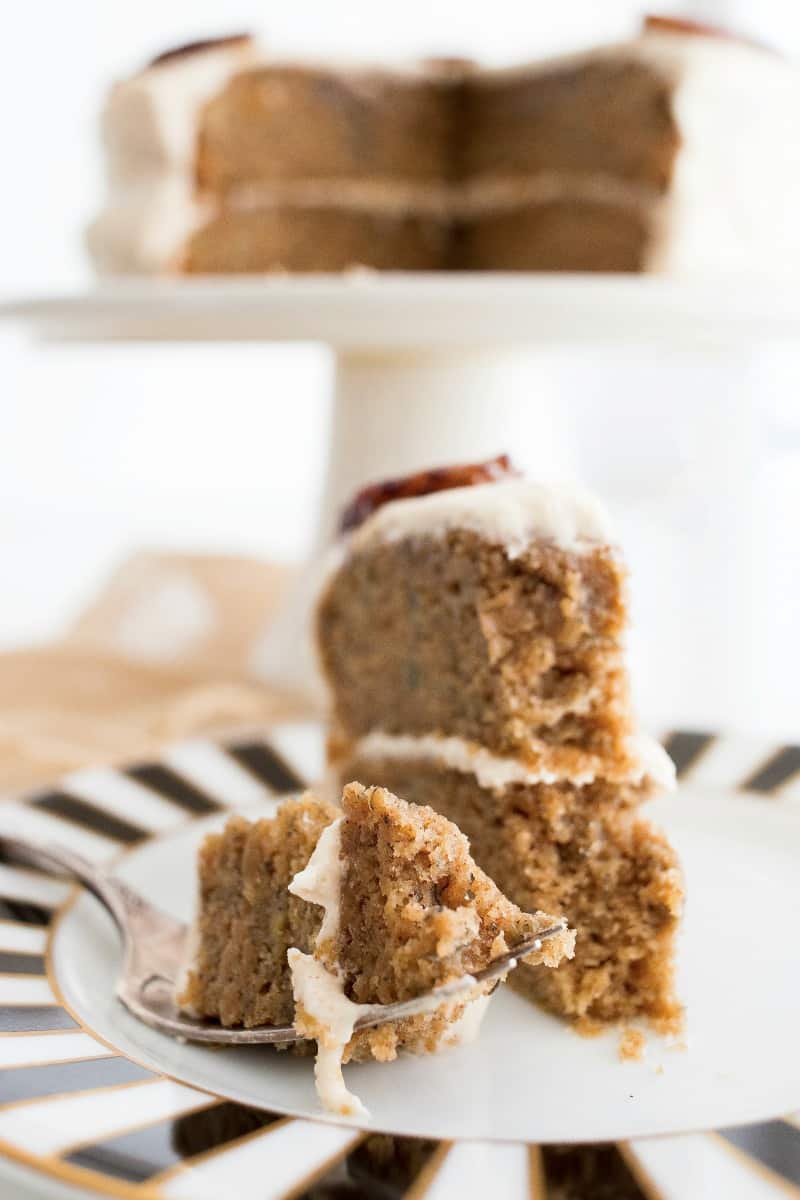 This cake came to life on a random weekday when I had several ripe bananas begging to be baked with. I was craving cake…
I love that I baked this cake for the first time just to bake and satisfy my cake craving. No special occasion, no crowd to entertain, no party to take it to. Just a beautifully delicious banana cake sitting on a cake stand on the kitchen counter that we could enjoy the rest of the week and into the weekend.
It made me smile just looking at it, filled me with pride over how delicious it turned out and got me all giddy at the thought of getting to bake it again and again.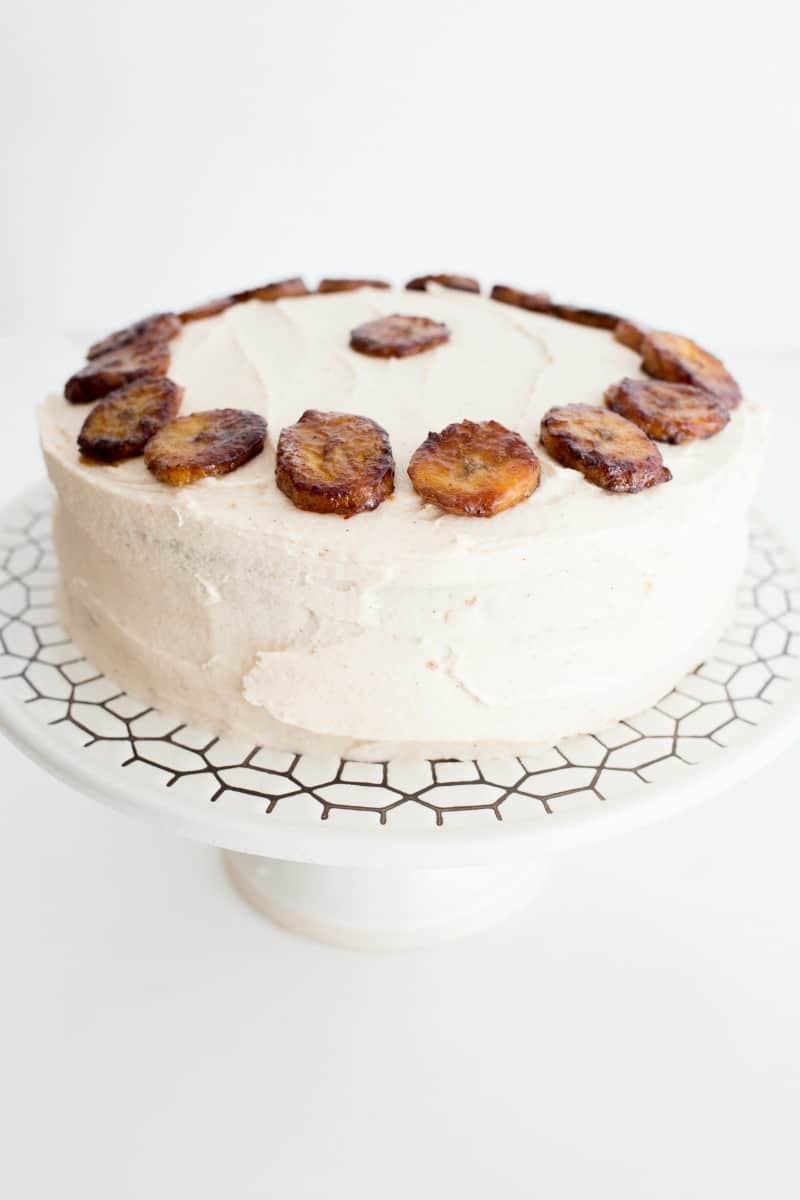 I'm excited for it to be a family favorite for years to come. A go-to cake I bake. A tradition, whether it be for someone's birthday or just a Sunday supper sweet. A recipe I pass down to the kids that they pass down to theirs. Served with love and confidence that it's the best…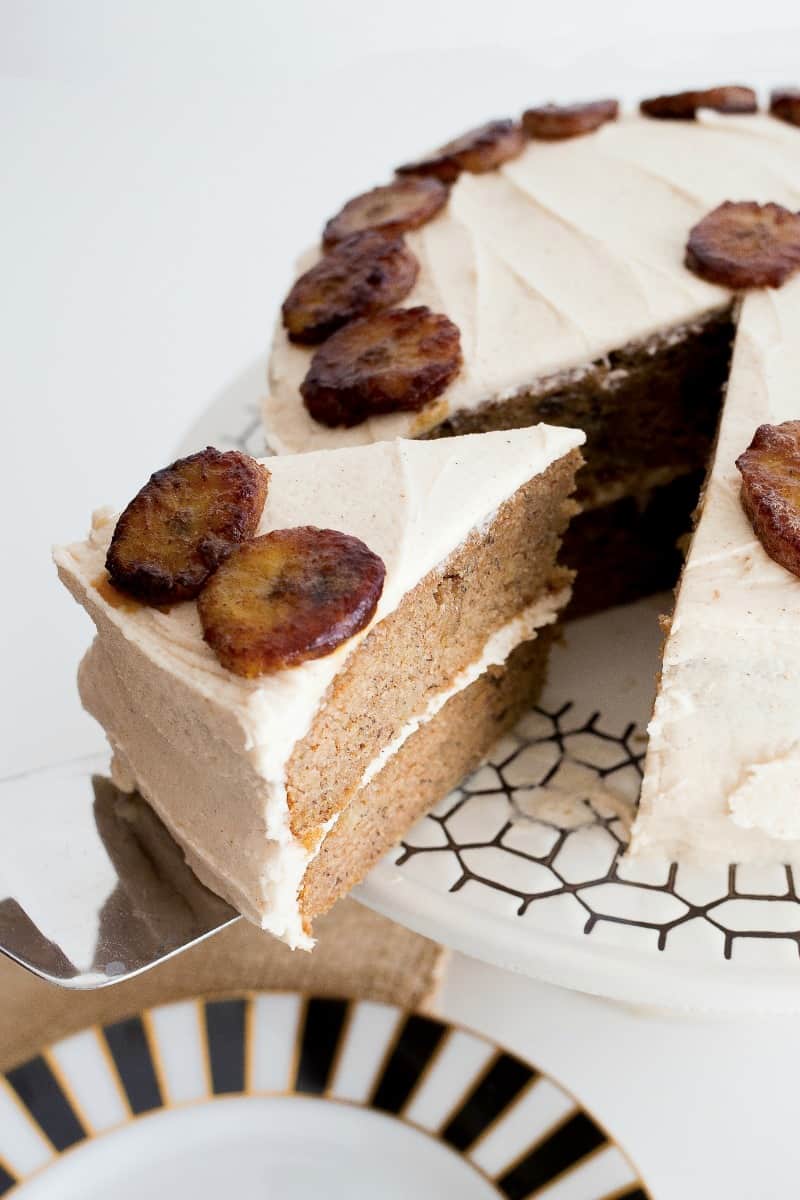 Let's take a moment and talk about that brown butter frosting though. I've said it before and I'll say it again, once you brown that butter, there's no going back. It makes un-browned butter so boring. Browned butter just makes everything better. Especially this frosting. That nutty, toasted, caramelized flavor it adds to the frosting takes this cake to the next level of deliciousness. Whatever you do, don't skip browning the butter! Need a refresher on how to brown butter? I cover that in Basics by The BakerMama.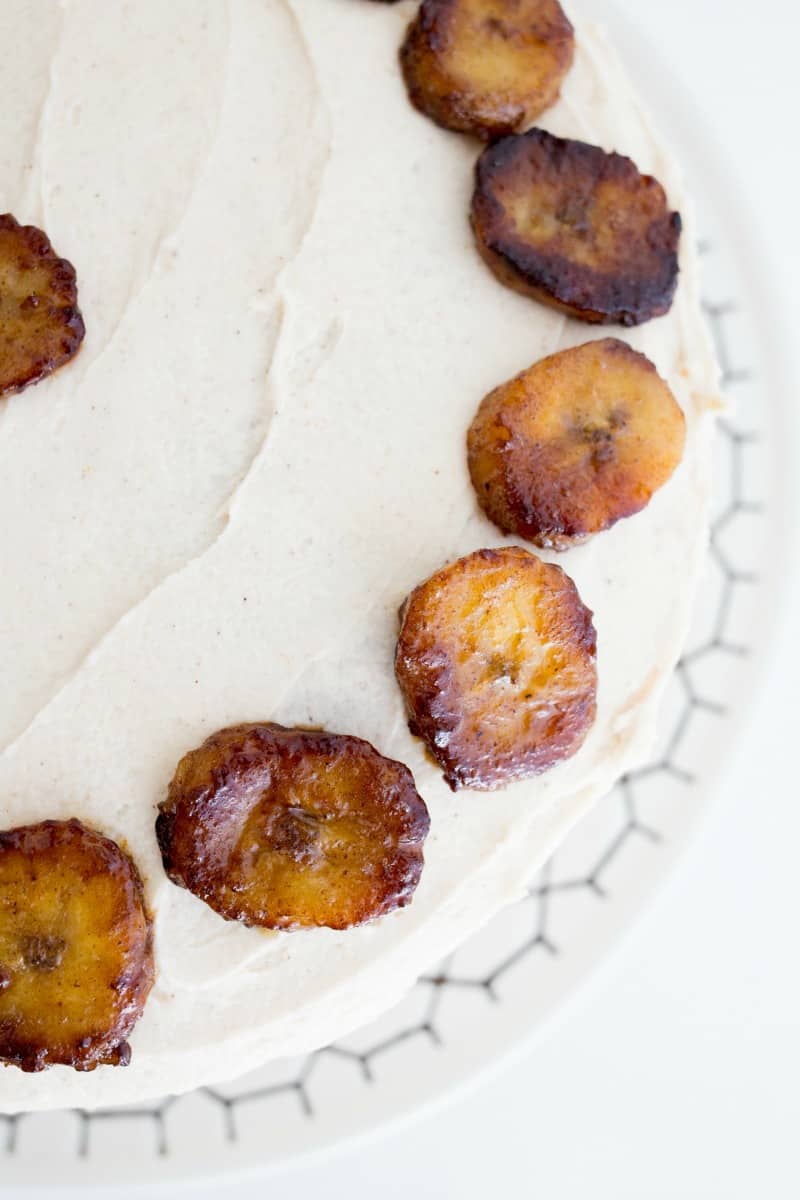 As you can tell, I'm crazy about this banana cake and I want you to bake it so you can taste for yourself. A cake that will guarantee that mmmm…mmmm response each time you take a bite.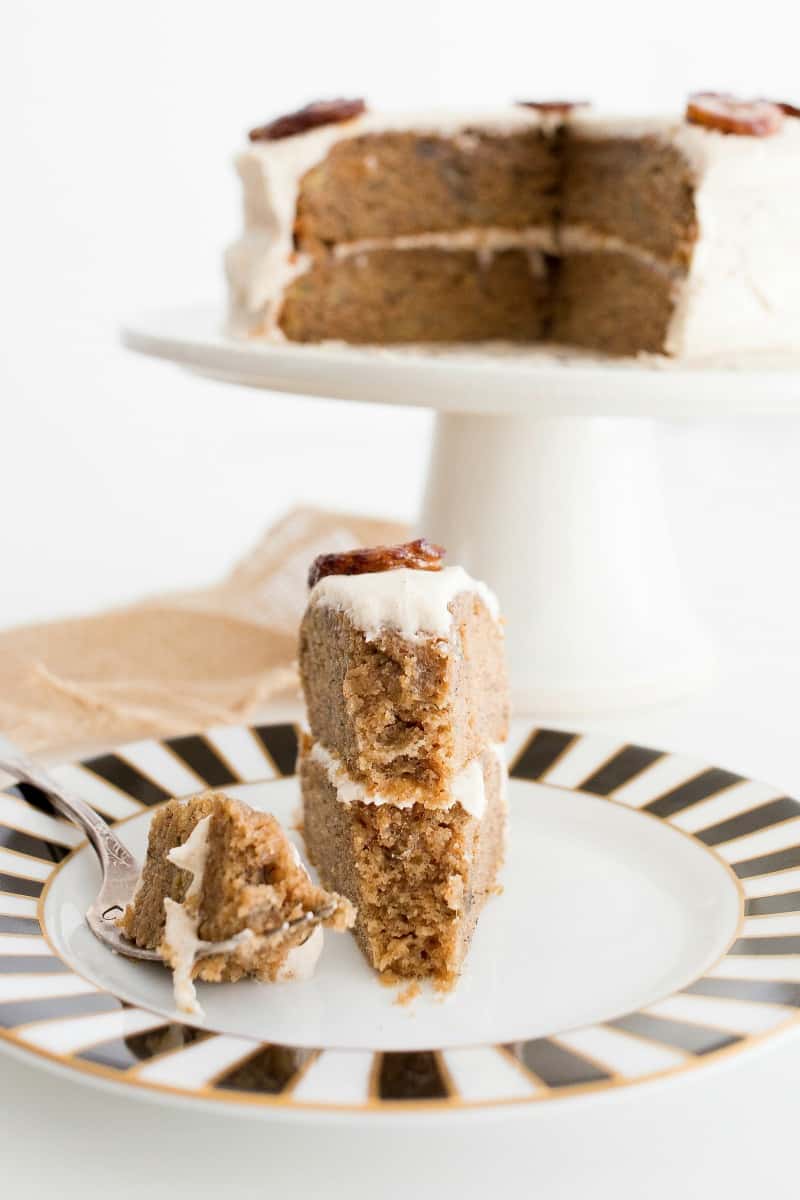 Enjoy!
xoxo,


Print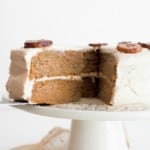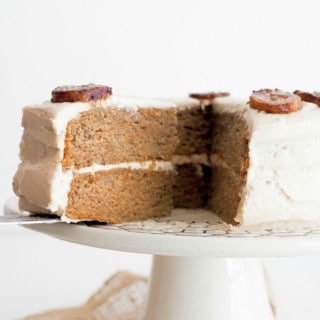 Best of the Best Banana Cake with Brown Butter Frosting
Author:

Prep Time:

30 mins

Cook Time:

25 mins

Total Time:

55 mins

Yield:

1

5

1

x

Category:

Dessert
---
Description
This Best of the Best Banana Cake with Brown Butter Frosting is unbelievably moist and flavorful! Seriously, it's the most incredible!
---
Banana Cake:

2 cups

all-purpose flour

1 teaspoon

baking soda

1/2 teaspoon

kosher salt

1 teaspoon

ground cinnamon

1/2 cup

(

1

stick) unsalted butter, softened

1 cup

dark brown sugar

3

large eggs

1 teaspoon

vanilla

3/4 cup

whole milk

1

–

1/2

cups mashed banana
Brown Butter Frosting:

1/2 cup

(

1

stick) unsalted butter, browned & cooled

3 cups

powdered sugar

1 teaspoon

vanilla

3

–

4

tablespoons whole milk
---
Instructions
Preheat oven to 350°F. Line the bottom of two 8-inch round cake pans with a piece of parchment paper cut to fit. Lightly grease and flour both cake pans and set aside.
In a medium bowl, whisk together the flour, baking soda, salt and cinnamon. Set aside.
In the bowl of an electric mixer fitted with the paddle attachment, beat the butter and brown sugar until smooth. Beat in the eggs, one at a time, until each one is well combined. Mix in the vanilla.
With the mixer on low speed, alternate adding the flour mixture and the milk, ending with the flour mixture, until well combined and batter is smooth. Stir in the mashed banana with a spatula until well distributed throughout the batter.
Divide batter evenly among prepared cake pans. Bake cakes for 25-30 minutes or until a toothpick inserted in the center of each cake comes out clean. Let cakes cool in pans for 15 minutes before running a sharp knife around the edges and turning out onto wire racks to cool completely.
To brown the butter for the frosting, place 1/2 cup butter in a light-colored pan over medium heat and whisk constantly as it melts. The butter will start to bubble and foam and then subside as the water evaporates and the milk solids start to turn a light brown color. Just as it starts to turn light brown and you smell that nutty aroma, remove it from the heat to let cool for about 15 minutes. (Once the butter starts to brown, it will race into burnt, so watch it carefully and remove from the heat as soon as it starts to brown.)
Transfer the browned butter to the bowl of an electric mixer fitted with the whisk attachment. Whisk in 1 teaspoon vanilla. Add 1 cup of powdered sugar at a time, beating on low speed, until well combined. Add 1 tablespoon milk at a time and beat on medium-high speed until frosting is fluffy and of spreading consistency. Add additional milk if the frosting is too thick or additional powdered sugar if the frosting is too thin to spread.
Spread a small amount of frosting on the bottom of a cake stand or cake plate. Place one cake layer, top side up, on the cake stand. Spread with a generous layer of frosting. Top with the other cake layer and spread the remaining frosting on top of and all around the sides of the layered cakes.
If desired, garnish the top of the cake with some banana slices that have been caramelized for 1-2 minutes on each side in the same pan that the butter was browned in.
---
Recipe by Maegan Brown/Photography by Madison Mentesana