Delicious bakery-style pumpkin muffins are made even more fabulous with the addition of crunchy pumpkin seeds, sweet dried cranberries and rich dark chocolate. Perfect for a fall breakfast, a Holiday brunch or a sweet snack all year round!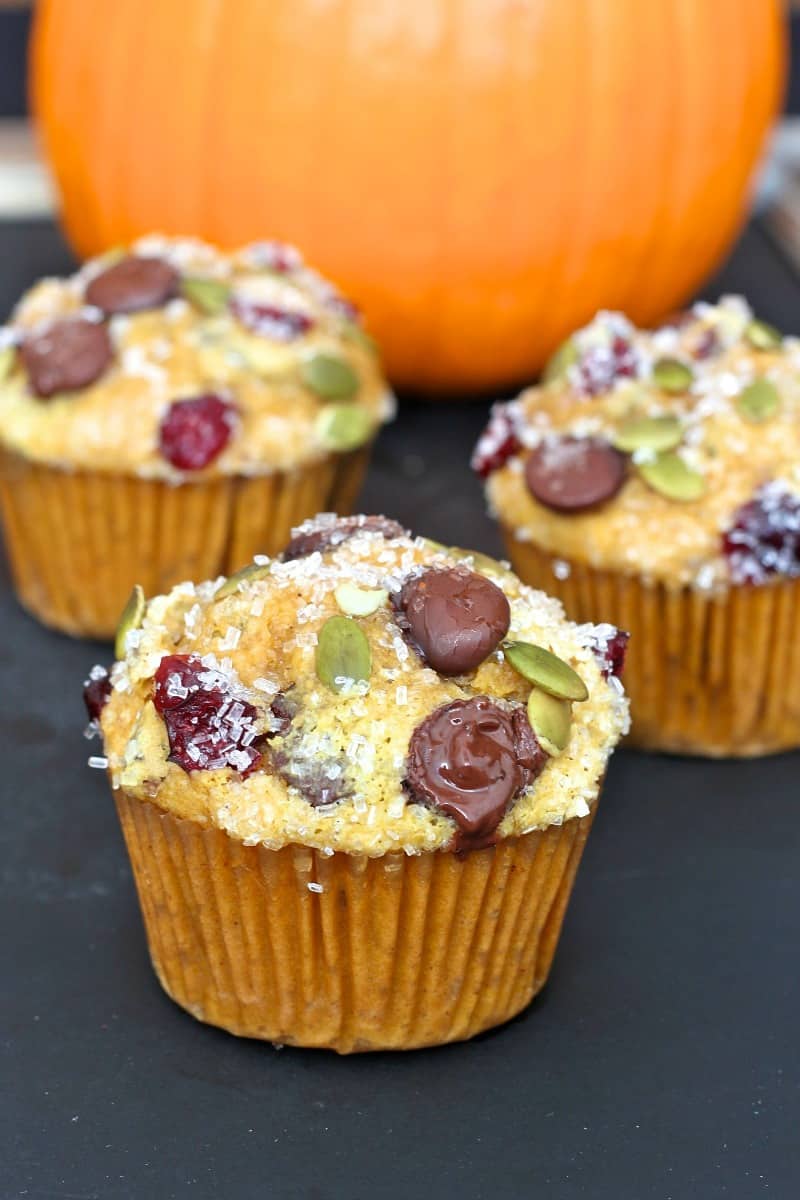 Y'all, I'm so not ready for winter! Are you?! A freeze front just moved through (as we all know!) and I just can't get warm. I think I have 5 layers on me right now and the heat cranked so high our gas bill is gonna be outrageous and I'm still freezing. Where did fall go?!
I know my body will adjust, but I was hoping we would have a few more weeks of 60 and 70 degree days so we could get out and play and I could walk off all this fall comfort food I'm consuming. I love a good long fall afternoon walk!
Winter may be here to stay for a while, but I'm still baking up all kinds of fall and keeping the pumpkin palooza going! These muffins turned out marvelous and if you eat them while they're still warm, they're magical.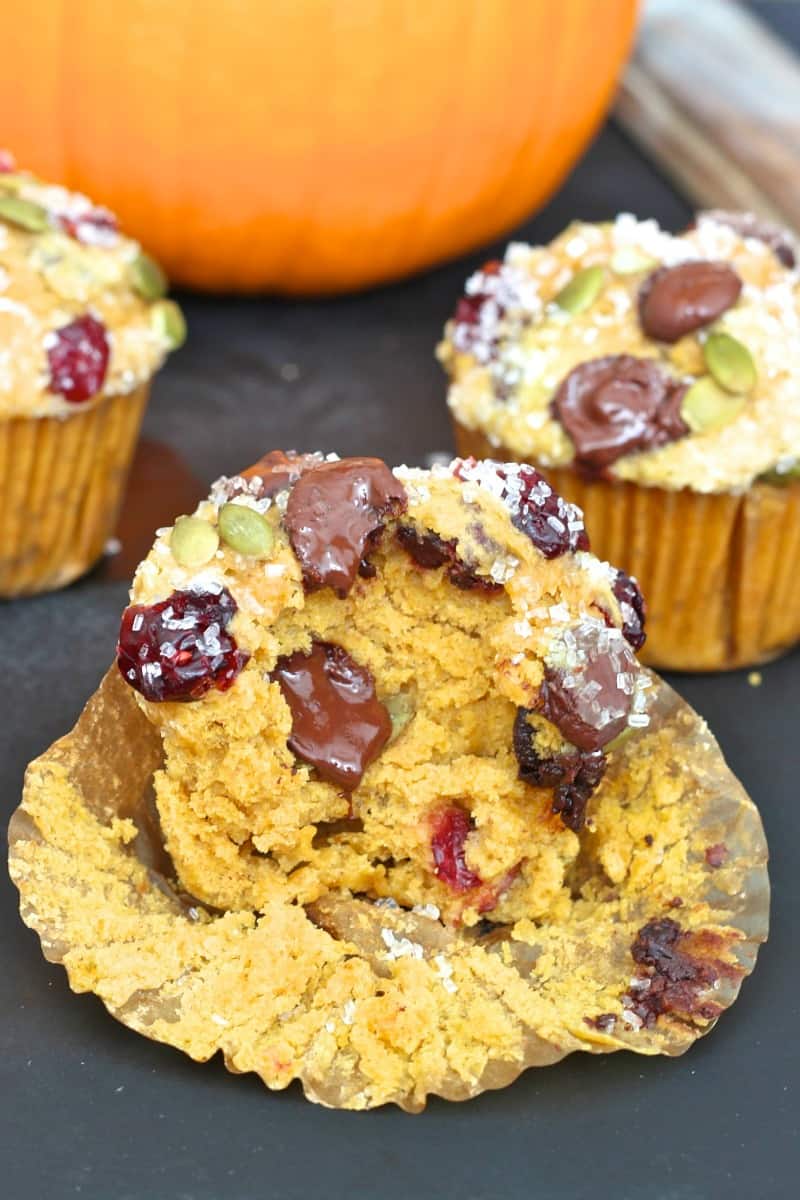 A simple sweet and spiced pumpkin muffin is made extra special with pumpkin seeds, dried cranberries and dark chocolate. I sprinkled the tops with my favorite sparkling sugar for a sweet bakery-style look and a muffin top experience you'll want to enjoy over and over and over again.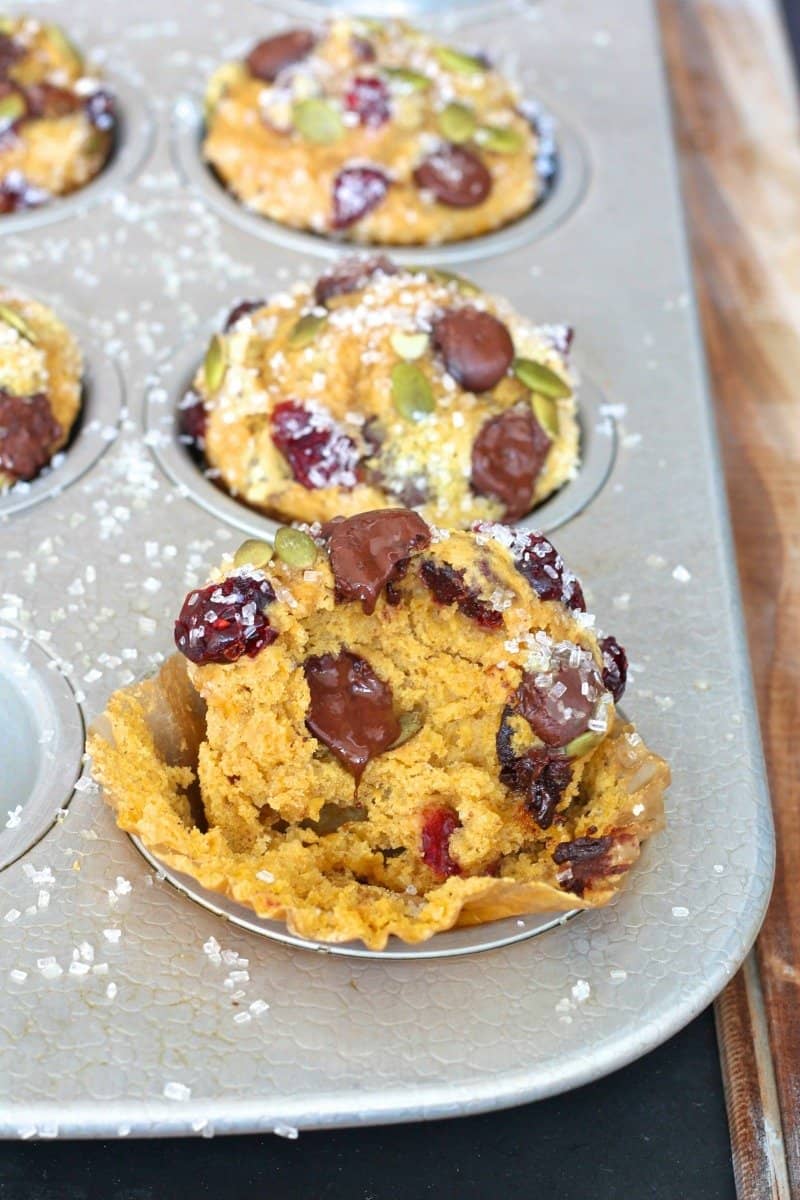 Let's not let go of fall just yet, y'all! Happy Baking!
Enjoy!
~Maegan
[printfriendly]
Pumpkin Cranberry Dark Chocolate Muffins
Ingredients:
2 cups all-purpose flour
2 teaspoons baking powder
1 teaspoon cinnamon
1/4 teaspoon salt
1-1/4 cups pure pumpkin
2/3 cup light brown sugar
3 tablespoons canola oil
1 teaspoon vanilla
1 large egg
1/2 cup pumpkin seeds
1/2 cup dried cranberries
1/2 cup dark chocolate chips
white sparkling sugar, for garnishing
Directions:
1. Preheat oven to 375°F. Line a 12-cup muffin pan with muffin liners and set aside.
2. In a large bowl, whisk together the flour, baking powder, cinnamon and salt. In a medium bowl, whisk together the pumpkin, brown sugar, canola oil, vanilla and egg.
3. Stir the wet ingredients into the dry ingredients until just combined. Add the pumpkin seeds, dried cranberries and dark chocolate chips. Stir until evenly distributed throughout the batter.
4. Divide batter among prepared muffin cups, filling each one almost full. Garnish with additional pumpkin seeds, dried cranberries and dark chocolate chips, if desired. Sprinkle the top of the batter generously with sparkling sugar. Bake for 20-25 minutes or until a toothpick inserted in the middle of the muffins comes out clean. Let muffins set in the pan for 10 minutes before removing to a wire rack to cool completely.
Servings: 12
Prep Time: 10 minutes
Baking Time: 20-25 minutes
Total Time (start to finish): 35 minutes
[printfriendly]