Fluffy lemon ricotta pancakes bursting with fresh blueberries and made healthier with whole wheat flour. Covered in a fresh blueberry maple syrup, these pancakes are breakfast perfection!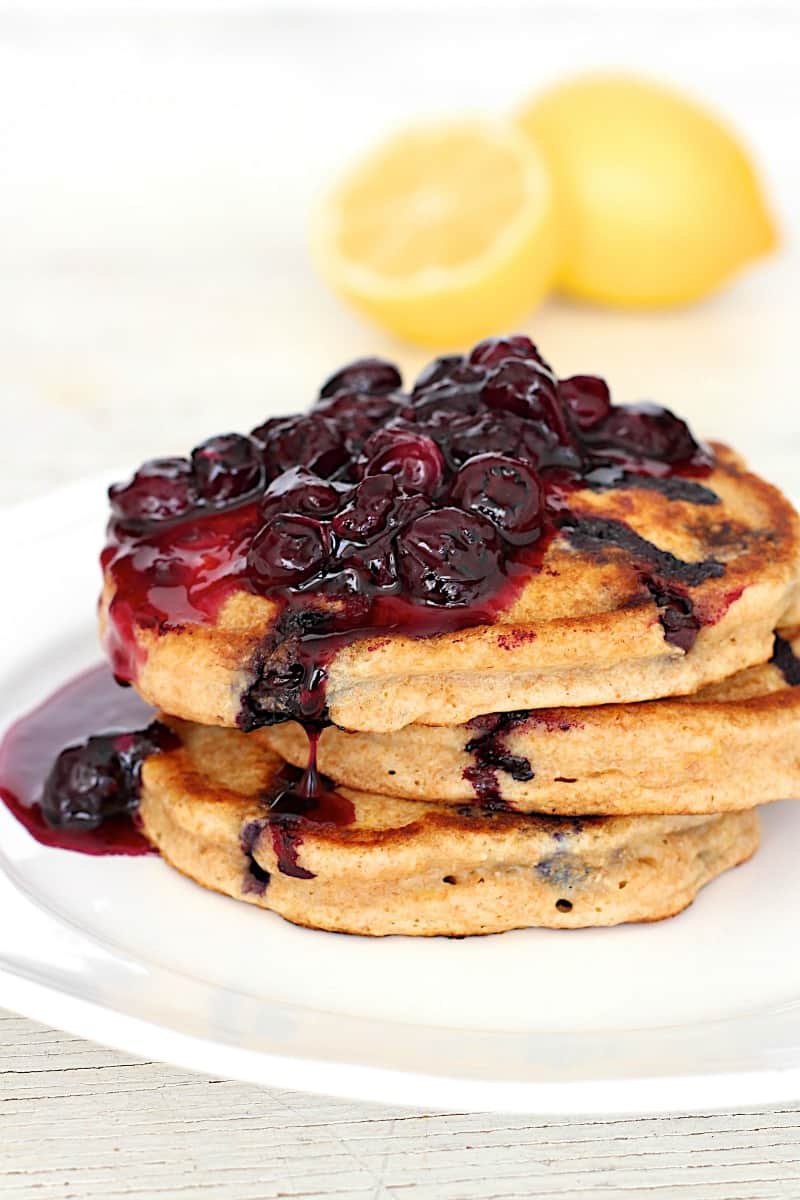 These past few weekends have been fabulous because we've actually been home. Between the holidays and a few vacations, it felt like we hadn't had a low-key weekend at home in months. As much as we love going and doing and traveling, our favorite weekends are the ones spent at home with absolutely no plans. Ones were we can wake up leisurely, lounge around in our pjs and whip up an awesome breakfast before heading to the park to play the day away. That's what we call a perfect weekend!
A few Saturdays ago, we were all lounging on the couch watching cartoons when the boys put in a request for pancakes. No problem. Instead of our usual whole wheat banana pancakes, I decided to switch things up and use some leftovers from our date night in the night before to create a fresh pancake recipe that hopefully the boys would all love.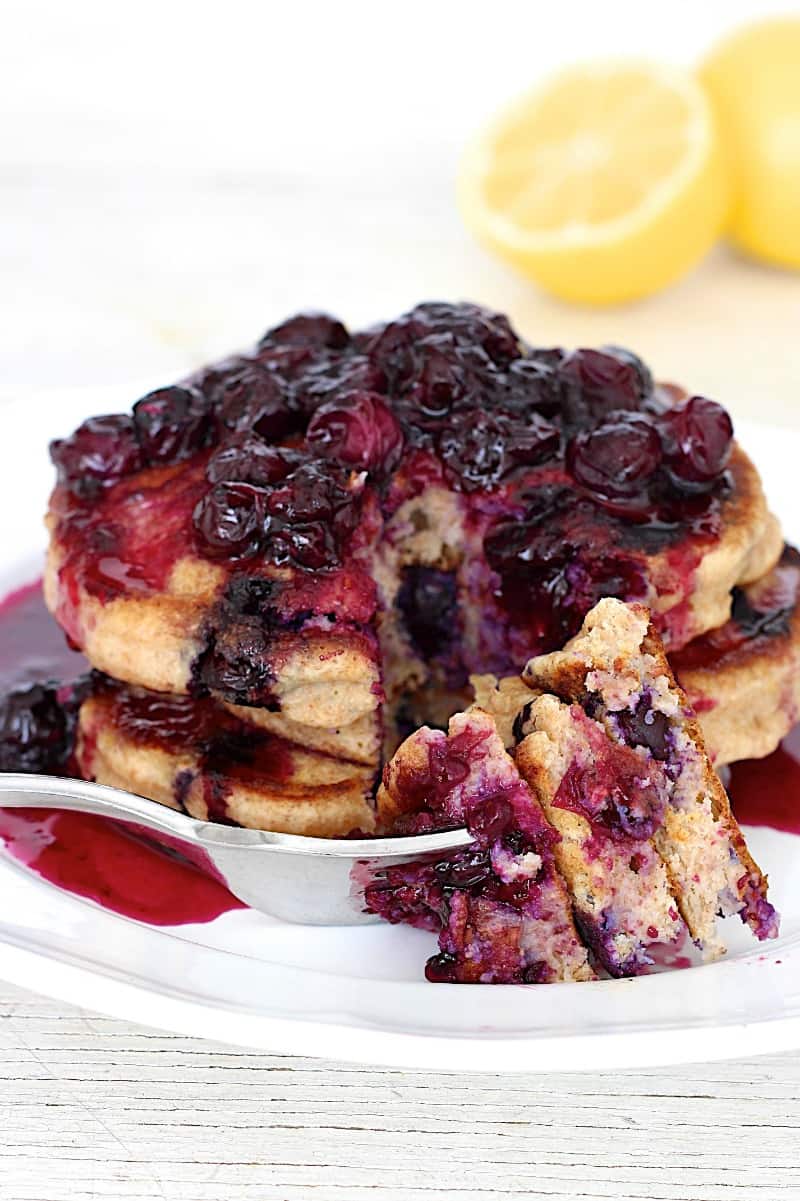 We had lots of lemons leftover from some cocktails we had made and about a cup of ricotta from the whipped ricotta appetizer we had before dinner. So lemon ricotta pancakes it was! I threw in some fresh blueberries because they go so great with lemon and are awesome in pancakes. And I also simmered some blueberries in maple syrup with a little lemon zest and lemon juice for a special syrup that made these pancakes even more scrumptious.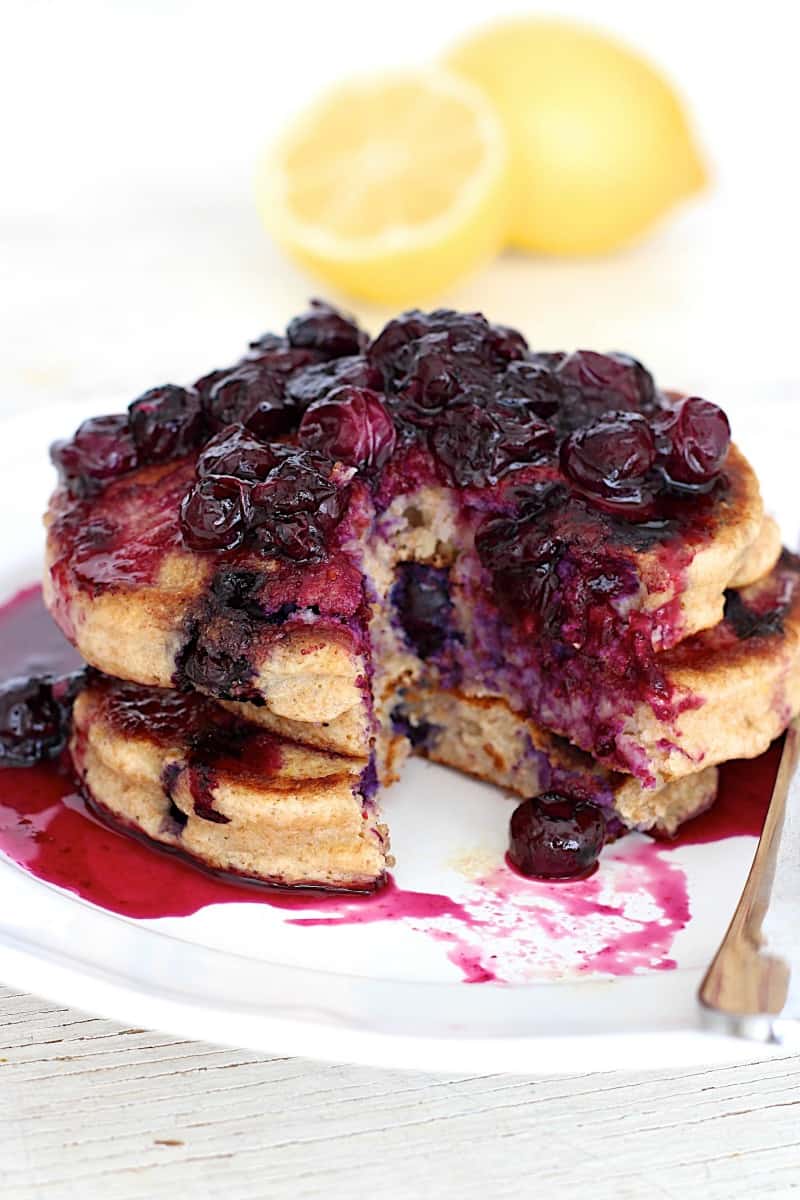 The pancakes alone are moist, fluffy and full of flavor from the lemon zest and lemon juice. The boys just ate them plain without any syrup and kept begging for more. Brandon and I love the warm blueberry syrup so much that we could've just drank it straight, but pouring it over the pancakes just completed them.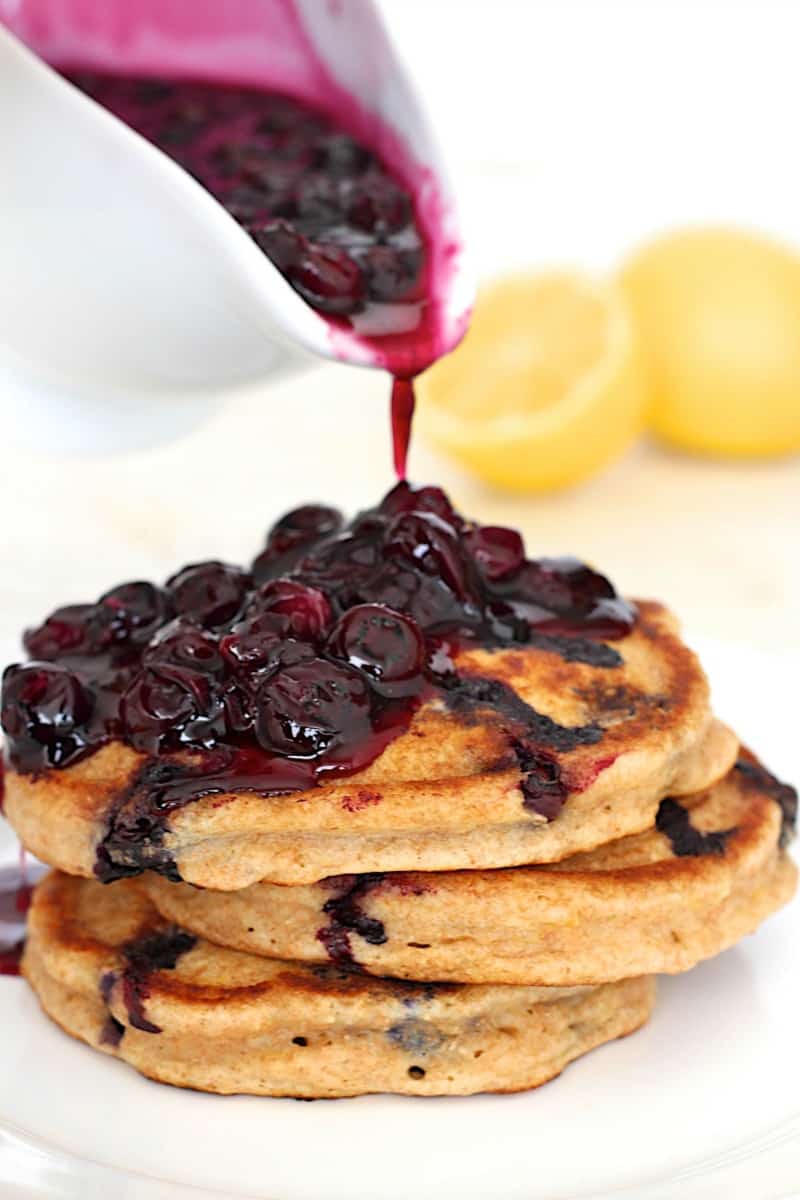 These pancakes were such a huge hit with the family that the boys actually requested them the next weekend and then I made them again to share the recipe with y'all so we've pretty much been living off of them for weeks and nobody's complaining. 😉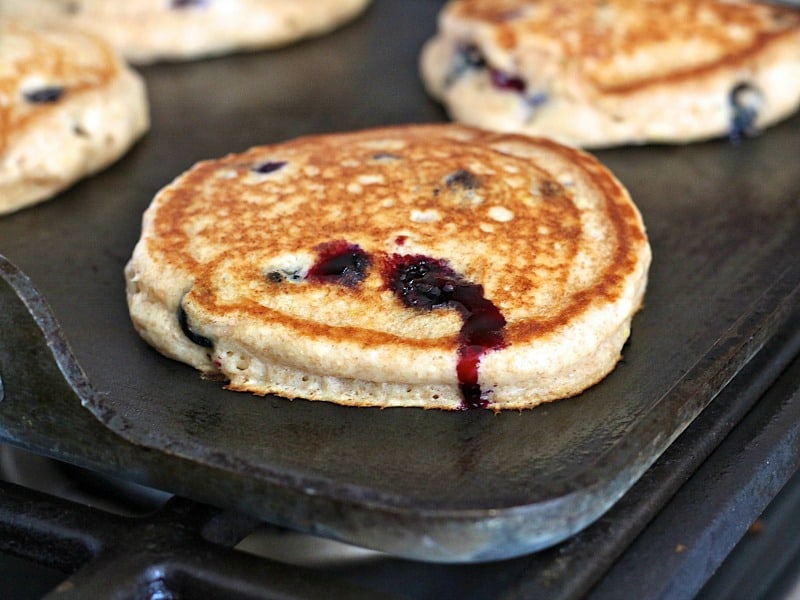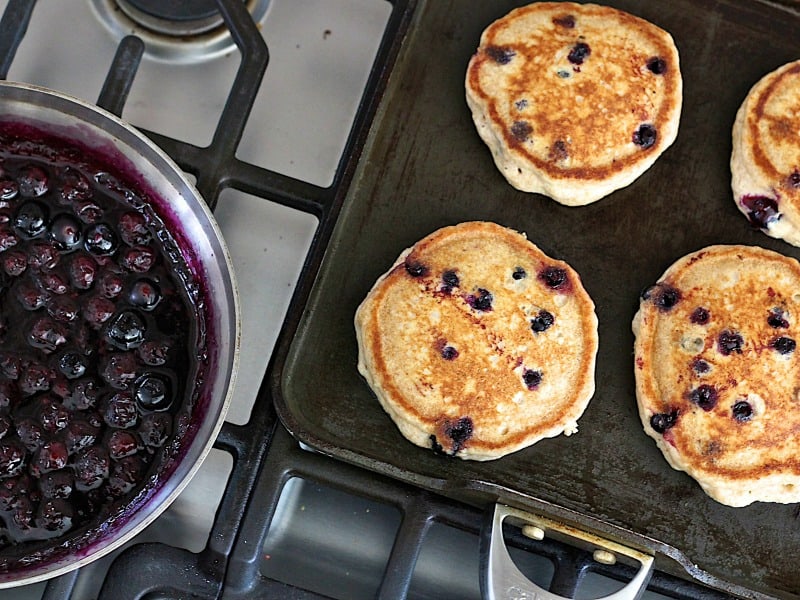 Such an easy recipe that you can enjoy with your family on a lazy Saturday morning or with friends during a fabulous Sunday brunch. They're amazing!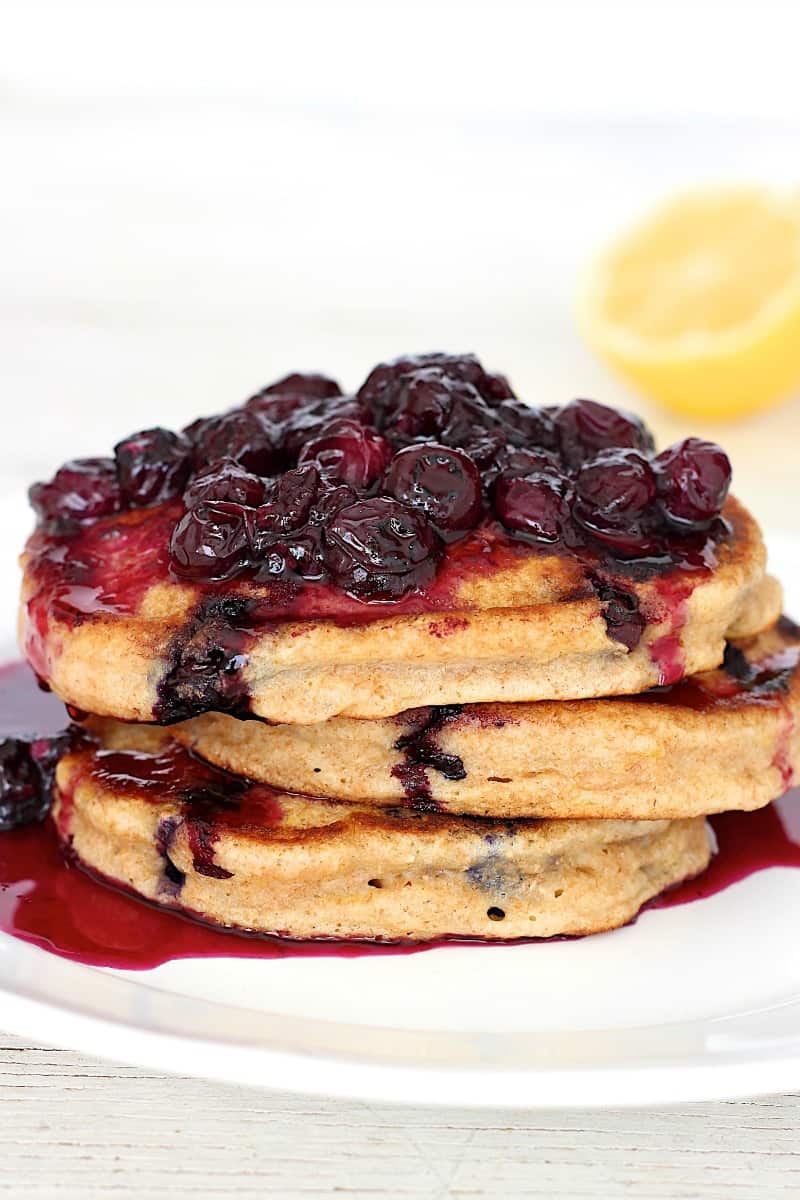 Enjoy!
[sig]
Print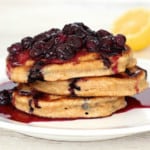 Whole Wheat Blueberry Lemon Ricotta Pancakes
Author:

Prep Time:

10 mins

Cook Time:

20 mins

Total Time:

30 mins

Yield:

1

4

1

x

Category:

Breakfast
---
Description
Fluffy lemon ricotta pancakes bursting with fresh blueberries and made healthier with whole wheat flour. Covered in a fresh blueberry maple syrup, these pancakes are breakfast perfection!
---
Pancakes:

1

–

1/2

cups whole wheat flour

1/4 cup

granulated sugar

1 tablespoon

baking powder

1/4 teaspoon

salt

3

large eggs

1 cup

skim milk

1 cup

part-skim ricotta cheese
zest & juice of 1 large lemon (or 2 small lemons)

1

–

1/2

cups fresh blueberries
Syrup:

1 cup

fresh blueberries

1/2 cup

pure maple syrup, divided
zest & juice of half a large lemon
---
Instructions
In a large bowl, whisk together the flour, sugar, baking powder and salt.
In a separate bowl, lightly beat the eggs. Whisk in the milk, ricotta, lemon zest and lemon juice.
Stir the wet ingredients into the dry ingredients until just combined. Fold in 1-1/2 cups fresh blueberries.
In a small skillet, add 1 cup blueberries, 1/4 cup pure maple syrup and the zest and juice of half a lemon. Let simmer over low heat while you cook the pancakes. The blueberries will start to turn bright and rich in color and some will pop open a bit.
Heat a griddle over medium-low heat. Spray with non-stick cooking spray. Using an ice cream scoop or large cookie scoop, scoop about 1/4 cup batter onto the heated skillet. Let cook until batter just starts to bubble on top. Flip pancakes and continue to cook until pancakes are set in the middle and golden on the outside, about 2-3 minutes per side.
Transfer cooked pancakes to a platter or pan that you can keep in a warming oven while you cook the remaining pancakes. Clean off griddle with a wet paper towel and respray with non-stick cooking spray before the next batch. Continue to cook pancakes until all of the batter has been used.
Stir remaining 1/4 cup maple syrup into the thickened blueberry syrup and then transfer the syrup to a serving dish.
Serve warm syrup over pancakes. Enjoy!
---