A recap of our taste through Chicago filled with over 30 of the tastiest places the city has to offer!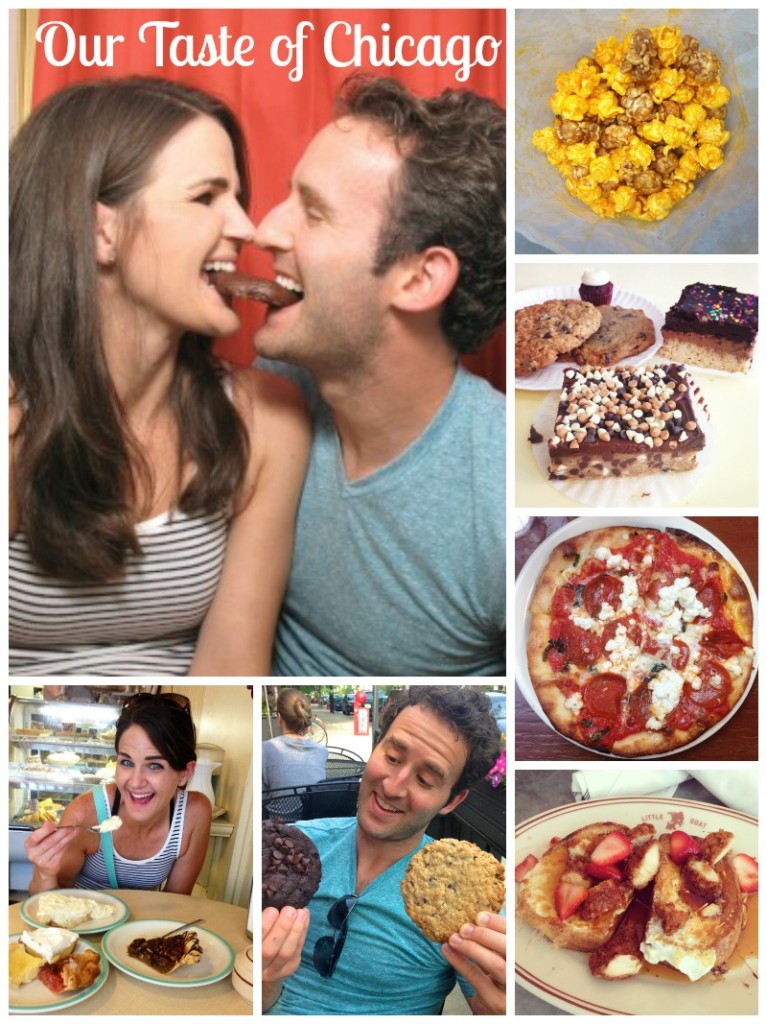 When we travel to a new city, we're usually on a mission to find the best food the city has to offer and try it all! It's what we do and we love it! We spend a lot of time researching and planning before our trips in hopes that we don't miss out on anything amazing and to make sure we plan our time and our tummies to fit it all in!
We have a few rules that we try to follow, with "try" being the key word! Sometimes something is just so great that the rules have to be broken. During the day we have what we call the "2-bite rule". We're usually going from one place to the other all day long and ordering everything that looks or sounds amazing, so we try to keep to our "2-bite rule" with each thing we order so we don't make ourselves miserable. There are certainly times when 2 bites is just not enough or we really want to recreate it at home so more than 2 bites is necessary. We also try to walk as much as possible. If it's a walkable city, we usually have a "no taxi or transportation" rule so we're walking off some of the yumminess as we go! Besides those 2 rules, the city is ours and we get out there to taste it!
Our most recent trip was to Chicago! We packed so much fun and yum into our time there and didn't even make a dent in all the great food the city has to offer! We had been to Chicago several times before, but never on a tasting tour like we do best, so we were pretty pumped! 3 days, 34 stops, and 25.1 miles of walking to get some of the most incredible food the city has to offer!
I live for trying new bakeries to get inspiration and to support other talented bakers out there! It's like going to a museum for me. My eyes light up as I walk into a bakery and drool over all the tasty treats begging for me to try them! And I usually try them all! Several stops on our taste through Chicago were to bakeries. The city is full of them and I couldn't resist trying as many as possible. Here's a list of the ones I tried, what I ordered, and what I loved most about them…
Chicago Bakeries:
Sweet Mandy B's – this one was my favorite! I loved it so much that I went there twice on our trip! It's so cute and welcoming and full of amazing baked goodies! The second time I went, they were handing out free mini cupcakes as we walked in the door. My heart exploded with love for this darling bakery! From cookies to cakes and everything in between, it was amazing! My favorite was the chocolate-covered peanut butter chip brownie, but seriously, everything we tried was incredible! I will be back! J And I'll definitely be recreating several of their amazing goodies at home! (1208 W Webster Ave, Chicago IL 60614)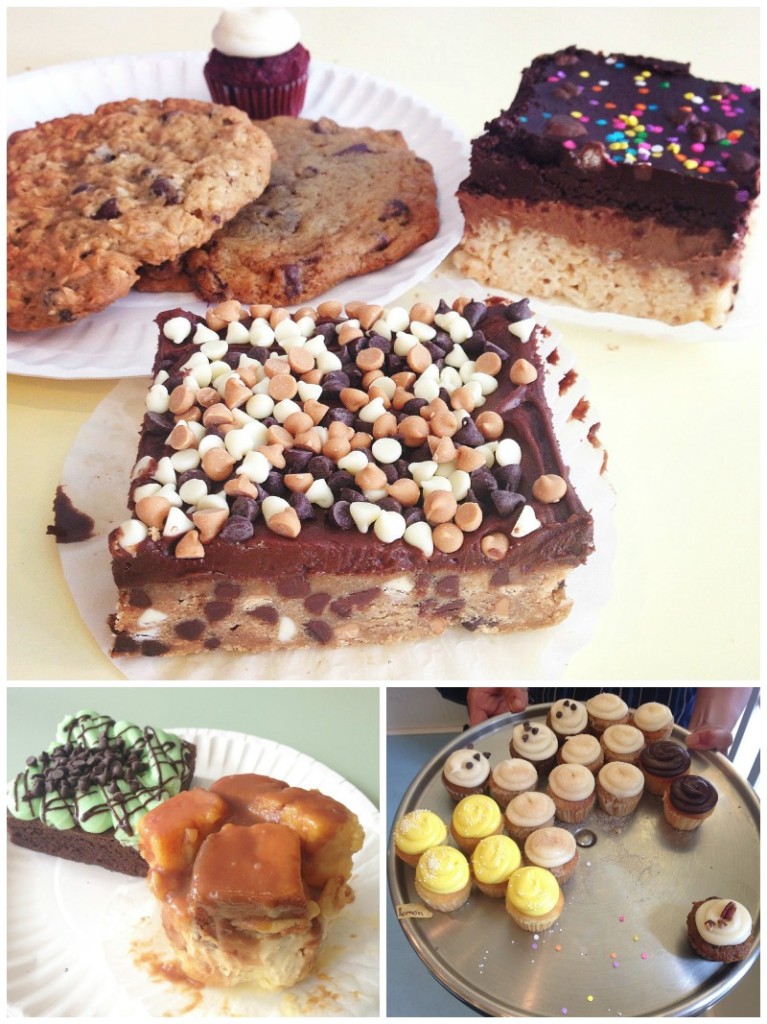 Molly's Cupcakes – I seriously thought I was in a dream at this place! Some of the most creative cupcake flavors I've ever had the pleasure of choosing from. I couldn't believe how amazing these cupcakes were as I bit into each of them. Peanut butter and chocolate ganache came oozing out of one of them and cookie dough was stuffed in the middle of the other. Out of this world delicious! You can totally tell they're scratch-made and made with love! (2536 N. Clark St., Chicago, IL 60614)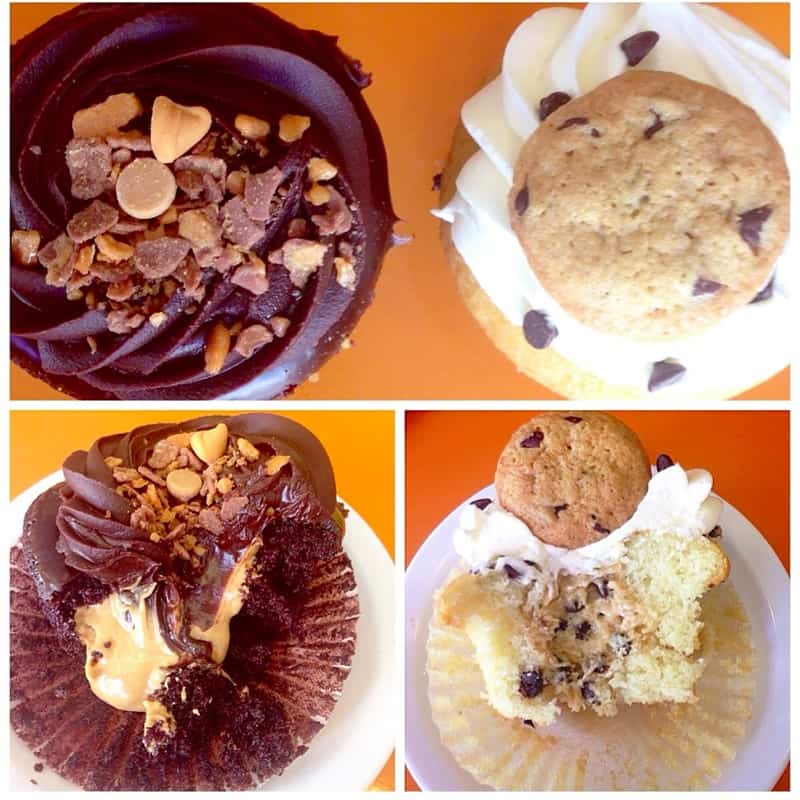 The Twisted Baker – such a cute and cozy little bakery! I could have sat there all day drinking coffee and satisfying my sweet teeth! The chocolate-swirled peanut butter cheesecake was my fave, but the chocolate chip cookie was fantastic and the mini banana chocolate chip cupcake was two bites of pure bliss. Loved this little bakery! (1543 N Wells St, Chicago, IL 60610)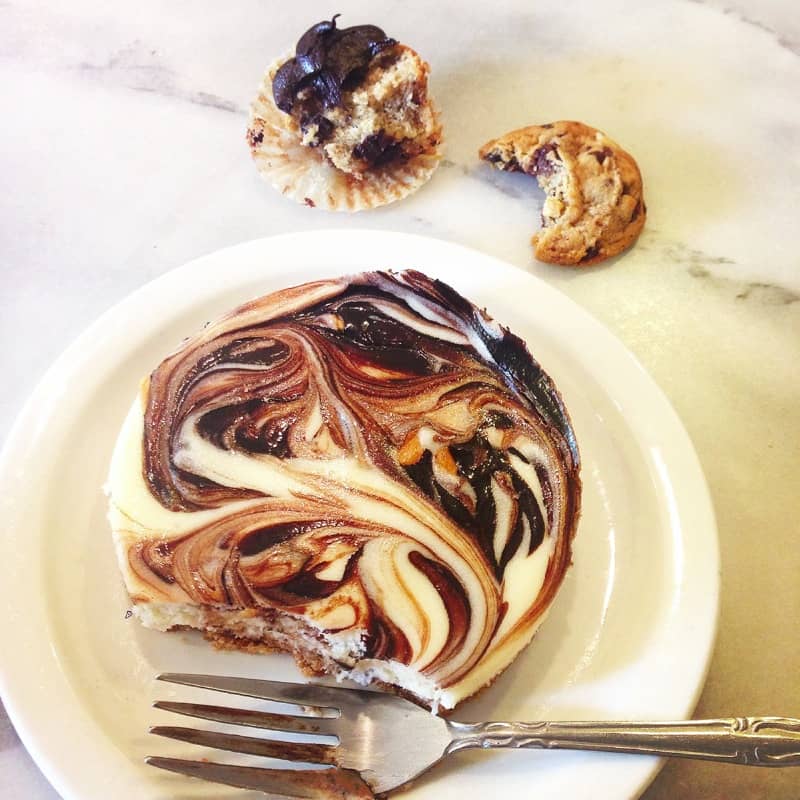 Hendrixx Belgian Bakery – this is such a stylish little bakery with so many beautiful pastries and sweet treats to choose from. I could tell there is true talent behind this bakery as I bit into each of the treats I ordered. The Belgian waffle was sweet and crispy on the outside with a nice chew on the inside. It tasted like a cookie in waffle form and I loved it! The pistachio macaroon was almost too pretty to eat…almost! The flavor and texture was perfect! The chocolate almond croissant was tasty, but could have used a little more chocolate in the middle. I'm a chocoholic, so I set my expectations pretty high when chocolate is involved! Hendrixx's was a treat! (100 E Walton St, Chicago, IL 60611)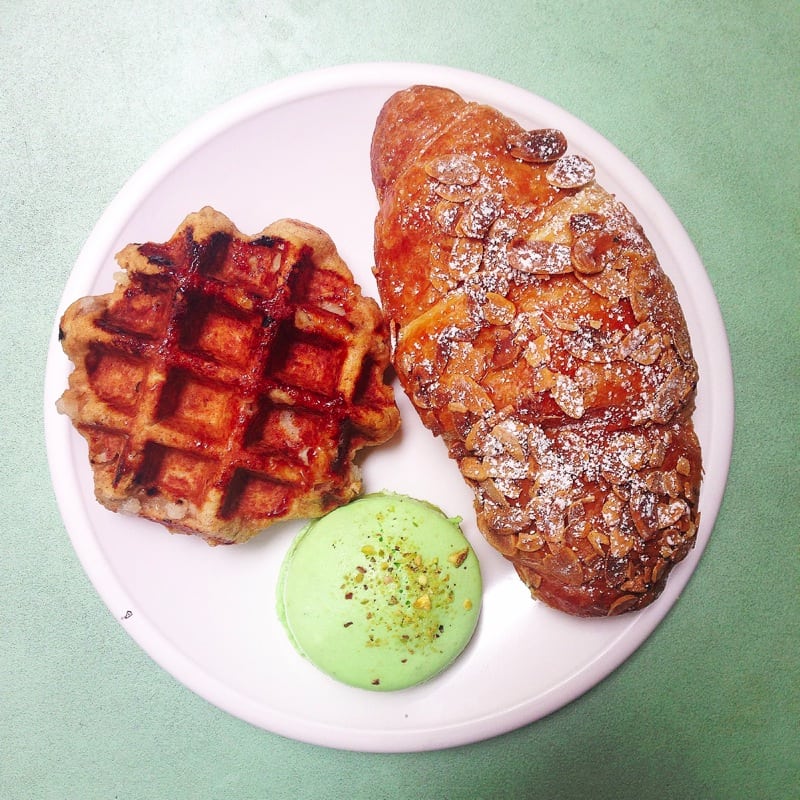 A Baker's Tale – I couldn't help but smile as I walked into this sweet bakery! It was so cute and the goodies were all so creative. We had a hard time narrowing our order down to 3 things because everything looked amazing! We ordered very well though and enjoyed every decadent bite! The peanut butter s'mores cookie with a homemade graham cracker as the base was the most memorable for sure and something that I can't wait to recreate here at home! It was incredible! The mocha tart and chewy peanut butter cookie were amazing as well and we just might have broken our "2-bite rule" on all three of these goodies! A sweet find, for sure! (2127 W. Division St., Chicago, IL 60622)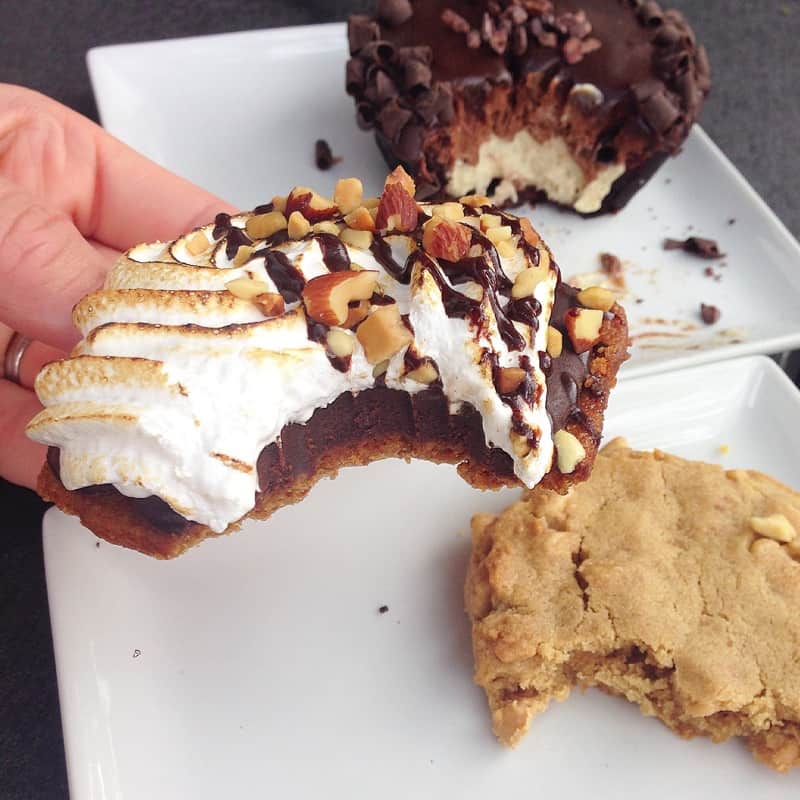 Vanille Patisserie – I just happened upon this fancy patisserie and what a fabulous find it was! Everything was so pretty and perfect that I almost questioned whether it was edible! The sweet girls behind the counter sold me on this Royale Dessert and they were so accurate in describing its amazingness. Each bite was pure bliss! Layers of hazelnut crust, chocolate mousse, salted caramel, dark chocolate ganache…need I say more?! Amazing! I would love to go back and try all the other pretty pastries they had to offer! (2108 N. Clark St., Chicago, IL)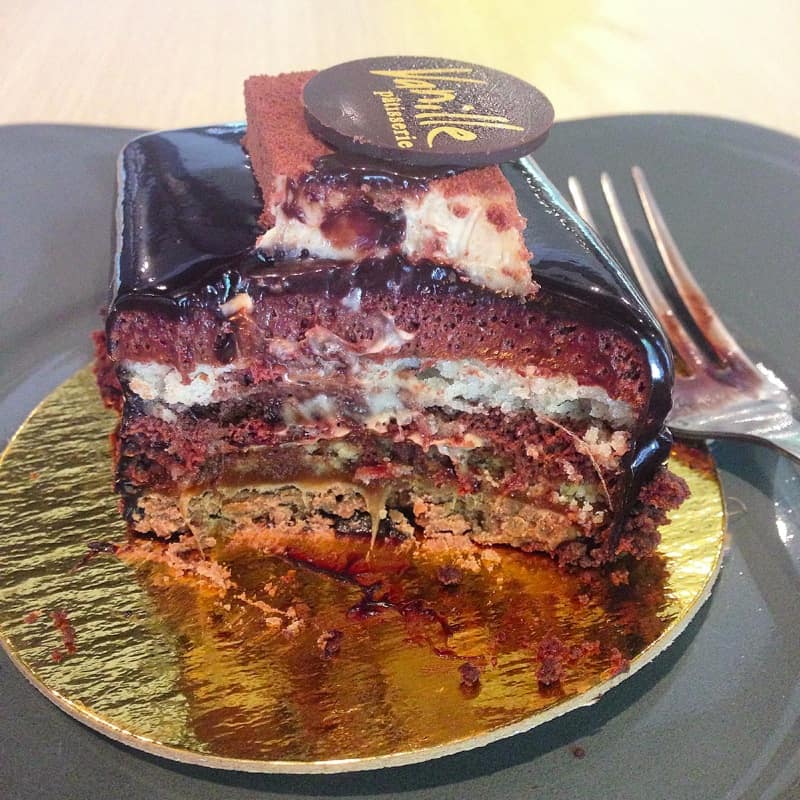 Little Goat Bread – If you're a foodie, you've more than likely heard of The Girl & The Goat, but you may not know about her little diner and bakery across the street. What a gem this place is! We hit up the bakery first while we waited for a seat to order some brunch from the diner. We ordered pretty much one of everything the bakery had to offer! Goat cheese bagel, blueberry & fennel scone, lemon & chocolate scone, strawberry banana gluten-free muffin and some crazy good cookies…oh my! The bakery bar is take-out only, but we lucked out and found some standing room at the diner bar to taste them with our iced latte while we waited on our brunch. The little goat sure knows how to bake! Everything was great! (820 W. Randolph St., Chicago, IL 60607)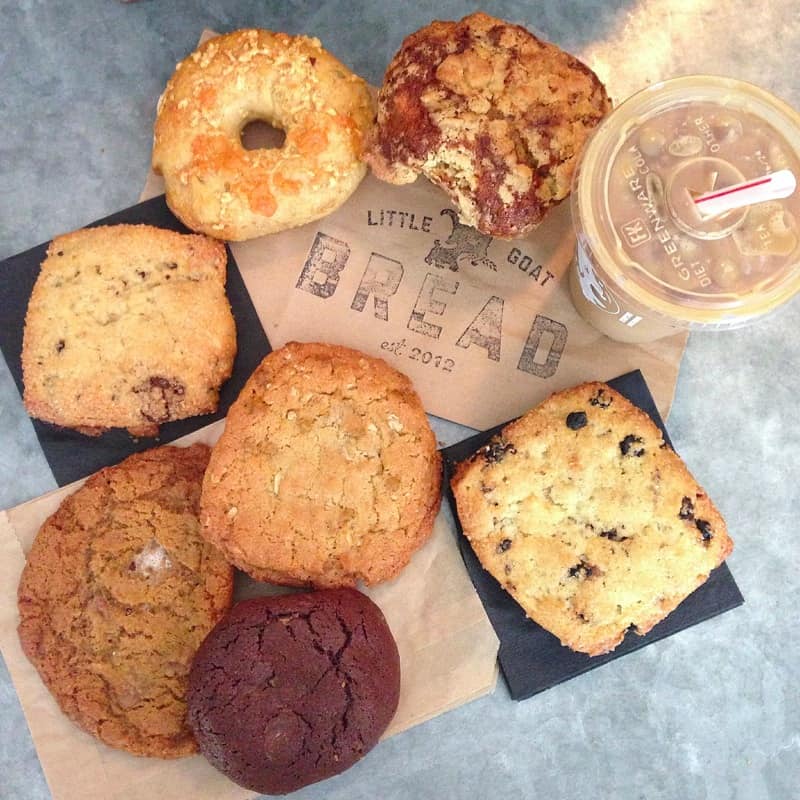 West Town Bakery & Diner – another bakery we were just walking by and happened to glance in and spot baked goodies as far as the eye could see. Before we knew it, we were sitting down with a tray full of tantalizing sweet treats. Everything looked so tasty, we couldn't decide where to begin?! The fillings and toppings and coatings and flavors were all so so yummy! We were blown away and surprised this little find wasn't on our radar. I'll definitely be recreating the French toast cake balls and the peanut butter-filled long john. Such a sweet find! (1916 W. Chicago Ave., Chicago, IL 60622)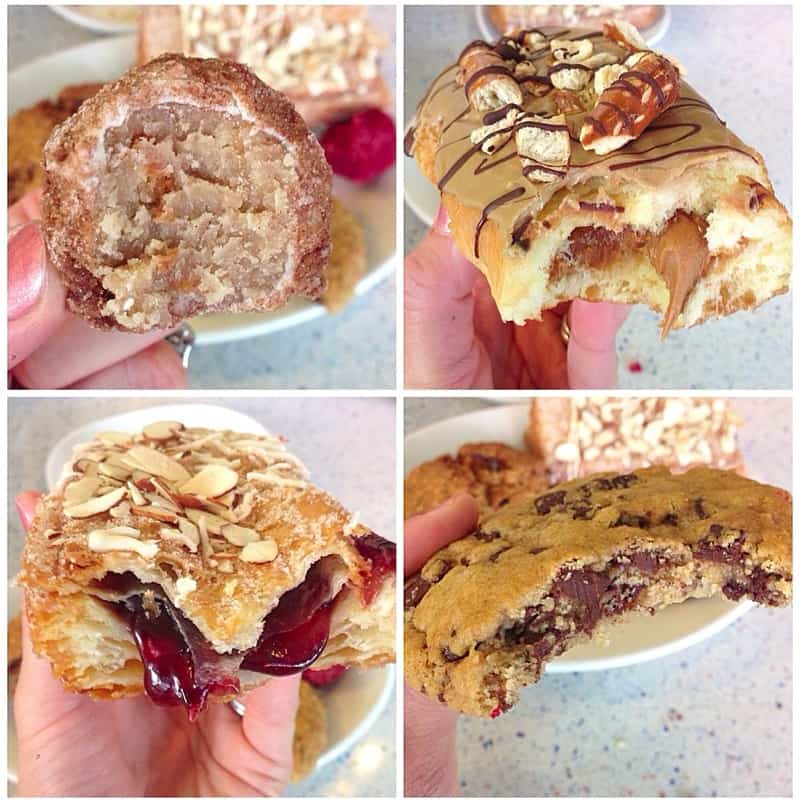 Hoosier Mama Pie Company– I was so excited when we finally stepped foot into this cozy little pie place. We were greeted by friendly faces, a few little antique tables and a glass case full of pretty pies. We saw they had a pie flight so we signed ourselves up for that along with a few other slices we couldn't resist. It was pie time and we were pumped! Oh me! Oh my! It was some tasty pie! Banana cream was our favorite, followed by chocolate pecan, ginger custard, orange cream and strawberry rhubarb. This place is just full of comfort and yumminess! (1618 W Chicago Ave, Chicago, IL 60622)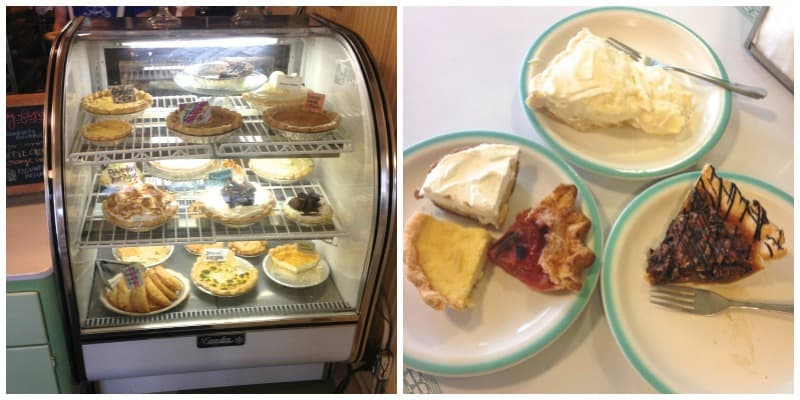 Other Sweet Treats:
Black Dog Gelato – This gelato shop blew us away! Without a doubt the best gelato we've had in the United States and quite possibly better than anything we've had in Europe. So so amazing! The flavor options were so creative and complex! We tried almost every single flavor before we realized we were holding up the line and needed to decide on two. Such a hard decision because we loved them all! We went with goat cheese cashew caramel and strawberry balsamic. Heavenly! From now on, we will compare all gelato we eat to Black Dog Gelato. It's gonna be hard to beat! Run; don't walk, to this place! It's so amazing! (859 N. Damen Ave, Chicago, IL 60622)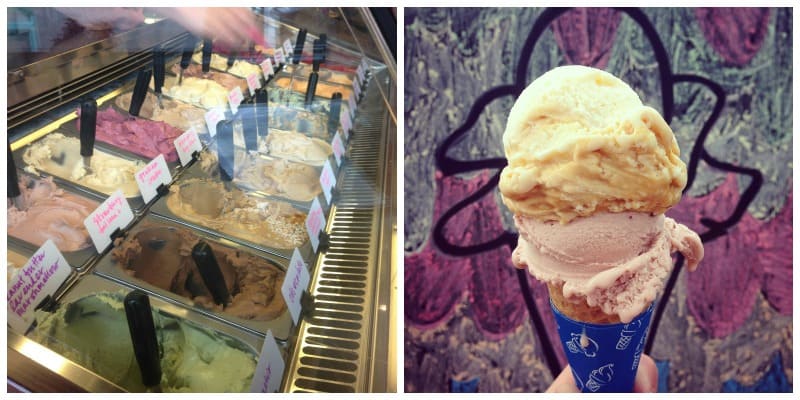 The Fudge Pot – a classic candy shop full of fudge and chocolates and caramel apples and all kinds of candies. I asked what their most popular item was and without hesitation she grabbed a thick piece of toffee the size of my head! I could hardly wait to sink my sweet teeth into it. It was a gorgeous day, so I sat outside by this cute old-fashioned mural along the brick wall of the candy shop. Some of the tastiest toffee I've ever eaten. And without hesitation, half of it was gone. It was so great! (1532 N. Wells St., Chicago, IL 60610)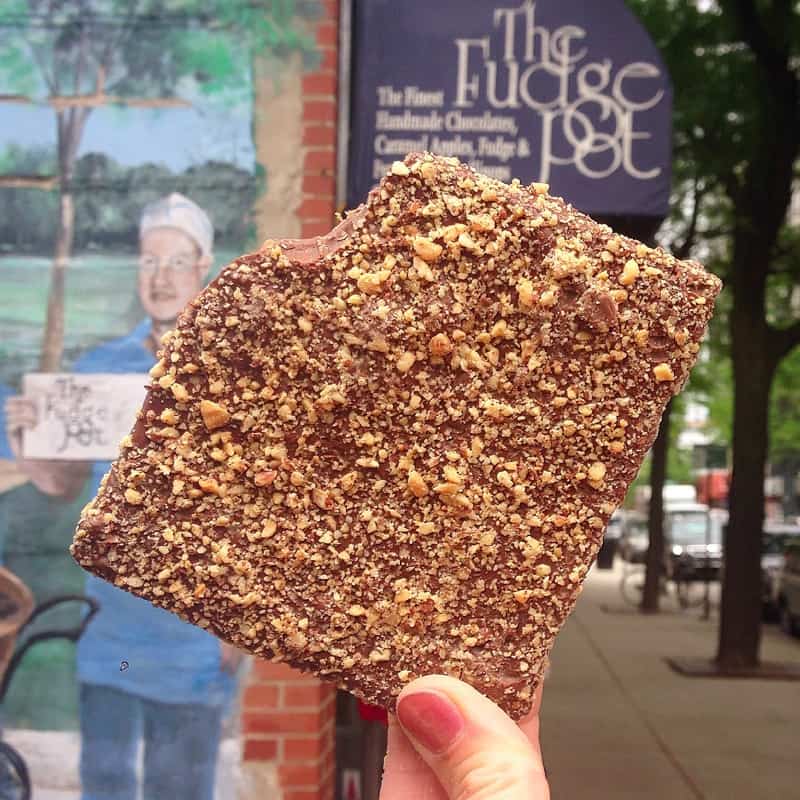 Green City Farmer's Market – on Saturday, we made our way to the farmer's market in Lincoln Park. Tons of tents with lots of fresh local produce and goodies. It was so fun just leisurely walking through and tasting a little of this and a little of that. I had heard there was a place called Carnitas & Cookies that was always set up at the farmer's market and we couldn't wait to try it. What a great combo! The cookies were awesome (especially the iced bacon one!) and the carnitas taco was perfect! Mmmm! We also tried a rhubarb loaf and a whole-wheat pretzel from a few bakeries that were there. Always love a good farmer's market, and this was a great one! (Lincoln Park)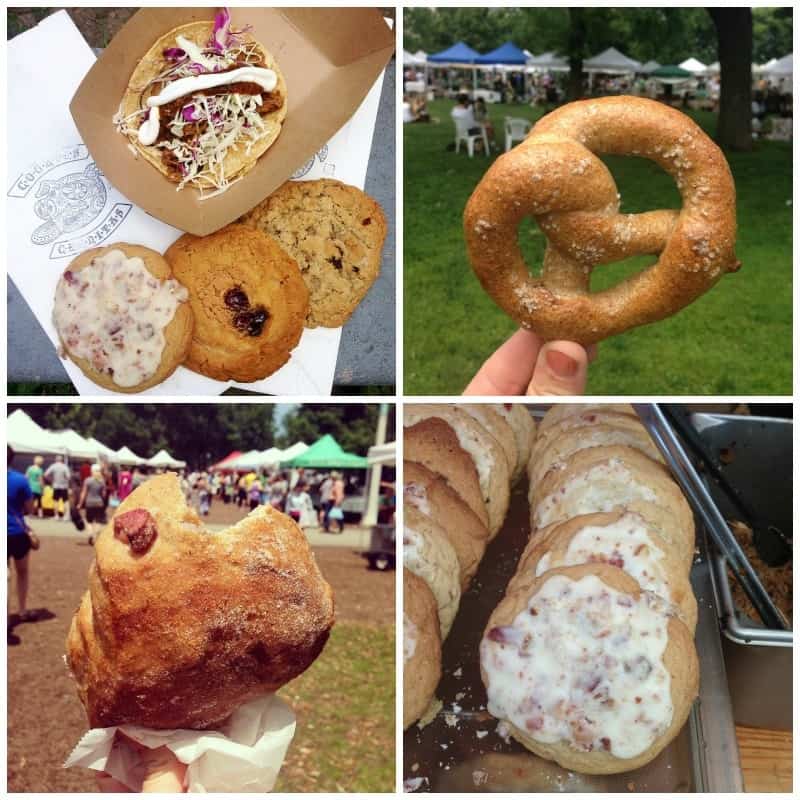 Dollop Coffee Company – we met up with some friends for coffee on that Saturday morning and this cool coffee shop was hip & hopping! Of course, I ordered the Nutella mocha and a cookie for breakfast, because that's what I do! Who says you can't have cookies and chocolate for breakfast?! We also ordered the tasty looking cinnamon chip scone that was love at first bite. Pretty sweet way to start a Saturday! Loved it! (4181 N Clarendon Ave, Chicago, IL 60613)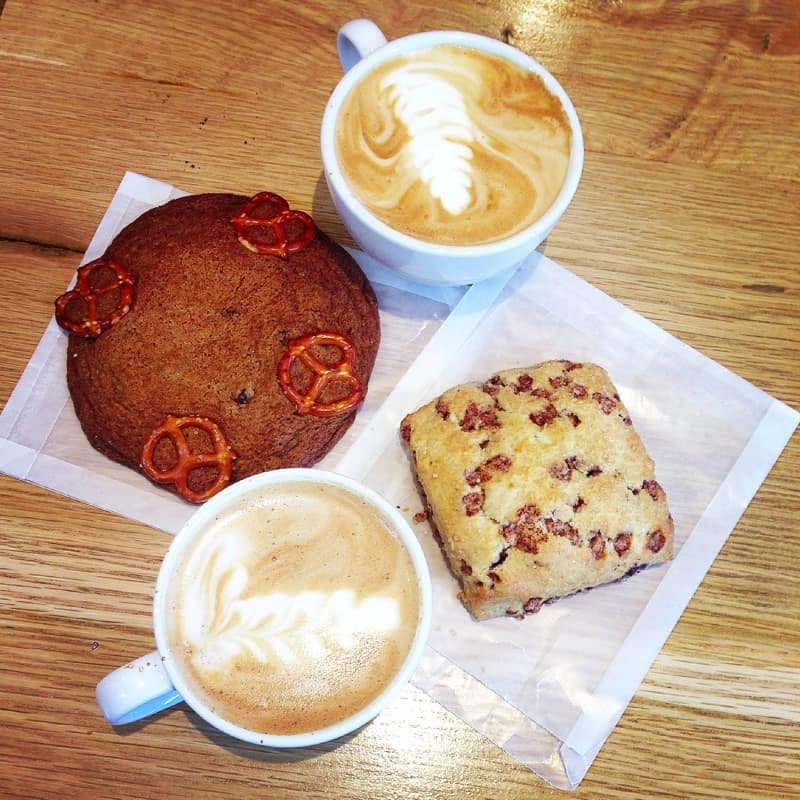 Garrett Popcorn – we promised Baker we would bring him back some popcorn, so we just had to stop by Garrett's! 😉 It's a Chicago classic and they definitely know how to pop some perfect corn! The Chicago mix of cheddar and caramel corn is a no-brainer, but the caramel cashew crisp won me over! Amazing and addicting! It's a must if you're strolling the magnificent mile!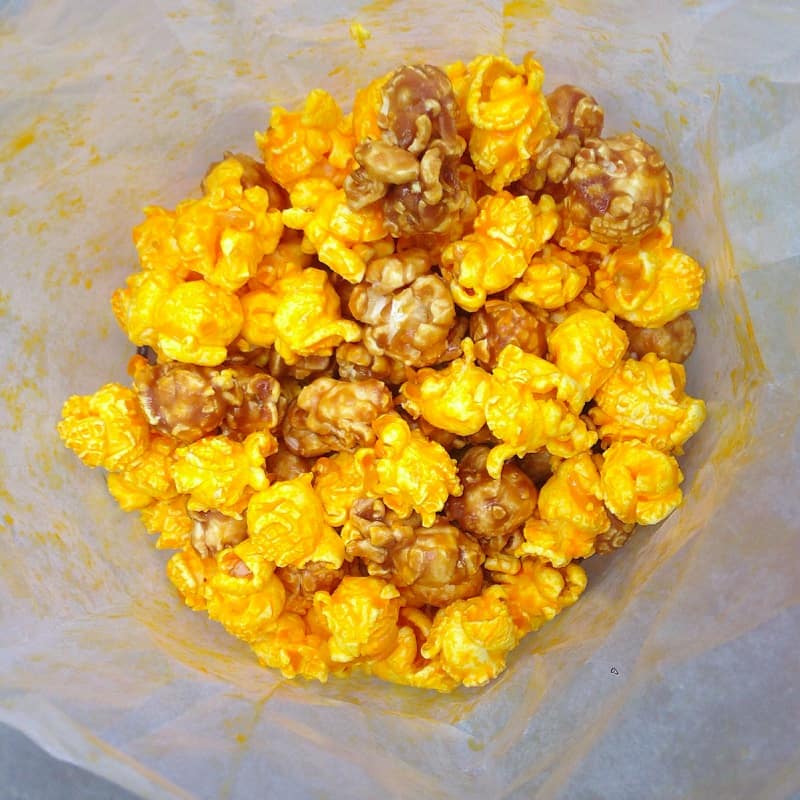 Mindy's Hot Chocolate – we timed our visit to Mindy's perfectly. It was a hot day, but a storm was moving in so the temps started to drop a bit and sprinkles started to fall so a cup of hot chocolate sounded so comforting. Dark hot chocolate with a floating scoop of espresso ice cream to be exact! So rich and delicious! We couldn't leave Mindy's without trying all of her cookies either! She's known for her brilliance in baking, so I was honored to taste them. Such thoughtful flavors with high quality ingredients made them extra special. We savored every bite! What a treat, Mindy's was! (1747 N. Damen Ave., Chicago, IL 60647)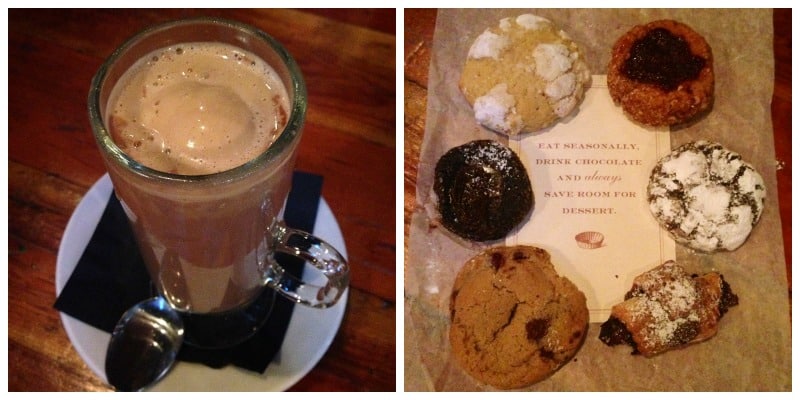 On Saturday, we set out to discover some of the best pizza Chicago has to offer. We've had the Chicago-style deep dish from all the famous places so we decided to hunt down some of the best non-Chicago-style pizzas in the city. We snuck one deep dish in for a well-rounded pizza tour win! Here goes…
Chicago Pizza:
Piece Pizzeria & Brewery – this place cranks out pizza after pizza in their busy bustling brewery and they do it very very well! The place was packed in the middle of the afternoon and after one bite of their pizza, we knew why! A thin crust that's crispy but still chewy and covered in fresh ingredients with lots and lots of cheese. Perfection! (1927 W. North Ave., Chicago, IL 60622)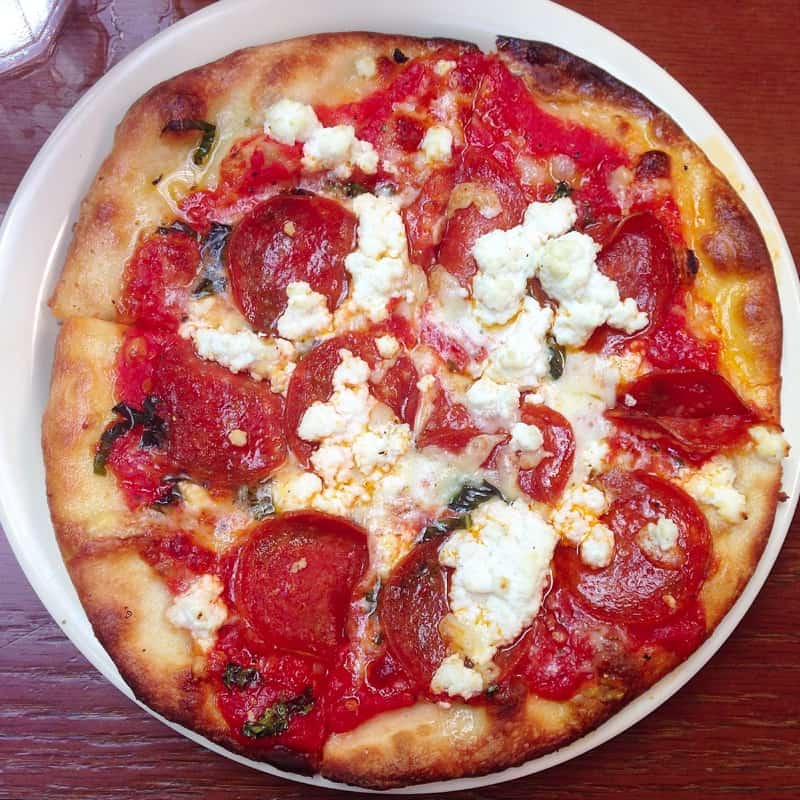 Homeslice Wheel House – we just happened upon this place, as we smelled the garlic and the crusts baking from a block away. And we're so thankful we did! Such a cool vibe serving up some awesome pizza! The thin, crispy, bubbling crust was absolutely amazing and the toppings were so full of freshness and flavor. Loved it! (938 W Webster Ave, Chicago, IL 60614)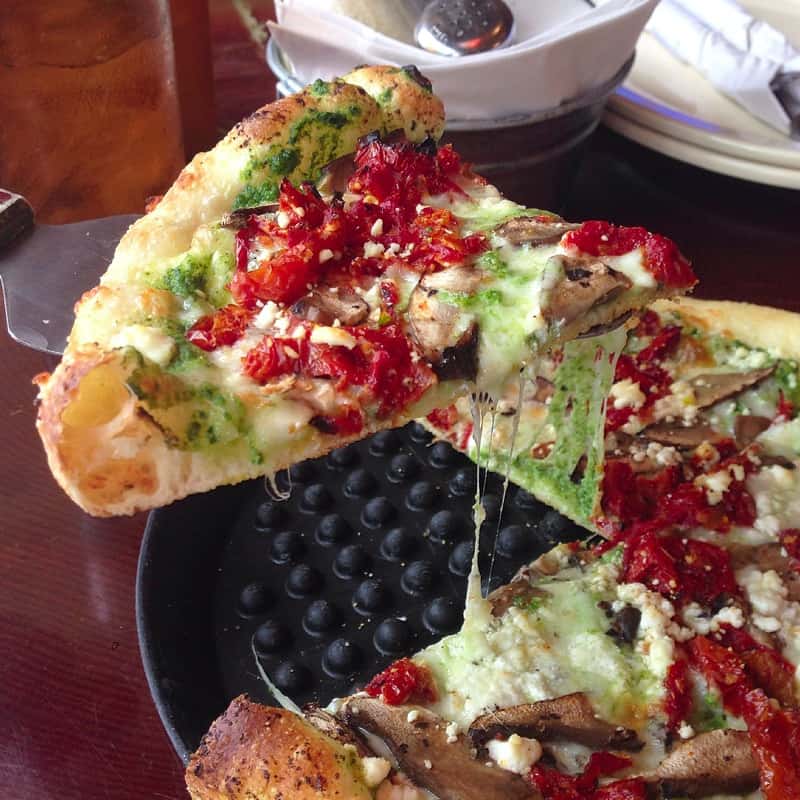 Pequod's – we had heard great things about this pizza joint so we had to give it a try. The service wasn't so great, but the cheesy greasy goodness of the pan pizza made up for it. The crust was so flavorful from the seasoned skillet it was baked in and all the cheese and meats were indulgent and delish! We tried the thin crust as well, but we kinda wished we hadn't because it tasted just like the pizza we were served in the cafeteria as kids. Not very impressive! Stick to the pan pizza here! It's a winner! (2207 North Clybourn Ave., Chicago, IL 60614)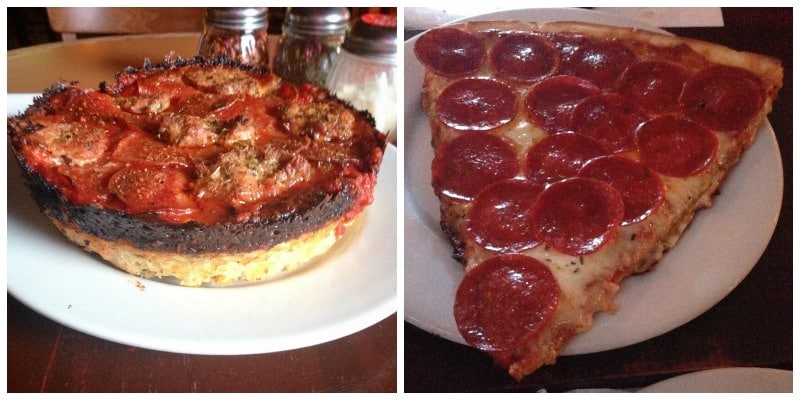 Brick's Pizza – what a cool experience this place is! You walk down this dark hallway to get to the underground restaurant/bar that's dark and serving up this cracker thin crust pizza that could still hold up to tons of tasty toppings. It's definitely different, but stands out in a great way! (1909 N Lincoln Ave, Chicago, IL)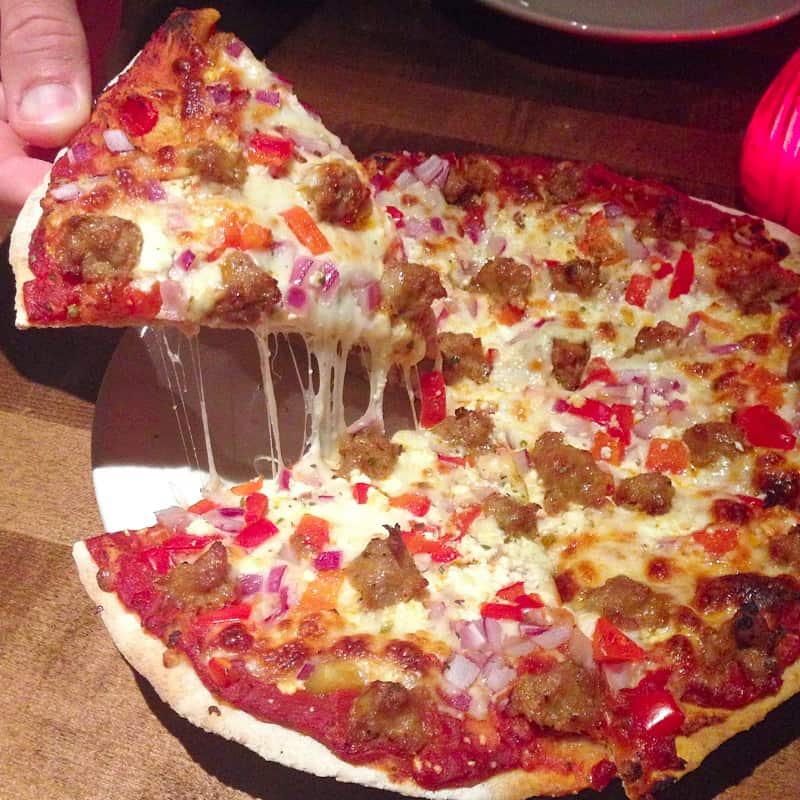 Dimo's Pizza – the last stop on our pizza tour was to this fast-casual pizza place serving up pizza by the slice that's topped with some of the most interesting yet exciting toppings we've ever seen. We went with BBQ chicken bacon ranch and the mac & cheese! Yes…mac & cheese on a slice of pizza! Crazy, right?! It was actually pretty darn good! I felt like a kid again as I was eating it and enjoyed every bite! Tasty fun! (3463 N Clark St, Chicago, IL 60657)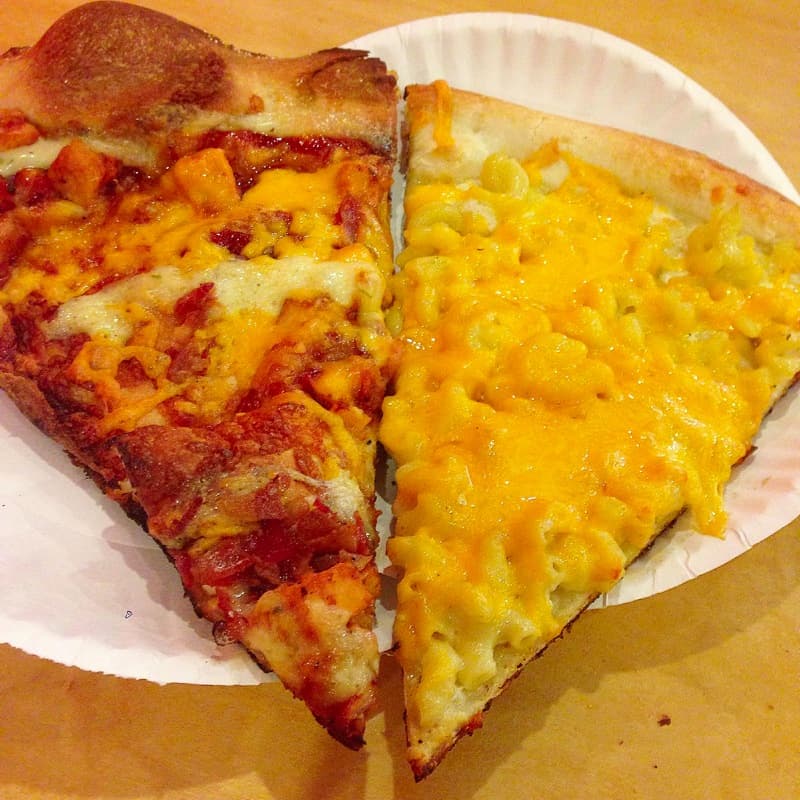 Each night, we hit up some great restaurants to try some of the more gourmet food of the city. One night we even went on a little progressive dinner to three different restaurants with a movie break in between two of them so we could make room for the last one! Get ready for some delicious dishes…
Chicago Restaurants:
Avec – Avec was nothing short of amazing! From the service to the sweets, it was one of the most enjoyable dining experiences we've had. The communal tables make you fell welcome and all of the food was wonderful. We could tell that so much thought and passion went into every dish we ate. What we ordered: bacon wrapped chorizo-stuffed dates, sugar snap pea tabbouleh, whipped brandade, chicken liver crostini, ricotta-filled truffle focaccia, housemade nutter butters (mmmm!), & chocolate hazelnut budino. The bread they serve was some of the best we've ever had. Toasted to perfection with a little garlic and oil. Unforgettable! (615 W Randolph, Chicago, IL 60661)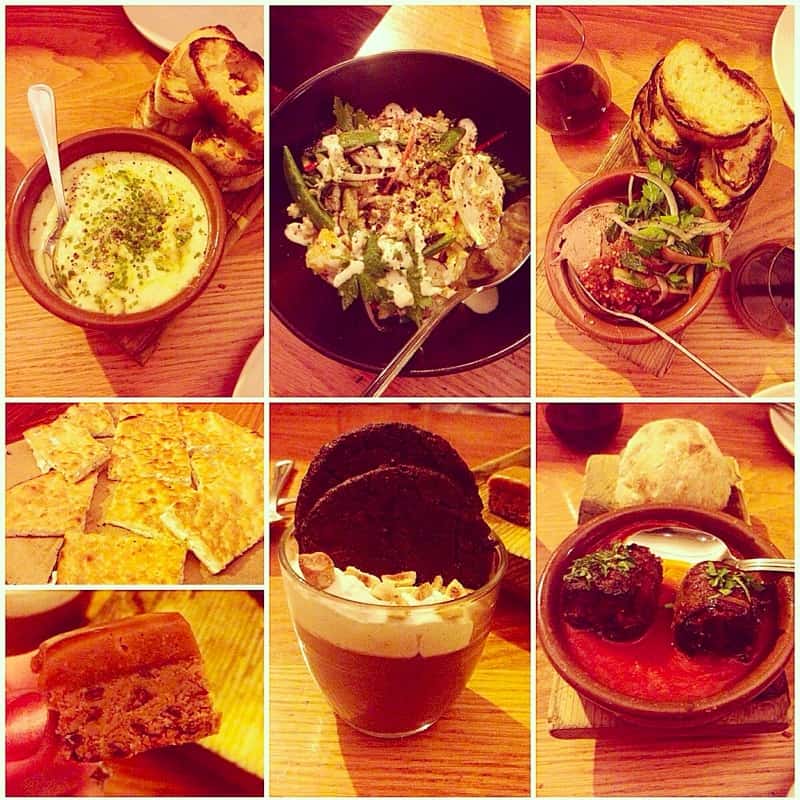 The Purple Pig – This place exceeded our expectation and they were pretty high because we had heard such great things! We ate dinner here at midnight and the quality and service felt as if they had just opened for the evening. We sat out on their patio by the river and it was such an enjoyable experience. One of the best meals we've ever had and one that we'll definitely recreate at home. What we ordered: Greek cornbread, salted greek yogurt balls with strawberry pistachio preserves, fried pig ears with crispy kale and a fried egg, and last but certainly not least, an amazing warm ricotta chocolate-filled brioche. We were dying over how delicious everything was and can't wait to go back someday! (500 N Michigan Ave, Chicago, IL 60611)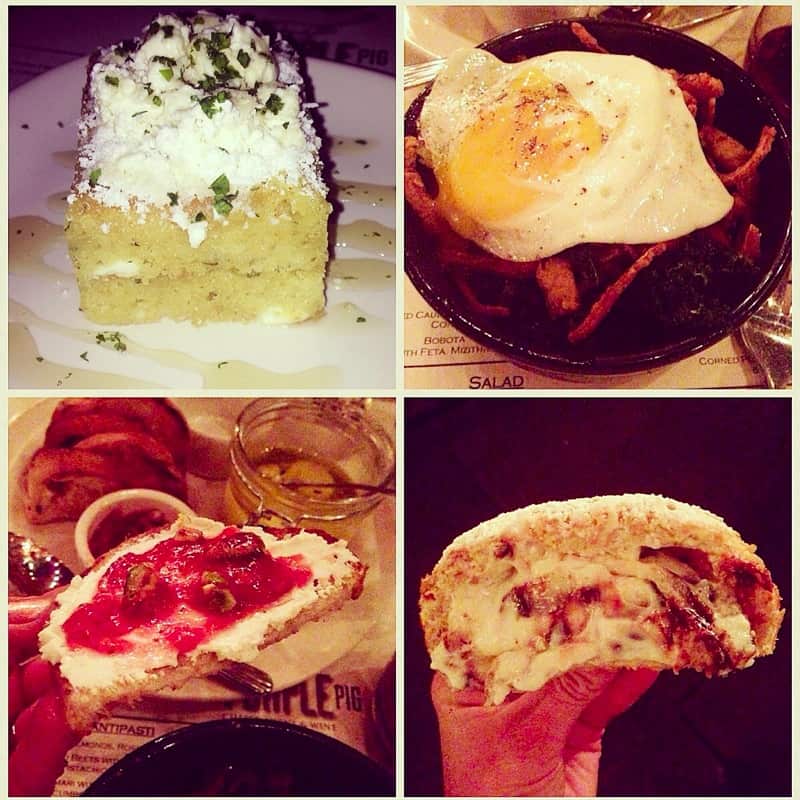 Sunda New Asian – Brandon had been here before, but he loved it so much and knew I would love it too, so he was excited to take me back! The pho was so flavorful and unlike any we've ever had. Wagyu ribeye, bison short rib and bone marrow floated in the flavorful broth with all the traditional pho fixings. Fabulous! We also had these perfect little steamed buns that were filled with crispy duck or pork belly along with a spicy jalapeno infused gin cocktail. Great great place! (110 W Illinois St, Chicago, IL 60654)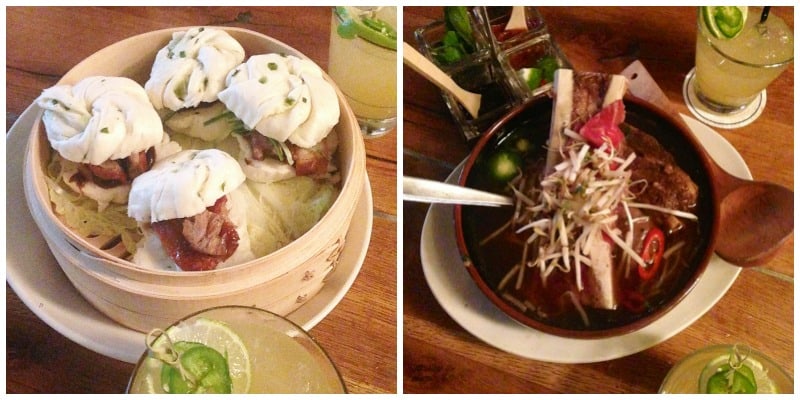 XOCO by Rick Bayless – The line out the door of this place had us very excited with high expectations. It's fast casual with a great selection of Mexican-inspired dishes. The carnitas torta (called Ahogada) sat in a spicy thick tomato and chile broth for dipping was the highlight of our meal here. The torta was simple, but so flavorful. I just wanted to keep dipping and eating, dipping and eating. So so yummy! The chicken pazole was pretty bland so we didn't eat very much of it. Not a big deal because the torta was so big and we wanted to finish it off. The pistachio churro was definitely the winner of the desserts! We had more of XOCO's tortas in the airport before our flight home along with their loaded guacamole and it was awesome! (449 N Clark St, Chicago, IL 60654)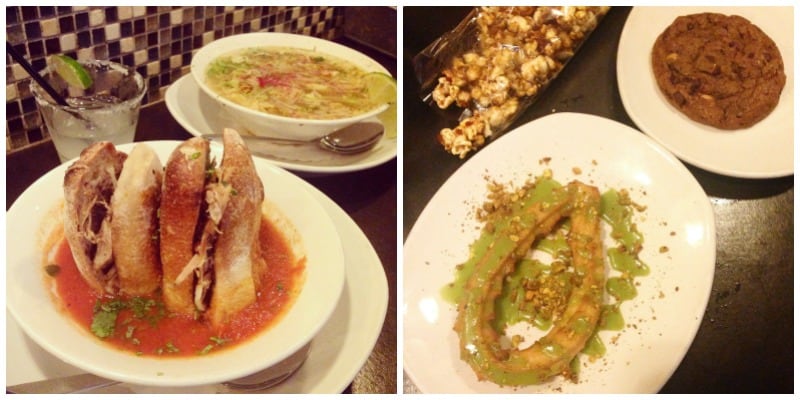 The Little Goat Diner – the wait here was super long around lunchtime on the Friday we were there so we opted to stand at the bar to order the one dish we came for which was the Bull's Eye French Toast. You may want to sit down for this one! A runny fried egg covering a sweet onion brioche drizzled with perfectly fried chicken, sweet strawberries and the most irresistible BBQ maple syrup. Forks down, the best French toast we've ever eaten. Amazing and unforgettable! (820 W. Randolph St., Chicago, IL 60607)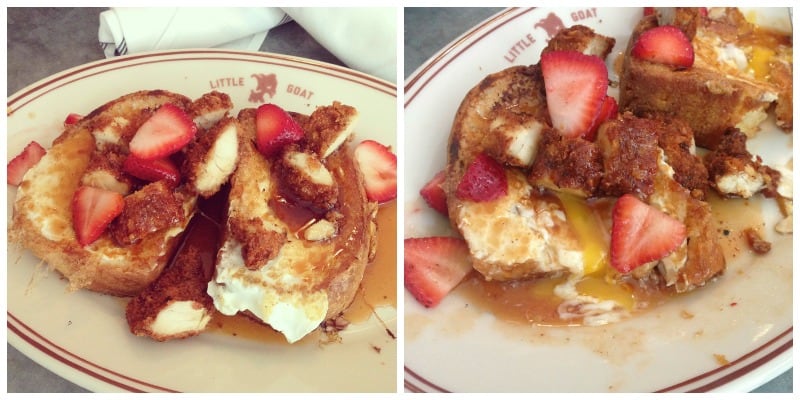 Quartino – this place was bustling on a Friday night from large groups of girls and guys to cute couples on a date night. Definitely a see and be seen type place for locals as well as tourists. We went here with some friends so it was great to be able to share several of their Italian tapas. We started with an awesome salumeria tasting platter full of meats, cheese, olives and spreads. Next up was a pizza topped with meatballs and spicy giardiniera. The caprese salad, truffle risotto, and pesto gnocchi rounded out our savory selections. We're so glad we saved room for dessert because the hot Italian donuts with honey and dark chocolate were to die for! It was a great place to get our Italian fix in a city known for great Italian food. (626 N State St, Chicago, IL 60654)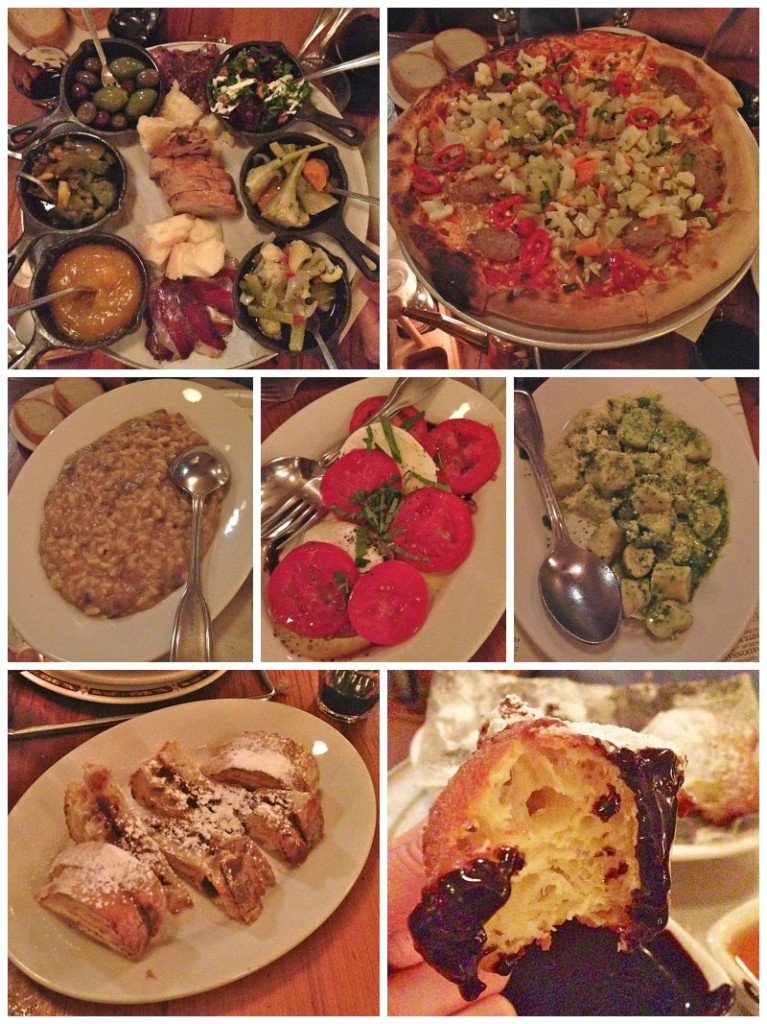 Picante Taqueria– we had eaten so many sweets that we were on a sugar high and in search of something salty. Some fellow foodies we met in a cute little art shop recommended these tacos down the street so we pretty much ran there. This el pastor taco was the real deal! Authentic and awesome! (2016 W Division St, Chicago, IL 60622)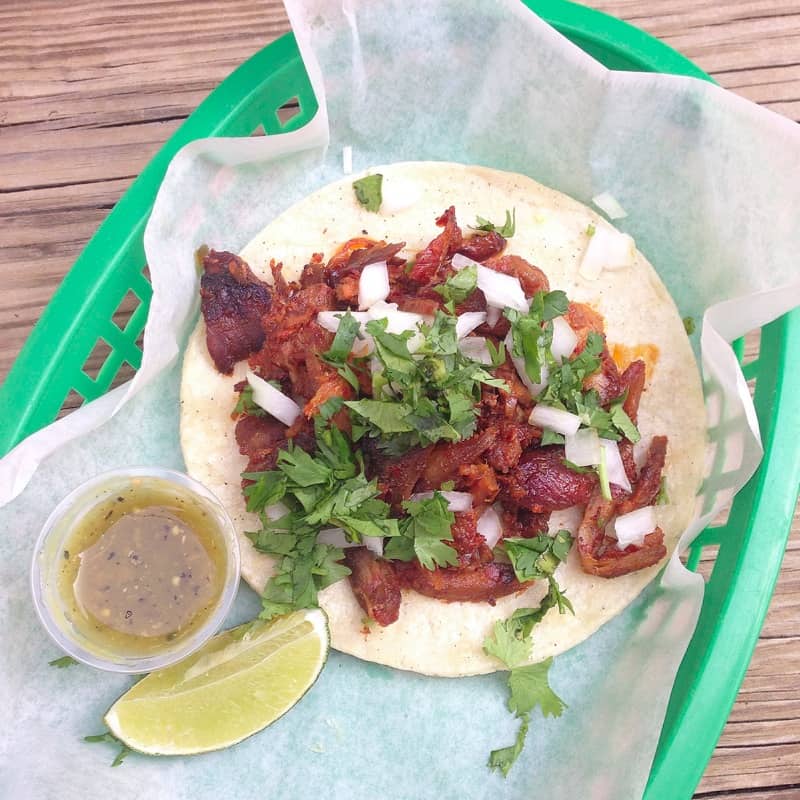 Sable Kitchen & Bar – the finale to our feast through Chicago was at Sable. A restaurant with a new American meets gastro menu and an awesome selection of creative cocktails. We dined at midnight so it was quite quaint and the service was exceptional. We could tell that everyone took pride in the place from our waiter's recommendations to the chef who came out to answer one of our questions about the amazing dish we had just devoured. What we ordered: bacon jam & toast (definitely recreating at home!), black truffle deviled eggs (recreating as well!), "evening" bun with kale, parmesan & spicy chiles (gotta try this too!), snap pea & asparagus salad, sweet corn cream brulee (amazing!), and slow-braised Moroccan lamb (mmmm!). We ended the meal and our trip on a very sweet note with Sable's dark chocolate soufflé cake with a peanut butter sauce and salted caramel ice cream as well as the warm sticky toffee pudding cake! We walked away from Sable with big smiles on our faces and satisfaction in our bellies. Great meal! Great experience! (505 N State St, Chicago, IL 60654)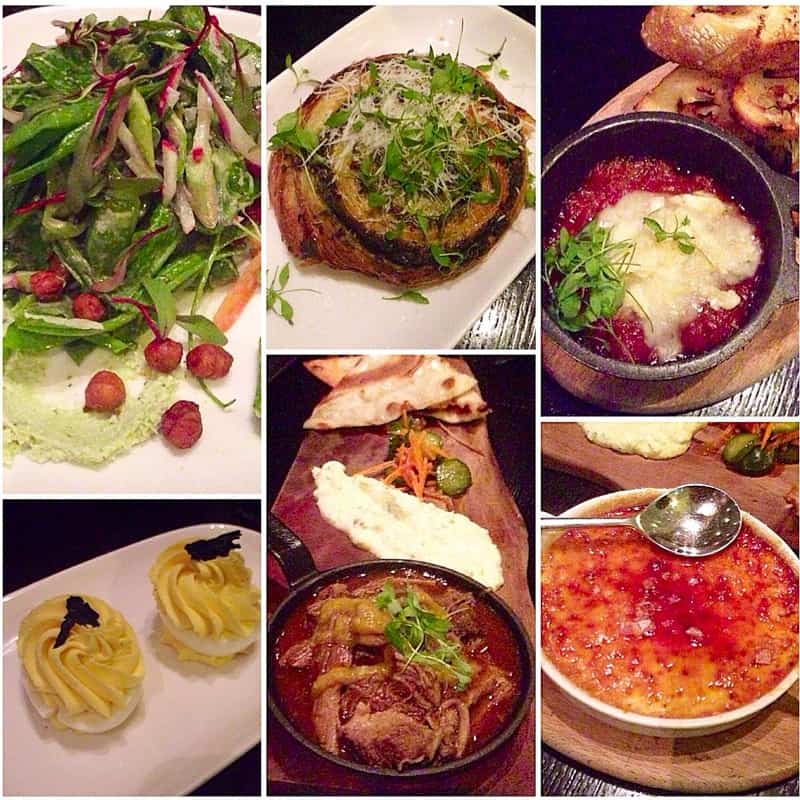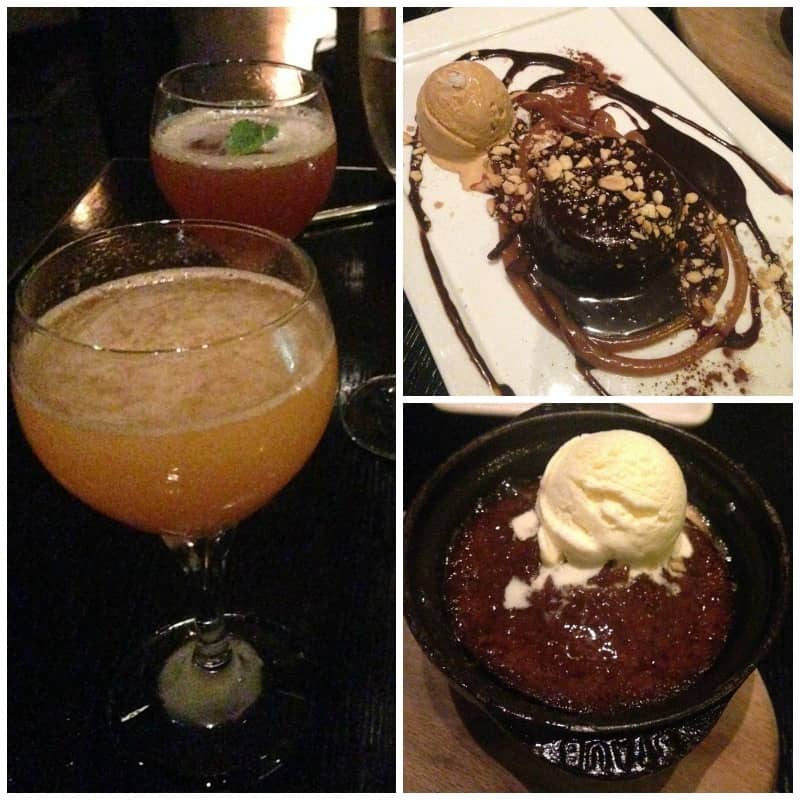 What a tasty trip! If you live or travel near Chicago, you've gotta try some of these places! Enjoy!
~Maegan & Brandon