Bake fun, festive & feisty monster cookies for your upcoming Halloween party!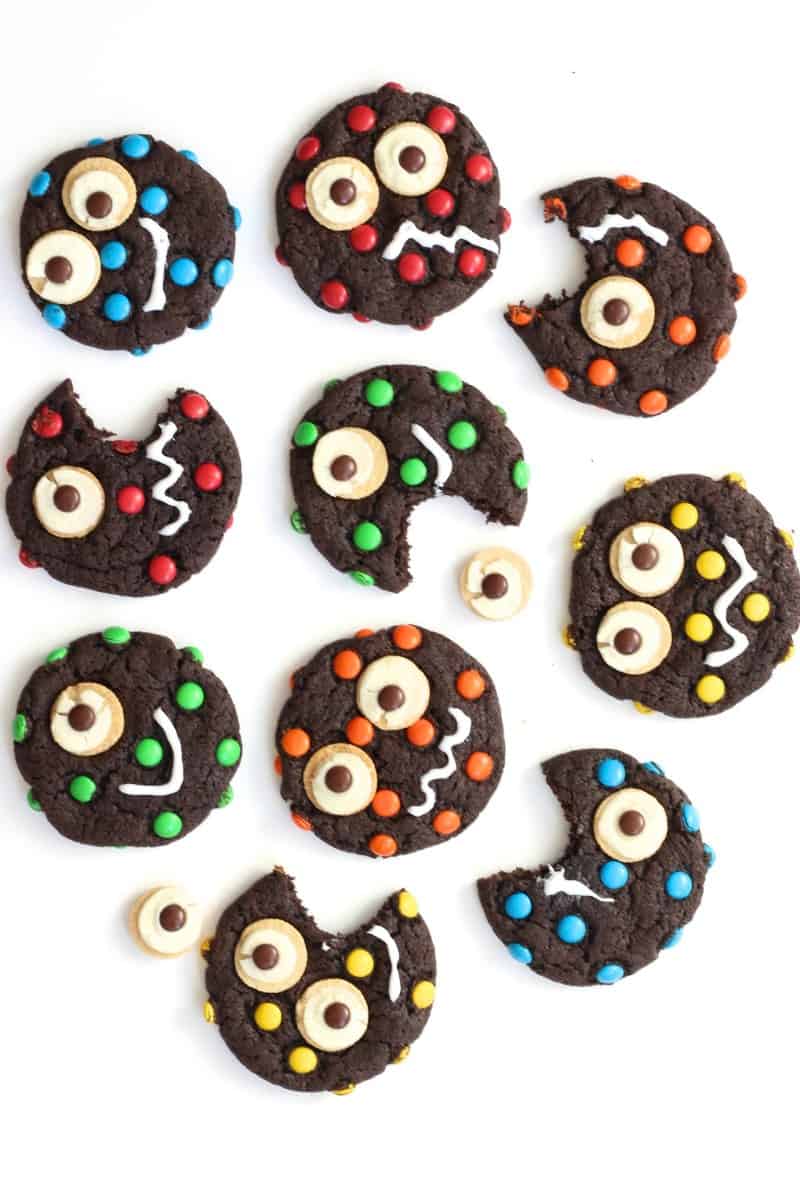 Halloween is just a few weeks away and I have to say, I'm super excited this year! The boys are old enough to get into costumes, parties and trick or treating. It's so fun and what's not to love about a holiday that revolves around collecting candy?! 😉
We have a few Halloween parties that we're going to this year where I've volunteered to bring festive treats. The boys are all into monsters so I was a mission to bake up some fun monster-looking cookies that we could easily make and take to all these parties. And just look at how cute they turned out…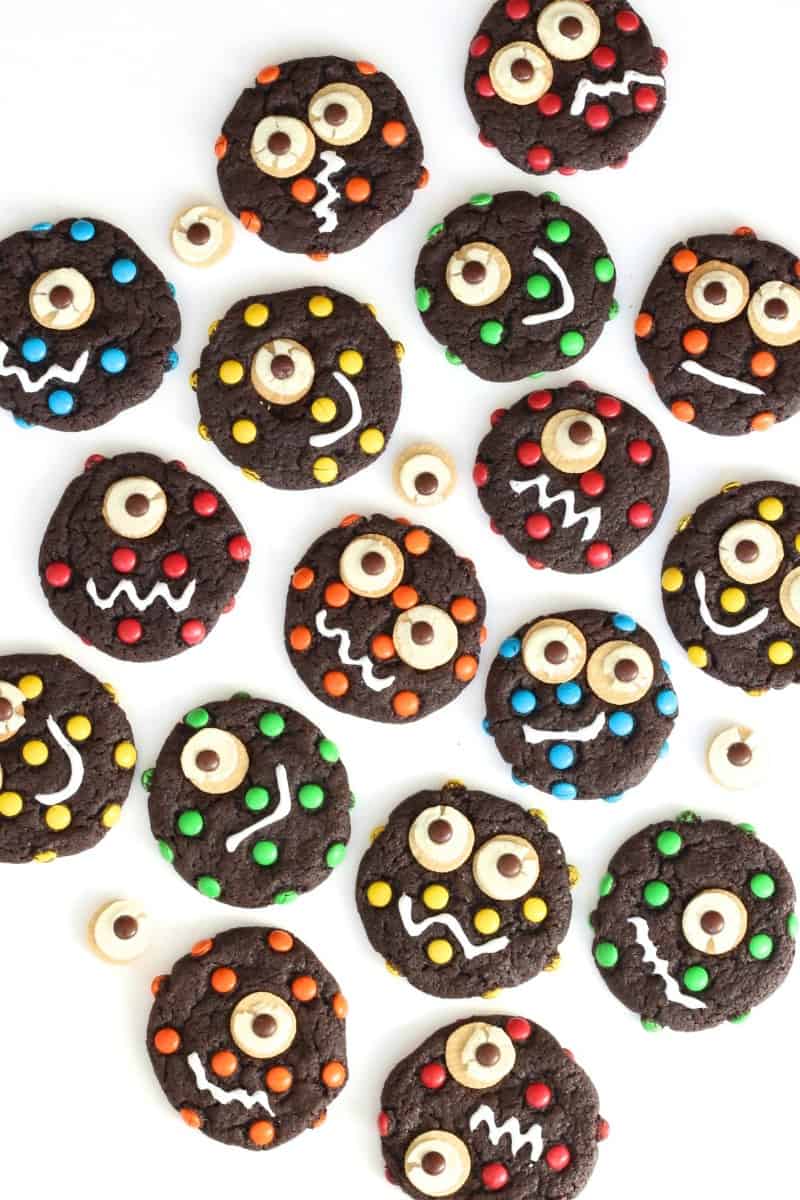 Super chewy dark chocolate cookies are studded with colored candies and garnished with some mini cookie eyeballs and funny little mouths for the most adorable monster cookies you'll bake this Halloween…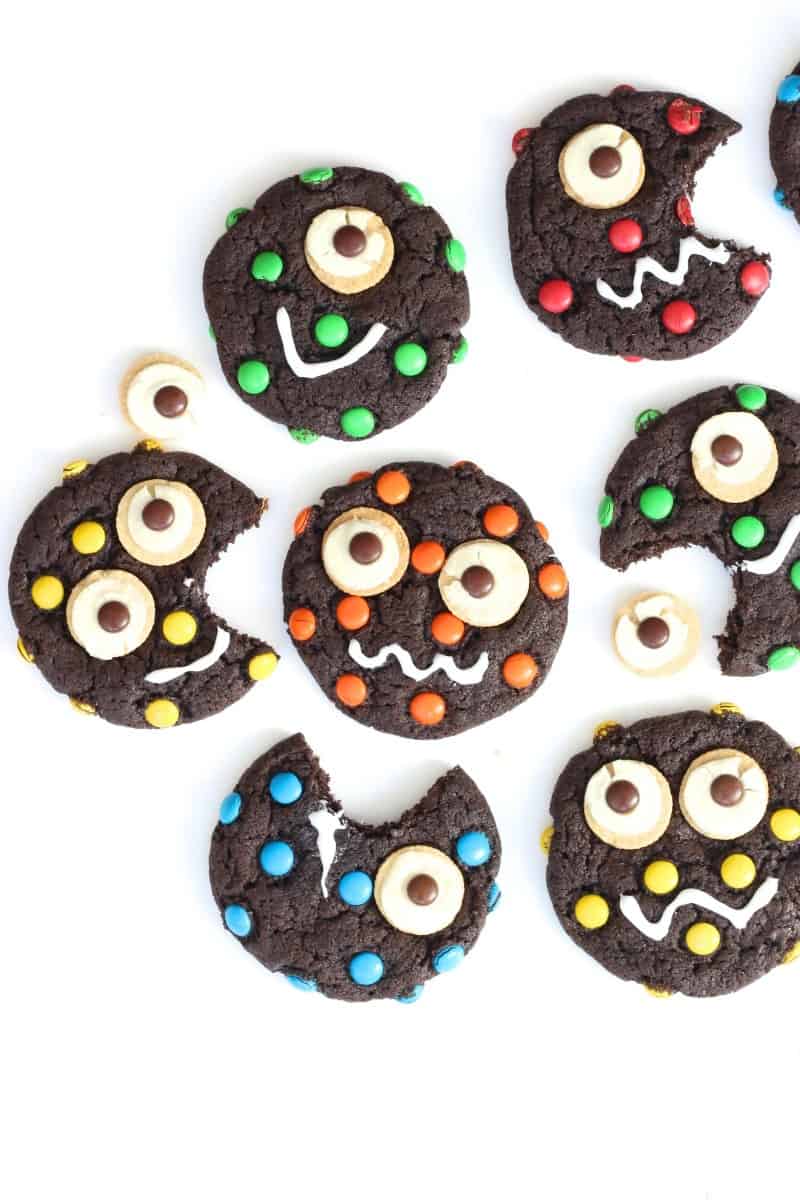 We had soooo much fun making and eating these monster cookies and can't wait to make them again several times over the next few weeks.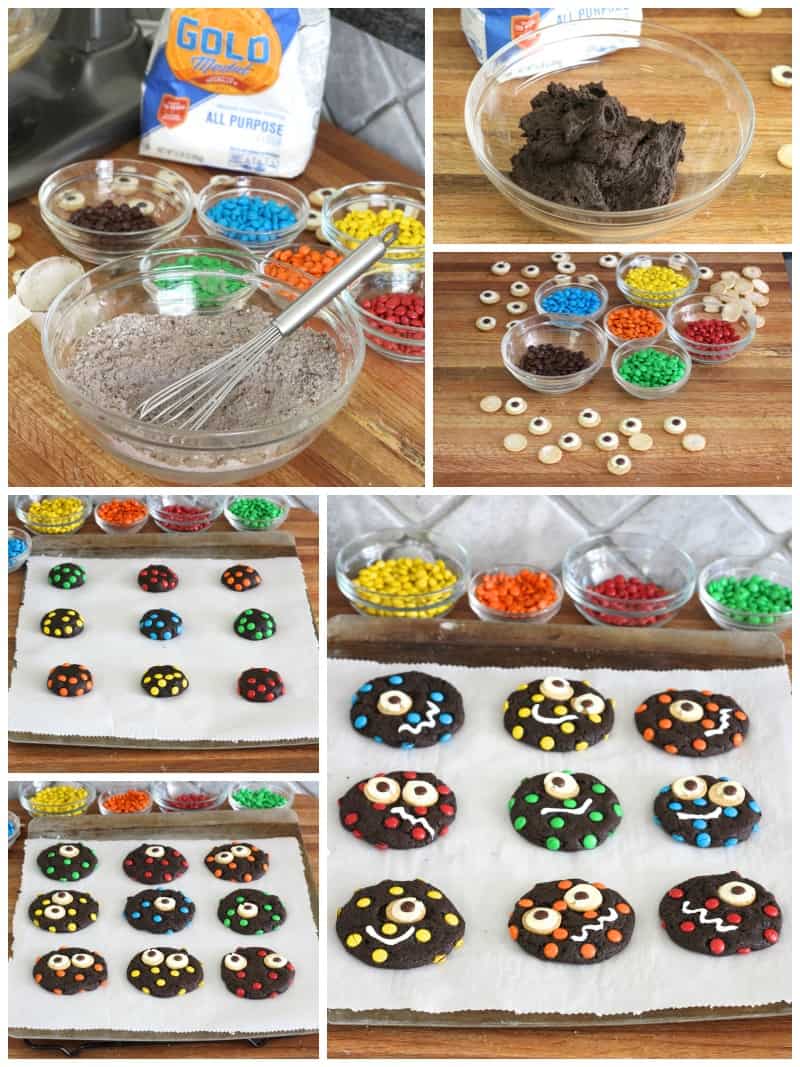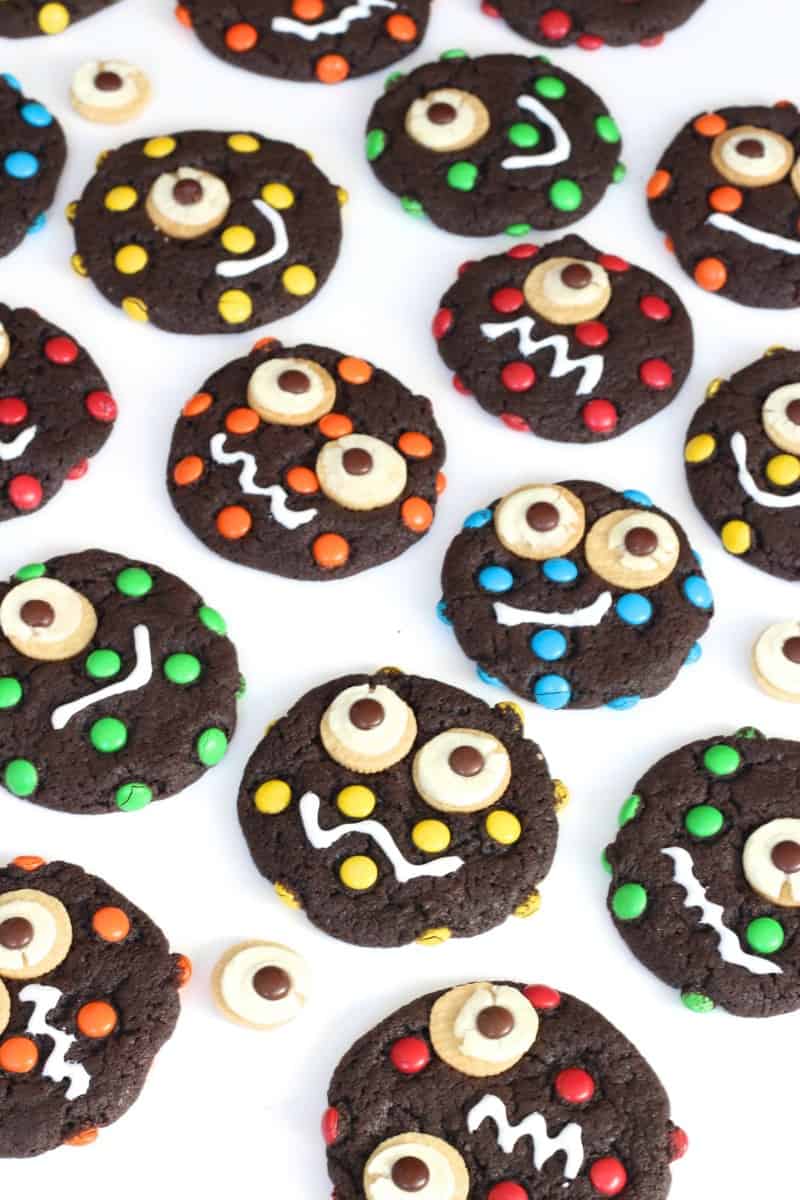 They're so easy you could definitely get the kiddos involved with sorting the candies by colors, making the eyeballs, pressing the candies into the dough, drawing the mouths and of course, taking big bites and playing monsters with them. So much fun & yum!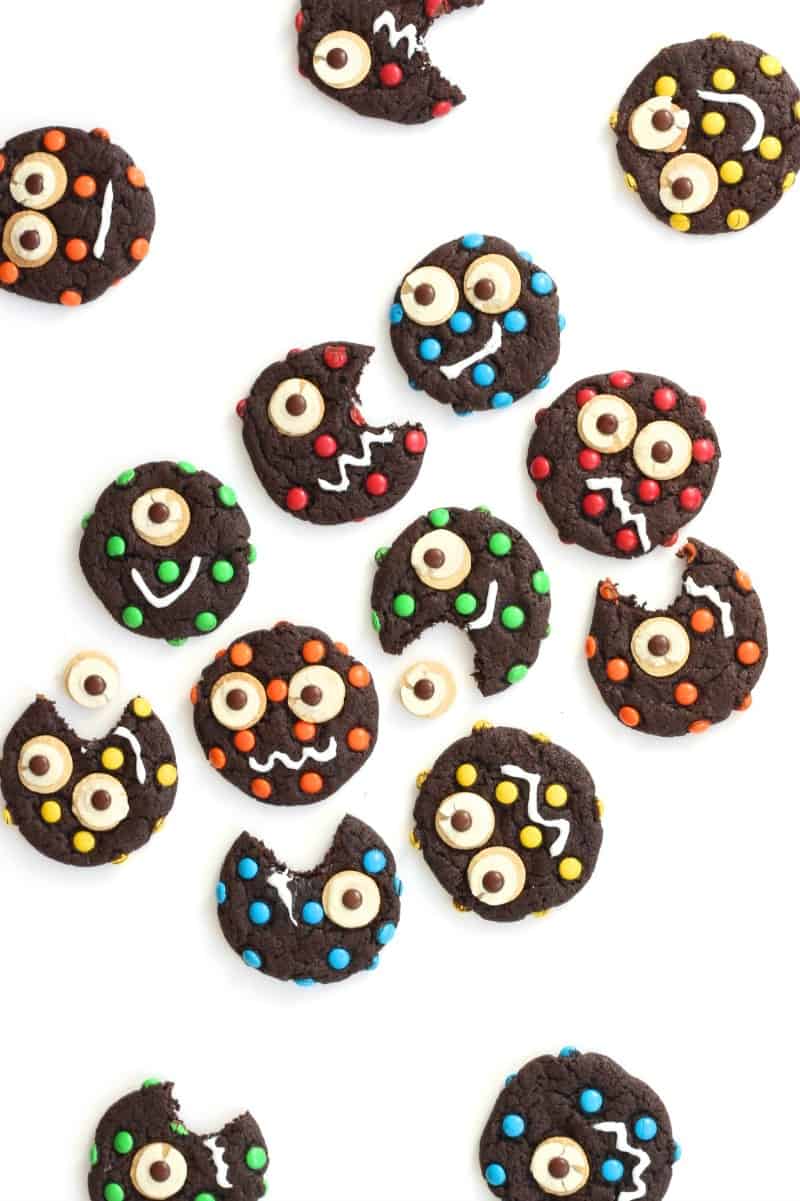 Whether it's a school or church Halloween carnival or just a few friends over for a fun Halloween play date, these monster cookies will be a roaring hit! And if you're kiddos are anything like mine and really into monsters, you just might be baking them year-round. J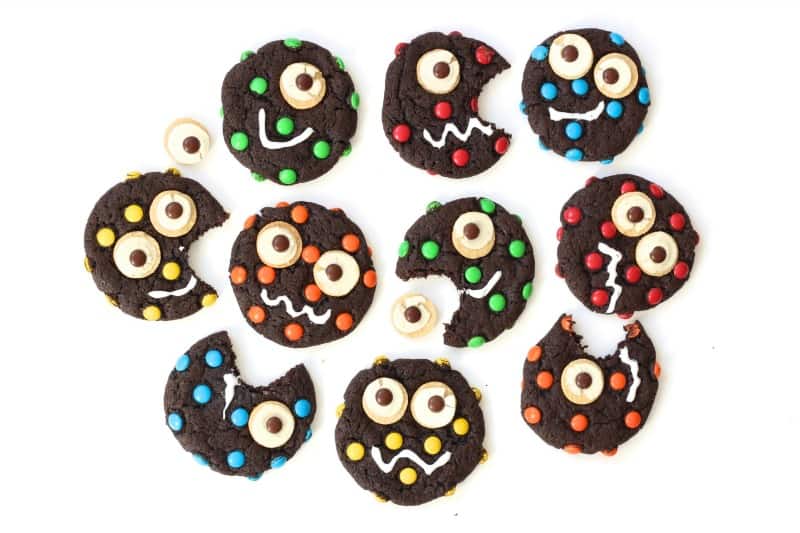 I hope you have so much fun with these cute and yummy cookies! Happy Halloween!
~Maegan
This recipe was created as part of my partnership with Gold Medal Flour however thoughts and opinions are certainly my own!

Monster Cookies
Bake fun, festive & feisty monster cookies for your upcoming Halloween party!
Author:
Maegan - The BakerMama
Ingredients
½ cup (1 stick) unsalted butter, room temperature
½ cup granulated sugar
¼ cup brown sugar
1 large egg
½ teaspoon vanilla
1 cup Gold Medal™ all-purpose flour
¼ cup dark cocoa powder
½ teaspoon baking powder
¼ teaspoon baking soda
¼ teaspoon kosher salt
1 (12 ounce) bag mini multi-colored chocolate covered candies
30 bite-sized vanilla cream-filled cookie sandwiches
1 pouch white decorator's cookie icing
Instructions
In the bowl of an electric mixer, beat the butter and sugars until smooth. Add the egg and vanilla and beat until well combined.
In a separate bowl, whisk together the flour, cocoa, baking powder, baking soda, and salt. Add the flour mixture to the wet ingredients in two batches and beat on low speed until just combined. Cover and refrigerate dough for 1 hour.
Meanwhile, sort multi-colored candies by color. Separate the sandwich cookies from each other and press one of the brown colored candies into the center of the cream side of each cookie so that it looks like an eyeball.
Preheat oven to 350°F.
Remove cookie dough from the refrigerator. Form dough into 2-tablespoon sized balls and place a few inches apart on a parchment lined baking sheet. Flatten each ball of cookie dough slightly with the palm of your hand. Press about 15 of the same colored candies (except for the brown ones) into the top of each cookie. Alternate colors among the cookies so you have a good variety.
Bake for about 10 minutes or until cookies start to crinkle a bit on top and are set around the edges. As soon as you remove the cookies from the oven, press one or two of the cookie eyes into the top of the cookies where there are gaps in the mini candies. Let cool completely on cookie sheets, about 20 minutes.
Make fun mouth shapes with the cookie icing. Have fun & enjoy!