Cookie ingredients layered in a jar for a tasty gift to give during the Holiday season!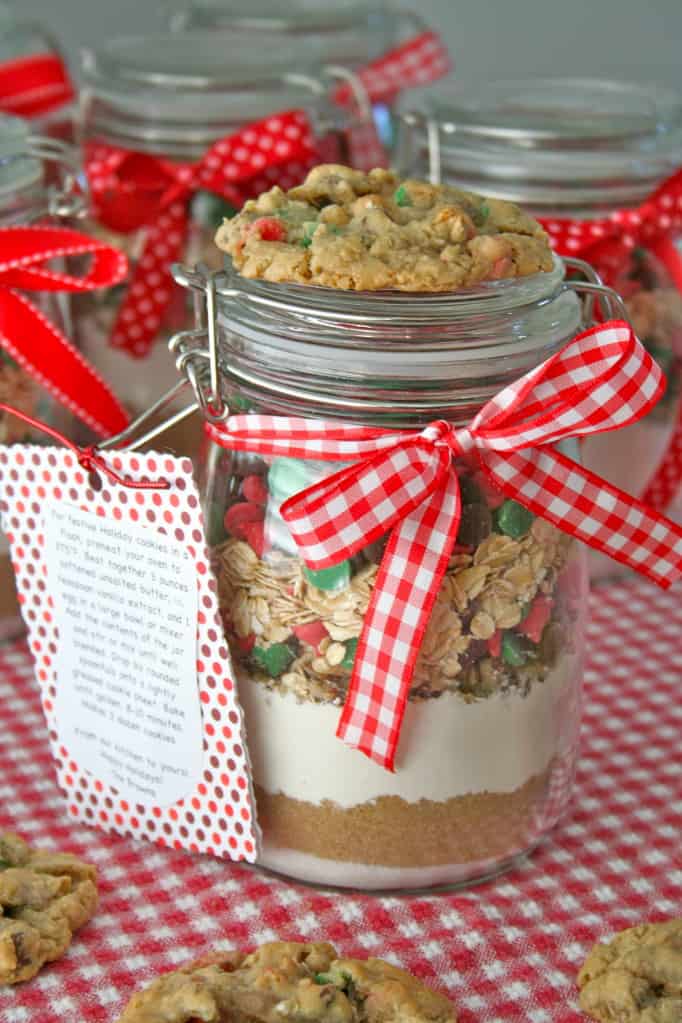 Tis' the season to be Jolly! Fa la la la la, la la la la…
And what better way to bring some "Jolly" to your friends and neighbors this Holiday season than with these Jolly Jars?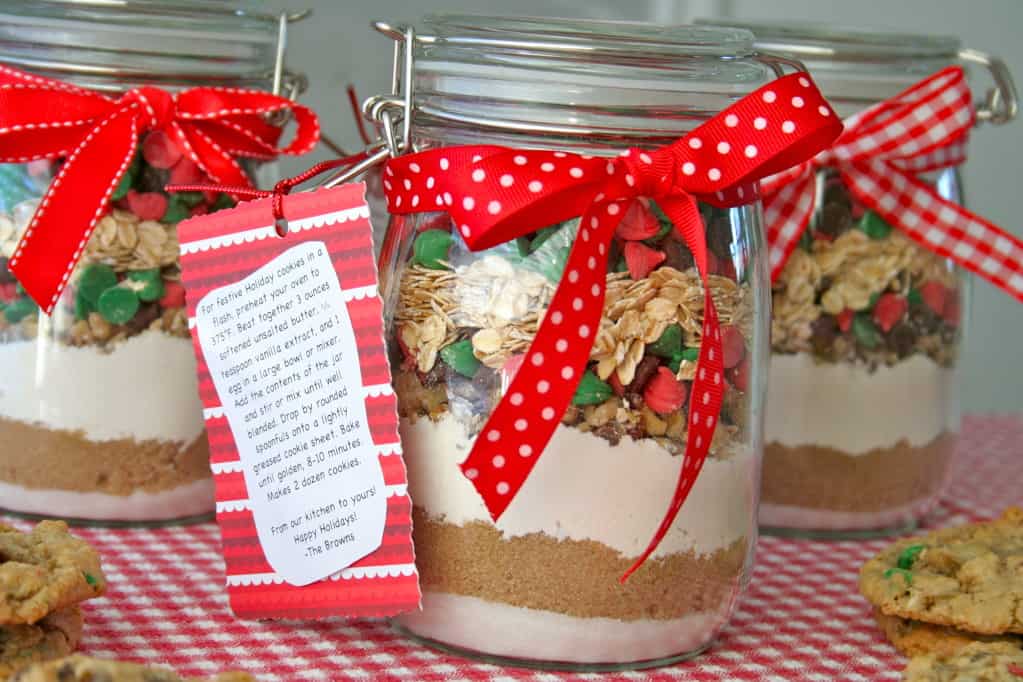 Yummy cookie ingredients layered in a jar with a super easy recipe…so creative and so festive! Your loved ones will be delighted to receive such a thoughtful and delicious gift.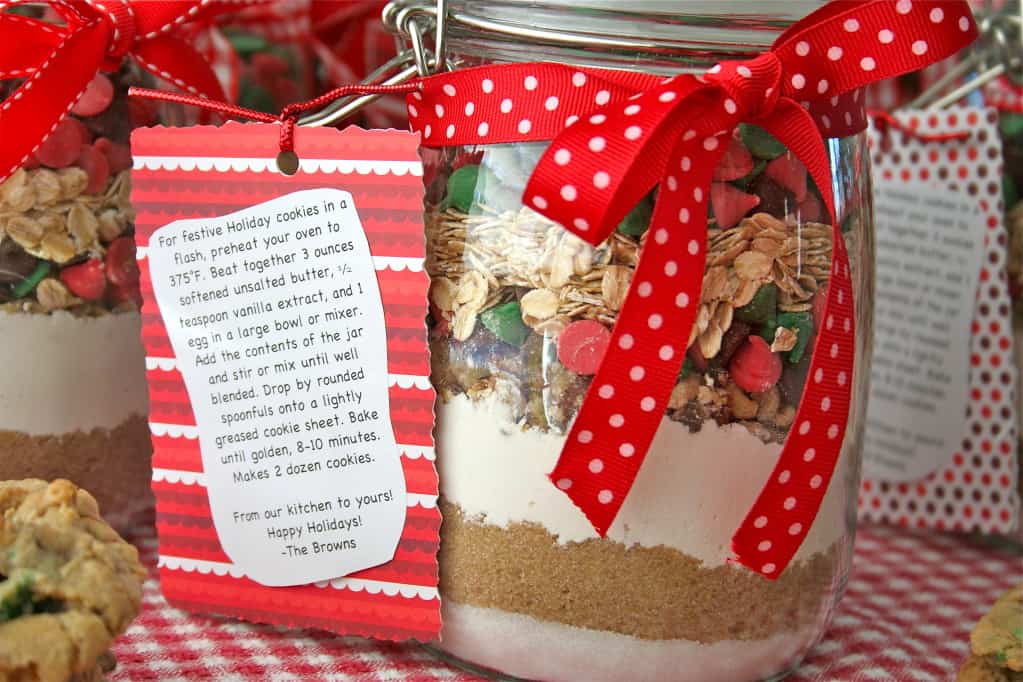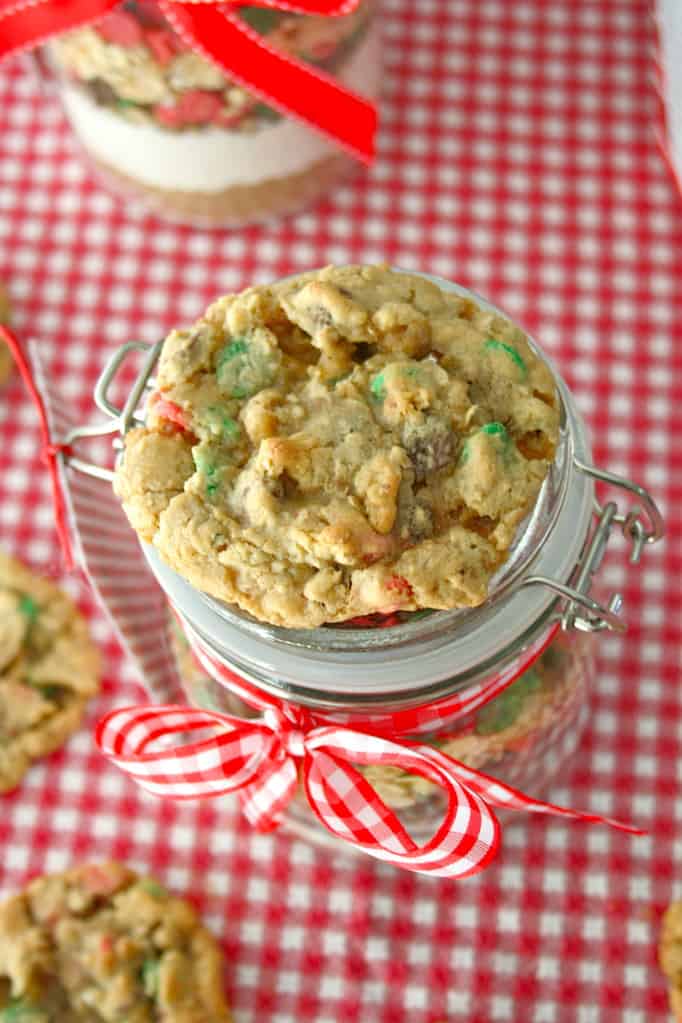 It all starts with a quart-sized jar that has a lid. Set up an assembly line with all your ingredients and start filling up jars. Tie some festive ribbon around the top and finish them off with a cute tag that has the cookie baking instructions. That's all there is to it!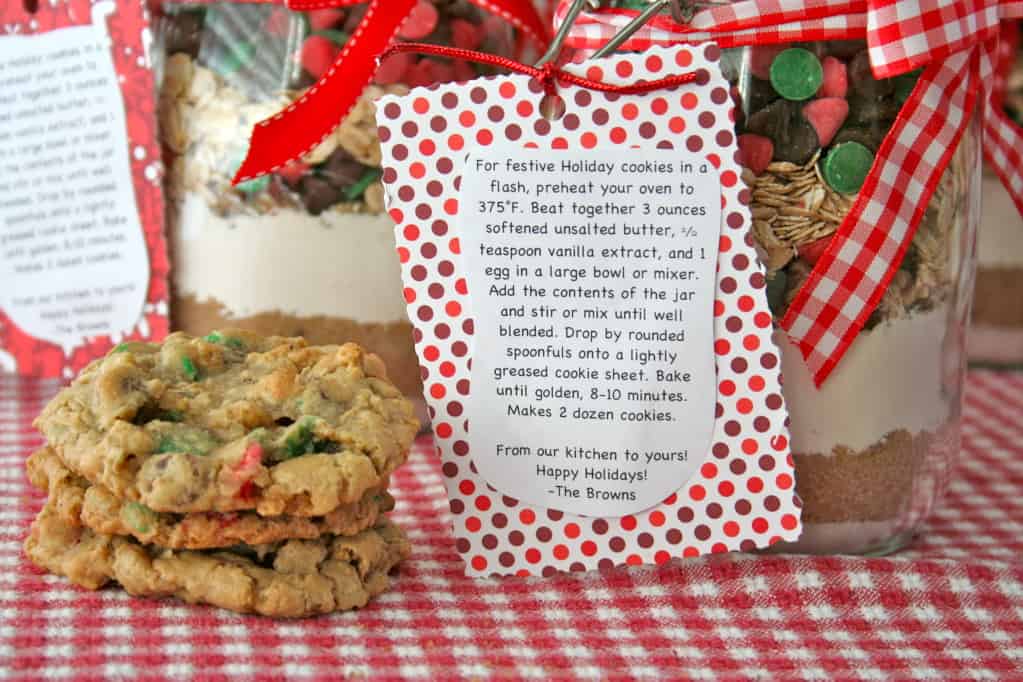 What a great tradition to start with your family as those young and old will love helping put these adorable jars together! And your friends and neighbors will love receiving them!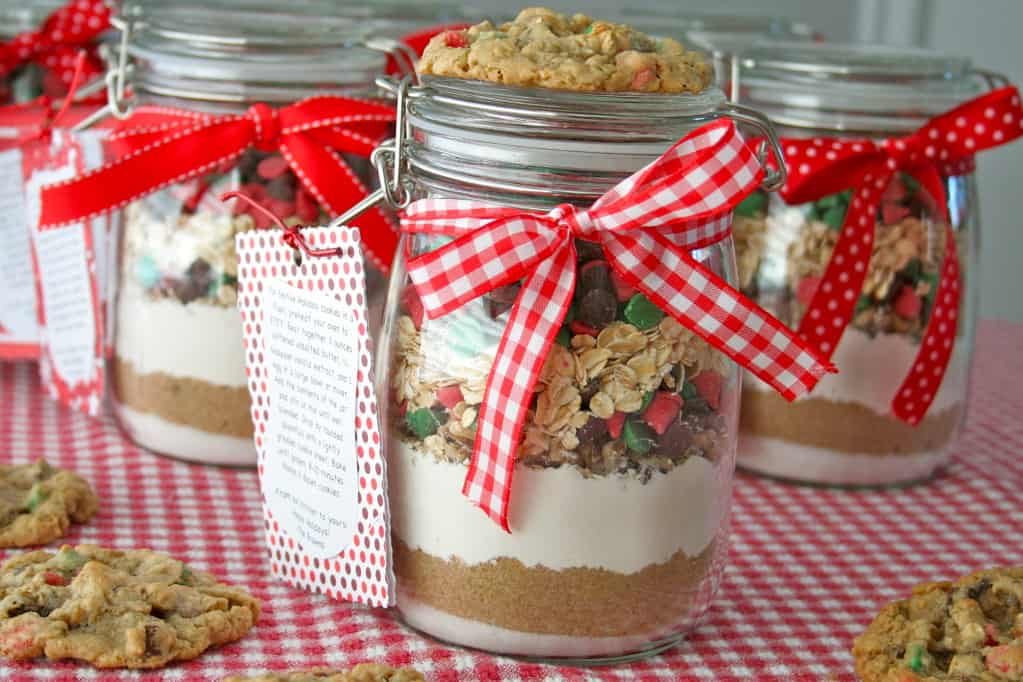 Have A Jolly Holiday!!!
~Maegan
This recipe was created as part of my partnership with Gold Medal Flour however thoughts and opinions are certainly my own!
[printfriendly]
Jolly Jars

Ingredients:
1-quart wide-mouthed jar (with a lid) in glass or clear plastic
1/4 cup granulated sugar
3/4 cup light brown sugar
3/4 cup Gold Medal® all-purpose flour
1/4 teaspoon baking soda
1/4 teaspoon baking powder
1/2 cup walnuts, chopped
1/2 cup holiday colored semi-sweet chocolate chips
1/2 cup old fashioned rolled oats
1/2 cup holiday colored semi-sweet chocolate chips
5/8-inch wide decorative ribbon
white paper
card stock
hole punch
skinny string or ribbon
Directions:
1. Add each ingredient into the jar in the order listed. After each addition, use a large spoon to level and pack down each layer. Attach the lid. Tie a bow of decorative ribbon under the lid.
2. On the white paper, write or print the following instructions:
"For festive holiday cookies in a flash, preheat oven to 375°F. Beat together 6 tablespoons softened unsalted butter, 1/2 teaspoon vanilla extract, and 1 egg in a large bowl or mixer. Add the contents of the jar and stir or mix until well blended. Drop by rounded spoonfuls onto a lightly greased cookie sheet. Bake until golden, 8-10 minutes. Makes 2 dozen cookies. Happy Holidays!"
3. Attach the instructions to the card stock and punch a hole in the top corner of the tag. Thread string or ribbon through the hole and tie to the handle of the jar.
Adapted from Kids in the Holiday Kitchen
Makes 1 Jar
Prep Time: 5-10 minutes per jar
Total Time: 5-10
[printfriendly]