Build a beautiful cheese and charcuterie board with Harry & David's impressive collection of meats and cheeses along with their famous Royal Riviera Pears. The perfect addition to your holiday gathering!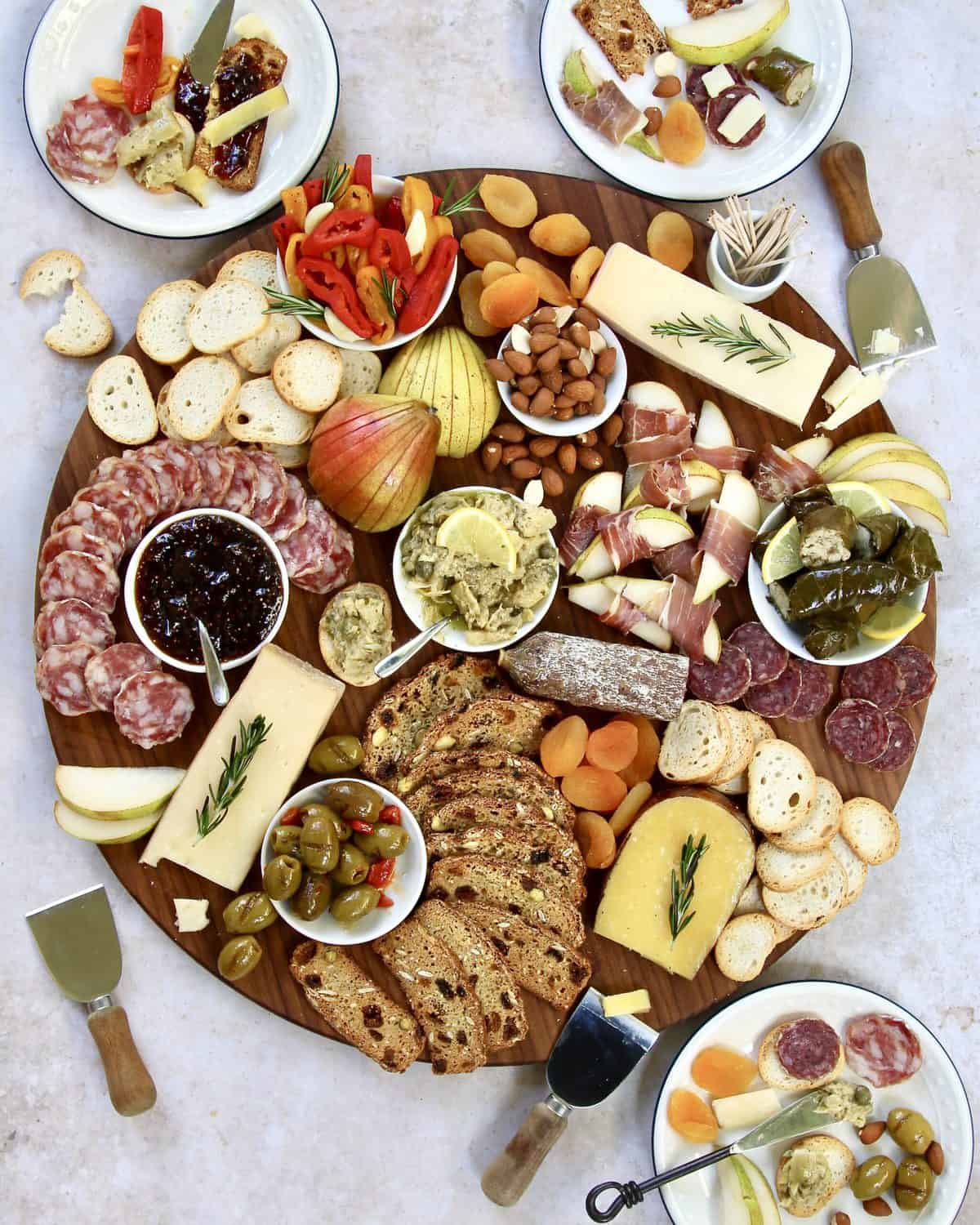 The holiday season is here and I think we're all grateful for any style of gathering we can experience with our loved ones this year. Whether it's just your immediate family at home, your extended family in the backyard or your dear friends over a virtual Friendsgiving, you can still create holiday gatherings that are special and, of course, delicious.
To help make your gathering and gifting all the more memorable, I'm excited to share some great holiday cheese and charcuterie board inspiration in partnership with my friends at Harry & David. If you're not familiar with Harry & David, they're an online gourmet gift retailer that ships beautiful gift baskets, baked goods, wine, fresh fruit and more direct to your doorstep.
I've been a fan of Harry & David's online shopping experience for years! It's such a convenient and reliable way to send gifts for any occasion, especially the holidays. I've sent their chocolate boxes for birthdays, their gift towers for housewarmings, their flowers for best wishes, their amazing cheese and charcuterie collections for the holidays, and their famous Royal Riviera pears to our own front doorstep for us to enjoy throughout the season! Everything is of such great quality and packaged with care.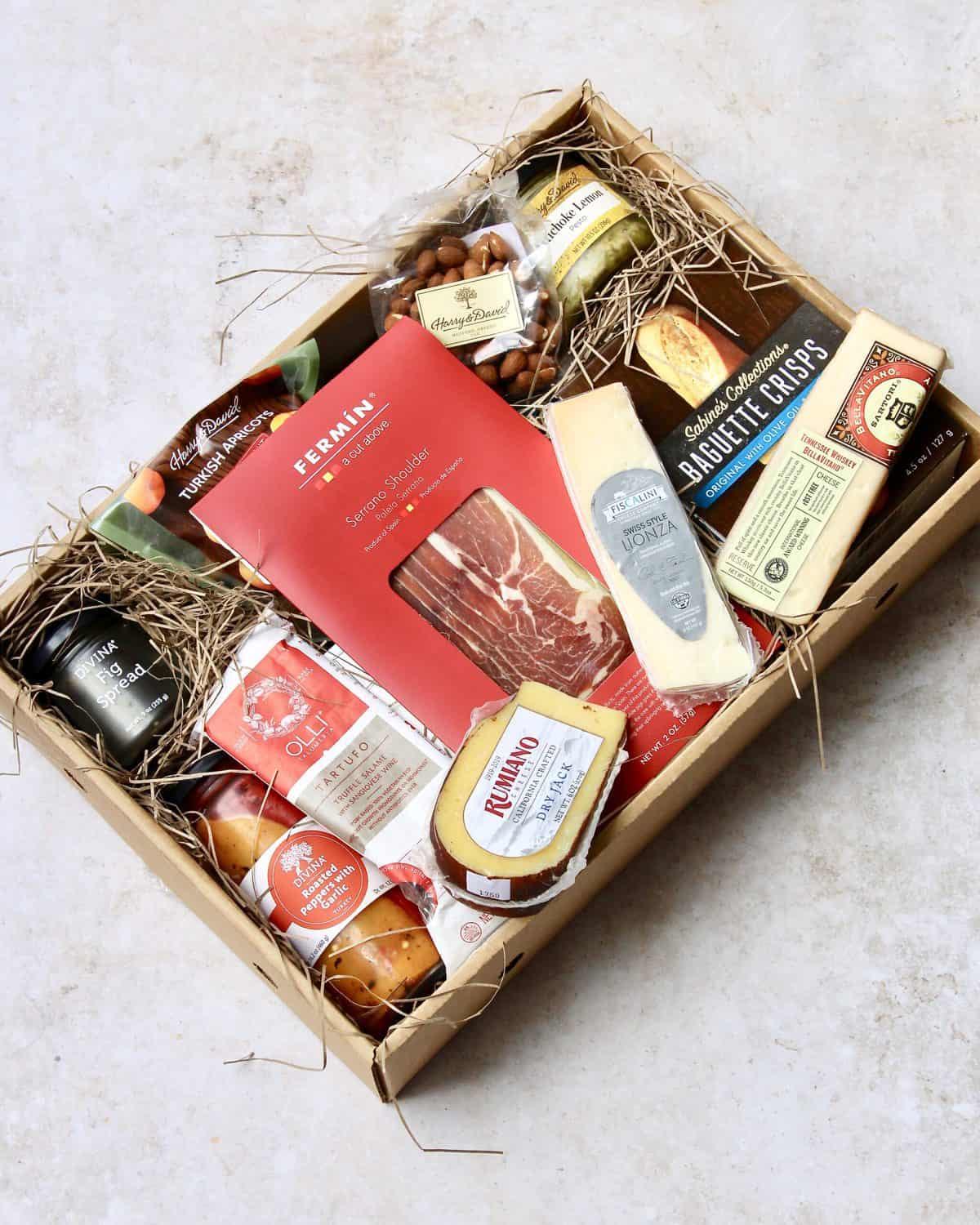 This is Harry & David's Epicurean Cheese and Charcuterie Collection. And EPIC it is! It includes an amazing selection of delicacies from all around the world. Everything you need to build a beautiful board shipped in one box. I love it! It's so great to order if you're hosting at your house or to send to the hostess' house where you'll be enjoying the holidays.
This sensational charcuterie and cheese collection features flavorful delicacies from around the world. Enjoy Casalingo's mild, hard Italian salami, a sweet, earthy Tartufo salami made with black truffles, and a Spanish Serrano Paleta from Fermin. From Wisconsin, there is smooth, sweet Sartori® BellaVitano® Tennessee Whiskey cheese. Dry Jack is an award-winning hard cheese with nutty flavor made by the Rumiano Cheese Company. Fiscalini Farms Lionza is a Swiss Alpine-style cheese.
There are a variety of spreads, including artichoke lemon pesto, roasted peppers and garlic, and fig spread, as well as two varieties of premium crisps to spread them on. Pitted green olives, dried Turkish apricots, roasted almonds, and dolmas complete this incredible assortment. Everything arrives with a wooden serving tray that makes it even easier to create an impressive spread.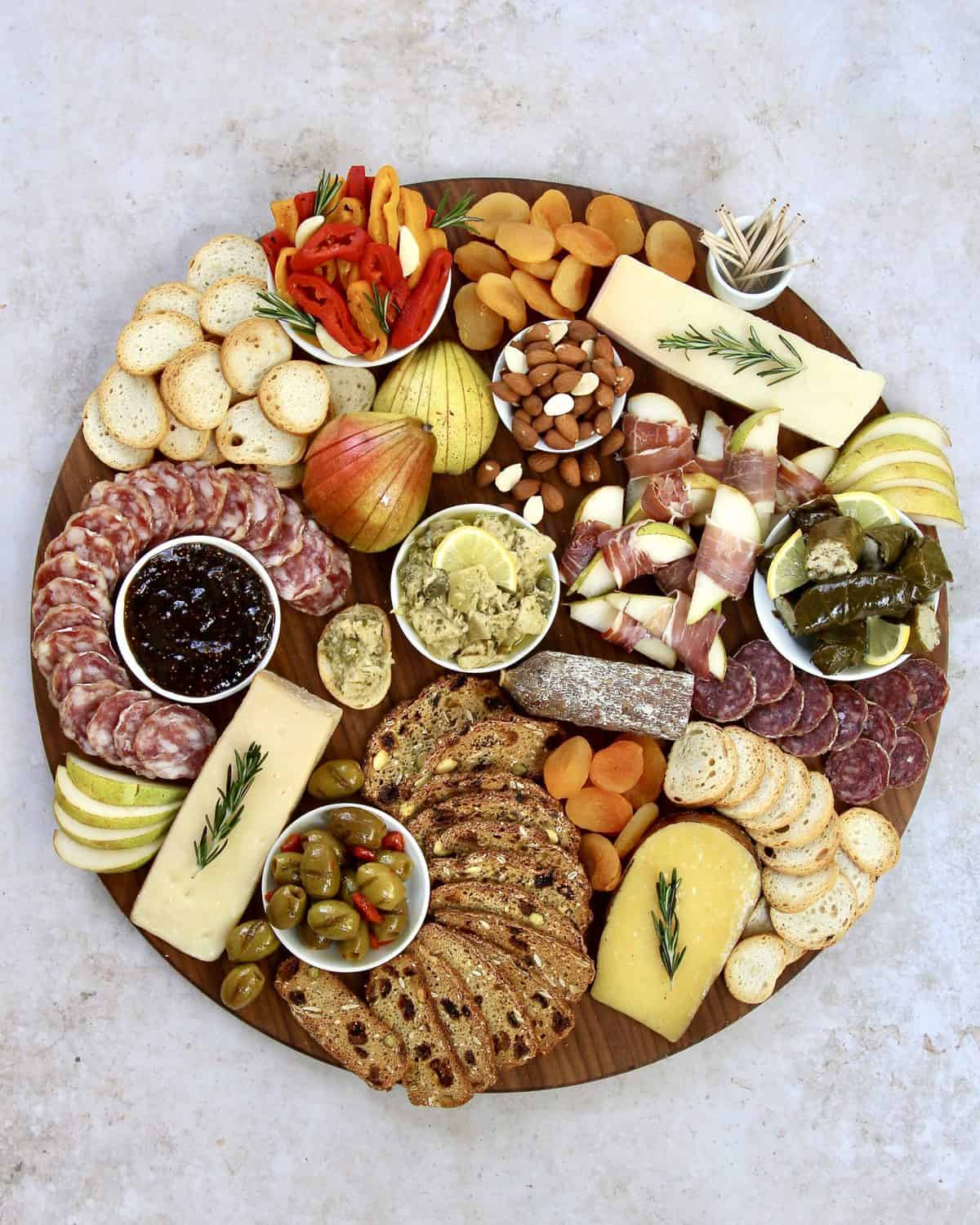 This beautiful board would not be complete without some Royal Riviera Pears! These pears are what Harry & David is notably most famous for. The sweet flavor, buttery texture, and extreme juiciness of these pears are what make them so delicious. They pair so perfectly with all of the meats, cheese and nibbles on this board. They're beautiful in both the way they look and the way they taste…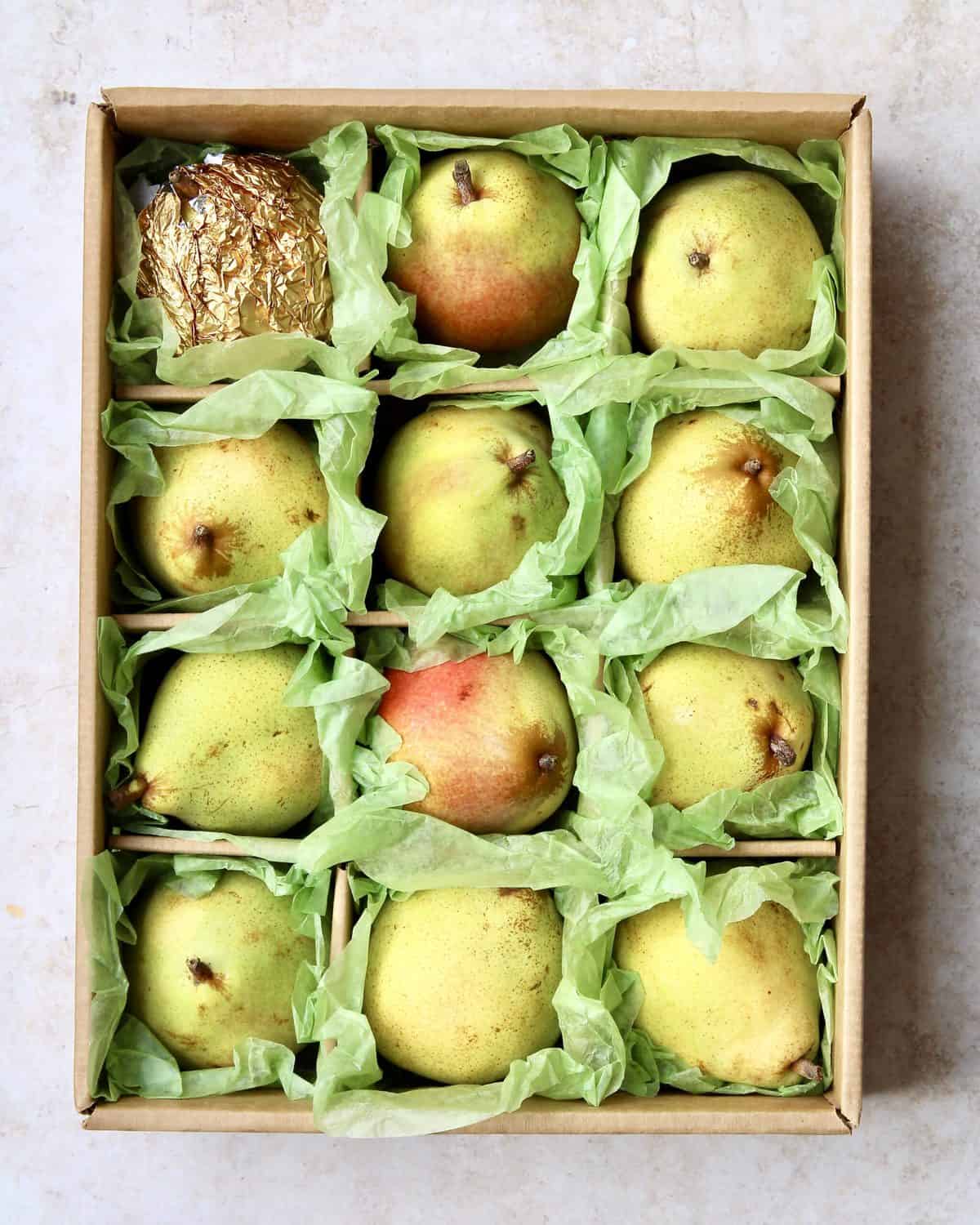 Once you, or the lucky recipient, receives the Epicurean Cheese & Charcuterie Collection and the Royal Riviera Pears, placing it all on a board and enjoying it with your loved ones is truly an incredible experience. Let me walk you through how I prepared this beauty of a board…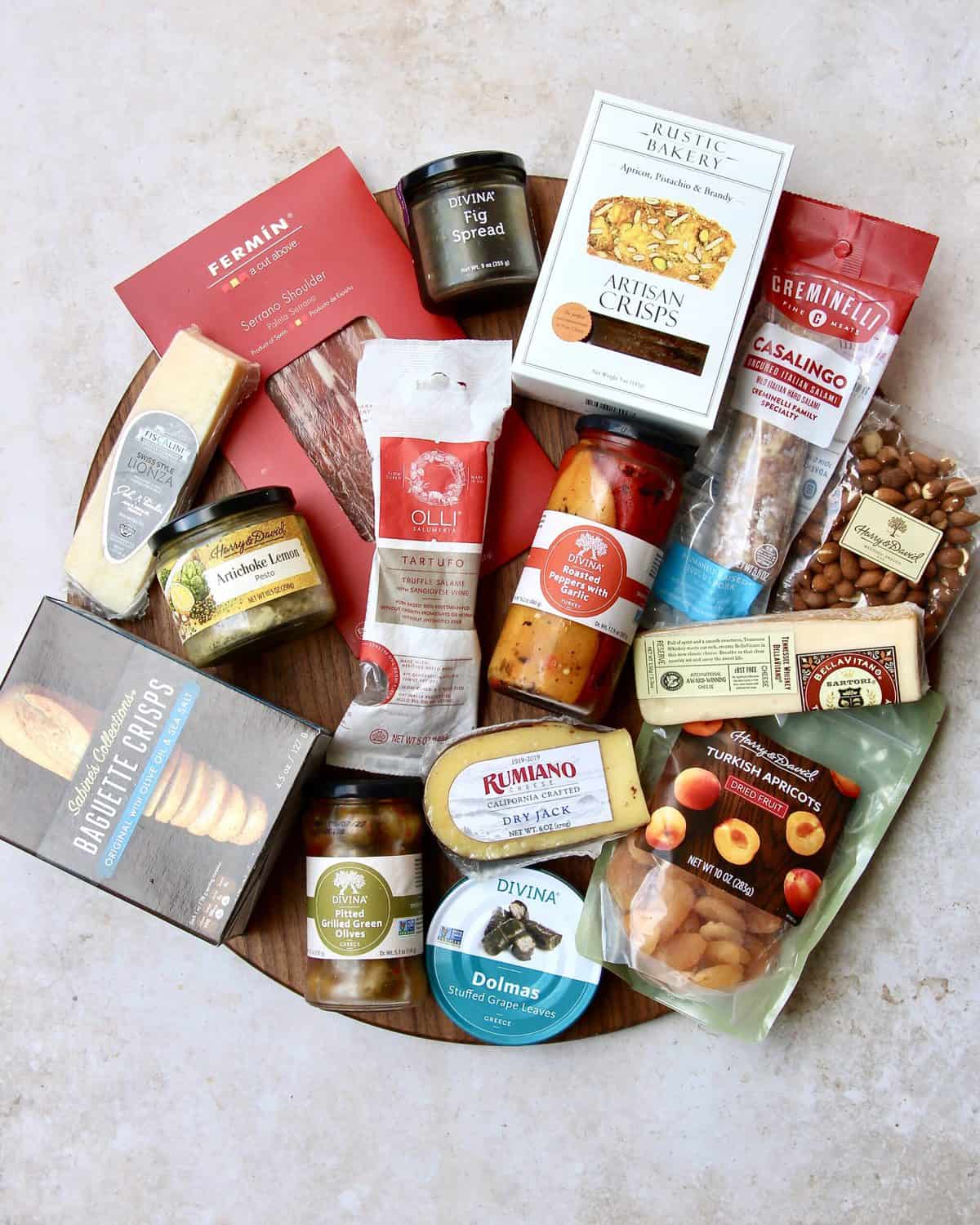 I used one of our 20″ walnut wood boards to fit everything on one abundant board for us to graze on for hours.
Start by placing the artichoke lemon pesto, roasted peppers with garlic, fig spread, olives, halved grape leaves and almonds in small serving bowls across the board. It's great to keep all of these items in their own little serving bowls so that the juices and brines from each one don't spread across the board onto other ingredients.
Next, place the cheeses on the board in a variety of spots so no matter where someone reaches in from they'll be able to select a cheese.
Slice the salami sticks into thin rounds and place them on the board in two different places. If everyone is sitting around the board to enjoy it, it's good to rotate the board often so everyone gets a new selection of goodies right in front of them to snack on.
Place the artisan crisps, baguette crisps and dried apricots in open spots on the board, leaving space for the pears.
Cut two pears into thin slices. Wrap half of the pear slices with the thin slices of Fermin Serrano Paleta. Place the Serrano-wrapped pear slices and the other pear slices on the board.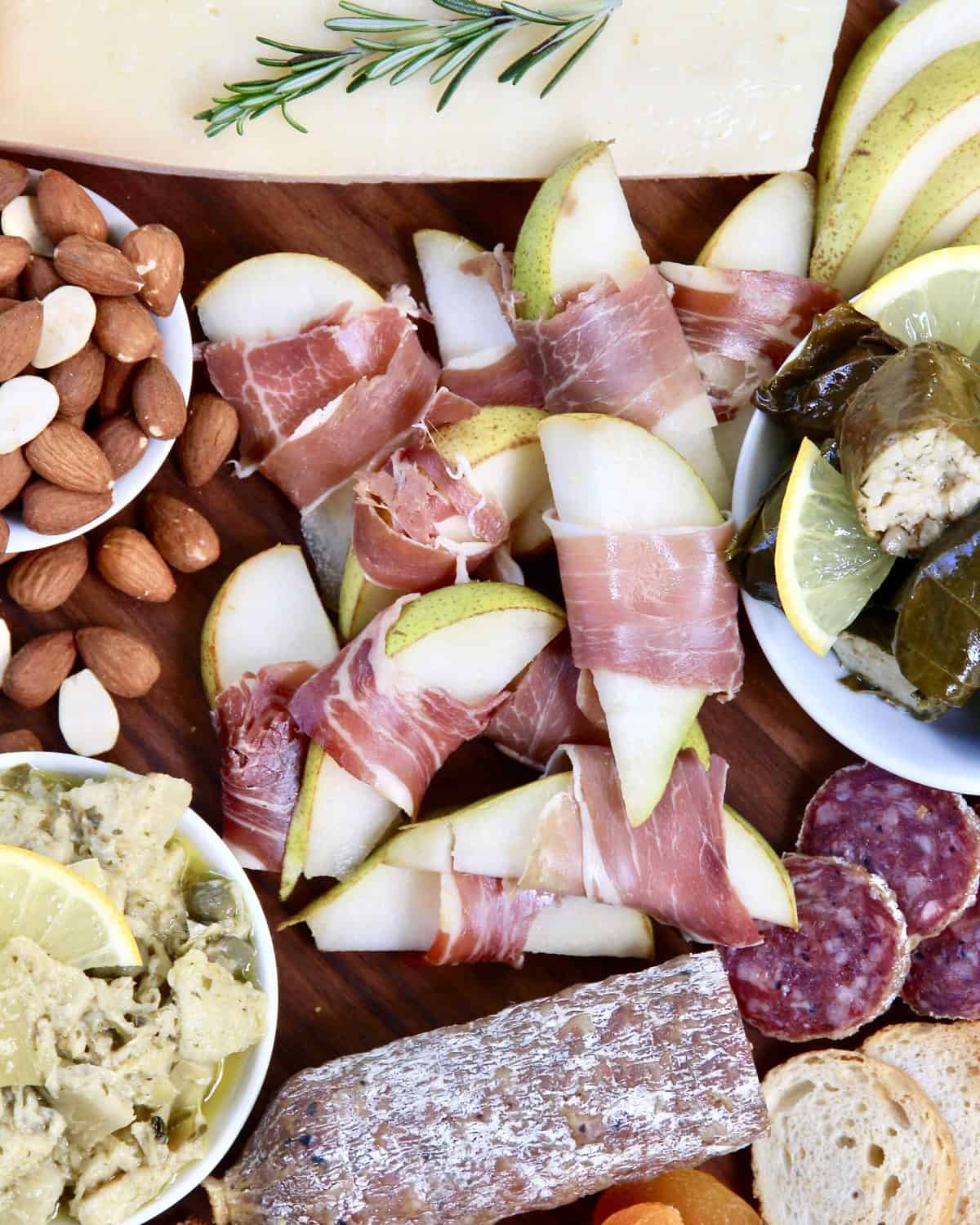 Finally, garnish the board with fresh rosemary and lemon slices, if desired. I like to garnish each cheese and the bowl of roasted peppers with sprigs of fresh rosemary. And then I'll place some thin slices of fresh lemon with the artichoke lemon pesto and the grape leaves. These garnishes just beautify the board even more and are a nice flavor addition to include when grazing on the board.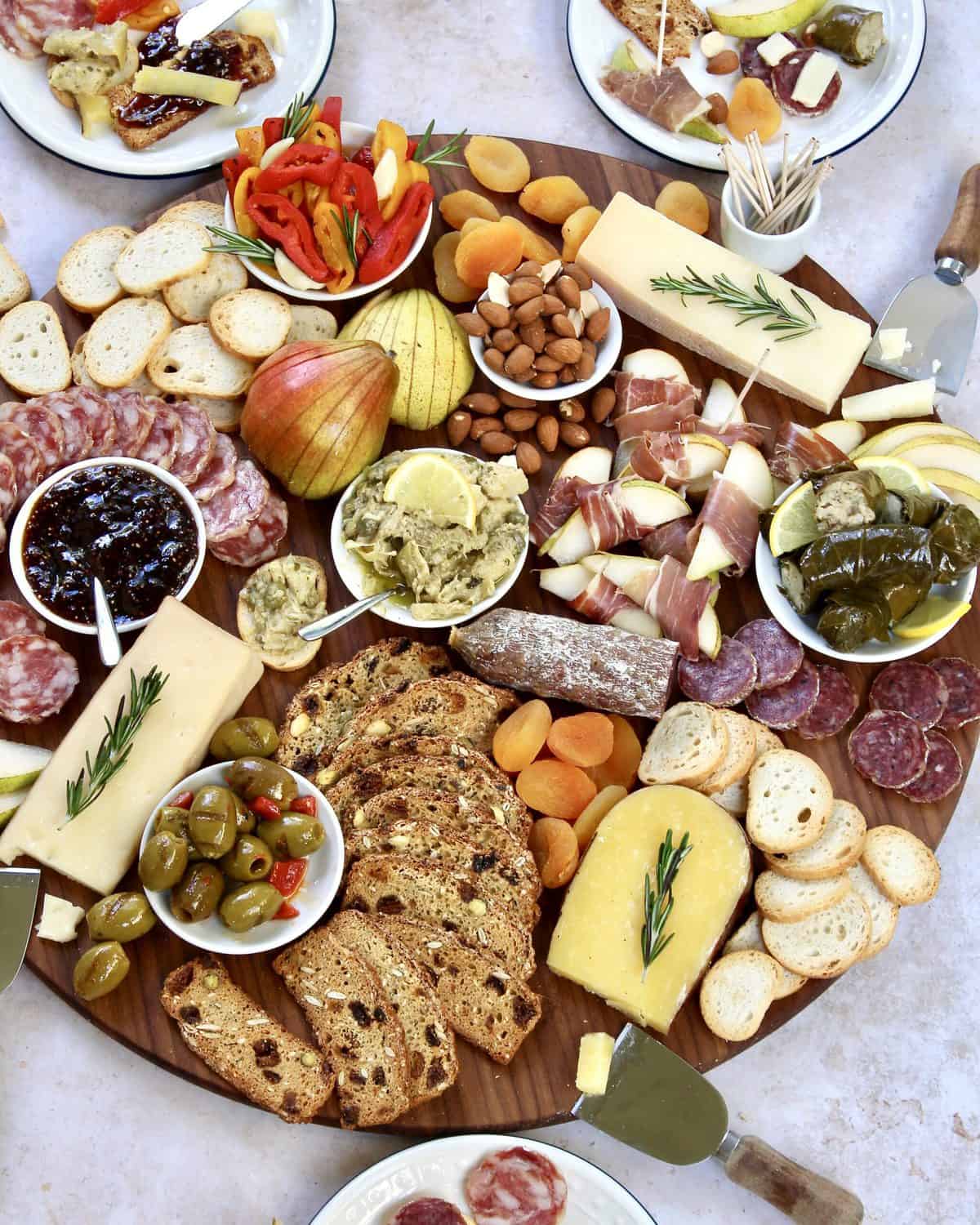 And that's all there is to it, my friends! Include some cheese knives with the cheeses, spreaders with the fig jam and artichoke lemon spread, toothpicks for getting foods off the board, and small plates for each person to put their goodies on as they graze. Serve and enjoy!
Harry & David makes entertaining so easy and so fabulous! This beautiful and delicious spread is sure to be enjoyed and appreciated by everyone around it.
I hope you're inspired! If you make a holiday cheese and charcuterie board with Harry & David's products and post a picture, be sure to tag @thebakermama and @harryanddavid on Instagram so we can see! We love seeing how inspired and creative y'all get with the ideas I share and products they sell.
Wishing you a special and memorable holiday season!
xoxo,


This post was created in partnership with my friends at Harry & David however thoughts and opinions are certainly my own. Thank you for supporting the brands that make The BakerMama possible.