The ultimate chewy double chocolate chip cookie that all chocolate lovers can delight in!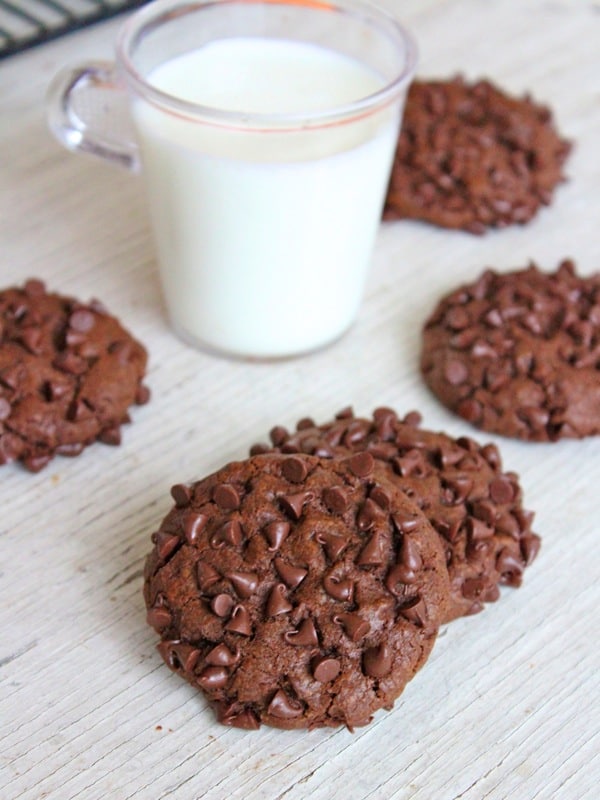 Happy National Chocolate Chip Day!!! Yep, there's a day devoted to chocolate chips and I'm definitely on board for celebrating!
I can't imagine life without them! I almost always pick up a bag when I'm at the store because I have this fear of running out one day when I need them and that's a real fear, my friends! Can you imagine? You've got the butter softened and the flour sifted and then you realize you have no chocolate chips…Nightmare! Therefore, my stash of chocolate chips is ALWAYS stocked!
I've got semi-sweet, milk chocolate, dark chocolate, mini and even chunks (I still consider them part of the chip family!) And, I have to say, I have a fondness for the mini chocolate chips for some reason. They're just so darn cute!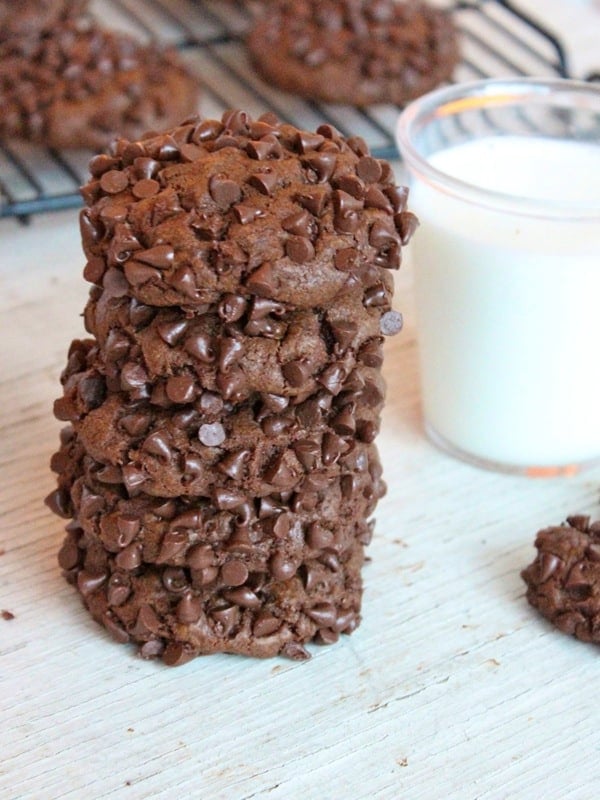 So in celebration of National Chocolate Chip Day I baked up the ultimate double chocolate chip cookie that's chewy and oh so chocolaty on the inside with an irresistible crisp and crunch on the outside. Chocolate lovers rejoice!
Enjoy!
~Maegan
This recipe was created as part of my partnership with Gold Medal Flour however thoughts and opinions are certainly my own!

Chocolate Chocolate Chip Cookies
The ultimate chewy double chocolate chip cookie that all chocolate lovers can delight in!
Author:
Maegan - The BakerMama
Ingredients
½ cup (1 stick) unsalted butter, room temperature
½ cup granulated sugar
¼ cup brown sugar
1 large egg
½ teaspoon vanilla
1 cup Gold Medal ® all-purpose flour
¼ cup unsweetened cocoa powder
½ teaspoon baking powder
¼ teaspoon baking soda
¼ teaspoon kosher salt
1 (12 ounce) bag mini chocolate chips, divided
Instructions
Preheat oven to 350°F. In the bowl of an electric mixer, beat the butter and sugars until smooth. Add the egg and vanilla and beat until well combined.
In a separate bowl, whisk together the flour, cocoa, baking powder, baking soda, and salt. Add the flour mixture to the wet ingredients in two batches and beat on low speed until just combined. Stir in 1-1/4 cups mini chocolate chips.
Place the remaining chocolate chips in a shallow bowl. Form about a tablespoon of dough into a ball and flatten with the palms of your hand. Press one side of the dough into the mini chocolate chips so that it is completely covered. Remove and place on a lightly greased cookie sheet so that the chocolate chips are on the top of the cookie as it bakes. Repeat with remaining dough and mini chocolate chips.
Bake for about 15 minutes or until cookies start to crinkle a bit on top and are set around the edges. Let rest on cookie sheets for 5 minutes before removing to a wire rack to cool or enjoy immediately!