A scratch-made savory pull-apart bread that's extra cheesy and loaded with bacon bliss.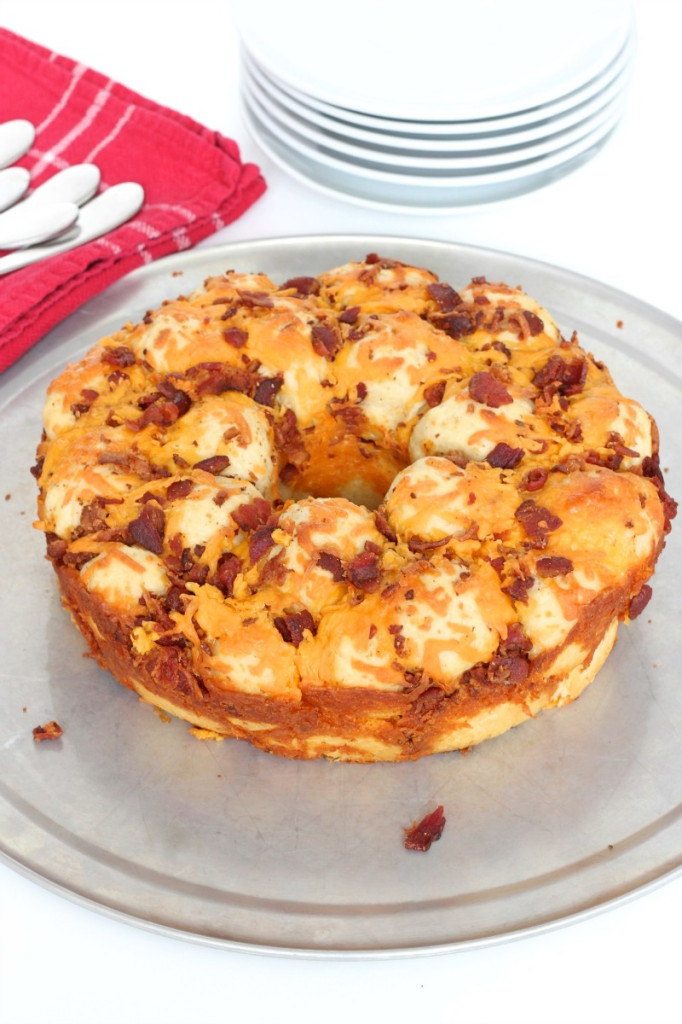 What is it about monkey bread that everyone's so crazy about?! Sure, it could be the name, but when you're baking balls of bread with tasty ingredients melted in between and all over them that you can pull apart and eat with your hands, what's not to go a little "ooh ooh eee eee aah aah" about?!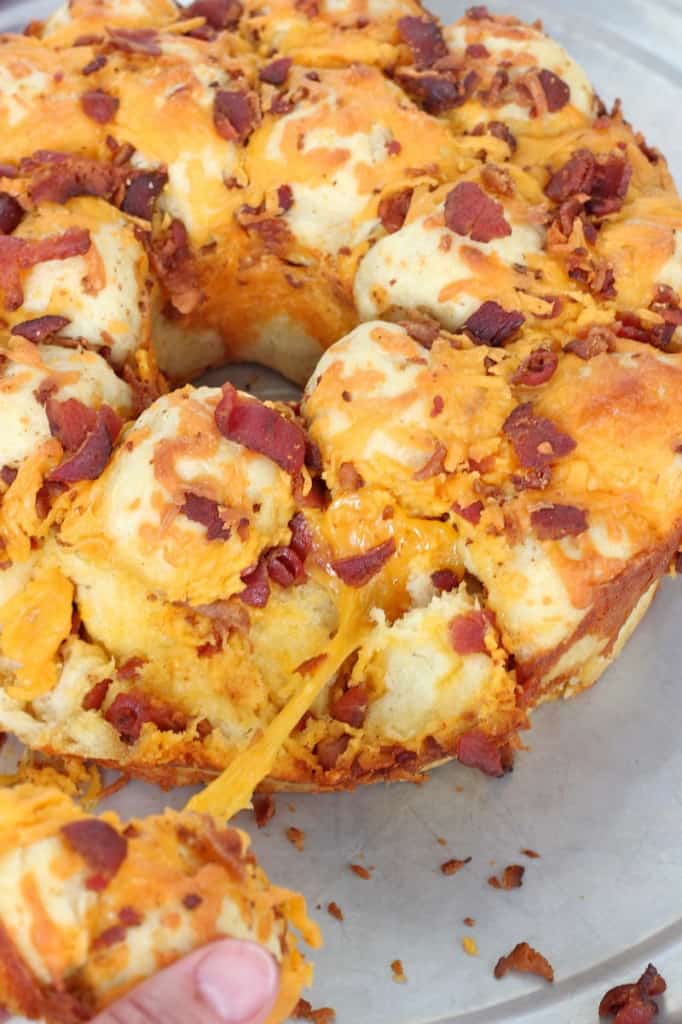 Well, I have a savory take on monkey bread for you and it's irresistible! Melted cheddar cheese and crispy fried bacon surround balls of fluffy dough for a brunch or dinner dish that's sure to be devoured.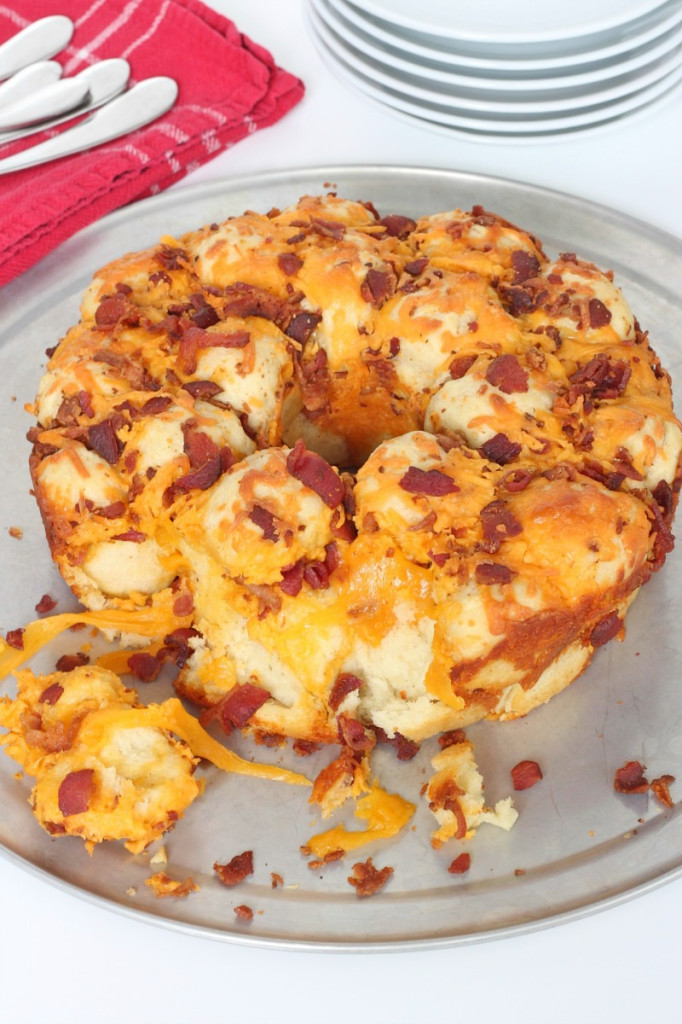 This monkey bread is so simple that you'll want to bake it again and again.
While the dough is rising, you'll fry up some bacon and let it cool before crumbling it into little bits. You'll want to reserve about 1/4 cup of the bacon fat for dipping the dough in before layering it in the tube pan.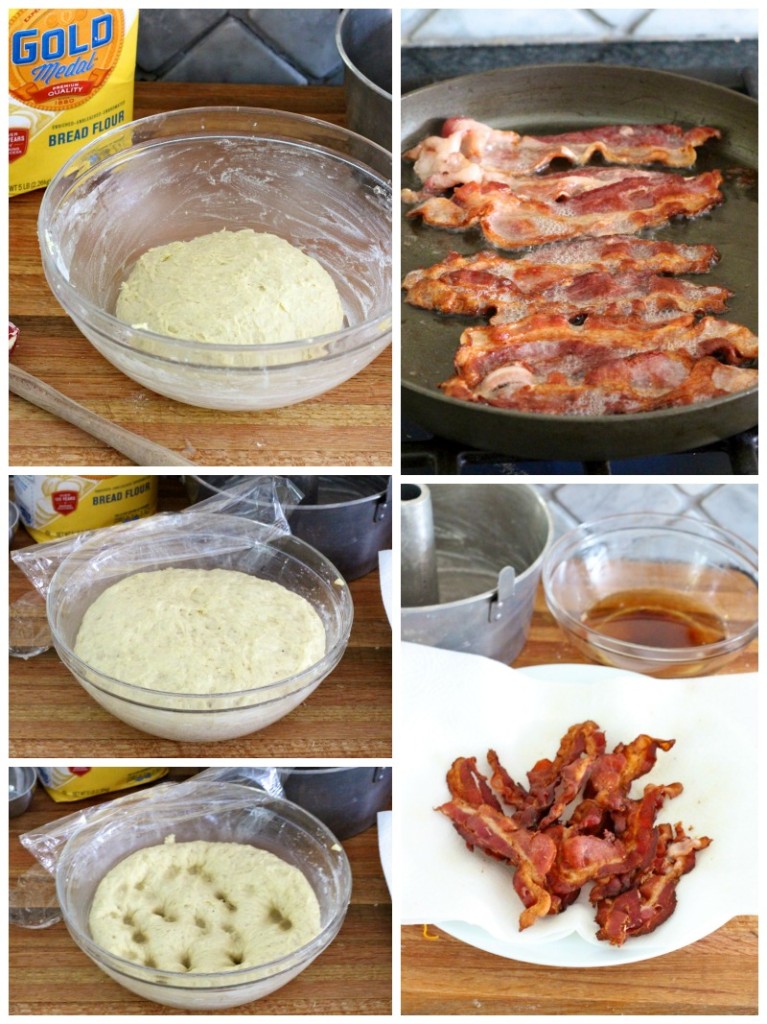 Once the dough has risen and the bacon is crumbled, you'll form the dough into 1-inch size balls, dip them in the reserved bacon fat, and layer them in the tube pan with lots of cheese and that crispy crumbled bacon. Mmmm…mmmm…mmmm!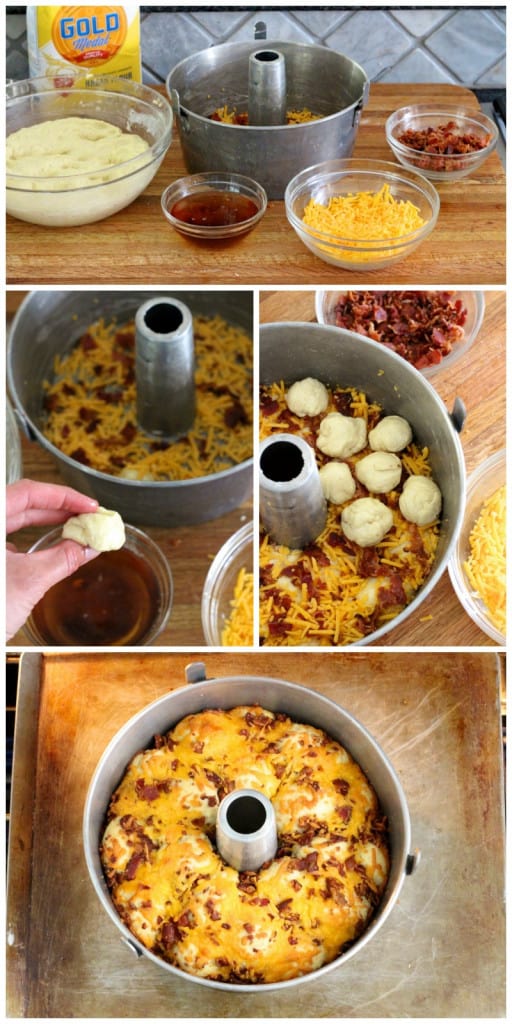 As it bakes, your house will be filled with a warm exciting aroma of fresh baked bread with indulgent whiffs of cheese and bacon. Oh my! You gotta give it a try!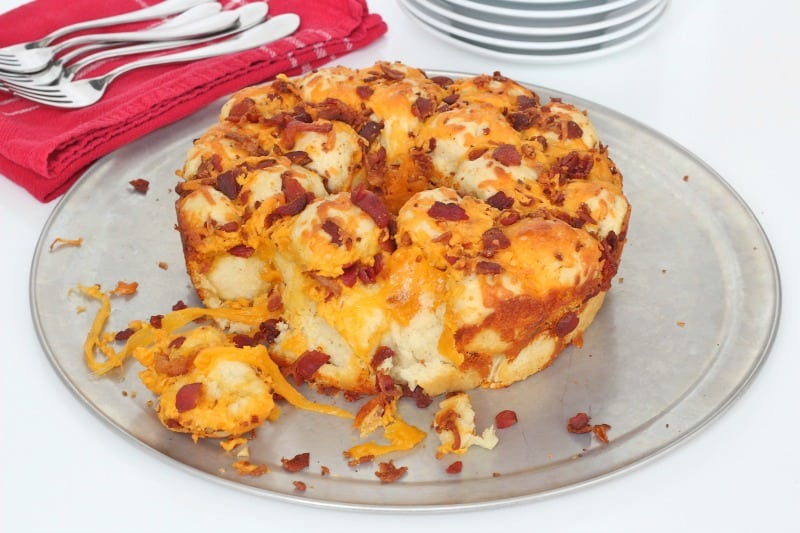 Enjoy!
~Maegan
This recipe was created as part of my partnership with Gold Medal Flour however thoughts and opinions are certainly my own!

Bacon Cheddar Monkey Bread
A scratch-made savory pull-apart bread that's extra cheesy and loaded with bacon bliss.
Author:
Maegan - The BakerMama
Ingredients
4 tablespoons butter, melted & slightly cooled
¾ cup milk
1 large egg
1 teaspoon sugar
1 (1/4 ounce) package active dry yeast (2-1/4 teaspoons)
¼ cup warm water
2-1/2 cups Gold Medal™ Better for Bread™ flour
1 teaspoon salt
12 slices bacon
3 cups shredded cheddar cheese
Instructions
In a large bowl, melt the butter. Set aside to cool slightly.
Add the yeast and sugar to a small bowl. Gently pour the warm water over it. Let proof until foamy, about 10 minutes.
Once butter is slightly cooled, whisk in the milk, egg and yeast mixture. Add the flour and salt and stir until well combined. Using well-floured hands, form dough into a moist ball. Place in a buttered bowl and cover in plastic wrap. Let dough rise in a warm place until doubled in size, about 1-1/2 hours.
While the dough is rising, fry the bacon until extra crisp, reserving ¼ cup of the bacon fat. Let bacon cool on a paper towel and then crumble into bits.
Preheat oven to 350°F. Butter a 9 or 10-inch tube pan. Sprinkle ¼ cup cheese and a few tablespoons of bacon onto the bottom of the tube pan.
Gently punch down on the risen dough to release the air bubbles. Take half of the dough and form it into 1-inch size balls, dipping each one into the reserved bacon fat before placing into the bottom of the tube pan. There should be an even layer of dough balls in the bottom of the tube pan with about a thumbs space between each one. Sprinkle dough balls with 1-1/4 cups cheese and half of the remaining bacon bits. Form remaining dough into 1-inch size balls, dip in remaining bacon fat and place on top of the first layer in the tube pan. Sprinkle dough balls evenly with remaining cheese and bacon bits.
Place tube pan on a baking sheet and bake in the preheated oven for 35-40 minutes or until golden brown and cheese is melted and crisp on top.
Let cool for just 5 minutes before running a knife around the edges of the bread and inverting it onto a serving plate. Serve warm or cooled.