A recap of our recent trip to San Francisco, Napa & Sonoma Valley with lots of restaurant and winery recommendations!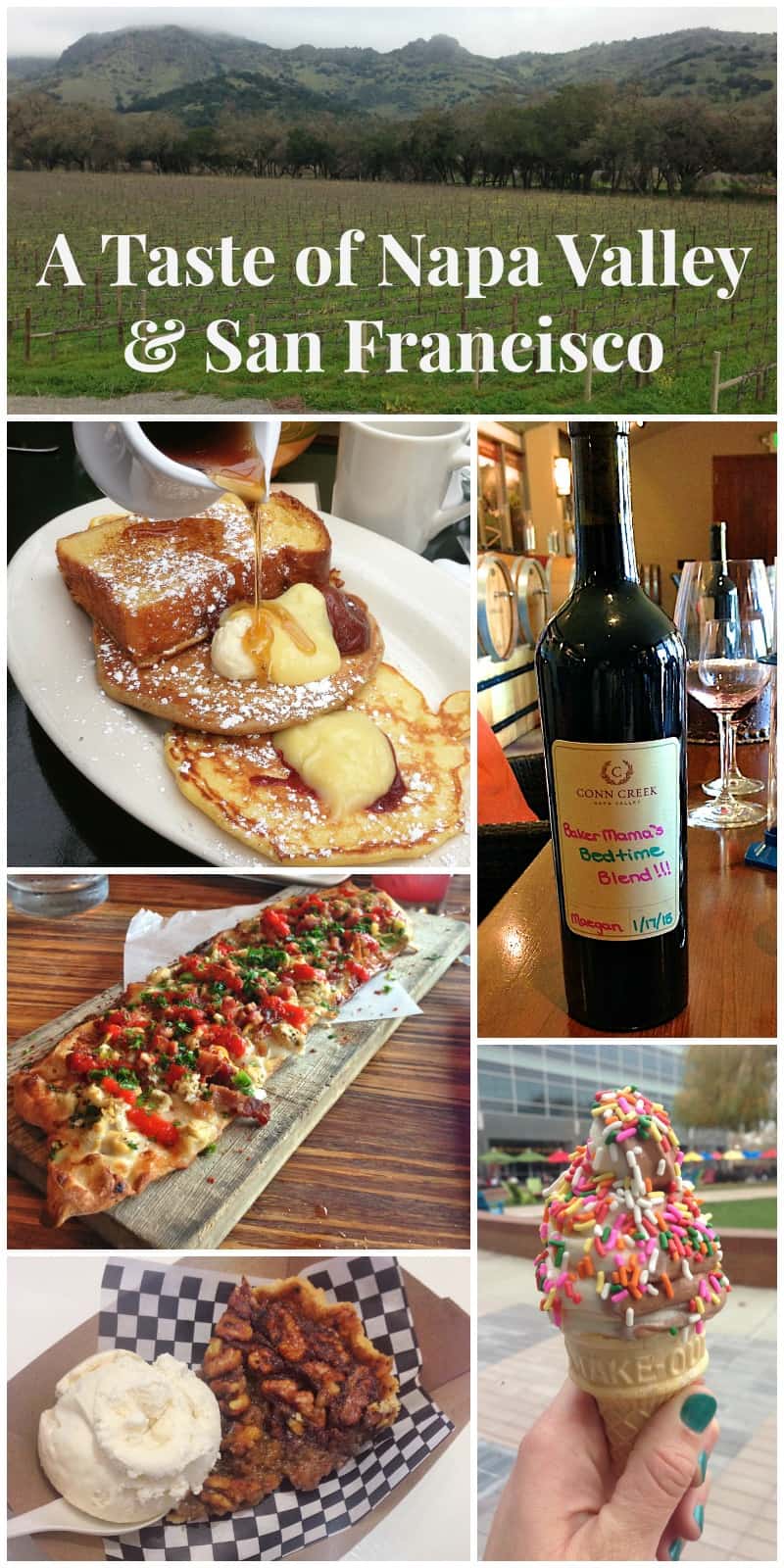 In mid-January, Brandon and I met up in San Francisco for a fun day in the city before heading to Napa with some friends for the long weekend. It was incredible and indulgent!
Of course, everything we did revolved around food and wine so after dropping our bags at the hotel in San Fran, we headed straight to one of our favorite pizza places ever: Tony's Coal Fired Pizza & Slice House. They have a full restaurant along with a slice house next door. We've only ever gone to the slice house and it's amazing! The crust is perfectly crisp and chewy and the toppings are high quality and full of flavor. Lot's of yummy choices, but since we were planning to have a later dinner somewhere else, we just split a few slices as an appetizer. Pizza by the slice is where it's at! We weren't that impressed with the sicilian-style though.
Pizza love! You've gotta try it if you're in the San Fran area.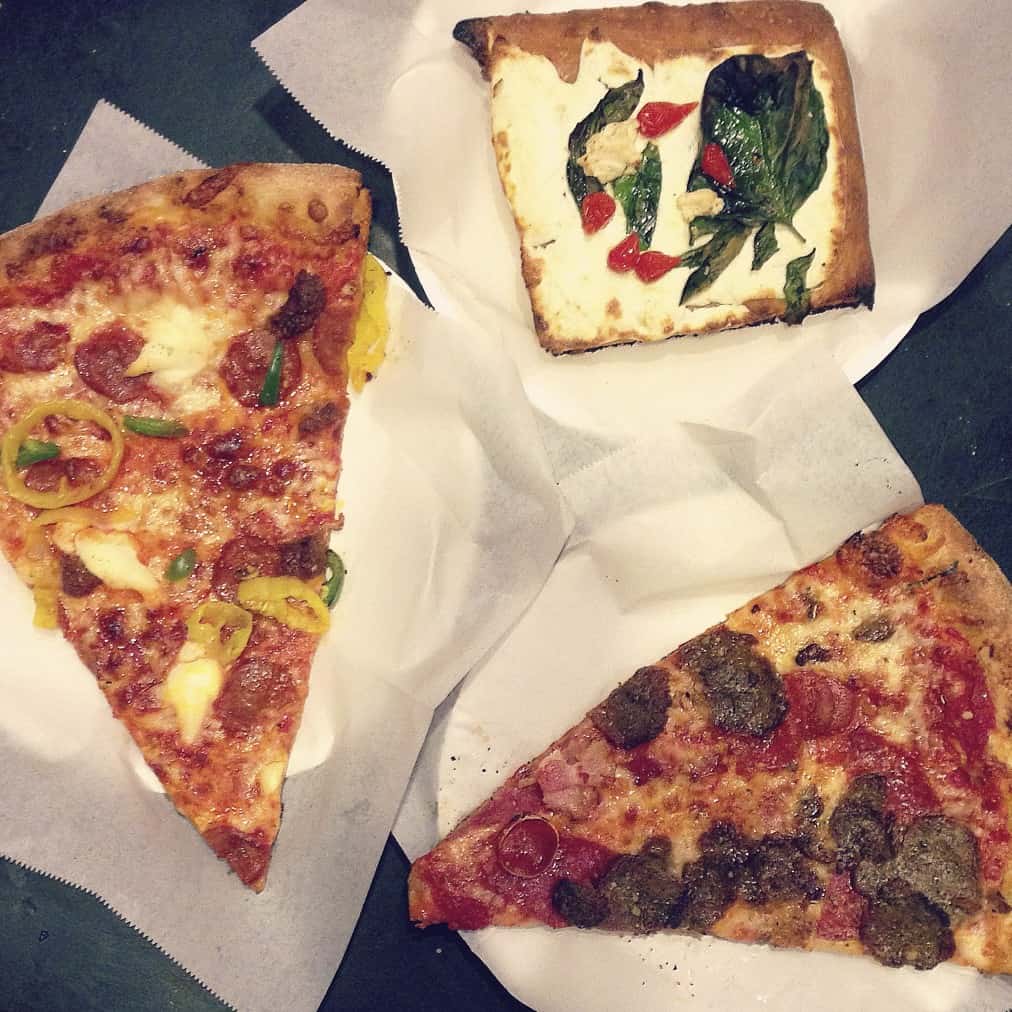 After enjoying our pizza, we strolled the streets of San Fran since our dinner reservation wasn't for a few more hours. One of my absolute favorite things to do is walk hand in hand with Brandon through the streets of a city finding great food and culture. We were definitely in our happy place!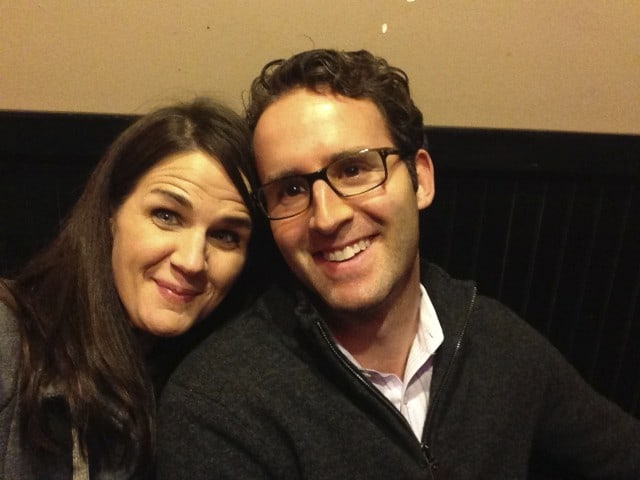 We happened upon The House restaurant (now closed! 🙁 ) which we had tried to get a reservation at last time we were in San Fran and this time as well, but they were all booked up. It's a small restaurant and one of the best rated in the city, so getting a table is pretty tough. We decided to just bop in to see if they happened to have any cancellations and sure enough they had! Woo-hoo! They told us to come back in an hour so we walked around the corner to a hip bar with awesome drinks and drank a few cocktails while we waited for our table. Oh and we cancelled our other reservation because this restaurant had been on our radar for years!
The House was just as incredible as we had heard and read! Quaint, great service and awesome food!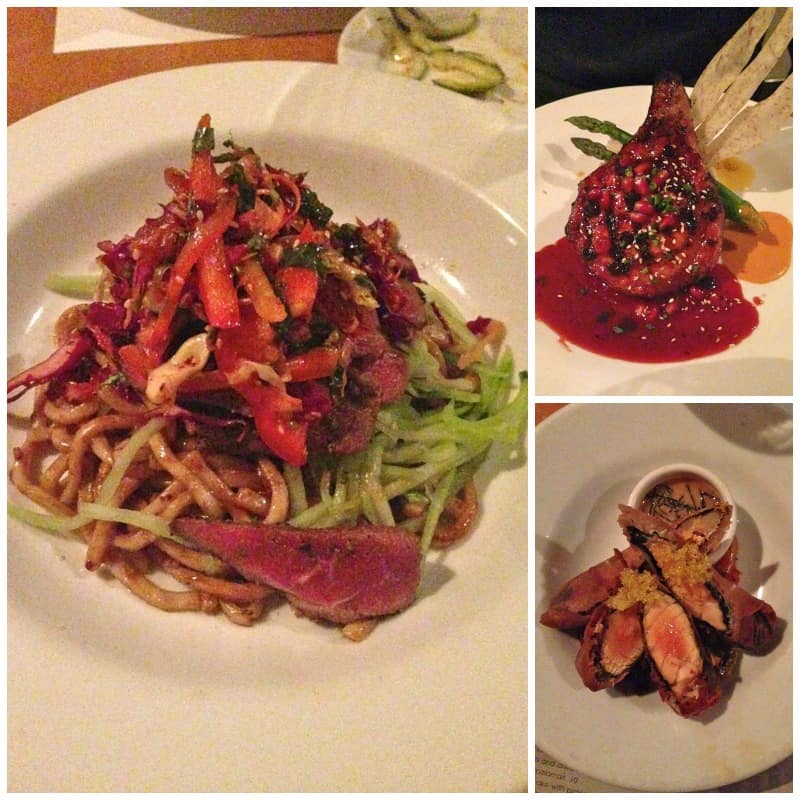 We ordered the deep fried salmon rolls as an appetizer and then the pork chop and wasabi noodles with steak as our entrees. Everything was so well prepared, full of flavor and freaking fabulous! We became so obsessed with the wasabi noodles and steak that we recreated it at home the very next weekend. Unforgettable! Loved The House and so so glad we got to finally eat there before they closed!
We were so stuffed that we didn't even eat dessert that night. Shocker! I can probably count on one hand how many nights I've gone without dessert in my life. We were stuffed!
The next day we met up with some of our best friends from business school who live in San Fran so she could show us around her neighborhood and take us out to Google Headquarters where he works for a the grand tour. It was such a fun day full of lots of yumminess!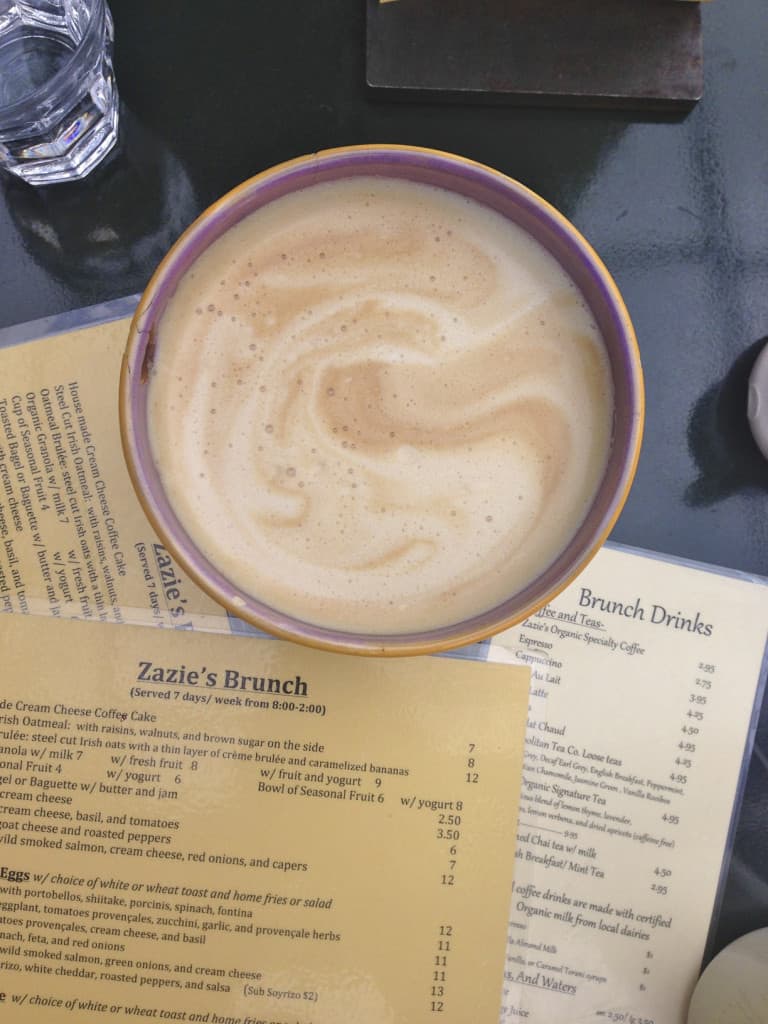 We started the day at Zazie for brunch. It's one of the top brunch spots in San Fran and it's just blocks from their house. I had it bookmarked in Yelp as a must try so I was absolutely thrilled when Liz told us she was taking us to Zazie for brunch. What a treat!
Since I hadn't had dessert the night before, I was craving something sweet and when I saw they had a Griddle Flight on the menu, I knew it was meant to be mine. It was brunch bliss, y'all! Perfectly cooked french toast, over a gingerbread pancake with roasted bosc pears and lemon curd, over a lemon ricotta pancake with more lemon curd and fresh made butter. To Die For! Seriously, I've been dreaming about this brunch ever since. Love love loved it!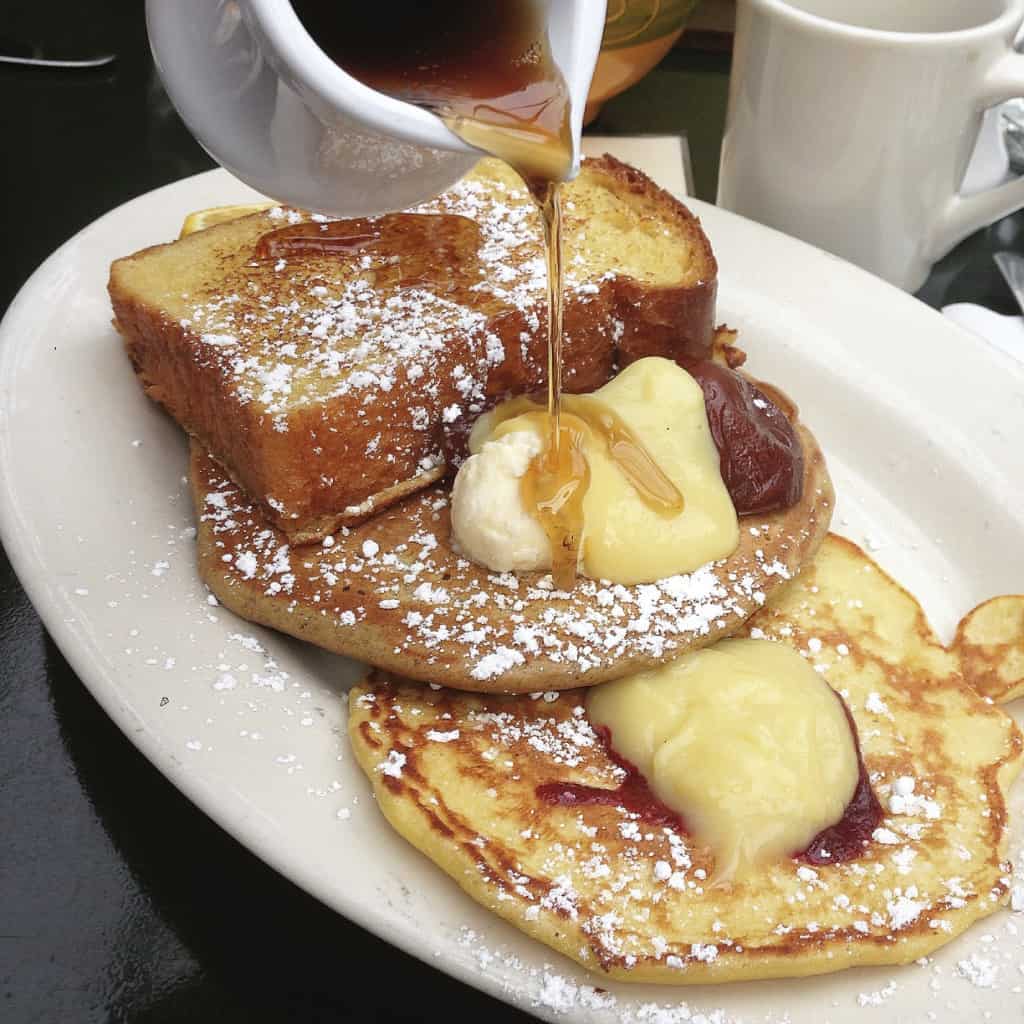 After brunch, we ventured out to Mountain View, CA to the Google Headquarters to meet up with our friend (Liz's hubby) for lunch and the grand tour. When we met up with Andrew, he mentioned there was awesome food everywhere you turned and that it was all free, but I had no clue what he meant until we started going in and out of some of the buildings. Y'all, I think all they do at Google is eat! Seriously, each of the 100+ buildings has it's own full restaurant, little cafes, pod-like grocery stores, ice cream machines, dessert stations, juice bars, etc., etc. We were blown away! No need to worry about anybody at Google ever going hungry. And it was all great food too! Professional chefs at each of the restaurants. So impressed!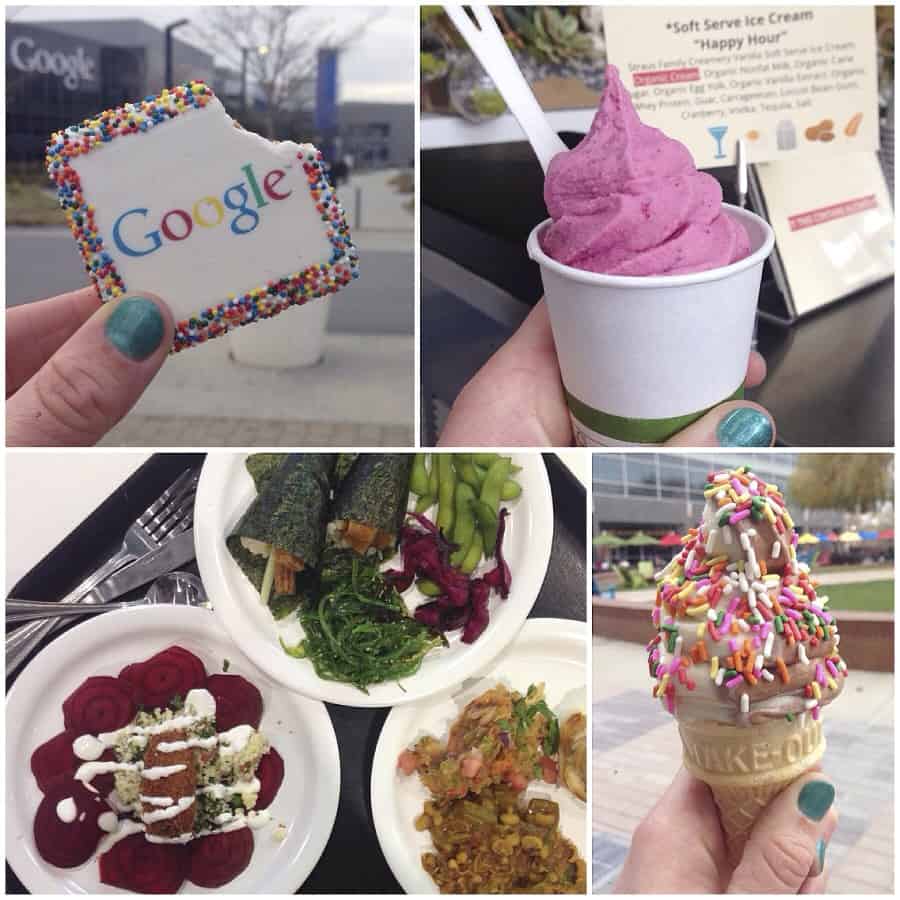 We pretty much ate our way across the campus while Andrew told us about life at Google and how great it was! I almost submitted an application! 😉 😉 What a neat experience!
We then headed back into San Fran and walked to Liz's favorite ice cream shop. Because we hadn't had enough to eat, ya know! 😉 She said The Ice Cream Bar was a must try and boy were we glad she took us there! The house-made ice cream was phenomenal. We tried almost every single flavor and each one was really really good. We settled on four flavors for our big ol' bowl: butterscotch, mint chip, chocolate peanut butter and coffee. Loved them all, but the butterscotch was definitely my fave! So yummy!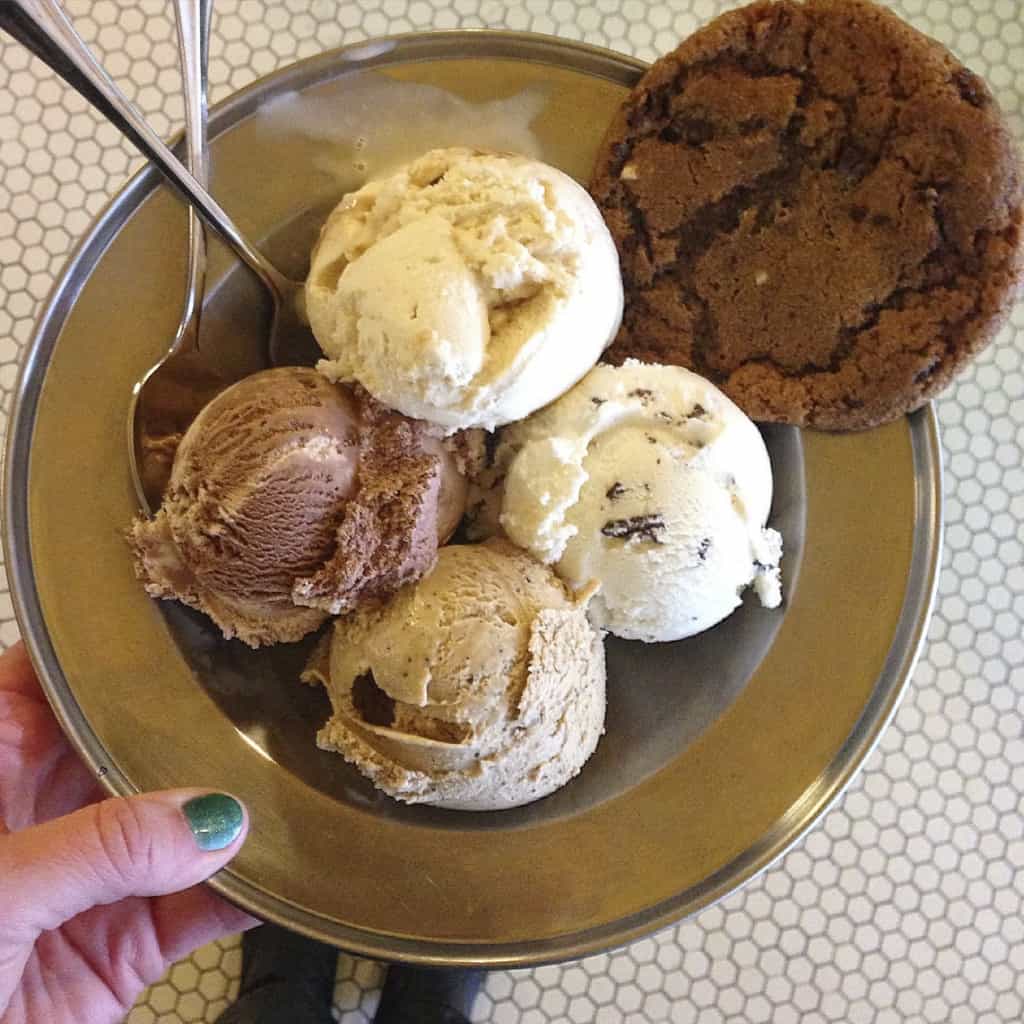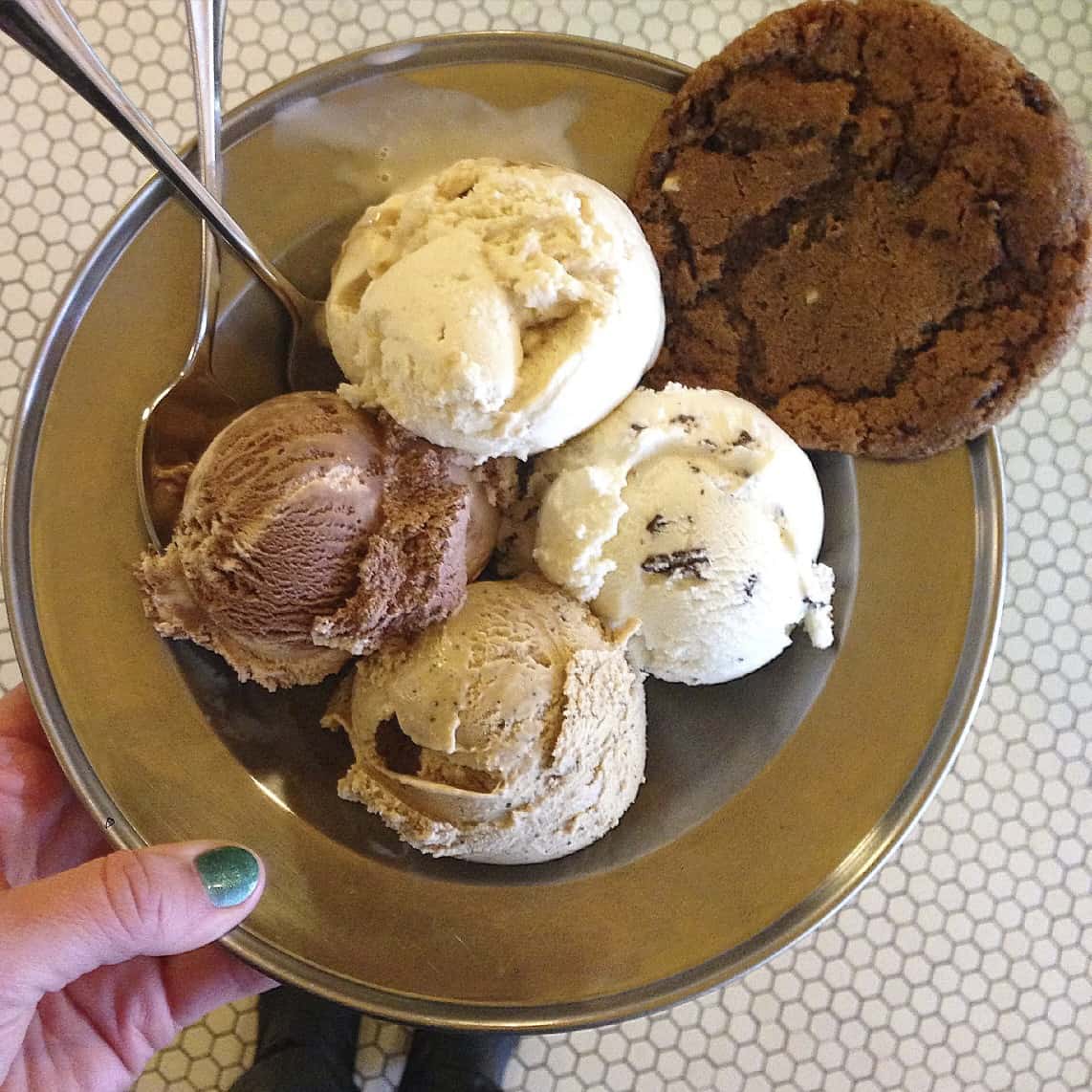 We had to say our goodbyes to Liz which was really hard because we lived right down the street from each other in business school and saw each other almost every single day for 2 years straight. I miss her so much and getting to spend the day with her was so wonderful! We'll just have to start making plans for another meet-up as soon as possible. Thanks for a fun and yummy day, sweet friend! Love ya!
We then met up with one of the other couples we were going to Napa with to head that way. It was wine time!
We had 2 full days and 3 nights planned in Napa & Sonoma. We stayed at this adorable house in downtown Napa and hired a driver to drive us around to the wineries during the day so we wouldn't have to worry about finding an Uber driver at every winery. It was so much fun!
The night we arrived in Napa, we ate at the Farmstead at Long Meadow Ranch. Great atmosphere, great drinks and great food! Our trip was off to an awesome start!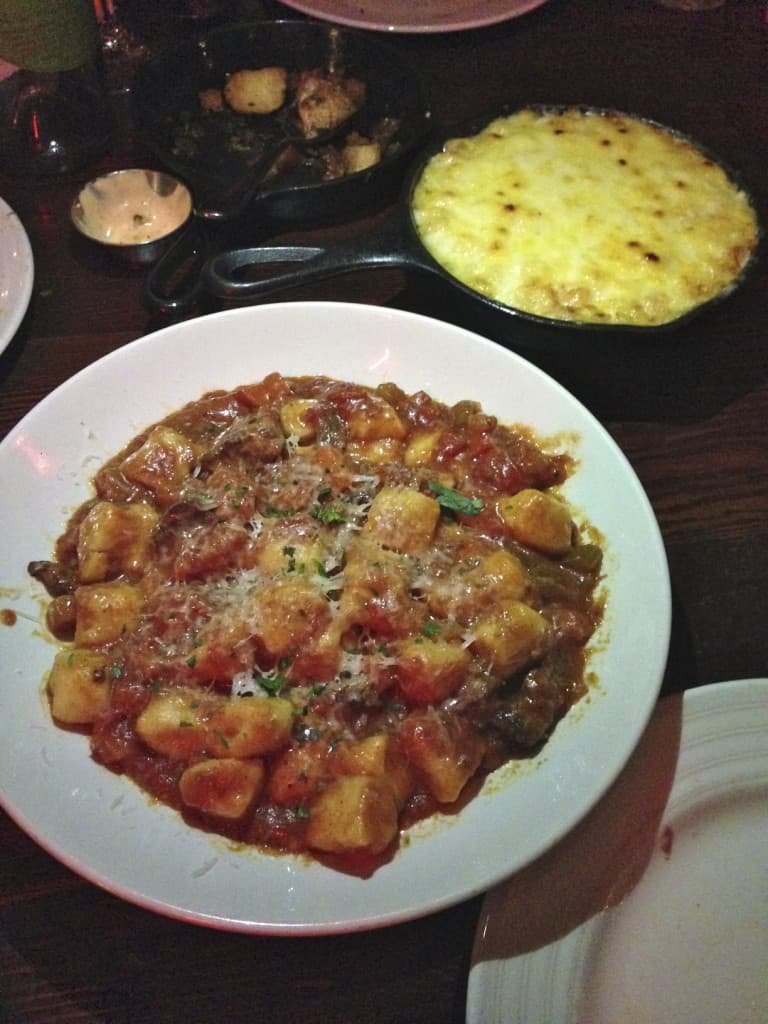 We ordered lots of different plates that we just ate family-style so that we could try almost everything. Highlights were the meatballs, mac and cheese, crispy potatoes with spicy mayo, and the potato gnocchi ragu. Oh and the desserts, of course…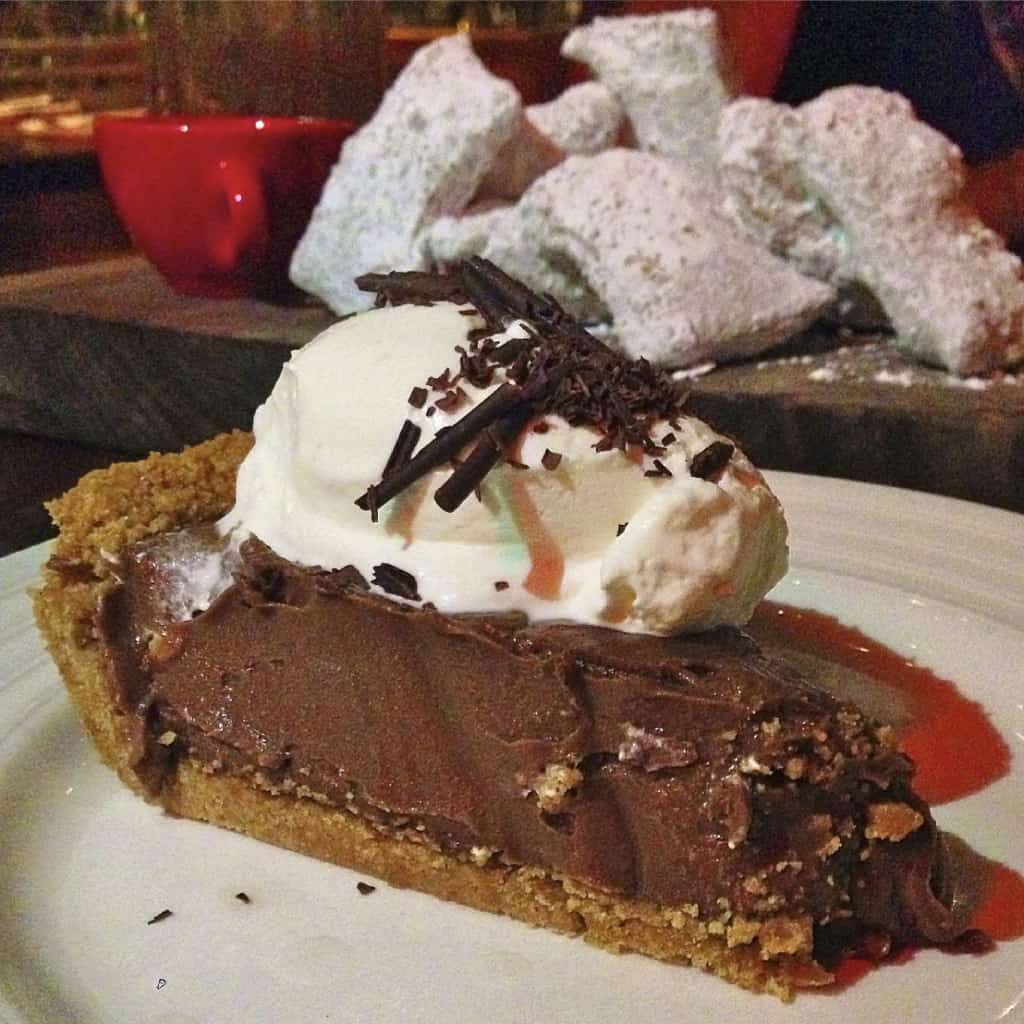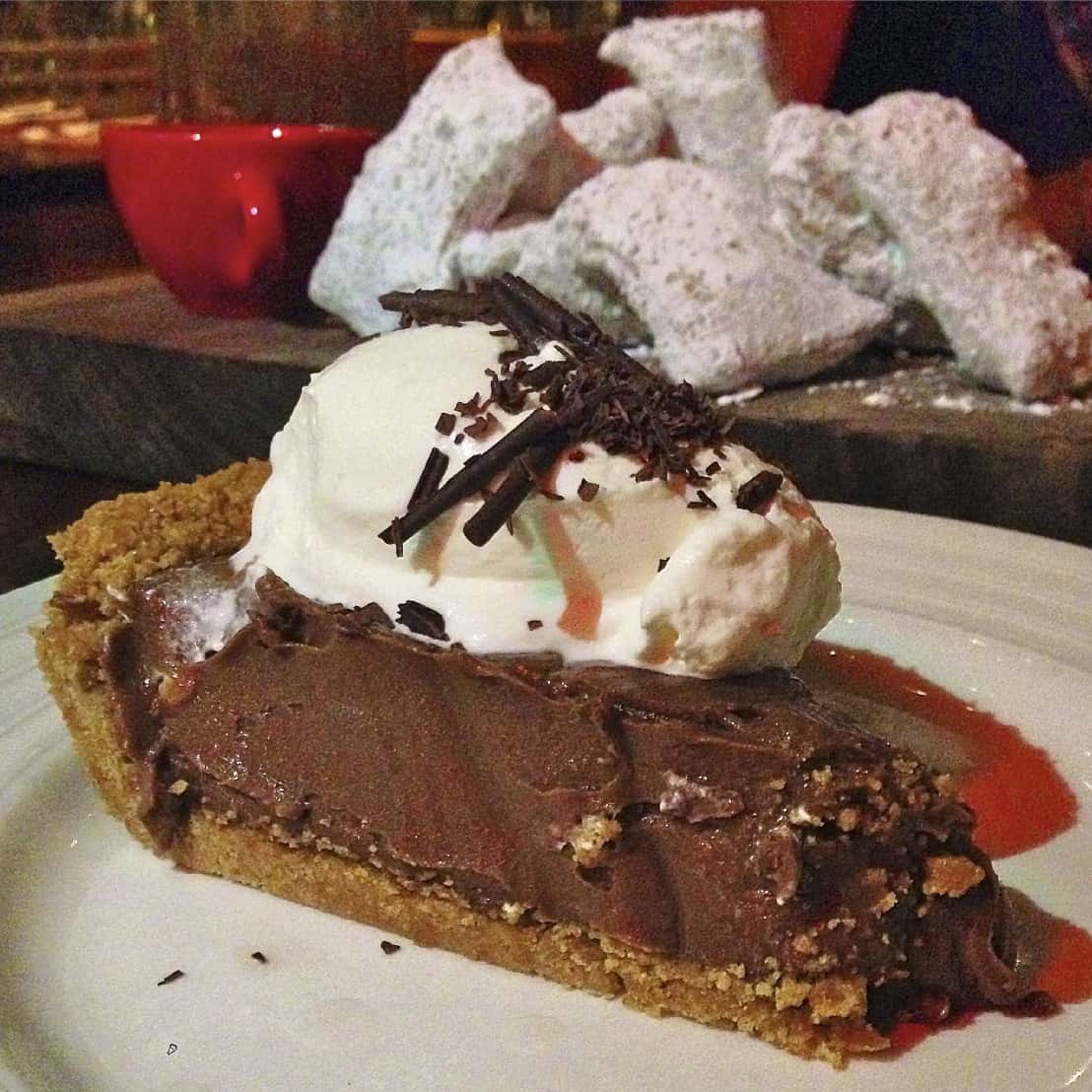 Oh me! Oh my! What a chocolate pie! The beignets were just okay. The pie definitely stole the show and a fork fight might have ensued for the last bite. 😉
After a good night's rest in our cozy little cottage, Brandon and I decided to go on a walk/run before another full day of drinking and eating. The weather was just perfect.
Well, we definitely got a good run in, but it turned into more of a bakery run. Haha! I couldn't resist! We just kept happening upon these cute little bakeries with tons of baked goodies swooning me in…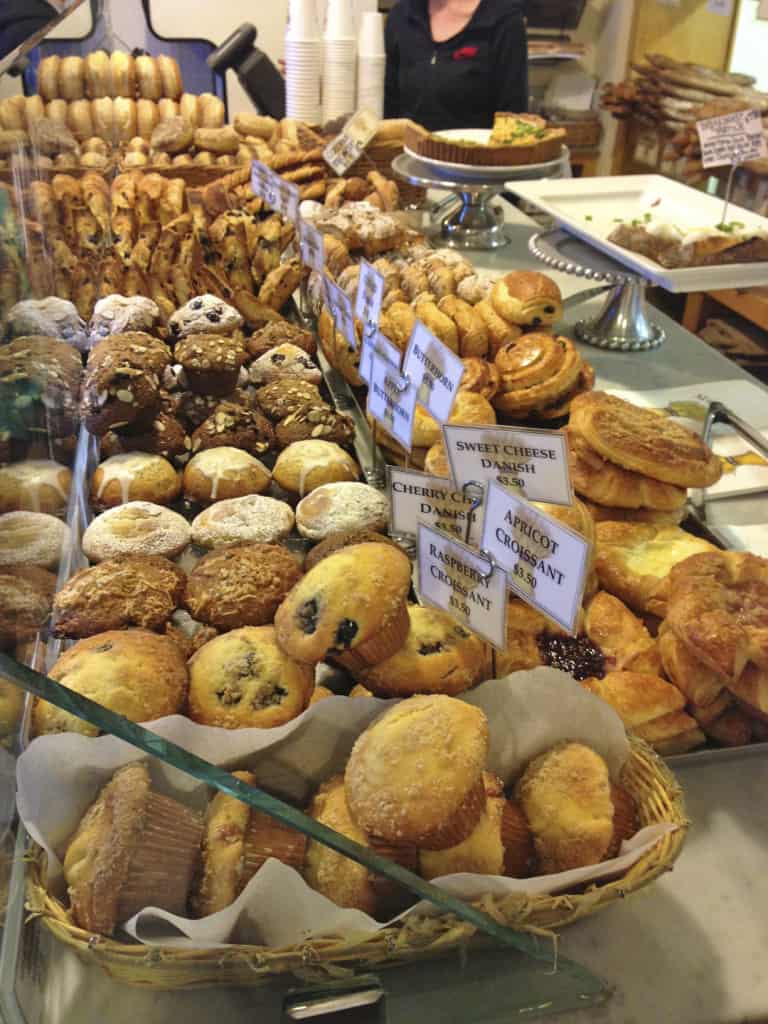 We got a box full at each of three bakeries and brought it all back to our little house for us to carb-load on before drinking the day away. The day was obviously off to an amazing start…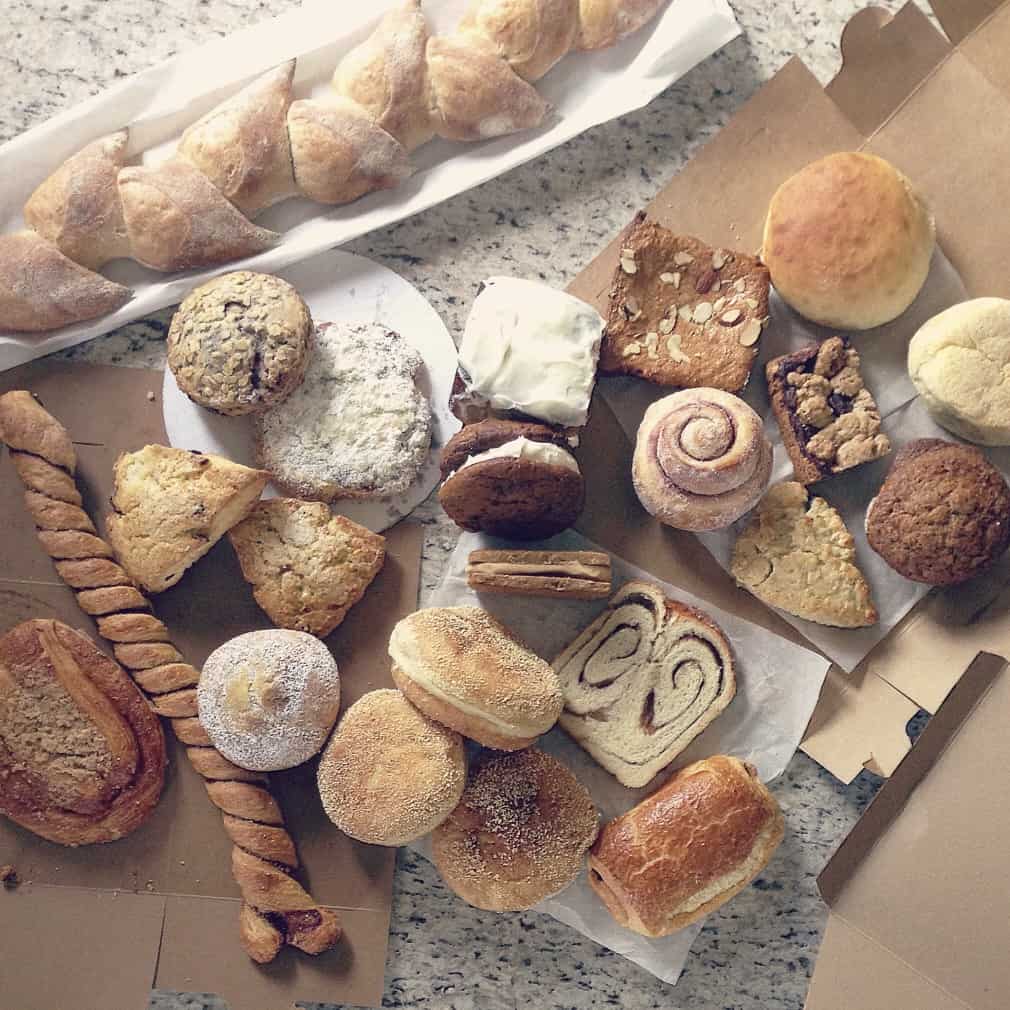 Baked goodies from The Model Bakery, Sweetie Pies and Alexis Baking Company. Each bakery had a great selection with stand-out goodies at each.
The Model Bakery – their homemade English muffins are a must! Better than any English muffin I've ever had. All of their breads were amazing too!
Sweetie Pies – we got the most fabulous chocolate cake for our friend's birthday celebration as well as their cinnamon roll and peanut butter filled peanut butter cookie sandwich. Loved this little bakery!
Alexis Baking Company – Our favorites were their muffins, scones and this tasty fruit oat bar. Tons of baked goods and breads to choose from. We just got baked goods to-go, but they have a full restaurant and their breakfast/brunch menu looked amazing! Will definitely have to try it next time we're there.
After our bakery run, it was wine time so we headed to the vineyards. One of the best decisions of the trip was to hire a driver to drive our rental car around the two days we were there. That way we could go from winery to winery without having to worry about finding an Uber every time. Some of the wineries are in remote locations so it can take a while for an Uber to get to you. Again, best decision ever and pretty reasonable when the cost is split amongst a group.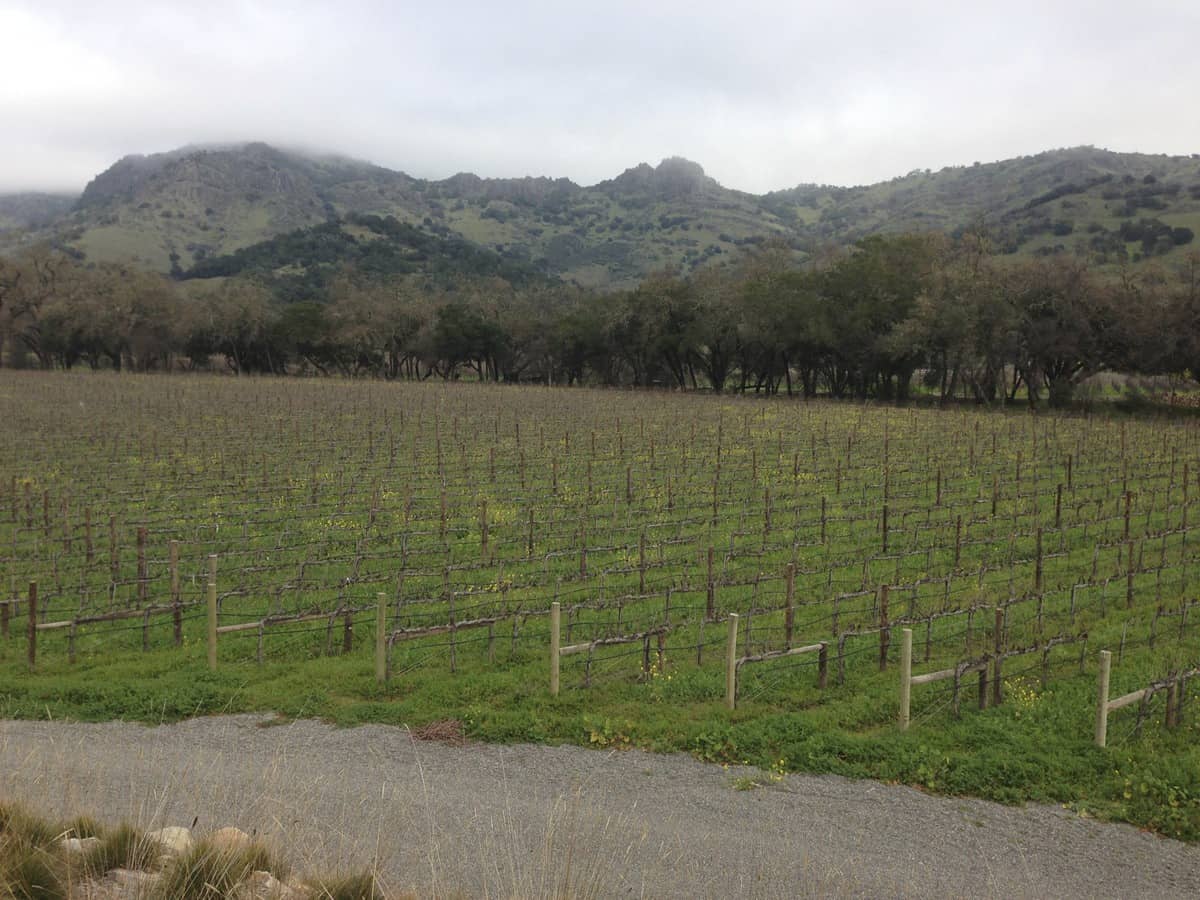 Our first winery of the day was a wine making experience. So amazing!
We were at Conn Creek Winery all morning learning about how wines are blended and where the grapes are grown and how the same grape can taste so different depending on which valley it's grown. We got to taste 25 different Cabernet varieties that we then blended into our very own bottle! I named mine BakerMama's Bedtime Blend! 😉 Only bummer is that they recommended we wait at least 6 months to let the wine age before enjoying it. I can't tell you how many nights I've put the boys to bed and been tempted to uncork my bottle. I'm patiently waiting for that night though. 😉
So impressed by the wines and the experience at this winery and can't wait to go back!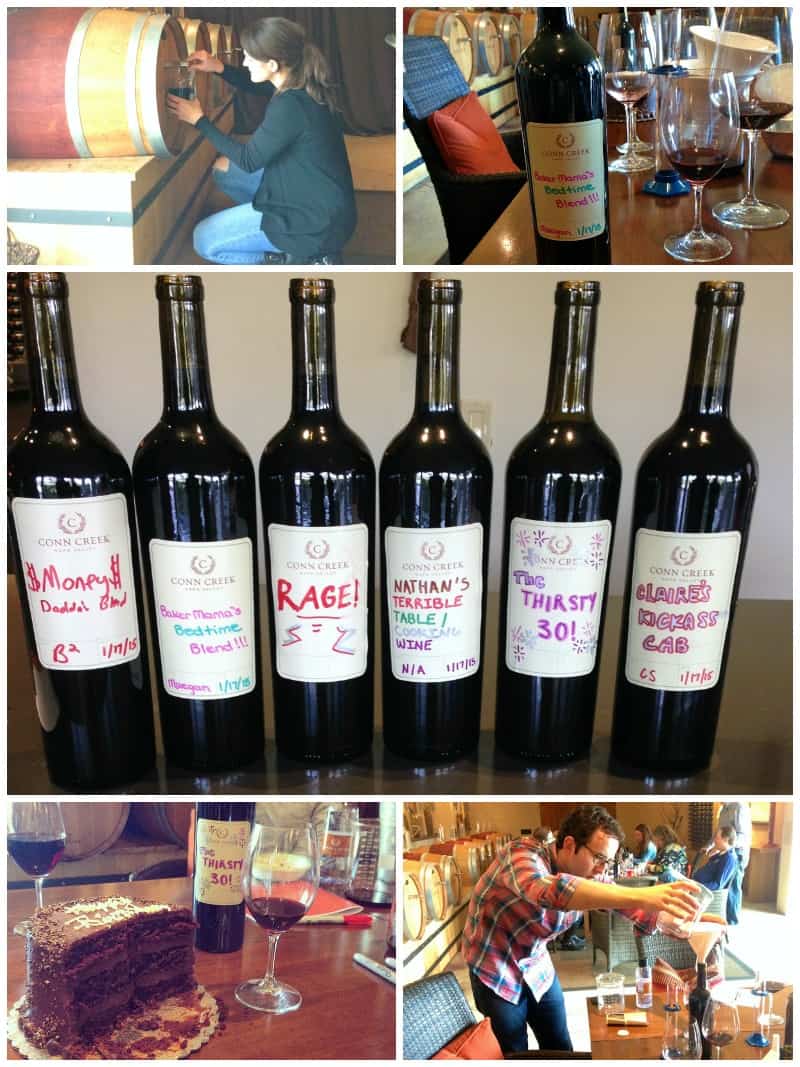 The whole reason for our trip to Napa was to celebrate my sweet fried, Nicole's, 30th birthday. And that we did! Nicole and her hubby had missed their flight to Napa so they showed up a little late to our first winery, but we were waiting with cake and full glasses of wine to welcome them. After we all blended our own wines at Conn Creek, we went to Stag's Leap Winery and White Rock Vineyards both of which have amazing cabs, impressive cellars and overall enjoyable experiences.
After all the wine tasting, another bakery visit was in order so we headed to Bouchon Bakery in Yountville. One of my favorite bakeries in all the land! Everything about this bakery screams love! From the presentation to the pure amazingness of each and every pastry, cookie, bread, etc. We got a variety of baked goodies and a box of macaroons that we devoured minutes after paying for them. Fabulous! Just fabulous! If you've never been, you've gotta get to a Bouchon Bakery ASAP!
Dinner that night was at Tra Vigne. A great Italian restaurant where we stuffed ourselves with bread, cheese, salad and plates and plates of pasta. Oh, and more wine. When in Napa…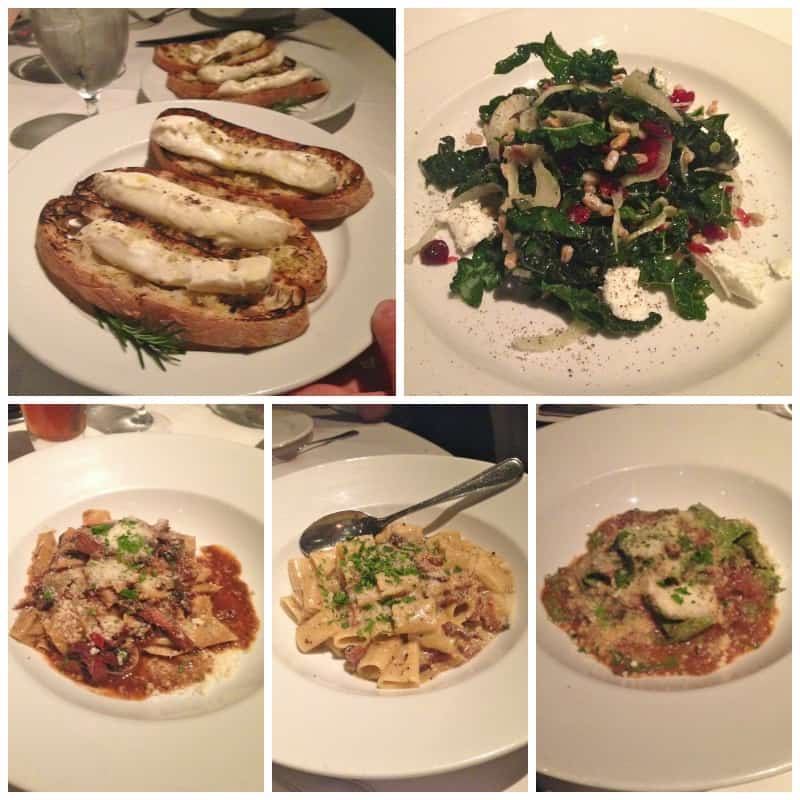 It was a long yet fun night so needless to say we were all moving a little slow the next morning. Nothing a a big ol' breakfast biscuit sandwich from Oxbow Public Market couldn't cure. 😉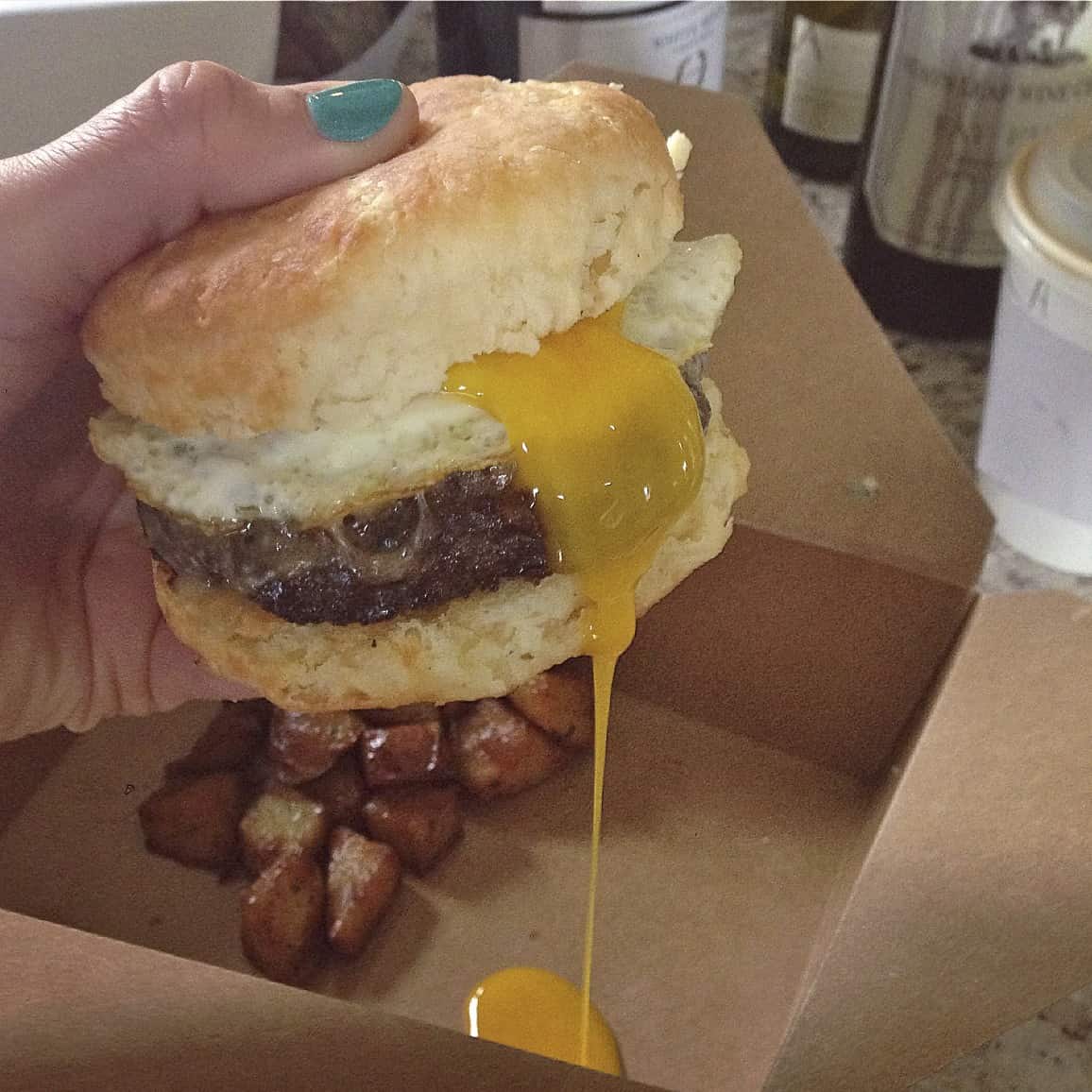 The next day, we headed to Sonoma to see what it was all about. We loved it! The drive over was beautiful, the wineries were gorgeous and the little Healdsburg town square was so cute and filled with so much to see and do.
I'm so glad that one of the friends I've made through Instagram told me about her family's winery in Sonoma because it was amazing! Arista Winery's property is absolutely gorgeous with its own gardens, olive trees, chickens, sheep, on-site private chef and of course acres of vines. Their pinot is unforgettable. We stocked up! Only bummer is that there's a 1 year wait to become an A-list member and have their wines shipped on a regular basis. 🙁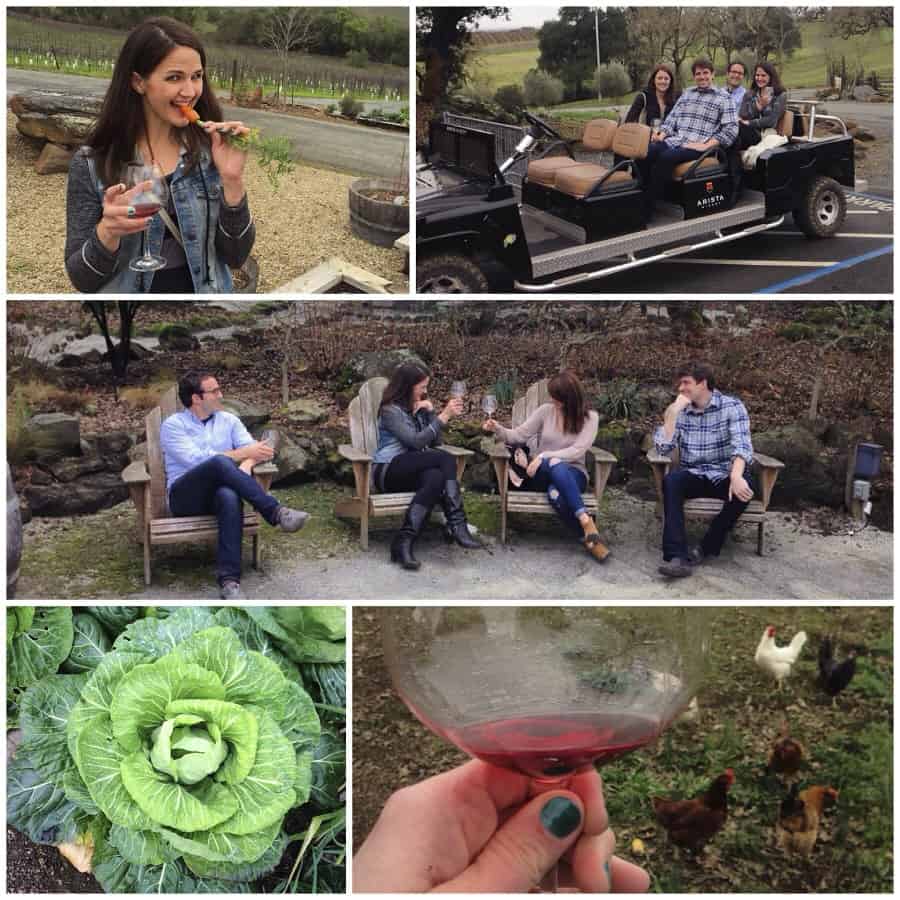 We also went to Gary Farrell Winery in Sonoma and did the fireside tasting which was so nice and relaxing!
After the two tastings, we headed into the Healdsburg town square to grab a bite to eat and browse around. So much to eat and see! 🙂
Of course, I had to stop in the first bakery I saw and grab a cookie while we found a place for lunch. 🙂 This awesome sea salt chocolate chunk cookie came from Oakville Grocery Co.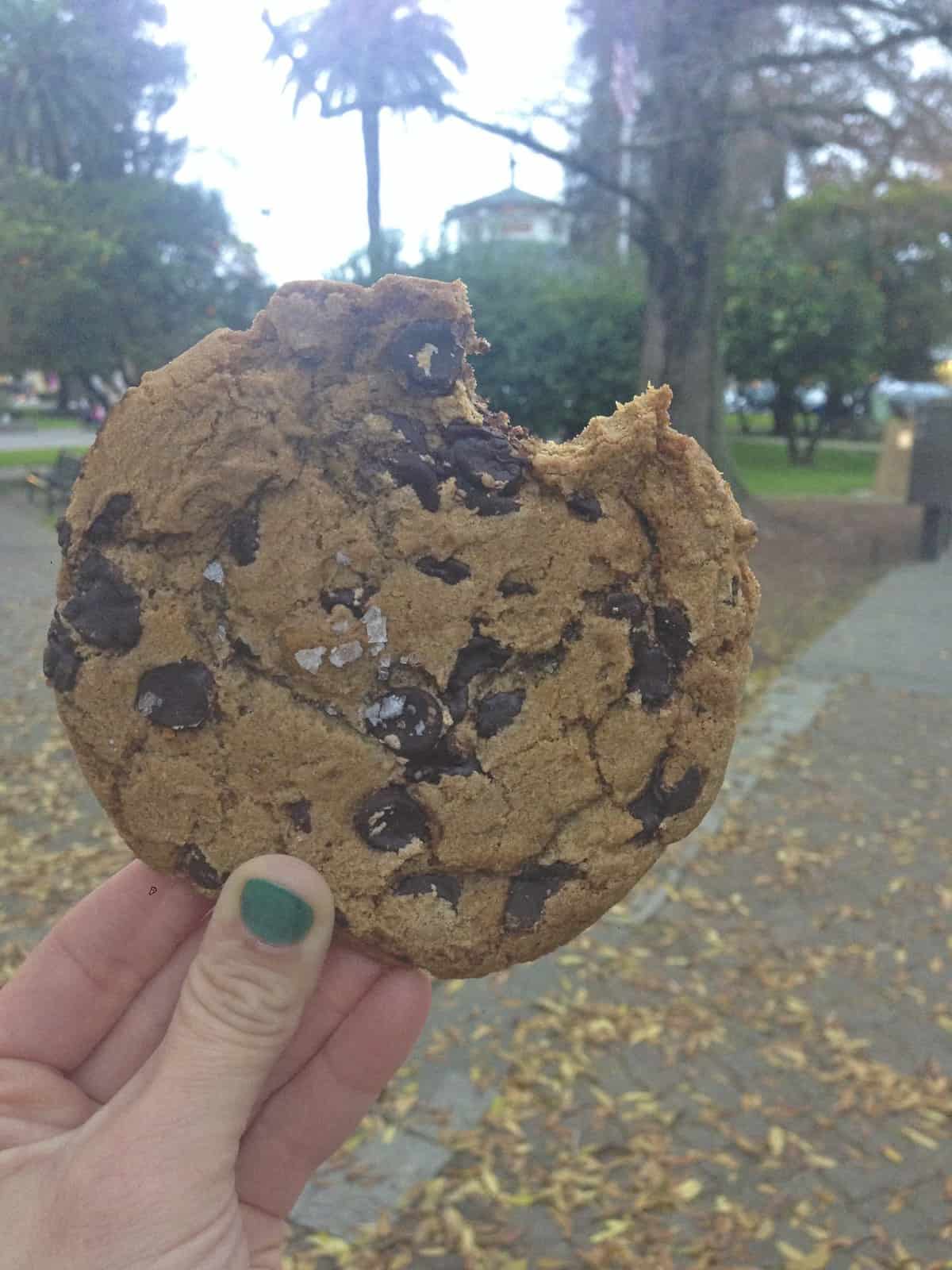 For lunch, we went to Willi's Seafood and ordered pretty much everything on their massive tapas-style menu. We were starving and had already had our fair share of wine and it all looked and sounded so good! Highlights were this clam & garlic flatbread with bacon & green onions…
And the caramelized banana split with vanilla bean ice cream, peanut butter mousse, and caramel chocolate krispies. Oh me! Oh my!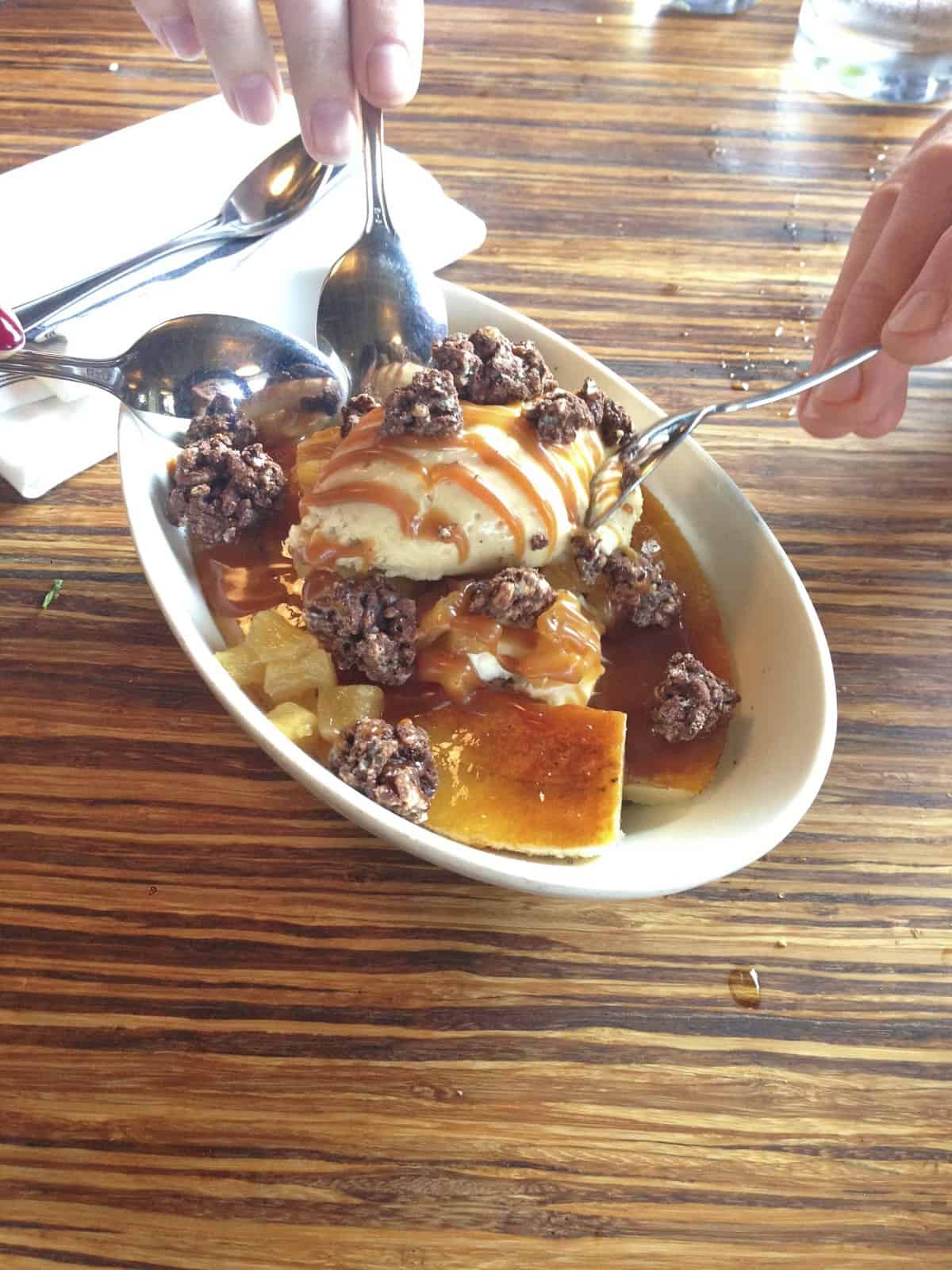 You'd think we would have hit our sugar high by now, but nope! Off we walked throughout the square to explore all the other bakeries and goodies it had to offer. First stop was Moustache Baked Goods. Such a cute bakery with amazing cupcakes…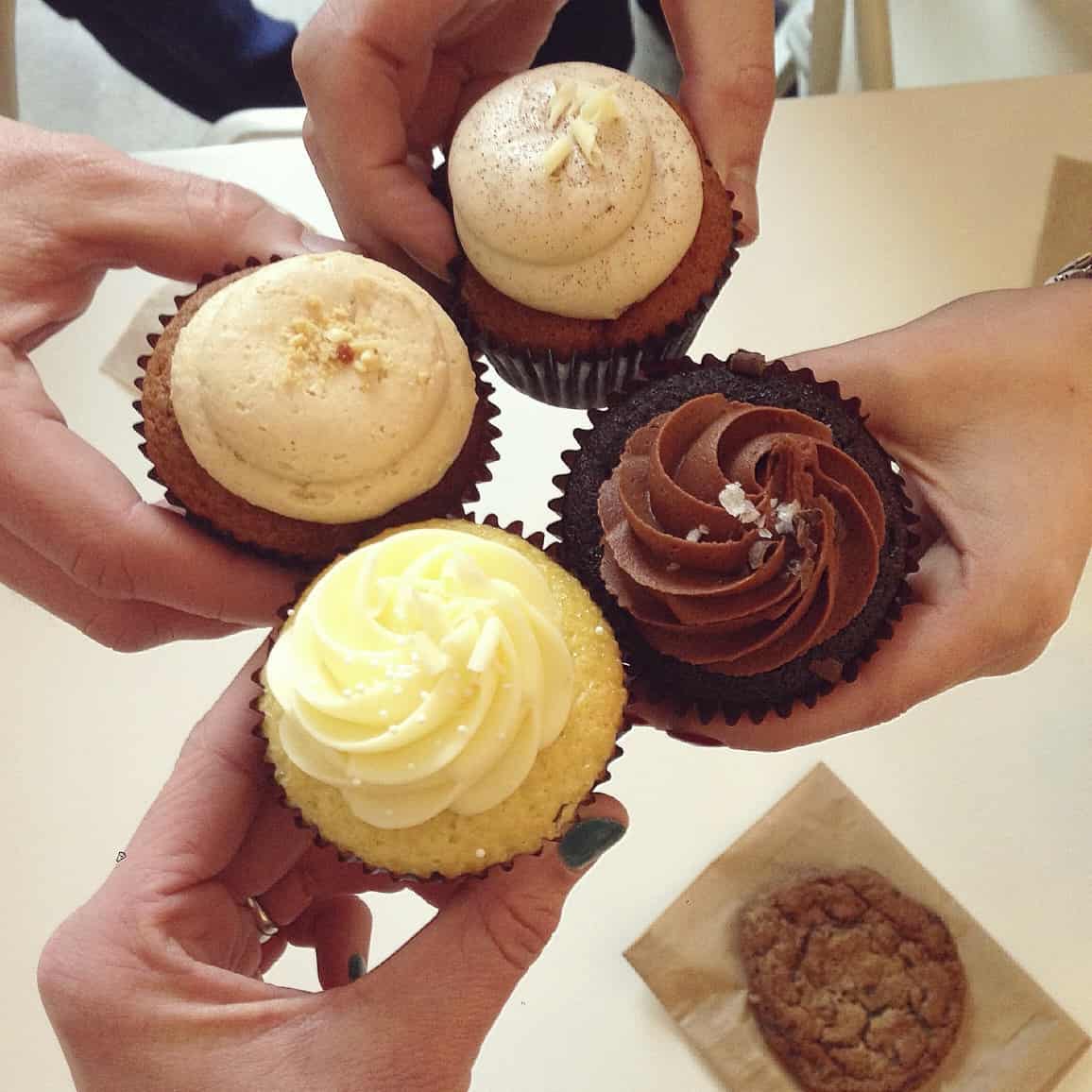 And then what I might venture to say was the most amazing treat of the trip was this maple walnut pie with ginger ice cream from Noble Folk Ice Cream and Pie Bar. The pie was perfection and the house-made ginger ice cream on top made it crazy delicious. I've had dreams about this dessert ever since. I absolutely adored this pie and ice cream shop!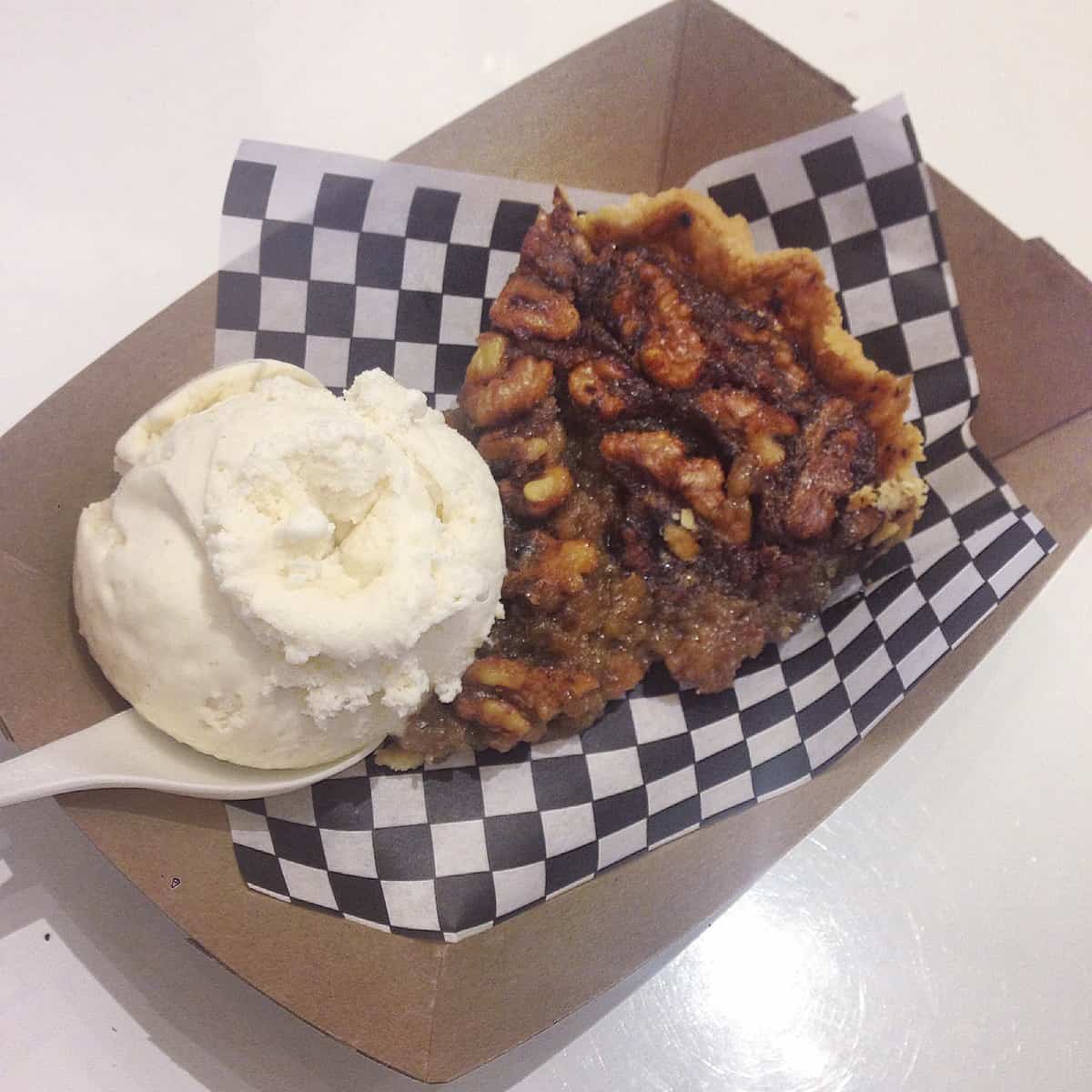 We bopped in a few other bakeries and coffee shops collecting treats along the way and then brought them all out at one last coffee shop to give each one a taste. Here we are digging in…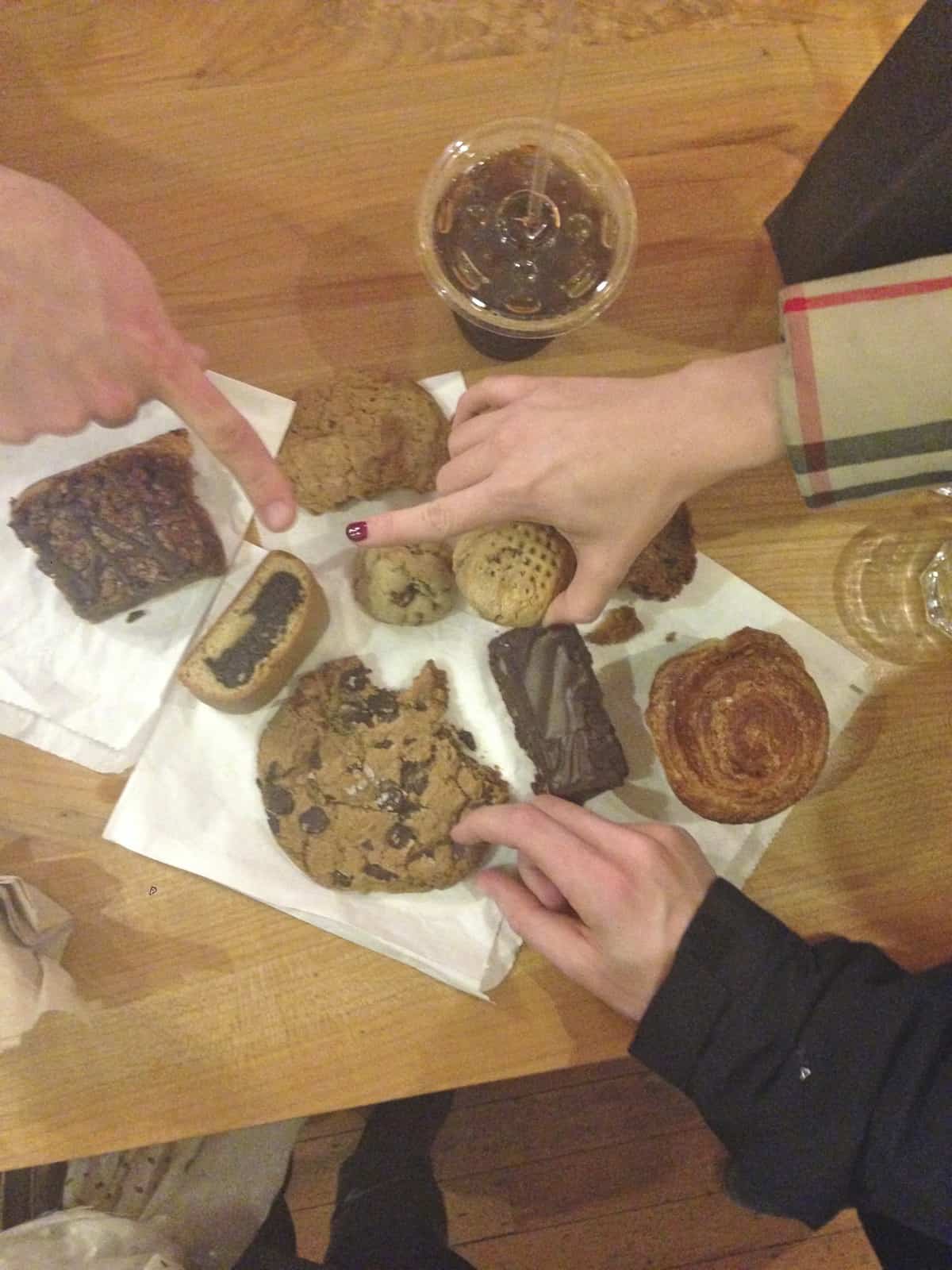 We were pretty stuffed and tired by our last night in wine country, but we had a reservation at Ad Hoc that we just couldn't pass up. Brandon and I had been there before on a Monday night for their famous fried chicken and it was incredible so we were anxious to go back and try more of the greatness. The service this time wasn't that great and they were out of the add-on special as well as a few other sides, etc. so we were somewhat disappointed in the overall experience, but the short rib entree was fantastic…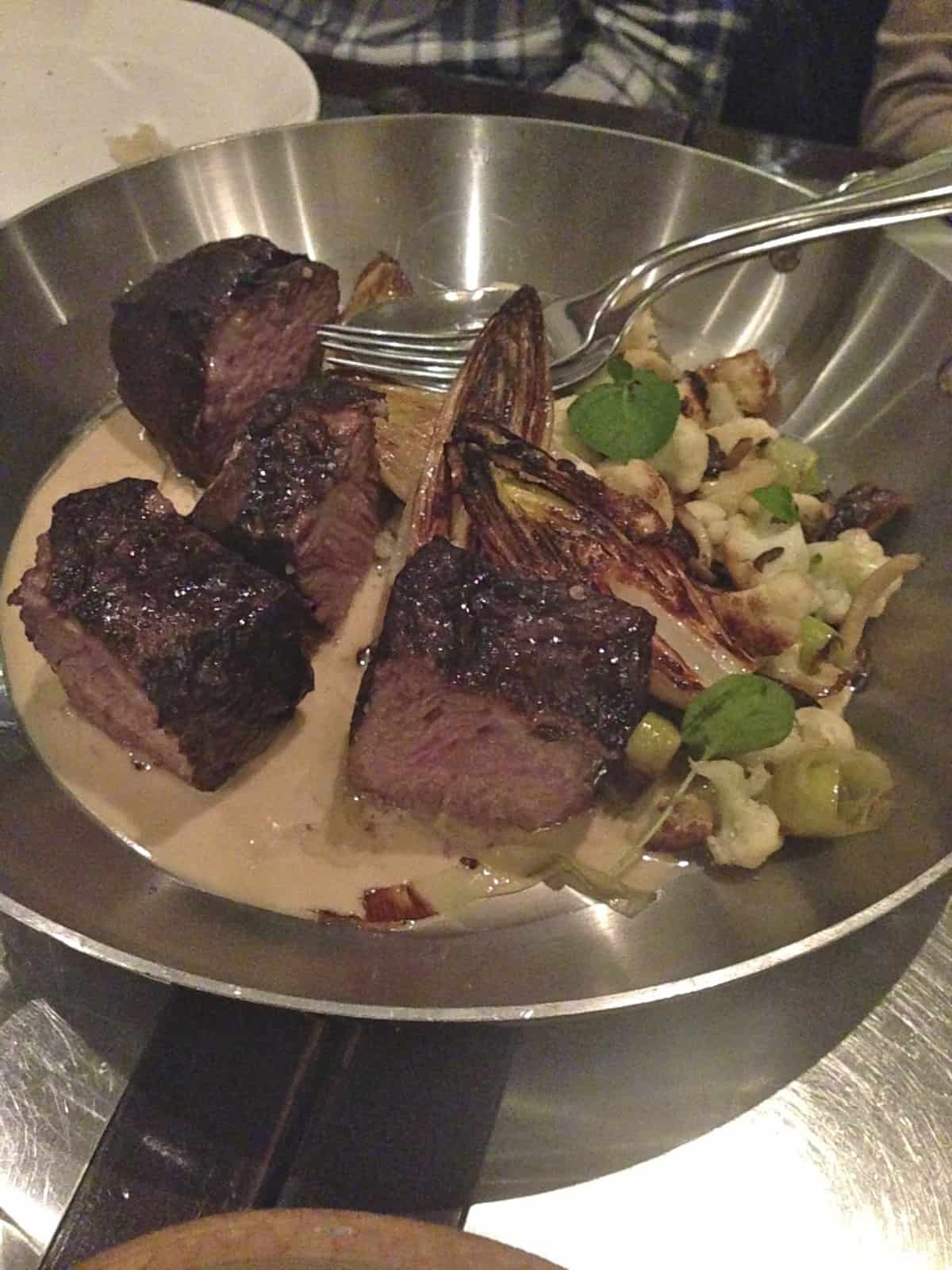 and the build your own sundae was so fun with such great quality ingredients…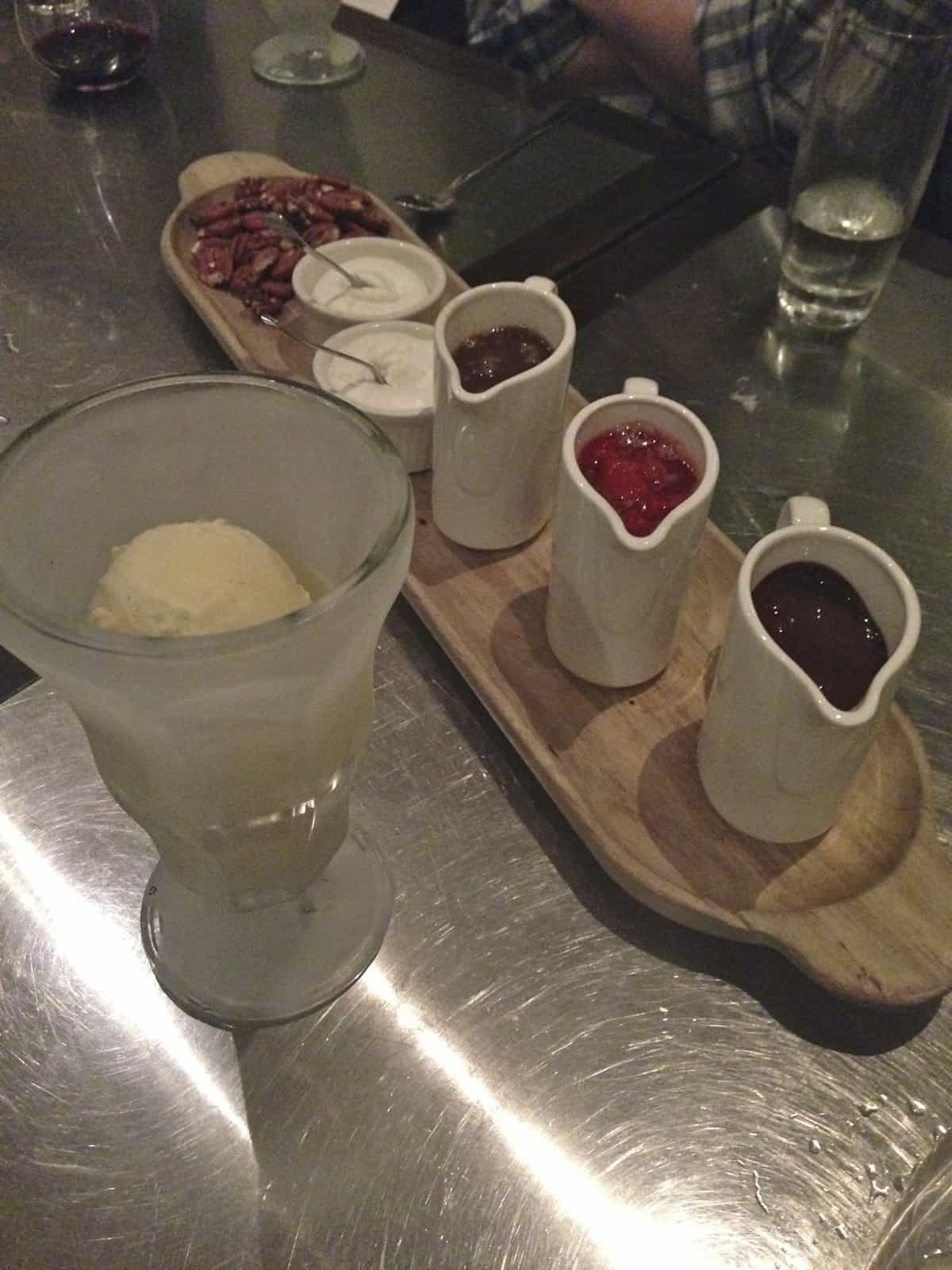 Such a great trip with great friends! We can't wait to go back again soon!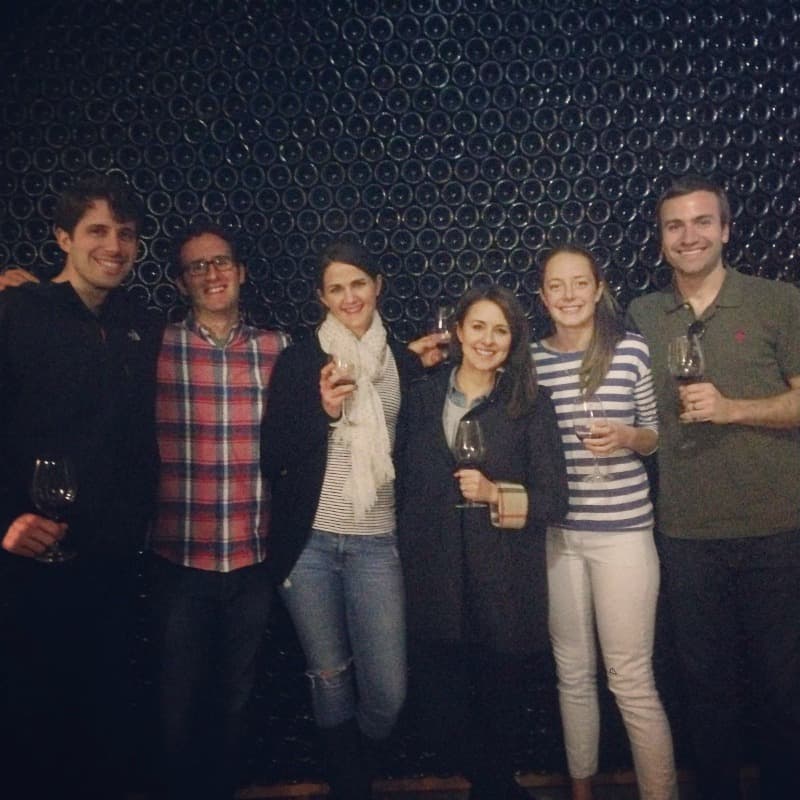 If you travel to or live in Napa, Sonoma or San Fran and have any great recommendations or must-try places, please do share in the comments below.
xoxo,