Crunchy layers of phyllo dough filled with fudgy cinnamon-spiked walnut brownie and soaked in sweet honey to become brownie baklava bliss!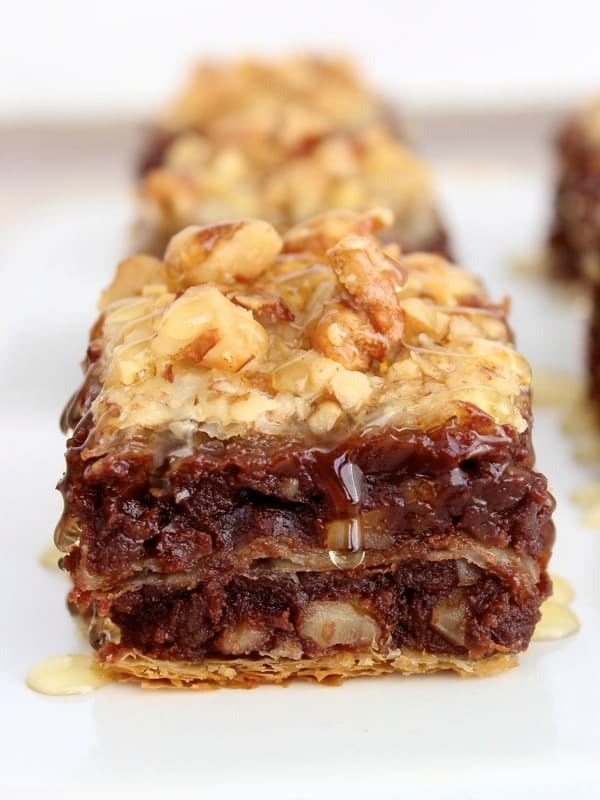 I'm so in love with this brownie-filled baklava! It's one of those recipes I've been wanting to create for years and I'm so thankful I finally got over my fear of phyllo and baked up this heavenly creation!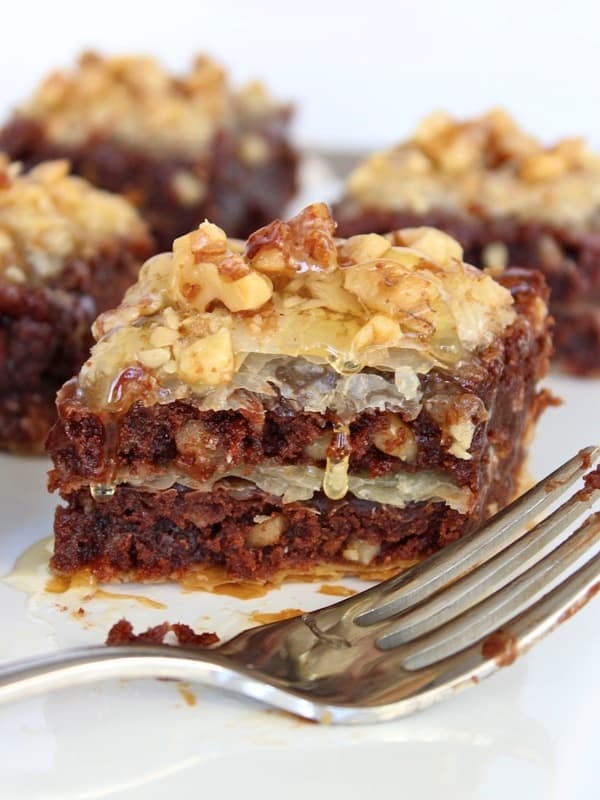 Gooey cinnamon-spiked walnut brownie is baked between buttery layers of phyllo dough and finished off with a generous drizzle of honey for a decadent and oh so delicious dessert!
Here's a quick look at how easy it is to assemble!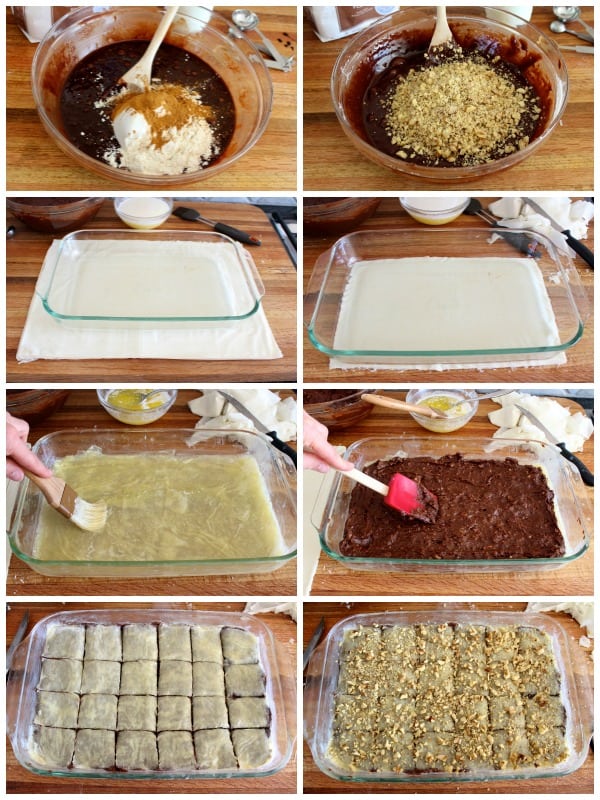 You just mix together the brownie batter and layer it between several sheets of phyllo dough, then cut it into squares and sprinkle with more chopped walnuts before baking it to buttery brownie baklava bliss!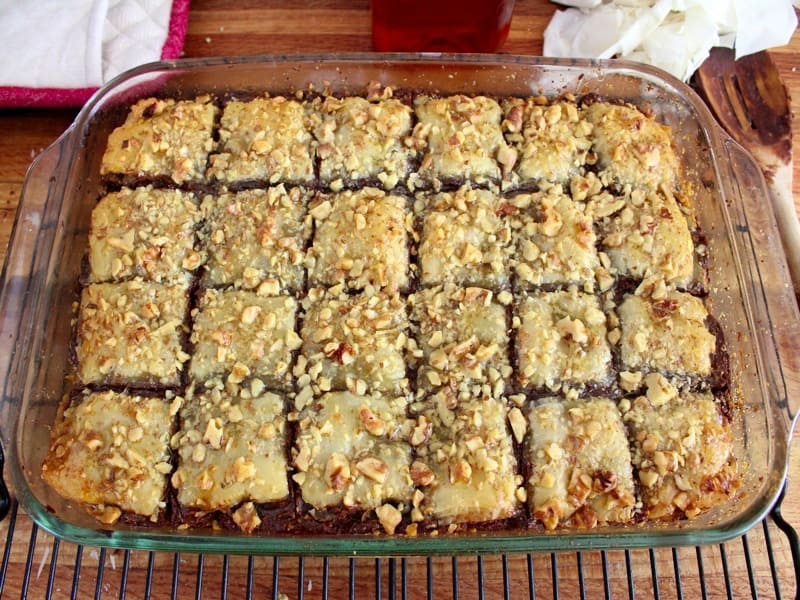 Finally, you'll drizzle the baked squares with lots of honey and let it soak through all the layers before drizzling it with more honey and cutting in!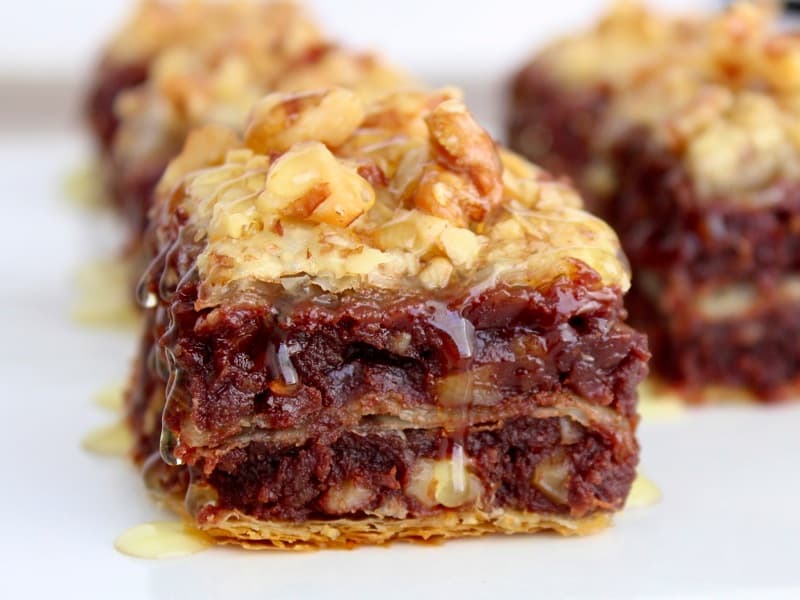 Enjoy the experience! It's a tasty one!
~Maegan
This recipe was created as part of my partnership with Gold Medal Flour however thoughts and opinions are certainly my own!
[printfriendly]
Brownie Baklava
Brownie Batter:
3/4 cup (1-1/2 sticks) unsalted butter
4 ounces unsweetened chocolate squares
2 cups granulated sugar
4 large eggs, lightly beaten
1 teaspoon vanilla
1 cup Gold Medal® all-purpose flour
2 teaspoons cinnamon
2 cups chopped walnuts, divided
Baklava Ingredients:
1 (16 ounce) package thawed phyllo dough
1 cup (2 sticks) unsalted butter, melted
1-1/2 cups honey
Directions:
1. Preheat oven to 350°F.
2. For the brownie batter, melt the butter and chocolate squares in a large microwave safe bowl for 2 minutes, stirring every 30 seconds, until completely melted. Let cool slightly before stirring in the sugar. Beat in the eggs and vanilla until well combined. Stir in the flour and cinnamon. Fold in 1-1/2 cups chopped walnuts. Set brownie batter aside.
3. Roll phyllo dough out onto a work surface. Place a 9×13-inch baking dish in the center of the phyllo and cut around the edges with a sharp knife so that the phyllo sheets are shaped to fit the dish. Cover the phyllo with a damp cloth while you are assembling the baklava.
3. Melt 1 cup butter in a microwave safe bowl. Spread the bottom and sides of the 9×13-inch baking dish with some of the melted butter. Place a sheet of phyllo in the bottom of the baking dish and brush generously with the melted butter. Repeat with 6 more sheets of phyllo dough, brushing each sheet with melted butter.
4. Spread half of the brownie batter evenly over the 7 sheets of phyllo that are in the bottom of the baking dish. Layer 6 more sheets of phyllo dough, brushing each sheet generously with melted butter, on top of the brownie layer. Spread the remaining brownie batter over the middle layers of phyllo dough.
5. Top the second layer of brownie batter with the remaining phyllo sheets, brushing each sheet with melted butter. Using a sharp knife, cut the unbaked baklava into 24 squares. Brush with remaining butter and sprinkle with remaining 1/2 cup chopped walnuts.
6. Bake for 30-35 minutes or until baklava is golden and starting to crisp on top. Remove from the oven and drizzle with 1 cup honey. Let baklava set for 3 hours then drizzle with remaining 1/2 cup honey before cutting and serving.
Servings: 24
Prep Time: 30 minutes
Baking Time: 30-35 minutes
Total Time (start to finish): 1 hour 5 minutes
[printfriendly]