Make s'mores night even s'more fun with a loaded S'mores Board or S'mores Tray that lets each person build their own s'mores creation – the possibilities are endless!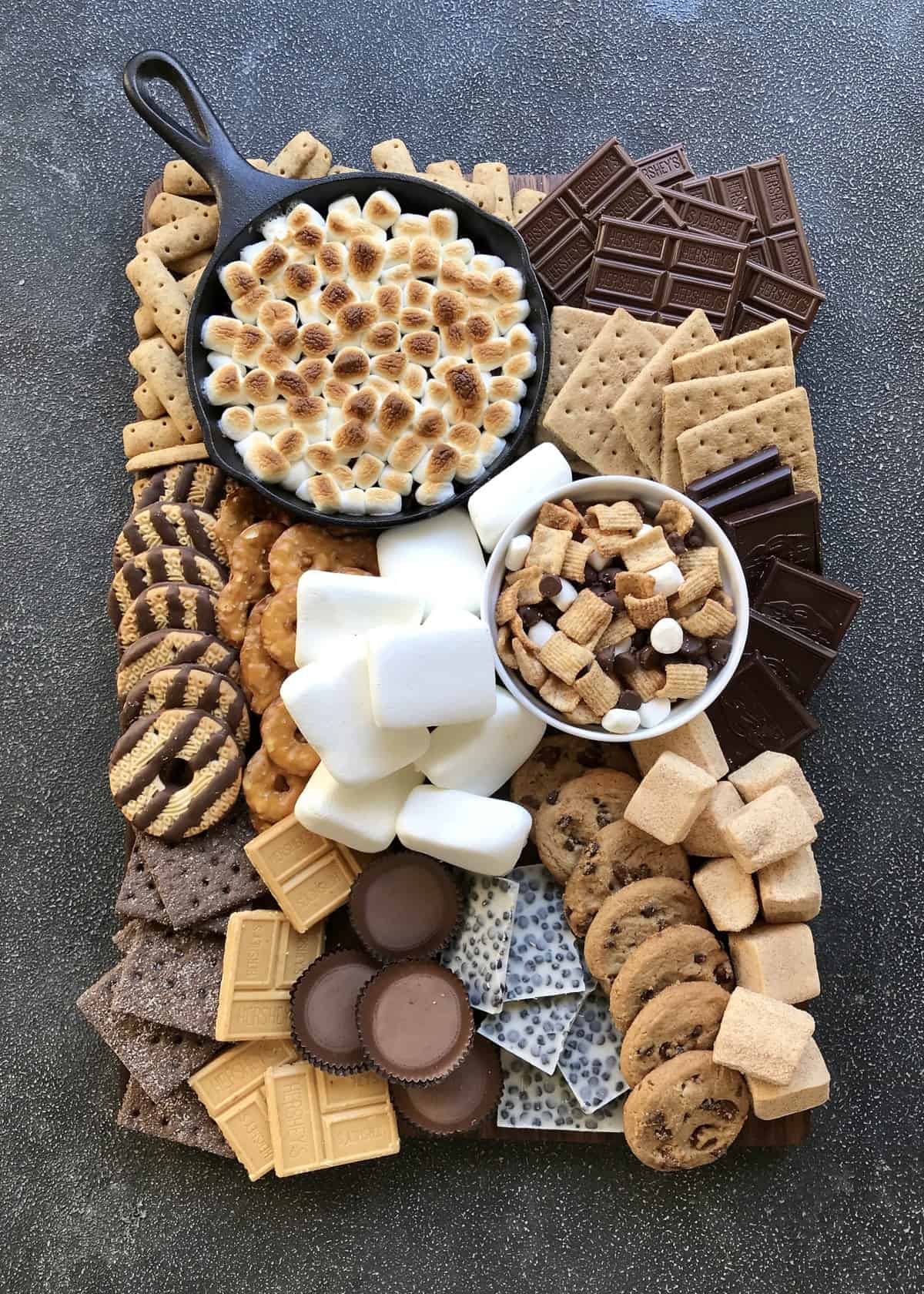 Those S'mores Summer Nights!
Few things scream summer more than a night with friends and family fueled by s'mores! Such a fun and yummy way to bring everyone together and enjoy the classic summer sweet treat. It's just hard to beat a perfectly-roasted marshmallow and melty chocolate in between two crunchy graham crackers. Gimme s'more!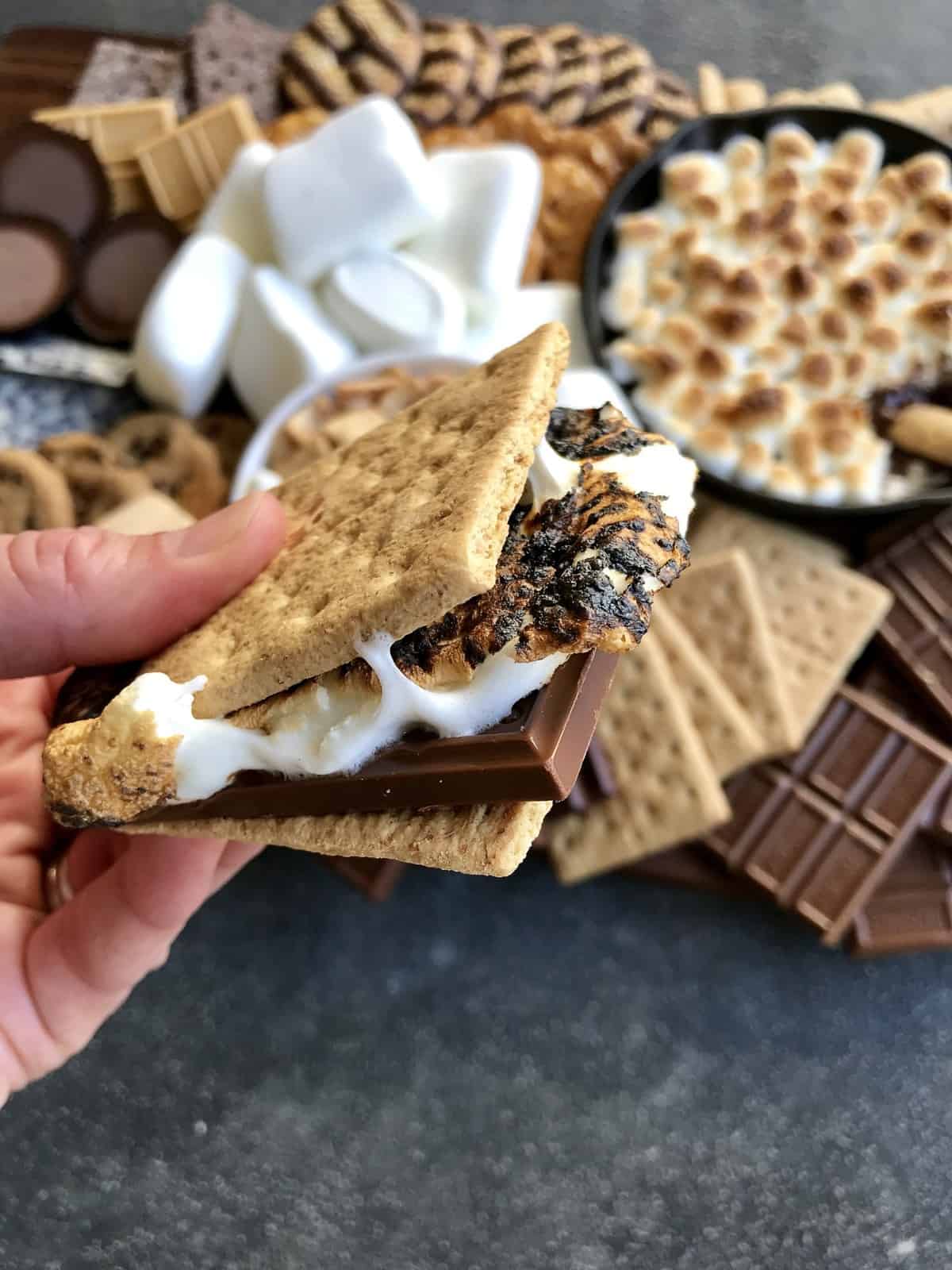 Watch Me Build a S'mores Board
Let's build a s'mores board together!
Bring the Fun with a S'mores Tray
From a day spent in the backyard by the pool to a cozy movie night on the couch, we love to bring the fun of camping to our home with a S'mores Tray. While we enjoy the classic combination of crispy graham crackers, melty chocolate, and gooey marshmallows, it's so fun to get creative and mix it up with variety of chocolate candies, flavored marshmallows and even cookies instead of graham crackers.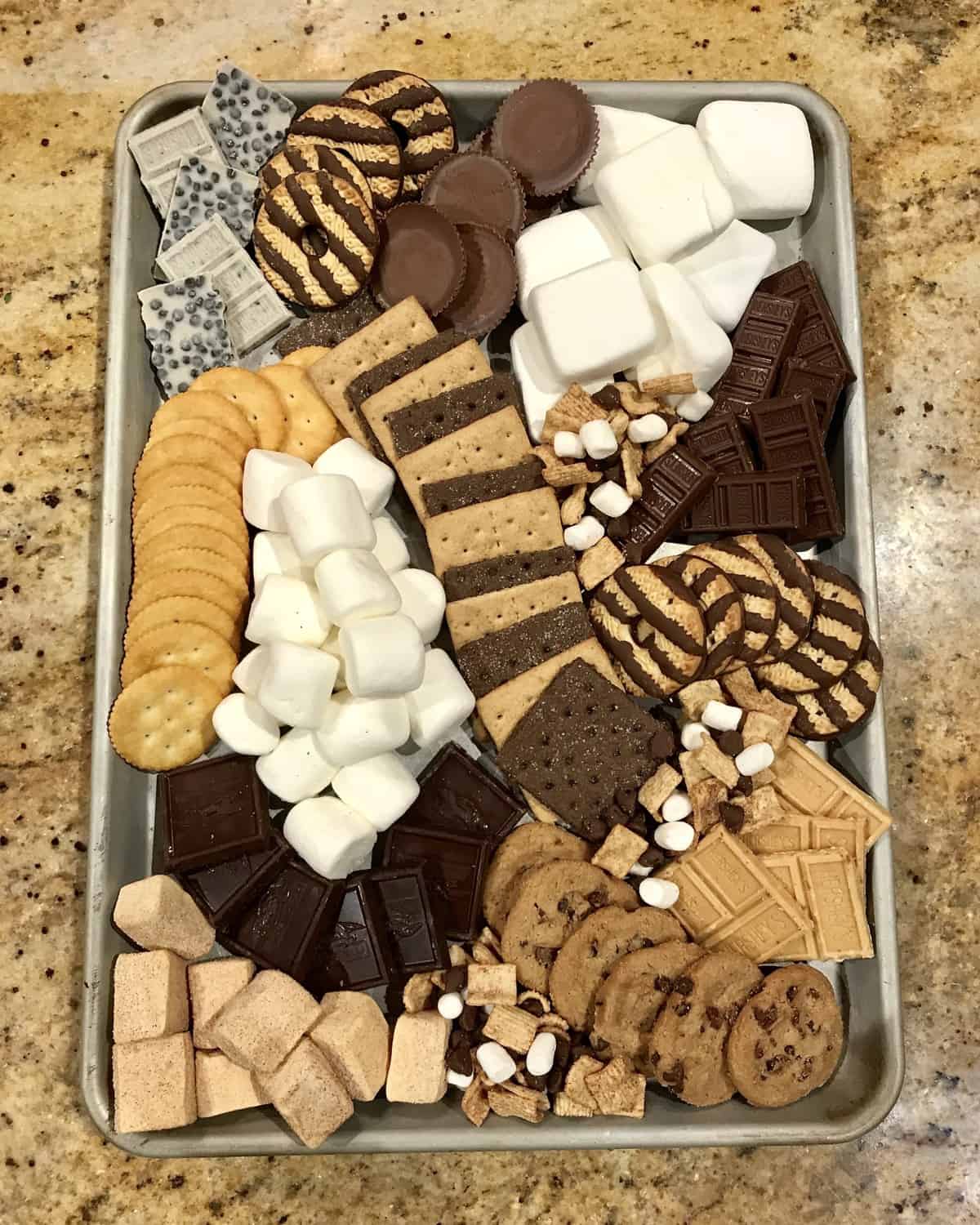 Get Roasty Toasty
No campfire, no problem! At home, we use our fire pit or fireplace to roast marshmallows, but there are so many easy ways to bring the s'mores experience into your own house without a full flaming fire. You can use your stovetop or even your oven to get those marshmallows roasted to perfection.
On a gas stovetop, simply skewer your marshmallows and use the flame just as you would with a real fire.
In the oven, just top a graham cracker (or whatever you're using as your base) with one or two marshmallows, and place it in the oven underneath the broiler for a minute or so.
If you're using this method, make sure to watch the marshmallows closely underneath the heat, because they will roast quickly. And always, always supervise children when making s'mores with fire!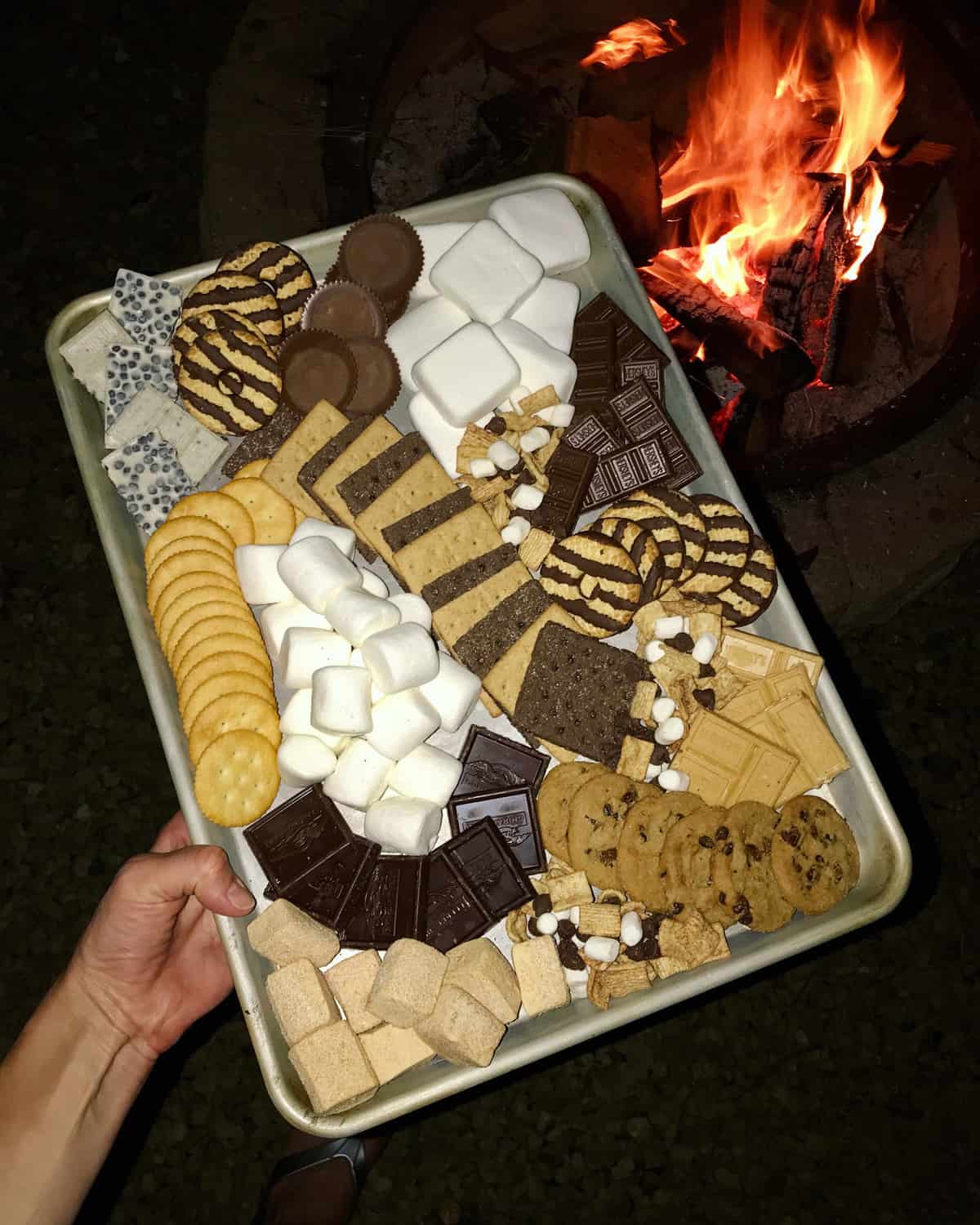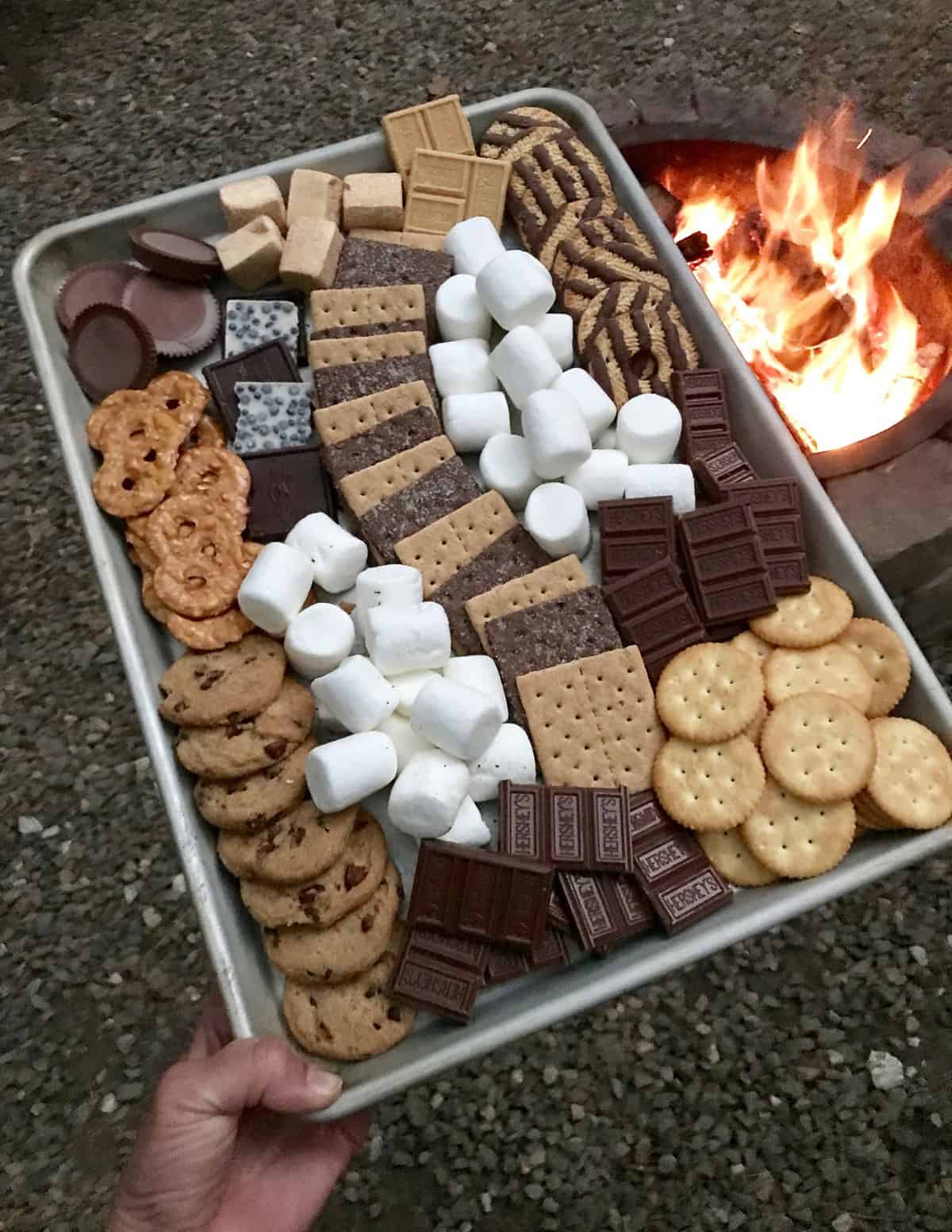 All the S'mores Options
With a s'mores board like this, everyone can get involved and build their dream s'mores creation. Simply arrange all of your ingredients on a wood board, sheet pan, or serving tray and let the fun begin! Some of our favorite s'mores tray components include: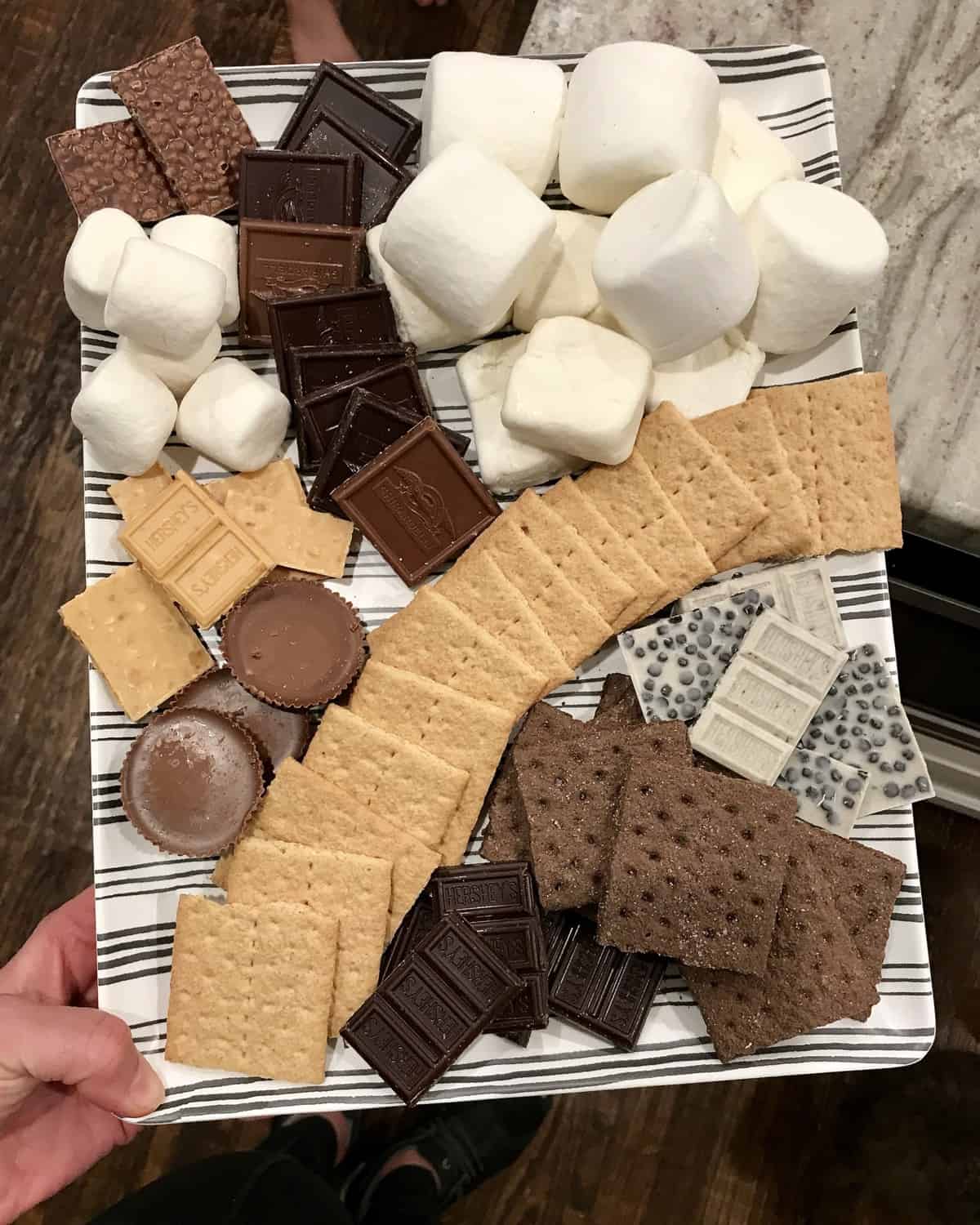 Make S'mores with Cookies
Here's another fun s'mores tray made with all Keebler Cookies! An extra yummy way to enjoy s'mores! With Fudge Stripes, Coconut Dreams, Deluxe Grahams and Grasshopper cookies, no additional chocolate is needed. The way these Keebler fudge covered cookies combine with a gooey roasted marshmallow in between them is irresistibly delicious and will have you begging for s'more!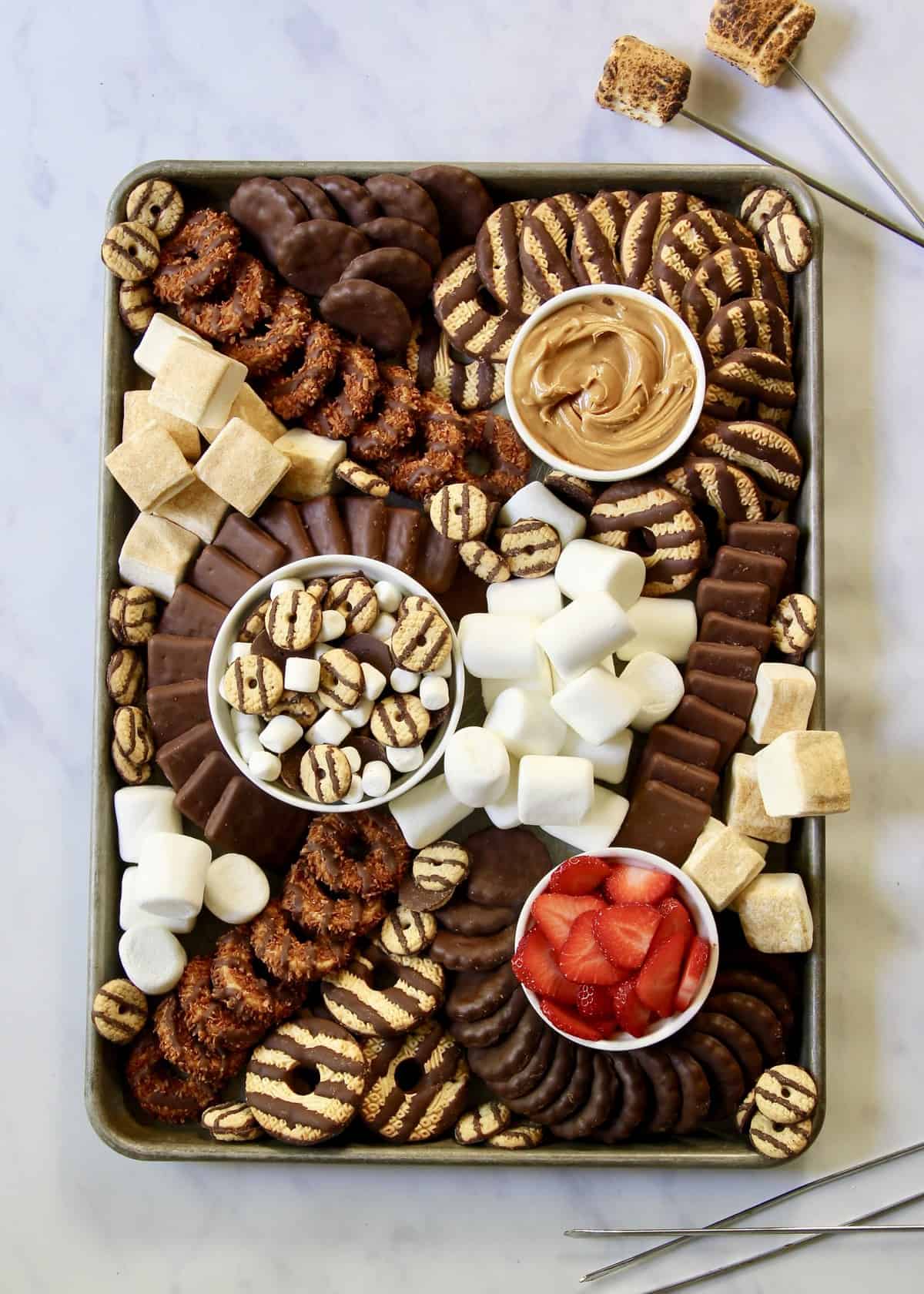 Unlimited Flavor Combinations!
My favorite combination is Fudge Stripes with peanut butter and a roasted marshmallow, but I seriously loved all of the fun combinations. The options are truly endless! Coconut Dreams cookies with strawberries and a roasted marshmallow is dreamy delish! Oh, and we can't forget the simple s'mores snack mix made with Fudge Stripes minis and mini marshmallows. Oh my yum!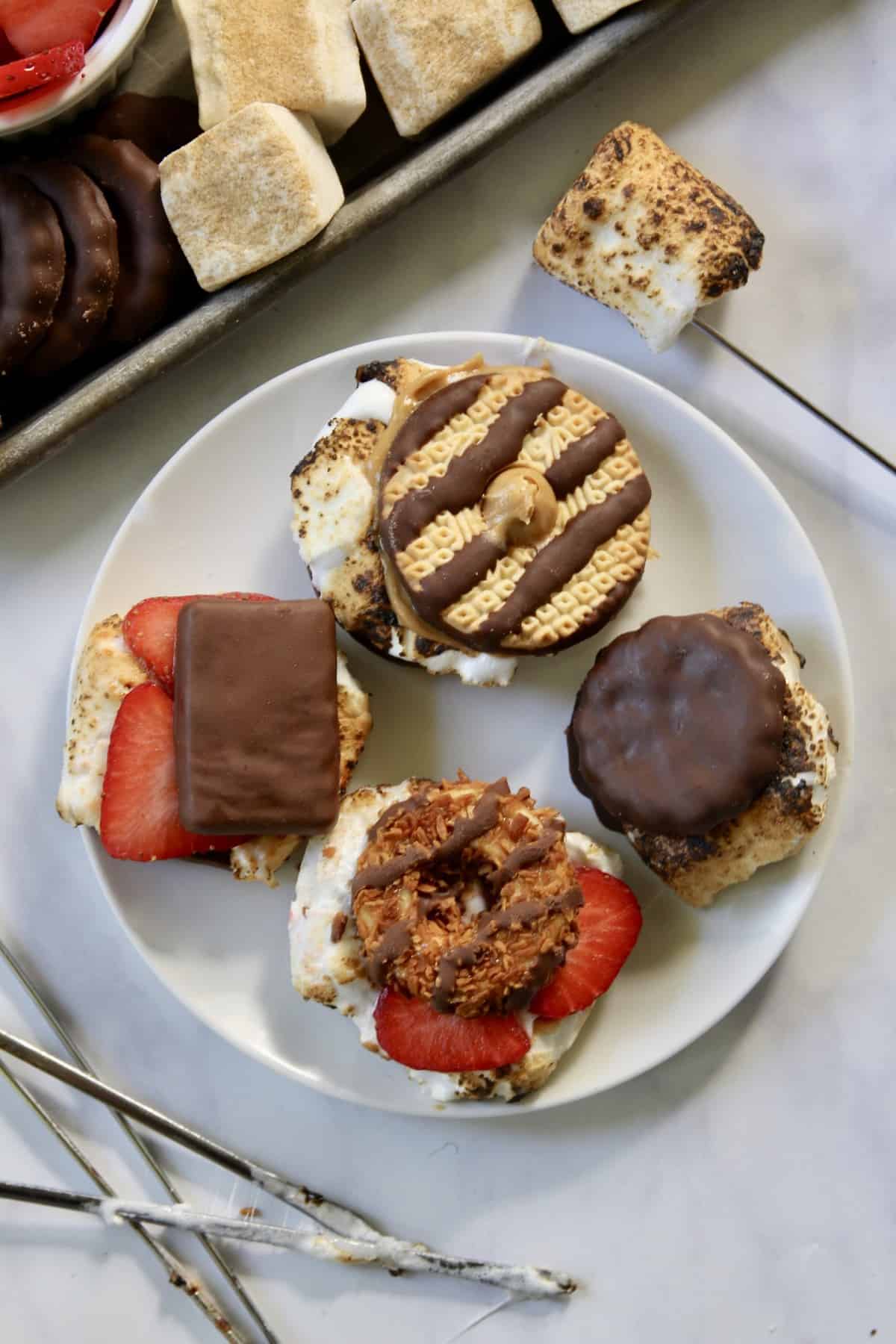 S'mores boards and trays are just too much fun! Just place your favorite cookies, chocolates and marshmallows on any tray or board, light the fire and let everyone enjoy building and eating their own s'mores creations!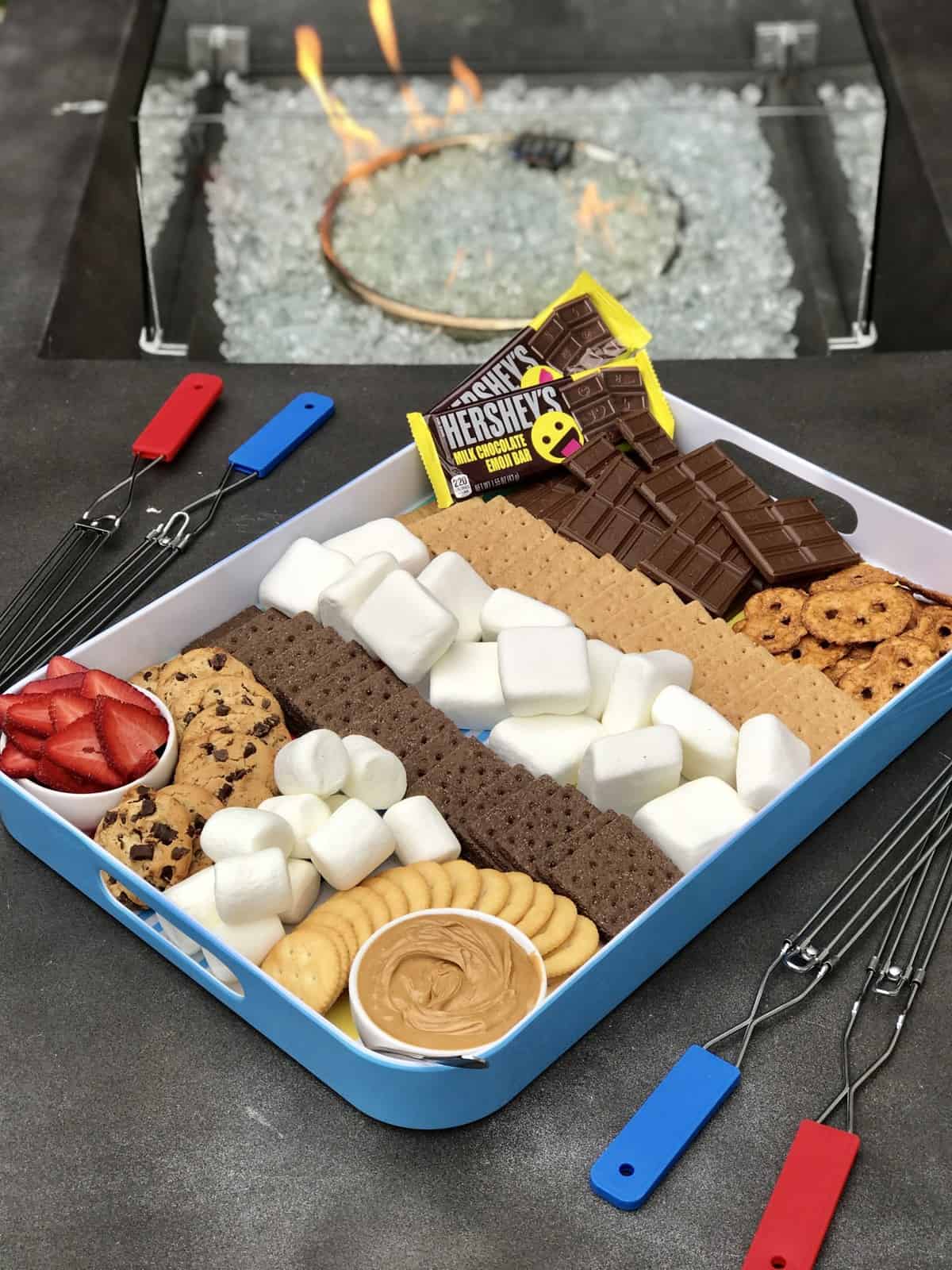 The Ultimate in Summer Snacking Fun
If you haven't seen the S'mores Board from my Beautiful Boards cookbook, (pages 138-139) you are sure to be inspired by it as well. It's an interactive board covered with incredible s'mores building options along with a s'mores dip, made in a mini cast iron skillet and s'mores snack mix. The ultimate s'mores experience!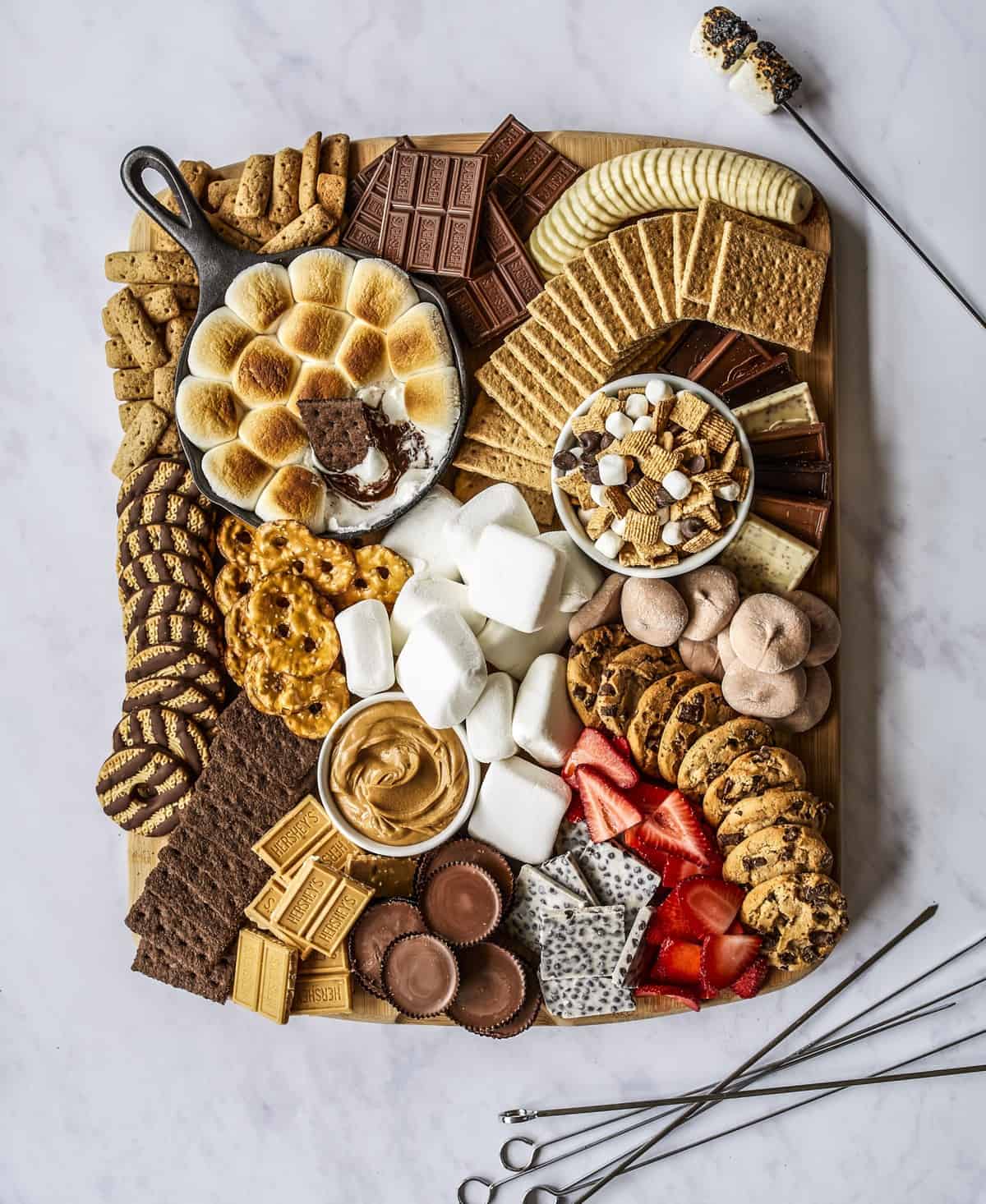 It really is such a simple yet special way to serve s'mores! Everyone loves the experience and begs to do it again night after night. This is s'mores night, done right, especially with so many delicious possibilities! Here's to many sweet nights with your family and friends filled with sweet s'mores and even sweeter memories!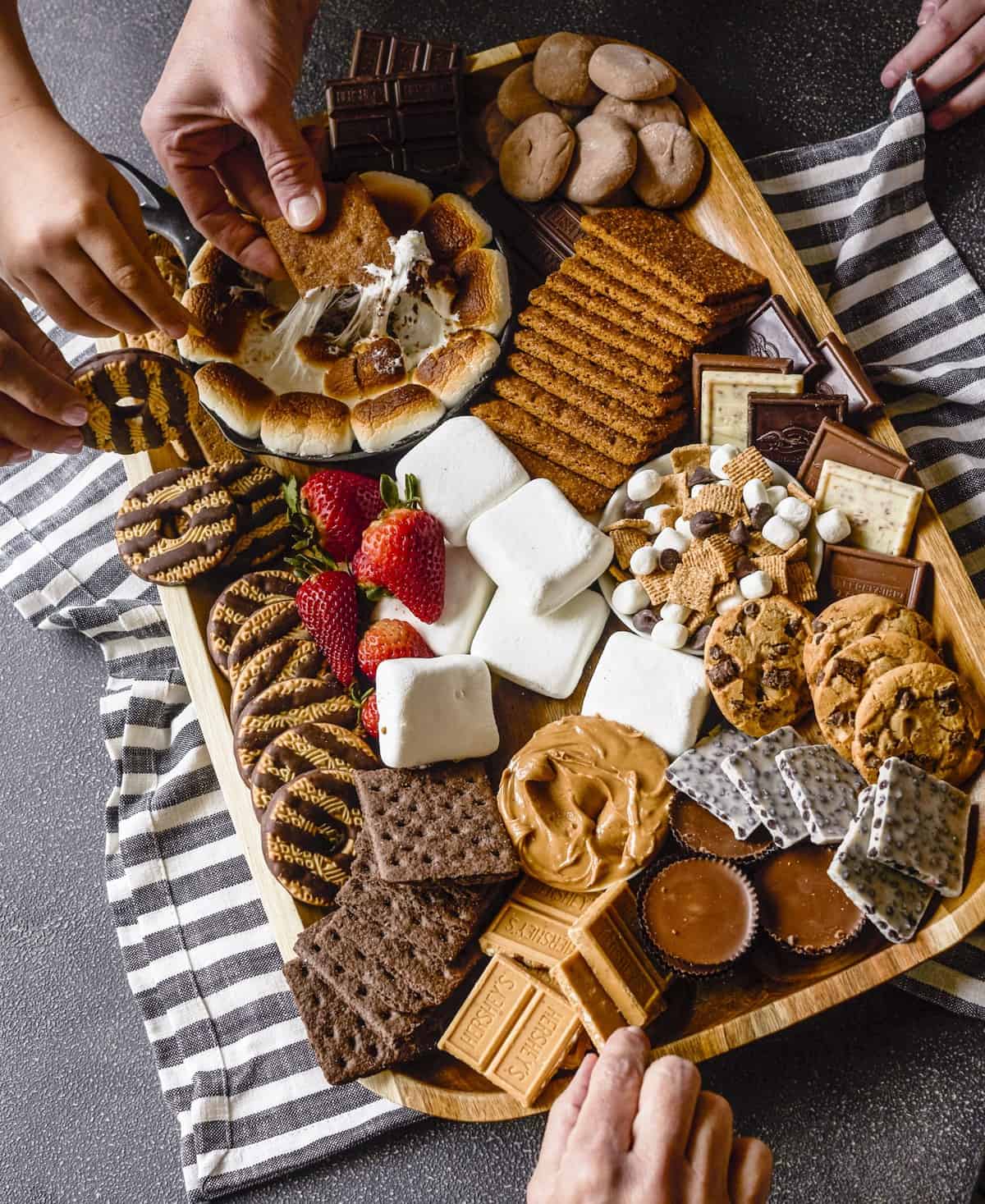 If you make a s'mores tray or s'mores board and post a pic to social, be sure to tag me @thebakermama on Instagram so I can see! 😍 I just love seeing how inspired and creative y'all get with the ideas I share.
xoxo,