A crisp chocolate chip cookie surrounding a moist chocolate cupcake…need I say more?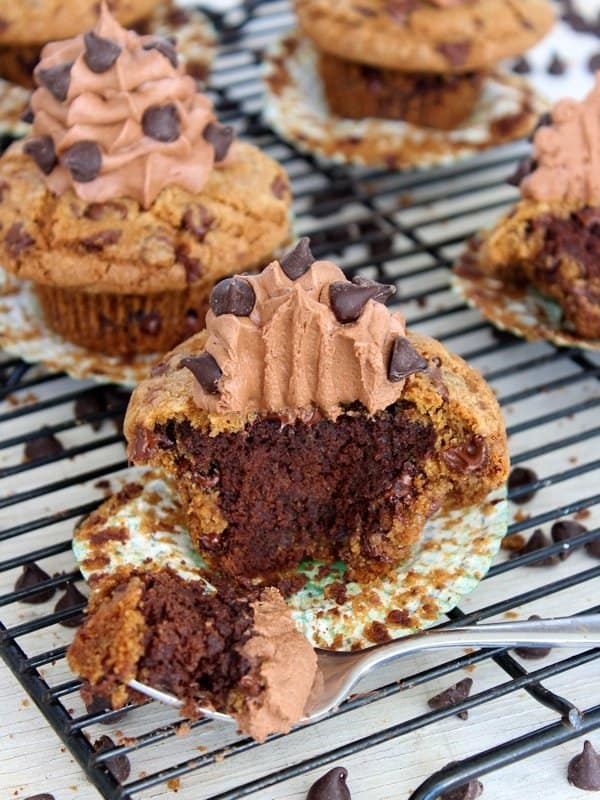 As you can see from the pic above, this cookie cupcake creation I'm about to share with you is out of this world AMAZING!!! A crisp chocolate chip cookie surrounding a moist chocolate cupcake…need I say more?
My hubby, Brandon, gets full credit for the awesome idea, but I get full credit for making the magic happen! They're seriously magical, my friends!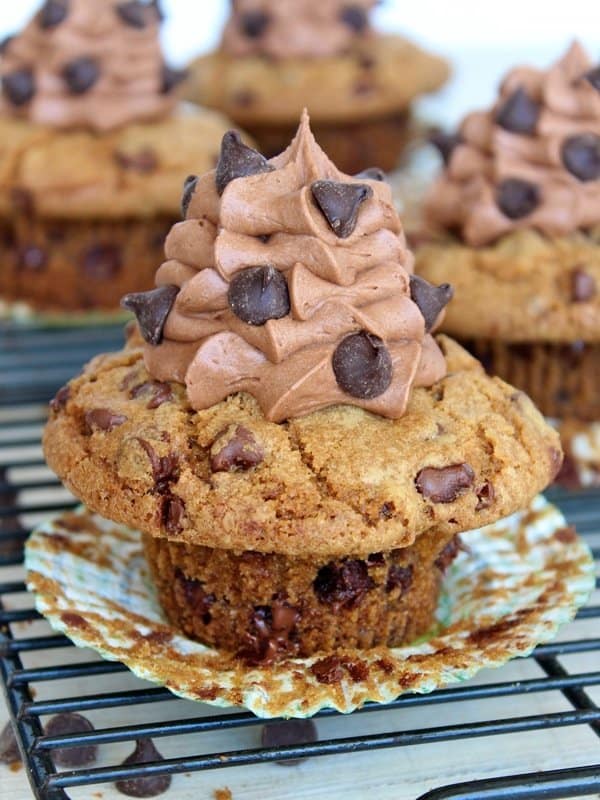 A classic chocolate chip cookie dough surrounds a rich chocolate cupcake batter that's then baked to become one of the most incredible things you will ever bite into. The outside is crispy with a slight chew and lots of melting chips of chocolate that leads into a rich moist chocolate cake center. Topped with fluffy chocolate frosting and your mind will be blown by this cookie cupcake combination. It's a game-changer, that's for sure!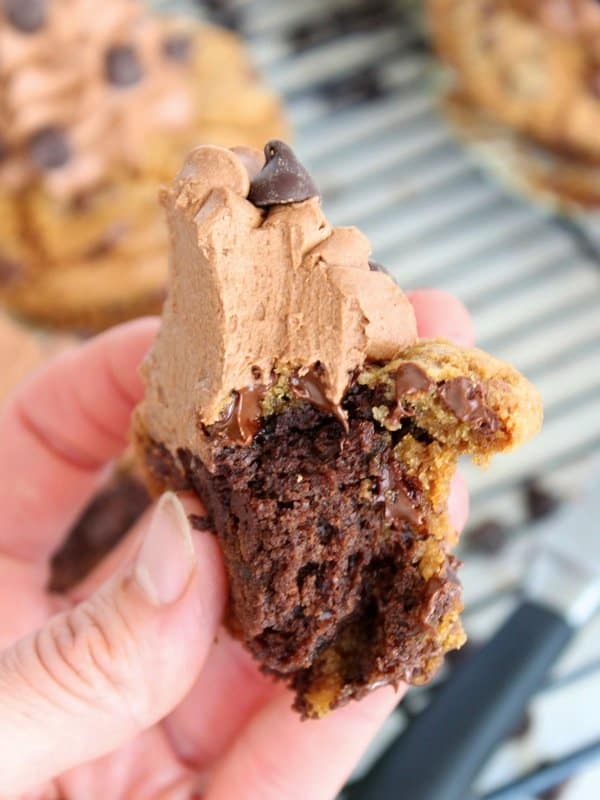 Here's a peek at how they're made…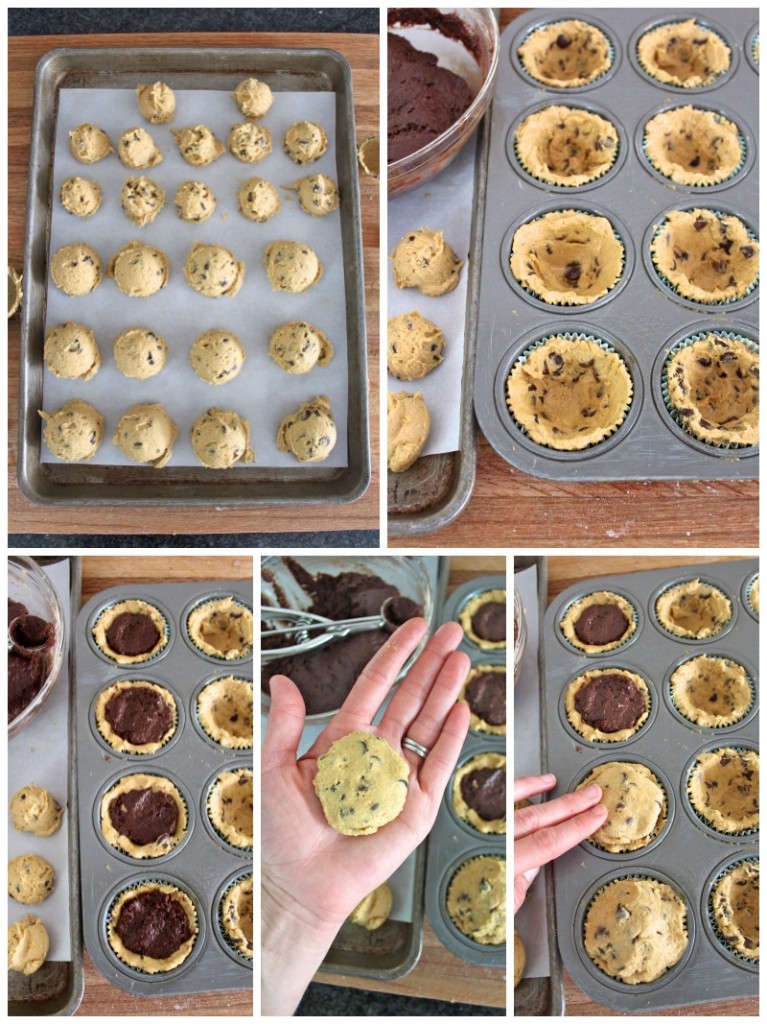 Pretty simple and so worth the extra effort to create something this great!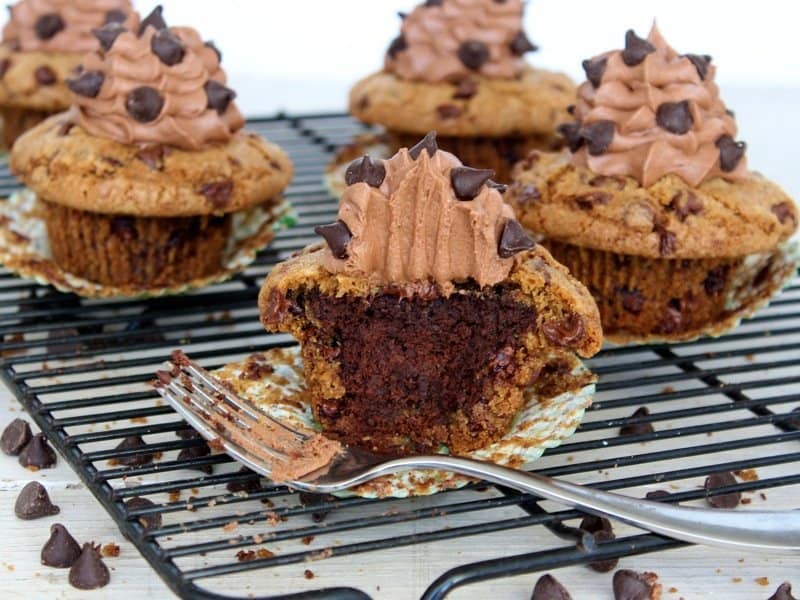 You just have to bake them to experience the amazingness for yourself! One bite in and you'll be blown away!
Enjoy!
~Maegan

Cookie Cup Cupcakes
A crisp chocolate chip cookie surrounding a moist chocolate cupcake...need I say more?
Author:
Maegan - The BakerMama
Ingredients
Cookie Dough:
1 cup (2 sticks) unsalted butter, softened
¾ cup granulated sugar
½ cup brown sugar
2 large eggs
1-1/2 teaspoons vanilla
2 cups flour
1 teaspoon baking soda
1 teaspoon salt
1-1/2 cups chocolate chips
Cupcake Filling:
6 tablespoons butter
¾ cup chocolate chips
1 cup flour
1 teaspoon baking powder
¼ cup cocoa
⅓ cup granulated sugar
1 large egg
⅓ cup milk
½ teaspoon vanilla
Chocolate Frosting:
¾ cup chocolate chips, melted & slightly cooled
2 tablespoons unsalted butter, softened
2 cups powdered sugar
½ teaspoon vanilla
2 tablespoons whole milk
chocolate chips, for garnishing
Instructions
Cookie Dough: In the bowl of an electric mixer, beat the butter and sugars until creamy. Add the eggs, one at a time, beating until well combined. Beat in the vanilla.
In a separate bowl, whisk together the flour, baking soda, and salt. Add to the wet ingredients and beat on low until just combined. Stir in the chocolate chips.
Scoop cookie dough into 12 large (about 2 tablespoon-sized) & 12 small (about 2 teaspoon-sized) balls on a parchment lined baking sheet. Place in the refrigerator for at least one hour so cookie dough is firm enough to mold into the cupcake pan.
Cupcake Filling: In a small microwavable bowl, melt the butter and chocolate until just melted, about 60-90 seconds, stirring every 30 seconds. Set aside to cool slightly.
In a large bowl, whisk together the flour, baking powder, cocoa, and sugar. In a separate small bowl, whisk together the egg, milk and vanilla. Add the milk mixture to the flour mixture and stir until just combined. Stir in the melted chocolate.
Preheat oven to 350°F. Line a 12-cup cupcake pan with baking liners and spray with non-stick cooking spray. Once the cookie dough balls are cold, remove from refrigerator. Place a large ball of dough in one of the prepared cupcake liners and press into the bottom and up the sides so the dough is sticking up just above the liner. Fill the cookie dough cup completely with cupcake batter. Flatten one of the small balls of cookie dough in the palm of your hands and place it on top of the cupcake batter, pressing around the edges to seal the cupcake batter in. Repeat with remaining cookie dough balls and cupcake batter.
Bake for 25-30 minutes or until cookie top is starting to turn golden brown and a toothpick inserted in the center comes out clean. Let cool in pan 10 minutes before removing to a wire rack to cool completely.
Chocolate Frosting: Beat the butter and 1 cup powdered sugar until smooth and thick. Add the remaining 1 cup powdered sugar, vanilla and milk until well combined. Stir in the melted chocolate. Beat on high speed for about 3 minutes until frosting is thick and fluffy. Add a little more milk if frosting is too thick or a little more powdered sugar if frosting is too thin. It should be thick enough to pipe or spread onto the top of each cupcake.
Once cupcakes are cooled, pipe frosting on the top of each one and sprinkle with a few chocolate chips, if desired.