Live like you're at Oktoberfest with this amazing Oktoberfest Snack Board! It's covered in a tasty selection of German-inspired snacks like sliced bratwurst, sauerkraut, soft pretzels, regional cheeses, mustards and all the accompaniments. Just add beer and cheers!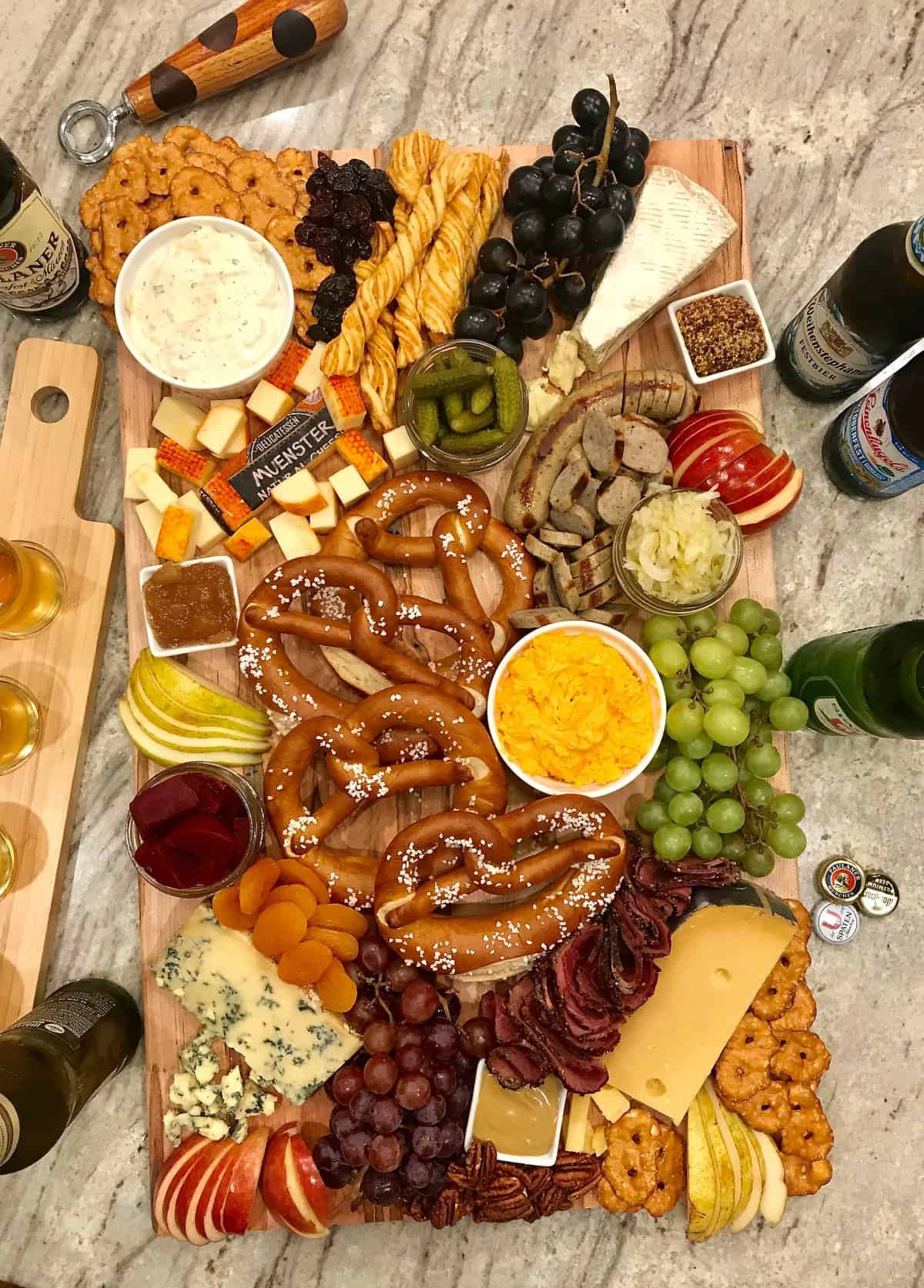 We're actually headed to Oktoberfest for the first time next month and as we're dreaming of all the fun and yum we're sure to experience, I just had to build this Oktoberfest Snack Board. It turned out so amazingly delicious! We've set some high expectations now for the food and drinks we're planning to enjoy while in Munich. Haha!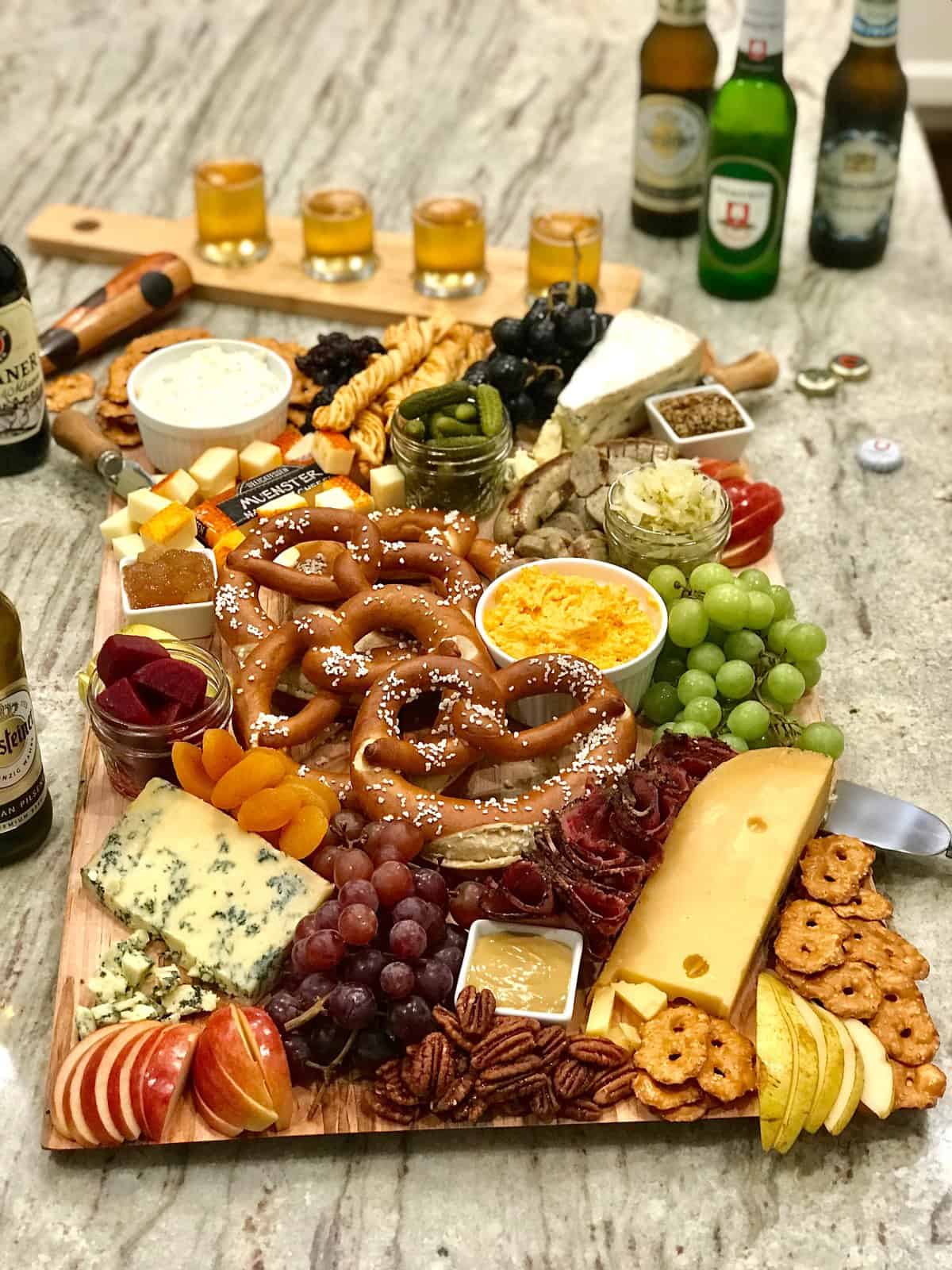 I lived in Germany for 4 years (Munich & Nuremberg) when I was a little girl and I actually do remember the food (born a foodie!), but I'm so looking forward to experiencing it as an adult with some good brews to accompany it! 😉 When I think of German snack foods, I think brats with sauerkraut and big soft pretzels with cheese and mustard for dipping them in. Yum yum!
So when it came to planning out this Oktoberfest Snack Board, I knew I had to include brats and pretzels plus a great selection of cheeses and snack foods to go with them. Our friends, who are going on the trip with us, brought over an epic selection of German beers for us to taste while snacking on the board and planning out our trip.
I've heard that beer goes great with a good cheese board and I'm here to confirm that it definitely does, especially with this board! I couldn't get over how much I enjoyed tasting the different beers while munching on all the yumminess on this board. It all just went so great together!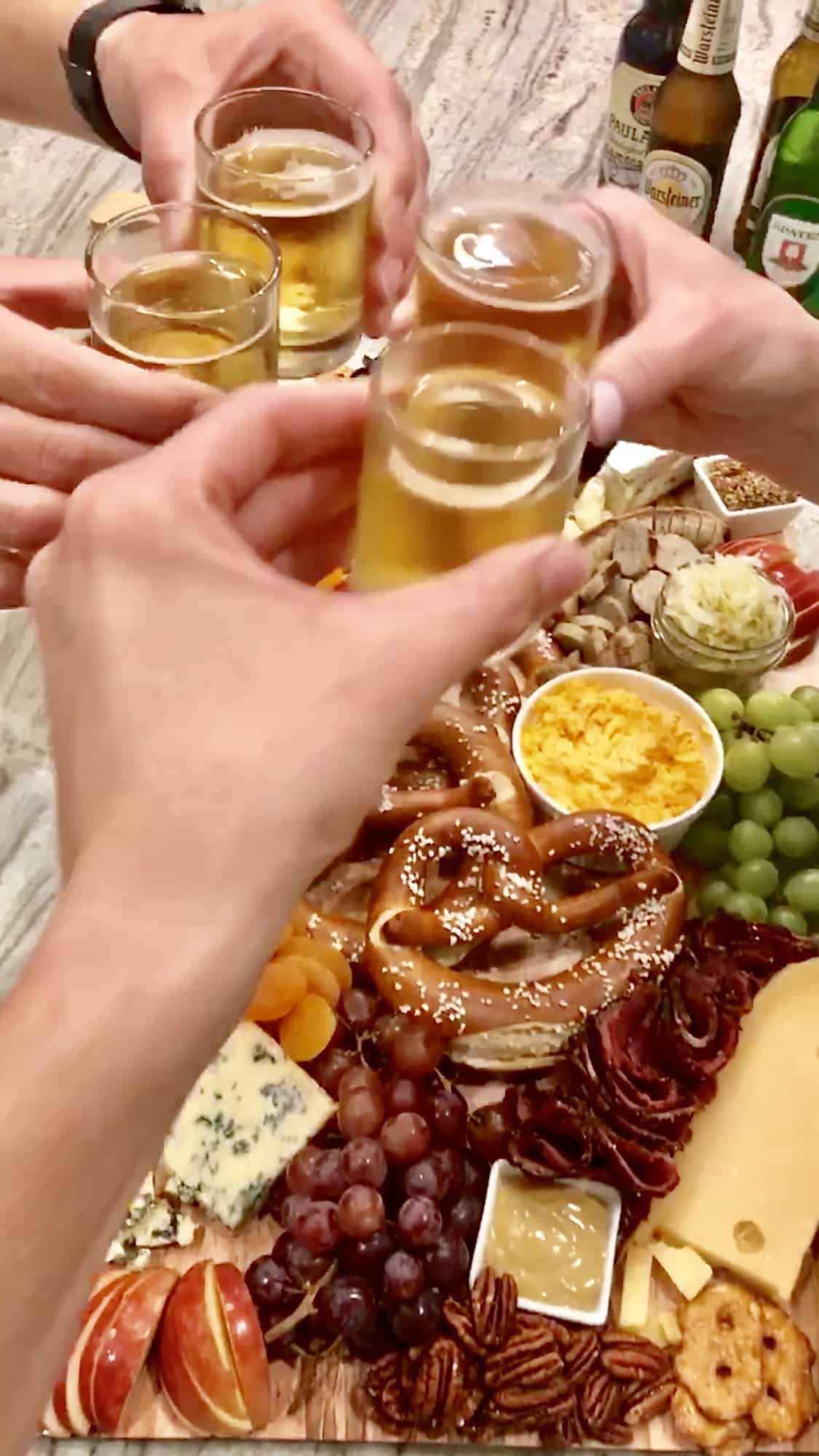 I got almost all of the ingredients for this Oktoberfest Snack Board at Trader Joe's. One-stop shopping for a board is my fave! Before I decided what all to put on it, I laid everything out on the island…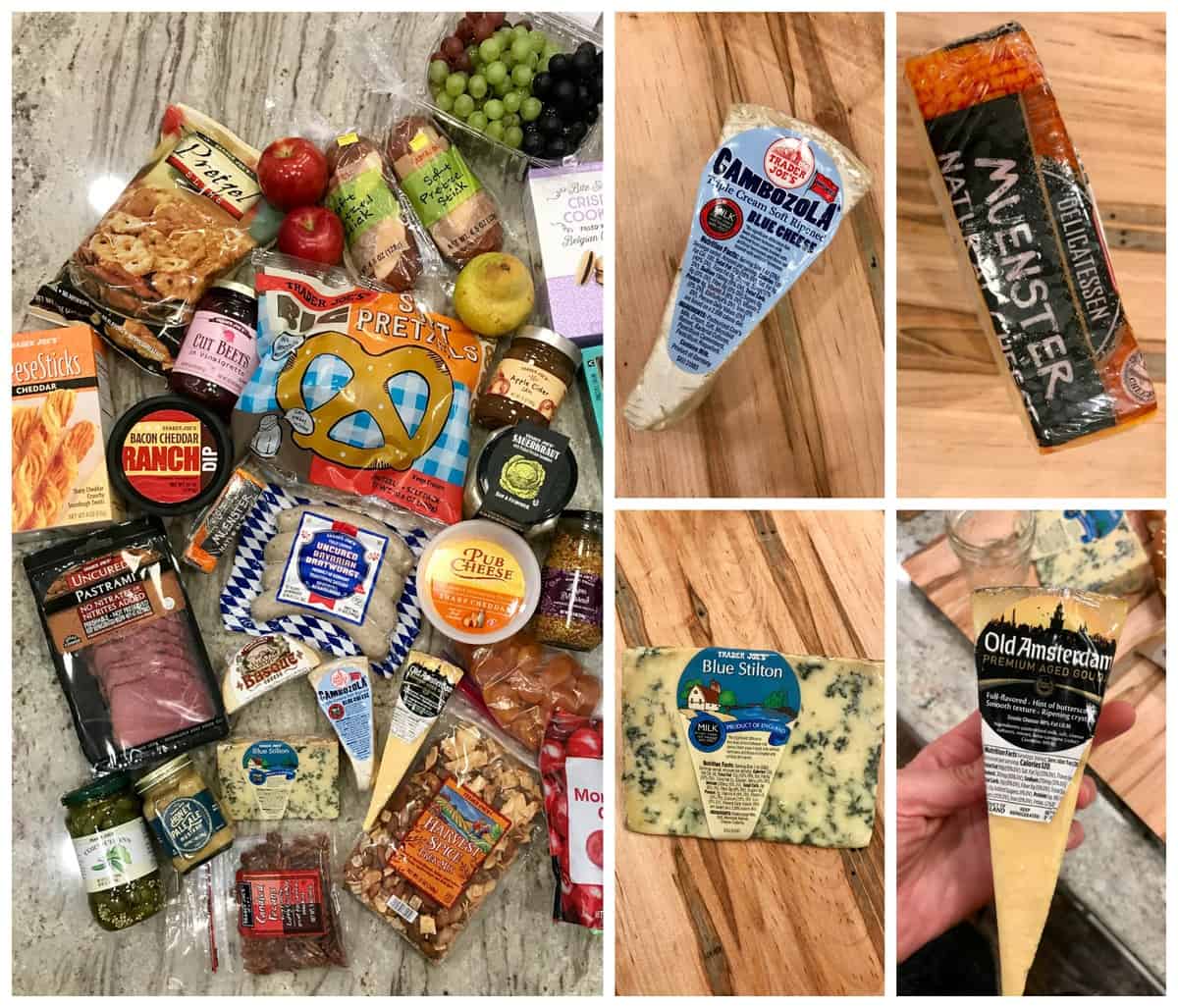 Here's a detailed list of what I put on the board:
Big Soft Pretzels – baked according to package directions
Bavarian Bratwurst – cooked according to package directions
Pastrami slices
Cambozola Triple Cream Soft Ripened Blue Cheese
Muenster cheese
Old Amsterdam Aged Gouda cheese
Blue Stilton cheese
Pub Cheese – sharp cheddar cheese spread
Bacon Cheddar Ranch Dip
Sauerkraut with pickled cucumbers
Pretzel Slims
Cheddar CheeseSticks crackers
Grapes
Apple slices
Pear slices
Cornichons – mini pickles
Cut Beets in vinaigrette
Dried Apricots
Dried Cherries
Candied Pecans
Honey Pale Ale Mustard
Whole Grain Dijon Mustard
Apple Cider Jam
Here's a step-by-step overview of how I built the board:
I started by baking the pretzels and cooking the bratwurst. While they were cooking, I scooped the pub cheese dip and bacon cheddar ranch dip into small serving bowls and placed them on the board. Then I put the mustards and apple cider jam in little serving bowls on the board. I put the cornichons, sauerkraut and beets in mini jars on the board as well.
Next, I placed the cheeses in four different spots and the grapes in three different spots on the board. I arranged some pretzel slims in the upper left corner of the board and then some in the bottom right corner of the board. I put the cheesestick crackers in the upper middle of the board.
Once the pretzels were done baking, I arranged them down the middle of the board. I sliced the cooked bratwurst into thin slices and put them near the sauerkraut. I put the pastrami between a soft pretzel and the gouda cheese in the bottom right corner of the board.
I sliced the apple and pear into thin slices and placed them in various spots across the board. I then filled in the rest of the board with the dried apricots, dried cherries and glazed pecans.
I used a 15″ x 24″ board and it could easily feed 8 people.
Here's the beers we tasted along with it:
Paulaner Octoberfest Marzen
Warsteiner German Pilsener
Spaten Premium Lager
Weihenstephaner Festbier
Shiner Light Blonde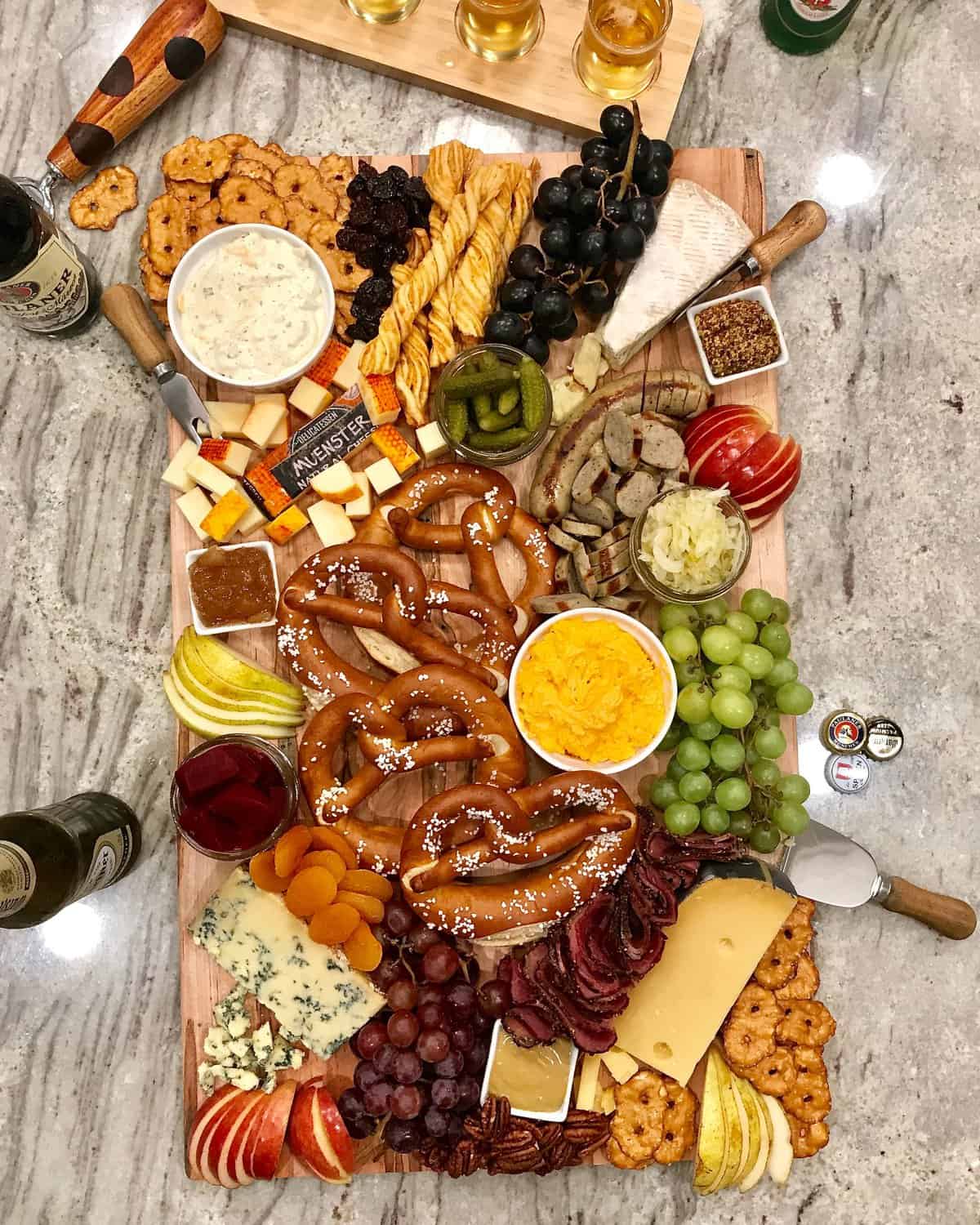 And there you have it! Served with a variety of German beers and you're sure to have a great time snacking on this board. Lederhosen and dirndls optional! 😉
Enjoy!
xoxo,


If you recreate this board, I would love to see it! Tag me on Instagram @thebakermama and be so proud of it by using the hashtag #mybeautifulboard I hope you love recreating it and have fun enjoying it with your friends!