We've rounded up a delicious collection of fresh peach recipes for salads, breads, cakes, pies, pizzas, ice cream and much more. Summer's most beloved fruit put to extra tasty use!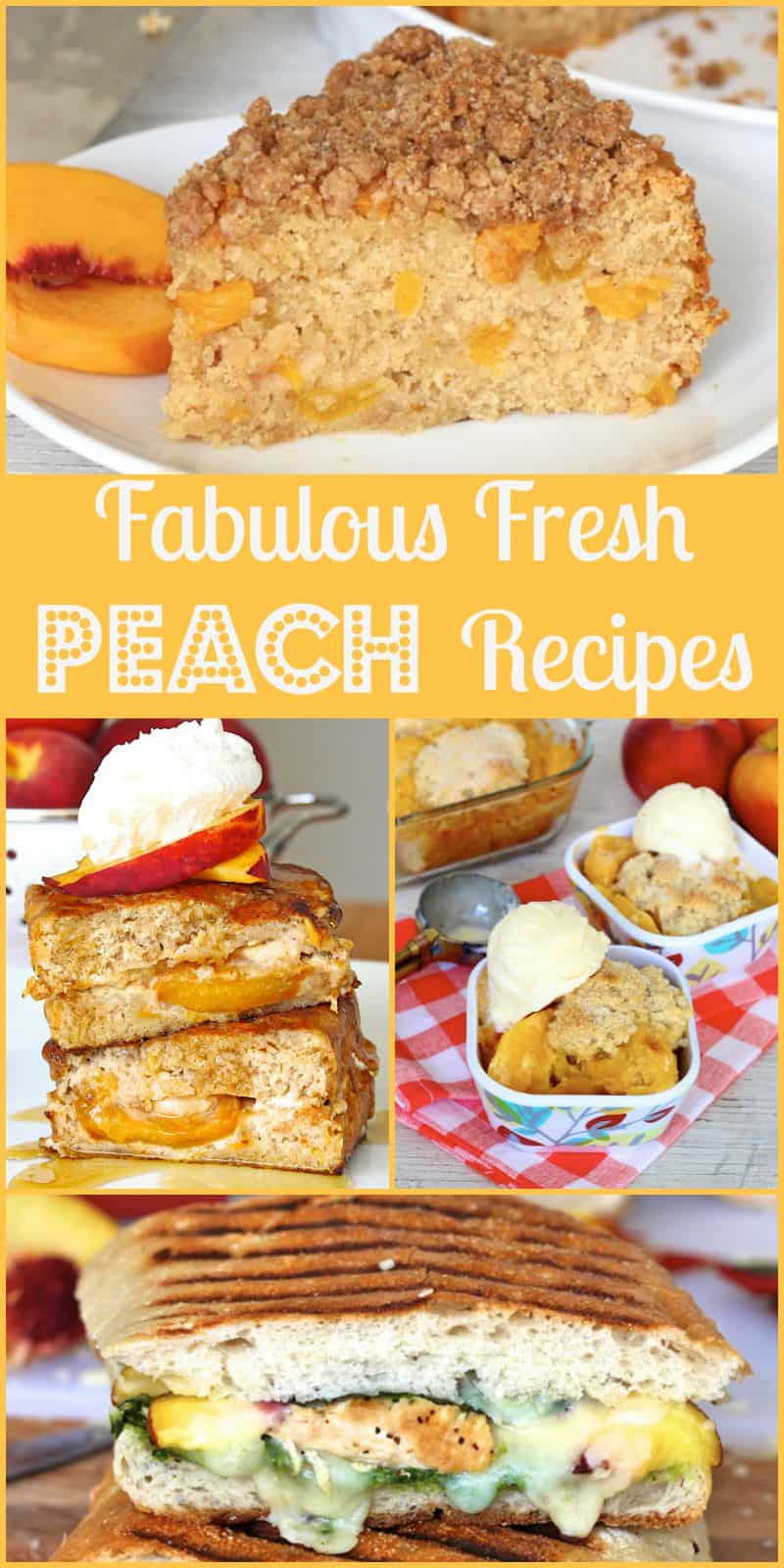 Peaches are still plentiful and I just can't get enough of them. Summer fruit perfection! I enjoy at least one a day by its sweet, juicy self and am always looking for ways to incorporate peaches into breakfast, lunch, dinner and dessert.
Now is the time I buy lots and lots of peaches because they're at their best and they're cheap. I'll stock our freezer with fresh peaches that we can enjoy all year round. Imagine how amazing a warm fresh peach cobbler is in the middle of winter. Mmmm…mmmm!
Here's a great guide on how to select and freeze fresh peaches thanks to Better Homes & Gardens.
And here's a helpful guide on canning fresh peaches without sugar.
Today we're sharing some of our favorite peach recipes so you can stock up on those pretty peaches and get to baking, cooking, blending, and enjoying!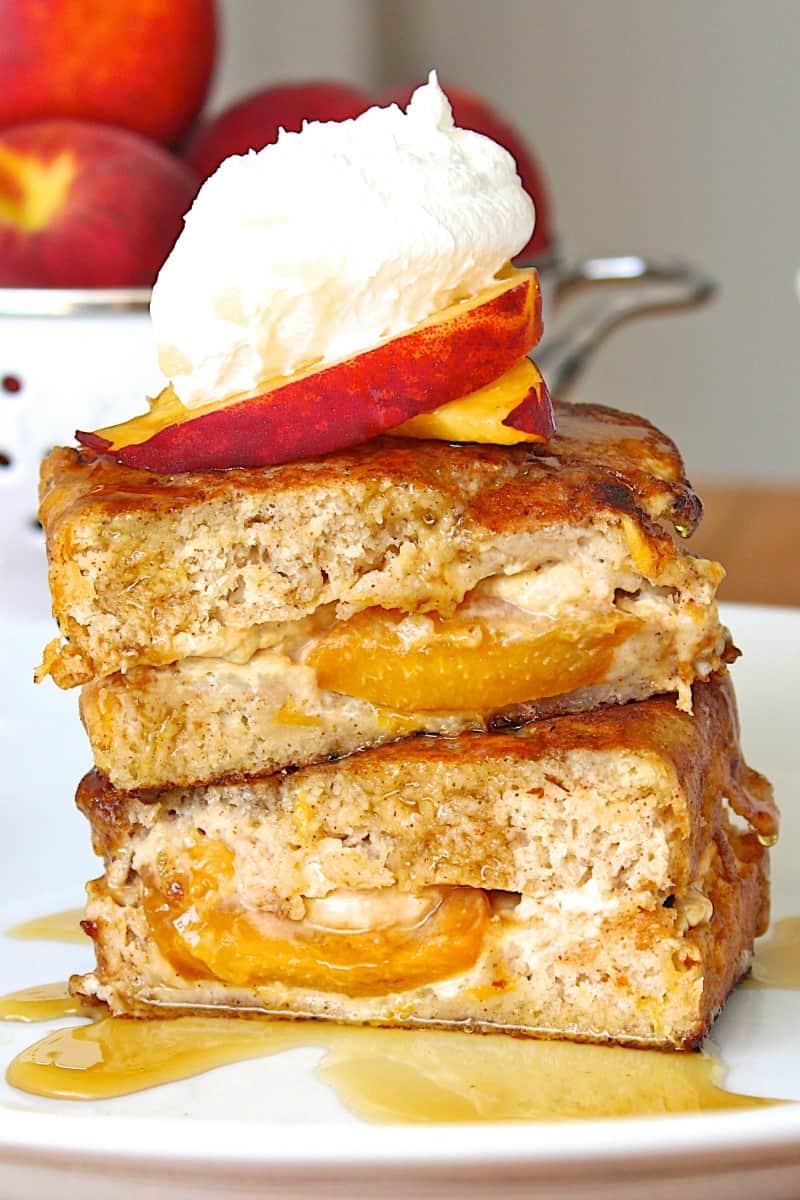 BREAKFAST
Peach Coffee Cake – sweet peaches baked into a tender coffee cake with the most irresistible cinnamon sugar streusel. A fabulous way to start a summer day!
Peach Oatmeal Bars – oatmeal baked into bar form with fresh juicy peaches all throughout.
Peach Honey Yogurt Smoothie – wake up to a healthy dose of protein and burst of summer fragrances from the peach and honey!
Peach Cobbler Scones – for a summer brunch gathering, serve these scones along with a breakfast casserole. I have a feeling these scones would steal the show.
Stuffed Peach Bread French Toast – make breakfast extra special with this fabulous french toast that's stuffed with fresh peaches and cream cheese.
Low-Fat Cinnamon Peach Banana Bread – a healthy yet flavorful way to start the day.
Overnight Peach French Toast – love that this can be prepped the night before so all you have to do is bake it the next morning. Perfect for the weekend!
Peach Streusel Muffins – these muffins look irresistible with all that streusel and sweet vanilla glaze.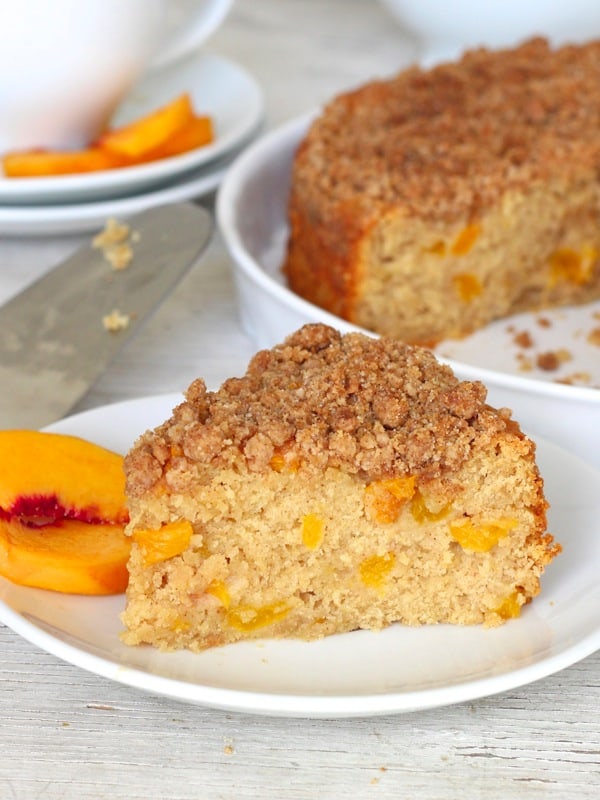 DESSERTS
3-Ingredient Peaches & Cream Cobbler – anyone can make this easy cobbler and everyone loves it!
Peach Oatmeal Skillet Cookie Pie – if it's baked in a skillet, sign me up! This pie looks amazing!
Mixed Stone Fruit Pie – impressive display of summer stone fruits on a hot day.
Peach Raspberry Crumb Bars – fruity and fabulous!
Peach Bread Pudding – saying goodbye to summer and hello to the start of fall is so easy with this cozy and summery bread pudding.
Slow Cooker Peach Cobbler – pop it all in a slow cooker in the morning and head out to the beach or pool! You will come back to this beautiful peach cobbler ready for a late afternoon snack or after-dinner dessert!
Caramelized Peach Ice Cream – caramelized peaches swirled into homemade vanilla custard. Dreamy!
Peach Sherbert – cool everyone off with this simple sherbert. Just 2 ingredients is all it takes!
Peach Blueberry Basil Crisp – this fruit crisp with basil just screams summer!
Gluten Free Peach Crisp – for those on a paleo or gluten free diet, enjoy this warm and fuzzy peach crisp!
Peach Ice Cream Bread – a hearty quick sweet bread with juicy peaches and a hint of vanilla ice cream in every bite.
Southern Peach Cobbler – you can't go wrong with classic peach cobbler warm out of the oven topped with a scoop of vanilla ice cream!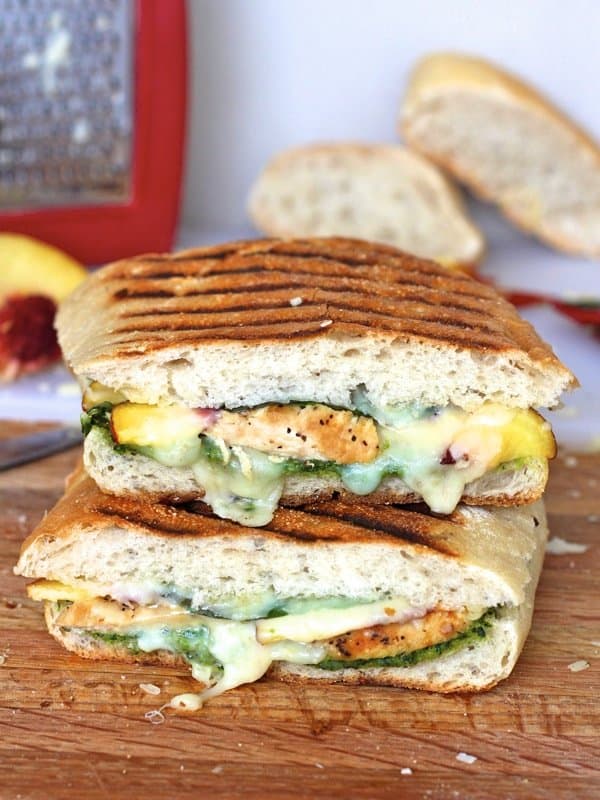 MEALS & APPETIZERS
Chicken Peach Pesto Panini – fresh, fabulous and so full of flavor. A perfect poolside lunch!
Maple Peach Pork Chops – peaches and pork were just made for each other. This is a fantastic summer dinner idea!
Peach & Proscuitto Pizza – we made this last weekend and it was pizza perfection!
Slow Cooker Peach Salsa Pork Roast with Sweet Potatoes – let the slow cooker do the work and impress your guests with this fabulous and flavorful pork roast.
Bacon Wrapped Grilled Peaches with Balsalmic Glaze – I could make a meal out of these! Such a great party appetizer!
Peach Salsa – pass the chips! Love everything about this salsa.
Peach & Pecan Quinoa Salad – a healthy side dish that would be great with grilled meat.
Grilled Peach, Blueberry Goat Cheese & Arugula Salad – healthy and summerlicious!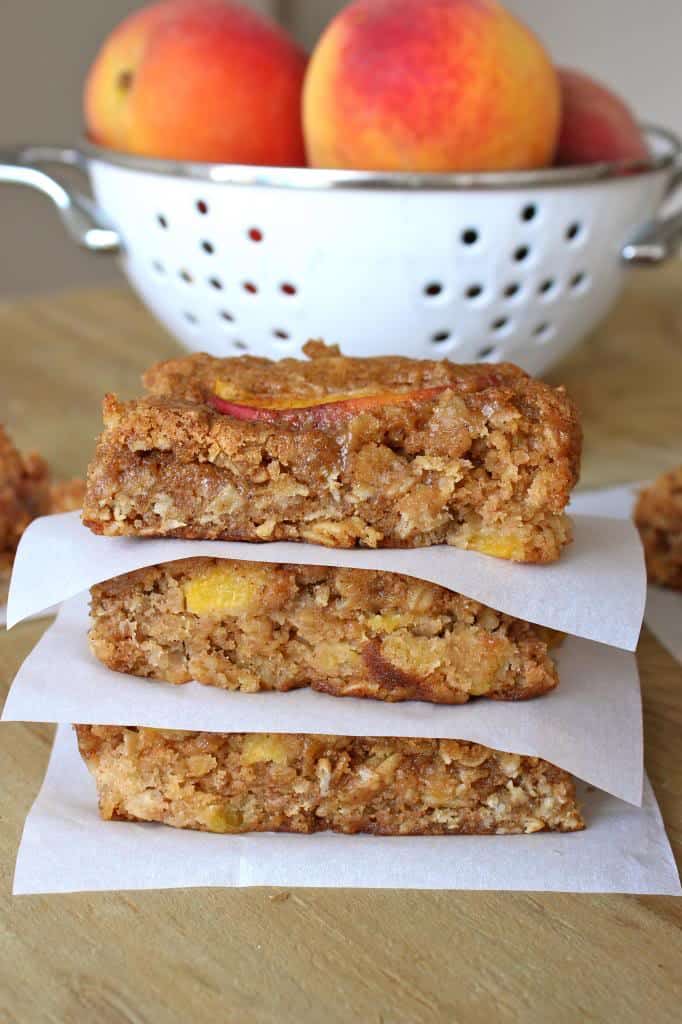 I hope the rest of your summer is fantastic and full of peachy keen recipes like these. Enjoy!
xoxo,
Maegan
A special thanks to my friend, Angela, for helping me compile this list of great recipes to share.