Your 4th of July feast is sure to be fabulous and festive with these delicious recipes to help plan out your menu for the day. Whether you want to keep it classic with burgers, potato salad and apple pie or spark things up with spicy ribs, cornbread salad and a flag cake, there's something for everyone!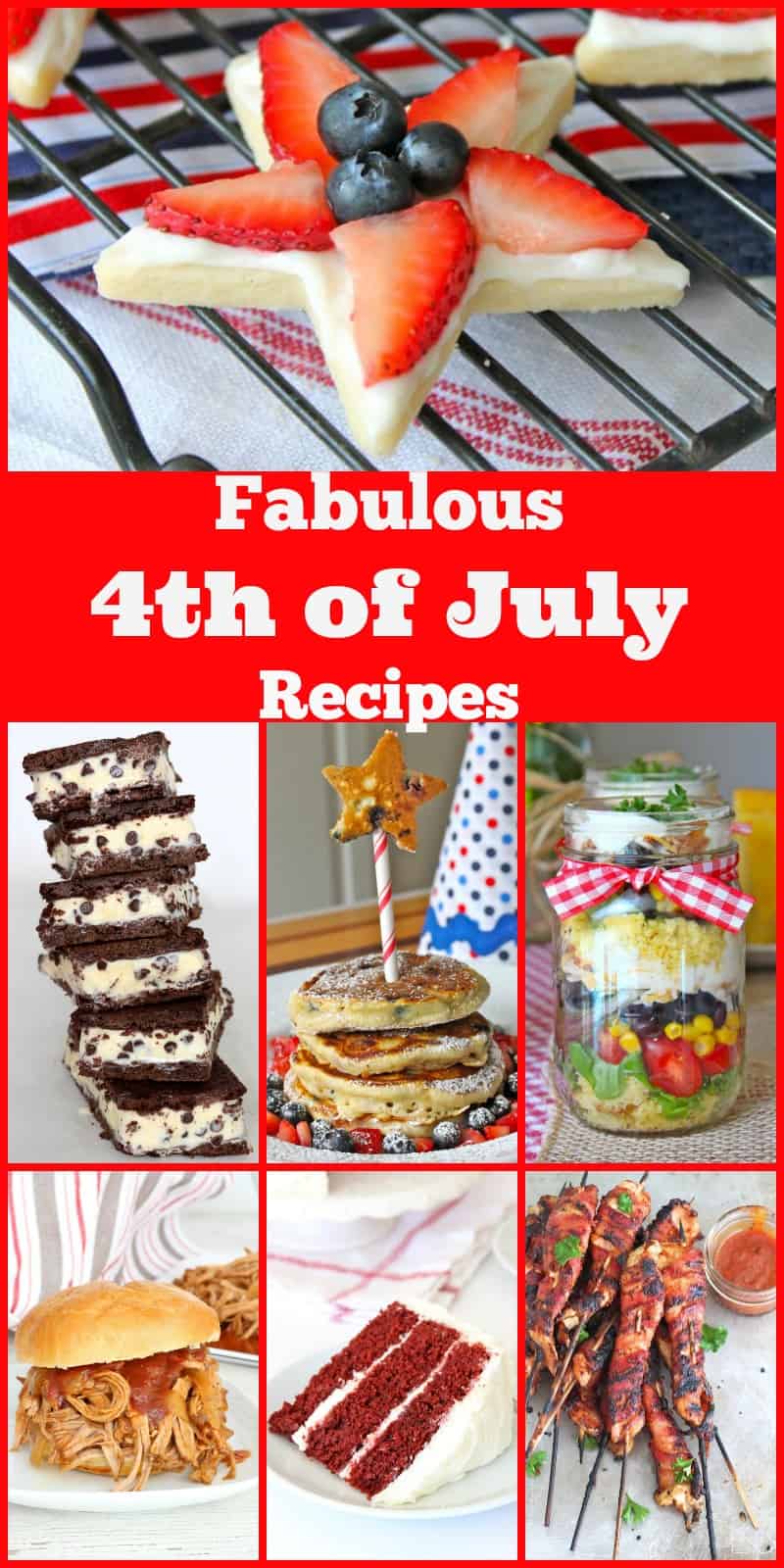 Appetizers and Sides:
Blueberry Strawberry & Jicama Salsa – festive and fantastic!
Chicken Mango Cole Slaw – Refreshing and packed with protein, you can eat this for a main course or serve as a side!
Texas Potato Salad – this classic potato salad can do no wrong.
Cornbread Salad – you can make it in individual jars or as one big salad in a big bowl. Everyone loves it!
Baked Beans – gotta have baked beans!
Classic Coleslaw – coleslaw is the best compliment to BBQ!
Grilled Corn – the best ways to grill corn along with 6 ways to serve it.
Guacamole – guac is a given! pass the chips…
Fiesta Bean Salad – healthy and tasty, even the meat & potato lovers love it!
Savory Tomato Pie – a great way to put those fresh tomatoes to tasty use. Indulgent yet refreshing.
Hot 7-Layer Dip – I could eat this as a meal. Oh my yum!
Meats and Mains:
Spicy Dr. Pepper Ribs – No grill? No problem! Just plan ahead to make these sweet and spicy finger licking ribs!
Bacon-Wrapped Grilled Chicken Skewers – easy to grill a lot of them and awesome to eat.
Classic Burger – can't go wrong with a good ol' classic burger.
The Best Hot Dog You Will Ever Eat! – enough said.
Asian-Style Pork Burgers – juicy burger with an Asian twist.
3-Ingredient Slow Cooker Pulled Pork – amazingly tender and tasty pulled pork that's great by itself or piled high on a bun.
Oven Roasted BBQ Chicken – avoid the grill and let the oven do the work.
Roasted Chicken Summer Vegetables – a one-pot wonder with summer's finest veggies.
Homemade Pretzel Dogs – the kids will go crazy over these!
Sweets:
4th of July Star Cookies – easy and festive!
Flag Cake – nothing shows your patriotism more than a beautiful flag cake.
Apple Pie – the ultimate American dessert made extra special with an irresistible struesel.
Red, White & Blue Cheesecake Cake – sure to be a show-stopper!
Cheesecake Brownies – chocolate heaven!
Homemade Ice Cream Sandwiches – easy to make and a sure way to cool off a crowd.
Saltine Cracker Ice Cream Sandwiches – fun for kids and fancy enough for adults.
Fresh Cherry Pie – take advantage of cherries while they're at their best with this double crusted cherry pie!  To die for.
Red, White & Blue Greek Yogurt Popsicles – festive and mom-approved!
Red Velvet Cake – a crowd favorite that could also be made into a sheet cake.
Patriotic Ice Cream Cones – your ice cream would not be complete without one of these festively decorated cones on the 4th. Too cute!
Patriotic Pancakes – a festive way to start off the day!
Easy Flag Fruit Dessert – healthy, festive and snackable!
Red, White & Blue Apples – quick, cute and oh so yummy!
American Flag Donuts – cutest donuts I've ever seen!
Peaches & Cream Cobbler – just 3 ingredients to make this fabulous dessert.
These are all great summertime recipes that would be perfect for Memorial Day, Labor Day, or really any day! Enjoy!
Happy 4th of July! Here's to a safe, fun and delicious weekend!
xoxo,
Maegan
A special thanks to my friend, Angela, for helping me compile this list of great recipes to share. Our hope is that it makes your menu planning a little easier.