My 4th of July Gathering Guide makes throwing that patriotic celebration easy, breezy, and oh-so yummy. I've got the decor, food, and activities handled so you can enjoy celebrating with your loved ones!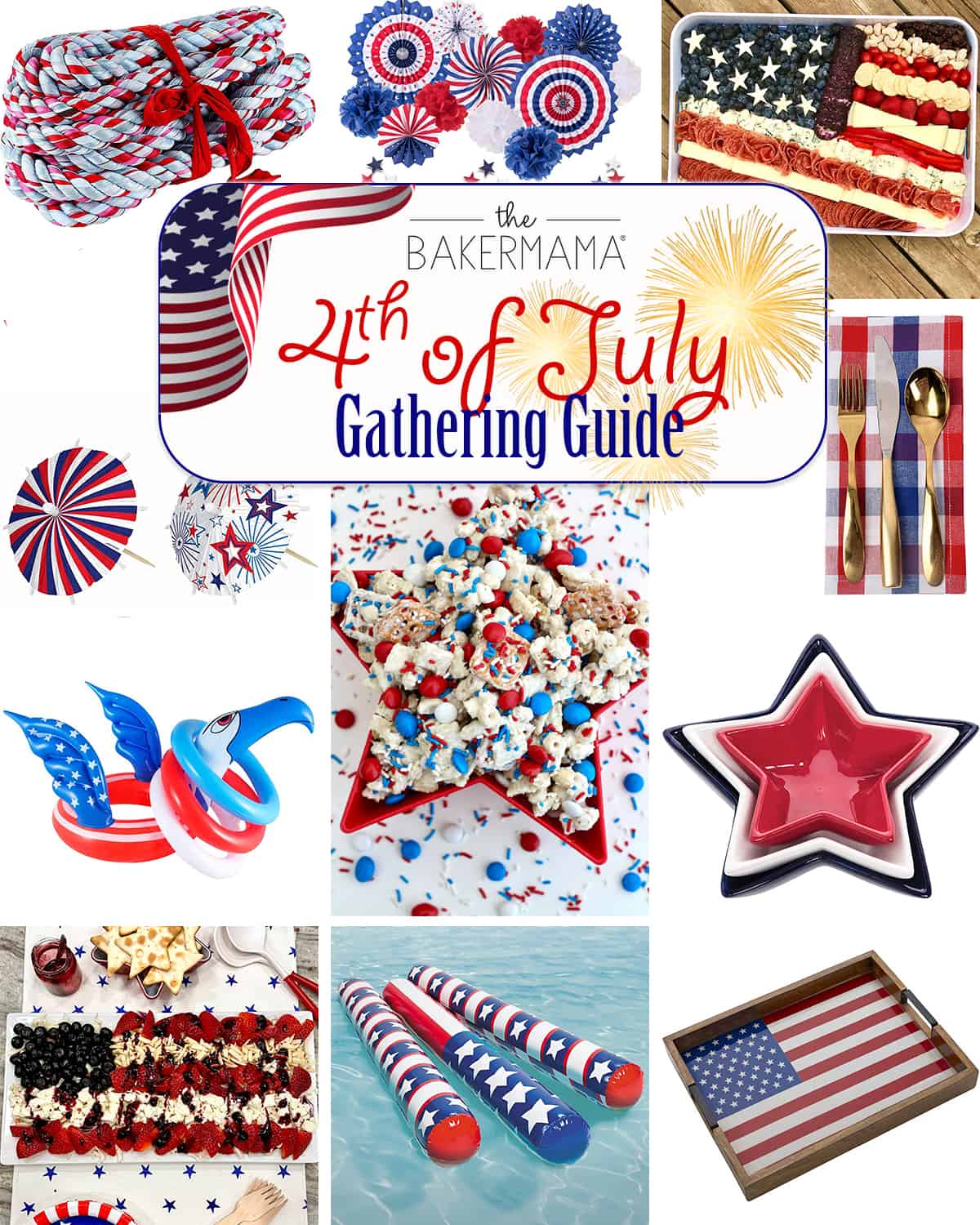 The BakerMama's Gathering Guides
I created my Gathering Guides to help you make special occasions even more special. With thoughtful decor, sweet details, and of course great food, you can create sweet holiday memories with your family–without a lot of fuss. Enjoy!
Party Like it's 1776!
When it comes to celebrating the 4th of July, we're a "go big or go home" kind of family. We play hard, eat big, and then… duck and cover. I kid! But Brandon's annual fireworks shenanigans really are the stuff of legends. We do love spending time together, celebrating our country, enjoying each other, and making memories. My 4th of July Gathering Guide should make throwing your own patriotic celebration easy and fun. I hope you enjoy!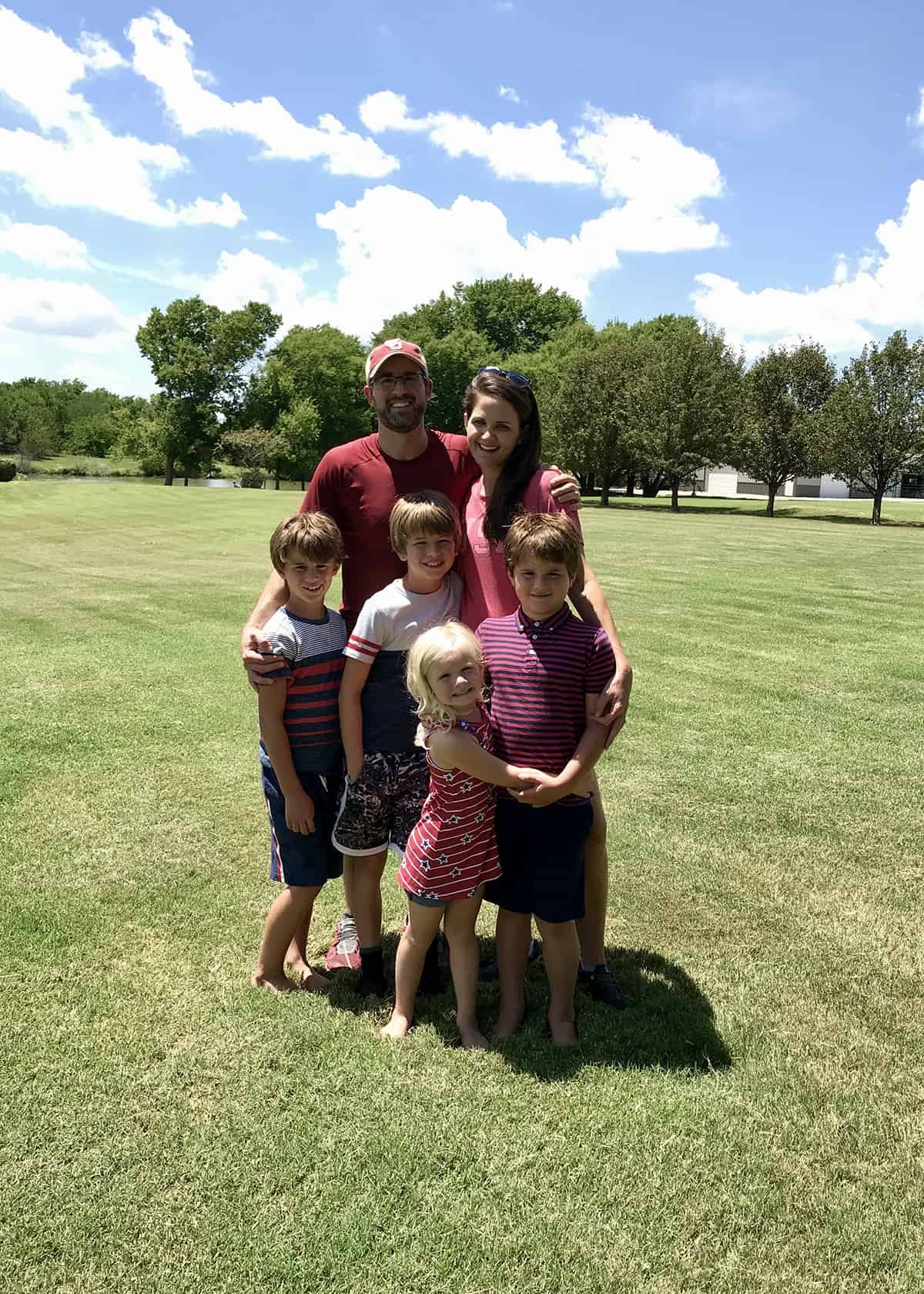 Set the Scene for a 4th of July Gathering
What's red, white, blue and totally put-together? Your 4th of July cookout! These simple, coordinating items are festive and come together easily for a great-looking table.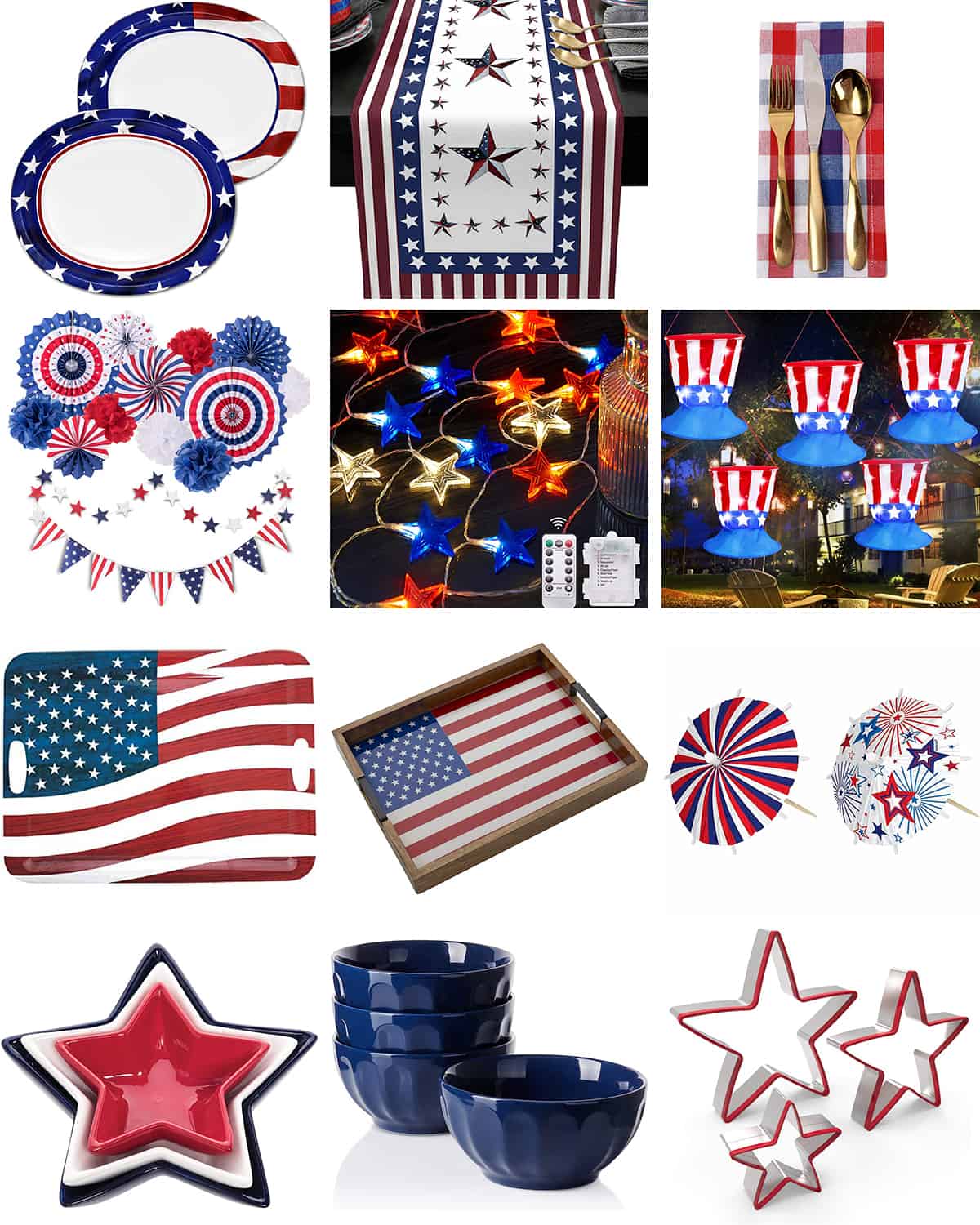 Serve up a festive feast fit for the founders with these Patriotic Oval Paper Plates or these festive Star Shaped Paper Plates. If you want the whole shebang, try this Patriotic Firework Party Bundle or this one with everything from plates to cutlery. A super cute Burlap Table Runner dresses up any serving table with stars and stripe. I absolutely love the Urban Villa Dinner Napkins for the finishing touch.
You know how I love a good paper buntings, and this Patriotic Party Decorations Set is so cute. When it gets dark, a few strings of Patriotic Lights really make things feel festive and fun. And speaking of! These American Flag Hat Lanterns are such a fun touch for an evening get-together!
When it's time to serve up lunch or dinner, I love this wooden American Flag Serving Tray. Another option is this Patriotic Party Serving Tray with handles, for easy hot dog delivery! Top off your libations in style with Red, White and Blue Umbrella Wood Picks or these festive cocktail picks.
For chips, dips, snack mixes and more, these Star Serving Dishes make your favorite foods the star of the show. Serve up chips and veggies in these navy blue, red, or white Porcelain Fluted Bowls. And make patriotic cookies in a snap with Stainless Steel Star Cookie Cutters Set. My other favorite set is here.
Fun, Fun, and More Fun!
When it comes to the 4th of July, our family has a field day. Literally! We love us some good, rambunctious 4th of July fun! There's nothing better than heading outside, getting dirty, sweaty and worn-out while engaging in a little friendly competition with each other. Here are some of our favorite ways to play hard (and a few ways to slow it down!):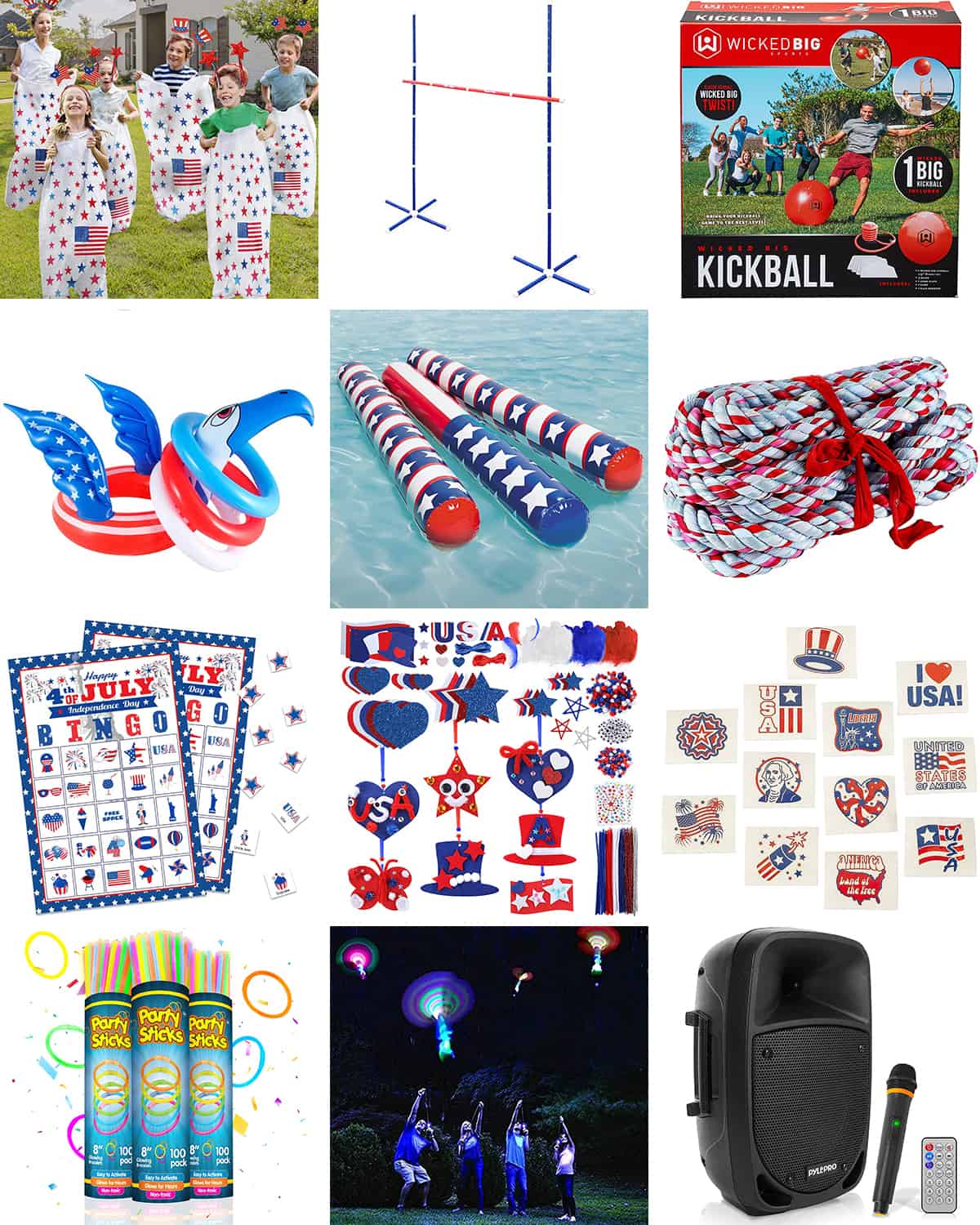 When I say it's a field day over here, I'm not kidding. We love these Patriotic Potato Sacks Races for some fast-paced fun. Break out the Giggle n Go Limbo for even more hilarious friendly competition. Then pump up a Super-Sized Kickball for a some dodge ball or kick ball with the whole family.
For fun round the pool, the competition continues with this super-silly Ring Toss game. Hang out on Inflatable Patriotic Pool Noodles while you store up some energy for a family game of Tug of War. Even the losing team doesn't mind — a splash in the pool is a cooling consolation prize. Or keep cool in the pool with this American Flag volleyball net and basketball hoop set or inflatable corn hole game.
The heat of the day calls for bit of in-the-shade game-or-craft time. For some silly family fun, this 4th of July Bingo Game is always a good time. Need an 'independent' activity for the kids (get it? Independent!)? This Independence Day Art and Craft Set for Kids is a great way to give little helpers something to do while dinner is on the grill. Then get ready for dusk with these Patriotic Glow in The Dark Tattoos.
When the sun dips low in the sky, the fun ramps up. Break out the PartySticks Glow Sticks for some luminescent, kid-friendly fun! These Rocket Slingshot Copters or these keep everyone busy while dad sets up his epic fireworks display. And don't forget the Portable Bluetooth PA Speaker–it's a must-have at our house for Brandon's Fireworks extravaganza! Also, may we suggest this handy fire extinguisher. You know, just in case.
Festive and Fun Eats
Whether you want to keep it classic with burgers, cornbread and apple pie or spark it up with a patriotic cheese board and party mix, you're sure to find some great inspiration from these delicious recipes and patriotic meal ideas. Check out my Fun and Festive 4th of July Recipes Round-Up as well as my Patriotic Potluck Recipe Round-Up for all the recipes and festive inspiration.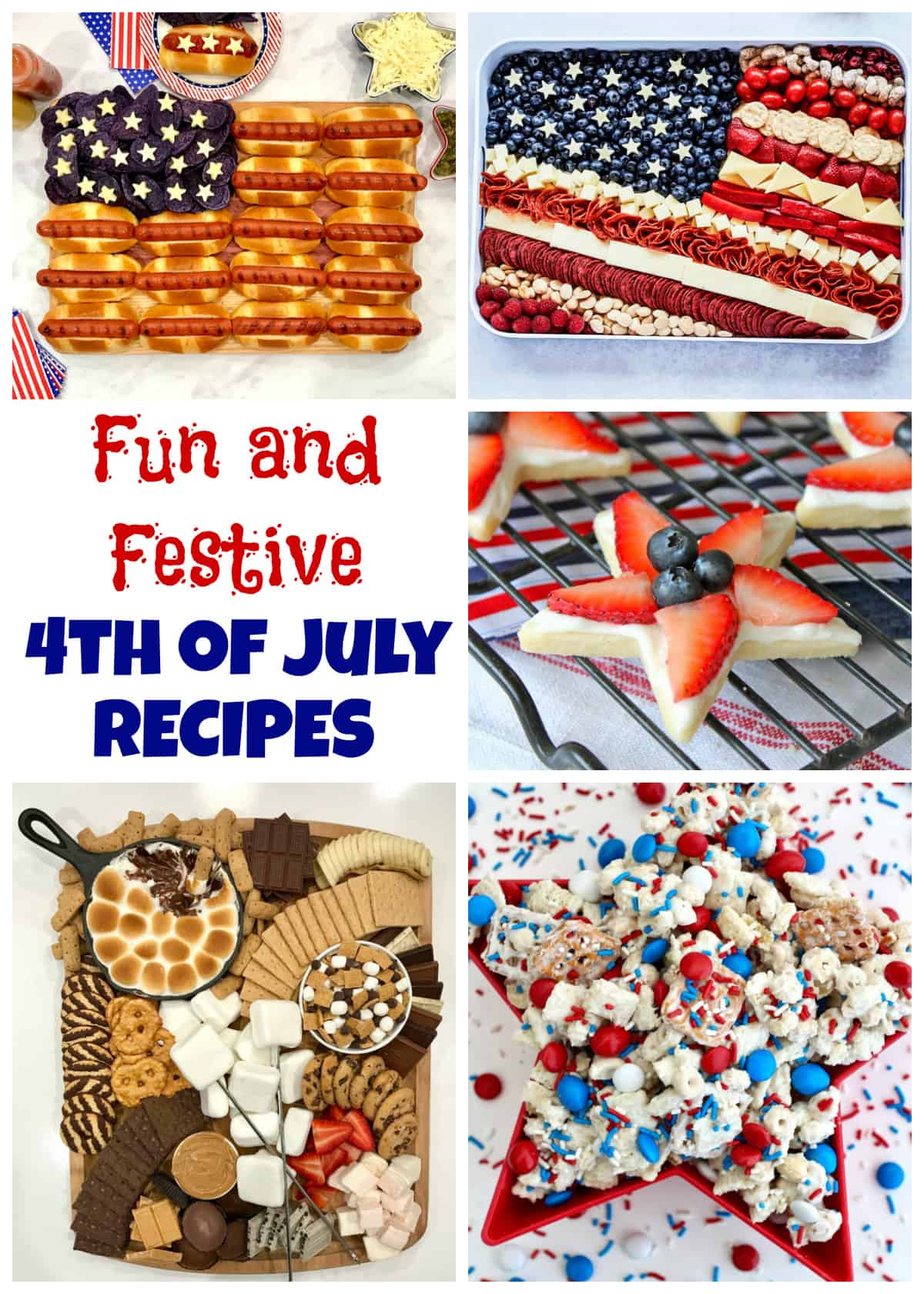 Happy Independence Day from our family to yours!
I hope my 4th of July Gathering Guide makes your celebration easy, festive, and yummy! If you use this guide, be sure to snap a picture and share it with me on Instagram @thebakermama so I can see.
I just love seeing you enjoy the inspiration I share.
xoxo,