A recap of my experience on Lake Michigan with some of the most incredible food bloggers and brands in the business!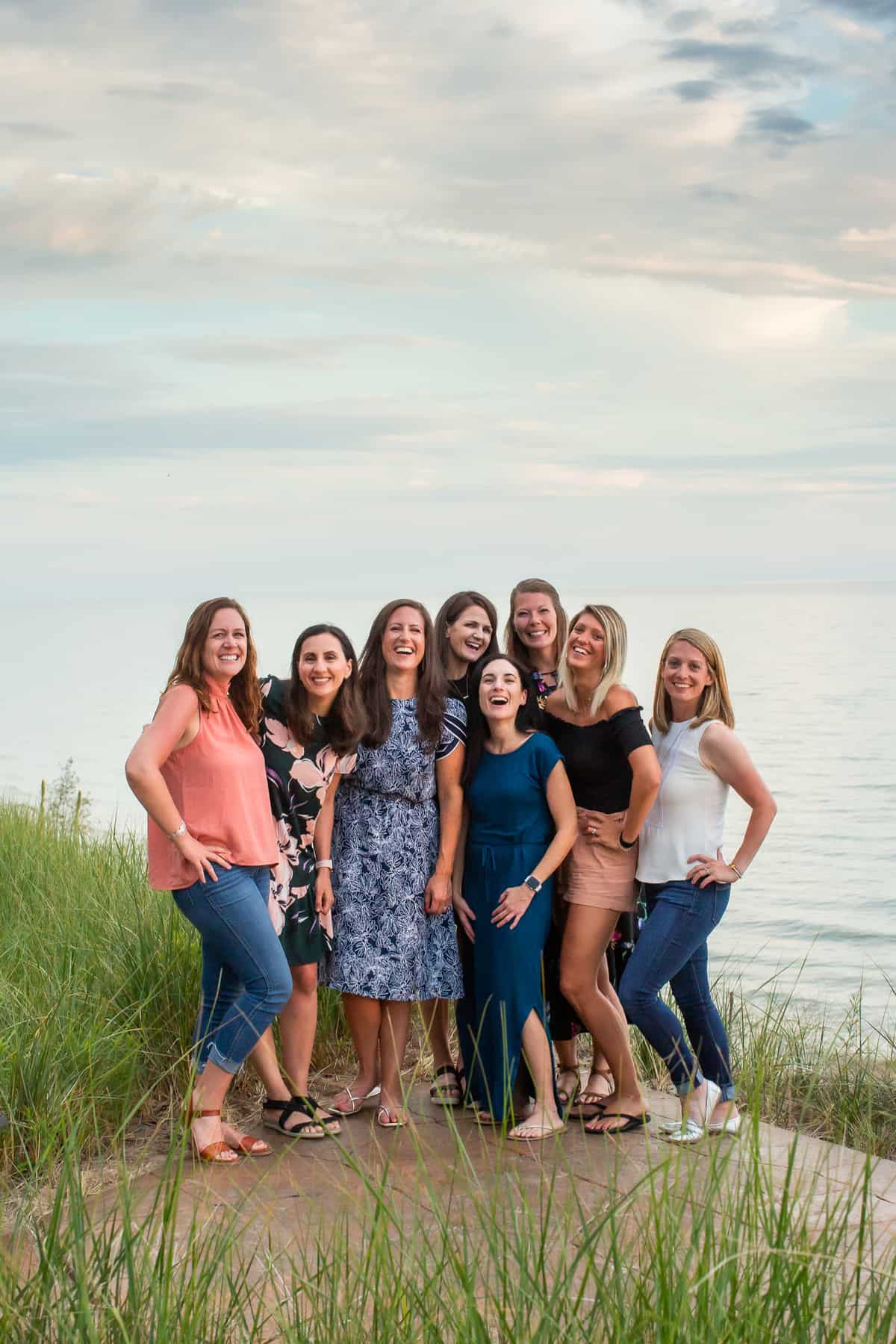 I recently had an amazing opportunity to spend a few days on Lake Michigan with some of the most fantastic food bloggers and brands. We relaxed, learned, cooked, connected, and created so many wonderful memories together. Oh and, of course, we ate a lot of great food and drank some fabulous drinks!
The retreat took place at a home rental on beautiful Lake Michigan! And when I say beautiful, I don't even think that comes close to describing how truly gorgeous Lake Michigan is. Everything about it was so wonderful! The lake was calm like glass in the mornings and throughout the day it would start slowing moving with waves hitting the shore as the sun would set each night. The summer temperatures were cooler in the morning and at night with warmth throughout the day. It was perfection!
We took full advantage of the location and spent almost all of our time outside by the lake. From yoga in the morning to brainstorming sessions around the fire pit to toes in the sand watching the sun set each night, it was magical!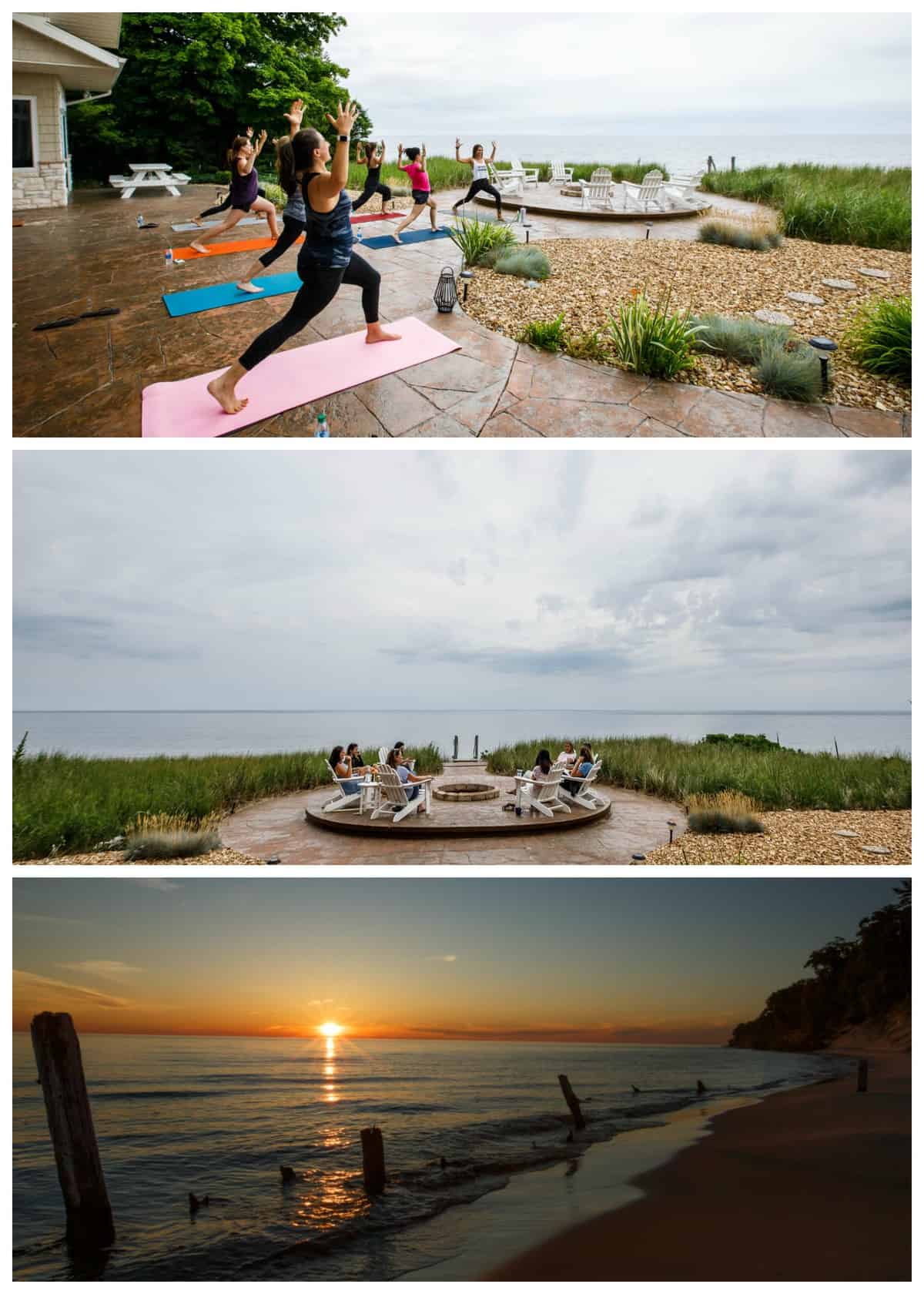 Spending such quality time with these talented and passionate ladies was truly a blessing. I'm so thankful to have met them all through the wonderful world of food blogging. Let me take a minute to really introduce you to each of them because if you're not already following them and being inspired by the recipes and content they share, you really should be!
Liz Della Croce of The Lemon Bowl is a boss babe! I admire her passion and energy for everything she does because she truly loves what she does or she doesn't do it. She has a zest for life that is contagious! A big THANK YOU to Liz for helping organize this entire retreat in her home state of Michigan. Liz shares simple, healthy recipes along with Lebanese favorites from her childhood. I highly recommend you make Liz's Mexican Layered Hummus Dip! It's so delicious! Follow Liz on Instagram @thelemonbowl.
Lauren Grier of Climbing Grier Mountain is a true talent and such a fun person to be around! She also helped plan and execute the retreat and I'm so thankful for all that she did to make it such an enjoyable experience for all. Her recipes and photography skills will knock your socks off. Lauren's cookbook, Modern Comfort Cooking, is a must own! It's filled with delicious comfort food recipes that have a modern twist. So much tastiness to choose from. I highly recommend making Lauren's Easy Labneh Scallion Dip. So easy and so yummy! You can follow Lauren on Instagram @griermountain.
Krista Rollins of Joyful Healthy Eats is such an uplifting and inspiring friend! She joyfully shares healthy recipes, great workouts and lifestyle inspiration for living a balanced life. Her recipes are both beautiful and delicious! And the home workouts she shares each week on her Instagram account are so fun and effective. You must try her guacamole recipe. The balance of flavor and texture is spot on. Pass the chips! You can follow Krista on Instagram @joyfulhealthyeats.
Melissa Griffiths of Bless This Mess is one of the sweetest and most thoughtful women you'll ever know. She shares approachable and wholesome recipes that she feeds her family of 7 really well with. She also shares about life on their beautiful farm in Utah and it's just so fun to watch all of the amazing experiences they get to have as a family right out their front door. Melissa has a great collection of cookbooks and meal planners to help make feeding your family stress-free. Check them out! She's also the sourdough queen and has so many yummy sourdough recipes on her blog that you've got to make! You can follow Melissa on Instagram @blessthismessblog.
Laura Fuentes of MOMables is a rockstar! She's on a mission to help and inspire others to be and do the best they can! Through MOMables.com, she helps parents transform mealtimes with simple organized meal plans and helpful videos on her awesome YouTube Channel. As a mom, I'm so thankful for all of the great advice and tips she shares. She even has 5 cookbooks and one is titled The Taco Tuesday Cookbook! Need I say more? For the love of tacos, it's a must have! You can follow Laura on Instagram @momables.
Annalise Sandberg of Completely Delicious is the sweetest of the sweet…both herself and her recipes! I seriously want to make every recipe that Annalise shares because they all look so delicious and I trust that they will turn out amazing! Annalise will give you the instructions and confidence you need to bake a perfectly flaky pie crust and build a gorgeous layered cake. She's also got the best recipe for Chocolate Chip-Less Cookies. Yes, I said chip-less! You won't even miss them in these amazingly delicious cookies! You can follow Annalise on Instagram @completelydelicious.
Yumna Jawad of Feel Good Foodie is one of the nicest and brightest women I've met. She truly makes you feel good when you're around her! Her recipes are simple, nourishing and, most of all, delicious! Yumna shares such great tips like how to make oatmeal and how to cook with canned tomatoes as well as Lebanese favorites like Stuffed Grape Leaves and Crispy Falafel. So many yummy recipes and ideas! You can follow Yumna on Instagram @feelgoodfoodie.
All of the images in this post were taken by the extremely talented, Amanda Montgomery, of Arrae Creative. She captured the retreat so beautifully! We are so grateful to have all of these images to share and cherish forever. Amanda is from Grand Rapids, Michigan, but is willing to travel. If you are in need of a top-notch photographer to capture an event or special moment, I would highly recommend reaching out to Amanda. You can follow her on Instagram @arrae.creative.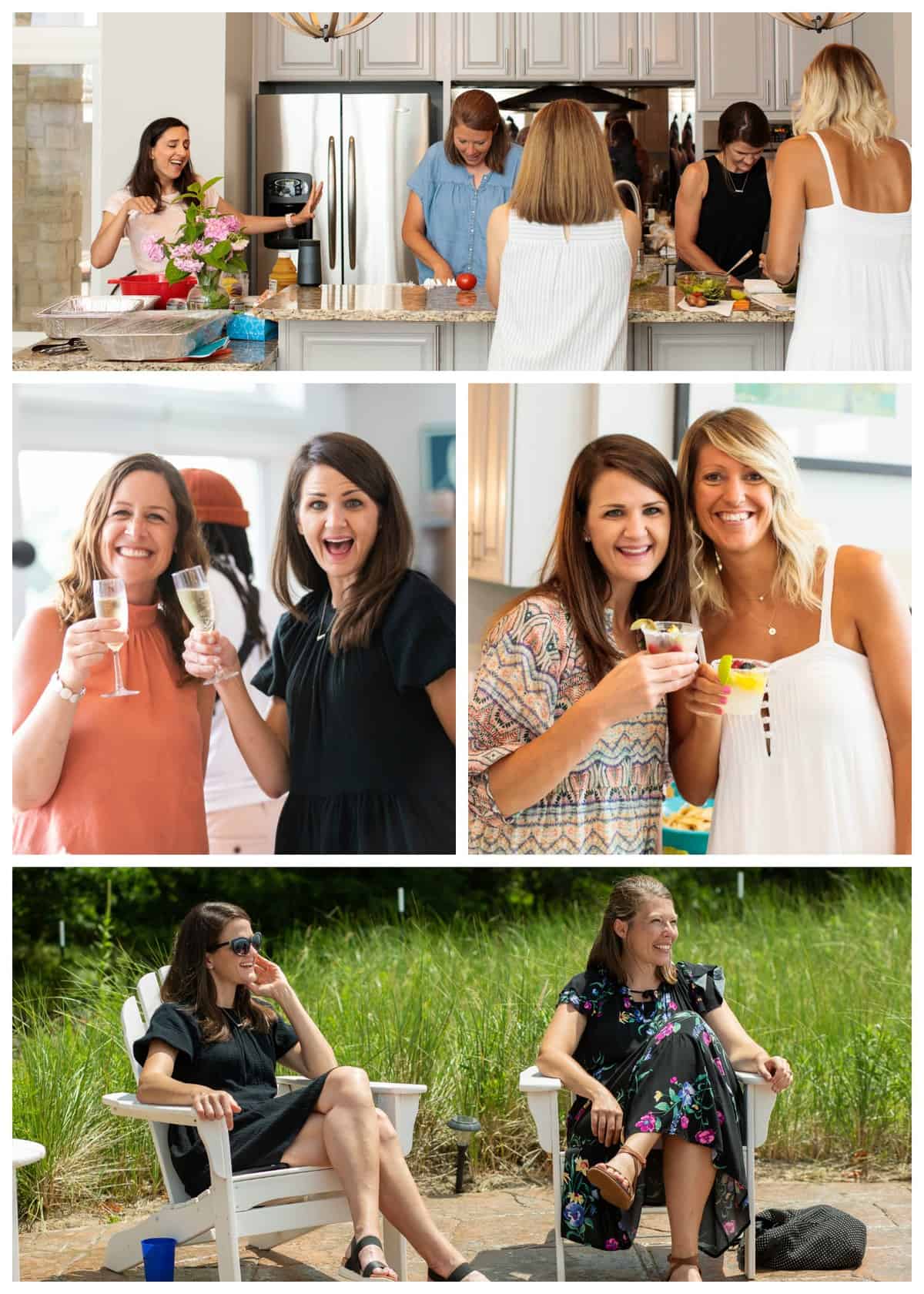 This retreat would not have been possible without the amazing brands that sponsored it. A huge thank you to Beef. It's What's For Dinner. on behalf of the Beef Checkoff, Stonyfield, Harry & David, Irie Kitchen and George Walker III. Over the course of a few days, I learned so much from each of these brands and got to experience their food, their passions and their expertise first hand. What a treat!
The first night, we enjoyed dinner al fresco with Beef. It's What's For Dinner. and Chef Adam Hedsted! It was more than the delicious dinner, it was an evening of learning all about beef and tasting several different cuts and cooking methods. Growing up in Oklahoma and living in Texas, we really enjoy eating beef so this was a great experience for me to grow in my knowledge and expand my thinking when it comes to cooking and serving beef. We discussed beef tips like how to grill steaks, determining doneness, sous vide beef basics, and handling beef safely. Such great advice and reminders for enjoying beef at its best!
Bridget Wasser, with Beef. It's What's For Dinner. on behalf of the Beef Checkoff, did an excellent presentation for us breaking down each cut of beef and answering all of our questions about how the cattle are raised and the best ways to buy it, store it, cook it, and serve it. I highly recommend you go to www.beefitswhatsfordinner.com to learn more about beef along with a full collection of recipes and inspiration.
Once all of the beef was cut and prepped for cooking, Chef Adam prepared and served us a teppanyaki-style feast that was out of this world delicious! Chef Adam is the owner of Eat Good Group in Washington state and I can hardly wait to travel there to eat at some of his amazing restaurants. After experiencing one of his meals, I can only imagine how incredible his restaurant meals are.
Be sure to follow Beef. It's What's For Dinner. on Instagram where they share great tips, facts and recipes for serving beef. The possibilities are endless! Here are some highlights from our dinner with Beef. It's What's For Dinner…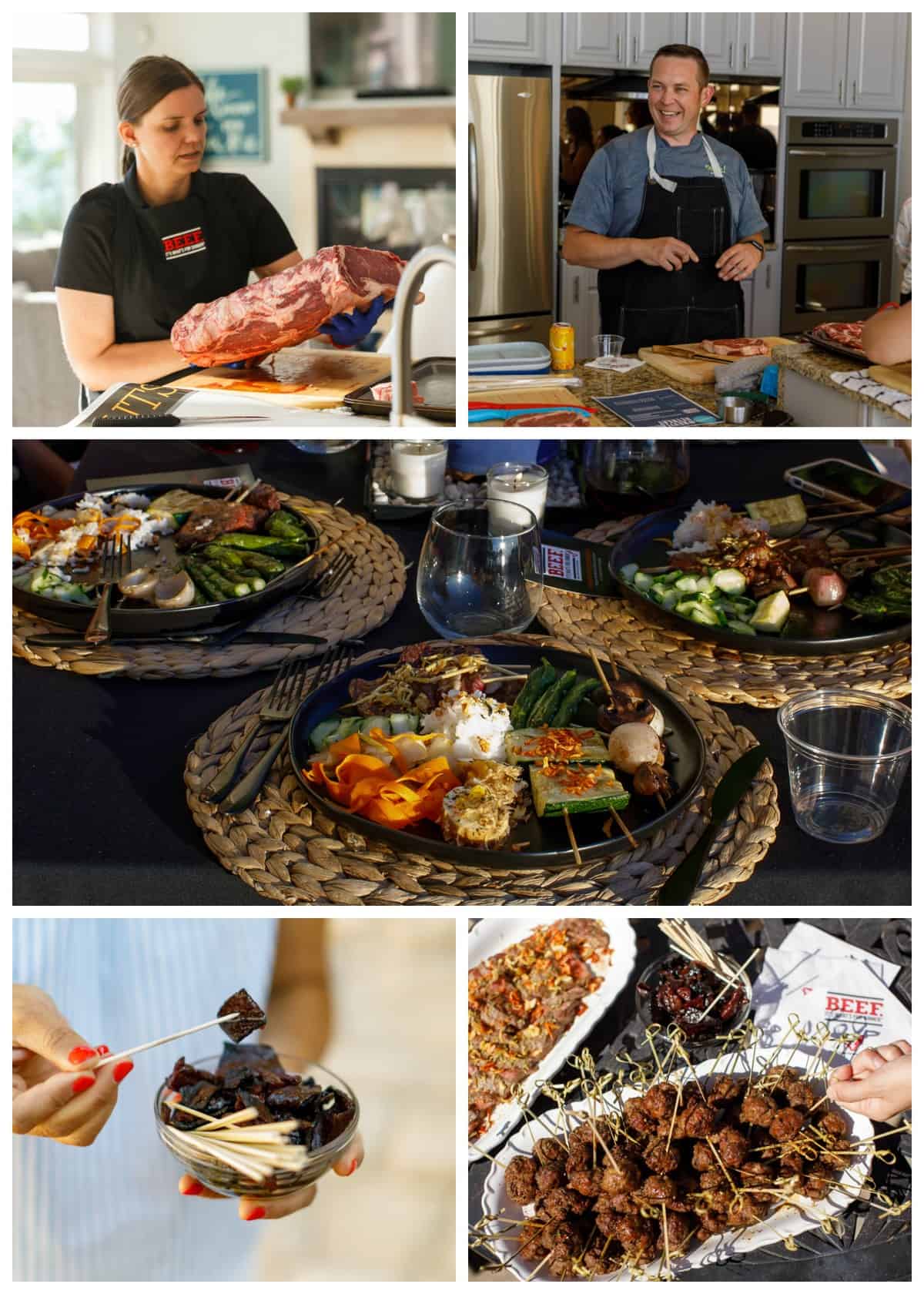 Each morning, we were fueled for the day with fabulous breakfast spreads that featured Stonyfield Organic. Stonyfield is such a solid brand when it comes to their yogurts, smoothies and family-friendly snacks. There is so much passion and pride behind their products. You can truly taste the difference! Stonyfield yogurt is so creamy and great for enjoying by itself, making a smoothie with, stirring into waffle batter, baking muffins with and so much more.
The first morning, Liz from The Lemon Bowl, made us her yummy Blueberry Greek Yogurt Waffles that we ate along with lots of fresh fruits and other tasty waffle toppings. So delicious! And then for an afternoon snack, Liz used Stonyfield yogurt to make her Easy Homemade Labneh recipe that we enjoyed with soft pita. Oh my yum!
The next morning, sweet Melissa from Bless This Mess made us her marvelous Lemon Blueberry Muffins with the secret ingredient being…you guessed it…Stonyfield yogurt! They were the perfect addition to the Make-Your-Own Smoothies and Parfait Bar we enjoyed. It was such a great way to start the day! Here are some great smoothie and parfait recipes for inspiration next time you're craving one:
Triple Berry Smoothie from MOMables
Tropical Superfruit Yogurt Parfait from Joyful Healthy Eats
Simple Green Smoothie from Bless This Mess
Peanut Butter Banana Oatmeal Smoothie from The Lemon Bowl
Strawberry Banana Smoothie from Feel Good Foodie
We are a yogurt loving family so getting to learn more about the Stonyfield way and trying so many of their great products was so inspiring for me. What I love about Stonyfield is that they go beyond their products and truly support communities and family farms all across America. Their biggest initiative to date, the StonyFIELDS #playfree Initiative is incredible. They are working with communities across America and experts in the field to make all fields organic by stopping the use of harmful pesticides on playing fields. Their goal is to help communities across America take the necessary steps to convert to organic field maintenance and empower families everywhere by providing tools and resources to make change locally and in your own backyard. Since 2018 StonyFIELDS has helped 20 cities convert their parks or playing fields to organic, benefitting over a million people. So amazing!
To learn more about Stonyfield Organic along with great recipes and where to buy their products, head to their website: www.stonyfield.com. Here are some highlights from our breakfasts and snack times with Stonyfield during the retreat…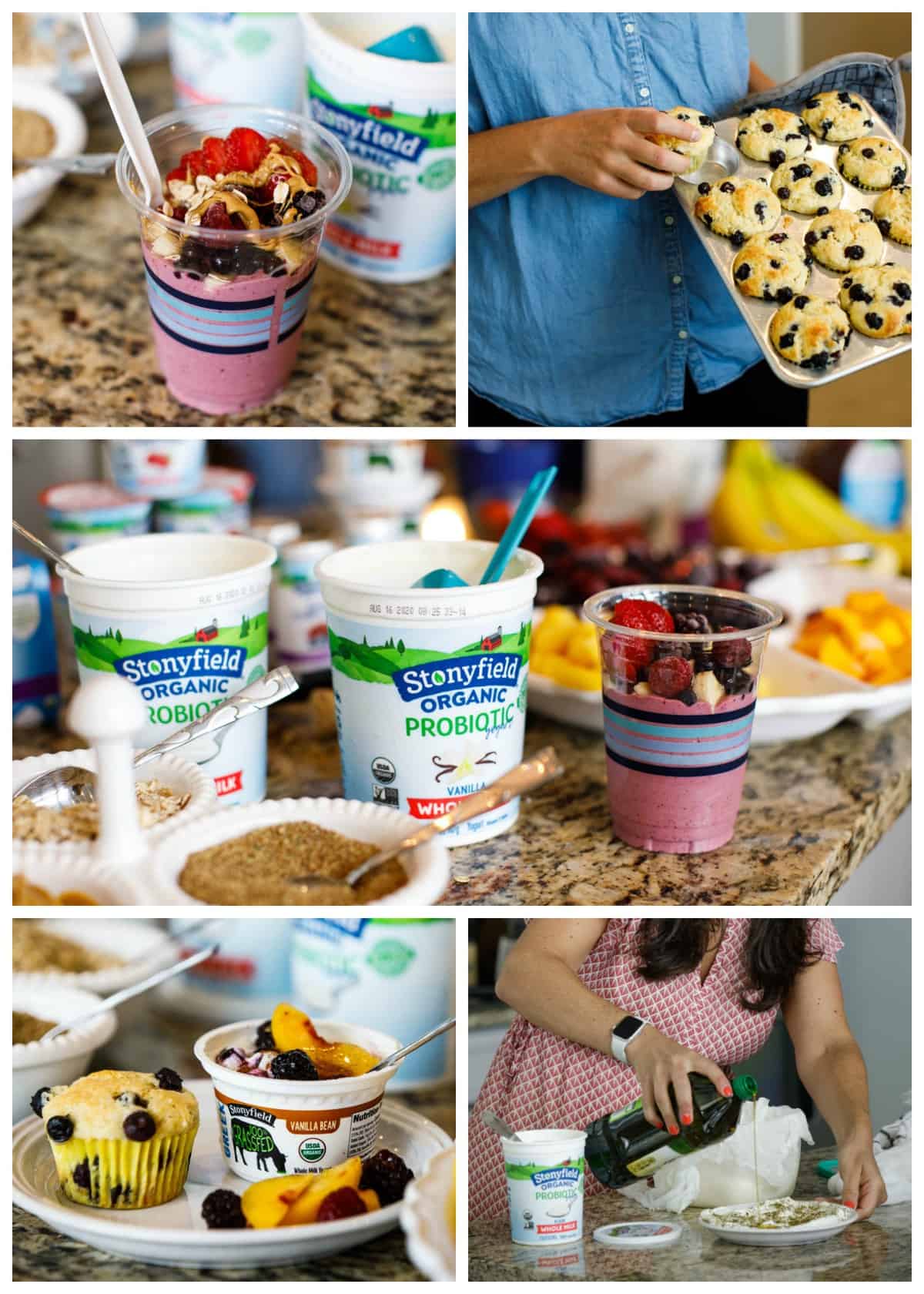 For lunch one day, we got to build our own charcuterie and cheese boards with Harry & David! You can imagine how excited I was about this! It was certainly one of the highlights of the retreat for me. Harry & David sent an amazing assortment of their cheeses, meats and accompaniments along with some great wines, that are crafted in Oregon, to pair with it. We laid out all of the goodies and then gathered around to each build our own small lunch boards. It was so fun to get to try a little of each cheese and meat along with several of their specialty spreads, crackers, fruits and marinated veggies. My kind of lunch! The glass of Pinot Noir Rosé I paired with my board was delightful!
Harry & David has been one of my go-to online destinations for ordering gourmet gifts to be sent to loved ones for years. The selection of gift baskets and goodie boxes is so great. They seriously have something for every occasion and it can be shipped anywhere in the United States.
After getting to try so many of their gourmet charcuterie and cheese options along with their award-winning wines while at the retreat, I already know what I'm going to be sending to friends and family this holiday season. How fun would it be to receive a gift box in the mail filled with fabulous cheeses, meats and accompaniments along with wine to go with it?! A memorable gift to both receive and enjoy!
Stay tuned because soon I'll be sharing a fabulous harvest charcuterie and cheese board featuring Harry & David products, including their famous Royal Riviera Pears. You're definitely going to want to recreate it this fall for any small gatherings you have planned.
To browse all of the beautiful gift sets Harry & David has to offer, head over to their website: www.harryanddavid.com. Also, be sure to follow them on Instagram @harryanddavid f0r lots of seasonal inspiration and gift giving ideas! Here are some highlights from our charcuterie and cheese board building lunch at the retreat…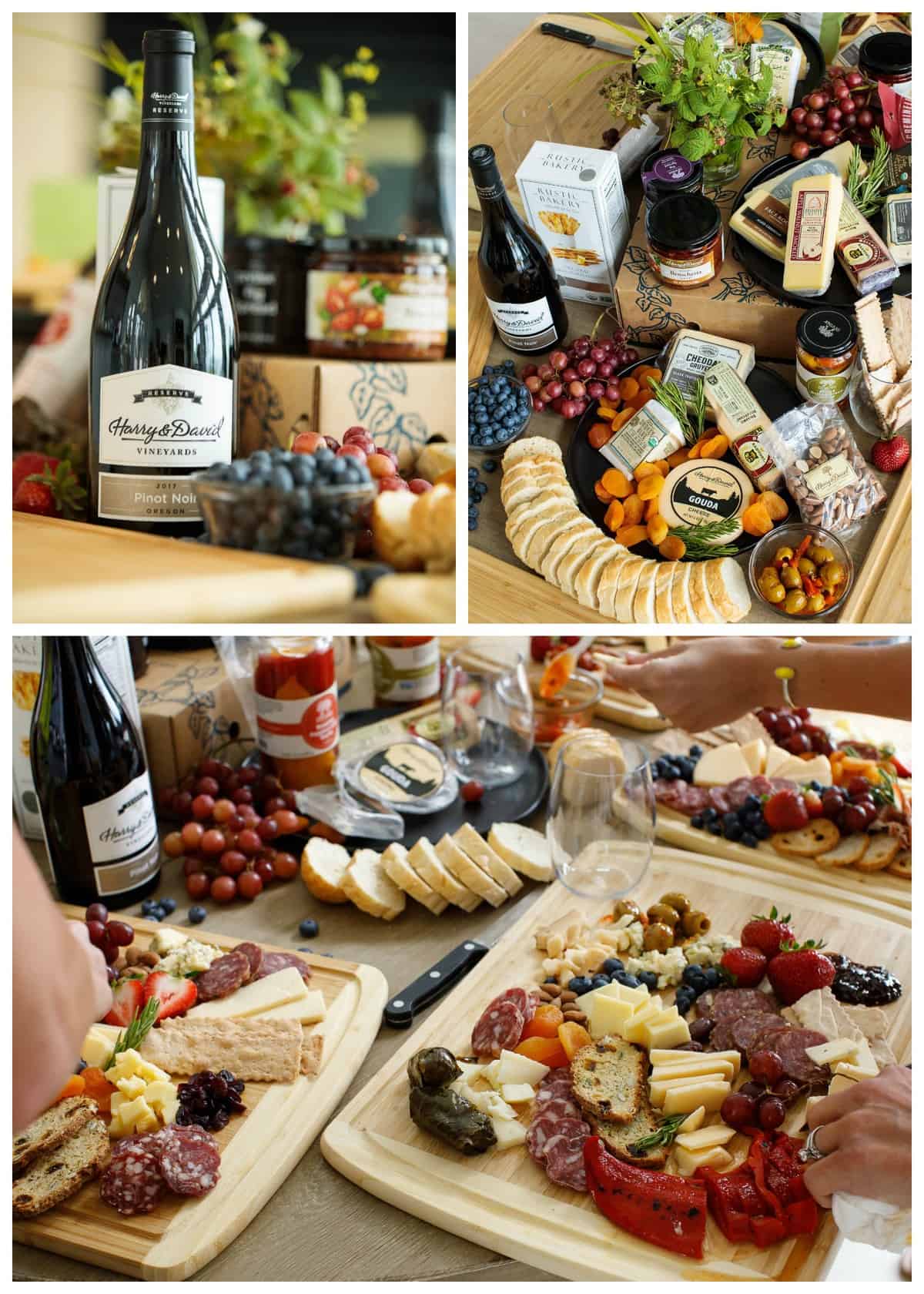 When I say we ate well at this retreat, I wasn't kidding! Each meal was so delicious and prepared with so much passion and love. We're food bloggers after all so food and the process of preparing it is our passion. We all appreciated each meal experience so much!
One night for dinner, Liz and Vince of Irie Lemon prepared an amazing meal together for us. Liz and Vince are quite the team in both the kitchen and in business. They have an awesome podcast with empowering conversations to grow both personally and professionally. And they just launched a mastermind group for entrepreneurs and business owners wanting to take their business to the next level. Their passion for growth and good food is contagious…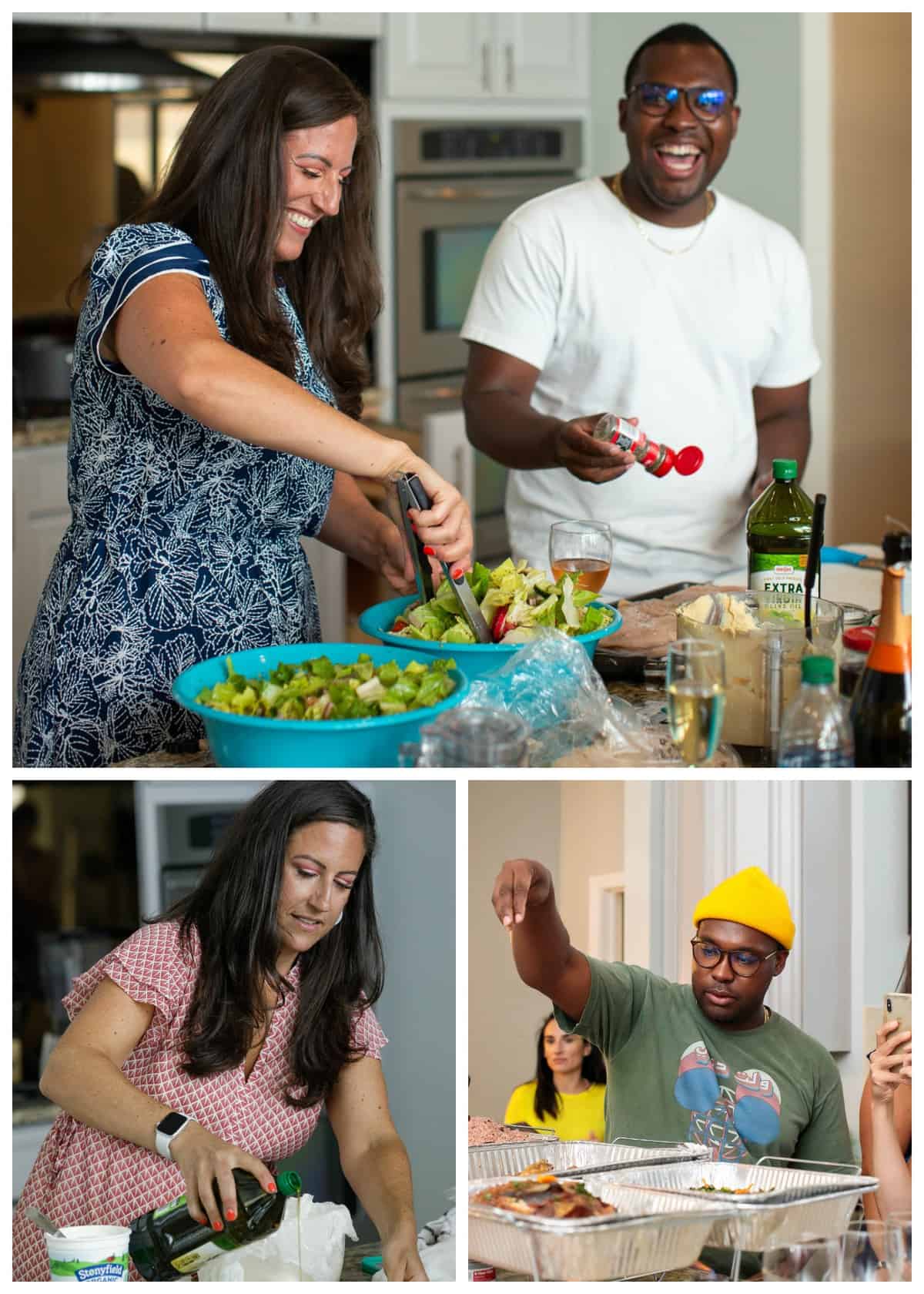 They know how to cook some darn good food and we were so lucky to get to experience it! It was such a delicious dinner with a fusion of Lebanese and Jamaican flavors. From the irresistible baked hummus to the flavorful chipotle grilled chicken & shrimp to the lovely Michigan blueberry crisp, it was a meal to savor and certainly remember. Thank you, Liz and Vince!
Liz and Vince's dinner was so good it had me craving more the next day. Thankfully, we got to snack on some of the leftovers AND then Vince treated us to a Caribbean themed feast from his restaurant, Irie Kitchen, that night. I have seen Liz posting about Irie Kitchen for a few years and have been following Vince for a while so when I heard I would actually get to eat some of his restaurant's amazing food, I got so excited! It was everything I had craved it to be and more! The feast included jerk chicken, curried goat, rice and peas, plantains, greens, festival bread, and coco bread. Everything was amazing! If you are in the Grand Rapids area, you must try Irie Kitchen!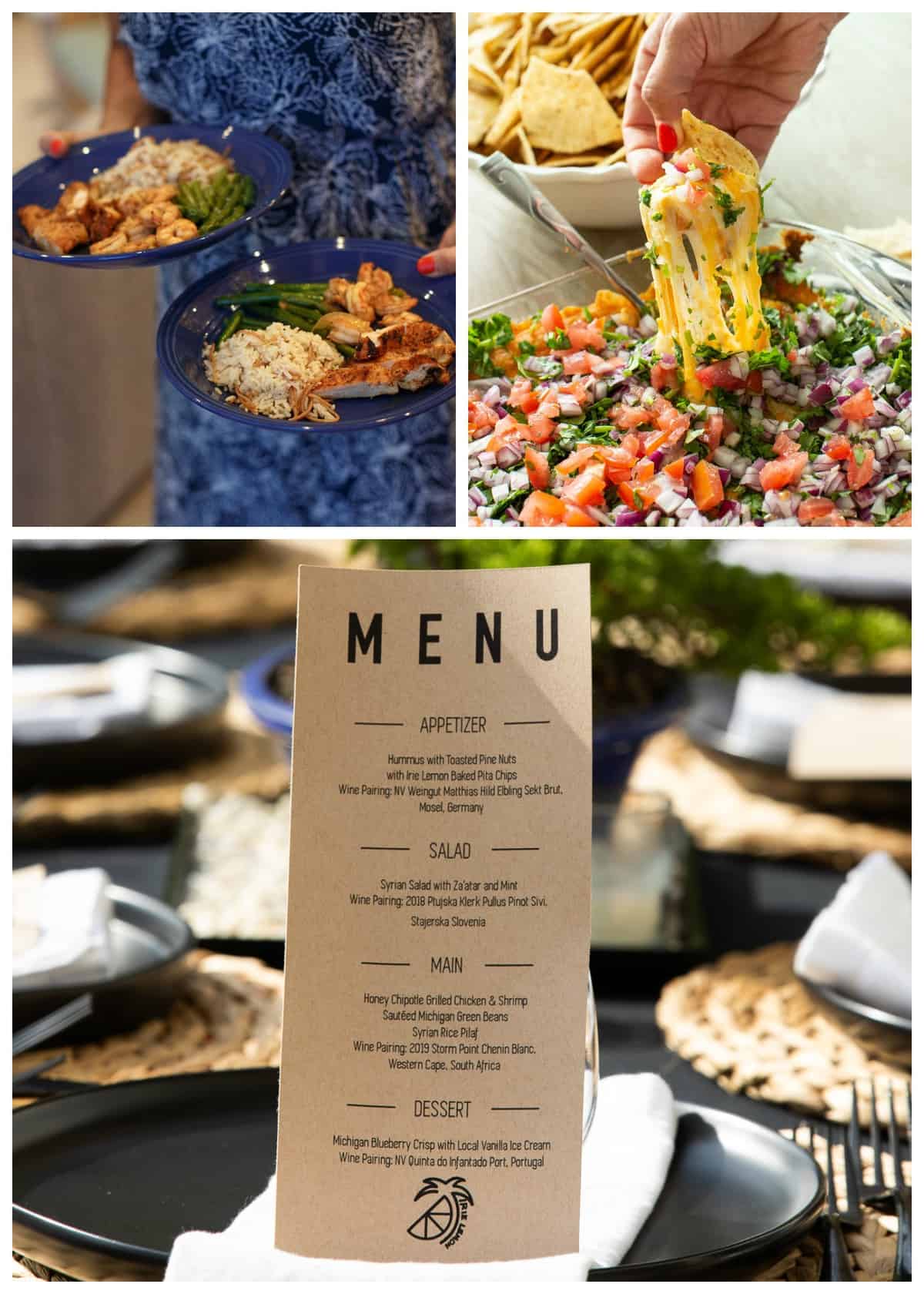 Another huge highlight of the retreat was having George Walker, III, sommelier and owner of Graped Out, plan and present wine pairings for two of the meals! George is determined to change the culture and perspective of wine through Graped Out by "Taking the boujee out of wine" one bottle at a time. And that he did! He presented each wine with such passion and knowledge and made it feel so approachable. His pairings were so enjoyable, y'all! I might have enjoyed myself a little too much. Haha! Seriously though, he paired each wine with each dish so perfectly. I loved how creative and diverse the wines he chose were.
George's passion and excitement for good wines and life in general is inspiring! I'm so excited to follow his journey because I know he will continue to go great places and impact people all over the world with his knowledge and enthusiasm for living life to its fullest. I can't wait to experience another George Walker, III, wine pairing dinner again soon. Thank You, George!
Be sure to follow George's wine journey and life adventures on Instagram @georgewalks3. Here are a few highlights from the retreat with George in action…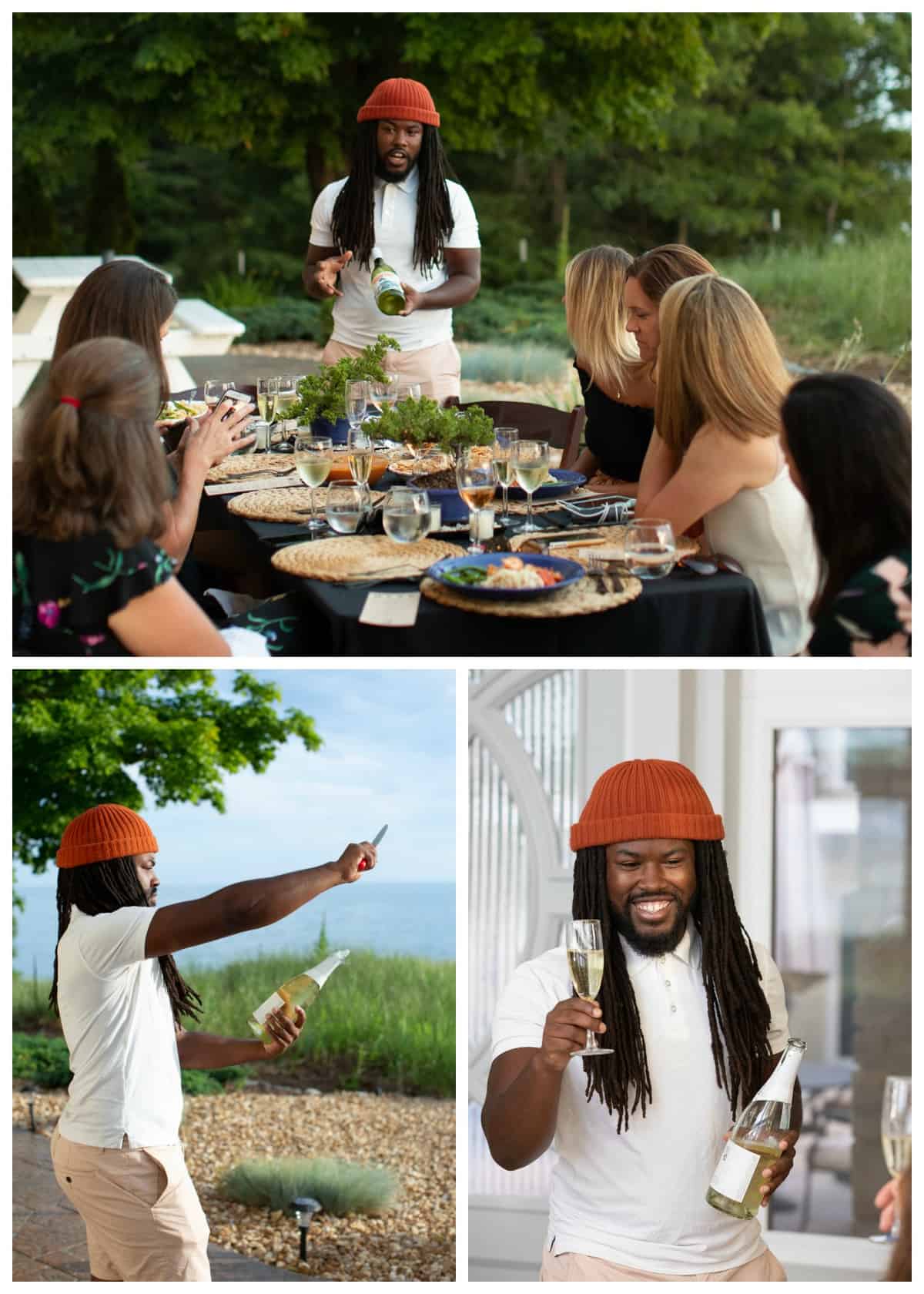 One of the many wonderful things that Liz and Lauren did to make this retreat so special was asking each of us to prepare some of our favorite recipes to share with the group throughout the retreat. I was asked to build a few boards. It was such an honor to get to share my passion, in person, with my dear peers. It was also so fun to get to build these boards with them. They were all so sweet and eager to help me.
Two of the nights, we built a S'mores Tray to enjoy around the fire pit by Lake Michigan. So much fun and yummy yum!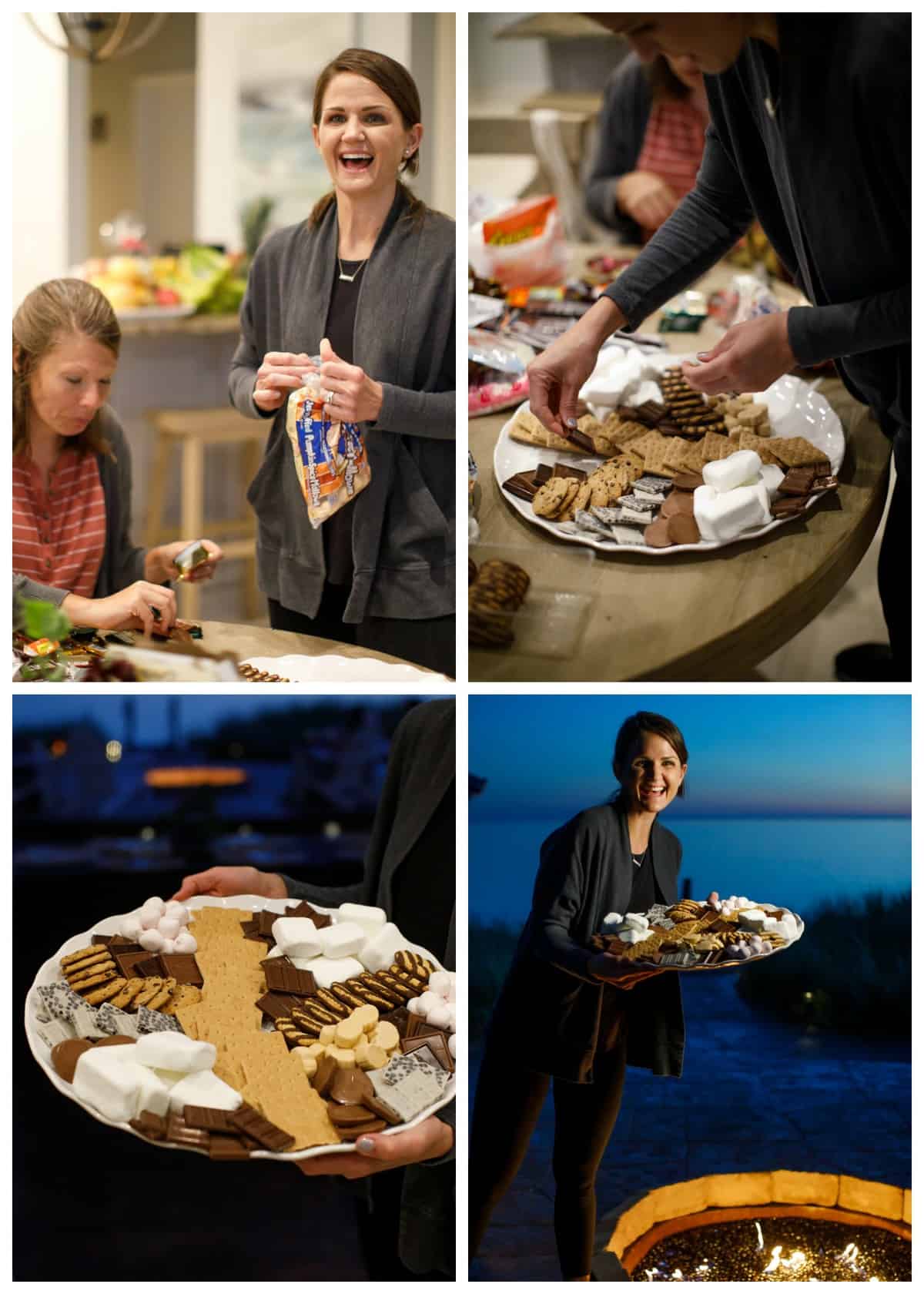 And then for the Irie Kitchen Caribbean night, we set-up a Mix-Your-Own Margarita spread. I was in my element and loving it!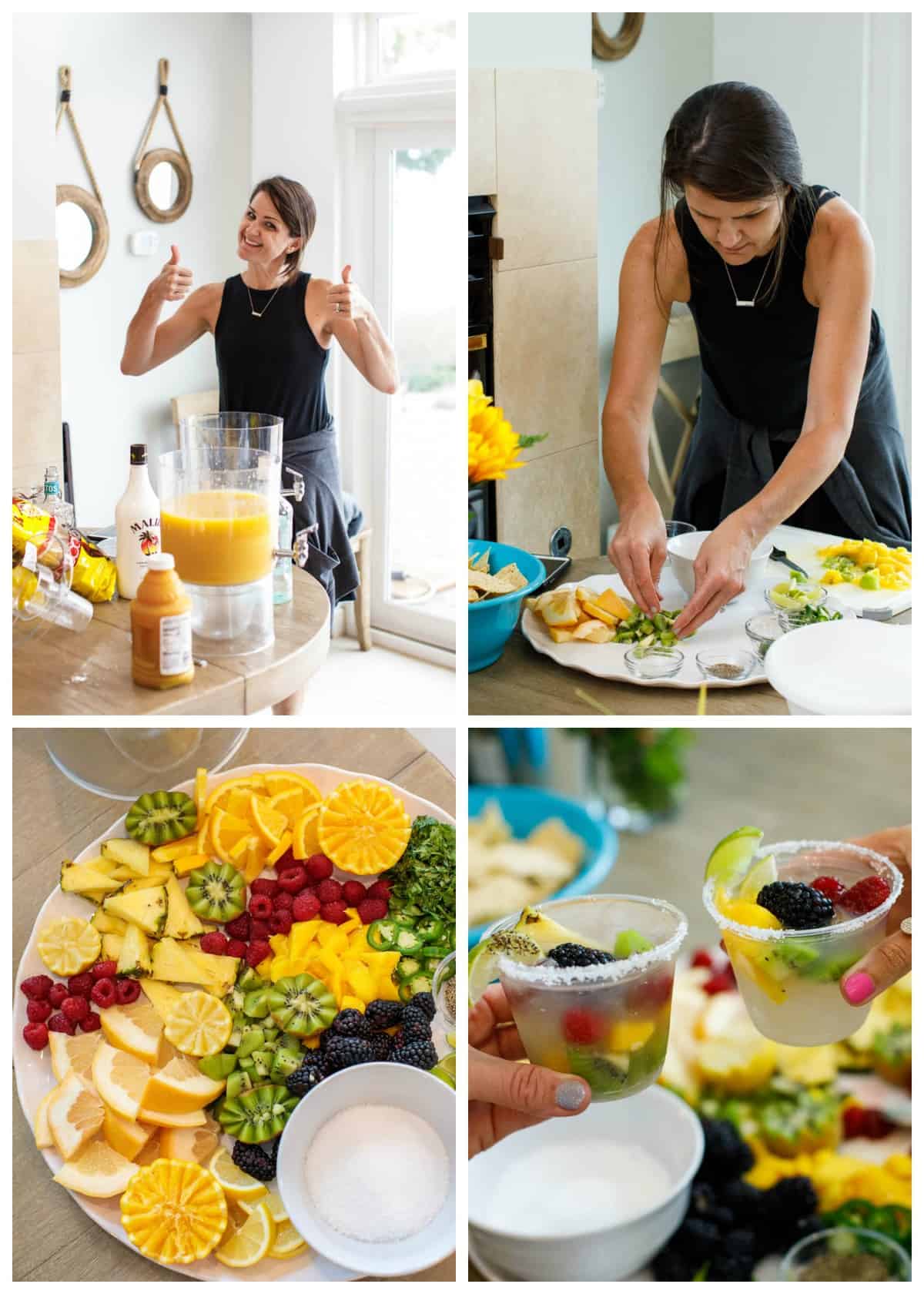 I could go on and on about how amazing this retreat was! The people, the brands, the food, the location, all so amazing! When leaving the retreat, I felt so refreshed and inspired. And the energy is still flowing with ideas I'm excited to share and actionable items I'm eager to implement that will make myself and The BakerMama brand all the better!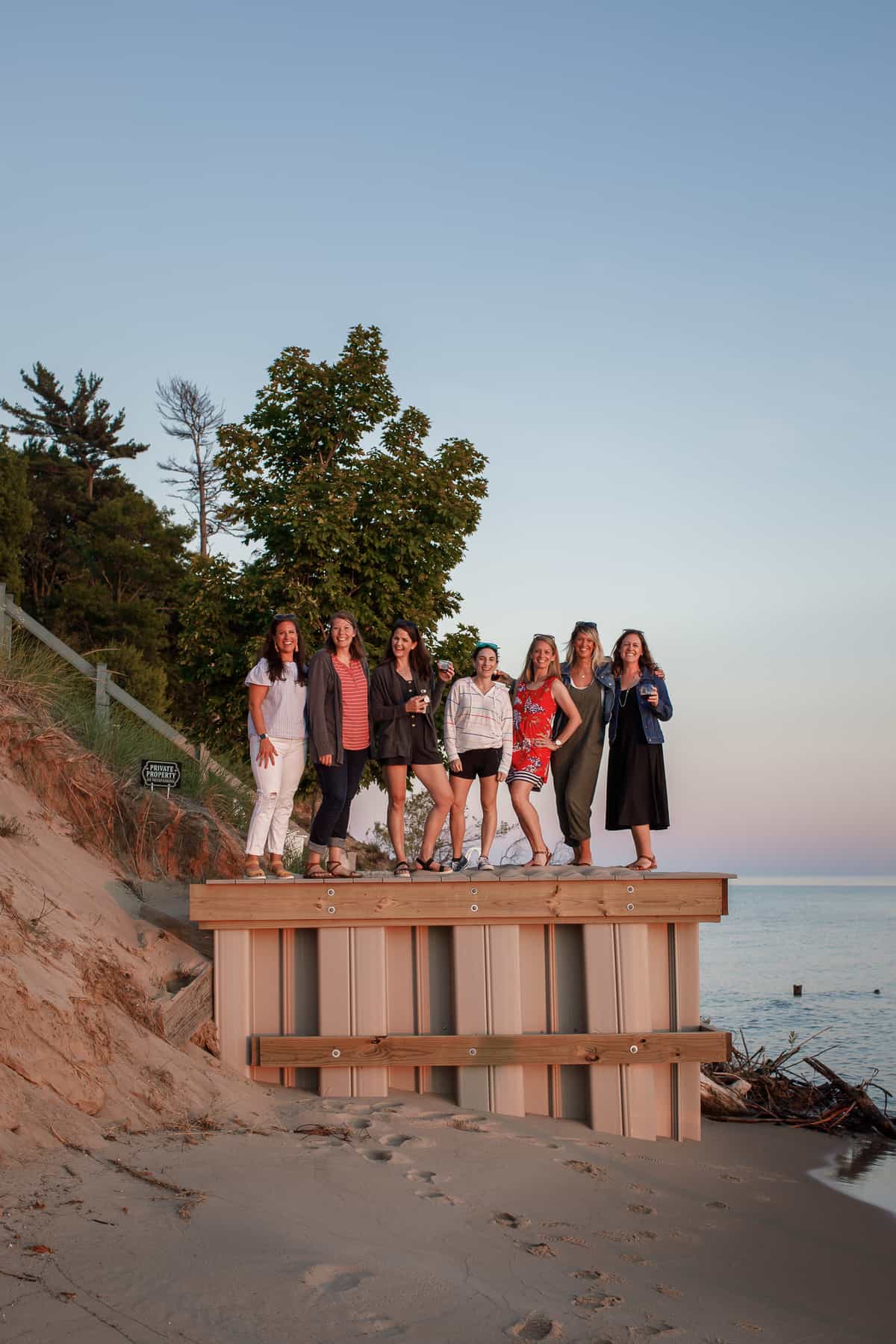 Thank you again to Liz and Lauren for planning such an incredibly organized and enjoyable retreat. Thank you again to Beef. It's What's For Dinner., Stonyfield, Harry & David, Chef Adam Hegsted, Vince Mcintosh, the team at Irie Kitchen, George Walker III, and Arrae Photography for making the retreat so memorable and delicious.
If you ever have the chance to travel to Lake Michigan, it's a must! I can't wait to go back!
xoxo,