This is a sponsored post in partnership with Randalls, Tom Thumb and Albertsons. All thoughts and opinions are certainly my own.
I can't believe it's already August and our summer days are numbered. When school starts back, we're sure going to miss spending all day every day in and by the pool. That's our summer routine…swim, swim and more swim! We literally wake up, put our swimsuits on and out the back door we go to splish and splash our way through the day. It's so fun and fills us with so many wonderful memories that we look forward to all year long.
With all day swimming comes all day snacking and about the only reason we leave the house is to run up to Tom Thumb to stock up on more snacks…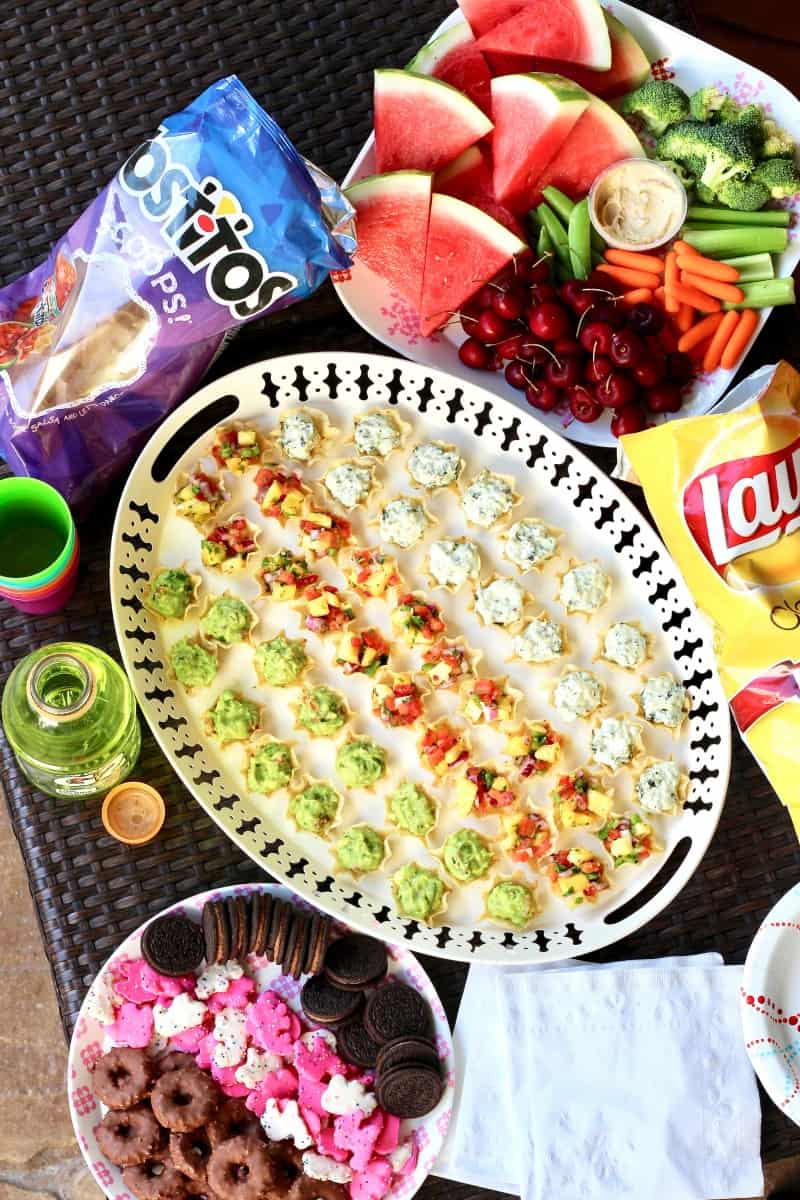 If you've followed me, you know I'm a big fan of snack trays. They're easy to put together and great for feeding a hungry crowd. No utensils required because I prepare our snack trays with foods we can easily grab with our fingers. Always a huge hit!
My kids love helping me put these snack trays together, especially when they get to go to the local Tom Thumb with me to pick out all the goodies to go on the tray(s). Our closest Tom Thumb is just a 2 minute drive or 10 minute walk from our house so during the summer months, you'll see us parading around the store in our swimsuits grabbing all the goodies to fuel us through another day of swimming. I swear we can never keep enough snacks on hand with this hungry foursome…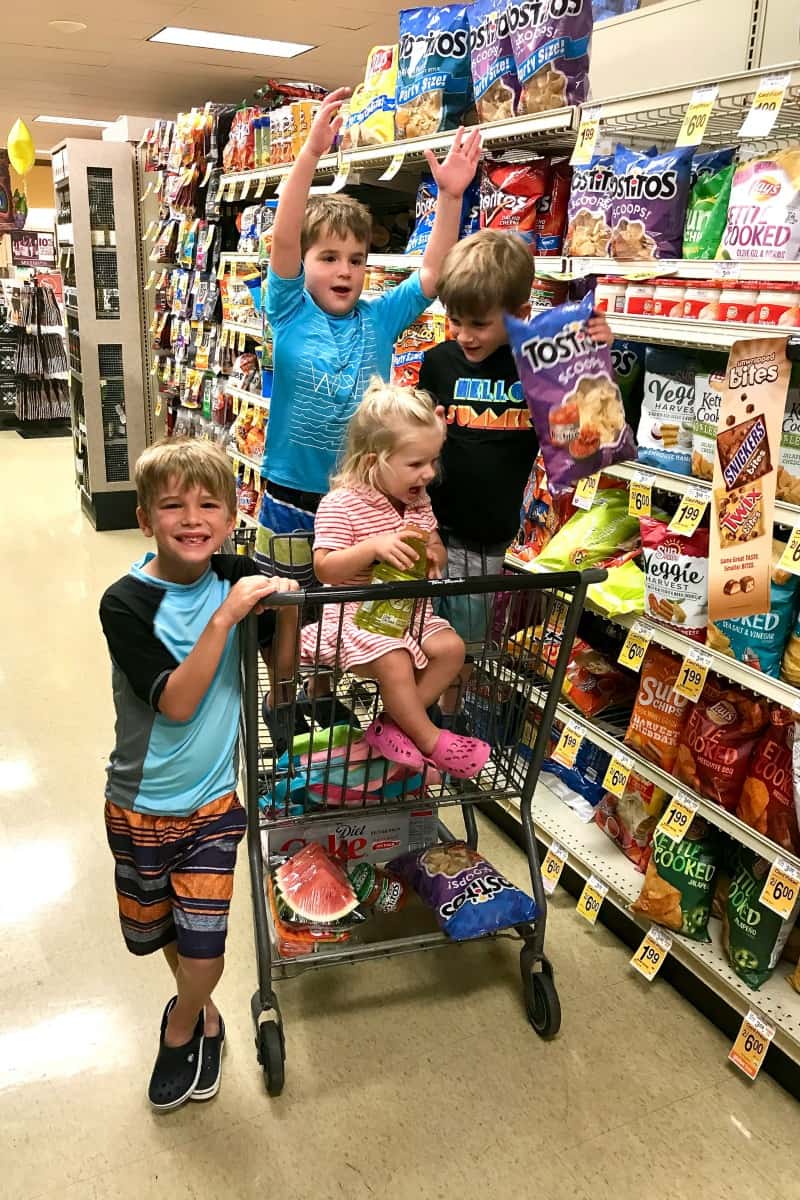 On the way to the store, we talk about what all we want to get and then I assign each kid with two products they are in charge of putting in the cart. This keeps them engaged so we can get in and out of the store with minimal meltdowns. 😉 And I tell them whoever is good all the way through the store gets to pick out a special treat from the snack aisle just before we head to checkout. This is how I survive shopping with all 4 and (knock on wood!) it usually works. 😉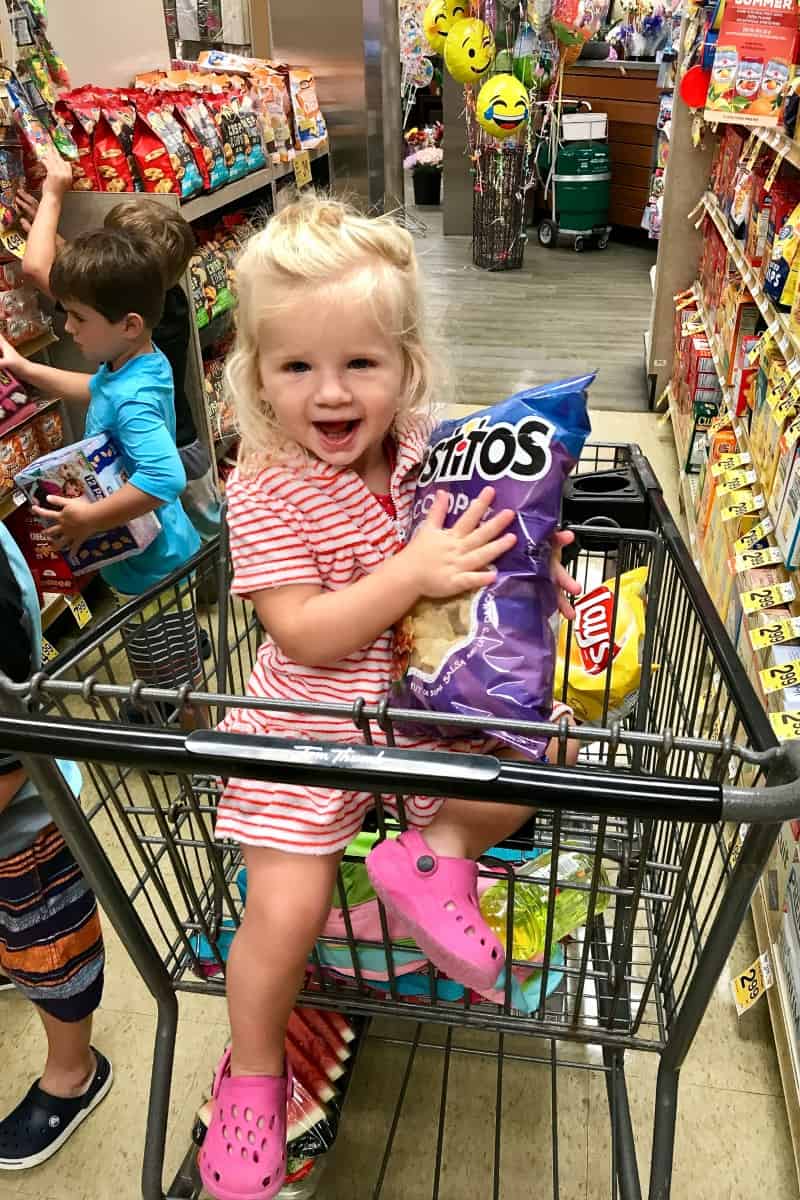 This trip was all about the chips & dips! And I always always balance things out with lots of fruits and veggies.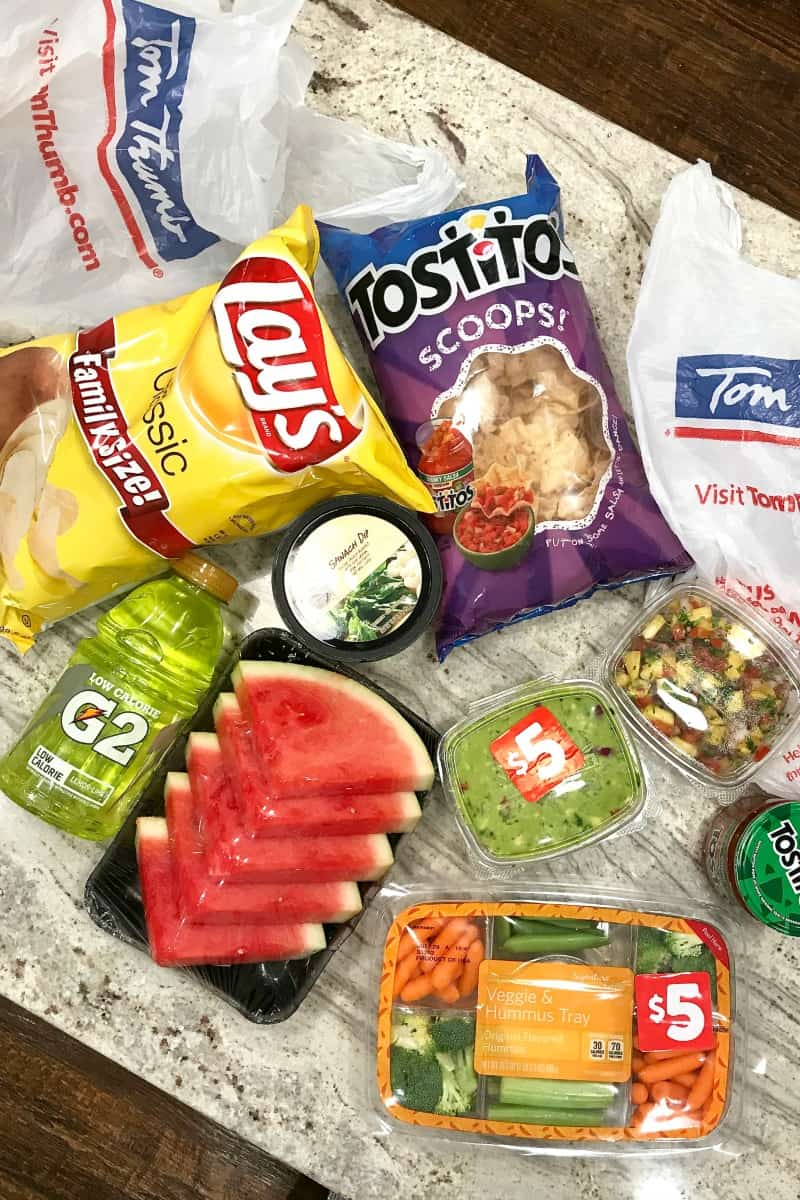 Thanks to Tom Thumb's great selection of our favorite PepsiCo products, we were able to put out quite the spread. We got a few bags of Tostitos Scoops to create a tray of Chip Dip Bites that we could just pick up and easily pop into our mouths. We filled them with guacamole, pineapple pico de gallo and spinach dip.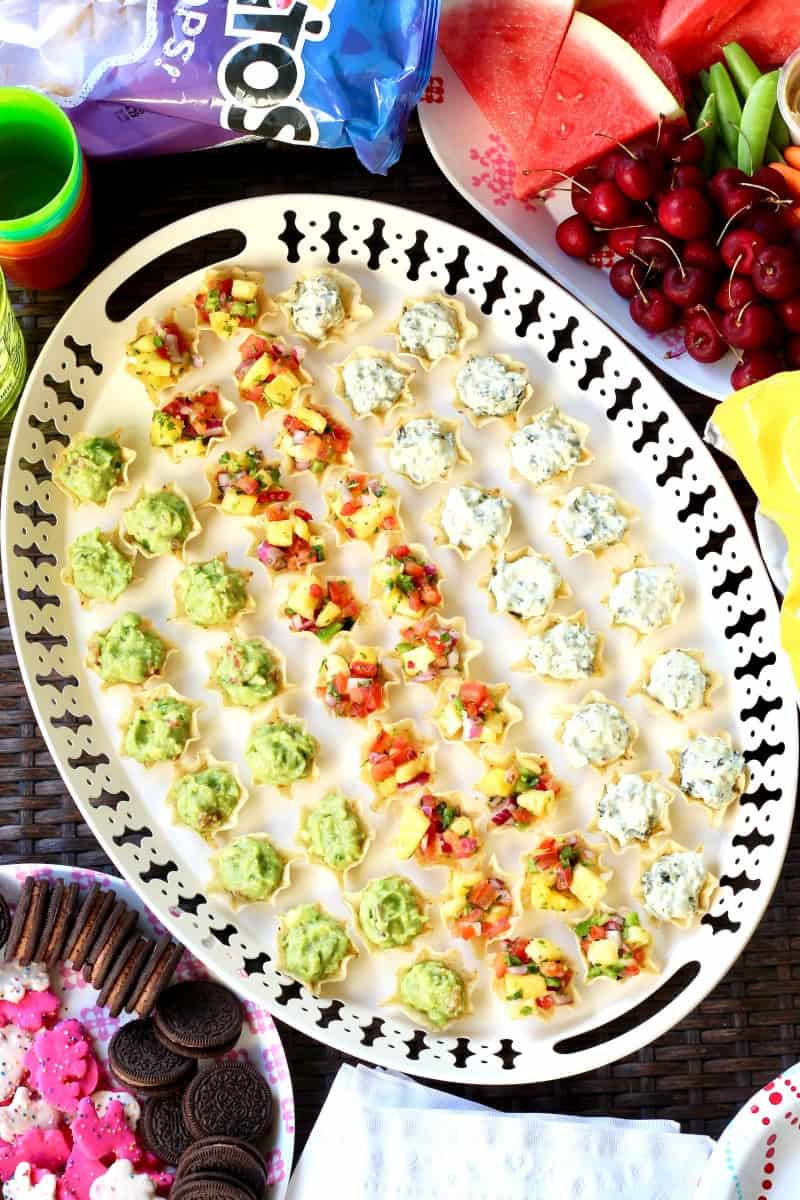 With the chip dip bite tray, a big fruit & veggie tray, a bag of Lay's potato chips, a platter of sweet treats and some Gatorade G2 Lemon Lime, we were set for a full day of swimming and snacking.
This is how we summer and we sure do love it!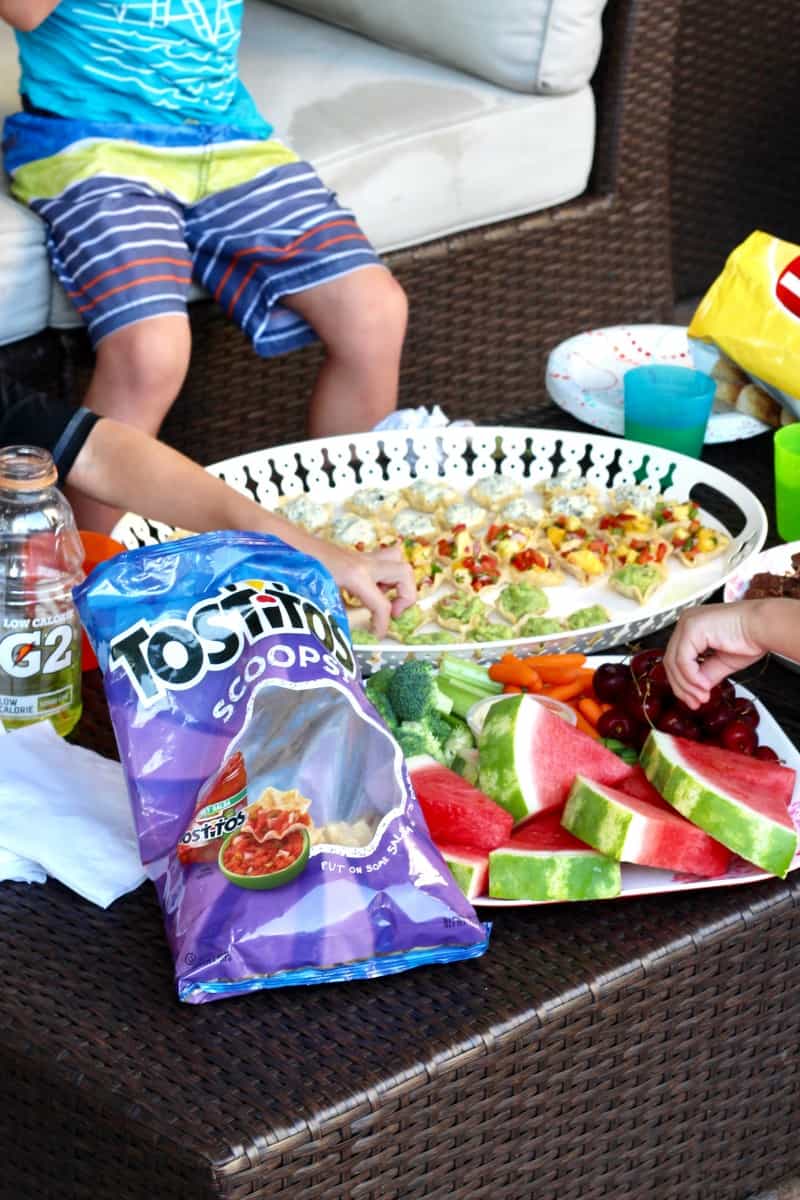 As you can see, Tom Thumb's convenience and great product selection helps us fuel our summer adventures. Now, we'd love to see how they do the same for you and your family. You just might win a $500 grocery gift card!!!
Albertsons Companies family of stores, including your local Albertsons, Randalls, or Tom Thumb, are the one-stop-shop to fuel up for all of the adventures summer has to offer.
To celebrate, they're giving you a chance to win a $500 grocery gift card by showing them how you #FuelURAdventure with Albertsons, Randalls, or Tom Thumb and participating PepsiCo products this summer.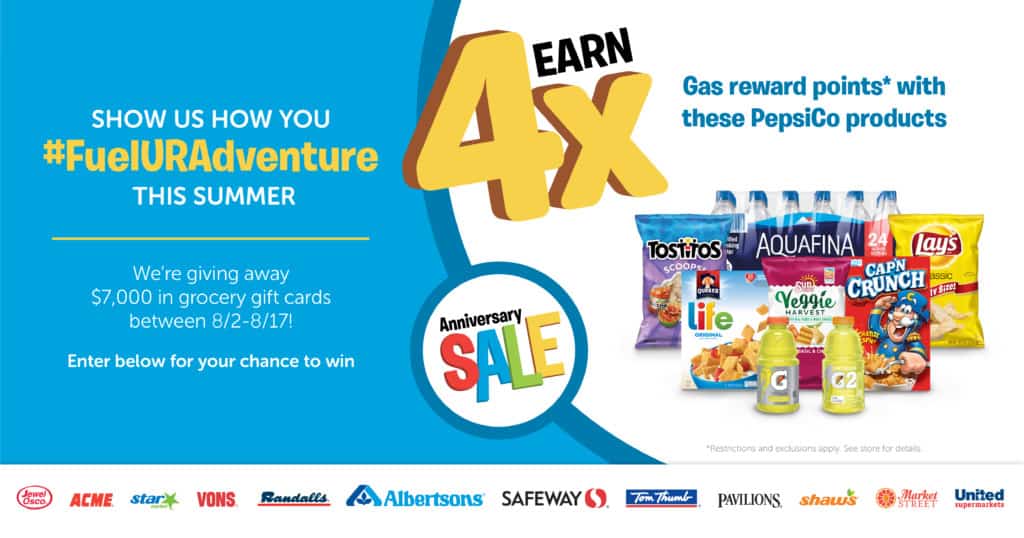 From August 2-August 17, simply share a photo showing how you fuel your summer adventure with at least one of the participating PepsiCo products (listed below) and feature prominent branding, using #FuelURAdventure and tagging your local store to be eligible to win the $500 grocery gift card. Additionally, you'll earn 4x Gas Reward Points when you stock up on any of these PepsiCo Participating Products:
Quaker Cap'n Crunch (14 oz.)
Gatorade G2 Lemon Lime (32 oz.)
Lay's Classic Potato Chips (family size 10.75 oz.)
Tostitos Scoops (10 oz.)
Quaker Life Cereal (13 oz.)
Aquafina bottled water (24pk 16.9 oz. bottles)
Gatorade (32 oz.)
XL Sunchips Veggie Harvest Tomato Basil and Cheese (7 oz.)
I can find all these great products at my local Tom Thumb – be sure to check out these great products at your local Albertsons Companies grocery stores, including Albertsons, Safeway, Jewel-Osco, Vons, Pavilions, Randalls, Shaw's, Star Market, United Supermarkets and Market Street.
Entry is easy as 1-2-3:
Take a photo featuring one or more participating PepsiCo. products showing how they fuel your summer adventure.
Take a photo and share on Instagram, Twitter or the contest website by 8/17 showing how you celebrate summer with these featured products clearly visible
Use #FuelURAdventure and don't forget to tag your local store!
Don't forget to tag your local store! For official rules and more details, visit here.
Best of luck and enjoy the rest of your summer!
xoxo,