A tour of the boys' superhero themed bunk bedroom.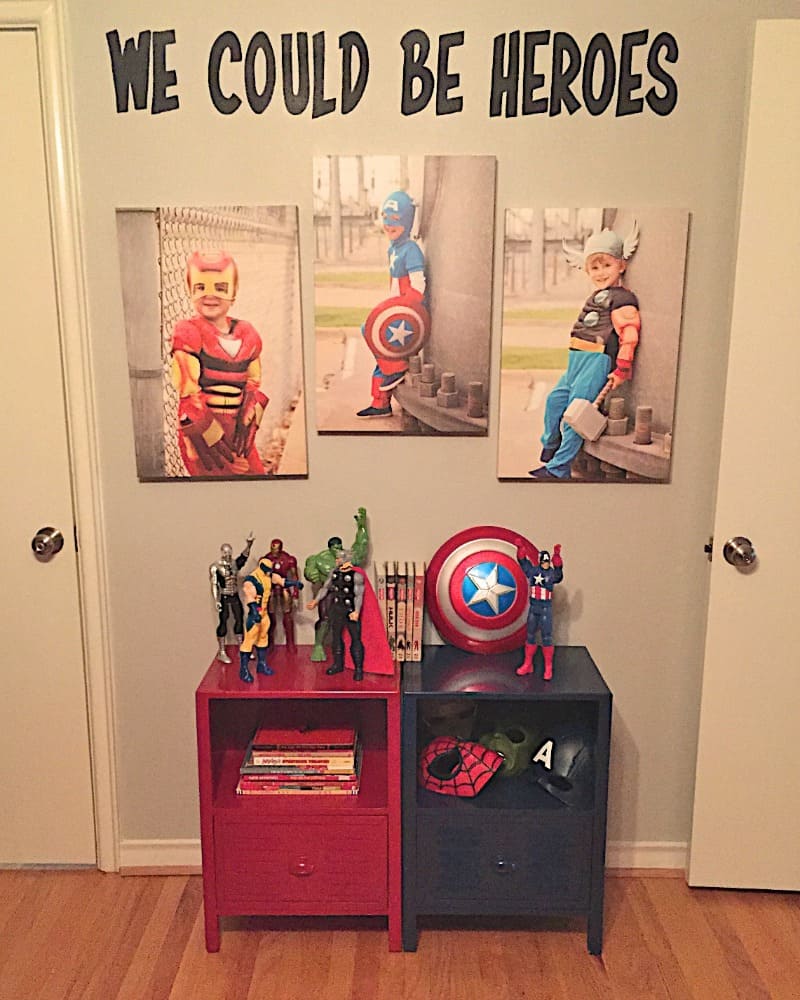 I posted a picture on my Instagram a few months ago of one wall in the boys' new superhero themed bunk bedroom. I've received several requests since to see the rest of the room, so here goes…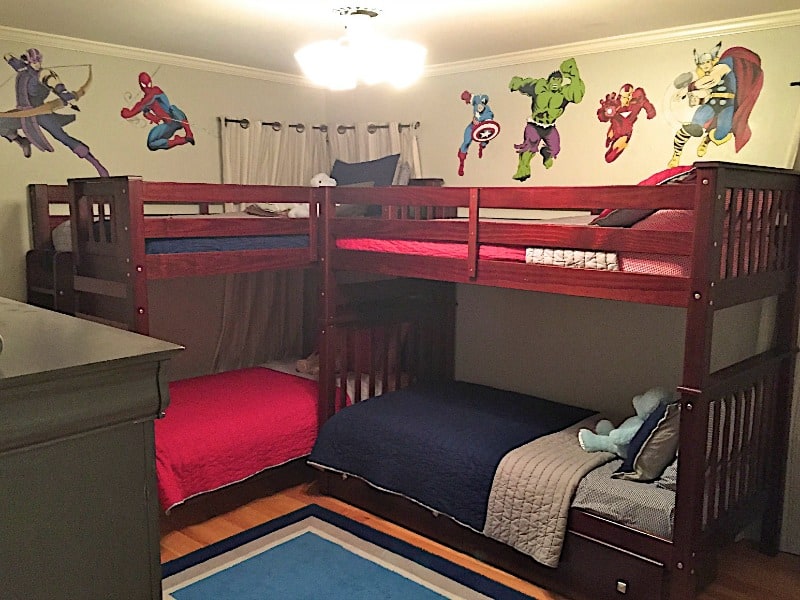 When the twins started climbing out of their cribs and we learned we were expecting baby #4, we decided to move the boys all into the same room with bunk beds! It took several weeks/months of adjusting to them all being in the same room, but I can say now…naptime and bedtime are going much smoother. We did have to remove the blades from the fan in the ceiling after one of them pulled one off…oh boys!
We got the bunk beds from Bunk Bed King and we love them! We got two separate bunks and just cornered them together. There are two large drawers under one bunk and we have a trundle bed that we're going to put under the other bunk. That way if we have guests or cousins come to stay, we have a few extra beds.
The bedding is from Pottery Barn Kids. The blue area rug is from Target.
At first I ordered a custom wall decal through Etsy that said "We Could Be Heroes" and put it over one of the bunks on the wall. I also got some superhero wall decals from Target and stuck them on the wall over the other bunk bed. Well, those lasted one night. One night, my friends! By the next morning, the boys had torn the text and superhero decals off the wall thinking they were just stickers. I about lost it! 😉
Sooooo, I decided to hire a local artist that does kids bedroom murals to come in and paint the text and characters on the wall so the boys couldn't peel them off. She did such an amazing job and it looks so much better than the decals did anyway. You should have seen the boys' faces when they walked into their room after she had finished painting everything on the walls. They still beam with pride every time they show someone their room!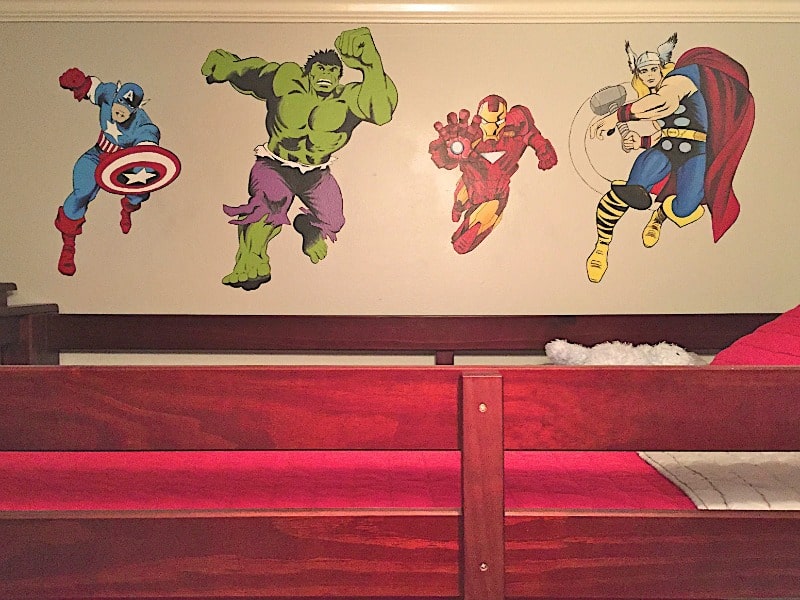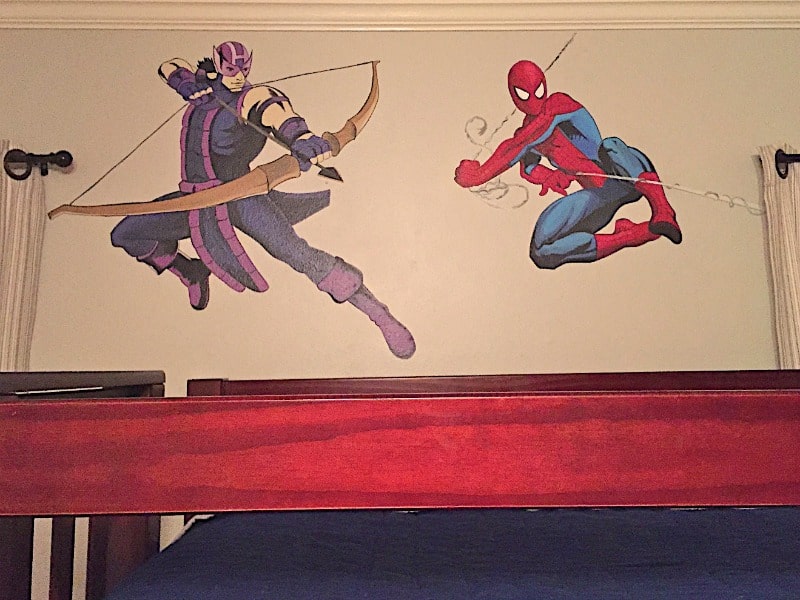 Then a local photographer announced she was doing superhero mini sessions, so I signed us up in hopes we could get some cute pics of the boys in their favorite costumes. And that we did…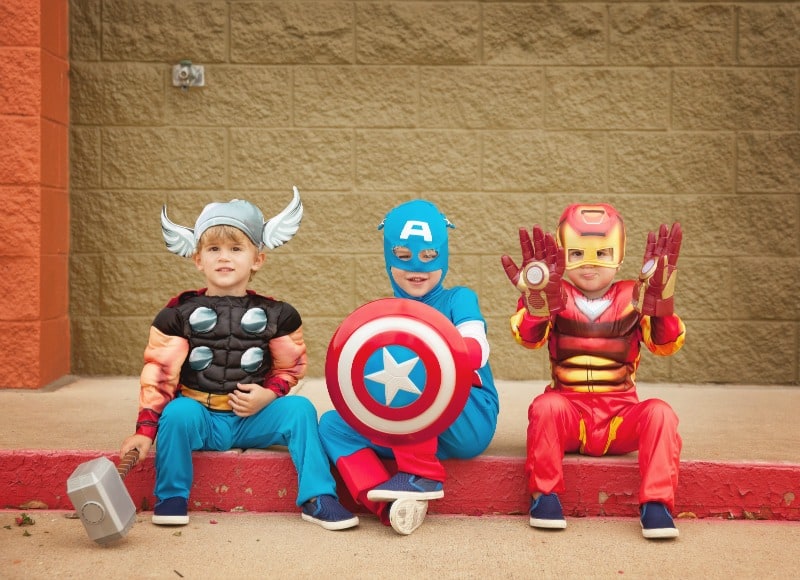 They had so much fun dressing in their costumes and running around acting like superheroes while she took their pics. Easiest photo shoot ever!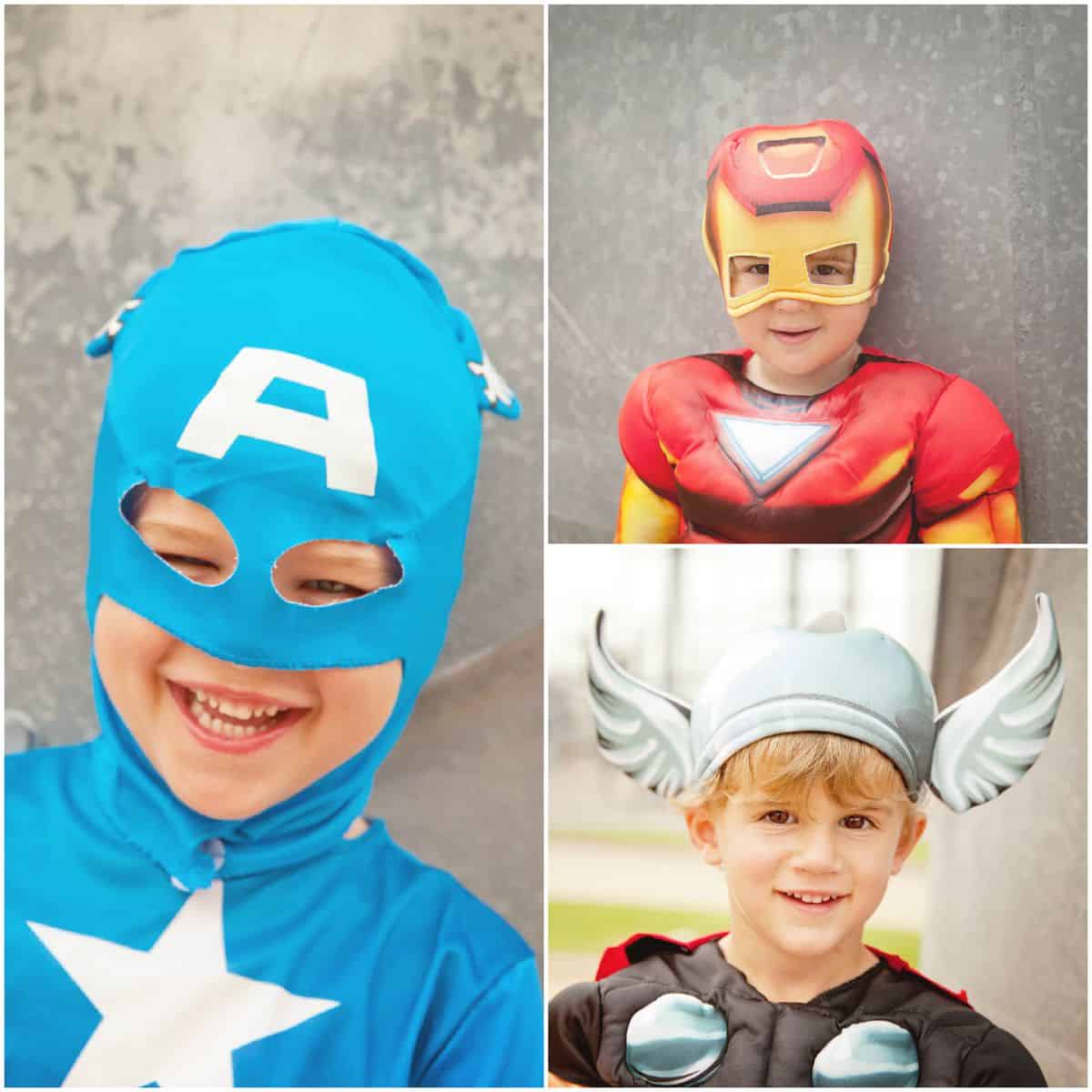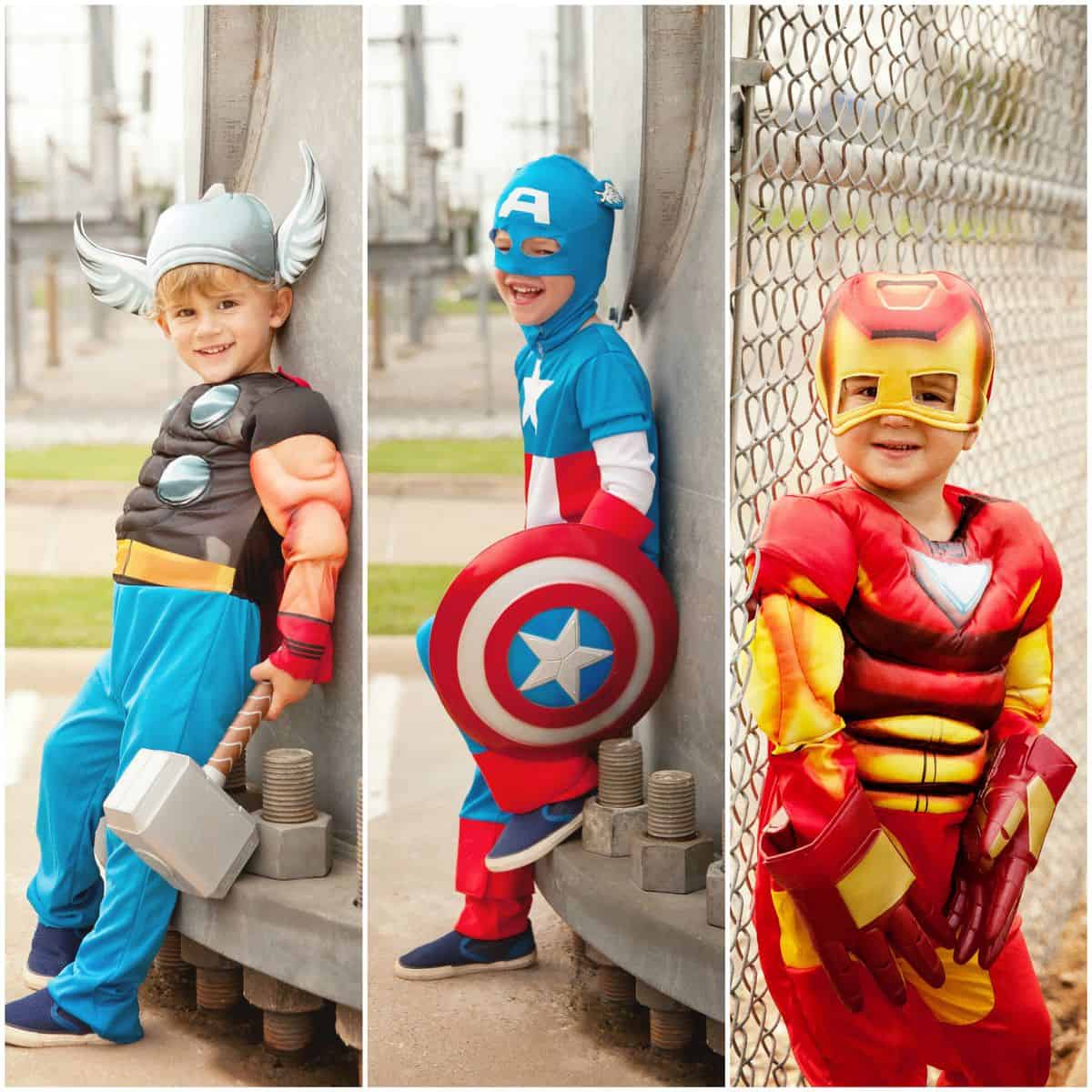 I ordered a vertical canvas print of each of them to hang on the wall under the "We Could Be Heroes" text in their room and the wall was complete!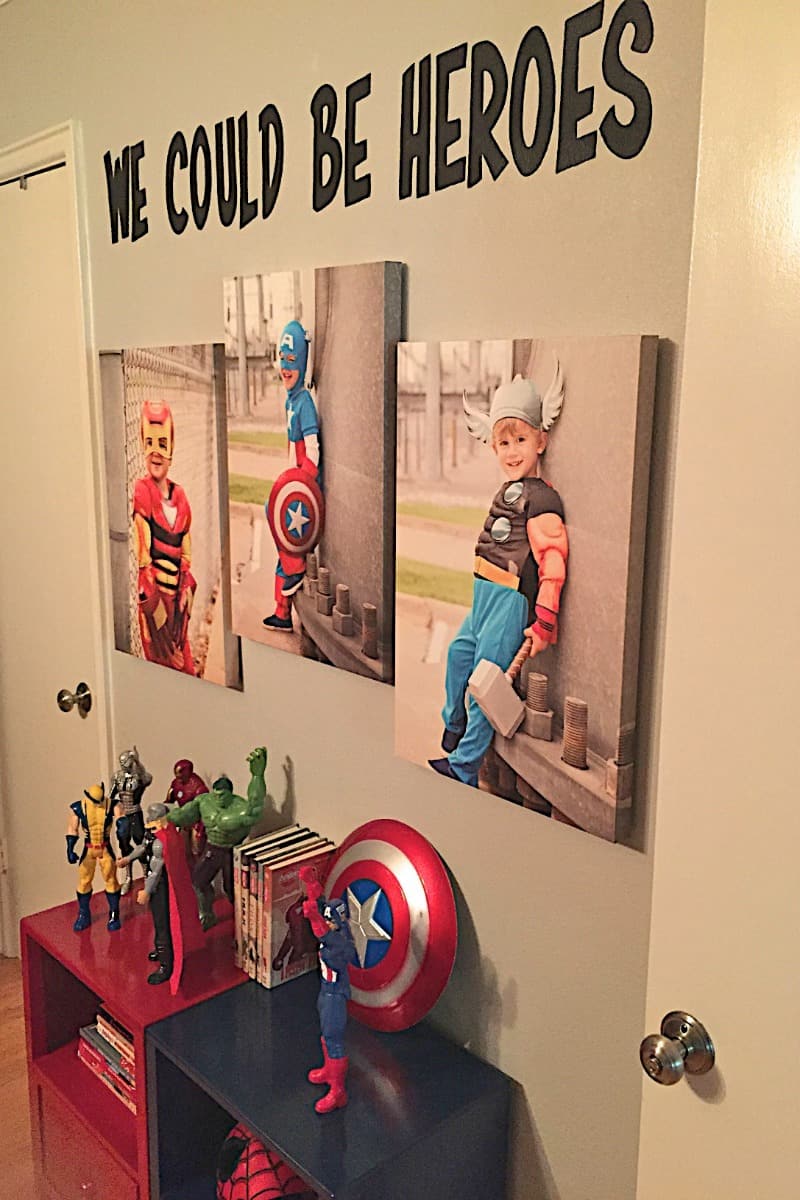 The final wall in their room is just a hodgepodge of trinkets and gifts they've received. I ordered the personalized old-school pennants from Red Envelope last year, but I don't think they're in business anymore. 🙁
The footballs with the boys' handprints and footprints have been Brandon's father's day gifts on the first father's day after the boys were born. A fun (and messy) little activity to do with Dada that we'll cherish forever!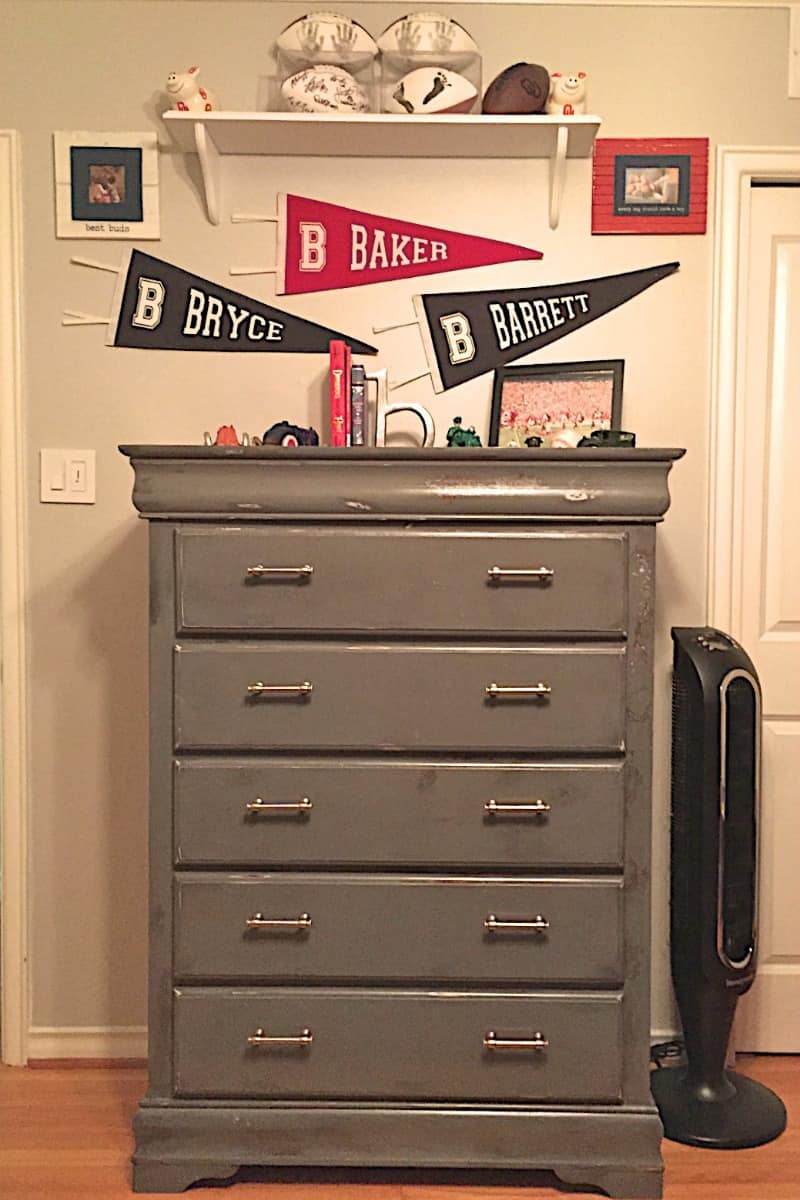 Well, that's all there is to it! Sorry the room pictures aren't that great. We've blocked all natural light from coming into their room in hopes they'll sleep later in the mornings (no luck so far…boo!) so the lighting in the room is pretty harsh for taking good pics, but you get the gist.
If you have a superhero obsessed little one like we do and are looking to put together a superhero themed room, hopefully this will give you some fun ideas!
xoxo,