Creating a cookbook is a labor of love and here's my experience with bringing my Beautiful Boards cookbook to life!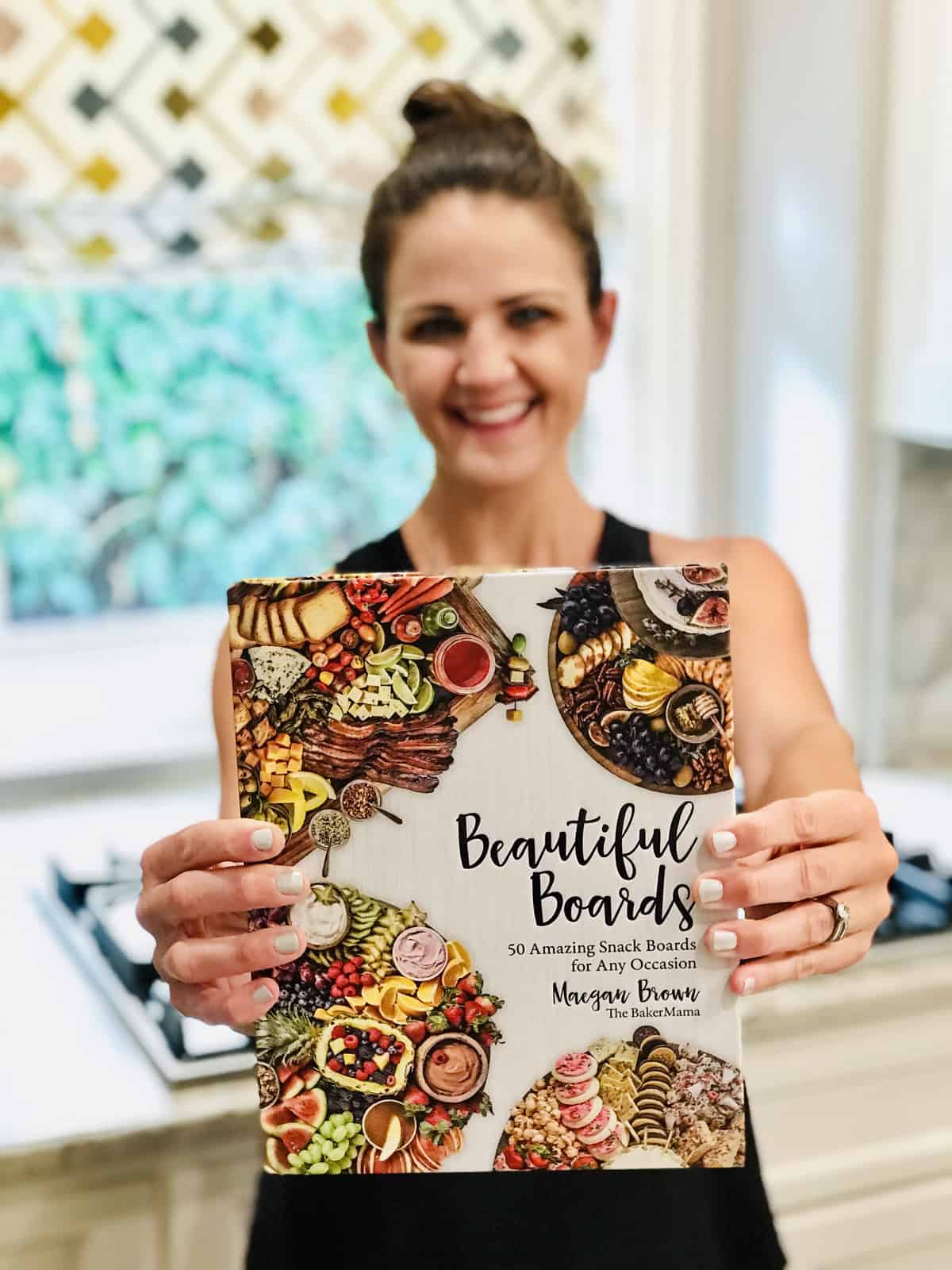 Before my own cookbook, I had always wondered what it was like to create and write a cookbook. Well, now that I've done it, I'm here to say that I have a whole new appreciation for cookbook authors. Whew, I still can't believe I did it! If someone tells me they are a cookbook author, or any author for that matter, I would give them the biggest hug and tell them congrats on such a huge accomplishment.
I'm excited to give y'all a glimpse into creating my cookbook, Beautiful Boards. From discussions with the publisher to 21 hour days creating, photographing and writing the content for this book, it was the hardest thing I've ever done, but I can confidently say that I'd do it again. It was also the most rewarding experience, especially after seeing it all come together just as I dreamed it to. Holding my book in my own hands, as I flipped through it with my family, is a moment in my life that I will never forget.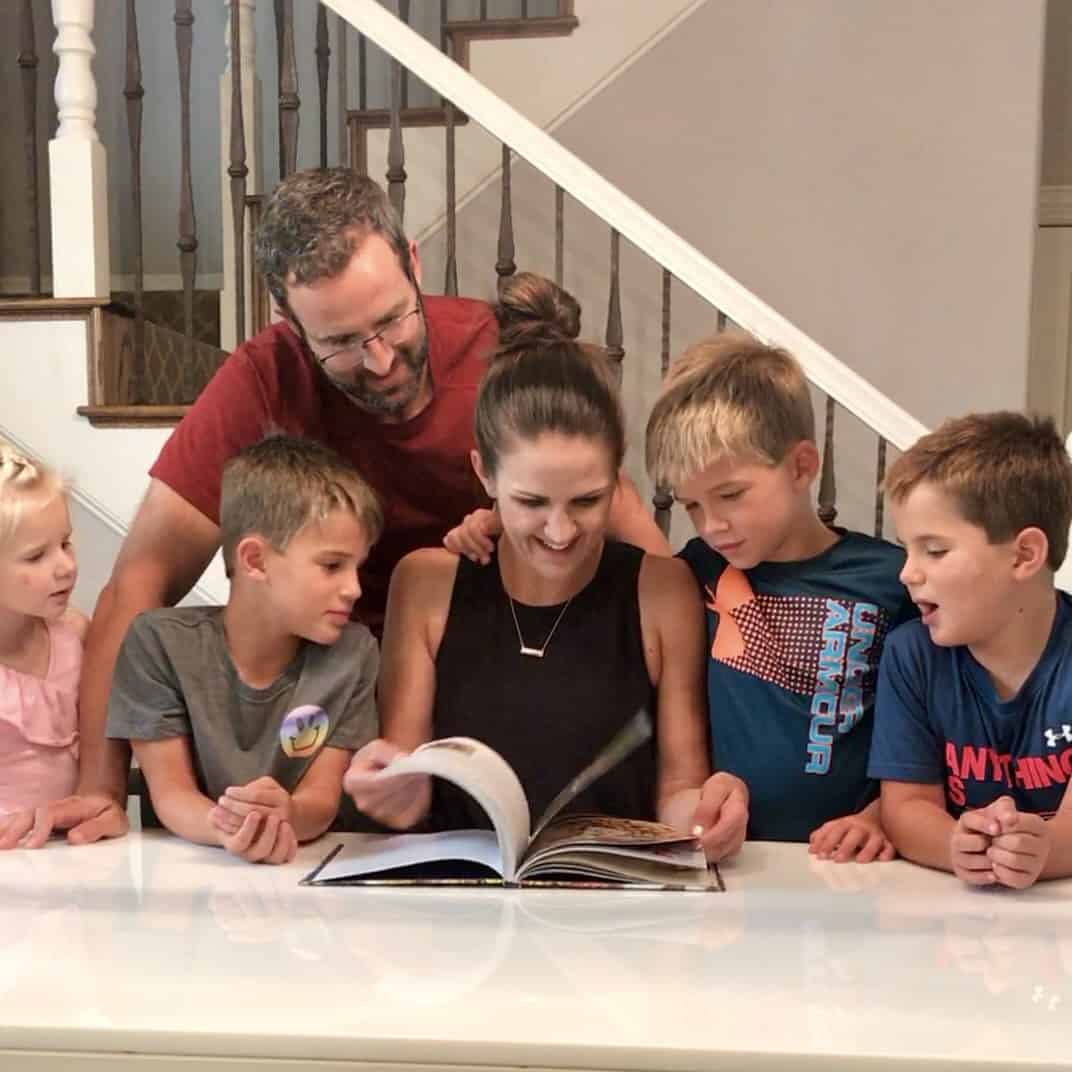 I'm so eager for all of my fellow food board lovers to have this book. It's been an absolute honor and privilege to have this opportunity to put my passion for building beautiful and delicious boards into a cookbook that will be used as a reference, for inspiration, and gifted to others for years to come.
I have to start by saying THANK YOU! You know how they say it takes a village to raise kids? Well, I'm here to tell you it takes a village to create a cookbook as well. I couldn't be more grateful and appreciative for the village of friends and family that supported me throughout this experience. Especially Brandon, my mom & dad, our dear friends Paulette & Brittani, and my photographers Jerrelle and Eric who were there for me whenever I needed them and even when I thought I didn't need them. I could not have done this cookbook without them. They saw the dream in my heart and they selflessly helped me make it come true. Their encouragement, love and hands-on support with all that went into bringing this cookbook together means more to me than they will ever know, but I do hope they know I am so incredibly thankful for them.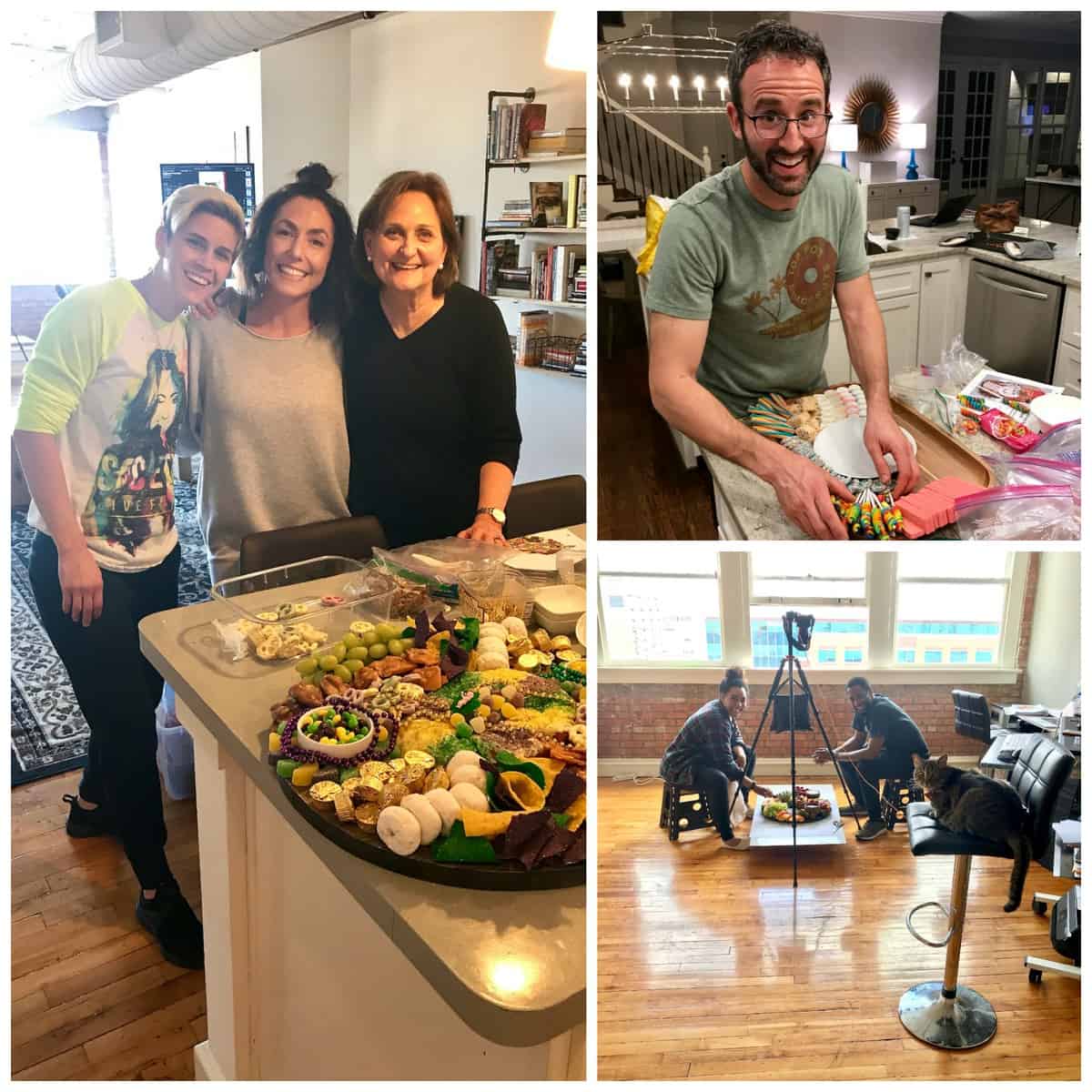 I get a lot of questions about how the cookbook came to be, how long it took, what was the process like, etc. So I thought I'd give y'all a good glimpse into the raw and real craziness that is creating a cookbook. I didn't share any behind the scenes pictures or videos during the process because I was in a zone and truly giving the cookbook my all while still trying to be the best mom, wife and friend I could be. It's been an intense 10 months, but also so incredibly fun and, of course, lots and lots of yum!
How did the cookbook happen?
I've been dreaming up a cookbook for a while now and I knew if I did one, it would have to be filled with my creative and delicious boards. I had been writing down all of my board ideas for the past several years, we're talking hundreds of board ideas (over 200 ideas to be exact!). Then my publisher, at Quarto Publishing Group, reached out to me in early November 2018 to see if I'd be interested in doing a cookbook with my boards and here we are! My publisher had been following me for a while and she saw my passion and truly trusted me to create the amazing content that makes this book one of a kind. Thank you, Rage!
Tell us about making the cookbook?
Whew! It was honestly the hardest thing I've ever done, but I know all the work and hours I've put into it was worth it, because this book is something beautiful. I'm so proud of the way it all came together. The boards turned out perfect, the photography is stunning, the steps-by-step instructions are thorough, the ingredient lists are detailed, the simple recipes are delicious, I could go on and on, but I'll let you see for yourselves once you have it in hand.
I first had to narrow my 200+ board ideas down to 50 boards for the cookbook. Yikes, that was tough! The 50 boards we decided on are the boards that will be there for you to make for any occasion you can think of. The breakfast board that you'll want to make every Saturday morning, the holiday boards that become a tradition for Thanksgiving, Christmas, 4thof July, and others, the snack board that solves all your simple lunch and weekday dinner plans.
What went into building each board?
I put a lot of thought and taste into each board making sure each one is the best it can be: beautiful, delicious, approachable and doable. I walked the grocery stores for hours selecting the best ingredients for each board. I would then spend all day, every day for months creating each board once, twice and sometimes several more times until I got them just right. There were several versions of some boards that just didn't make my cut and that was okay, because I was determined to make sure each board is one that y'all would be excited to recreate.
I spent many a days and sleepless nights building boards, shopping for boards, writing about boards, enjoying boards, and would even dream about boards when I did squeeze in a few hours of sleep. I was running on an adrenaline of excitement and eagerness to bring all of my beautiful board ideas to life in this cookbook.
What was life like during this process?
Our kitchen and dining room was constantly covered in food and boards. We ate a board for every meal and snack for months. I remember one Saturday, we had the Build-Your-Own Parfait Board for breakfast, the Mediterranean Mezze Board for lunch, the Pizza Lovers Board for dinner and the Build-Your-Own Sundae Board for dessert. Best.Day.Ever. It was awesome!
And anytime I knew I would be working on a board that would feed a crowd, I would give our friends a heads up and they would come over to enjoy it with us as soon as I finalized it. The Build-Your-Own Taco Board was a great night and the Bagel Board along with the Bloody Mary Board was such an awesome brunch with a house full of friends and family!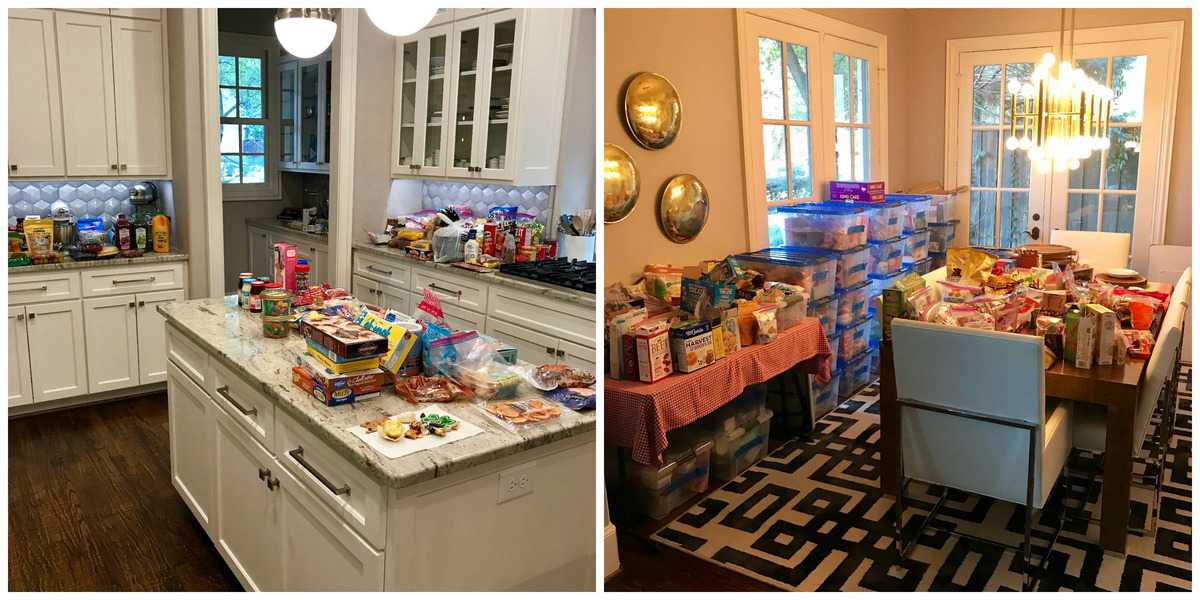 I had a tub for each board (50 tubs, y'all!) in our dining room with the non-perishable foods for that board in it and then would keep all of the fresh ingredients in our refrigerators (we have an extra in our garage). I tried to work on boards that had similar ingredients around the same time so I could work on one board, deconstruct it and then use any crossover foods on another board. Once I finalized a board, I would take a picture of it, write out all of the ingredients that go on it and then we would celebrate by enjoying it as a family or with friends!
Our friends who knew I was working on a cookbook knew they could come over anytime and enjoy some of the deliciousness with us. And almost every week, I would host a girls' night on a weeknight and then we'd have friends over on the weekend and just build boards down our island or dining room table for everyone to graze on. As exhausted as I was, opening our home and sharing my creations with our nearest and dearest fueled me to keep going.
Who did the photography and how did that process go?
I am so incredibly lucky Jerrelle and Eric (from EJC Studio) photographed Beautiful Boards. They were a dream to work with! They were just as dedicated to the success of my cookbook as I was. Their attention to detail and passion for capturing each board so beautifully was amazing!
And their patience as I pretty much took over their photography studio + apartment for two weeks with all my tubs, food, boards and eager helpers is something I will be forever grateful for.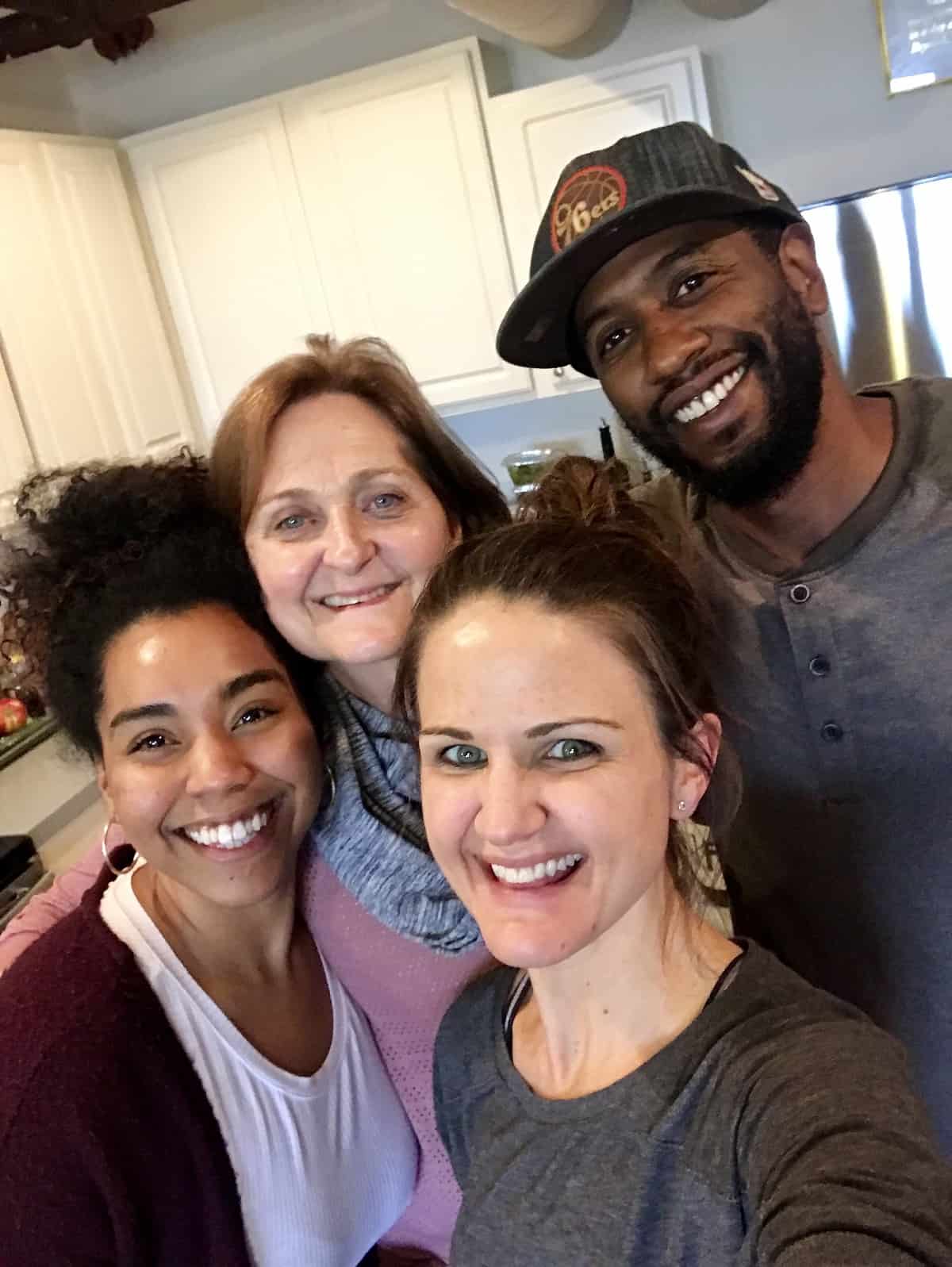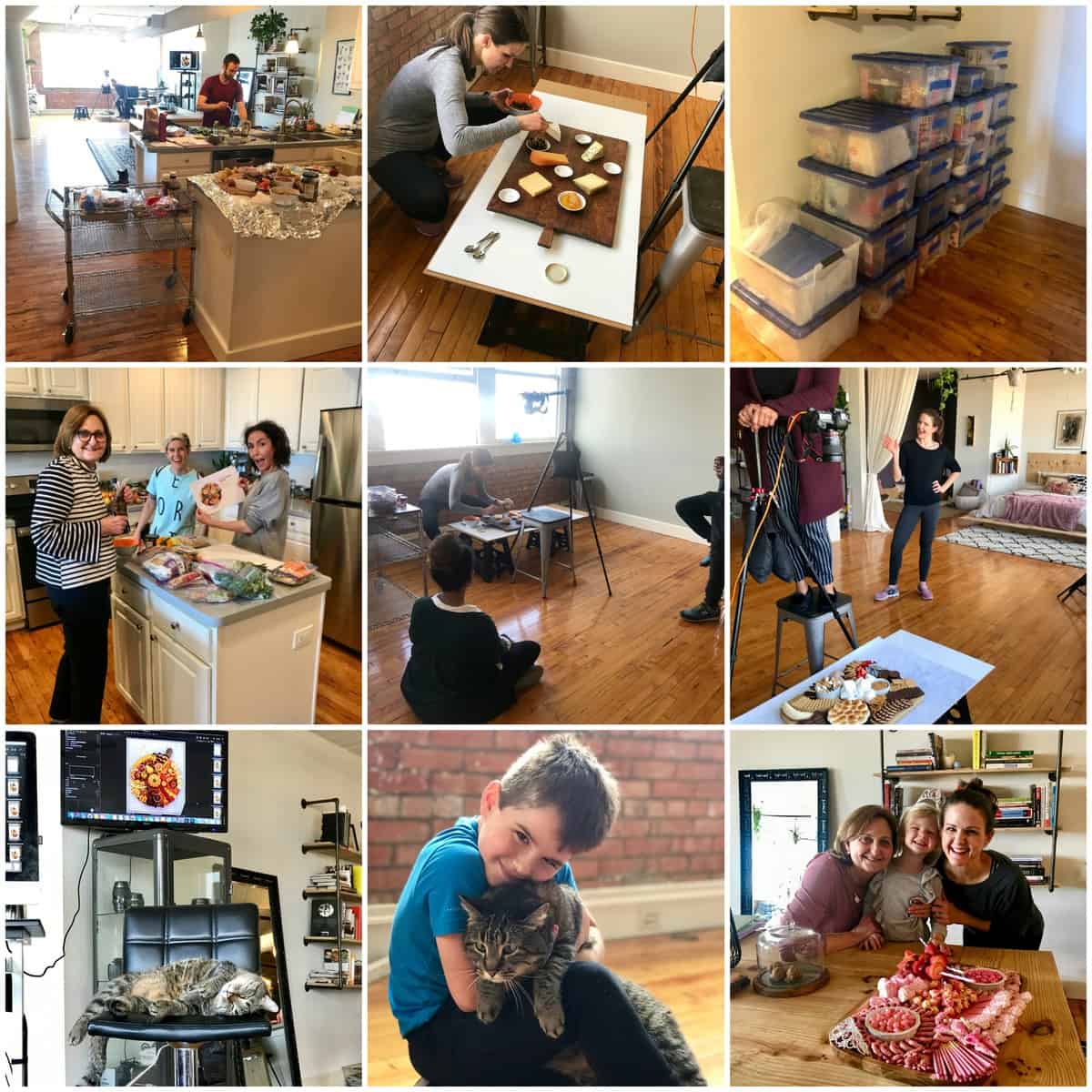 Here's how the two weeks of photographing for the cookbook went:
Leading up to the photography portion, I had already created and finalized each board. I tried to be as organized as possible to make the photography process go as smooth as possible. I had a tub for each board with the non-perishable foods in it and then a binder for each person helping me that had the picture of each board along with the ingredient list for that board. There were two huge racks filled with all of my boards, serving bowls, utensils, etc. We tried to photograph at least 5 boards each day plus days for the chapter openers and a lifestyle shoot.
We tried to work in somewhat of an assembly line for each board, where one person would be gathering the ingredients for the board that was up next, one person would start prepping ingredients to go on the board if something needed to be sliced or cooked, one person would start placing things on the board and then I would come in and put the finishing touches on it before carrying it over to be photographed. On the boards where we did step-by-step pictures, I would squat next to the board under the camera and build it as Jerrelle and Eric took each shot along the way. My thighs were feeling it by the end of each step-by-step board. Haha!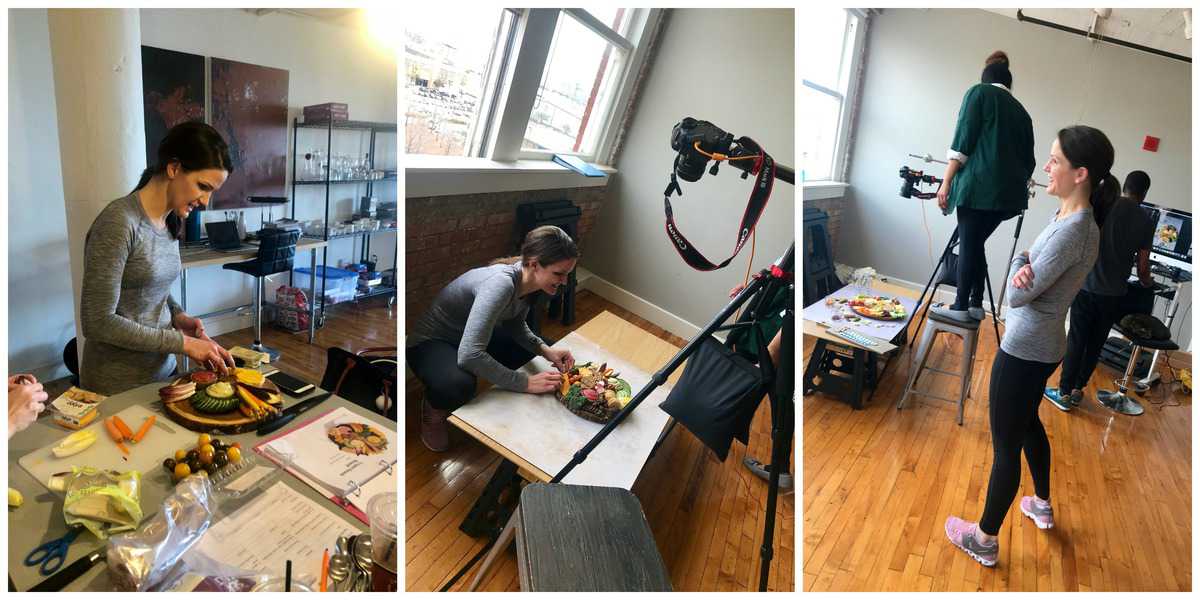 After the board was photographed, someone would take it and count out/measure/record everything on it so that I could be exact when it came to listing the ingredients in the cookbook. Then we would all enjoy it, package up anything that was non-perishable and reserve anything that could be used for another board. We even created a reserve container of fresh fruits and veggies that wouldn't be used on any other boards, and then Jerrelle and Eric would either juice them or turn them into smoothies for all of us the next morning to fuel us for the day ahead.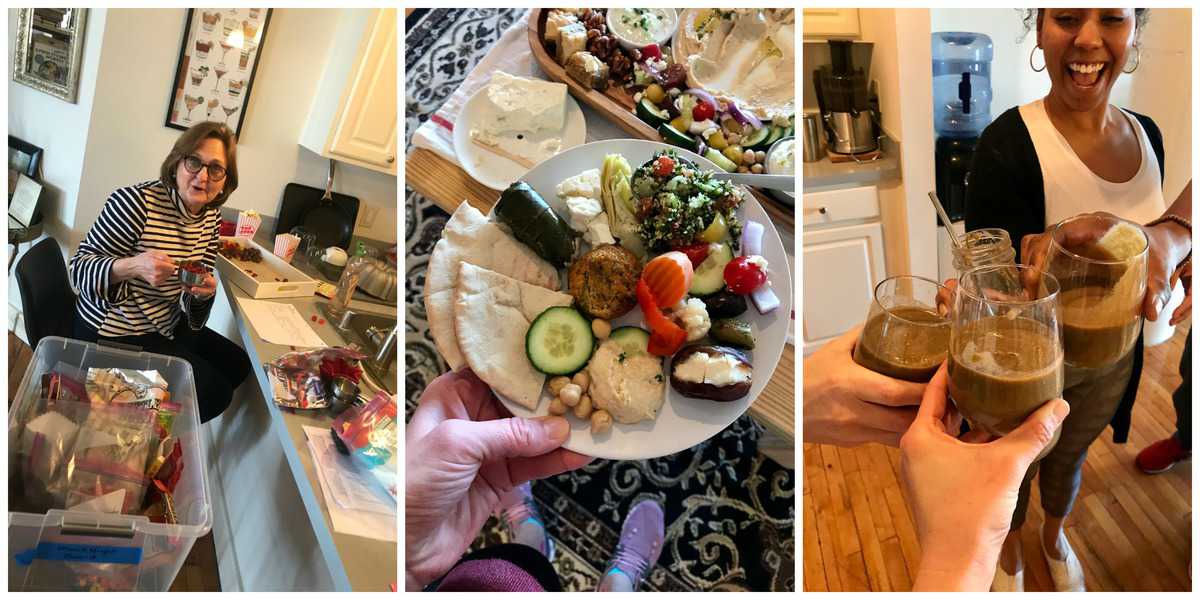 The days were long, but it really was so fun and the process flew by. I would get up at 6ish and prep anything I could at home before the kids woke up. Then we would get the kids ready and fed for school, load up the car with everybody and anything I needed to take to the photography studio, drop the kids at school, stop by any grocery stores I needed last minute items from and arrive at the studio between 9-10am. We would shoot until the sun went down, clean up everything, and create a plan for which boards we were going to photograph the next day. I would head straight to Trader Joe's, Central Market, Kroger, Tom Thumb, Target, or all of the above to get the fresh ingredients we needed for the boards that we were going to photograph the next day. I'd come home get anything else prepped that I could to make the next day easier, organize as much as possible and fall into bed to catch a few hours of sleep before doing it all again the next day. I was so excited about how beautifully the boards were being photographed and so thankful for all of the amazing helpers I got to spend each day with that I had an incredible amount of energy and enthusiasm despite the lack of sleep.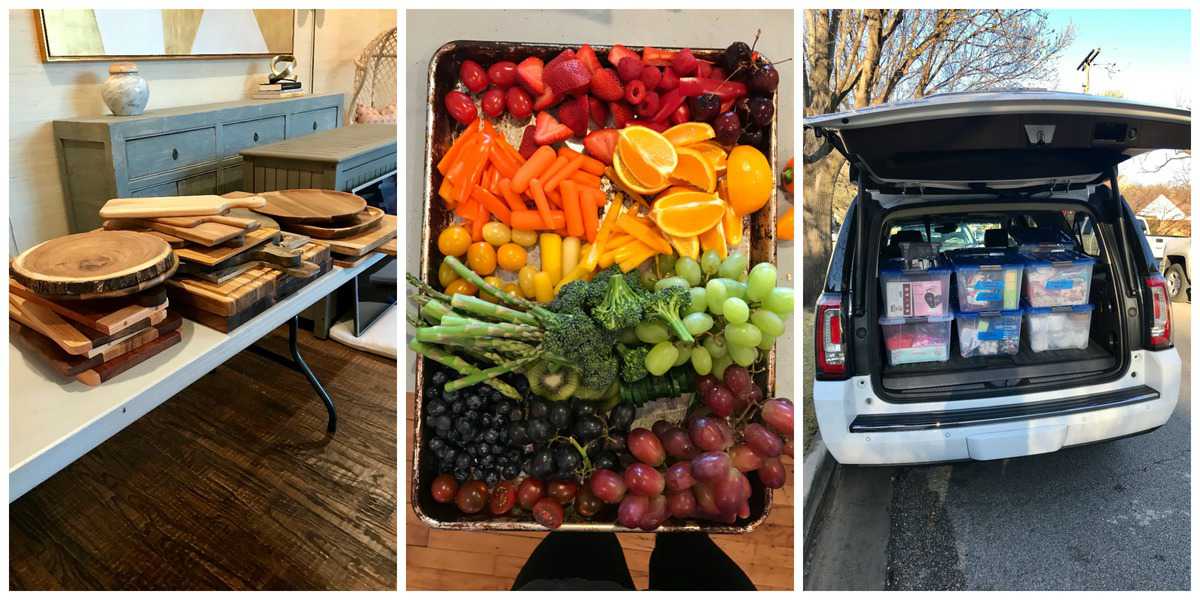 Here's what the Dallas sky and the parking lot looked like most nights when I left the studio. The word beautiful stuck with me throughout this entire process.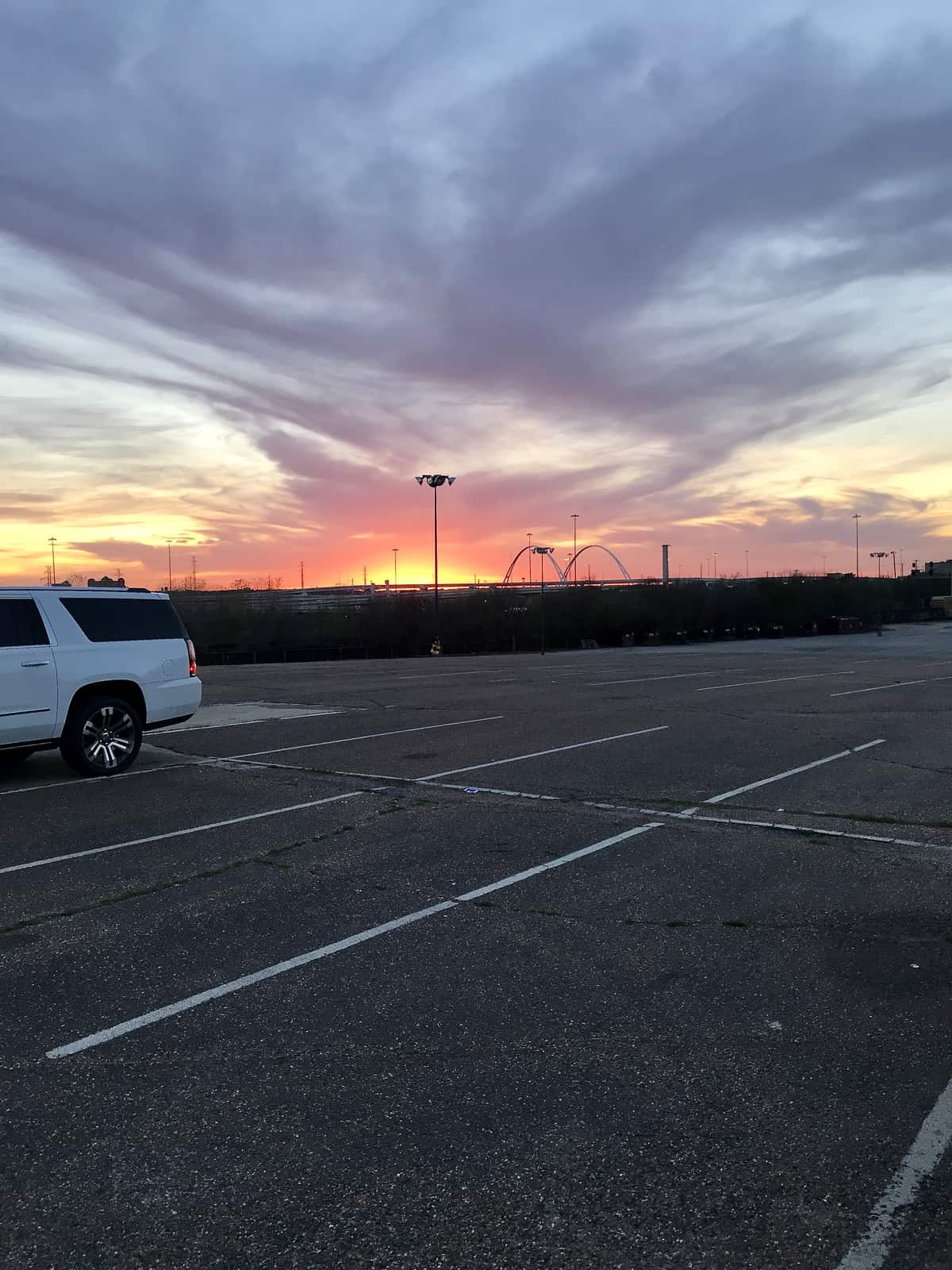 Fortunately, our sitter (now my assistant with The BakerMama. Woohoo!), Monica, was able to help with the kids most afternoons and would even bring them up to visit us when they didn't have after-school activities. The kids loved coming to see mama in action and play with Christopher the cat!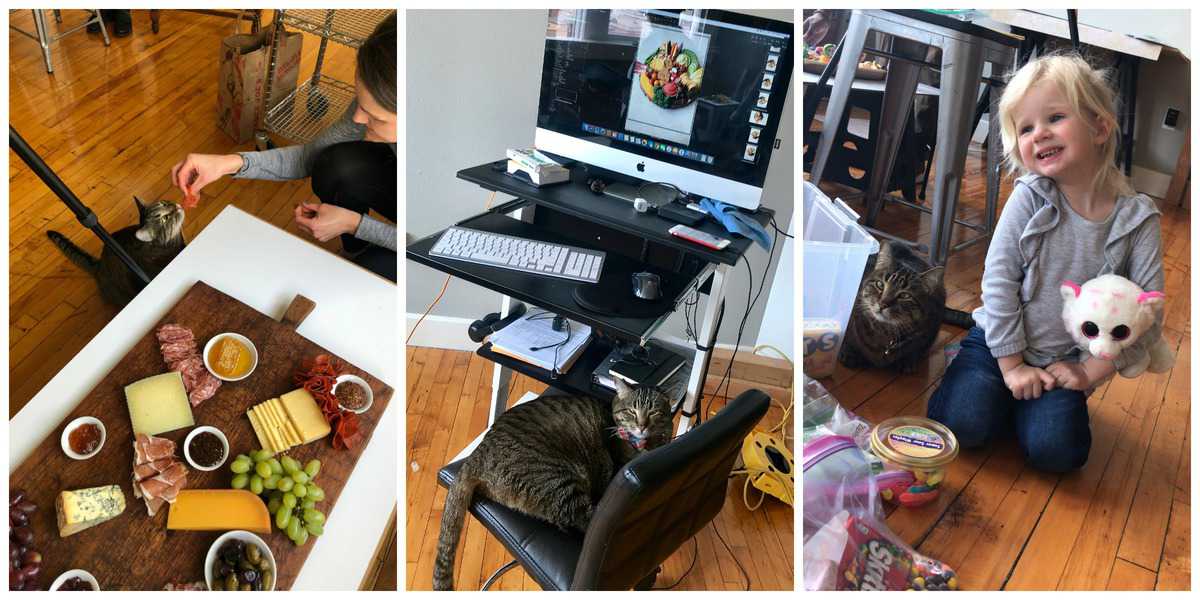 When Brandon was not traveling for work, he would be on kid-duty and then on the weekends, he would come help me at the studio. My mom, a professor at a university in Oklahoma, literally spent her entire spring break helping me during one of the photography weeks and I will be forever grateful for that. And our friends, Paulette and Brittani, dropped any and everything to help all day, almost everyday. They would show up with coffee in hand and smiles on their faces ready to help in any way I needed them. Gosh, I'm so grateful. I've said it a thousand times and I'll say it a thousand times more, I could not have done this cookbook without the incredible village of family and friends that surrounds me!
I'll never forget that night we finished photographing the last board for the book. It was the New Year's Eve board, we were losing natural light and so ready to pop a bottle of champagne to celebrate. We played "We Are The Champions" as Jerrelle and Eric snapped that last shot and spent the rest of the evening taking it all in, feeling so incredible for what we had just accomplished as a team. We came back to our house, ordered in take-out and even got to enjoy fresh baked cookies and cobbler that Jerrelle whipped up on a whim. She has a cookbook out herself, Black Girl Baking, that was nominated for a 2019 James Beard Award the same day we finished shooting my cookbook. There was so much to celebrate that night!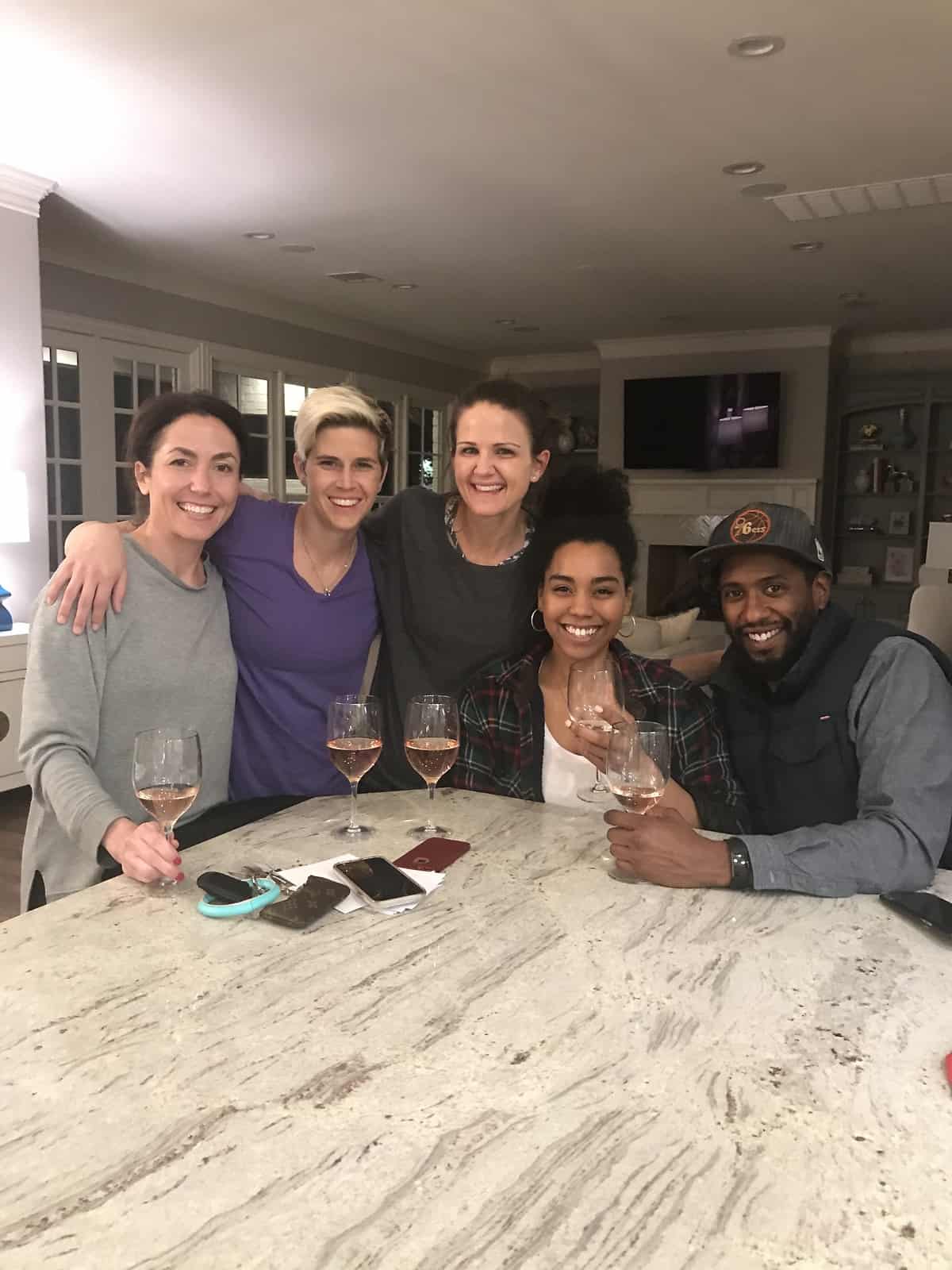 Just looking at the cover of Beautiful Boards, you can see how incredible the photography turned out. Thank you, thank you, Jerrelle and Eric! You're the dream team!
What about the writing for the book?
Whew, after standing on my feet and running around like a crazy woman for 5 months creating and photographing the boards for the book, I was so looking forward to just sitting and writing. Little did I know how much effort, focus and attention to detail it would entail. My manuscript deadline was quickly approaching and I even had to ask for a little extension (thanks Quarto!) because I wanted to make sure I included everything so y'all could recreate these boards with confidence.
At one point in the writing process, I got about 6 hours of sleep over the course of 4 days. It was crazy, I know, but I wanted to be there for my kids during the day so that meant my nights were spent writing. And it really was such a sweet time for our family because everyone was excited about the book. The kids would offer to help and certainly encourage me every step of the way.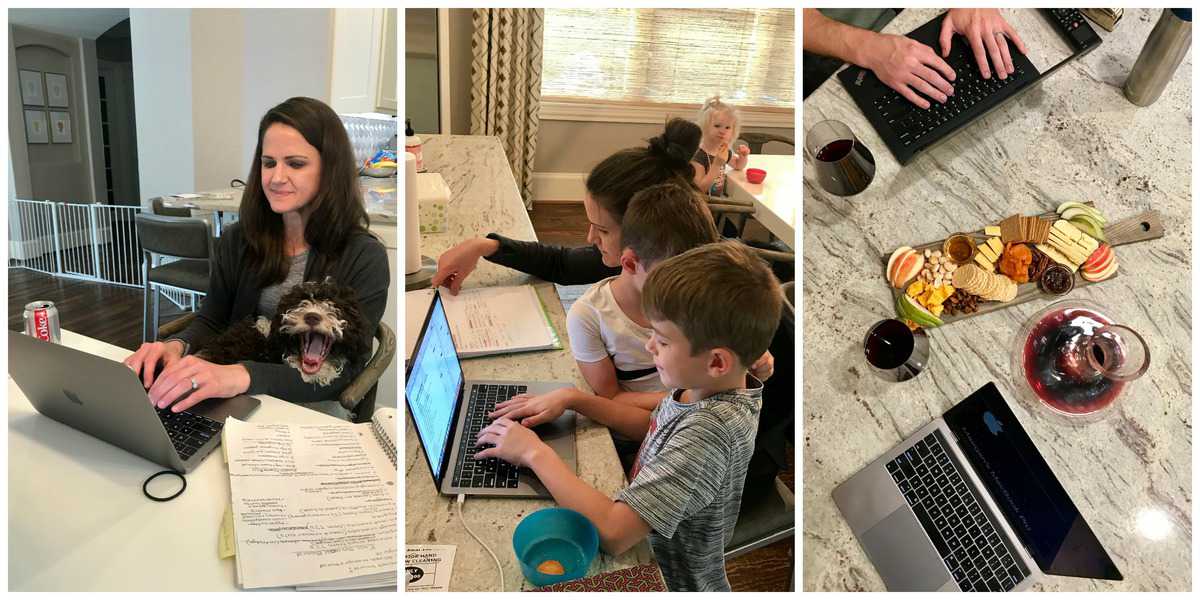 How did you get into making these beautiful boards? Where does your inspiration come from?
I've been building boards for years for us to enjoy as a family, for date night in and to entertain our friends and family with. I grew up with a wooden lazy susan in the middle of our dining room table where my mom would put all of our food for each meal. Serving food on boards just comes naturally to me. My boards are easy to make and easy to serve. I truly believe that if I board it, they will come! And there's nothing better than bringing people together with beautiful and delicious food. My boards have definitely evolved, both in size and sight (we're a a family of 6 now!), over the years but one thing that has always stayed true is that everything on my boards is edible and delicious. I want people to approach my boards with excitement and eagerness to reach right in and enjoy themselves. I also want those that are inspired to make my boards to know that they are approachable and easy to recreate.
Building our snacks and meals on boards is just a mindset that I have. It's how we enjoy eating and entertaining the most, so when I think up a snack, meal or dessert, my mind just envisions it on a board. Almost everything can be served on a board.
What are you most excited about with the cookbook?
I'm so thrilled for my amazing followers, who let me inspire them every day with my board creations, to have this book in their hands as a reference to build a beautiful board for any occasion. I'm so excited to see my fellow board building enthusiasts make these beautiful boards their own and for their loved ones to get to enjoy the fun and deliciousness with them. I'm confident that once you open this cookbook, you won't be able to put it down until you've seen and been inspired by each and every board. I can't wait to hear stories of how much people enjoyed building and serving these boards and see pictures of all the boards that are going to be built for family meals, dinner parties, birthday celebrations, play dates, holidays and more.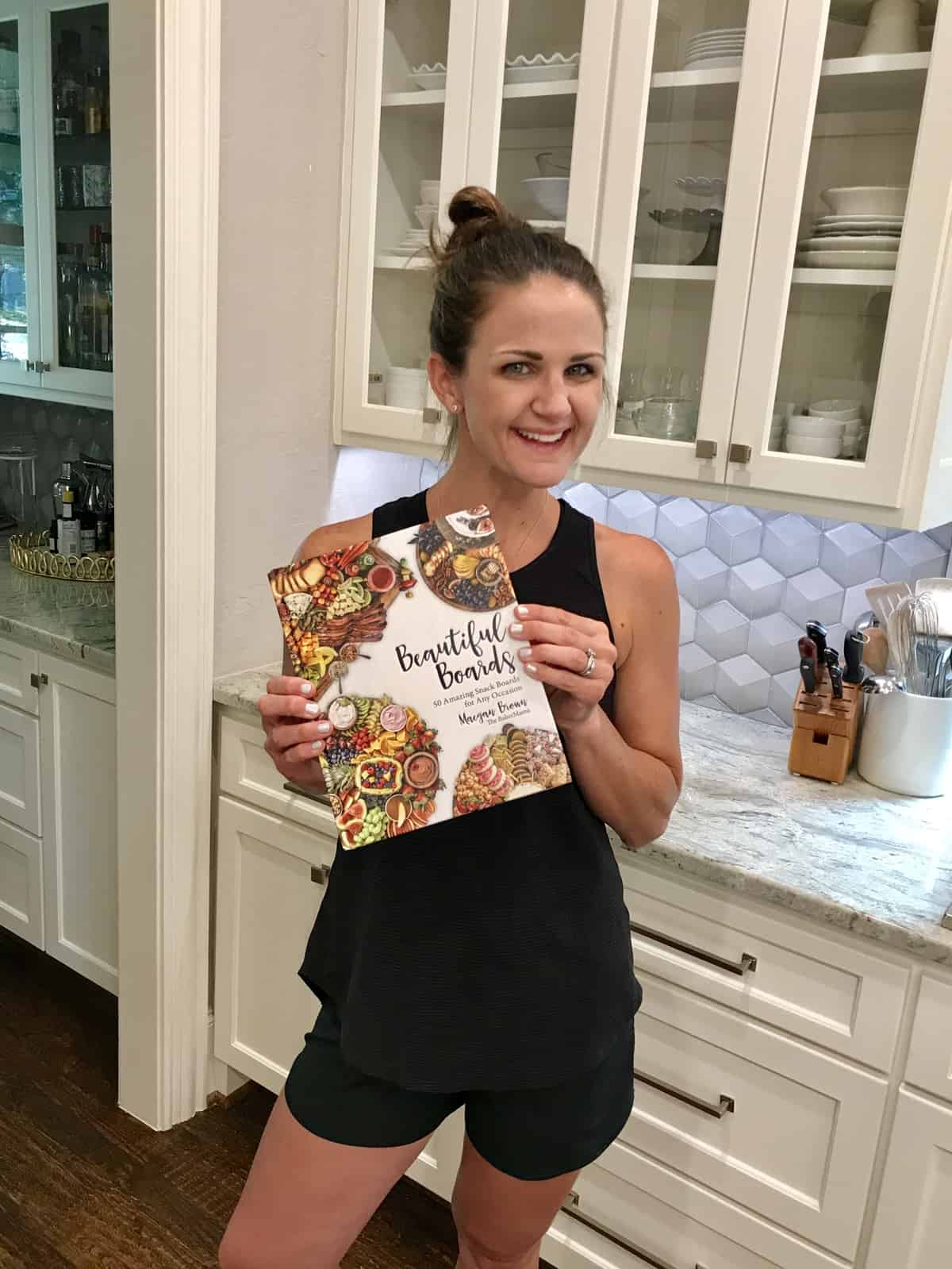 Which board is your favorite?
Tough question. Of course, the easy answer would be I don't have a favorite, and I really don't, but I do like each board differently based on the occasion and how many people will be enjoying it. I love the meal boards, especially the Build-Your-Own Cobb Salad Board, because my kids eat salad so well now because of this board and love it when we serve it this way. The S'mores Board is just so fun to make and makes everyone so happy. The Everyday Snack Board is so easy and can be built anytime with what we have on hand. And the Mimosa Board and Build-Your-Own Bloody Mary Board are just a party in themselves. I love them all!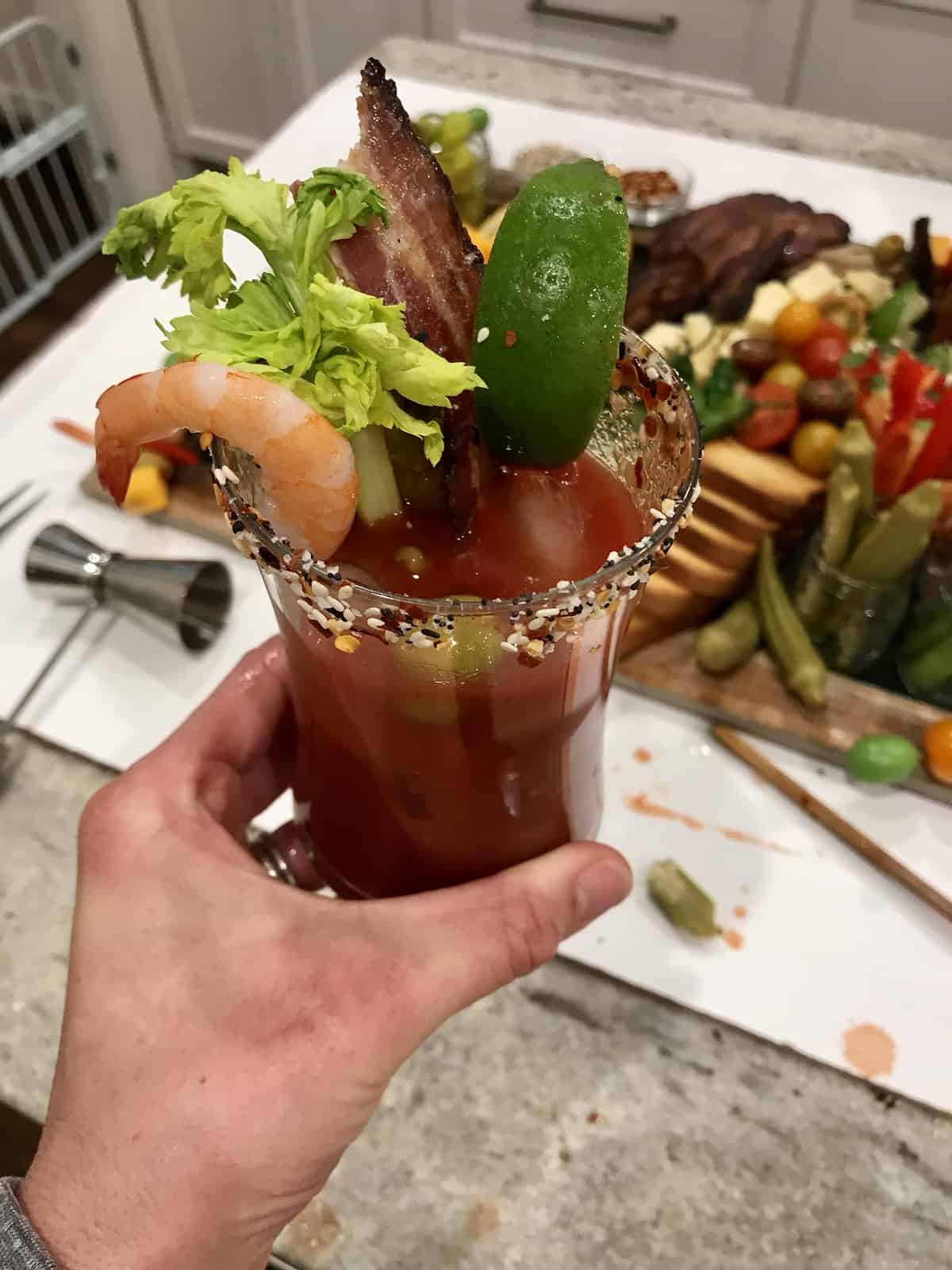 To end, here are some fun stories and memories related to a few of the boards in the cookbook:
Brandon and I sat at our kitchen counter for hours one night tasting charcuterie meats, cheeses and spreads to combine them perfectly for the Date Night Board. We tasted every possible combination, took notes, secretly voted, talked about how each combination tasted together, which order we would eat them in, how much we needed to make a date night meal out of the board all while sipping wine and enjoying each other's company and appreciation for amazing food experiences. It was a night to remember!
Baker claims on a daily basis that he doesn't like yogurt or fruit and when we sat down as a family to enjoy the Build-Your-Own Parfait Board, we couldn't stop the kid from filling his bowl with all the fruits, yogurt and granola only to devour it and beg for more. Moments like this just confirm that our kids will eat foods they think they don't like if they're given the chance to see it, serve it to themselves, and try it.
The Engagement Board took on so many different shapes and food combinations throughout the building process. It looked like a wedding ring and then a heart before I fell in love with the idea of a mini tiered cheese wheel cake with all the beautiful accompaniments around and below it. It really is the most beautiful board!
The Princess Board took on several different shapes too, like a castle and then a crown, before I decided those were too complicated and went with an adorable assortment of pink and purple snacks. My little princess Brookie gives it the royal approval!
I switched up the Valentine's Board literally when it was being photographed and it was all hands on deck to gather the ingredients I wanted and get them in place on the board so we could get it photographed and stay on track for the timing of the photo shoot that day. It's soooo cute for a Valentine's party!
The New Year's Board also took on several shapes and styles and I'm so happy I worked through all those ideas to get to the board that I created with the countdown cheese wheel clock in the middle of it. It's so perfect for a New Year's Eve celebration!
The Unicorn Board was made on a whim and replaced another board I had planned to put in the book because it is just so darn cute and fun!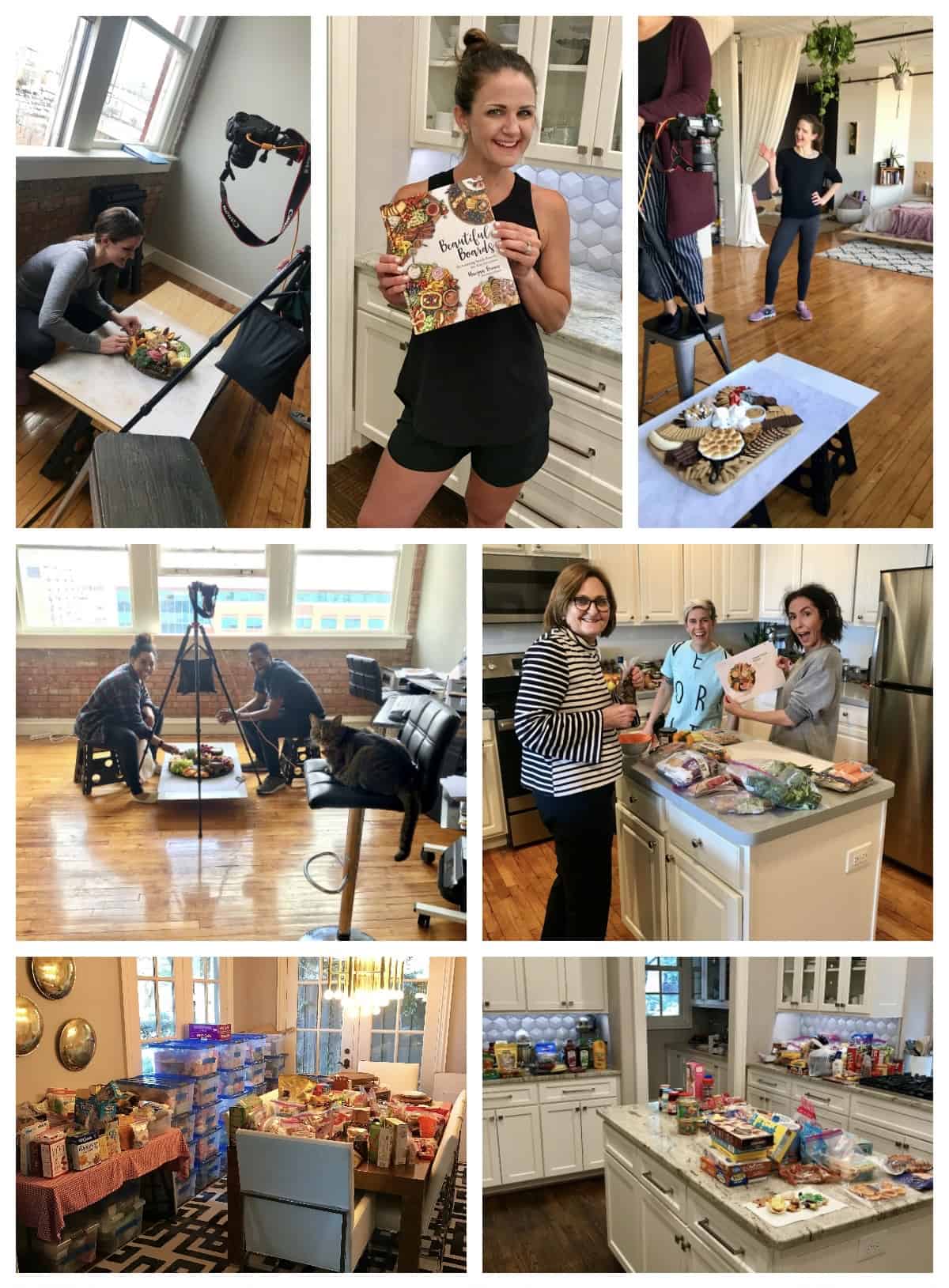 And there you have it! I hope I answered most of your questions and gave you a good look into what it took to create Beautiful Boards. I hope you enjoy it and let it inspire you for years to come! Thank you for your support and enthusiasm for this book and what I do. It means so much to me!
To order a copy of Beautiful Boards, CLICK HERE!
xoxo,