A recap of my trip to New York City with Baker including everything we did and all the yummy places we ate!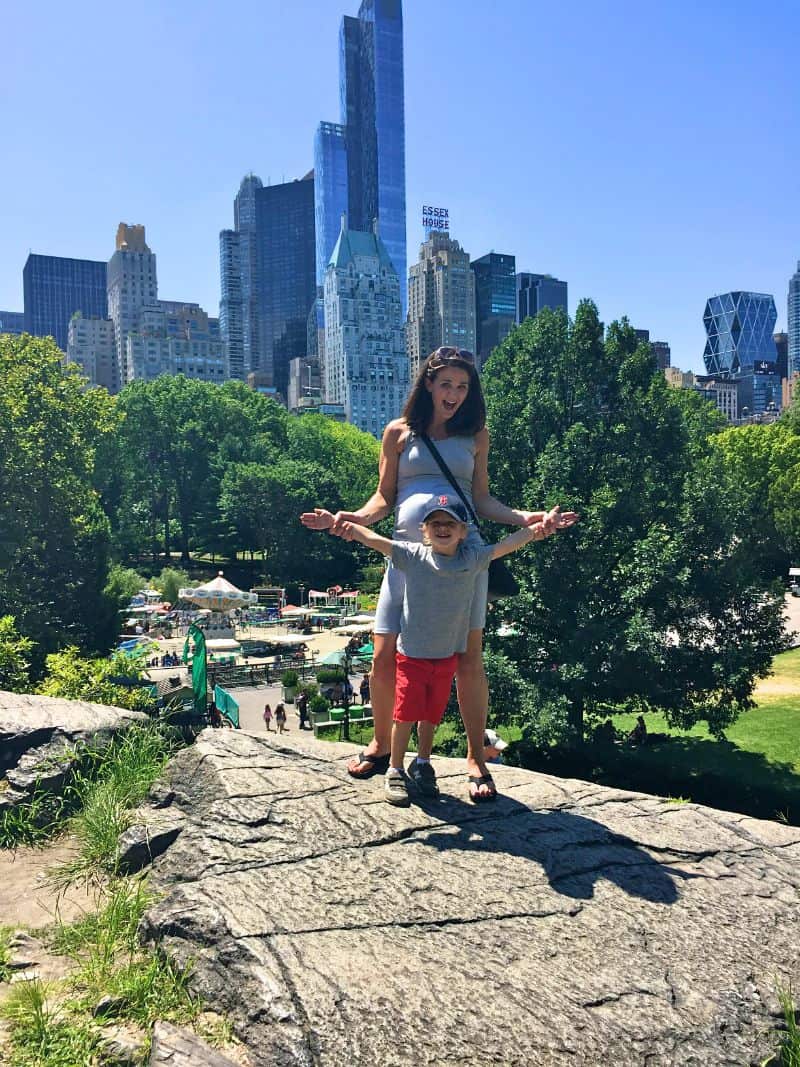 Last month, Baker and I took a trip to New York City for a long weekend filled with lots of fun and yum! His brothers and Dada were a bit jealous of our adventures without them and we certainly missed them, but it was such a special weekend that neither of us will ever forget. I so cherish the time we got to spend together and the memories we made.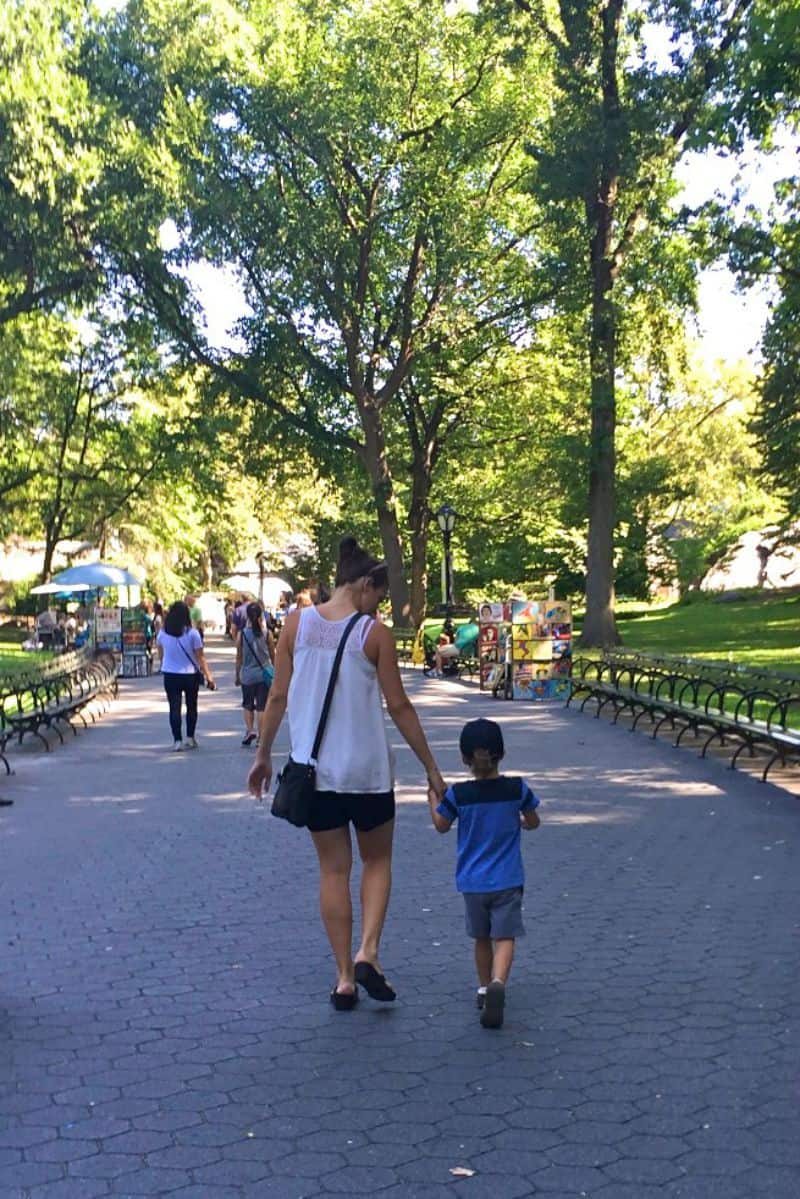 Baker is four years old which is such a great age to travel with. He was so excited about everything we saw and did!
Here we are blowing kisses to Dada, Bryce & Barrett when they dropped us off at the airport to catch our flight to NYC…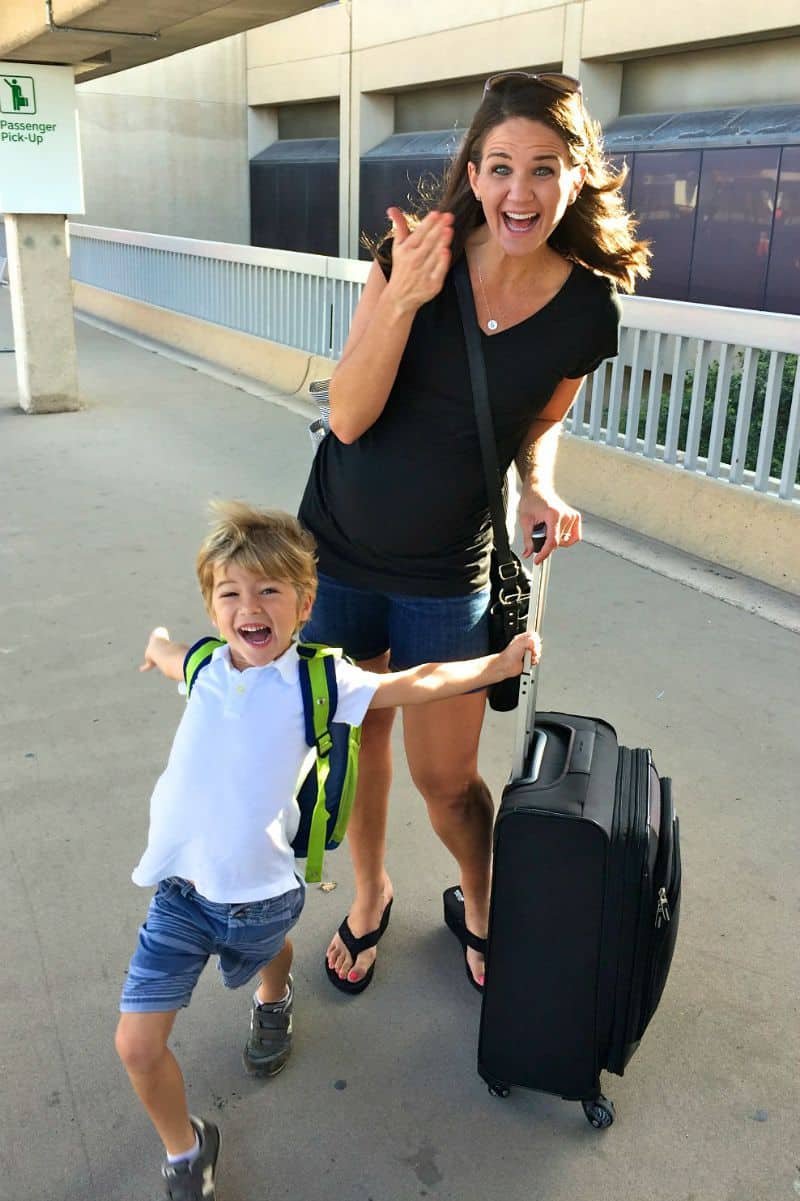 This wasn't Baker's first airplane ride or trip to NYC, but it had been awhile, so he was pretty pumped. He asked all kinds of questions and got the most excited I've ever seen someone about the peanuts and Sprite they served him on the plane. 😉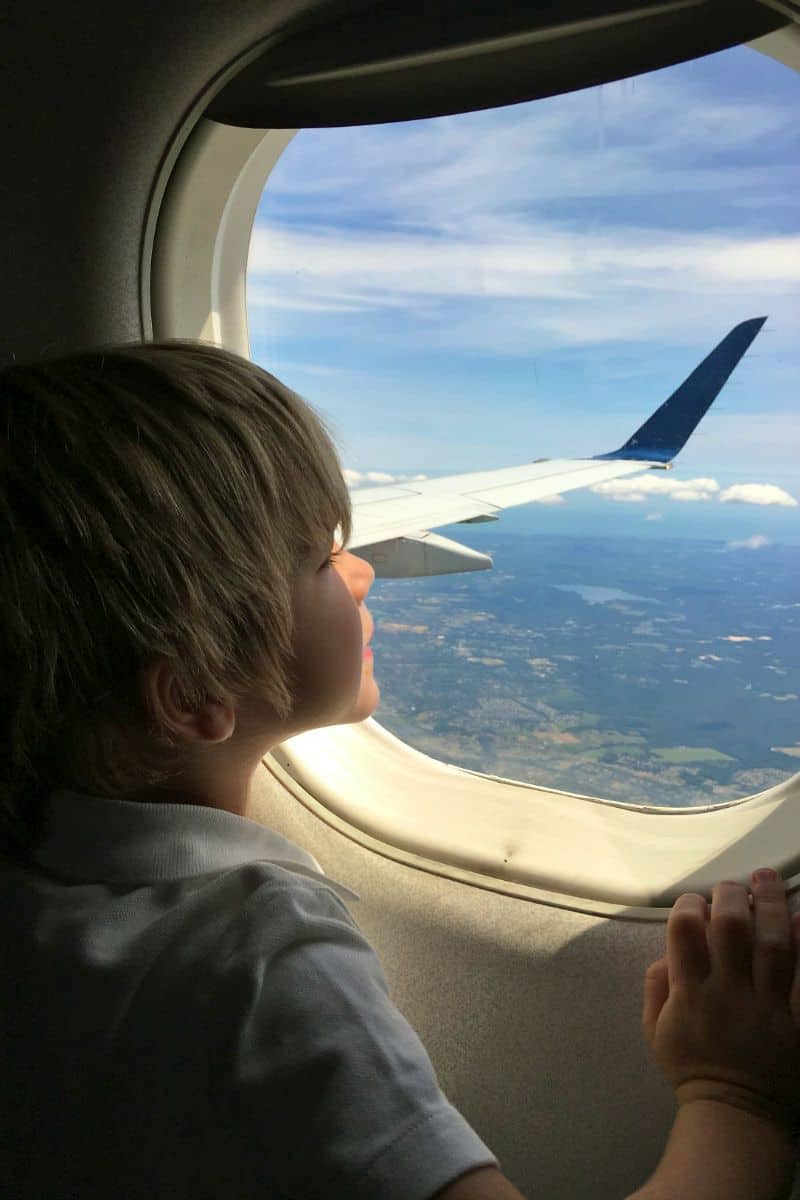 As soon as we landed in NYC, we met up with my sister and nephew. My sister is the one who came up with the idea for the trip. She thought it would be fun for us to do a mother/son weekend in NYC with our oldests and that it was! I'm so glad she suggested it and that we could make it happen.
We were pretty hungry after we got settled in our hotel, but didn't want anything too substantial because we were headed to a baseball game that evening which we knew would be filled with lots of ballpark goodies. So we stopped by Schmackary's for a "few" cookies…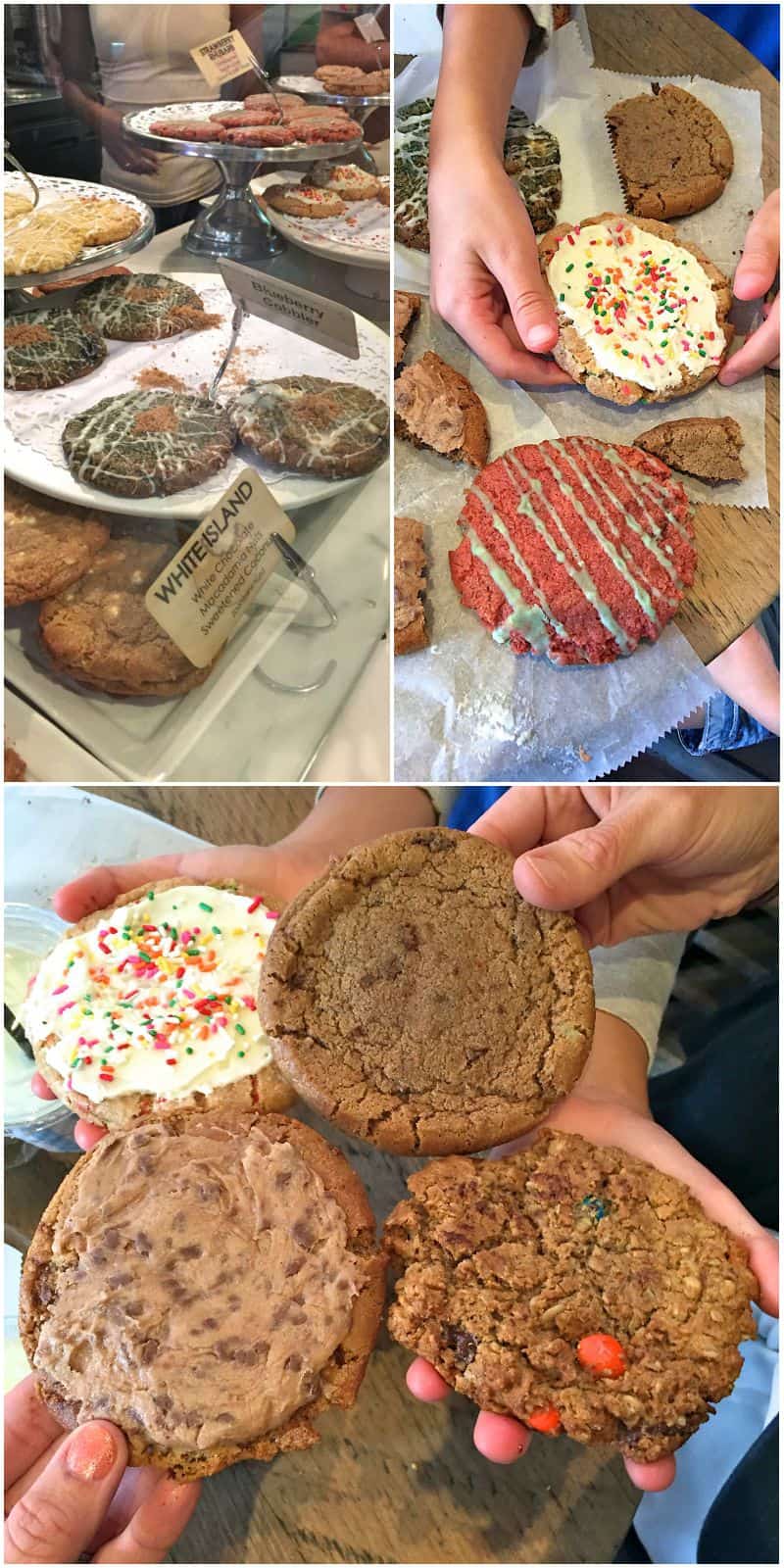 Okay, okay, we ordered one of everything! Haha! Why not?!
Brandon had brought home some of these cookies last time he traveled to NYC and we loved them, so I just had to go there myself to see what it was all about and taste them freshly baked.
Schmackary's definitely knows how to bake cookies as that's pretty much all the do. I love places that focus on one thing and do it great! The cookies are big, soft in the middle, crispy around the edges and come in the most fun and yummy flavors.
Our favorites were their classic chocolate chip, funfetti and cookie dough frosted. Talk about cookie love!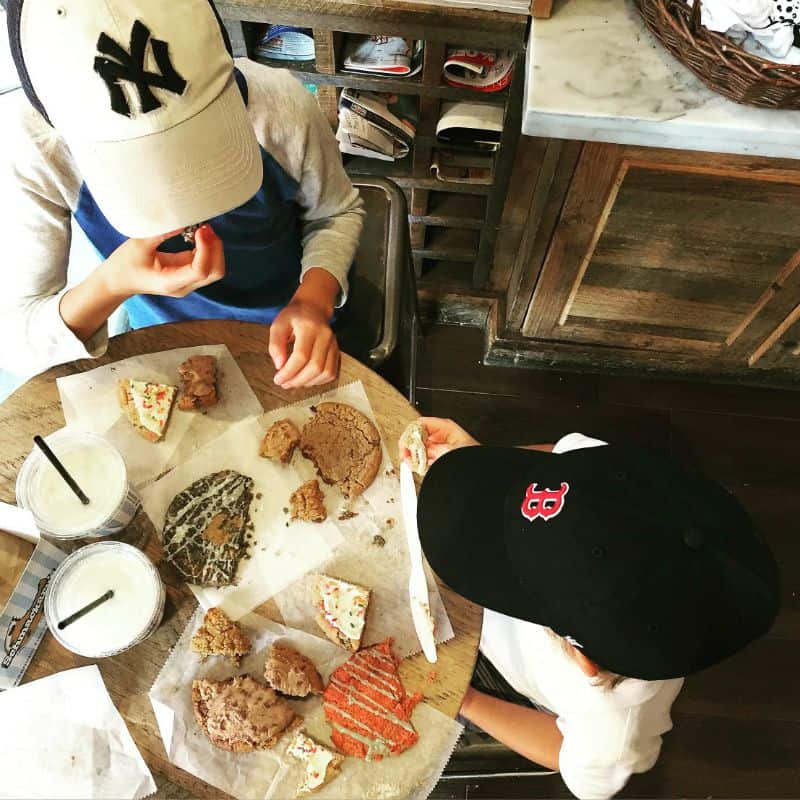 Some of our best friends from business school live in NYC and she was so sweet to meet up with us for a quick hug and catch up session before we headed to the ballgame. We met them in Bryant Park so all the kids could run free while we chatted. Love all the parks in NYC!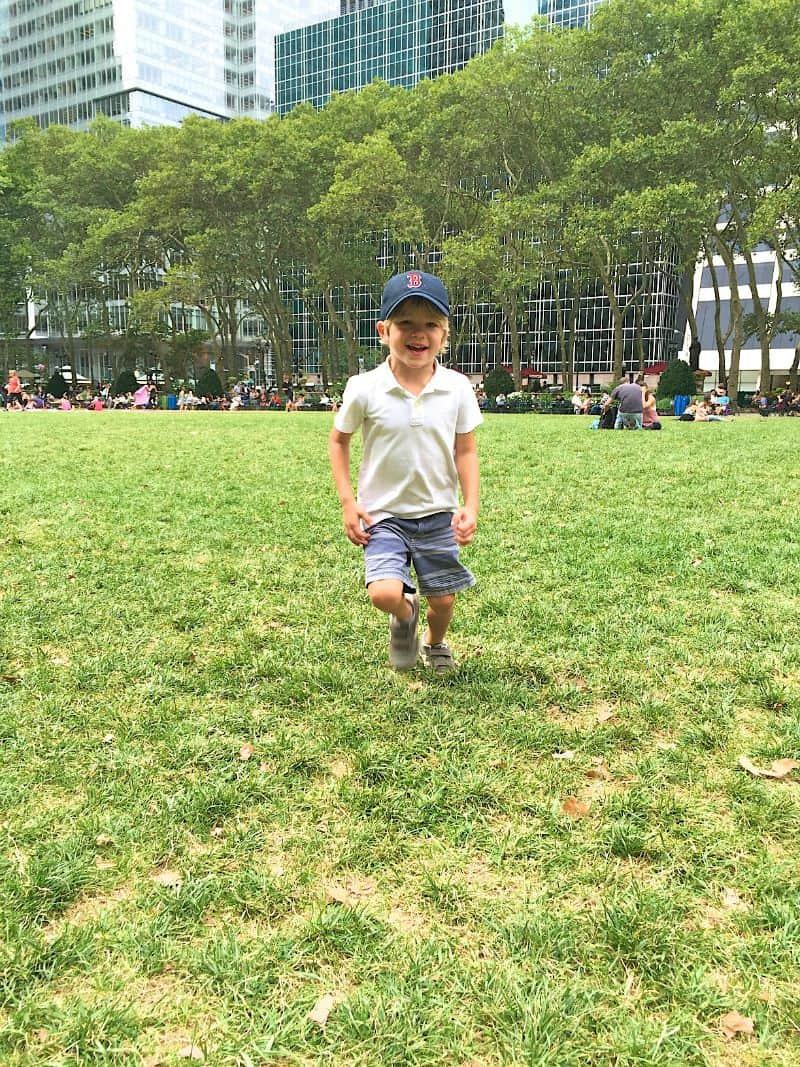 You may have noticed Baker is wearing a Boston hat and be wondering why he would wear that hat around NYC?! Well, he was born in Boston and a Red Sox's hat was the first hat he ever wore. Oh, and the Yankees just so happened to be playing the Red Soxs that first night we were in NYC, so we had to go experience the game and Yankee Stadium.
He got so much flack from all the Yankees fans for wearing that Boston hat, but it was all in good fun. We had the best time watching the game, experiencing the atmosphere and eating all the yummy ballpark food!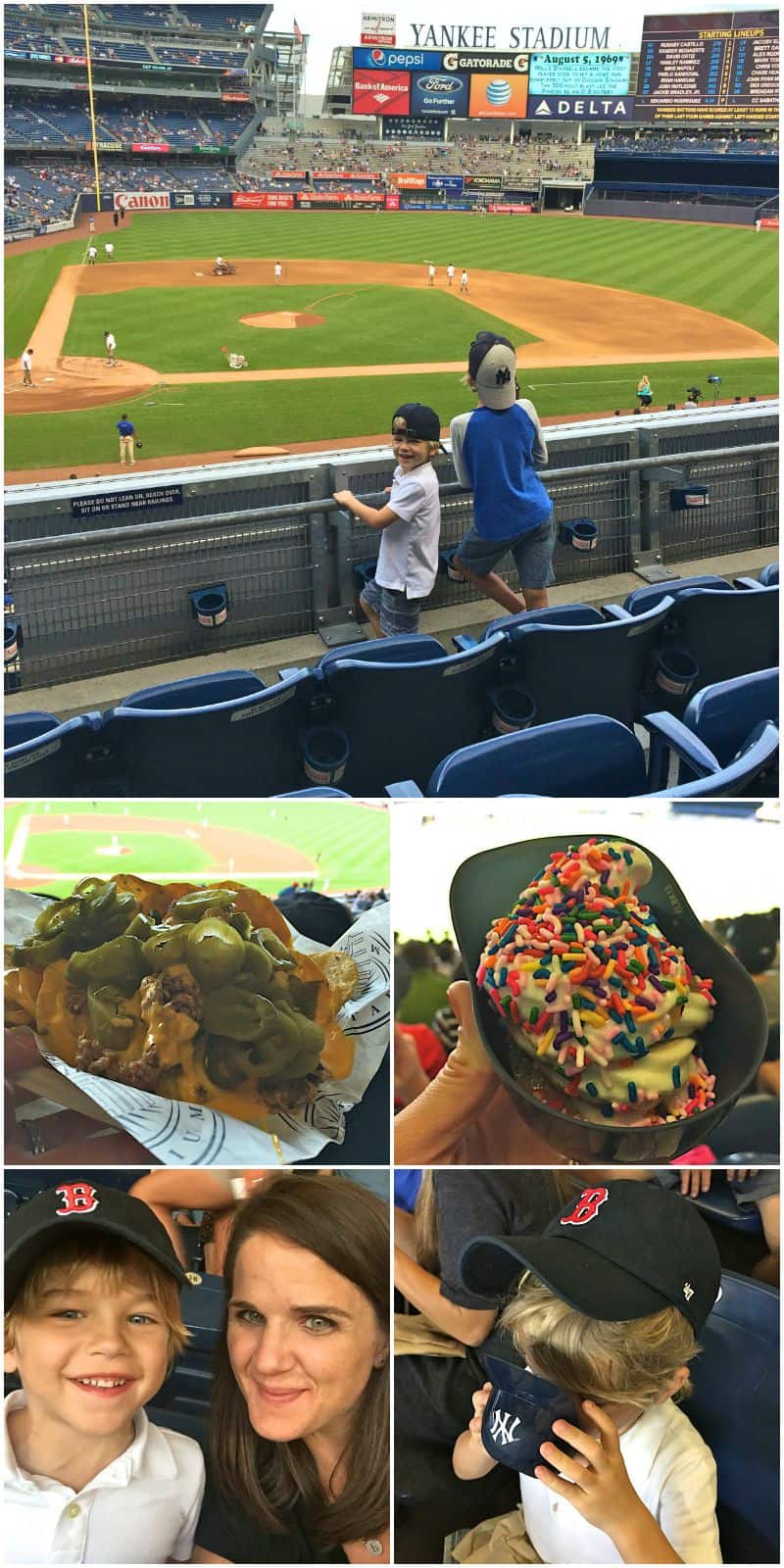 After the game, we went to Times Square so the boys could see all the lights, people and performers. It was a late but great night!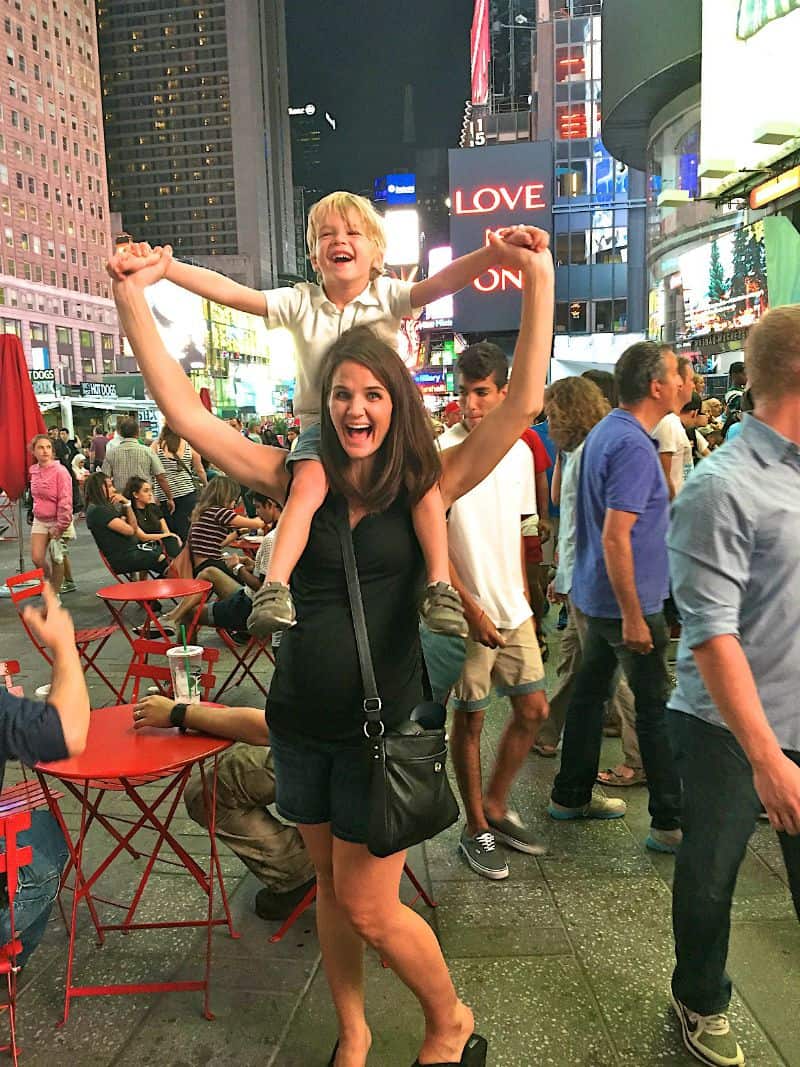 The next morning we slept in and went to Jacob's Pickles for brunch. We felt right at home with all the comfort food on the menu. Biscuits are their specialty and we love biscuits! I couldn't resist the Biscuits French Toast covered in fresh strawberries and bananas. Oh my yum! The boys split the fluffiest banana pancakes with caramelized bananas cooked right into them and my sis got an indulgent croque madame made with biscuits, of course. We were stuffed and ready for a full day of fun in Central Park.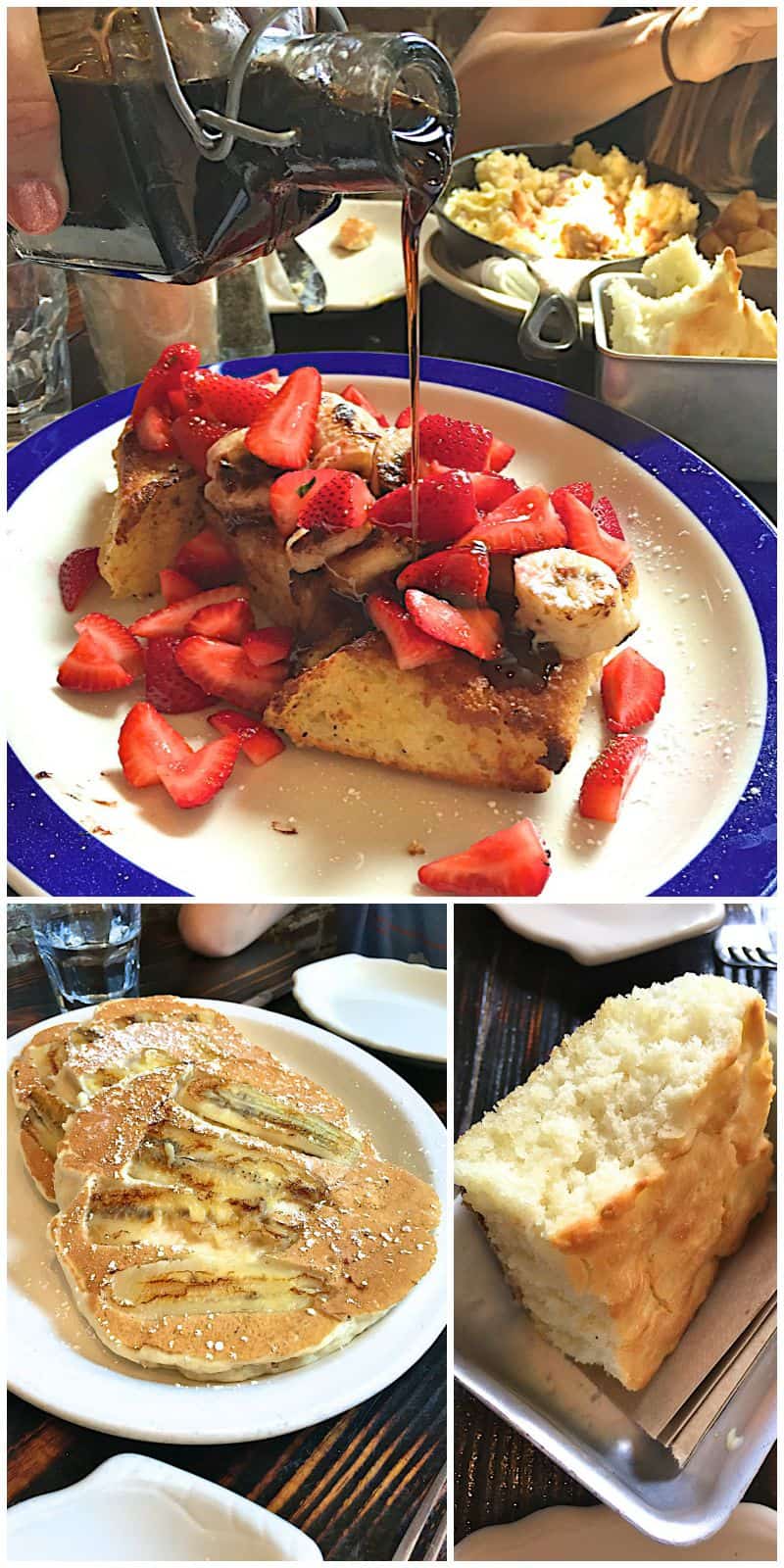 Just a few blocks from Jacob's Pickles is my favorite cookie bakery in the whole wide world. I'm talking about Levain Bakery, my friends! No trip to NYC is complete without a cookie from Levain! They're like none other. Seriously the most amazing cookies you'll ever eat. They're huge, rich and chewy. They comes in four awesome flavors and it's obvious from first bite that they're baked with high quality ingredients and lots of love.
We decided to stop by and get a box full of cookies to take to Central Park and snack on throughout the day. These are the cookies of your dreams, y'all, and if you haven't tried them, you must add Levain Bakery to your bucket list. Love, love, love!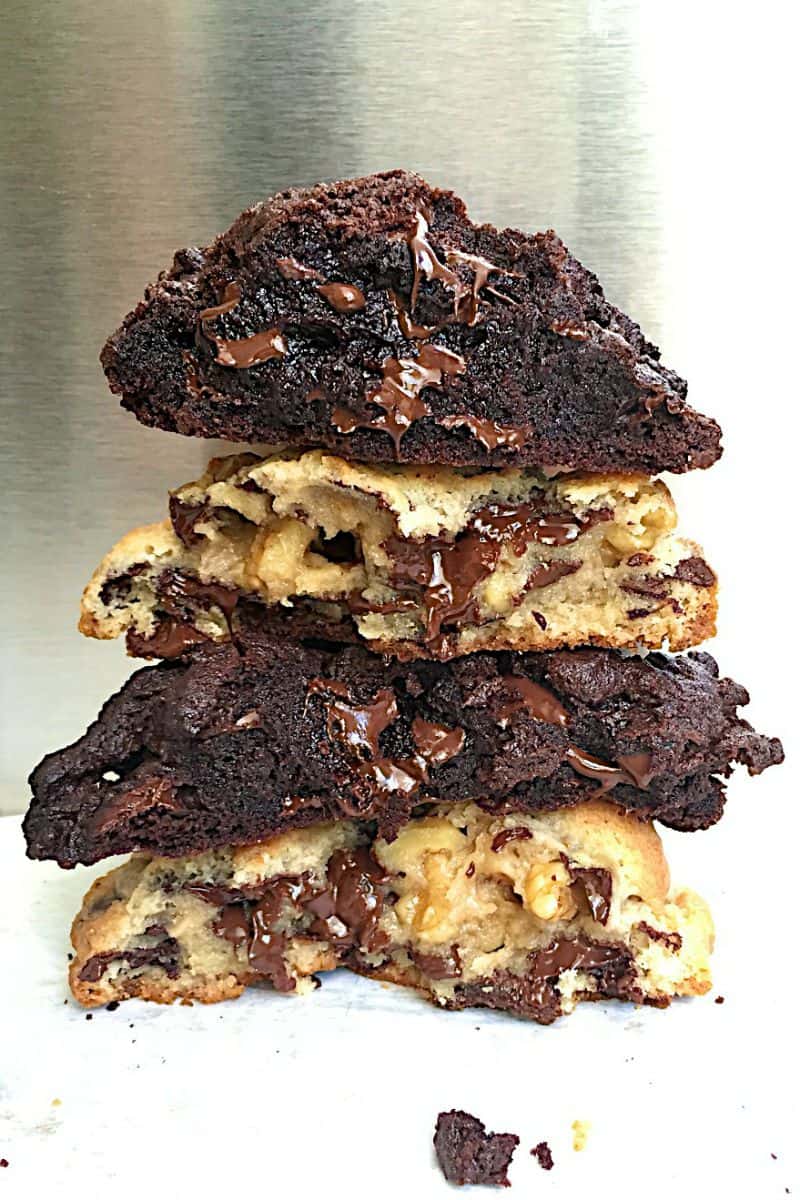 We had nothing else planned but to spend the rest of the day exploring Central Park. We just walked around and experienced as much of the park as we could. The boys were in heaven!
They climbed any and all rocks they saw…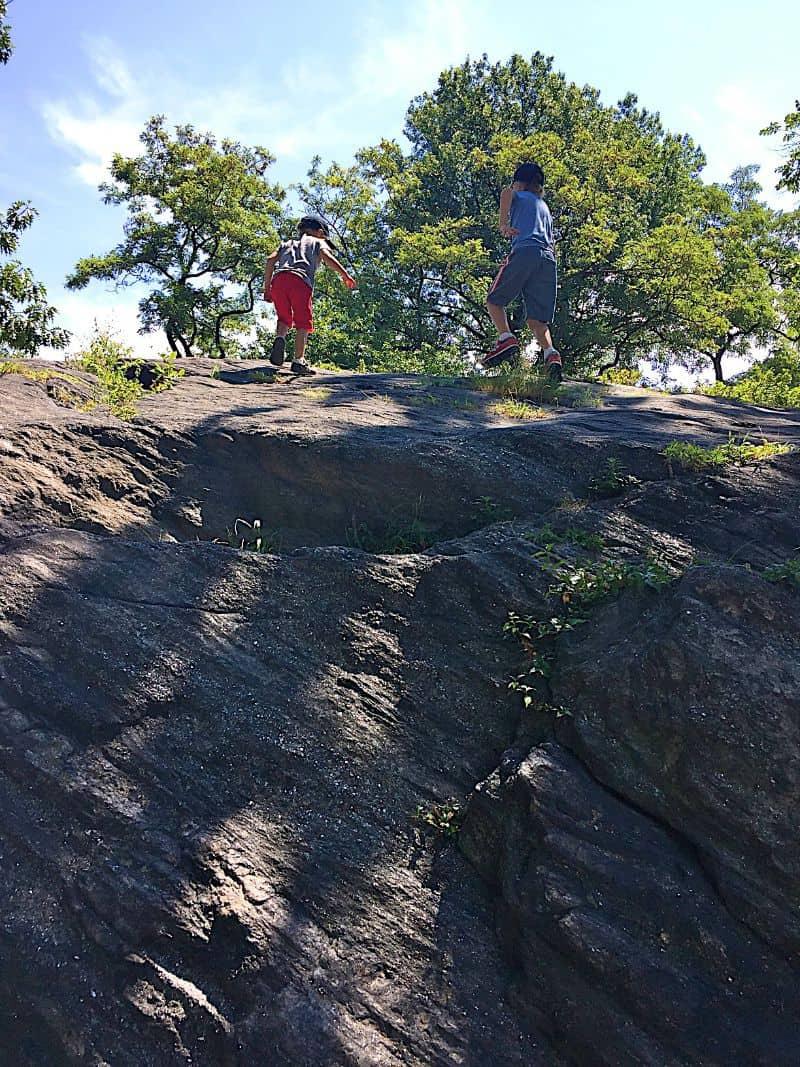 They rode the big merry-go-round…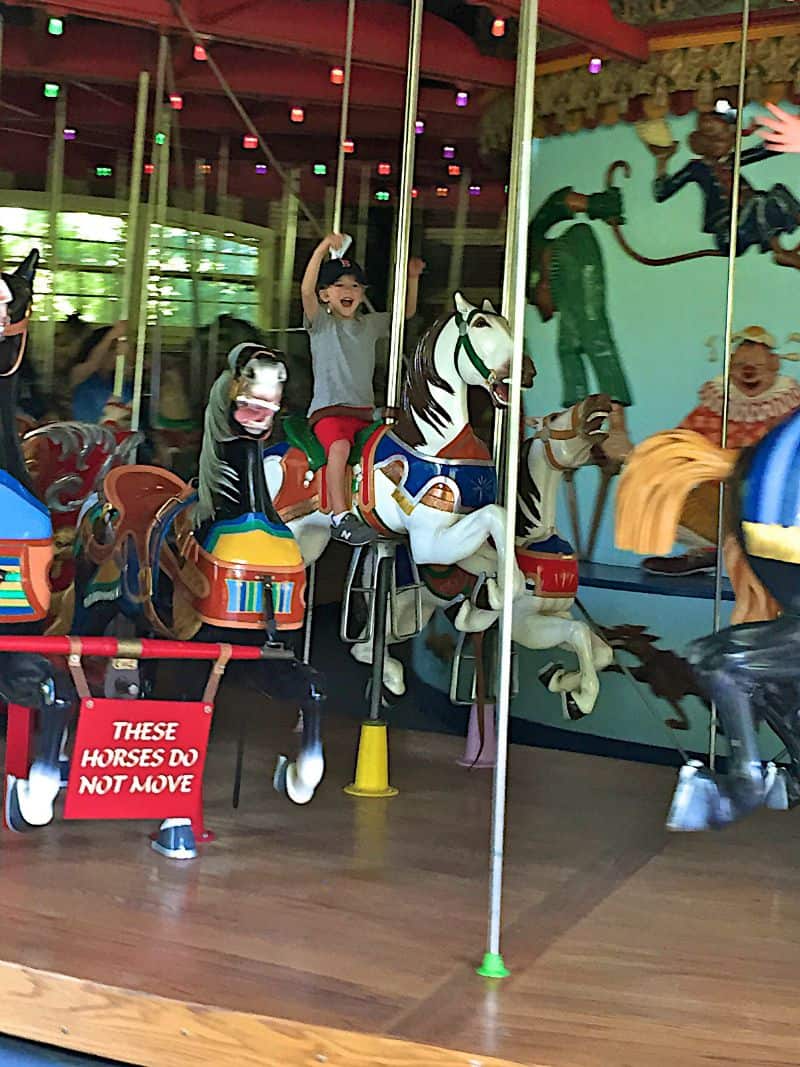 We ate a pretzel the size of our heads…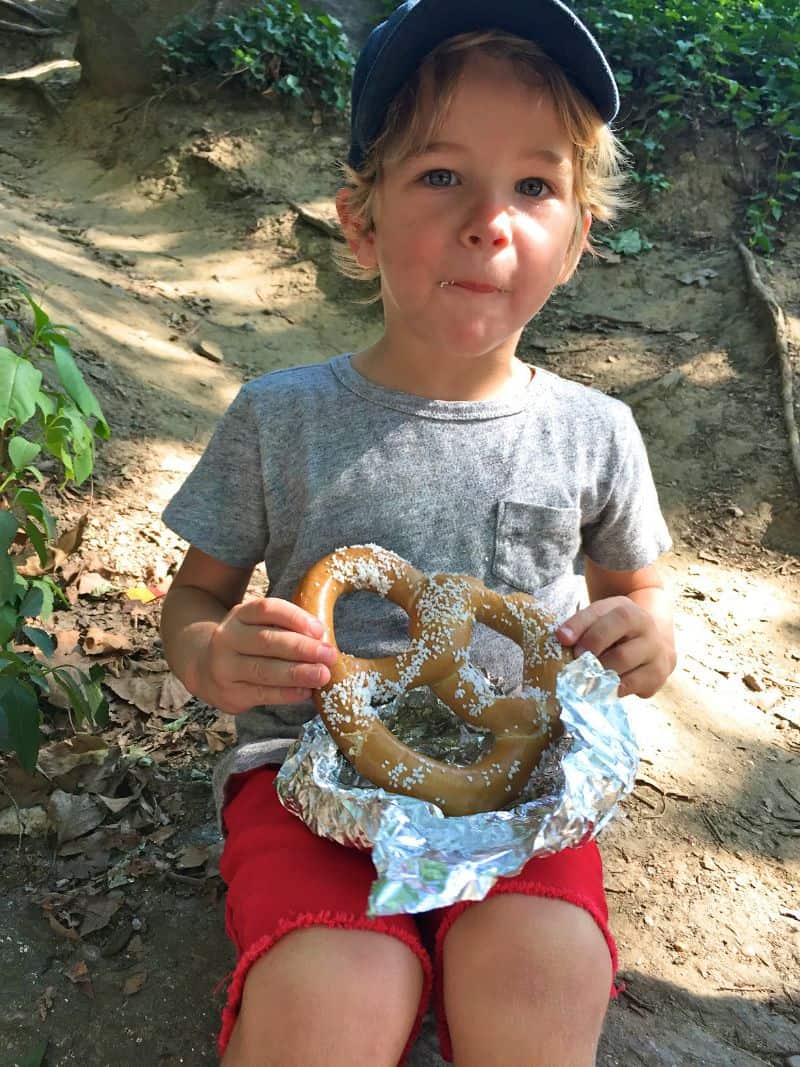 A highlight of the day was our time in the Victorian Gardens. It's a little amusement park that's only open in the summer and it's perfect for their ages. They got to ride all of the rides at least once (most twice) and play all the games. We had a blast! Watching how excited and joyful they were was priceless!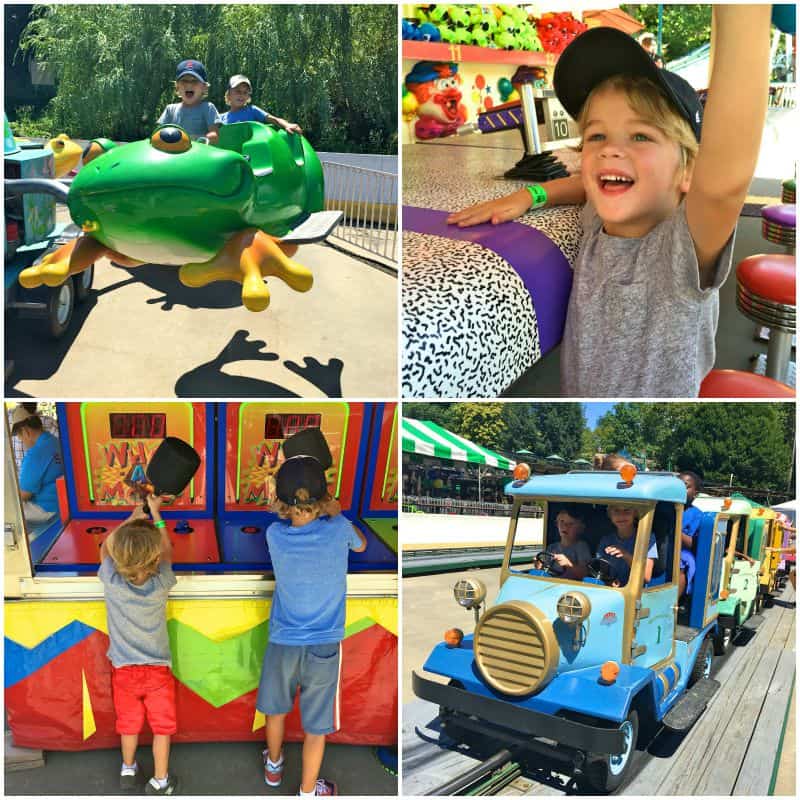 The boys then got to sail their own remote-control sailboat on the Conservatory Water pond. They got so into it and did such a great job sailing their boat from one end of the pond to the other.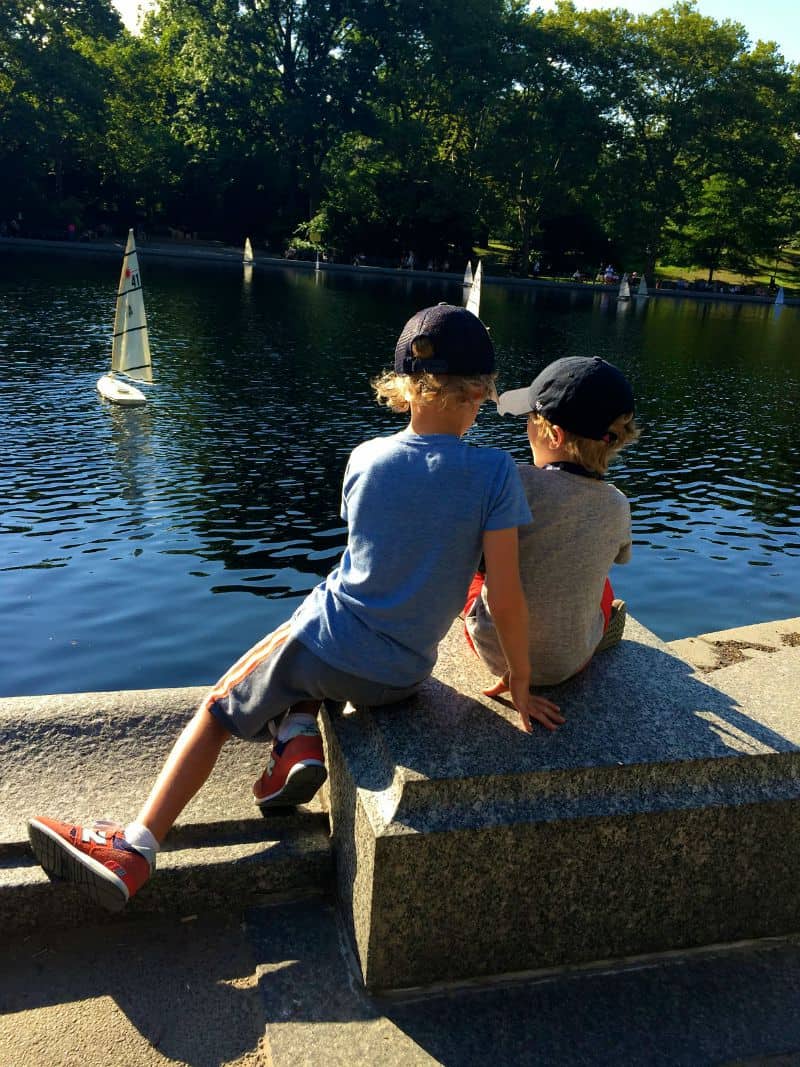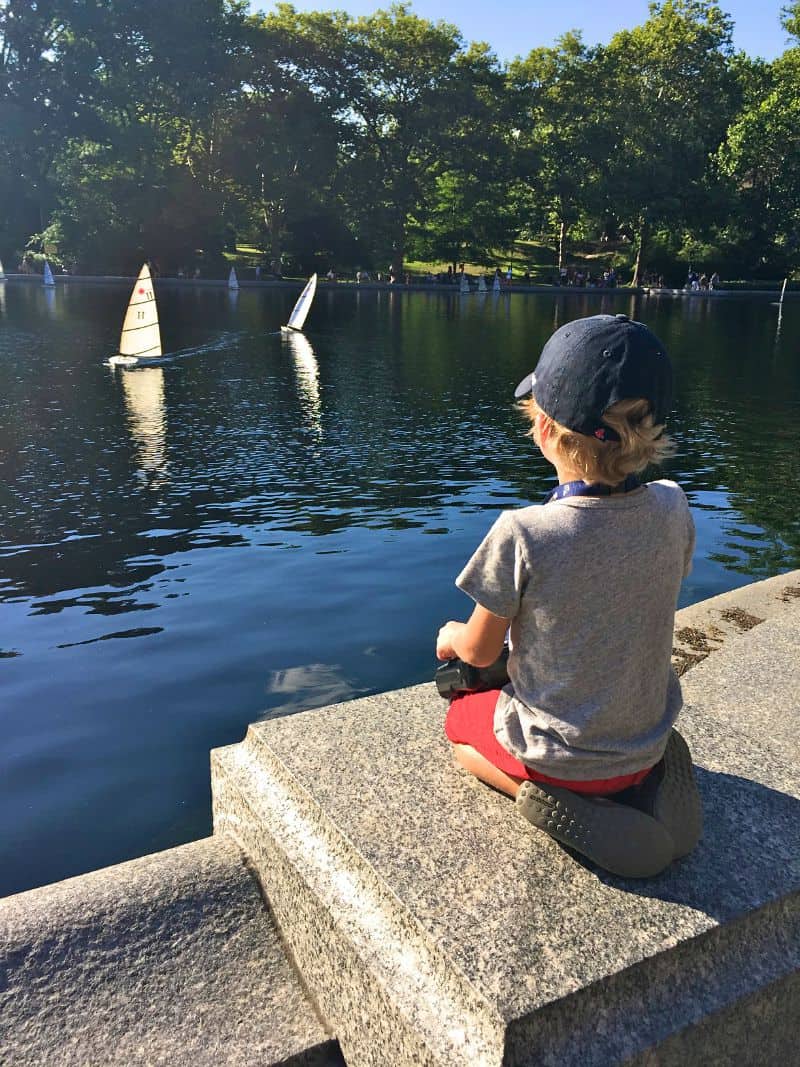 By late afternoon, our feet were getting tired so we hailed a pedicab to give us a ride up to the reservoir. Those bikers have to make a killing off giving people rides around the park as I think we paid him like $3 a minute. Pretty fun though!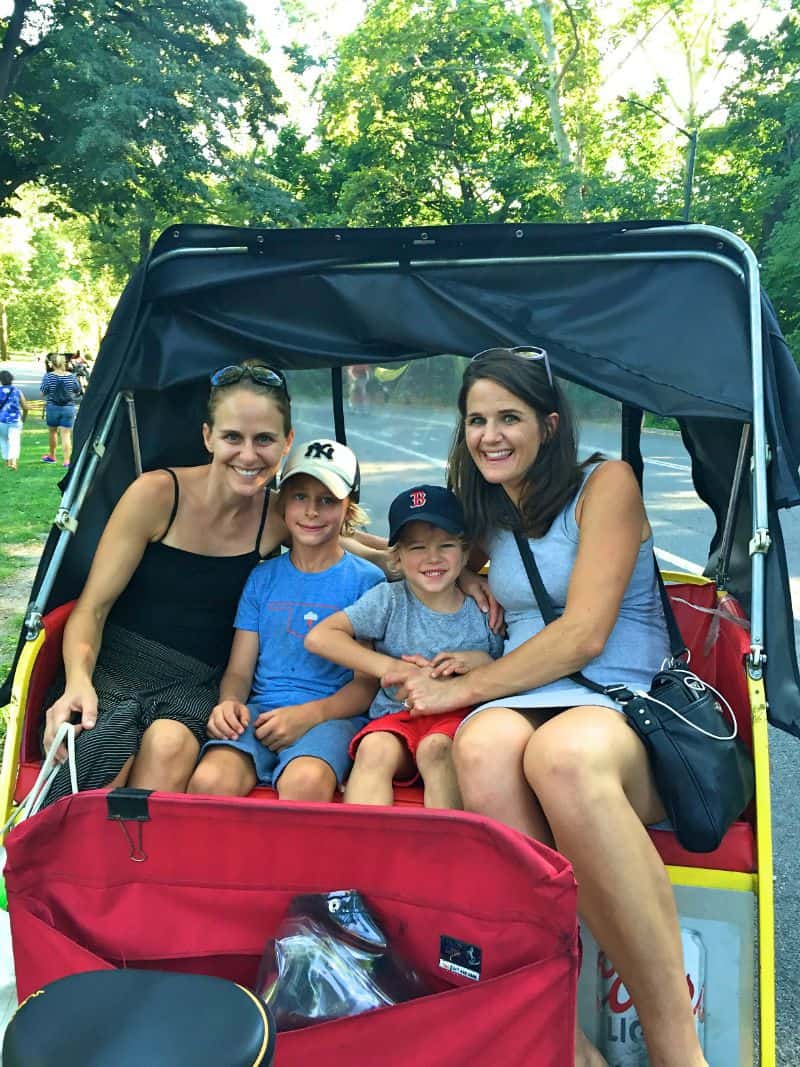 We were ready to walk again so we enjoyed a leisurely walk from one end of the reservoir to the other. It was a beautiful day!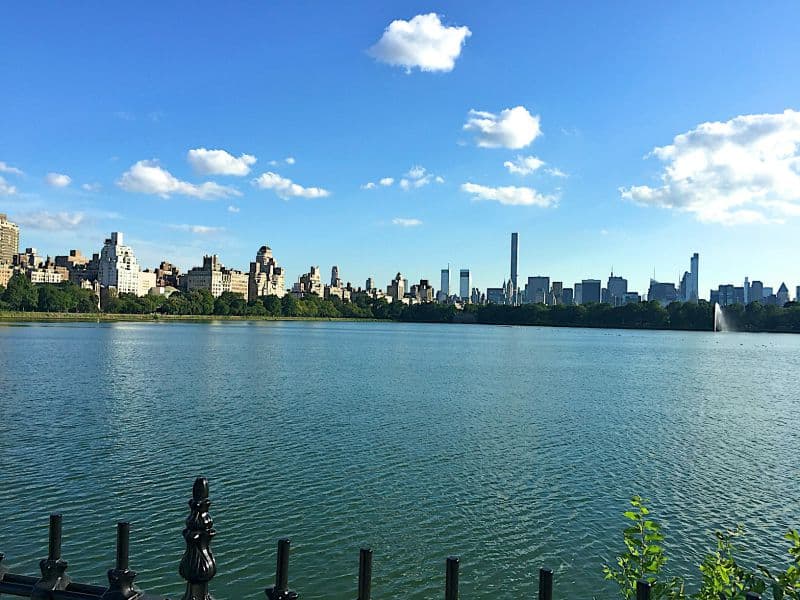 We ended the day with burgers, fries and custard/milkshakes at Shake Shack. You can't go wrong with Shake Shack. So worth the wait that they almost always have!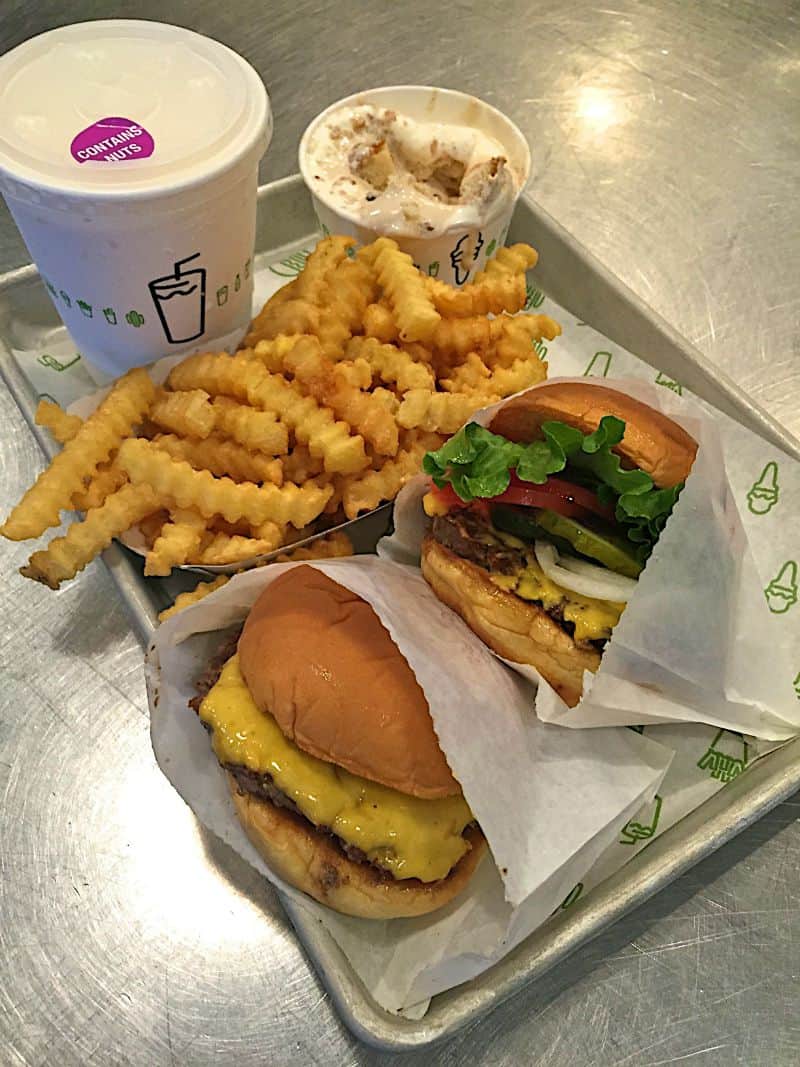 We slept in again on Saturday morning and hit up Doughnut Planet for some donuts because all Saturdays should start with donuts. Doughnut Planet has so many unique flavors and fillings that we "had" to try a good variety.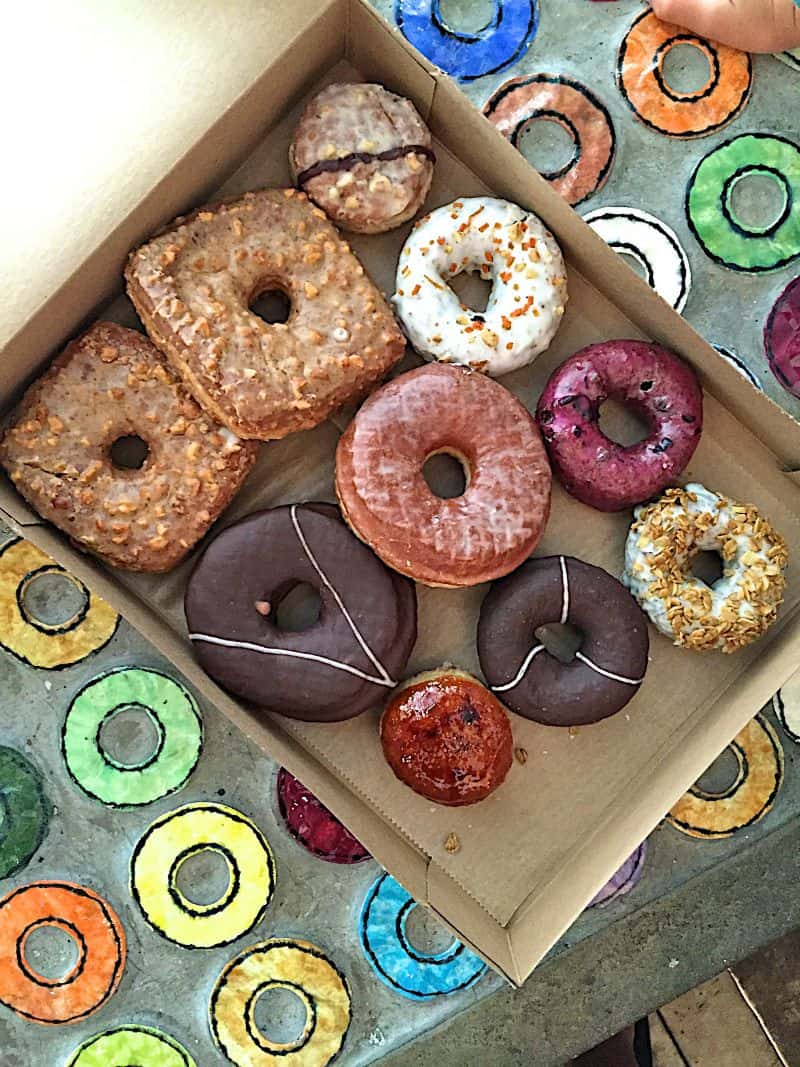 Our favorites were the peanut butter & strawberry jam, creme brulee and chocolate hazelnut filled…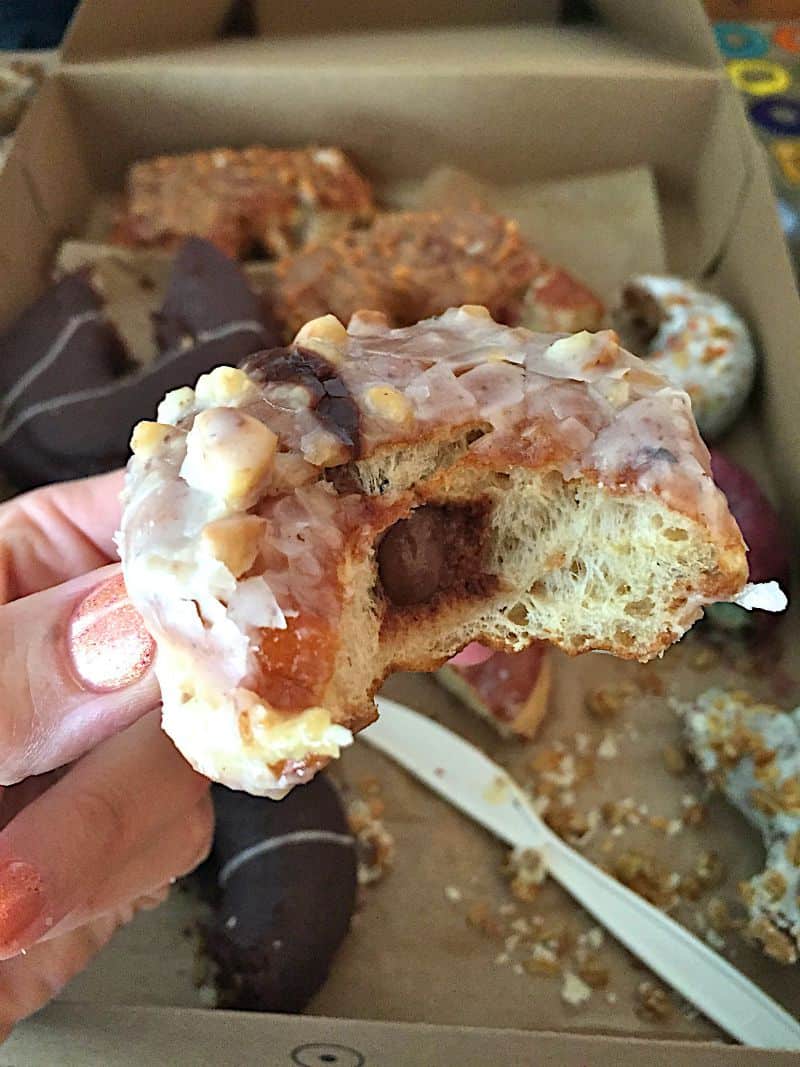 We then headed to The High Line to run/walk off some of the sugar. The highlight of The High Line was definitely the collective art Lego project where everyone could contribute to the massive Lego cityscape. It was so cool! We could have spent all day there…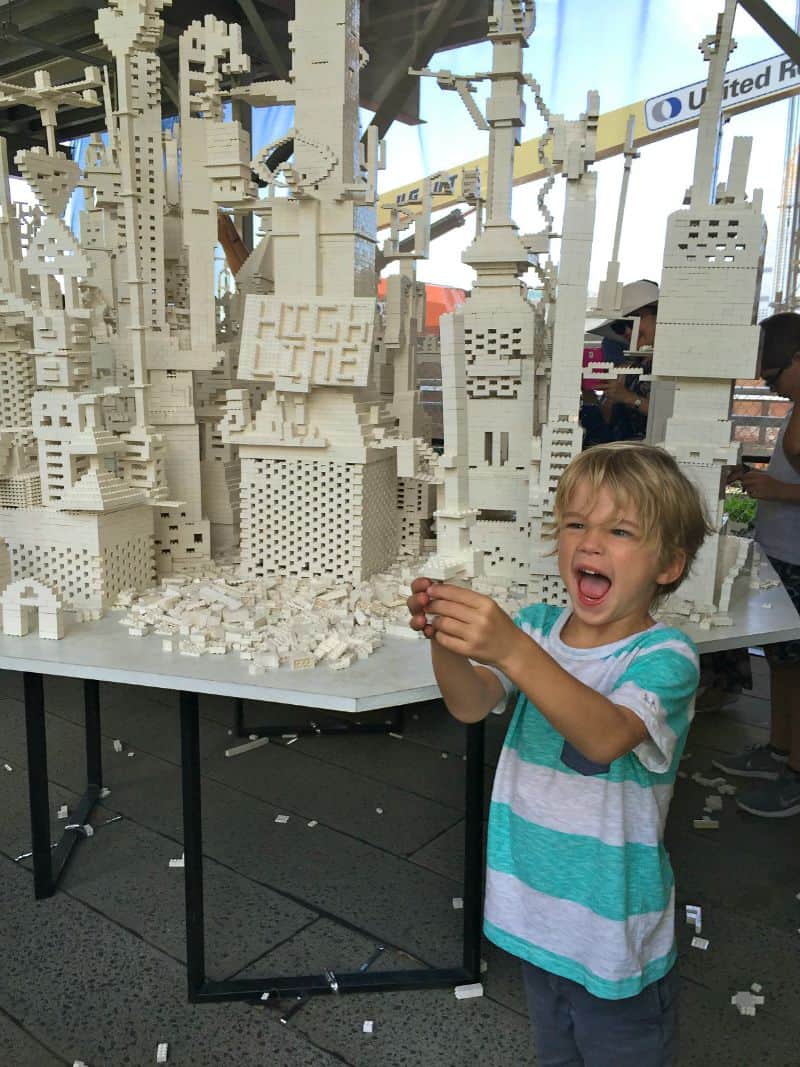 Next up was Finding Neverland on Broadway…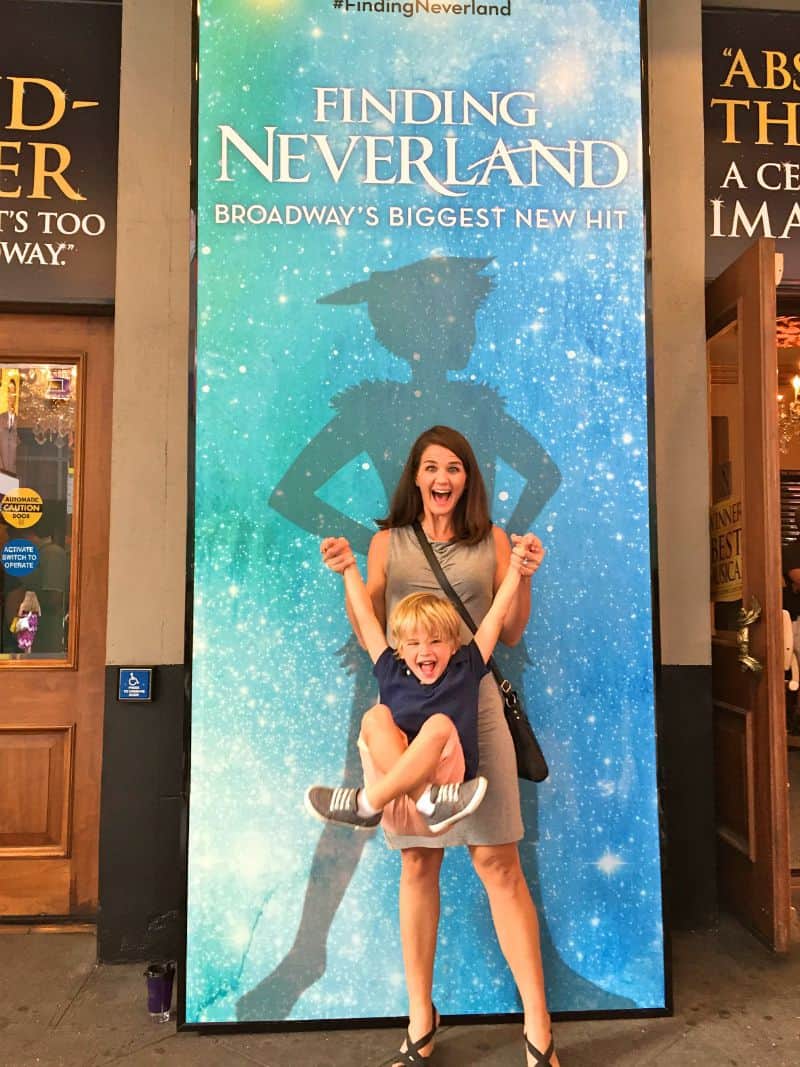 It was such a great show! Baker's favorite part was of course when Captain Hook made his appearance.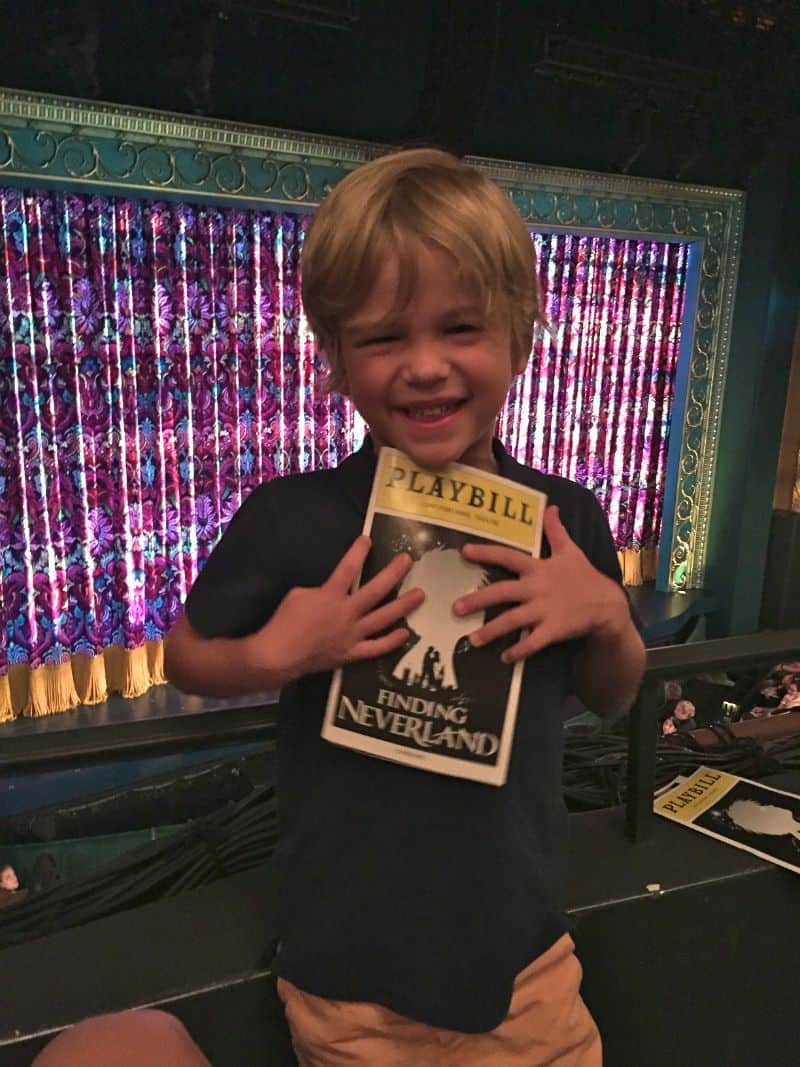 After the show, we headed back to Central Park to let the boys climb more rocks because that was definitely one of their favorite things to do in NYC. So many rocks to climb…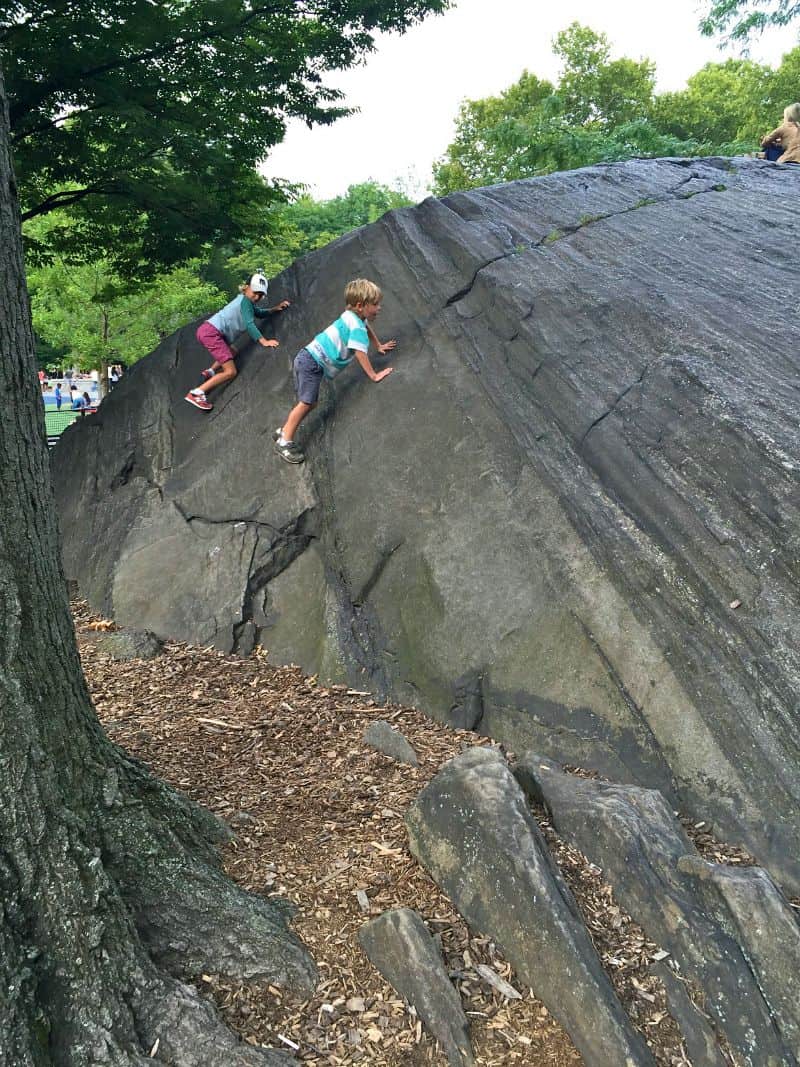 We went to The Smith Restaurant for an awesome dinner of fried green beans, mac & cheese, kale quinoa salad and a trio of yummy housemade desserts.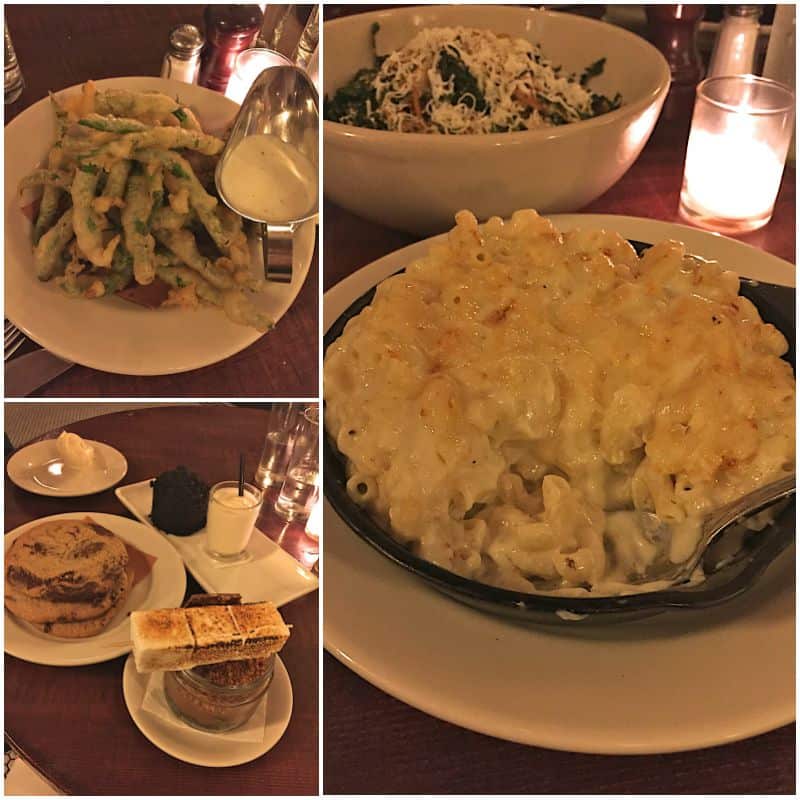 And just like that, it was our last day! 🙁 We spent Sunday morning sleeping in (once again!) and then headed back to Central Park for one last hoorah! We spent 75% of our weekend in Central Park and it was perfection.
For breakfast, we stopped by Wafels & Dinges for a big crisp belgian waffle covered in strawberries, bananas and Nutella. To die for!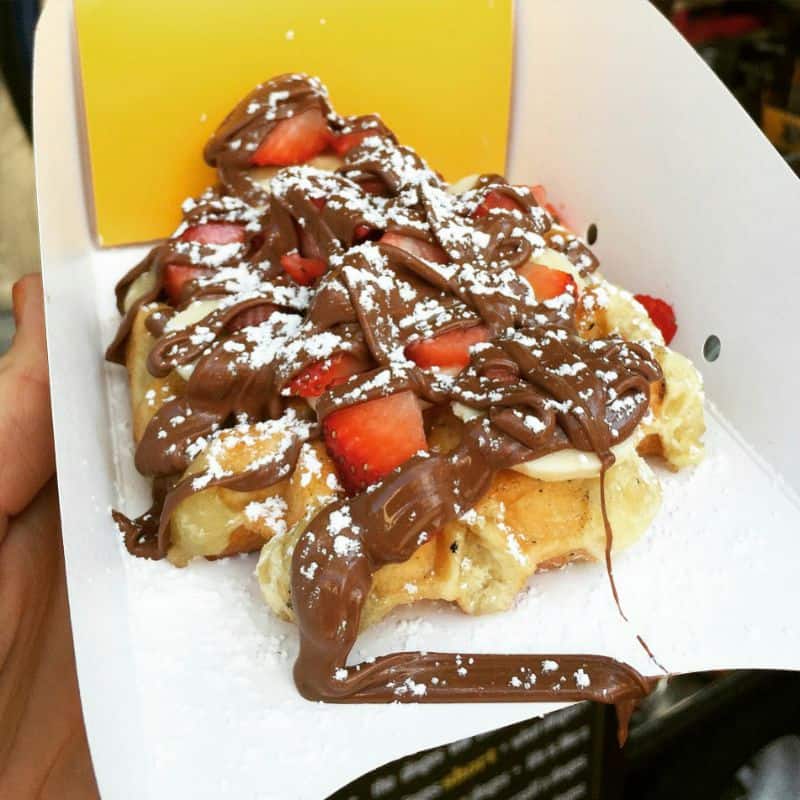 We loved it so much, we recreated it as soon as we got back home. It was unforgettable so if you see this truck when in NYC, you must get one…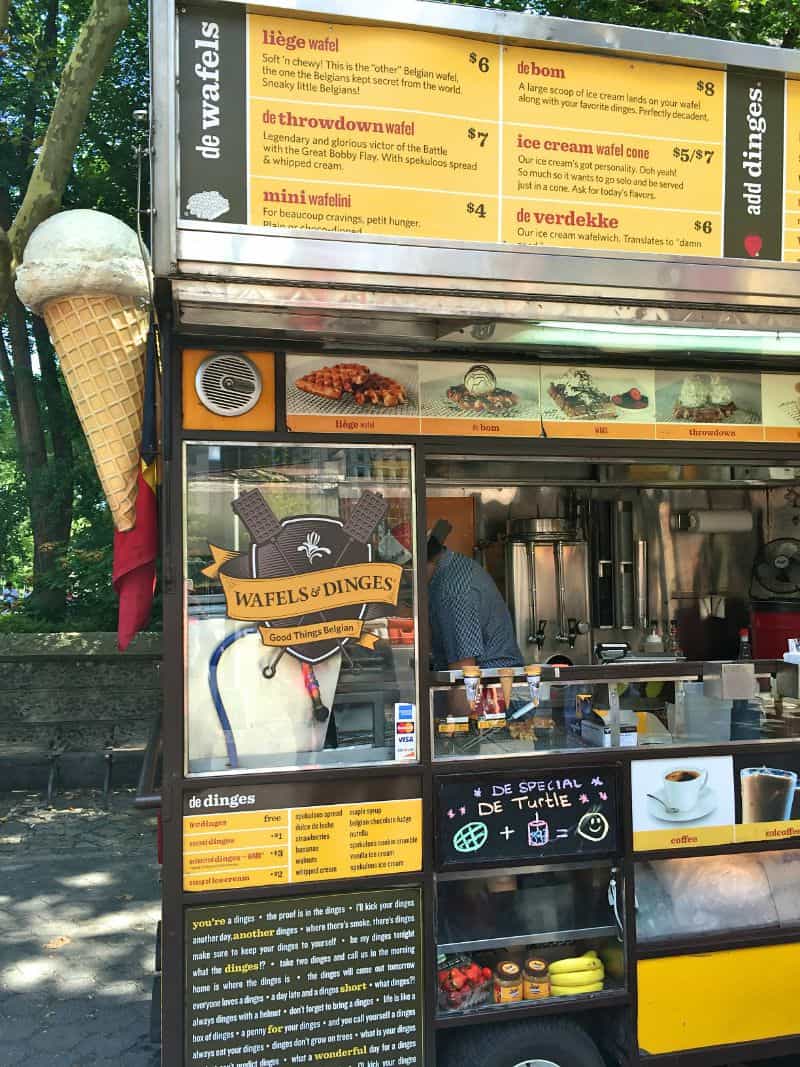 We spent the rest of the morning at the Central Park Zoo. Baker loved feeding the animals at the children's zoo and watching the sea lion show…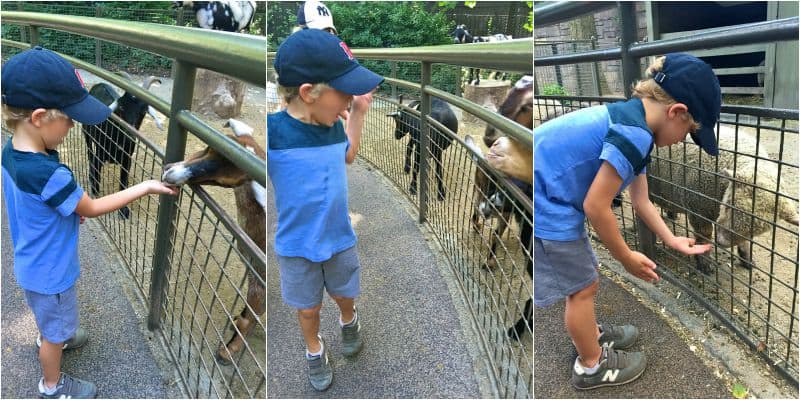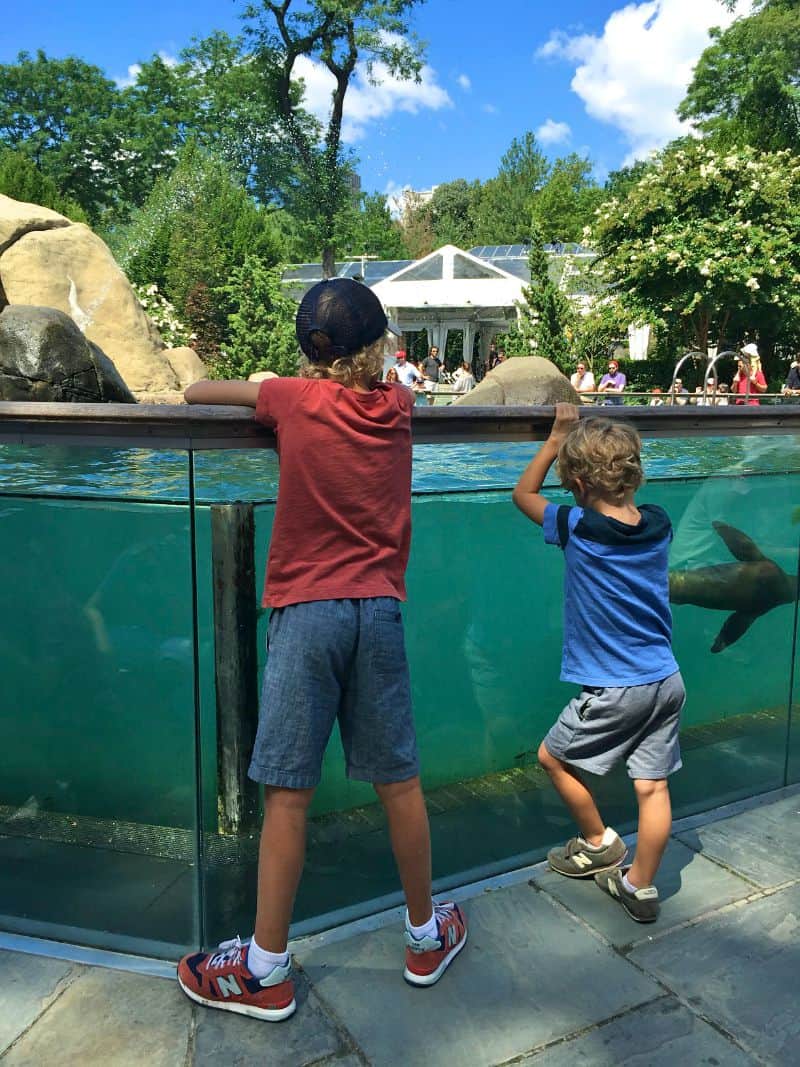 After the zoo, Baker and I had to head out so we could grab some lunch and catch our flight home. We said our goodbyes to my sis and nephew and headed straight back to Levain Bakery so we could take some cookie love back home with us…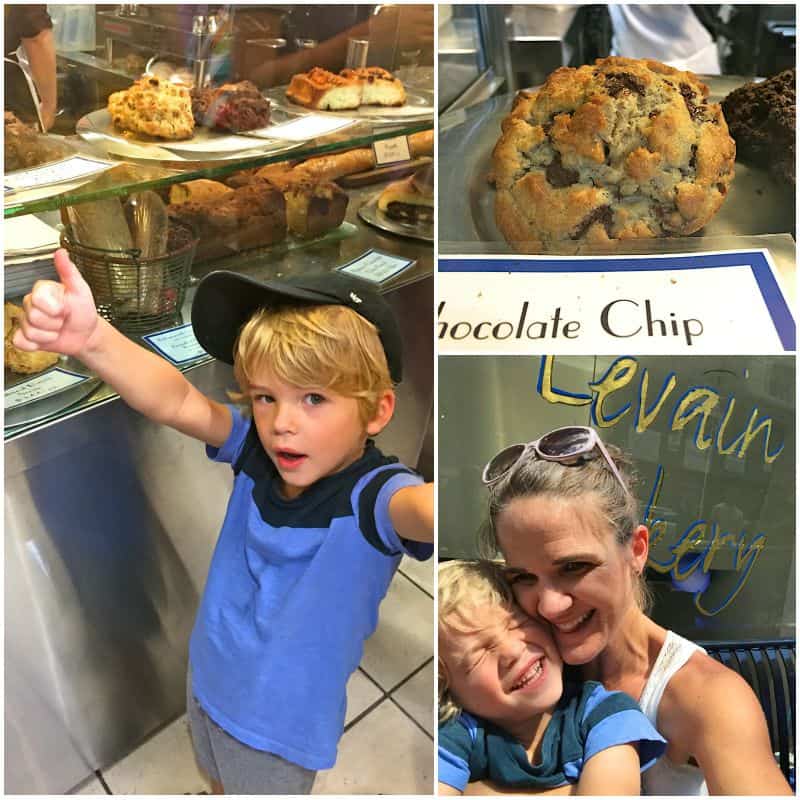 If you ask Baker what his favorite thing he did in NYC was, he would most likely say ride in the taxis. All of the taxis had TVs in them and he didn't have to sit in a carseat so he was all about it and begged to ride them everywhere we went.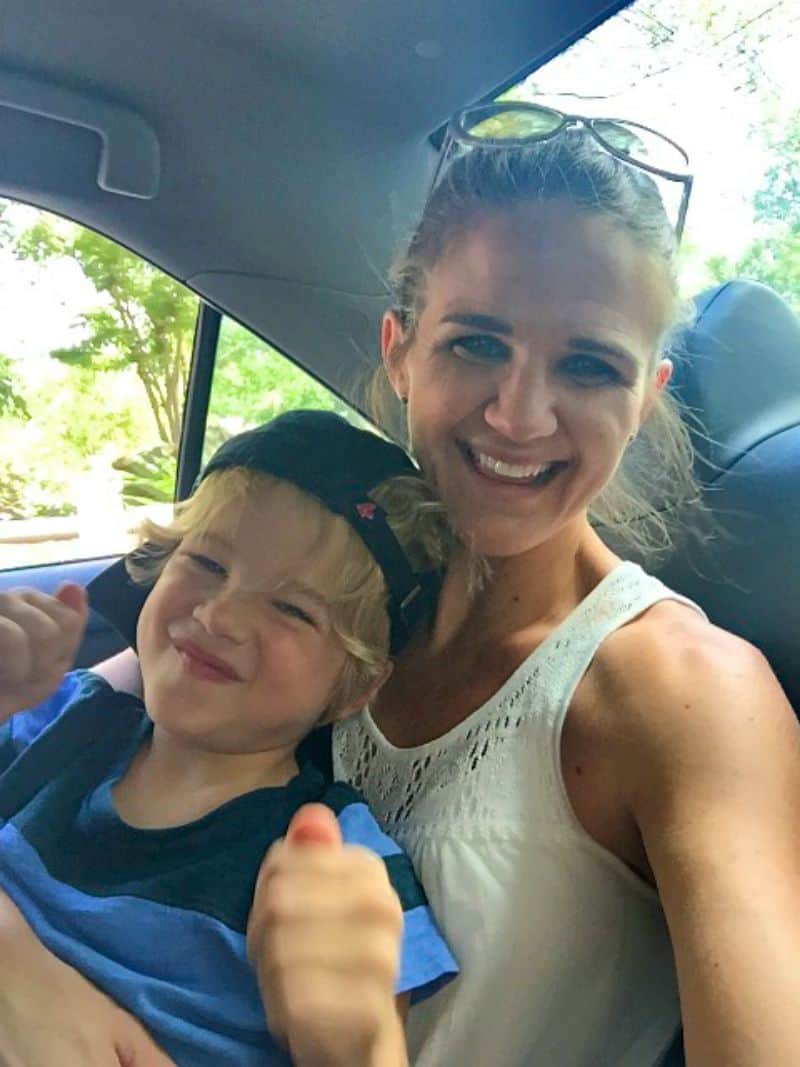 We needed some lunch before we headed to the airport so we stopped by for a few slices of New York pizza from Patzeria Perfect Pizza. You can't come to NYC without getting a great slice of pizza! It hit the spot…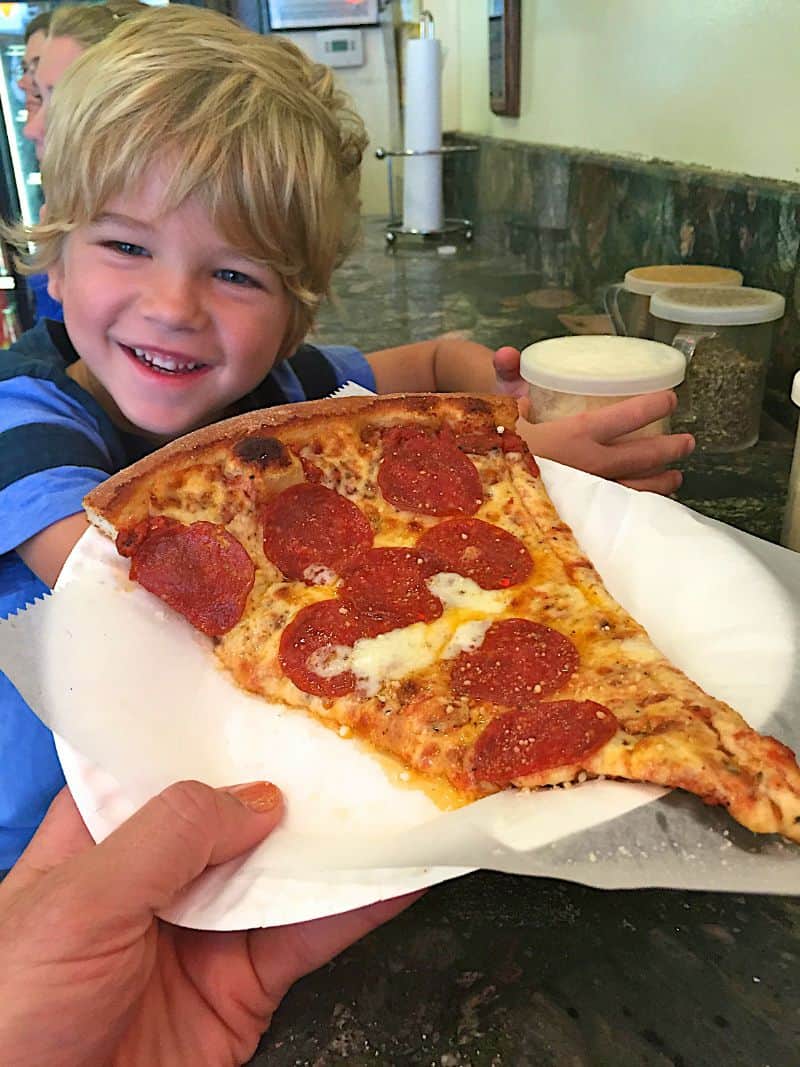 On our way to the airport, sweet Baker passed out. Sign of a great trip…
Peace out, NYC! We love you!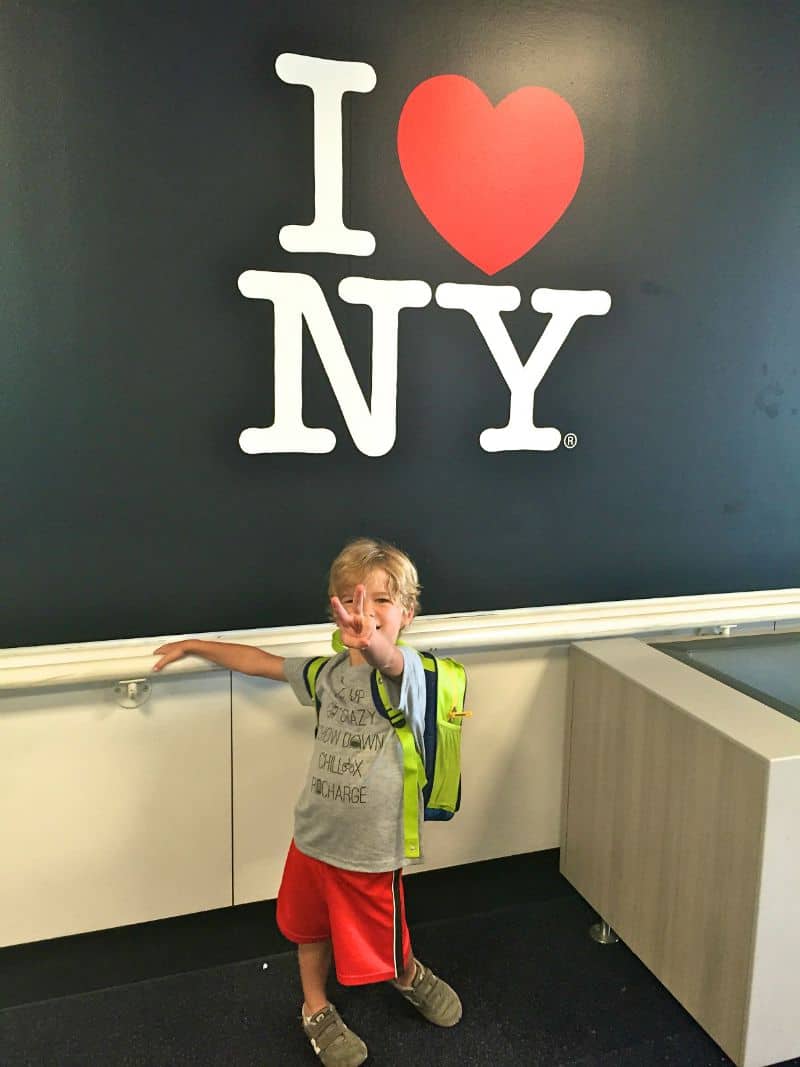 It was such a special weekend with my big boy! The one-on-one time with him and all the memories we made together, I'll cherish forever. Love him so much!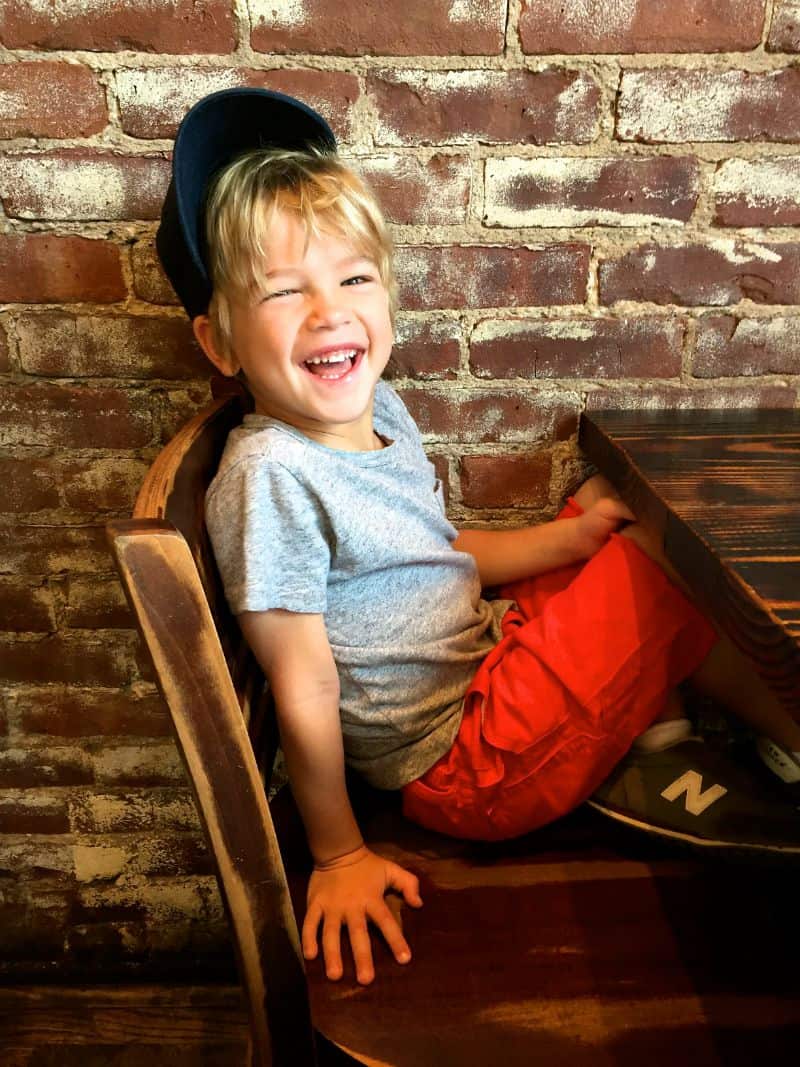 Here's a convenient list of our favorite New York City eats from this trip and trip's past:
We use the Yelp app to search for places and confirm any recommendations when traveling. It's great for adding favorites that you want to try and searching for places nearby once you're in the city you're exploring.
If you live in NYC, I'm so jealous of you! 😉 If you're traveling there soon or thinking about planning a trip, hope this post helps with your planning and have so much fun!
xoxo,
Maegan